Learn how to make a simple DIY cleansing balm with only 2 natural ingredients. This luxurious solid skin cleanser will instantly melt and emulsify even the thickest layer of makeup, leaving you with clean, soft, moisturized skin.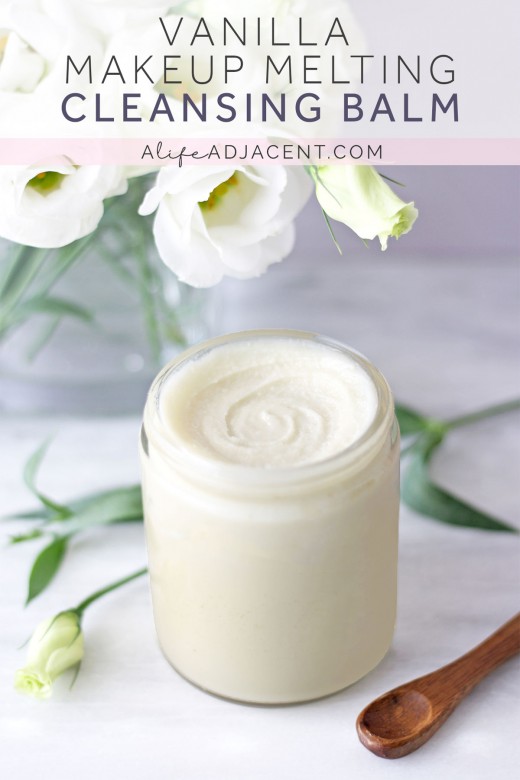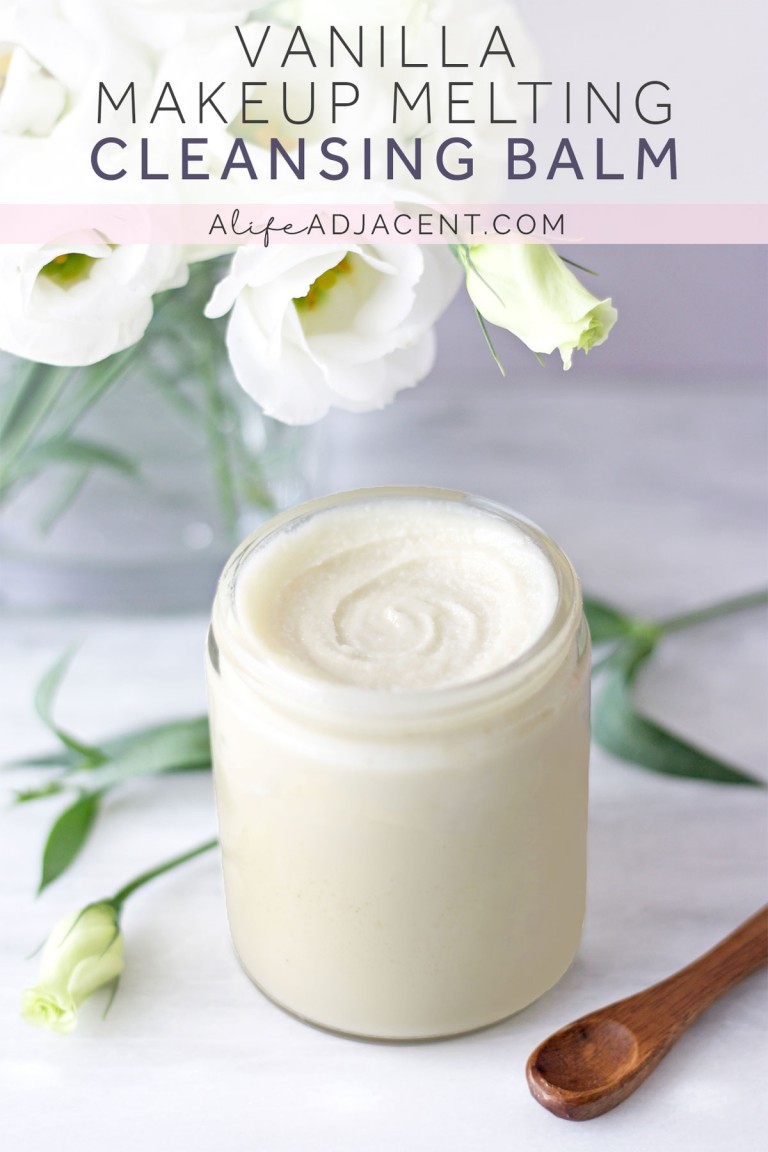 If you've spent any length of time browsing Sephora, you've likely noticed the collection of products devoted to removing makeup.
I don't know about you, but when faced with hordes of wipes, micellar waters and bottles of cleansing oil, part of me starts to believe I need 11 different steps to wash my face.
Choosing what kind of makeup to put on my skin is already hard enough without worrying about which product (or two, or three) is best at taking it off.
For that reason, I usually stick with good old coconut oil to remove my makeup, or more recently, my own homemade micellar water or cleansing oil.
Lately though, I started to notice a new trend — makeup removing cleansing "balms." And I have to admit that I was intrigued. Because even though I'm committed to coconut oil, I also like trying new products.
But while they might look enticing, I discovered that many cleansing balms were just blends of low quality oils and emulsifiers, brilliantly marketed with pretty packaging. And that just didn't sit well with me.
That's why I decided to make my own DIY cleansing balm.
What is a cleansing balm?
A cleansing balm is a type of skin cleanser typically formulated with a combination of oils, waxes, and emulsifiers. But unlike most makeup removers, cleansing balms are solid, not liquid.
Since like dissolves like, cleansing balms are able to dissolve oil, makeup, and even thick coats of sunscreen effortlessly.
Cleansing balms are trendy due in part to the popularity of the Korean double cleansing method, which involves using 2 steps to wash your face.
Step 1 removes your makeup — this is where a cleansing balm comes in. Step 2 is a more thorough cleanse that removes all traces of grime, oil, and whichever product you used during step 1.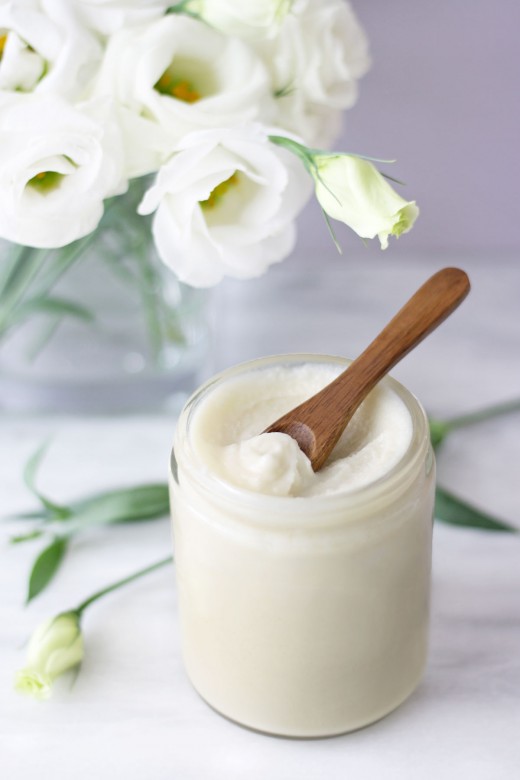 Why cleansing balms are good for your skin
Have you ever experienced a feeling of tightness or dryness after washing your face? That's not a sign of cleanliness. Unfortunately, it's a sign of stripped, imbalanced skin whose pH balance has been seriously disrupted.
Our skin's ideal pH level is slightly acidic, falling somewhere between 4 to 5.5. This state is carefully maintained by a matrix of lipids and bacteria called the acid mantle.
The acid mantle acts as your skin's security guard, preventing bad bacteria, viruses, and other foreign invaders from taking up residence.
It's been shown that skin with a low pH is much healthier than skin with a high pH. This is why washing away your skin's acid mantle – whether it's with harsh cleansers, scrubs, or other abrasive products – is so incredibly damaging.
Over time, over-cleansing your skin can leave it vulnerable to issues such as eczema and acne, and can even accelerate aging.
We want to avoid pH disruption at all costs, and a cleansing balm can help.
When it comes to washing your face, cleansing balms are some of the gentlest options. They help to avoid over-cleansing by creating a protective barrier between your skin and your second cleanser.
As a result, you're left with skin that's hydrated and balanced after cleansing, not stripped and tight.
Aside from the skin benefits, using a cleansing balm is also a great way to pamper yourself. It feels really luxurious to massage something rich and nourishing into your skin after a long day.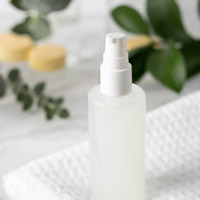 Other benefits of using a cleansing balm include:
Thoroughly removes your makeup – no more remnants of yesterday's foundation
Deeply cleanses without stripping the skin's protective barrier
Helps to protect against the rebound oil overproduction caused by over-cleansing
Stimulates lymph drainage and circulation through massage, reducing puffiness
Helps protect the skin against moisture loss and dryness
Can help dislodge blockages by penetrating into congested pores
What's wrong with store bought cleansing balms?
Many store bought cleansing balms are formulated with potentially irritating fragrances and preservatives, as well as pore-clogging ingredients like mineral oil – none of which are exactly conducive to skin health.
And at $40 to over $100 a jar, you're washing a very expensive blend of heavily fragranced oil down the drain. Literally.
I'm a firm believer in spending money on your skin care where it counts, such as when it comes to treatments or actives. In my opinion, it's not worth shelling out for a product that doesn't sit on your skin long enough to have any long-term benefits.
A brand-name cleansing balm is probably not going to do much for your skin. You're better off spending your money on something like vitamin A, which has well-documented benefits.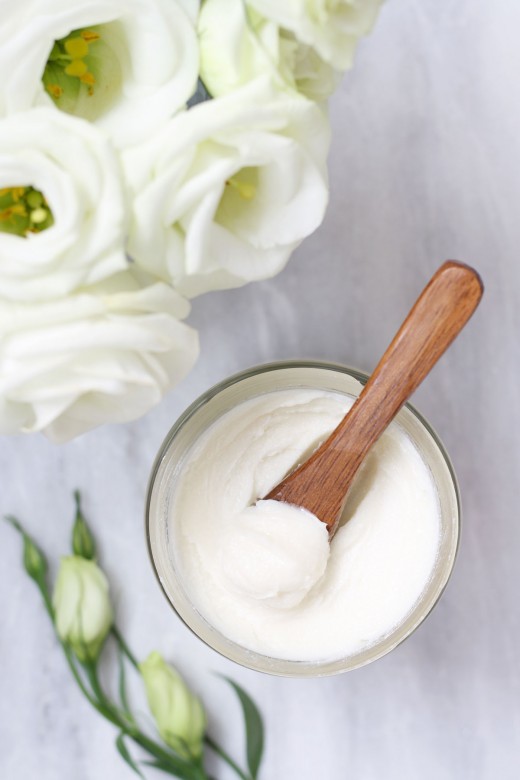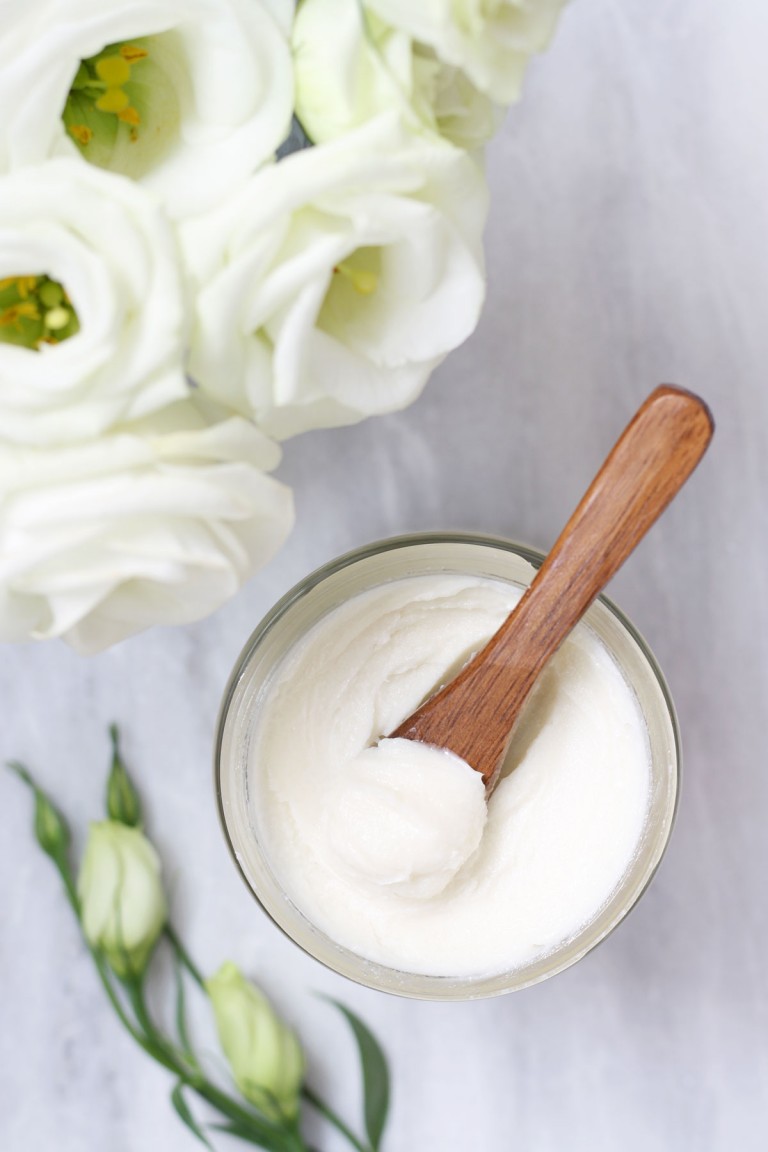 My DIY cleansing balm recipe
Removing your makeup doesn't have to break the bank. Since they require so few ingredients, cleansing balms are one of the easiest recipes to DIY.
In fact, with only 2 main ingredients, this DIY cleansing balm recipe might be one of the simplest recipes out there. It's not groundbreaking by any means, but it works.
If you're looking for a very easy, affordable, and non-toxic way to remove your makeup, this recipe is for you.
Unrefined shea butter
Shea butter is extremely emollient, has a comedogenic rating of zero, and is rich in antioxidant vitamin E. It has an earthy, nutty scent that can easily be personalized with natural essential oils. (However, please be cautious about using essential oils on your face. See my note on this below.)
Another option is to buy a pre-scented product. I love Out of Africa's vanilla shea butter. It has only two ingredients: unrefined shea butter and vanilla essential oil.
As someone who is quite sensitive to chemical fragrances, it smells delicious without the headache or irritation, and its aroma is comparable to warm vanilla cupcakes.
This isn't a sponsored post – Out of Africa's shea butter is just that good. It's the only shea butter I've found that's consistently smooth and creamy. It's never crumbly, grainy, hard or dry like many other shea butters I've tried.
It also comes in tiny, travel-friendly tins that are perfect for using as lip balm.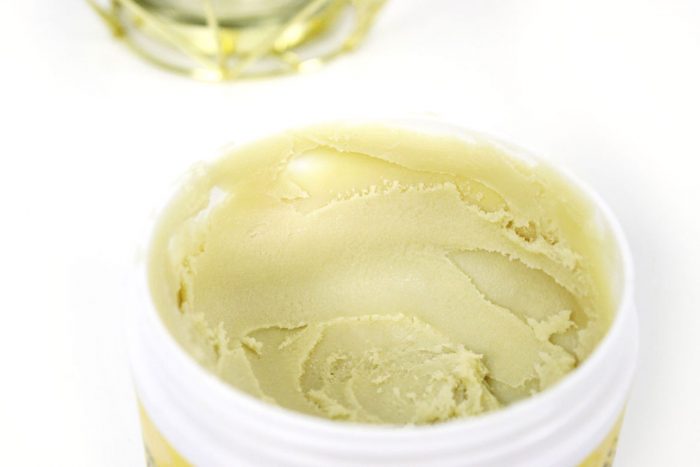 Virgin coconut oil
Coconut oil contains lauric and caprylic fatty acids, which have antimicrobial qualities that can help keep acne-causing bacteria at bay. And since it's a mostly saturated fat, coconut oil is able to withstand high heat without oxidizing on your skin.
When creating a cleansing balm recipe, it's important to use heat-stable lipids. The hot water used to wash off the cleansing balm will oxidize unstable oils.
While controversial, some research has suggested that using oxidized oils on your skin can accelerate aging.
How to use this DIY cleansing balm
Using this homemade cleansing balm is extremely easy. Since a balm is more for deep cleansing, it's best used at night on a full face of makeup and SPF.
For morning cleanses or makeup-free days, I prefer using raw honey or a gentle micellar water to wash my face.
To use the cleansing balm, start with dry skin. Scoop out a generous amount of product with clean, dry hands. Massage it into your skin with gentle, circular motions until your makeup is melted and emulsified.
Before your second cleanse, you have two choices. You can gently remove the balm with a cotton washcloth soaked in hot water before washing with your usual facial cleanser.
Or, if you wish, you can skip the washcloth and proceed straight to your cleanser. Both options work, but as always, it's preferable to use a gentle, sulfate-free face cleanser.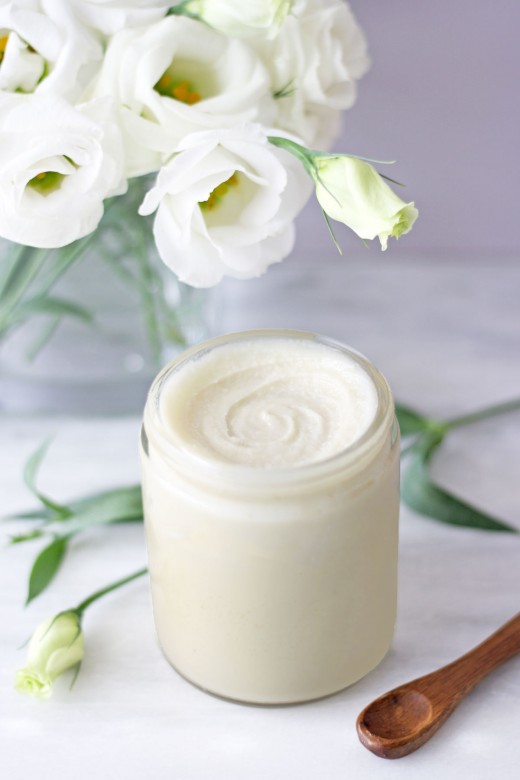 What about the oil cleansing method?
Those using the oil cleansing method might opt to skip the facial cleanser entirely, using only the balm and a wet washcloth to wash their face.
You know your skin better than anyone. Only choose this option if you're sure this is compatible with your particular skin type. The oil cleansing method appears to work for some people, but for others, such as those suffering from fungal acne, it can spell disaster.
I go into more detail on the issues with oil cleansing in this article.
Personally, the oil cleansing method is not for me. A week-long experiment of using only coconut oil to wash my face lead to a face full of whiteheads and congestion. I fare much better using a facial cleanser after using my cleansing balm.
How to customize this DIY cleansing balm
If you're not a fan of coconut oil or shea butter, you can easily customize this cleansing balm recipe. Babassu oil is a great alternative to coconut oil, as it's similar in texture and low in PUFAs.
You can also try Nilotica shea butter in place of regular shea butter. Nilotica shea butter is Western shea butter's softer, silkier cousin. If regular shea butter has ever broken you out, try it!
Cocoa butter is another possible substitute for shea butter. I also love bacuri butter, a rich, exotic butter from the Brazilian Amazon rainforest. In fact, our decadent DIY chocolate cleansing balm includes bacuri butter as a main ingredient.
A note on using essential oils in your cleansing balm
There's a lot of dangerous DIY skincare misinformation floating around the internet. Just because something is "natural" does not mean that it's safe to use on your skin. Case in point: essential oils.
This cleansing balm recipe uses vanilla essential oil for a lovely aroma, but those with sensitive skin are better off omitting it entirely. And if you plan to replace vanilla with another essential oil, please look into the particular oil's safety first.
Some essential oils should not be used on the face under any circumstances. For instance, oils like bergamot, lemon and grapefruit are phototoxic.
This means that they make your skin more sensitive to UV rays, and have the capacity to cause burns, sun-damage, and permanent skin discolouration.
Not only that, but citrus essential oils are highly irritating. Over time, irritation leads to skin damage.
Save money with homemade skincare
I'm always looking for ways to DIY my skincare whenever possible. It's not just about saving money, but more importantly, avoiding harmful, irritating, and potentially toxic ingredients.
Not only does this all-natural DIY cleansing balm emulsify your makeup without irritating preservatives or synthetic fragrances, but it's also very affordable.
Both shea butter and coconut oil will last a long time in terms of quantity and shelf life, saving you money is the long run.
I also make my own makeup setting spray and micellar water. Both are classes of products that frequently come chock-full of fragrances, synthetic polymers, and other problematic ingredients.
And while I love my homemade products, I admittedly still have a soft spot for this lovely eucalyptus-scented cleansing oil.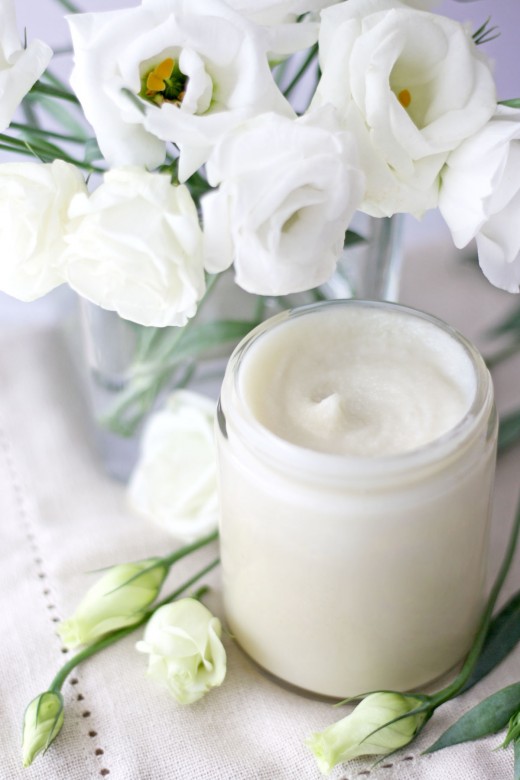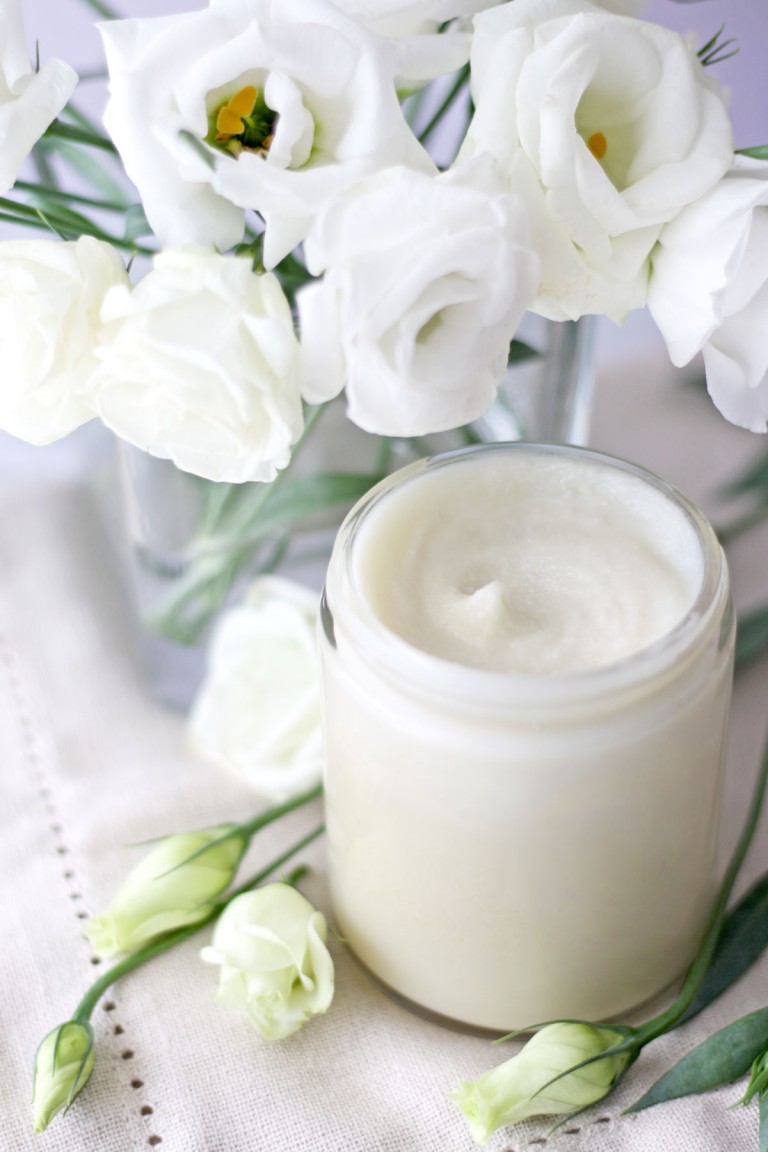 Yield: 1 balm
DIY Cleansing Balm to Melt Your Makeup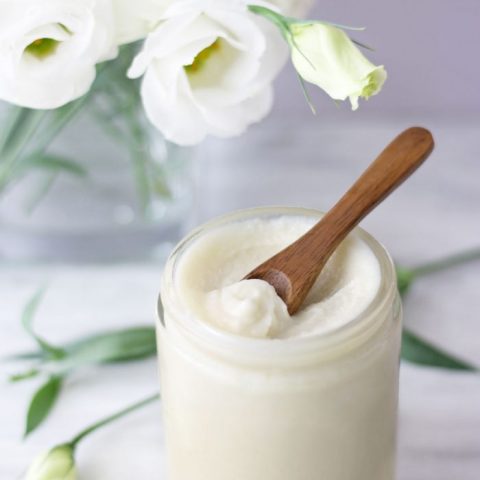 Learn how to make a simple DIY cleansing balm with only 2 natural ingredients. This luxurious solid skin cleanser will instantly melt and emulsify even the thickest layer of makeup, leaving you with clean, soft, moisturized skin.
Total Time
1 hour
10 minutes
Tools
Turkish coffee pot or small double boiler
Glass or stainless steel jar for storage
Instructions
Melt the shea butter and coconut oil at low heat in a small double boiler or a Turkish coffee pot over a water bath. (The ratio of shea butter to coconut oil is important — if you add too much coconut oil, your balm will be too thin.)
Once melted, turn off the heat and mix in the vanilla essential oil, if desired. Whisk gently to combine.
Transfer to a non-plastic receptacle, such as a small mason jar, stainless steel container or glass cosmetic jar.
Let your cleansing balm sit in the fridge for about an hour to solidify. Afterwards, you can store it at room temperature.

Notes
If you live in a hot climate, you can add a tablespoon of cosmetic beeswax pellets to prevent your cleansing balm from softening at room temperature.
You can also add beeswax if you simply prefer a thicker, richer cleansing balm.
If you don't like the scent of coconut oil, you can use deodorized coconut oil or babassu oil instead.
Recommended Products
As an Amazon Associate and member of other affiliate programs, we earn from qualifying purchases.
More DIY beauty recipes
If you enjoyed this homemade cleansing balm, you may also enjoy these other skincare recipes:
Follow us on Pinterest for even more natural DIY beauty ideas! You can also find us on Instagram, Facebook, and Twitter.
Pin it for later