This DIY setting spray is made without glycerin for a matte, non-greasy finish that's ideal for oily skin types. Thanks to a unique combination of ingredients, it creates a water-resistant film that keeps your makeup from melting, even during the summer. Read on to learn how to make homemade makeup setting spray with natural ingredients.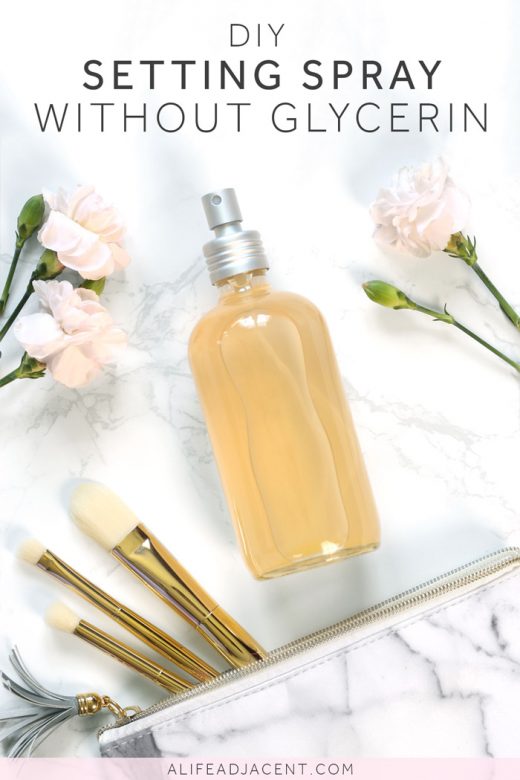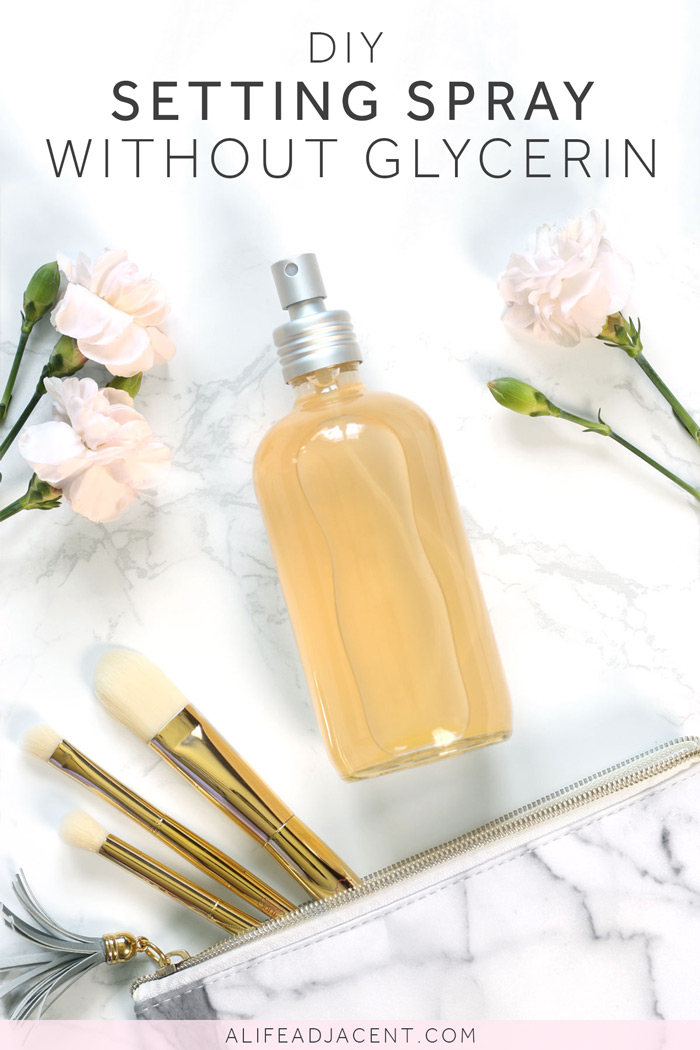 This is not your typical DIY setting spray recipe.
I'm not going to tell you to mix up some rosewater and glycerin and expect you to believe that it will set your makeup on a hot, humid summer day. It won't!
Don't get me wrong — a setting spray made with glycerin has its place. (I wrote a post about one, after all.) I love vegetable glycerin for its hydrating, dewy finish, and it works well when the temperature is cold or mild.
But using glycerin setting spray under extreme weather conditions is akin to using a "light hold" hair product on a humid day. Plus, if you have oily skin, your makeup will likely end up melting off your face.
A long lasting DIY makeup setting spray
Whether it's a night out or just a really hot day, sometimes your makeup needs some extra staying power. (I would know — I use a coconut oil-based foundation that needs a bit of help to stay put!)
That's why I came up with a makeup setting spray recipe using vodka, neroli water, propanediol and 200x aloe powder. It may be simple, but it's very effective.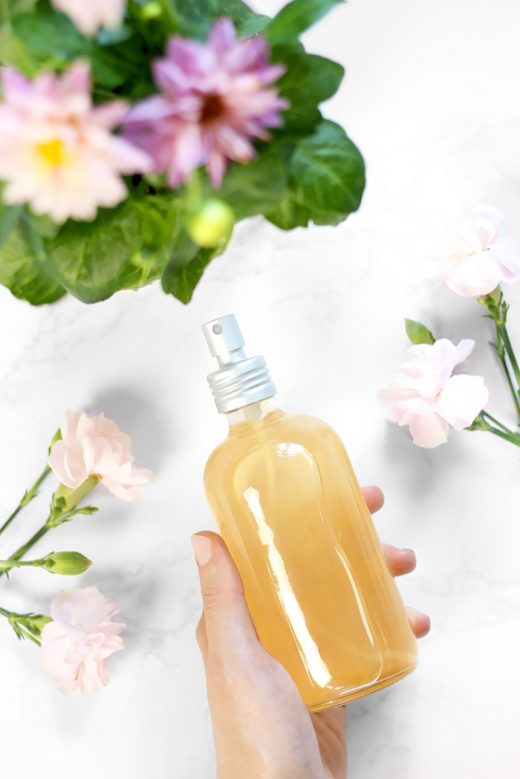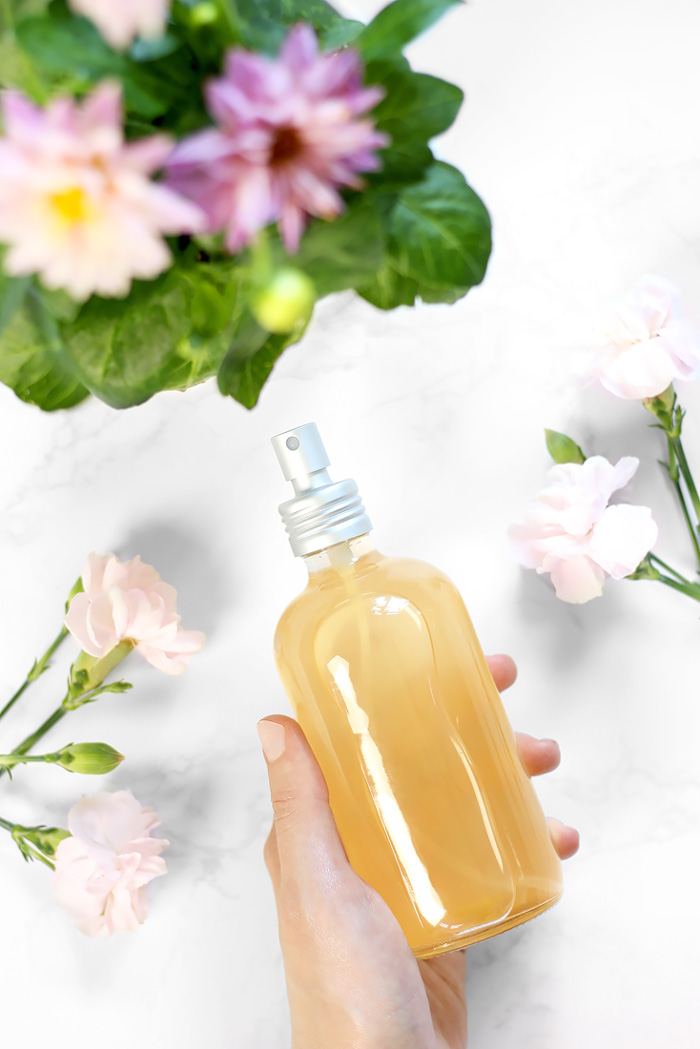 The alcohol and water quickly evaporate after your spritz your face, leaving behind a film of aloe vera polysaccharides. These polysaccharides form a sweat, oil, and water-resistant film that sets your makeup in place.
Unlike my other setting spray recipe, this formula leaves a matte finish. This is especially helpful when you're sweating before you've even left the house.
The first version of this setting spray did not contain a humectant. But after doing further testing, I realized that the original formula may be too drying for some. That's why the updated recipe includes a small amount of corn-derived propanediol for just the right amount of hydration.
The problem with store bought setting sprays
Notice how many top-selling makeup setting sprays use alcohol as the main ingredient? There's a reason for that. The alcohol evaporates quickly, leaving behind a film that prevents your makeup from budging. This film is usually comprised of a synthetic polymer or a natural polysaccharide.
The problem with conventional makeup setting sprays is that they are often irritating and heavily fragranced. They can also contain silicones and other synthetic ingredients that can be problematic.
Most setting sprays use denatured alcohols as a base. These are alcohols that have been made unsuitable for drinking with the addition of another chemical — and it's not always clear what this chemical is. According to CosmeticsInfo.org:
Denatonium Benzoate, t-Butyl Alcohol, Diethyl Phthalate, Methyl Alcohol, Salicylic Acid, Sodium Salicylate, and Methyl Salicylate are examples of denaturants permitted for use by the TTB and concluded to be safe for use in cosmetics.
Salicylic acid is not an issue, but some of those other ingredients are alarming. Regardless of who determines phthalates such as Diethyl Phthalate to be "safe" in cosmetics, I'd much rather avoid them — both for health reasons and for phthalates' capacity to irritate skin.
Alcohol already has the potential to be an irritating and drying ingredient, and a denaturing agent only increases that likelihood.
How do you avoid denaturants in your makeup setting spray? By making your own with the pure stuff, of course — vodka!
Ingredients for DIY makeup setting spray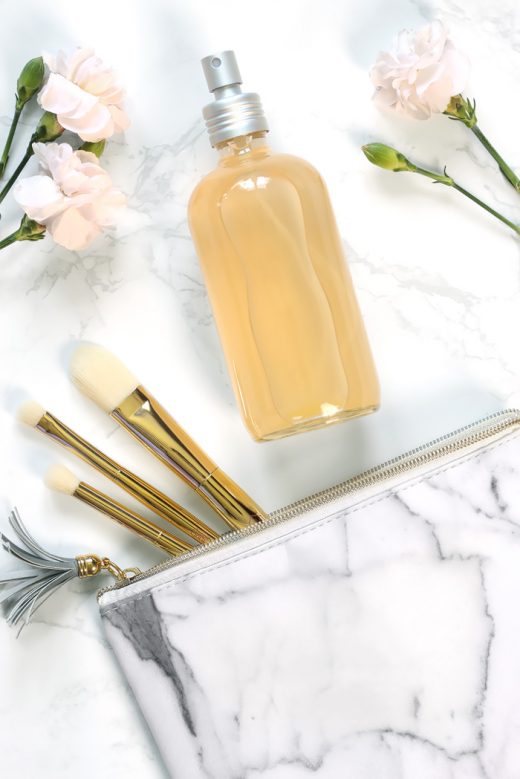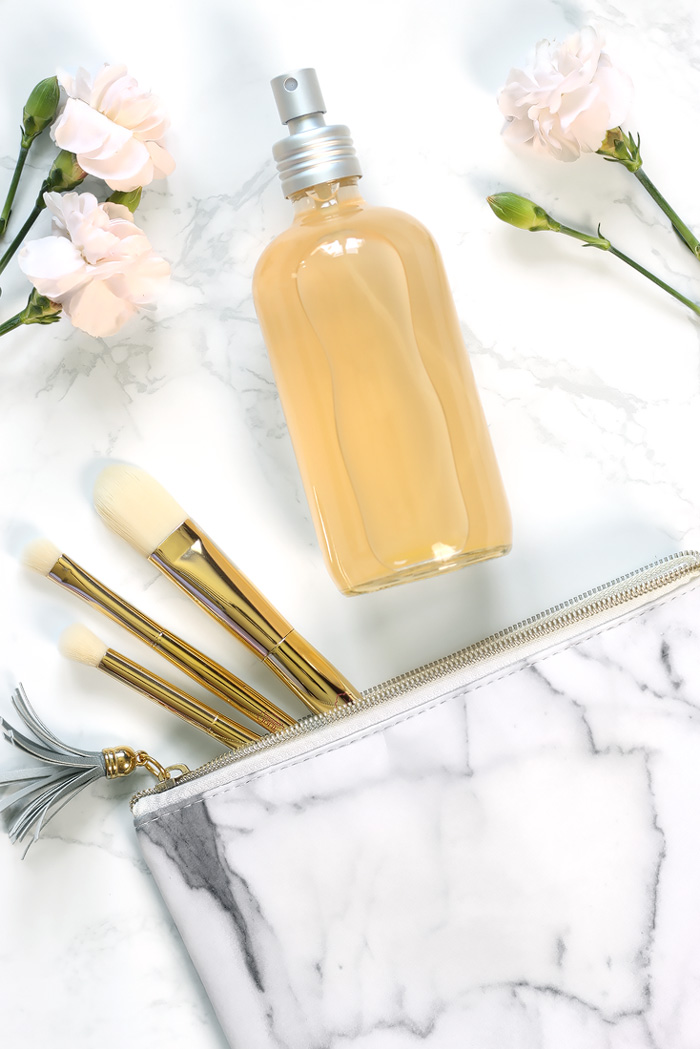 Vodka
I used 50% vodka in this recipe. For reference, this is 100 proof in Canada but the classification may be different in your location.
For extra colour and fragrance, I also used a splash of rose petal-infused vodka (post on this coming soon). Since most of us likely don't have batches of rose petal vodka infusing in the pantry, regular vodka will do just fine.
200x Aloe Powder
Instead of synthetic polymers, I used high concentrated 200x aloe vera juice powder. This is what creates the water-resistant film that holds your makeup in place.
This type of aloe powder has been carefully freeze-dried as to not damage its delicate polysaccharides. It's also 200x the strength of regular aloe vera powder, so you don't need much for it to be effective.
Neroli water
Also known as orange blossom water (or hydrosol), neroli water is known for its uplifting aroma, but it also has anti-inflammatory and antibacterial properties. It makes this setting spray smell lovely without synthetic, phthalate-laden fragrances.
If desired, you can always substitute rose water or plain, distilled water.
Propanediol
Propanediol is a humectant made from renewable corn sugar. It's the more natural version of petroleum-derived propylene glycol.
Not only is propanediol less sticky than vegetable glycerin, but it's also less hygroscopic, meaning it absorbs less water from the air. As a result, it gives this setting spray recipe just the right amount of hydration without a greasy feel.
How to use this setting spray
To use this DIY setting spray, close your eyes and spray liberally over your makeup. Enjoy the matte finish and aloe vera-powered hold! This recipe is great for all skin types, but it's especially beneficial for oily skin.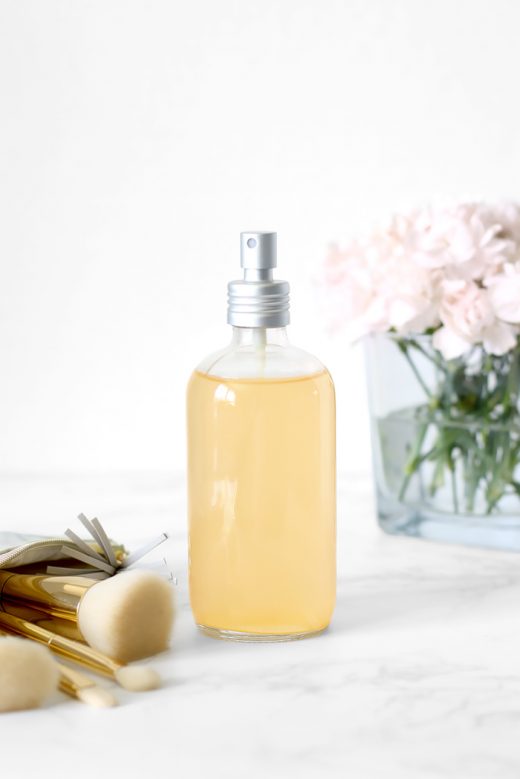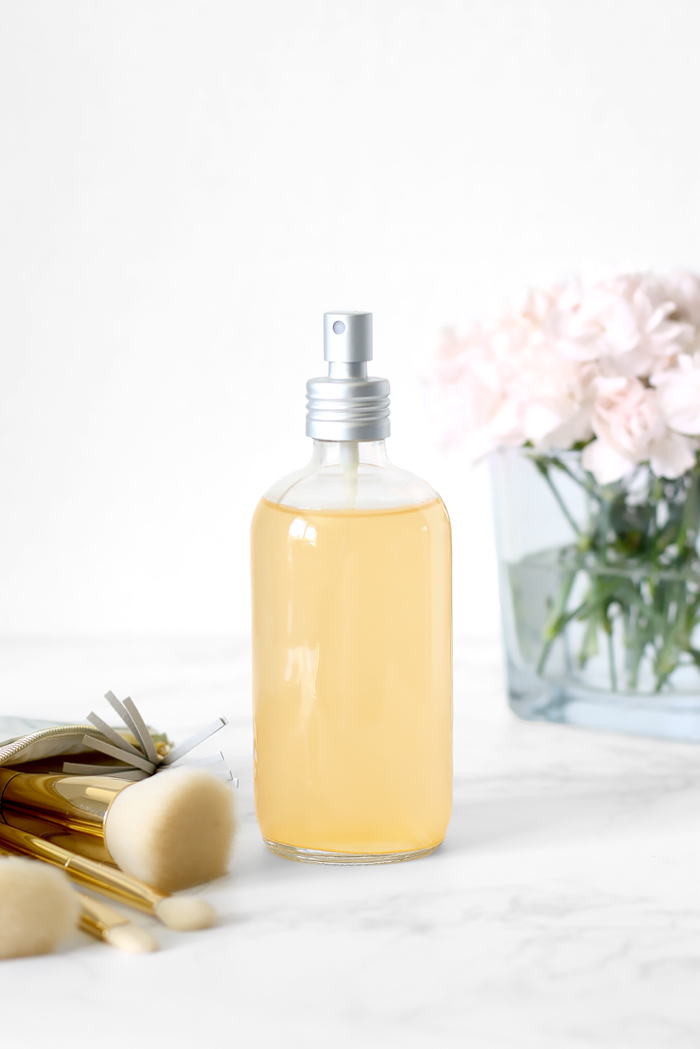 Don't be surprised if your face smells great, too. This spray has a lovely scent thanks to the neroli water. No synthetic, irritating fragrances required.
That said, if you have particularly sensitive skin, consider using plain distilled water instead of neroli water. Even natural ingredients can be irritating to some skin types.
This setting spray can also be used throughout the day to mattify and refresh your skin while recharging your makeup's staying power. For touch ups on the go, I like to throw it into my purse or beach bag in a tiny spray bottle.
DIY Makeup Setting Spray Without Glycerin
This natural DIY setting spray is made without glycerin for a matte, non-greasy finish that's ideal for oily skin types. Thanks to a unique combination of ingredients, it creates a water-resistant film that keeps your makeup from melting, even during the summer.
Servings:
1
setting spray
Instructions
Combine your neroli water, vodka and propanediol.

Slowly sprinkle the aloe vera powder into the bottle, a small pinch at a time. (If you add too much at once, it will clump.) Shake the bottle after each pinch until the aloe is dissolved. Repeat until all of the powder is combined.
Notes
The preservative is not optional. Unless you intend to keep this DIY setting spray in the fridge, you must preserve it to prevent dangerous bacterial growth. If preserved, it can be kept at room temperature.
DIY setting spray recipe substitutions
Can I substitute aloe vera juice?
I haven't tested this setting spray recipe with aloe juice, so I can't comment on its efficacy. I'm not sure it contains enough polysaccharides to be effective. The benefit of the 200x powder is that it's highly concentrated.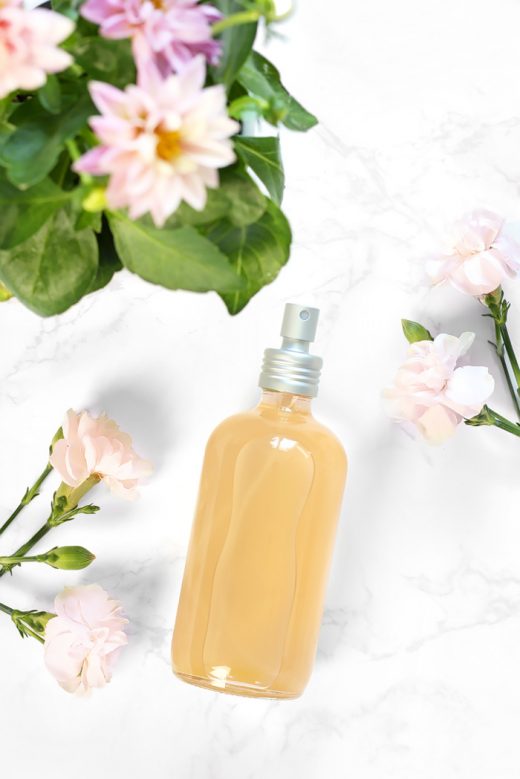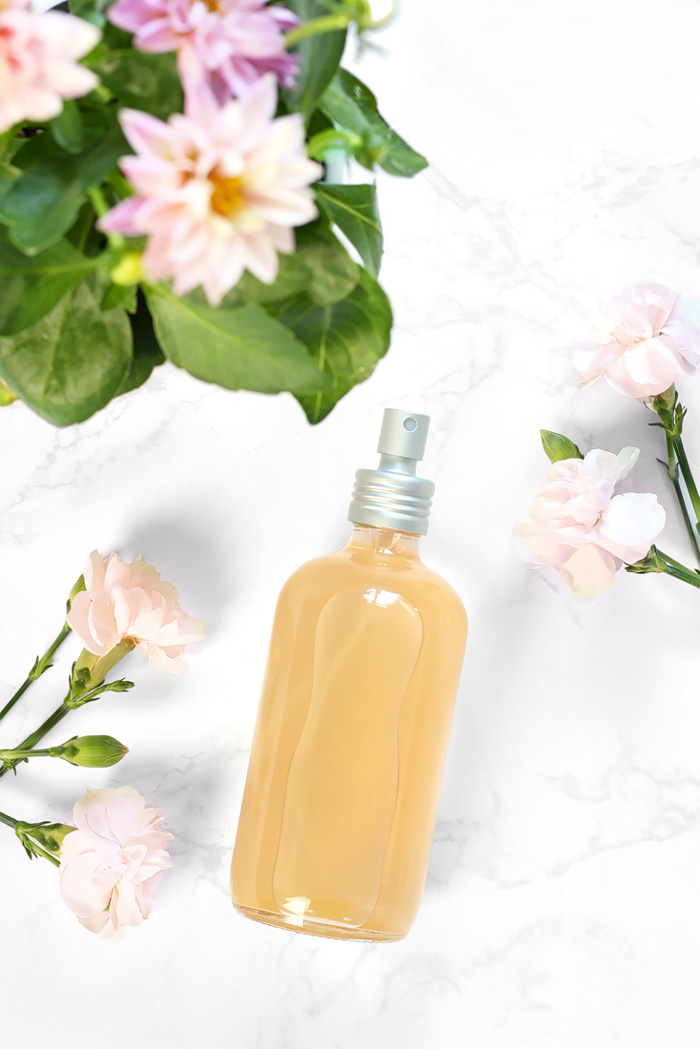 Can I substitute regular aloe vera juice powder?
1 ounce of 200x aloe powder is equal to 200 ounces of regular aloe powder. So, I can't guarantee substituting regular aloe vera powder will be as effective as the original recipe. But if you cannot source 200x aloe powder, it's the next best option.
If you end up trying this DIY setting spray recipe, I'd love to hear about it in the comments below. And if you have any other DIY tricks for setting your makeup, I'd love to hear about those, too!
More DIY beauty recipes
Looking for more natural DIY skincare recipes? Check these out:
Follow us on Pinterest for even more natural DIY beauty ideas! You can also find us on Instagram, Facebook and Twitter.
Pin it for later