Learn how to make an easy DIY wood bead garland with tassels. This inexpensive homemade decor piece adds an element of natural wood texture to any living space. Use it to style your coffee table, sideboard, mantel, or to add a touch of bohemian or farmhouse flair to any corner of your home. Includes a detailed step-by-step tutorial as well as instructions for making your own cotton tassels.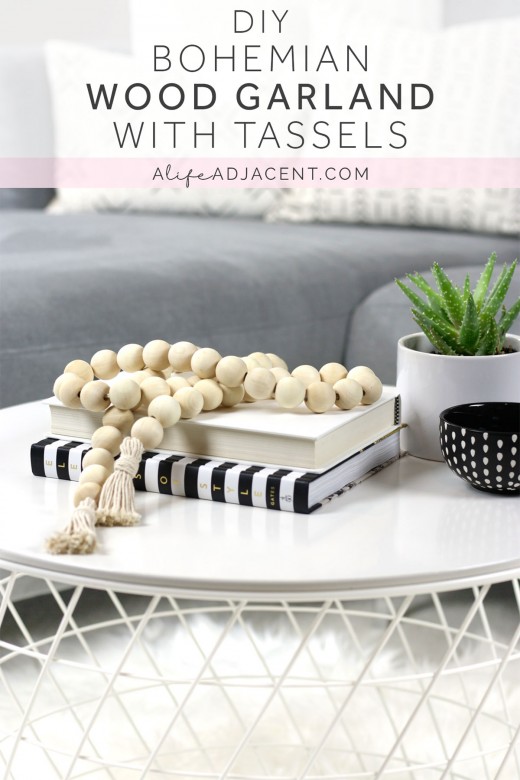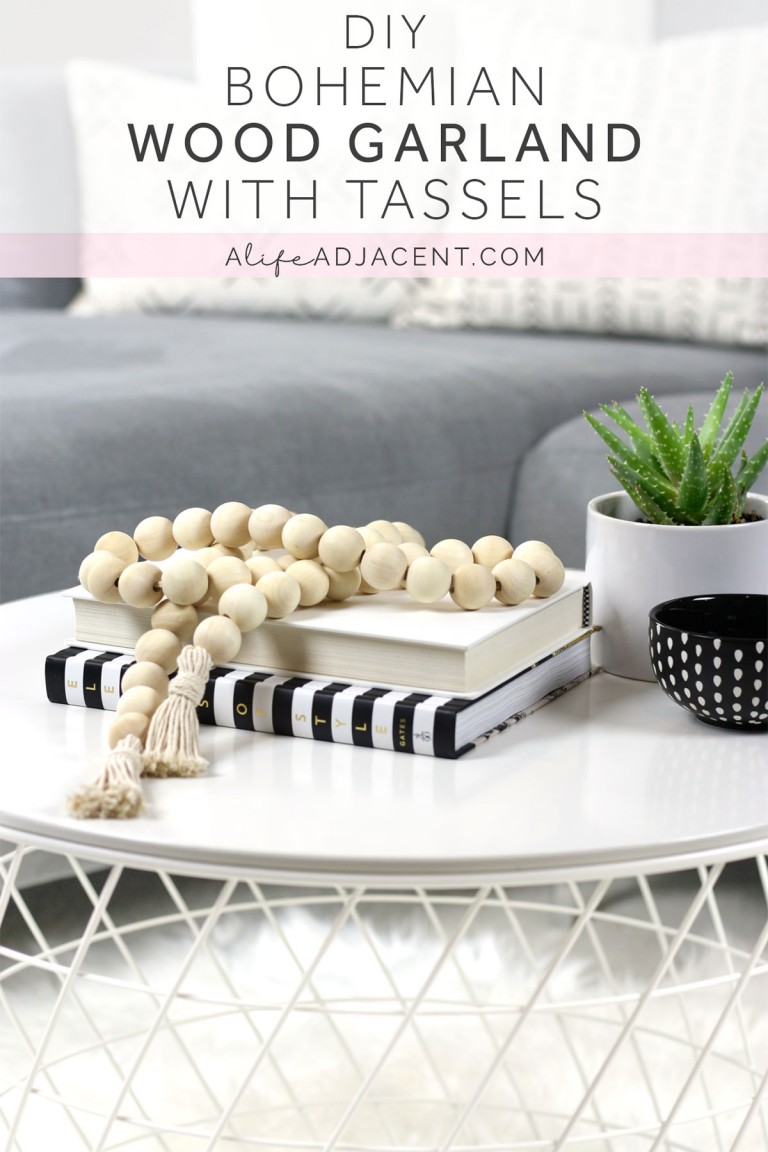 Every so often, we like to switch things up around here and share a home decor DIY.
Do you ever see a home decor item on Pinterest or on your favourite Instagram home decor account and think, "oh, I can make that!"? Then, you do a quick Google search and realize that it's been done. A lot.
Well, even though that happened, I liked this DIY wood bead garland for its simplicity and its sustainable, eco-friendly and natural elements – unfinished wood beads and unbleached cotton string.
Also, DIY'ing this piece was definitely cheaper than buying it, and that's the goal of a good DIY, right? Plus, it was incredibly easy to make.
DIY Wood Bead Garland with Tassels
Learn to make an easy DIY wood bead garland with cotton tassels. Add a natural element and a hint of bohemian or farmhouse flair to your living space.
Instructions
This garland requires two tassels. To make a tassel, wrap your string around your hand approximately 20 times, starting and ending with both end pieces going in the same direction (as shown in the photo).

Next, about a third of the way down, tie off the top part of the tassel. Then, wrap your string approximately 12 -15 times around, creating a uniform edge. Be sure to tie off the end that doesn't include the already cut strings, which should be facing downward.

After wrapping, tie the ends in a tight knot, allowing the pieces to hang down and become part of the tassel. Or, clip them off and tuck them under the wound string, if you prefer.

Next, cut the bottom loop to create your tassel. Trim evenly, if necessary.

Use scotch tape to wrap one end of the cotton string (while it's still on the spool) to create a stiff tip, and then thread the string through the top of your tassel. Don't cut your string off the spool until you're sure how much you need. You're going to string the beads with your string doubled, so you need to pull the length of string you will require completely through, double it and then add a few inches BEFORE you cut your string from the spool. The length will depend on the amount of beads you plan to string.

Once you determine the correct length, tie a knot at the top of your tassel to anchor it. See photo. My garland was 48" long, so the amount of string I cut was 100 inches. To begin stringing your beads, tape both pieces of your string ends together to create another stiff tip so that you can thread both pieces of string easily though the beads.

Once your beads are completely strung, cut off your double scotch taped end and pull one side of string through the top of your second tassel. With the other end of your string, create a knot at the top of the tassel in the same way you did with the first tassel. Tie your knot tightly, cut and hide the ends in the loop. Make sure the knot is secure before you clip the ends of your string.
Notes
You can also paint or wax your wooden beads. I liked the natural pale wood tone of the beads so I strung them as is onto cotton string. You can also use a large embroidery needle, if you have one on hand, instead of the scotch tape method, but I find wrapping the ends of the string with scotch tape is easier and quicker.
The finished wood bead garland can be artfully strewn anywhere in your home. It's perfect for quick coffee table or sideboard styling, and it looks lovely draped over a vase of flowers.
As well, depending on how long your finished garland is, it can also be used as decorative garland on your Christmas tree. Or it can be draped on your fireplace mantel, along with some greenery, for a festive display during the holiday season. We may try these holiday decor ideas this coming Christmas and will update this post with a photo if we do!
The garland also looks lovely draped across a pretty wood bowl. Overall, we think this DIY wood bead garland is a simple and inexpensive way to add a little natural wood element, texture and bohemian flair to your coffee table, dining table, or sideboard vignettes.
Homemade touches like this lend a personal touch to our living space – they're like jewelry for your home. And, this eco-friendly wood bead garland is one of the simplest home decor DIYs we've ever done!
If you have any questions or comments about this project, please let us know in the comments below. As well, if you decide to make this garland yourself, be sure to share a photo of your finished project on social media and tag us. We'd love to see it!
Looking for more DIY home decor ideas? Check these out:
For even more easy DIY home decor ideas, follow us on Pinterest! You can also find us on Instagram, Facebook and Twitter.
Pin it for later