It can be difficult to create storage in a small space without compromising on style. When we downsized to our current home, I definitely needed extra storage in my new, smaller bedroom. But finding options that were both affordable and stylish proved to be challenging.
For me, the IKEA HEMNES Shoe Cabinet was the perfect streamlined storage solution. (It would also be ideal for a small entryway, hallway, bedroom, home office or mud room. It's not just for shoes!)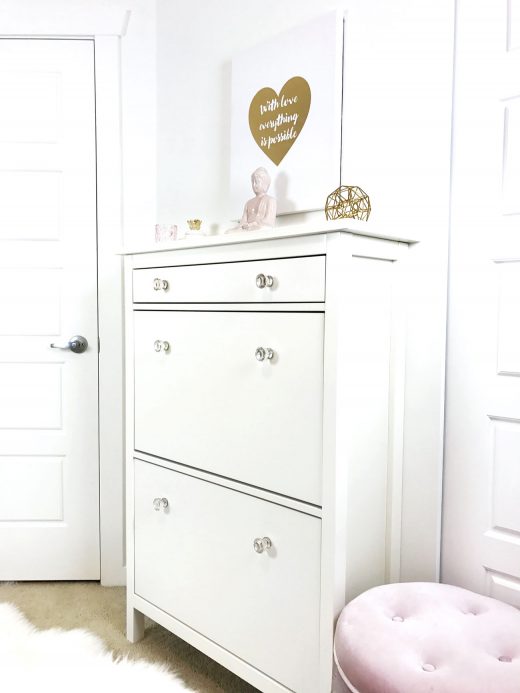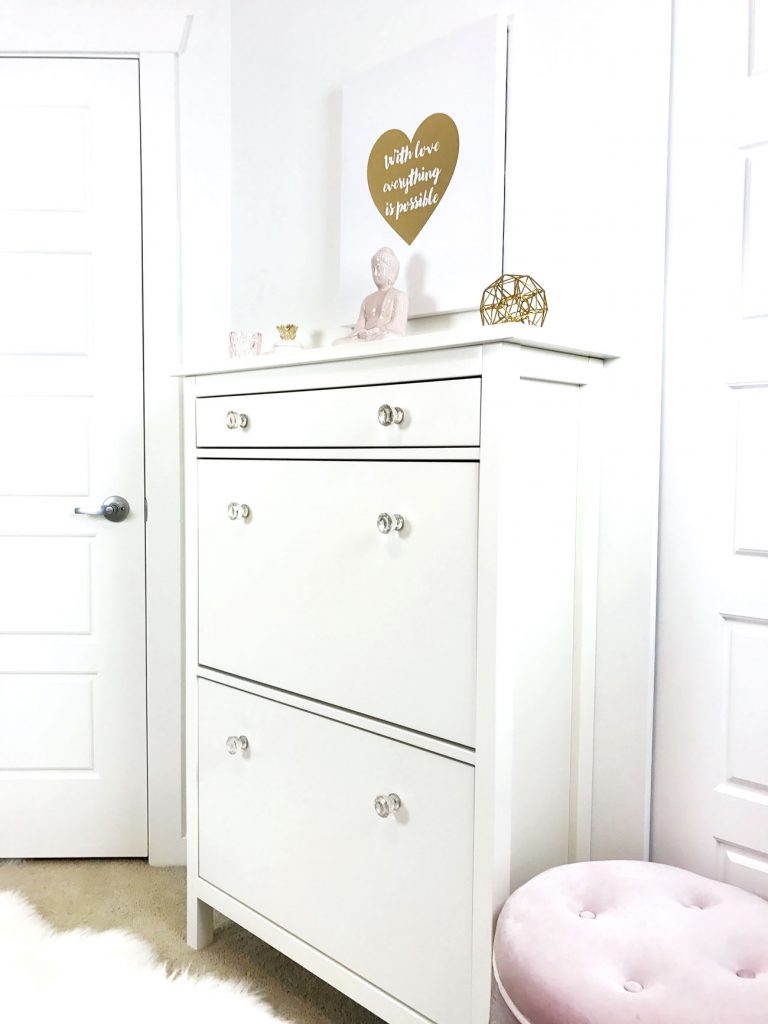 A couple of key points to note — the cabinet needs to be anchored to the wall, as it has no back legs. This allows for the closest fit during anchoring. The HEMNES shoe cabinet comes in two sizes and colours to suit your home's unique decor, and can work well in both contemporary and traditional spaces.
I purchased the tall version of the shoe cabinet, which fits perfectly in my bedroom and works well as a compact dresser. I use it for organizing socks and scarves, but it would also be great to store hats or other small accessories.
The small top drawer is perfect for jewelry and other delicate items. I chose to personalize my drawer by covering the standard yellow striped liner with contact paper in a gray Moroccan print, but the possibilities for customization are endless. (Now, I wish I had gone with this gorgeous marble contact paper instead!)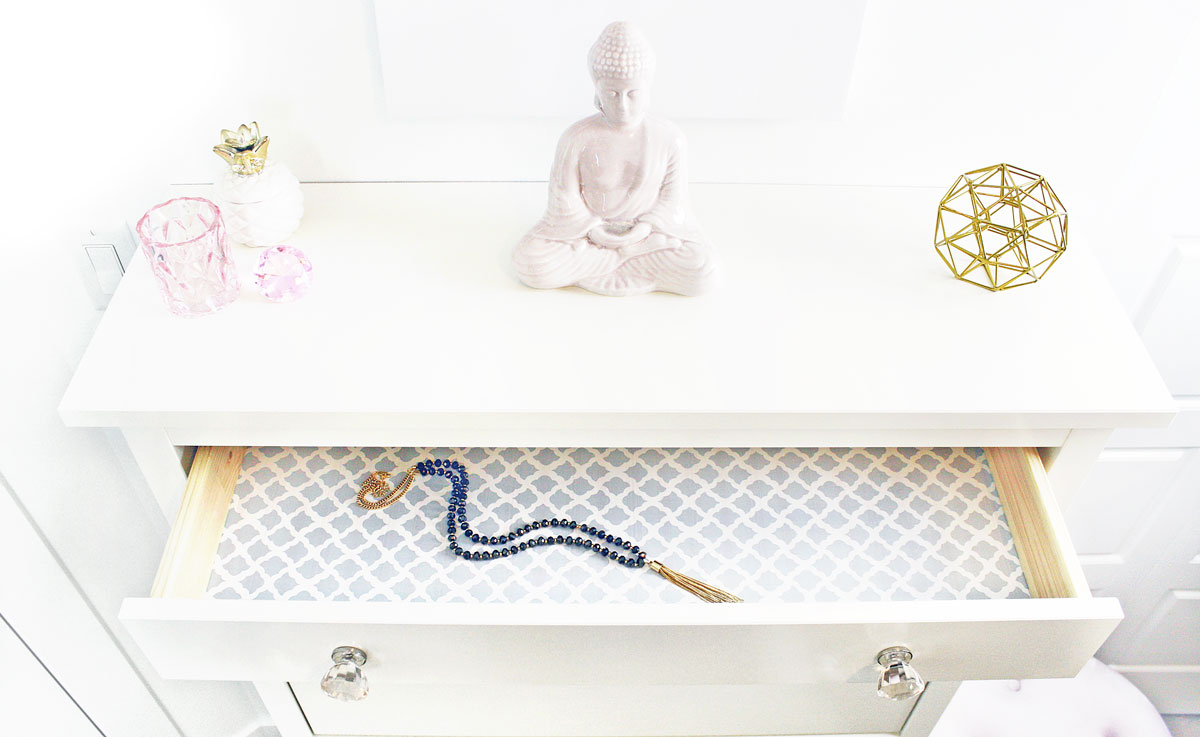 I also added a little glam to my cabinet by swapping out the standard knobs for some glass pink and clear knobs from HomeSense. I saw some gorgeous and affordable options on Amazon as well, like these clear knobs. A gold option would also add a nice touch.
I realized later that the black-brown version of the cabinet is made of real wood, even though it's the same price as the white particle board unit. If I had discovered this sooner, I might have opted to purchase the darker cabinet, sanded it down and then painted it white (like the colour of my bedroom — Benjamin Moore's Oxford White). The extra work this entailed would have been worth it, as wood is definitely more durable long term.
While this project was not technically true IKEA "hacking," it's amazing what a difference a couple small changes can make!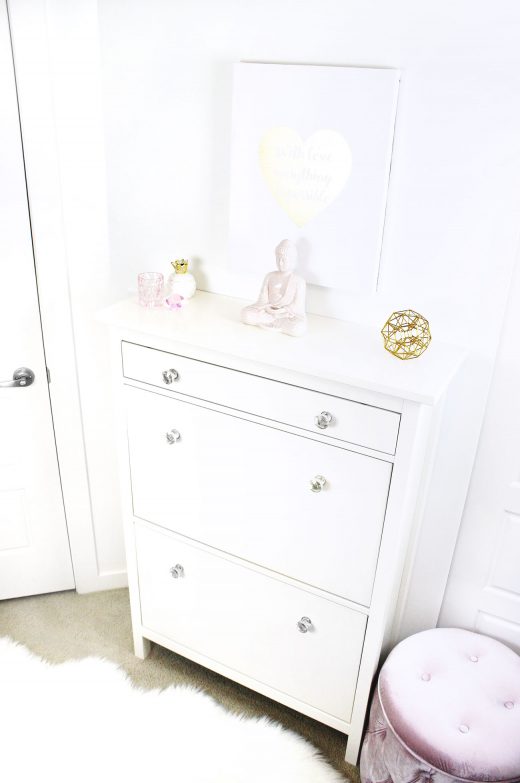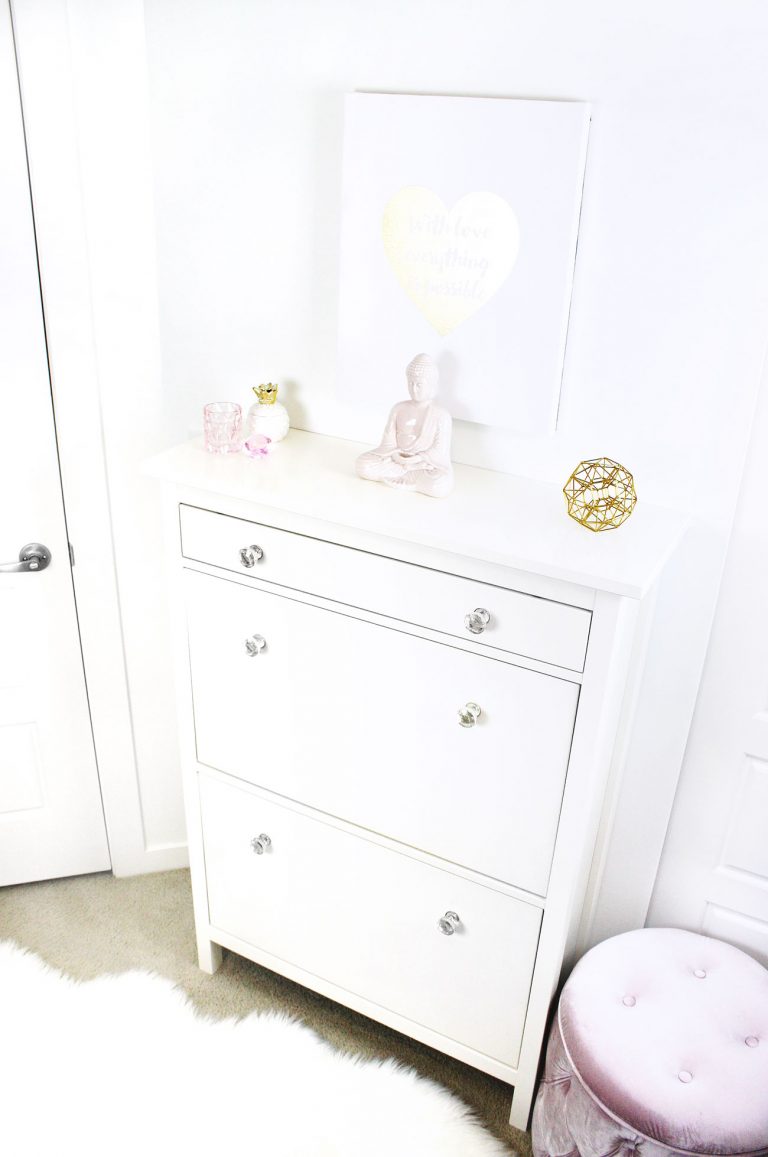 My cabinet is styled with accessories from HomeSense, CB2, and West Elm.
CB2 Max Brass Sculpture (Same)
Polygon Antique Brass Decor Ball (Similar)
CB2 Pink Tealight Candle Holder (Same)
Vintage Glass Tealight Candle Holder (Similar)
Buddha Head (Similar)
How do you make the most of your small space? We'd love to hear about your storage hacks in the comments!