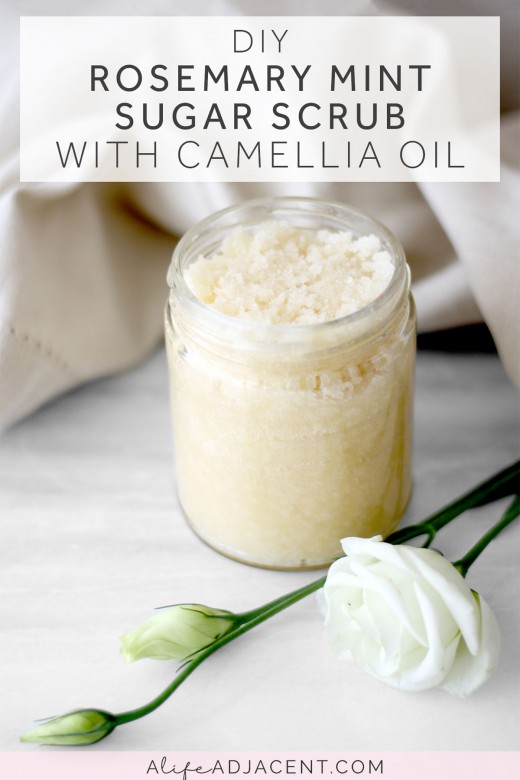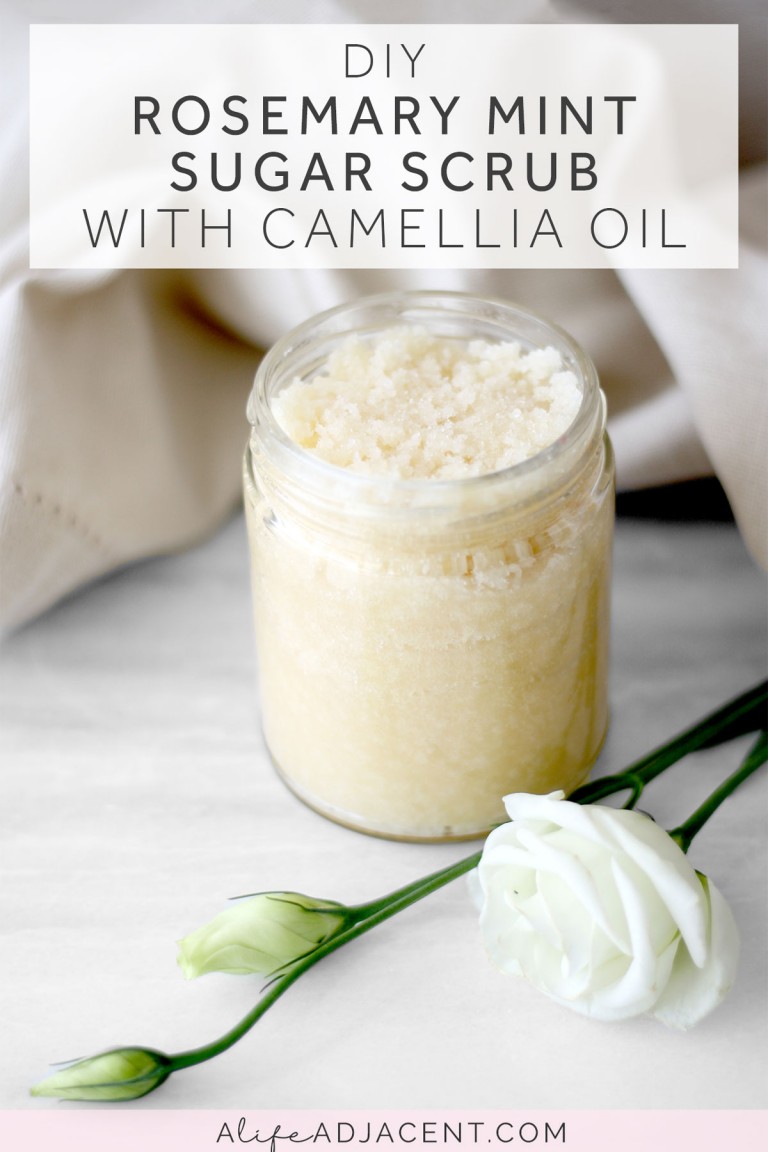 Homemade sugar scrubs are another one of those little luxuries that are incredibly simple to make. This makes them a great addition to your DIY skincare arsenal.
Sugar scrubs also have a plethora of benefits, including leaving the skin smoother and more vibrant. The gentle exfoliation they provide helps to slough off the dead skin cells that can clog pores and lead to duller looking skin.
Additionally, exfoliating with sugar scrubs can boost circulation and contribute to collagen production. They're also equally beneficial for smoothing callused heels and invigorating the feet after a long day.
I prefer sugar scrubs to salt scrubs, as the finer granules of sugar are much gentler on delicate skin. I also prefer using monounsaturated carrier oils such as camellia oil in scrubs over low quality, polyunsaturated oils such as sunflower or sweet almond.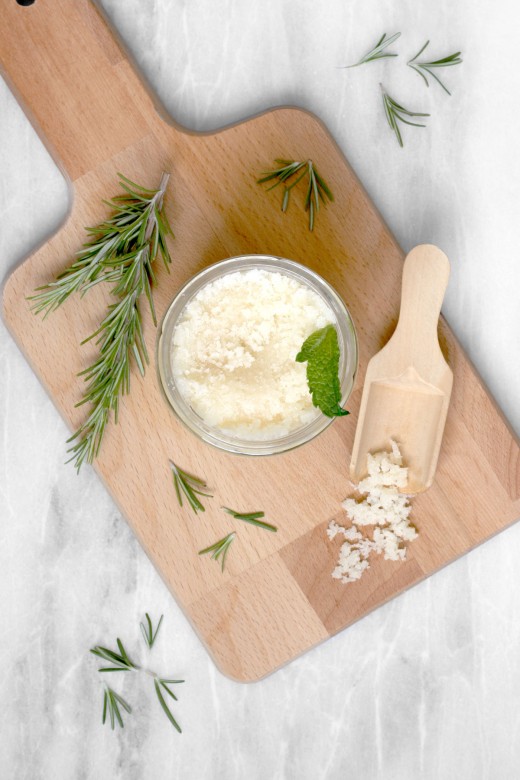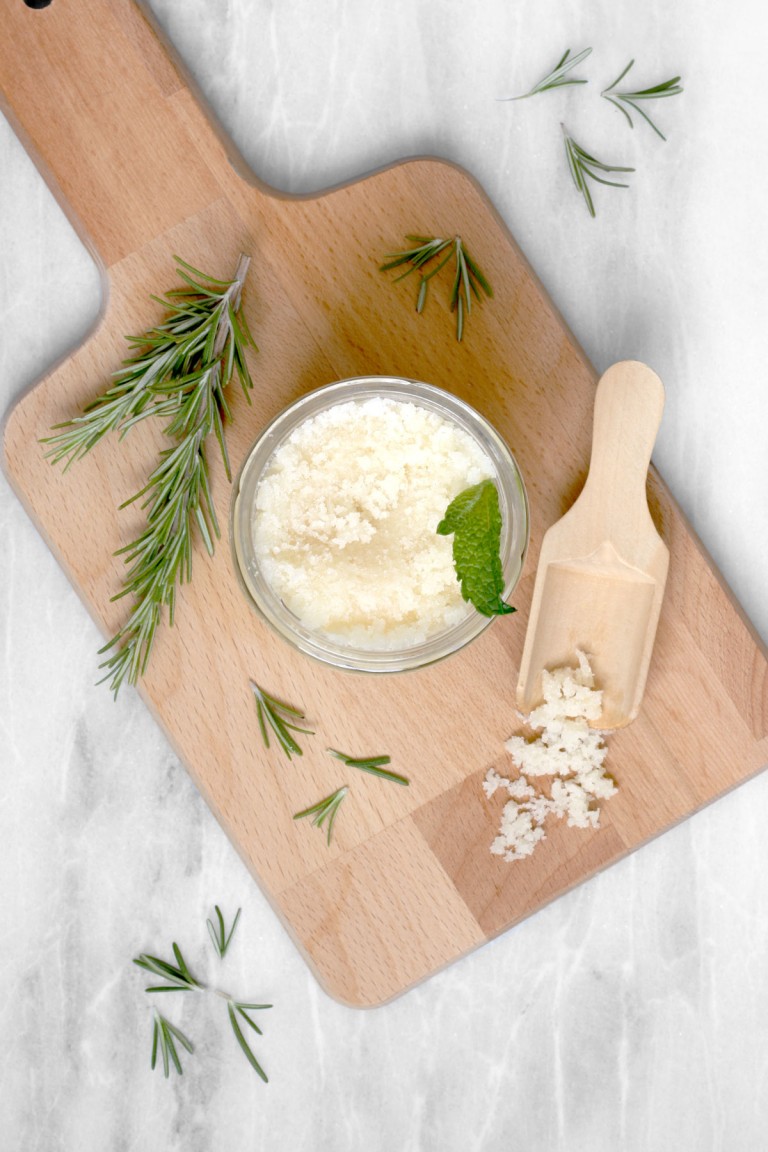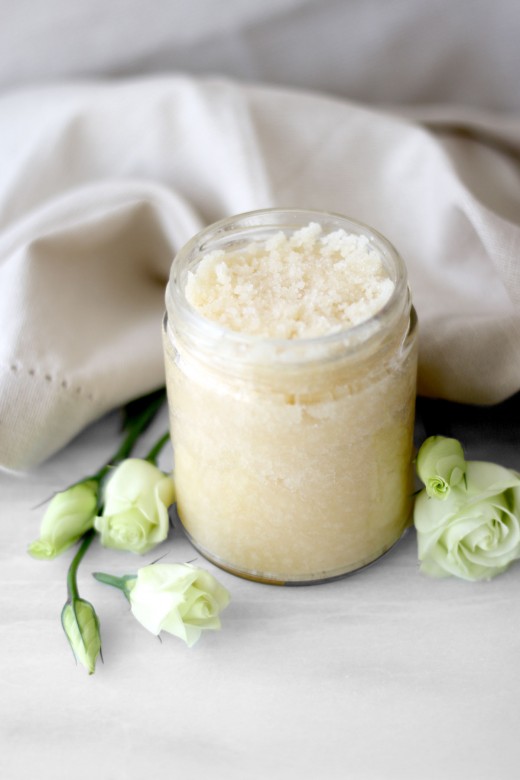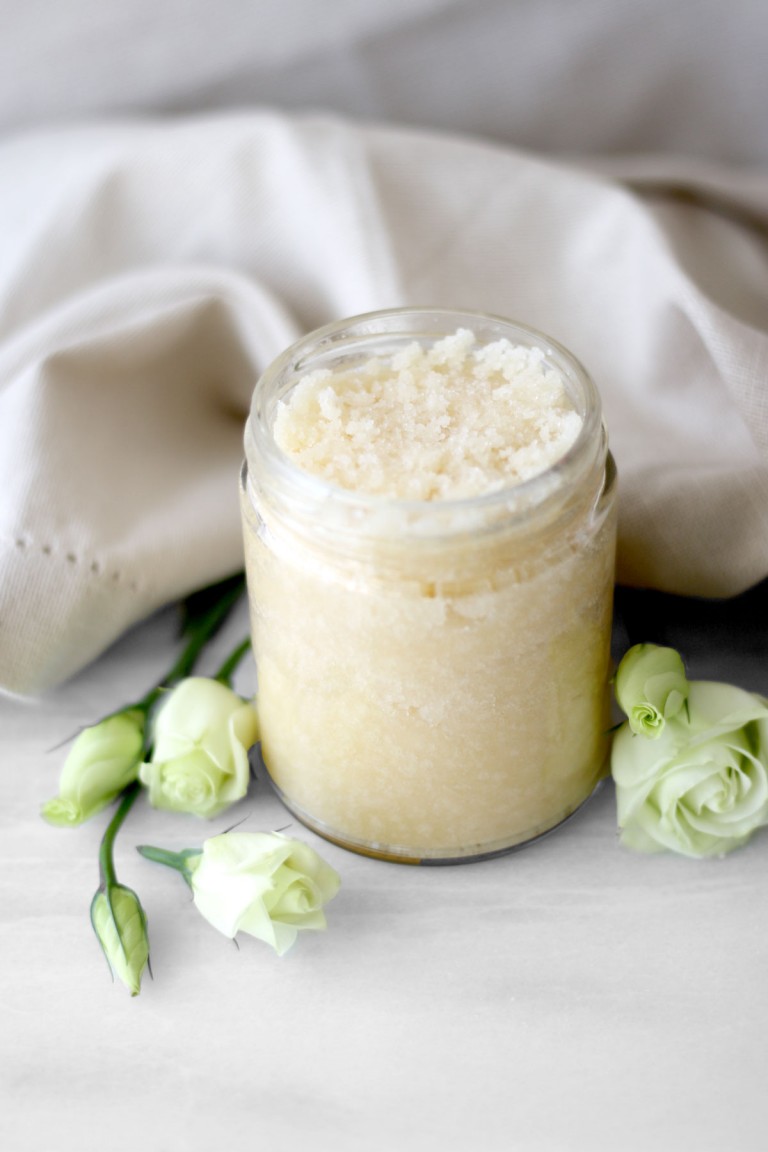 What is camellia oil?
Camellia oil is a lovely, light, non-greasy, non-comedogenic and fast-absorbing oil. The benefit of its fast absorption is that it will not leave a greasy film on the skin like many carrier oils.
It's also equally fantastic for use on sensitive or mature skin due to its high antioxidant and oleic acid content.
The camellia oil in this recipe is obtained from the seeds of camellia oleifera plants. There are approximately 250 types of camellia plants which produce beautiful rose-like flowers in shades of red, white or pink.
However, camellia oil is prodominatantly produced from 3 main types of camellia – camellia japonica, camellia sinesis and camellia oleifera.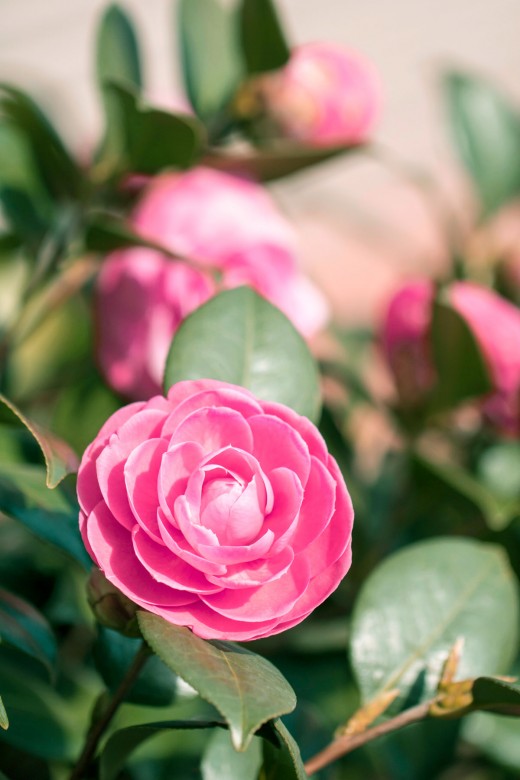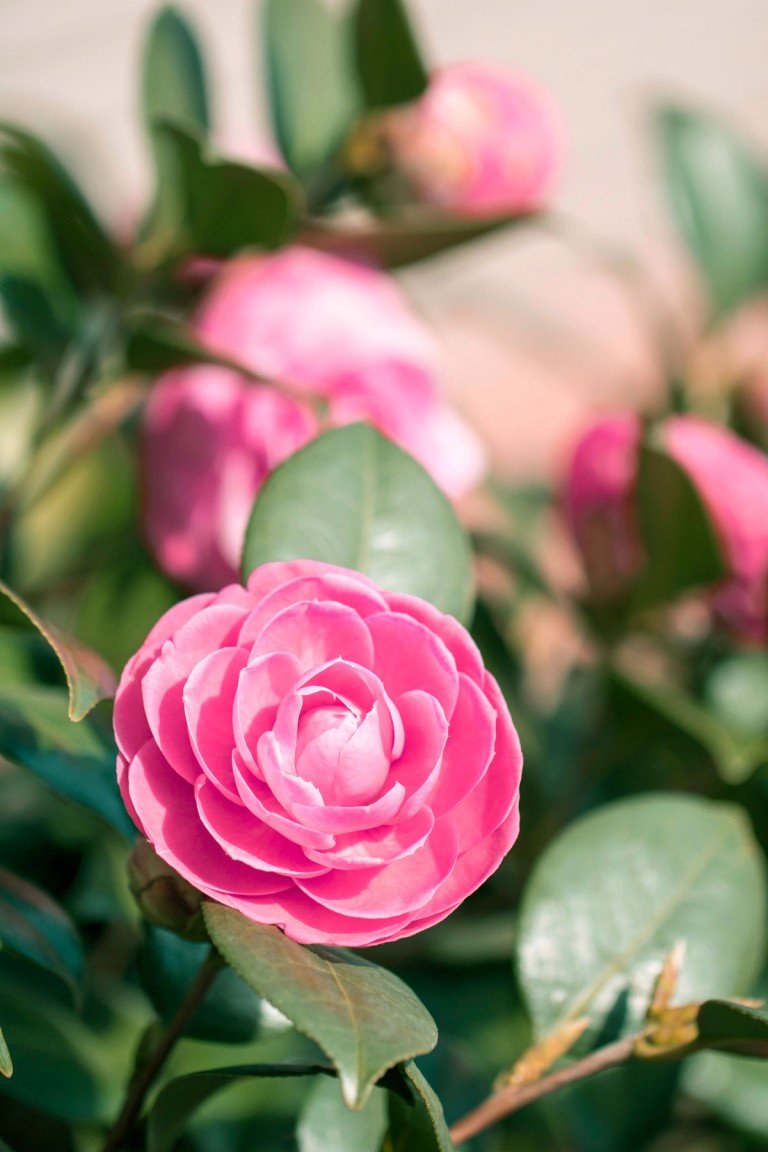 It is camellia japonica, also called Tsubaki oil, that is used most often in expensive skincare products as it is said to be odourless when compared to the oil derived from camellia sinesis or camellia oleifera.
However since camellia sinesis and camellia oleifera are less expensive and more readily available, they are more suitable for DIY body products.
The fatty acid profile of camellia oil is similar to that of olive oil. Camellia oil is high in monounsaturated fatty acids like oleic acid, and low in polyunsaturated acids like linoleic acid.
Since polyunsaturated fatty acids (PUFAs) are very unstable and prone to oxidation, it's ideal to avoid them in your skincare products. For more information on how oils high in PUFAs contribute to aging, refer to this articlle outlining the risks of using PUFA's on your skin.
It's also important to note that camellia oil is also called tea seed oil and thus can be confused with tea tree oil. But camellia oil and tea tree oil are two very different oils with different uses and benefits and should not be used interchangeably.
Please be certain that you purchase camellia (or tea seed oil) rather than tea tree oil for this recipe. Also, when utilizing any type of camellia oil in your DIY products, be certain that it's organic, cold-pressed and not diluted with any other type of oil.
Rosemary and peppermint essential oil benefits
This DIY scrub is perfect for reducing stress and helping to alleviate aches and pains. Both rosemary and peppermint, two very invigorating essentials oils, have been shown to boost circulation, improve memory and aid in the relief of body aches and sore muscles.
Studies have also shown that smelling rosemary can decrease oxidative stress as well as lower the level of cortisol (the stress hormone) in saliva.
As always, it's important that when buying essential oils for your DIY skincare products, make sure they are organic and purchased from a reputable source.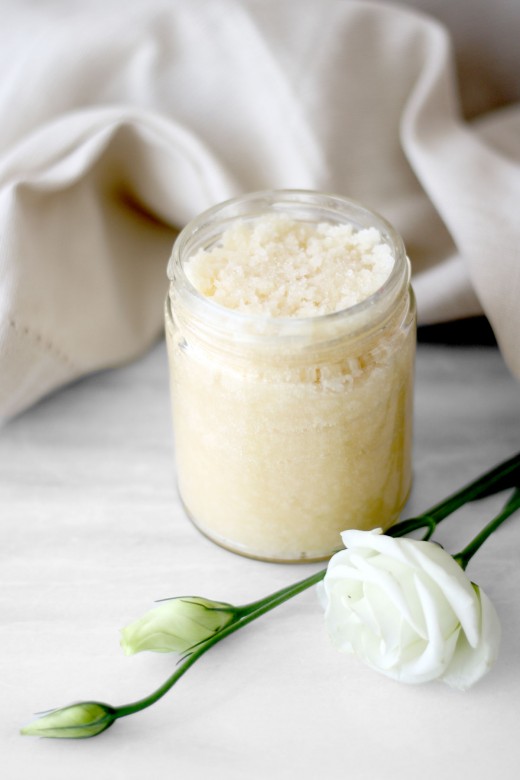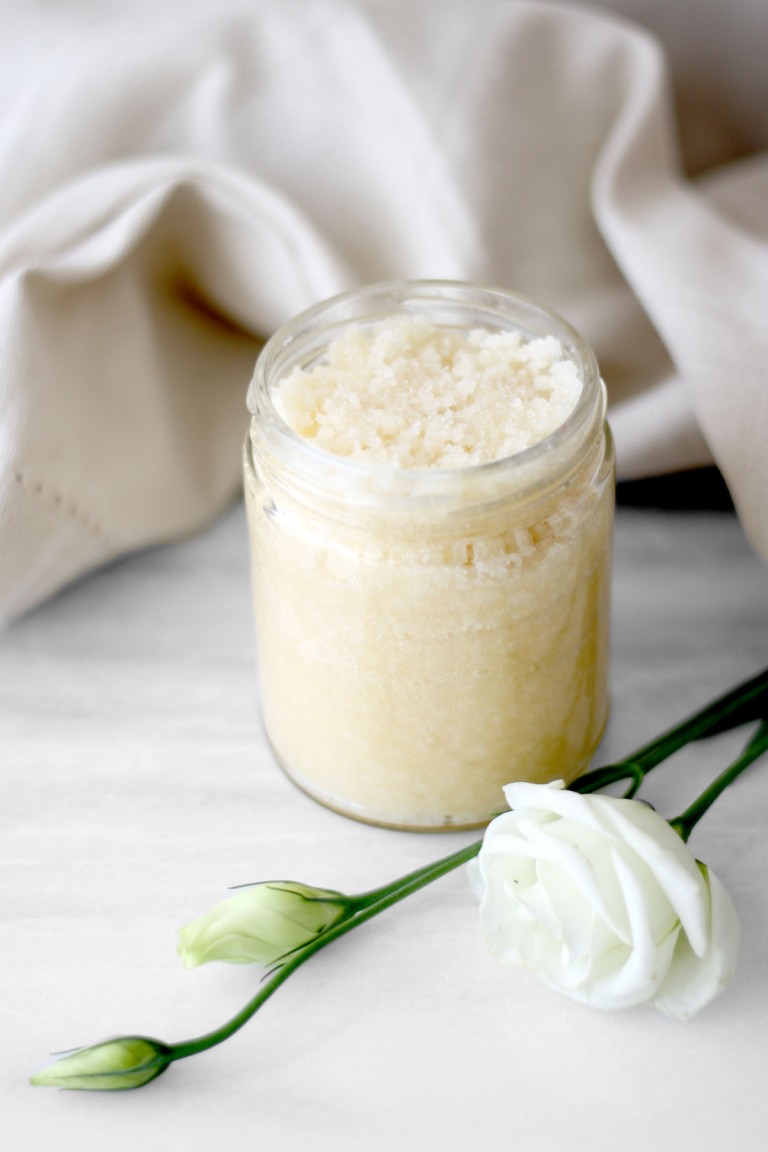 DIY Rosemary Mint Sugar Scrub with Camellia Oil
Learn how to make a revitalizing rosemary mint sugar scrub with stress-reducing aromatherapeutic properties. Contains skin-nourishing Japanese camellia oil.
Servings: 1 jar
Instructions
In a glass mixing bowl, mix sugar and

camellia oil

until combined.

Add peppermint and rosemary essential oils and mix thoroughly with a clean utensil.

Apply to clean, just-washed skin in a circular motion. Rinse off lightly in the shower or bath with water only. You don't want to remove the beneficial moisturizing properties of the camellia oil with soap or body wash, so be sure to bathe before using the scrub.
Notes
Your rosemary peppermint scrub with camellia oil will last approximately six months to a year under proper conditions. We recommend that you refrigerate your scrub in an airtight glass container (such as a wire-clamp jar) to preserve the oil's freshness.
Please avoid getting any water in the jar -- scoop the amount you will need out of the container before use, and do not bring the container into the shower. Introducing water into the scrub will allow bacteria to grow and spoil your scrub.
This scrub is easily customized -- if you find your scrub either too dry or too oily, vary the sugar to oil ratio.
Consistency is key -- use this scrub 2-3 times per week for best results.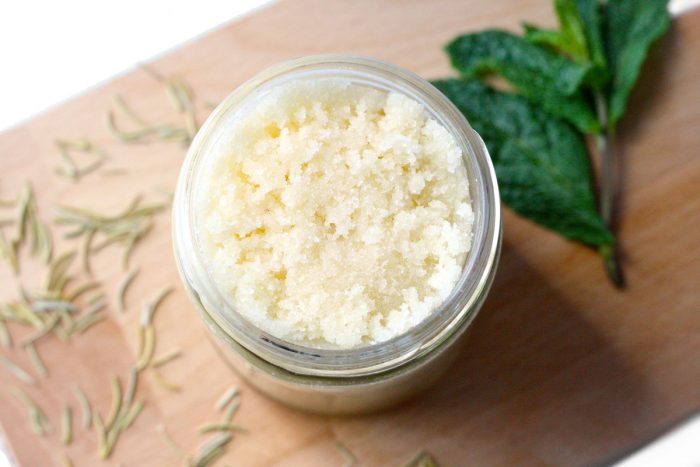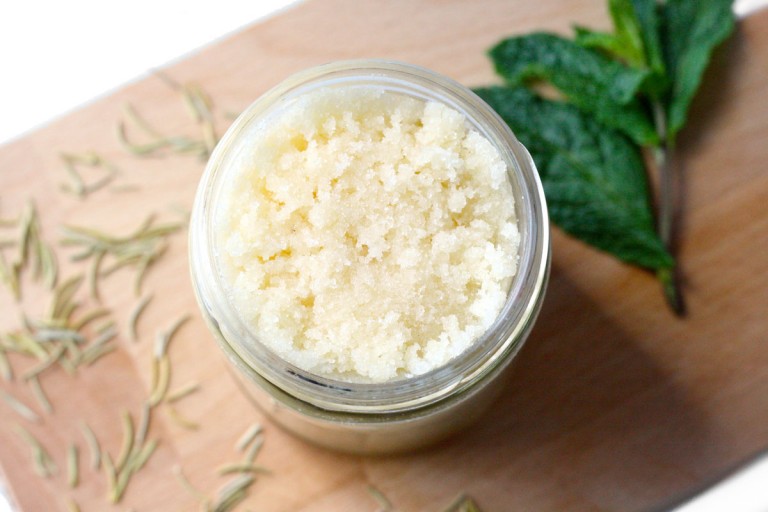 If you don't have camellia oil on hand or don't want to purchase it for this recipe, you can always substitute the camellia oil for another monounsaturated oil like cold-pressed olive oil or avocado oil. You can also use fractionated coconut oil, which is liquid at room temperature.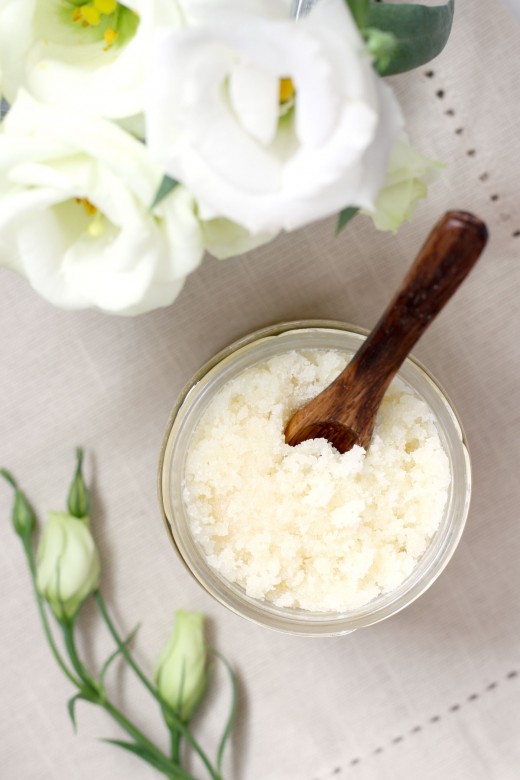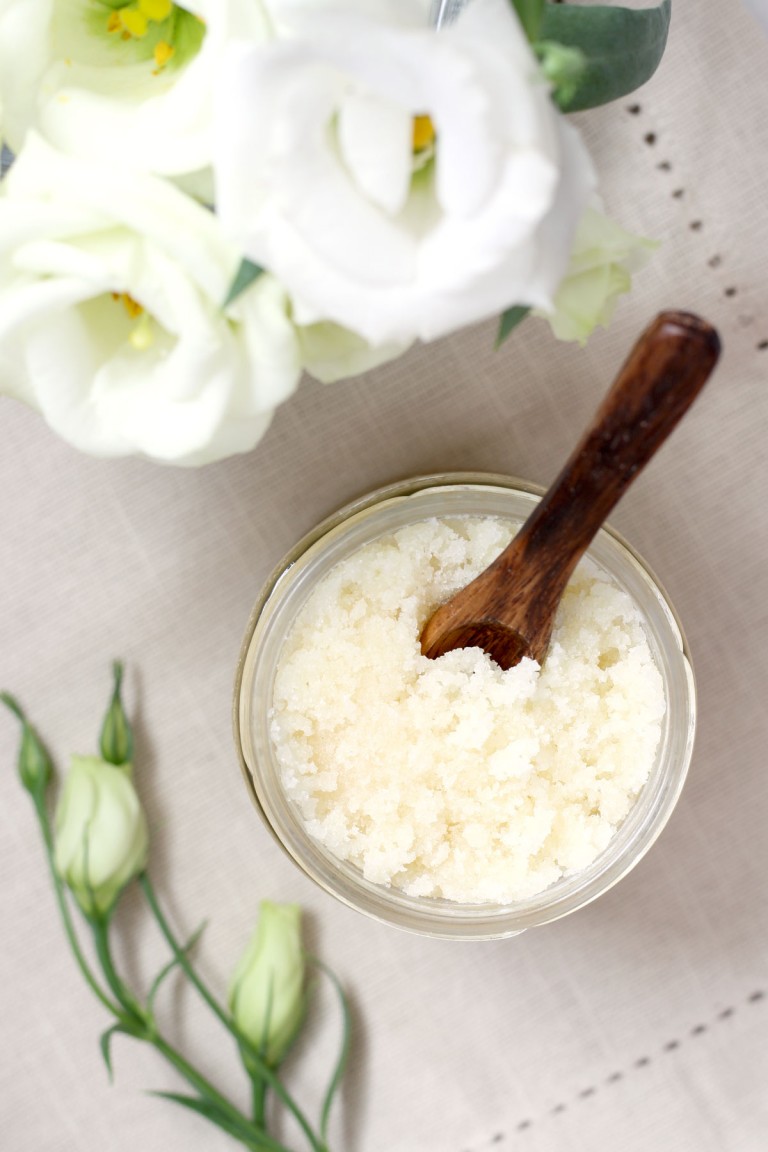 Pin it for later