This natural shimmer setting spray sets your makeup while illuminating your skin with a pearlescent glow. Cosmetic mica powder gives this DIY setting spray its shimmer, while vodka and aloe vera powder create a barrier that holds your makeup in place all day long.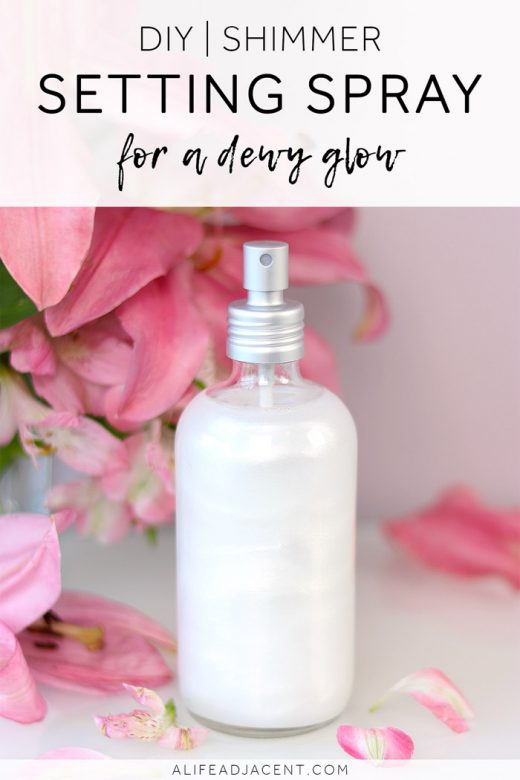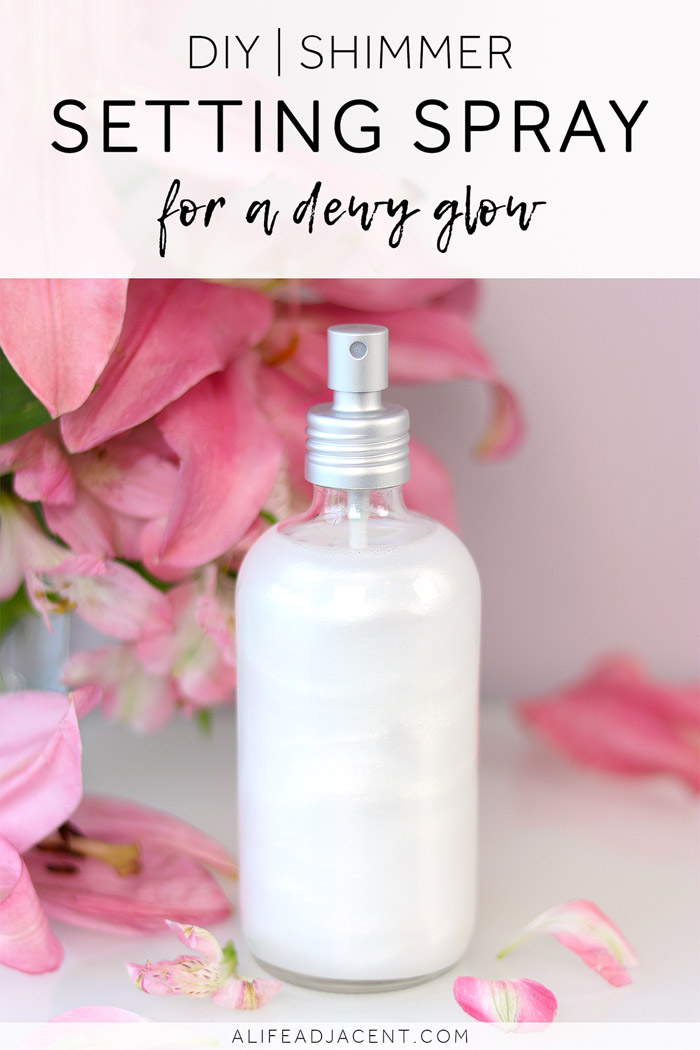 I can't get enough of that glowing, luminescent skin look that's so in vogue right now. I'm always chasing that lit-from-within radiance, but there's only so much a good highlighter can do. My desire for an all-over glow is what lead to this DIY.
This DIY illuminating setting mist will cast a lovely glow over your makeup. You'll get a subtle, pearly sheen that's enough to be noticed, but not so obvious that you look like you dipped your face in glitter. Think effortless radiance, not New Year's Eve party makeup. (Although, this spray would be a great finishing touch to any party look!)
Even on days when I wear very little or no makeup, I still finish my skin with this spray, which has quickly become a staple in my routine. I love how it gives my face a subtle lustre and helps create a soft-focus effect over any imperfections. And like a true multitasker, it really does help makeup stay in place.
The glow of this setting spray is visible in most lighting, but its soft shimmer is particularly beautiful and eye-catching in sunlight.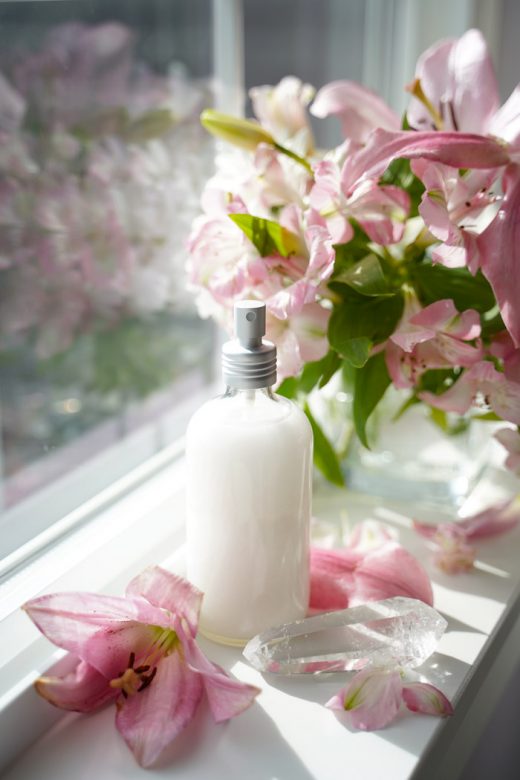 Like all my recipes, this one is non-toxic and easy to make. As someone with very sensitive skin, there are certain ingredients (like fragrance) in store bought products that I can't use. This recipe doesn't contain any of the irritating fragrances or denatured alcohols commonly found in many store-bought makeup setting sprays.
This DIY was inspired by the "Dew Me" iridescent setting spray by Glow Cult Cosmetics, which is no longer available. I never tried the product, but I loved the idea. I imagine this DIY also gives a similar effect to other popular shimmer sprays such as Mac Prep and Prime Fix Plus and Iconic London Prep Set Glow.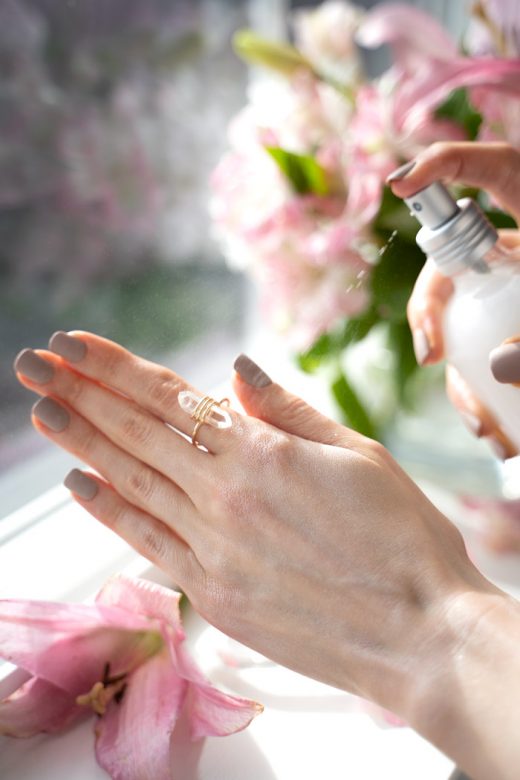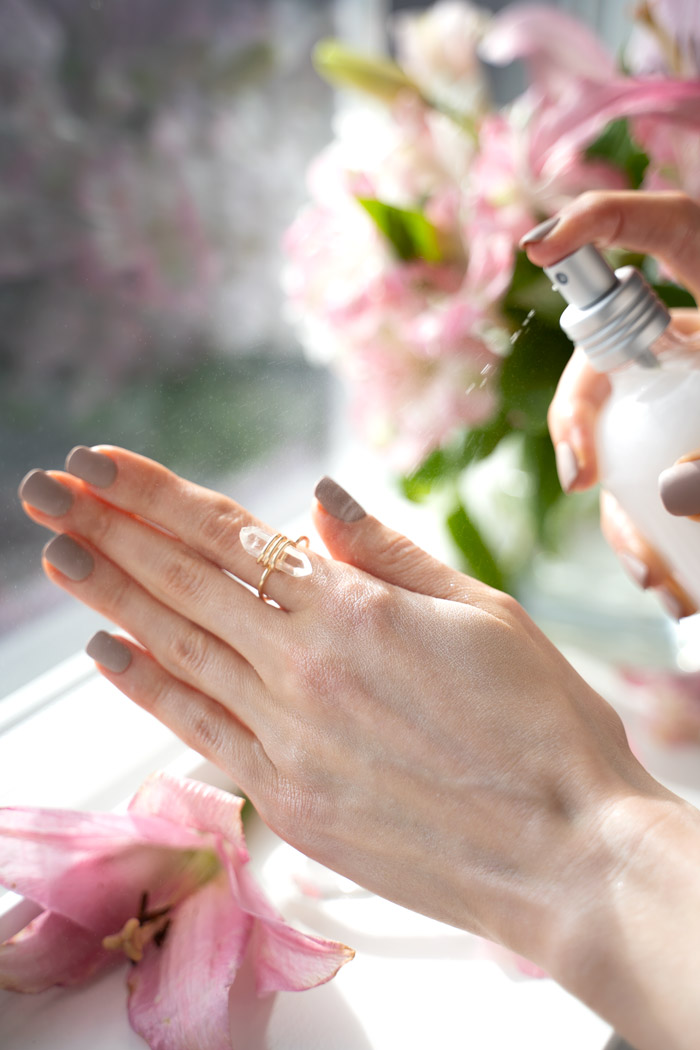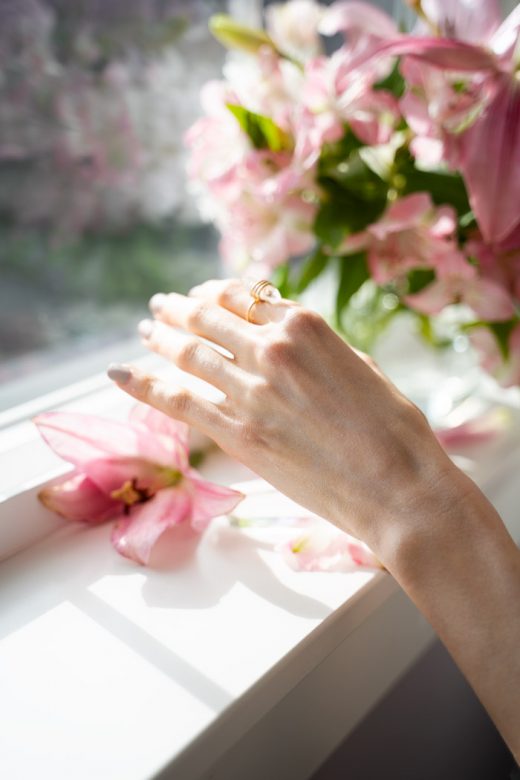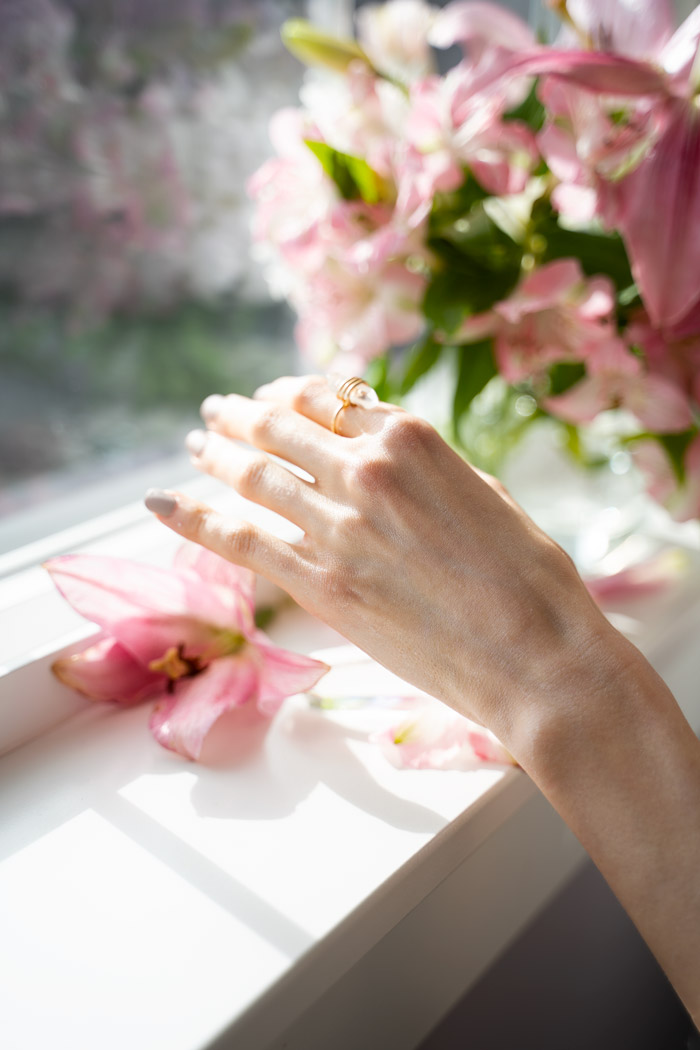 What's in a setting spray?
Store bought setting sprays are a hot ticket item. They easily sell for over $30 a bottle, and one cult-favourite "dewy finish" spray in particular sells for $50! I'll gladly shell out for non-toxic, well-formulated cosmetics, but I have a hard time justifying the price for something so easily made at home.
Creating a homemade setting spray is relatively simple and inexpensive. The basic setting spray "formula" consists of a humectant, a film-forming agent, and a liquid such as water or alcohol. The liquid evaporates, leaving behind the film that sets your makeup in place. Meanwhile, the humectant stops your skin from getting too dry or matte.
Some setting sprays skip the film-former – think simple rosewater and glycerin formulas. This combination definitely works to make your makeup look nice and dewy, but doesn't lend as much in terms of staying power.
To truly "set" your makeup and create a long lasting barrier against the elements, you need a film-forming ingredient such as a polymer or a polysaccharide. This DIY shimmer setting spray recipe contains the latter in the form of 200x aloe vera powder.
If you have particularly oily skin or if you live in a humid climate, you might prefer a setting spray with a more matte finish. In that case, I recommend my DIY neroli setting spray. And if you're looking for maximum hydration, I also have a simple rosewater and glycerin makeup setting spray that's very easy to make.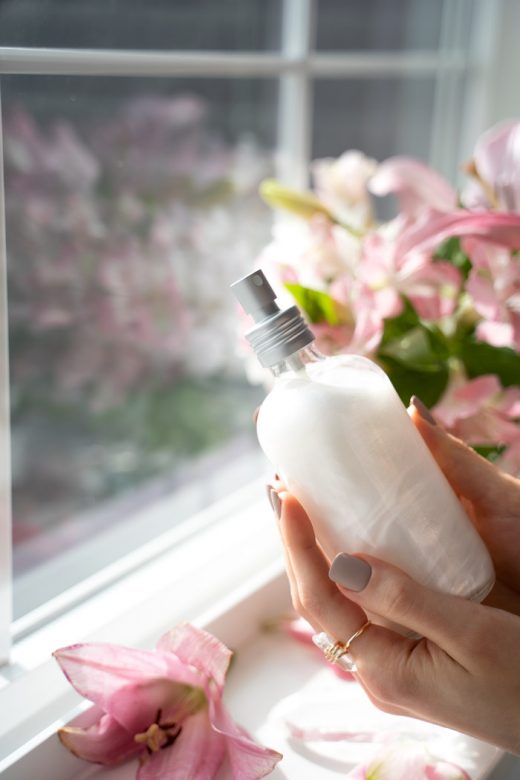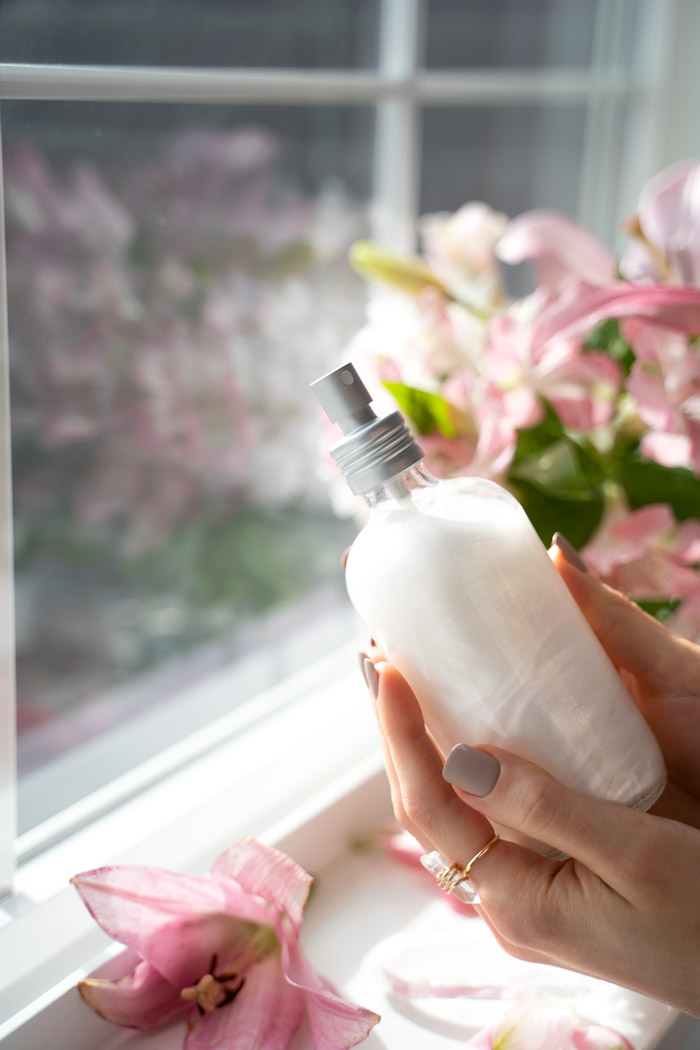 DIY shimmer setting spray ingredients
To make this homemade shimmer setting spray, you will need:
Rose water (or distilled water)
Vodka
Vegetable glycerin
200x aloe vera powder
Fine shimmer mica (or shimmer eyeshadow/powder highlighter)
Leucidal Liquid SF
Rose water
Rose water is calming and anti-inflammatory to the skin. It lends a lovely floral aroma to this setting spray, and when paired with a humectant, it's deeply hydrating. If you don't have any rose water on hand, or simply don't like it, you can easily substitute distilled water.
Vodka
Vodka is a natural astringent and anti-bacterial. It speeds evaporation, helping your setting spray to "set" faster.
Vegetable glycerin
Vegetable glycerin acts as the humectant in this formula. It attracts and holds water against your skin, locking in moisture and giving this spray its dewy, luminous finish.
200x aloe vera powder
200x aloe vera powder is 200 times the strength of regular aloe powder. It's highly concentrated and extremely rich in natural polysaccharides. Aloe polysaccharides create a water-resistant film on your skin that helps prevent your makeup from budging.
Fine shimmer mica, eyeshadow, or highlighter
I used fine serecite mica to give this DIY setting spray its luminescence. I chose a silvery white colour since I'm partial to the pearly sheen of my favourite highlighter, RMS Beauty's Living Luminizer. Other colour ideas include:
Rose gold
Pale pink
Bronze
Different colours will flatter different skin tones, so experiment with what you like best! You can even mix different micas for a bit of iridescence. I think a combination of pearly pinks and purples would look really striking, or even teal and baby blue, if that's your thing. After all, unicorn and mermaid inspired makeup is in style right now.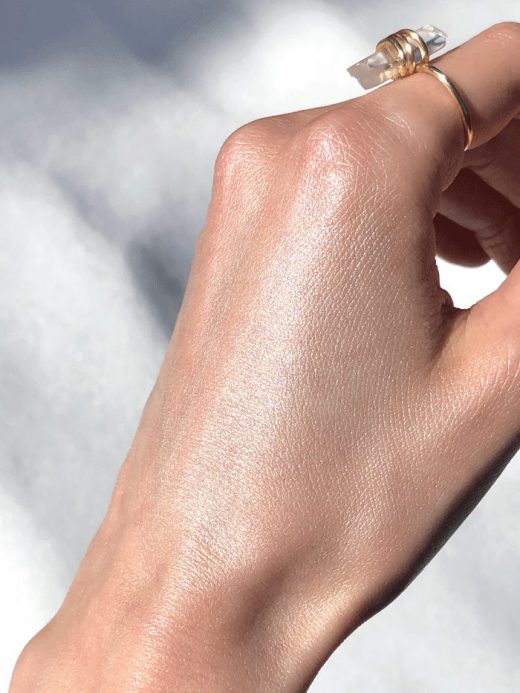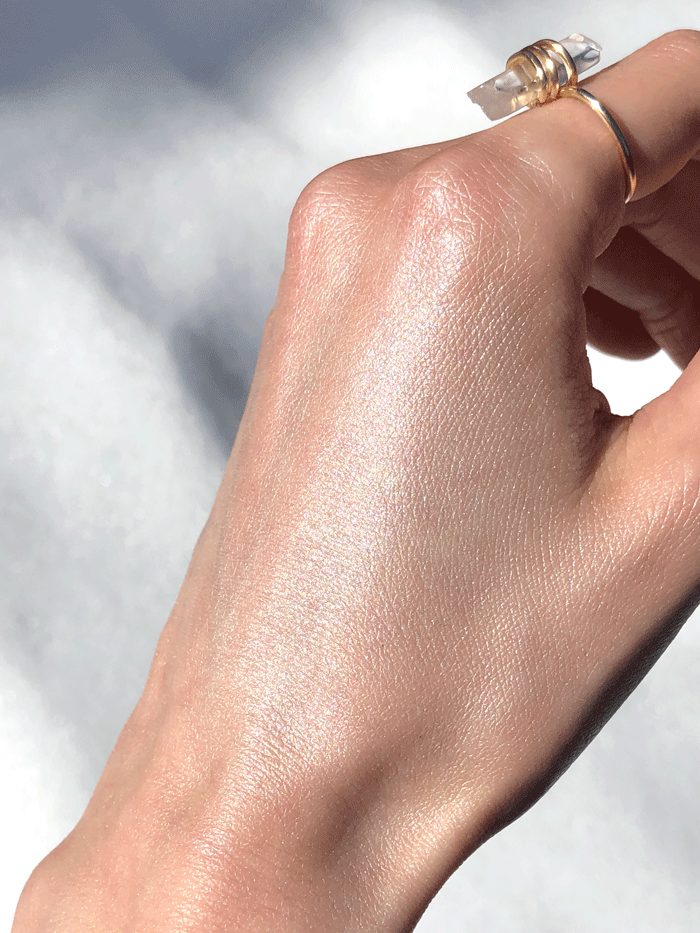 It's important to use a finely textured mica powder, as particles that are too big will clog and ruin your spray bottle. Not only that, but large mica will make your skin look glittery. The goal of this setting spray is a natural, luminous shimmer, not a face full of sparkles. If your mica looks like glitter, the particles are too big for this DIY.
For ethical reasons, I only recommend synthetic mica, not natural mica – see my note on this below. Whichever mica you choose to purchase, please make sure it's cosmetic grade.
If you don't want to buy mica, another option is to use loose shimmer eyeshadow or powder highlighter that you already have on hand. And if you have broken highlighter or eyeshadow from a compact, you can grind the product into a powder and use that instead. However, for maximum shimmer, I recommend using pure mica powder.
Leucidal Liquid SF
Leucial Liquid SF is a probiotic-based preservative. I have very sensitive skin, and I find this preservative to be both gentle and effective.
Please note that the preservative is not optional! Water-containing DIYs are a breeding ground for mold, fungus, and bacteria. Preservatives are not all bad and not something to be feared. The only way you can skip it is if you keep your setting spray in the fridge.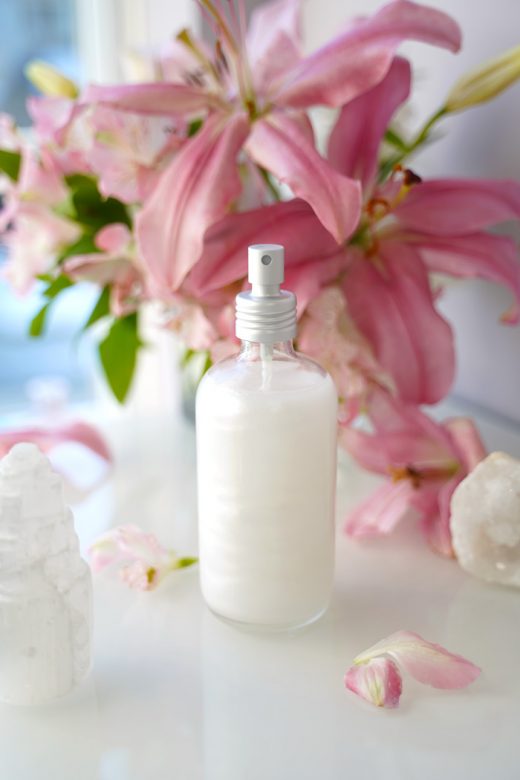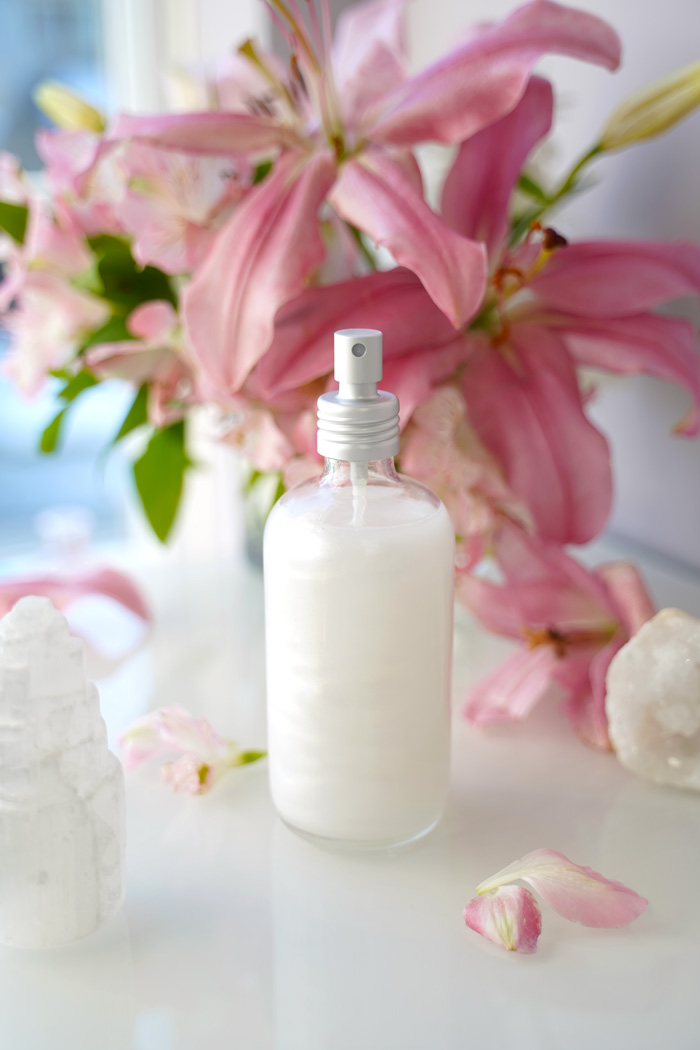 Safety precautions
Please note that working with mica can be dangerous. Its small particle size means it easily becomes airborne, and using it in a setting spray launches it directly into the air.
All mineral makeup poses a potential health risk. Long-term inhalation of mica over many years can cause lung damage and scarring, and those with impaired pulmonary function are at an increased risk. Before making this DIY, please educate yourself about mica's dangers.
For more information, see this article from the Toxicology Data Network.
If you choose to make this DIY shimmer setting spray, take precautions to protect yourself. Make sure to both make AND use this product in a well-ventilated area, not an enclosed bathroom. Also, consider using a dust mask while making this recipe.
Ethical precautions
The mica mining industry is extremely corrupt; fraught with suspicious practices, atrocious conditions and child labour. For this reason, I only use synthetic mica powder.
It may sound strange to recommend a synthetic product over a natural one. However, there is truly no benefit to using natural mica over synthetic mica.
Synthetic mica is chemically identical to natural mica, but without the ethical implications. Even though it's created in a lab, it's composition is the same as mica that occurs naturally. This means it has no more of an environmental impact than natural mineral mica.
Manmade mica also has a smoother, more uniform shape than natural mica, making it much safer for your skin.
To be sure your mica is synthetic, look for mica labelled as synthetic mica, artificial mica, or synthetic fluorphlogopite.
DIY Shimmer Setting Spray for a Pearly Glow
This DIY shimmer setting spray sets your makeup while illuminating your skin with an all-over radiance. It keeps your makeup it place while it makes your skin glow!
Instructions
Before you begin, sterilize your tools and take precautions to avoid inhaling any mica powder. Consider using a dust mask and be sure to work in a well-ventilated area.


Using a small funnel, combine the rose water and vegetable glycerin in your sterilized spray bottle.

Slowly add the aloe powder in small increments. (If you add too much at once, it will clump.) Before adding more powder, shake to dissolve any clumps. After all of your aloe powder is combined, add the leucidal liquid.

Add the mica powder to your spray bottle. Take care when opening your container, as mica easily becomes airborne. Please add the mica last, as pouring anything on top of mica will cause it to fly into the air.

Put the spray nozzle on your bottle and shake to disperse the mica.
Notes
Before working with mica, please see my note on safety precautions above this recipe.
How to use your shimmer setting spray
After you've finished applying your makeup, close your eyes and spritz your face generously to set your makeup with a dewy radiance. Remember to shake your product well before each use, as the mica powder will sink to the bottom of your bottle.
If desired, this multitasking spray could also be used on your body for a subtle glow – it makes a great highlighter for the décolletage. And if you're looking to give your tresses a gorgeous sparkle, it could even double as a shimmer hair spray.
The best part about this recipe is that it's so easily customized. Unlike store bought products, you can easily tweak the formula if it isn't right for you. If you find that the finished product is not dewy enough, you can double the amount of vegetable glycerin. And if the spray does not have as much shimmer as you'd like, increase the amount of mica powder until you get your desired effect.
If you end up making this DIY shimmer setting spray, I'd love to hear how it worked for you – or even better, to see your results! And if you're looking for a gentle, non-toxic way to remove all that shimmer, why not try my DIY micellar water?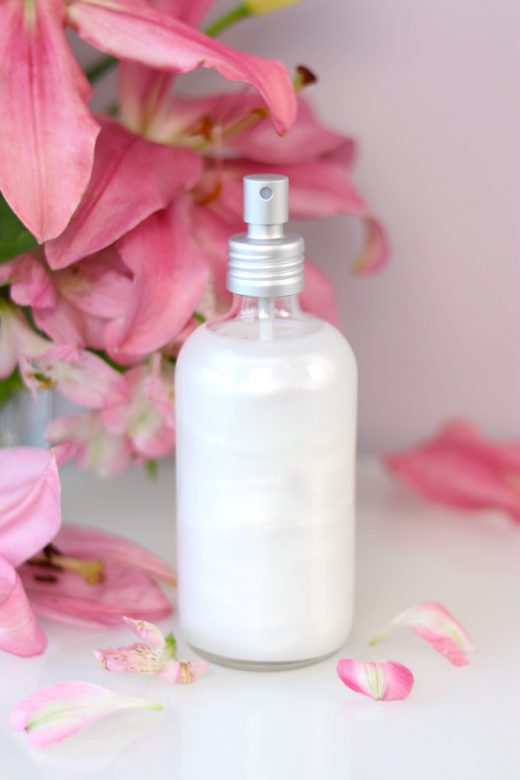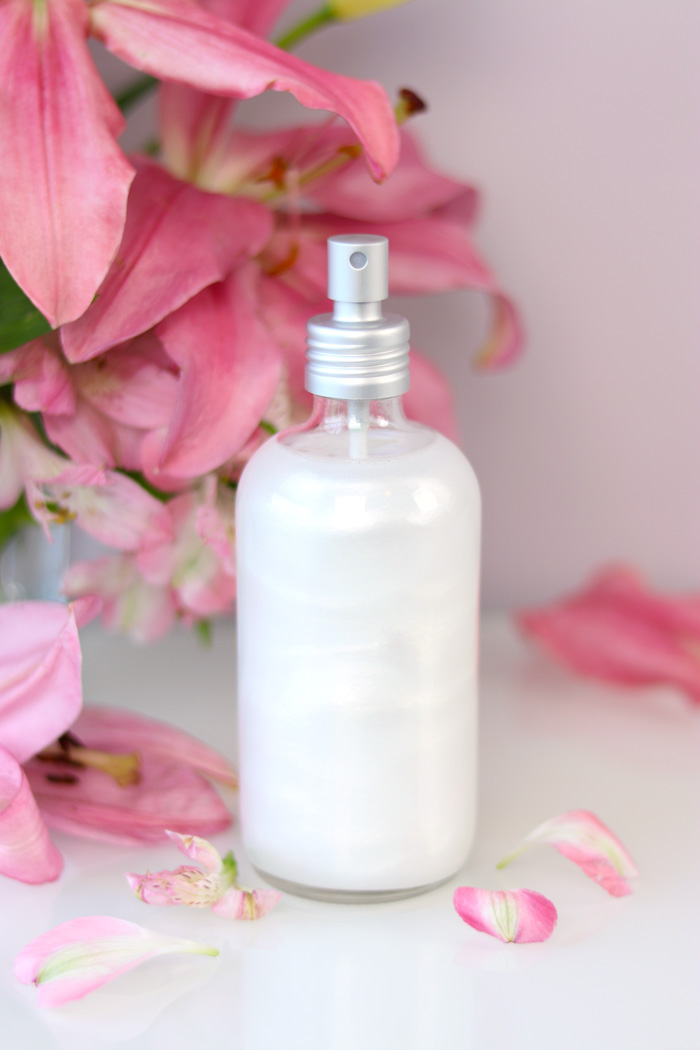 More DIY beauty recipes
If you enjoyed this DIY, you might also enjoy these other natural beauty recipes:
Follow us on Pinterest for even more DIY beauty ideas! You can also find us on Instagram, Facebook, and Twitter.
Pin it for later