This natural DIY glass cleaner is made without toxic rubbing alcohol. Instead, this recipe includes vinegar, essential oils, and gin (or vodka) for sparkling clean windows and mirrors without the chemicals.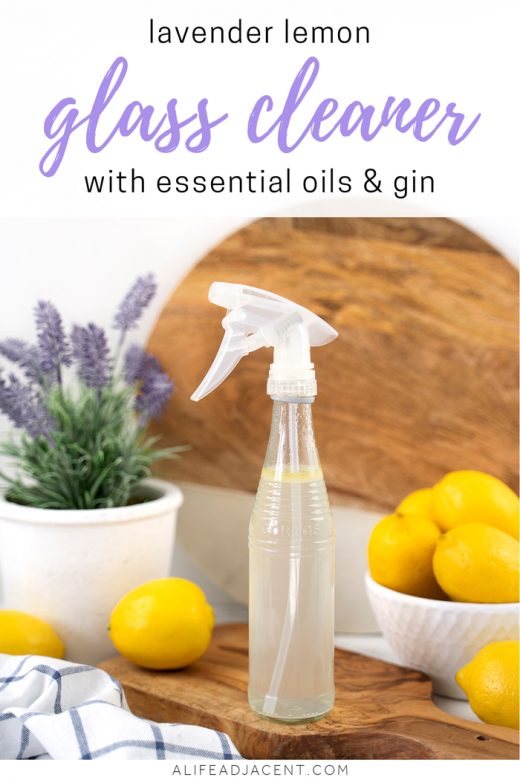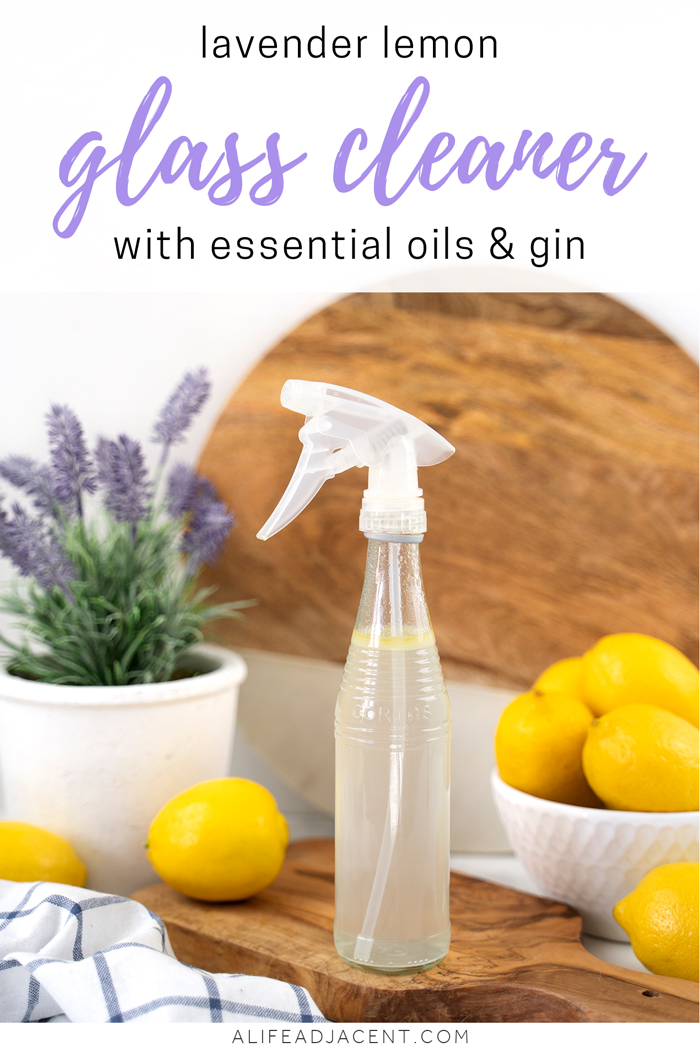 As far back as I can remember, I've always used vinegar and water to clean my windows and mirrors. This choice was primarily due to my aversion to the overpowering smell of commercial glass cleaners. In fact, store-bought glass cleaners usually triggered a migraine, which to me indicated that whatever was in them was likely toxic and therefore not good for my overall health.
While good old vinegar and water do work in a pinch for both mirrors and windows, a lot of people aren't fond of the pungent smell of vinegar. This glass cleaner recipe still uses vinegar, but the gin and essential oils included will tone down that "just poured half a bottle of vinegar on my french fries" smell.
Vinegar for non-toxic cleaning
If you peruse any natural blogs, you know vinegar is the queen of DIY natural cleaning products. Why vinegar? Because vinegar is a natural disinfectant. It's also a strong acid, which makes it an effective cleaner.
But there are some surfaces vinegar isn't good for – specifically granite, marble, and other stone countertops. You should be diligent about keeping any vinegar-based cleaner away from stone surfaces. For our stone counters, we use my DIY rose petal-infused vodka cleaner. It works wonders.
It's also important to note that to be truly effective for disinfection or for cutting through serious dirt and grime, vinegar must be used full strength. But for light cleaning jobs like mirrors, vinegar works well when mixed with distilled water or gin.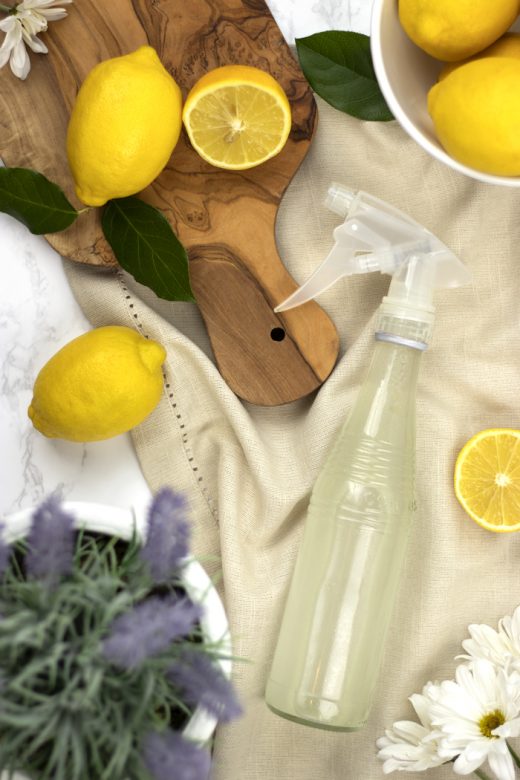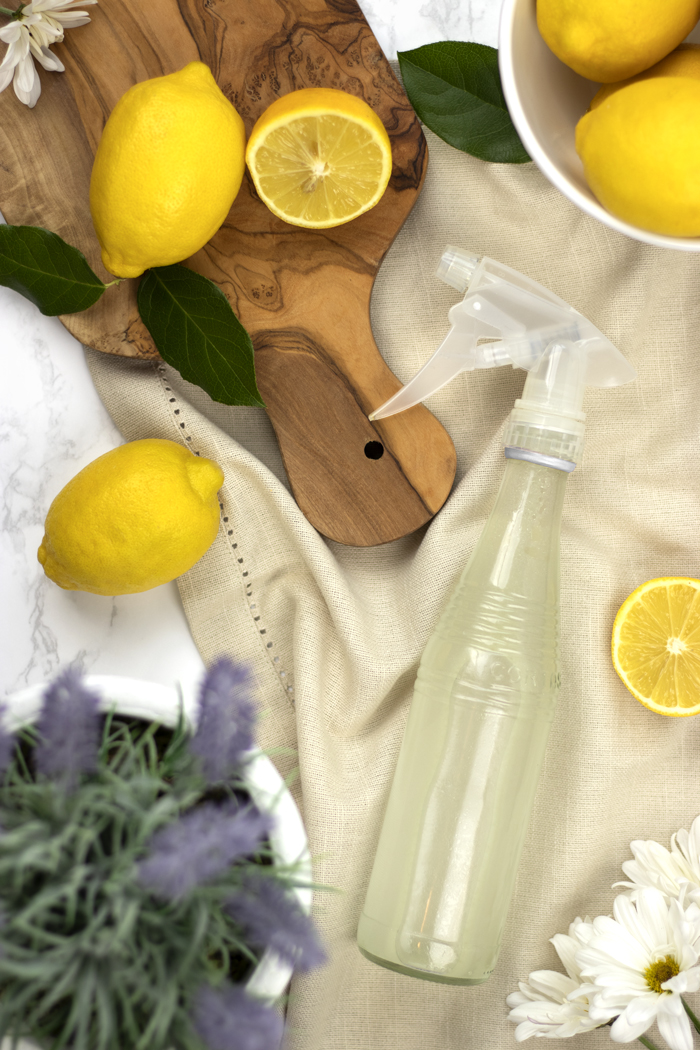 Gin (or vodka) as a natural preservative
Vodka is my go-to natural preservative for my DIY cleaning products. Of course, it doesn't work as a preservative for everything DIY, but for green cleaning, it's the gold standard. Vodka is the main ingredient in my DIY disinfecting wipes and also in my DIY rose petal-infused cleaning spray.
For this recipe, I wanted to try something different. Gin for cleaning windows? Yes, apparently it was a thing in the 1940s. Surprisingly, gin leaves glass surfaces streak-free and sparkling clean. And the juniper and pine scent of the gin complements the lemon and lavender essential oils beautifully. But if you prefer, you can also use vodka in lieu of the gin in this recipe as well.
Why we don't use rubbing alcohol in our DIY glass cleaner
I've seen numerous DIY cleaning recipes that include rubbing alcohol (isopropyl alcohol). Personally, I've opted to never use rubbing alcohol in my natural cleaners. Yes, it's cheaper than gin or vodka, but if your main goal is to clean without toxins, then I'd recommend skipping the rubbing alcohol in your cleaning products.
If you understandably want to save money, you're better off sticking to plain old vinegar and water for window or mirror cleaning. A simple vinegar and water recipe is still economical, but not toxic or flammable.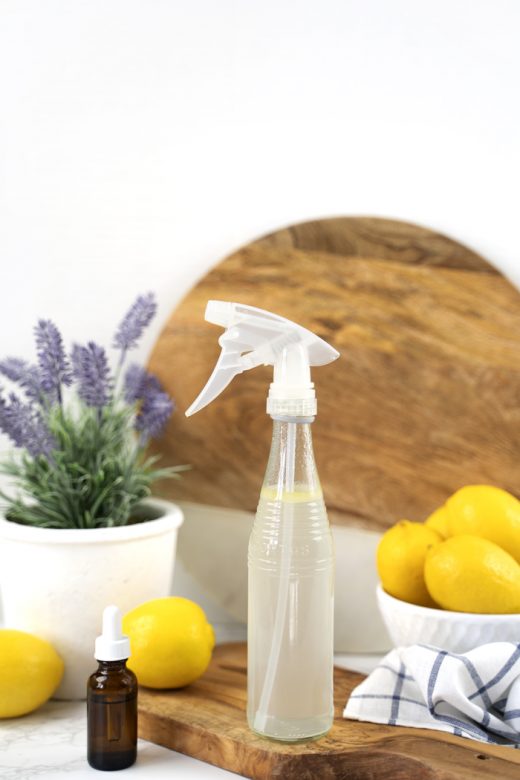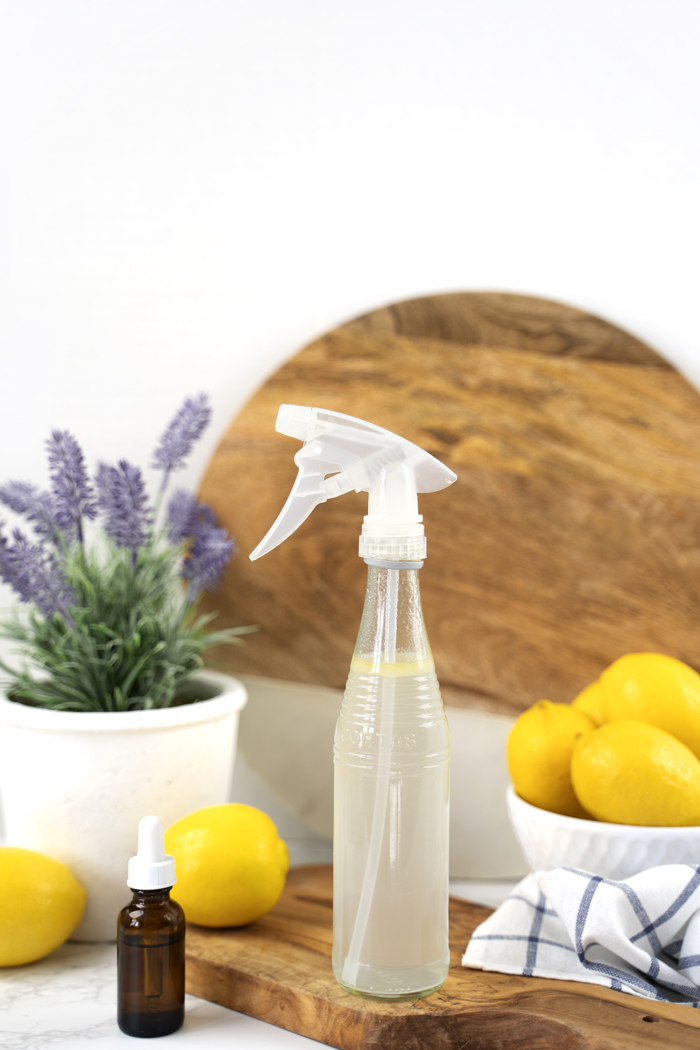 Rubbing alcohol (or isopropyl alcohol) is extremely flammable and inhaling the vapors can cause dizziness, headache, or nausea in some people. Additionally, repeated exposure to rubbing alcohol on the skin can lead to dryness and eventual cracking.
If ingested, isopropyl alcohol is twice as toxic as gin/vodka (or ethyl alcohol). It's also a petroleum by-product, and we strive to avoid petroleum-derived products in our home.
For these reasons, I created a DIY glass cleaner without rubbing alcohol. For more information on the toxicity of rubbing alcohol (or isopropyl alcohol), please consult Toxnet.
Lemon and lavender essential oils
Lemon essential oil is another DIY cleaning go-to due to its antibacterial properties. As well, lemon essential oil is both a natural degreaser and a natural air freshener, so it's perfect for non-toxic cleaning. It's also one of my favourite scents to use in my home as its light citrus aroma leaves any room you use it in smelling both fresh and clean.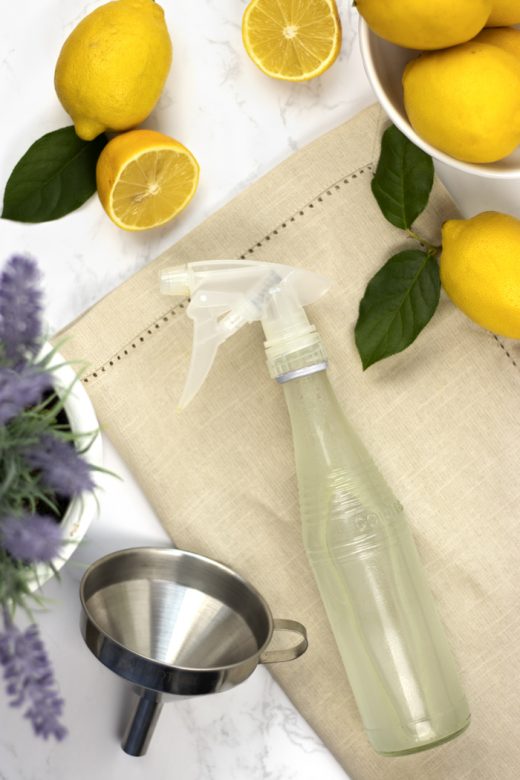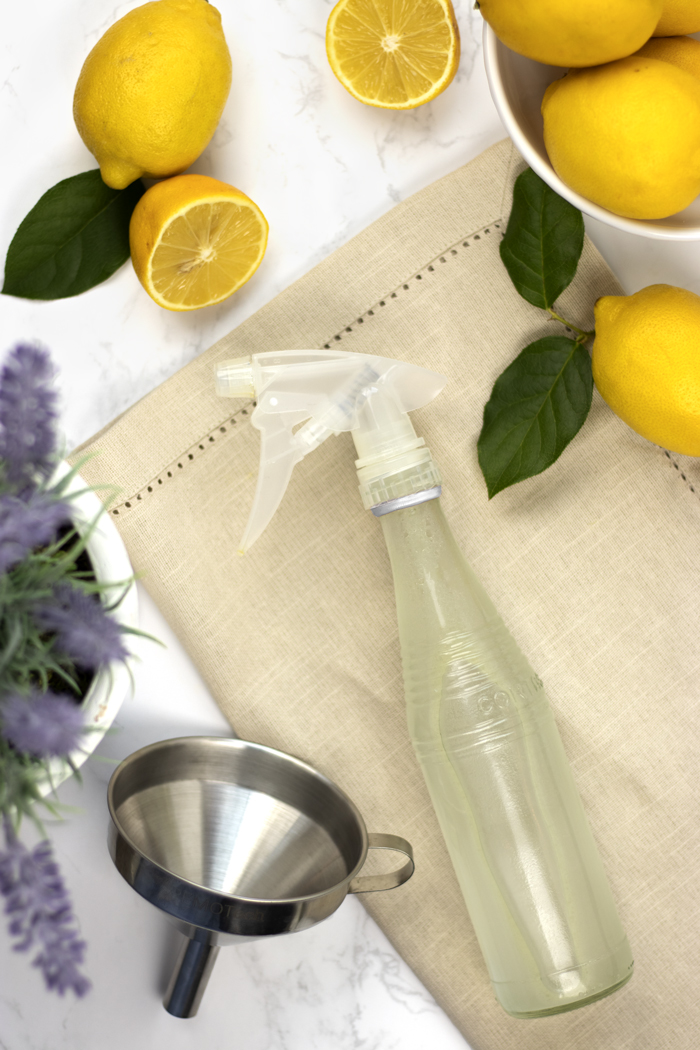 Lavender essential oil has a soothing floral scent that is usually associated with relaxation and restful sleep. Cleaning is not exactly a relaxing task for most people, but the lavender in this recipe might help boost your mood, while also leaving your home smelling fresh.
Another economical alternative for adding a lovely lavender scent to your DIY glass cleaner is to infuse the vinegar beforehand with lavender buds. Simply place your vinegar in a mason jar with a 1/4 of a cup of lavender buds, cover and infuse in a dark closet or pantry for 2-4 days. (Infuse for up to 2 weeks for a more fragrant vinegar.) After the vinegar is infused, you can easily strain out the lavender flowers with a funnel strainer.
You can also prepare some extra lavender infused vinegar to use in future batches of your homemade glass cleaner. I should note that if you chose to infuse your vinegar prior to use in this recipe, your spray will be a lovely lilac colour and not the soft yellow pictured.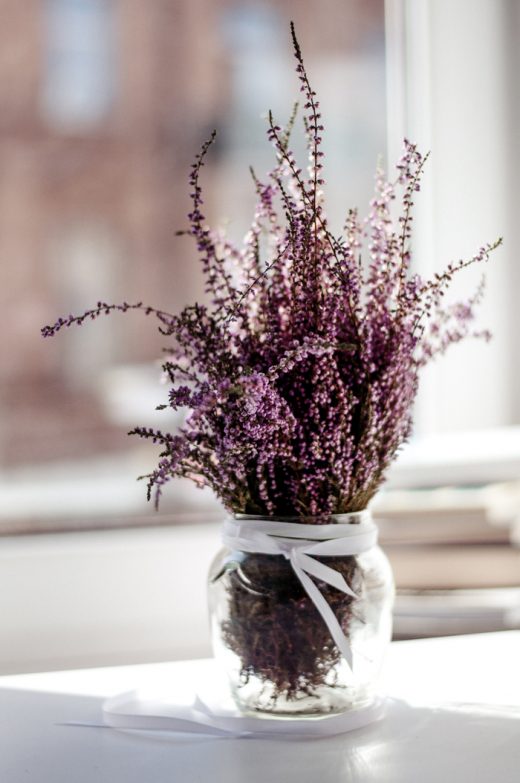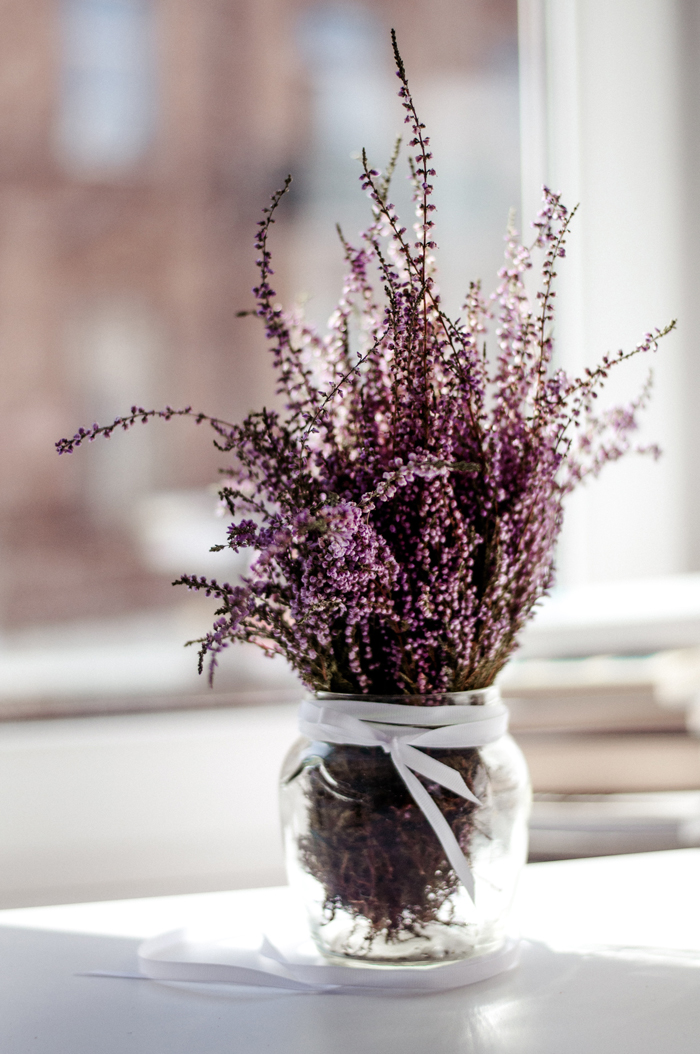 DIY Lavender Lemon Glass Cleaner without Rubbing Alcohol
This simple DIY glass cleaner recipe is made without toxic rubbing alcohol. Instead, it uses vinegar, essential oils, and gin (or vodka) for sparkling clean windows without the chemicals.
Instructions
Using a funnel, add the gin (or vodka) and essential oils to a dark amber or dark cobalt blue spray bottle. (Dark coloured bottles will protect your essential oils from UV light).We used a clear Cortas rose water bottle in this post to feature the finished product, but your glass cleaner will fare better stored in dark glass.

Be sure to add the vodka and essential oils to the gin before you add the vinegar so that the essential oils can disperse more readily.

Remove the funnel and shake well. Then, use the funnel again to add the vinegar, and shake vigorously once again.
Notes
Remember to give your lavender lemon glass cleaner a good shake before each use. Otherwise, the essential oils tend to sit near the top of the bottle.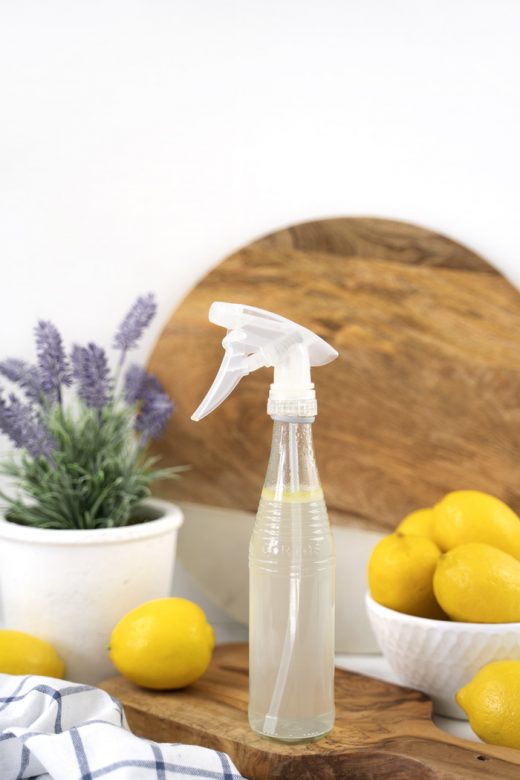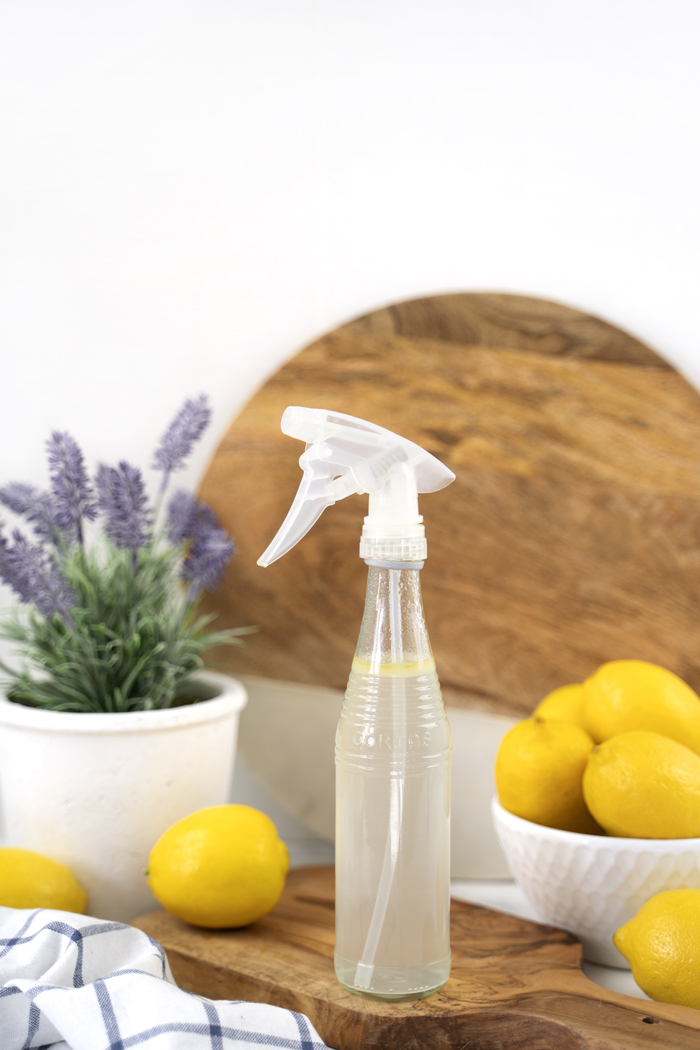 Do you use natural and DIY cleaning products in your home? Let us know what you think of this recipe in the comments below!
More DIY green cleaning recipes
Looking for more non-toxic cleaning ideas made without rubbing alcohol? Check these out:
For even more natural DIY green cleaning ideas, follow us on Pinterest! You can also find us on Instagram, Facebook and Twitter.