This DIY sugar scrub has a lovely tropical aroma due to the exotic scent of ylang-ylang essential oil. It also contains ground organic hibiscus petals which provide antioxidant benefits, aid in gentle exfoliation, and lend a lovely colour to this skin-nourishing scrub!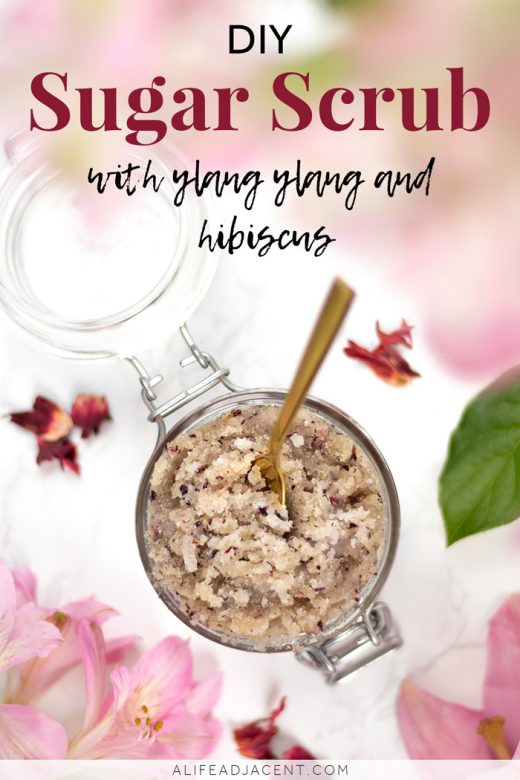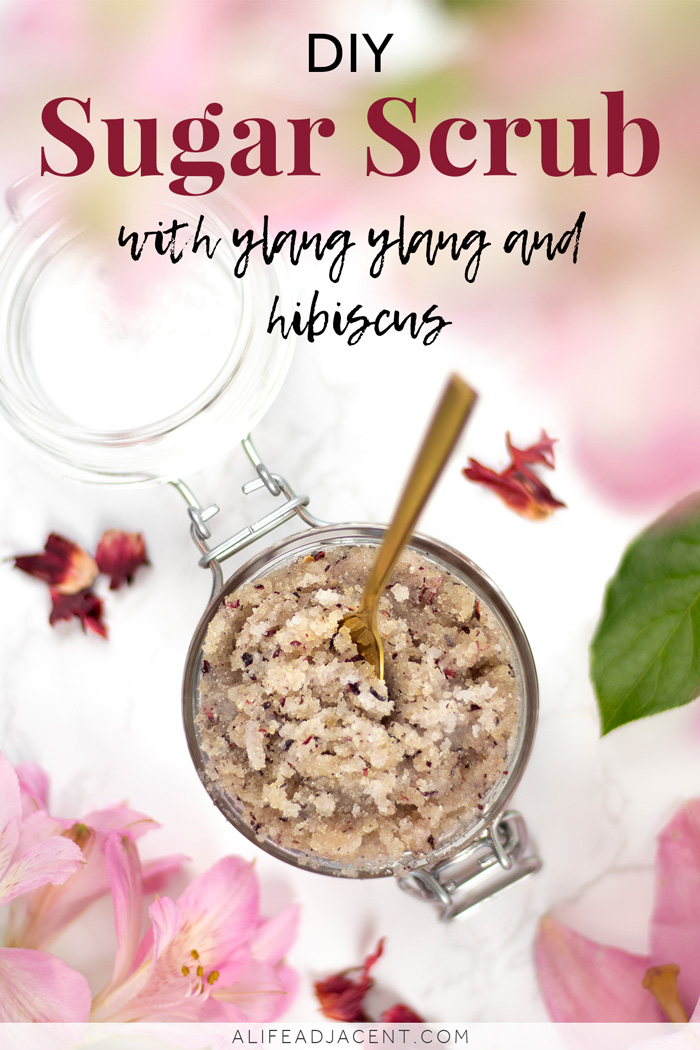 Sugar scrubs are one of those bath and body products that I prefer to DIY rather than buy. The simple ingredients they contain are easy to access, and most of the time I usually have all the ingredients needed already on hand.
As well, creating my own sugar scrubs is a good way to avoid the skin-irritating preservatives and fragrances found in many store-bought skincare products. (We aren't against using preservatives in DIY products around here, but there are some we strive to avoid). Lastly, making your own sugar scrubs is a great money-saving hack thanks to the affordability of the ingredients.
As already mentioned, this sugar scrub smells incredible thanks to the addition of exotic and tropical ylang-ylang essential oil, while the ground hibiscus petals add a subtle fragrance that blends beautifully with the ylang-ylang. The hot water of the shower will also release the hibiscus flowers' aroma and deep pink pigment as you scrub.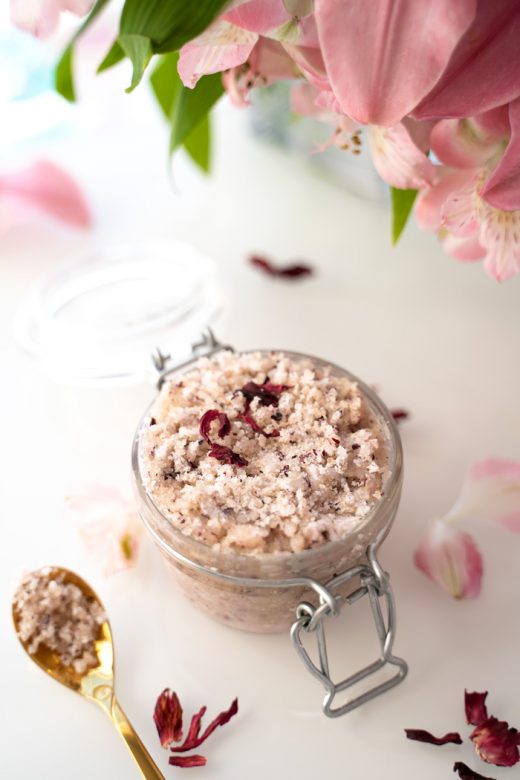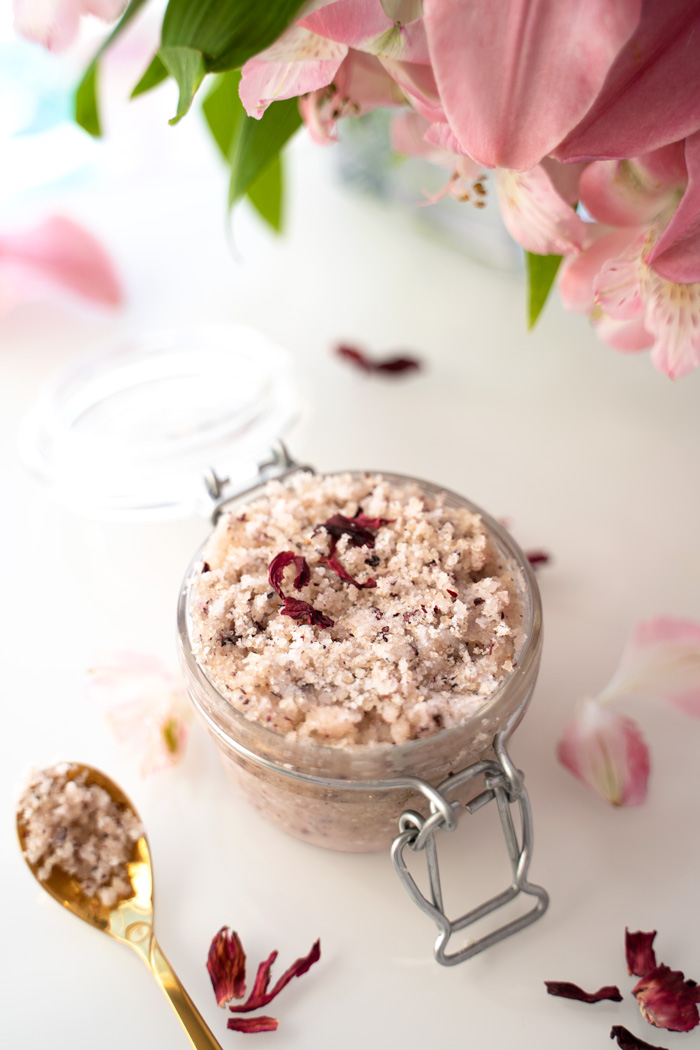 DIY Hibiscus Sugar Scrub Ingredients
Organic sugar
For the most part, I prefer sugar scrubs over salt scrubs, as the finer granules of sugar are far gentler on sensitive skin. Sugar also contains a natural form of the AHA (alpha-hydroxy acid) glycolic acid, which is a common ingredient in various anti-aging products.
However, it's unlikely this scrub will remain on your skin long enough to offer the same benefits as a skin care product containing glycolic acid (such as this natural glycolic peel). And since chemical AHAs like glycolic acid need a low pH to work, natural substances like sugar are not substitutes for chemical peels.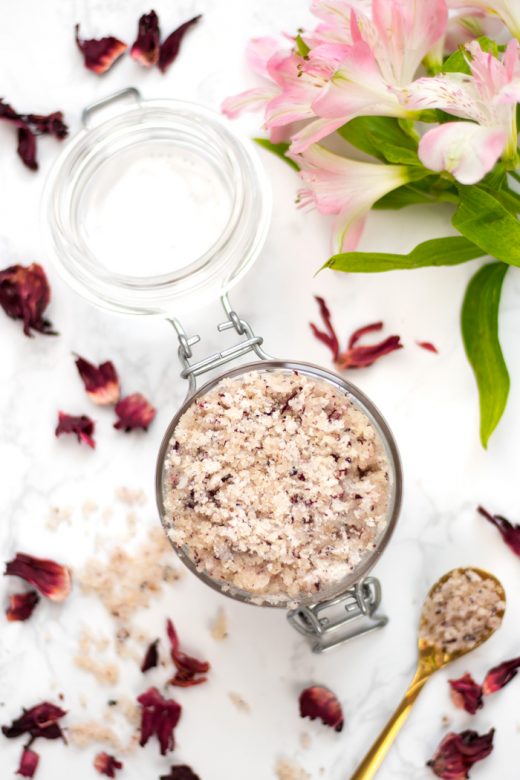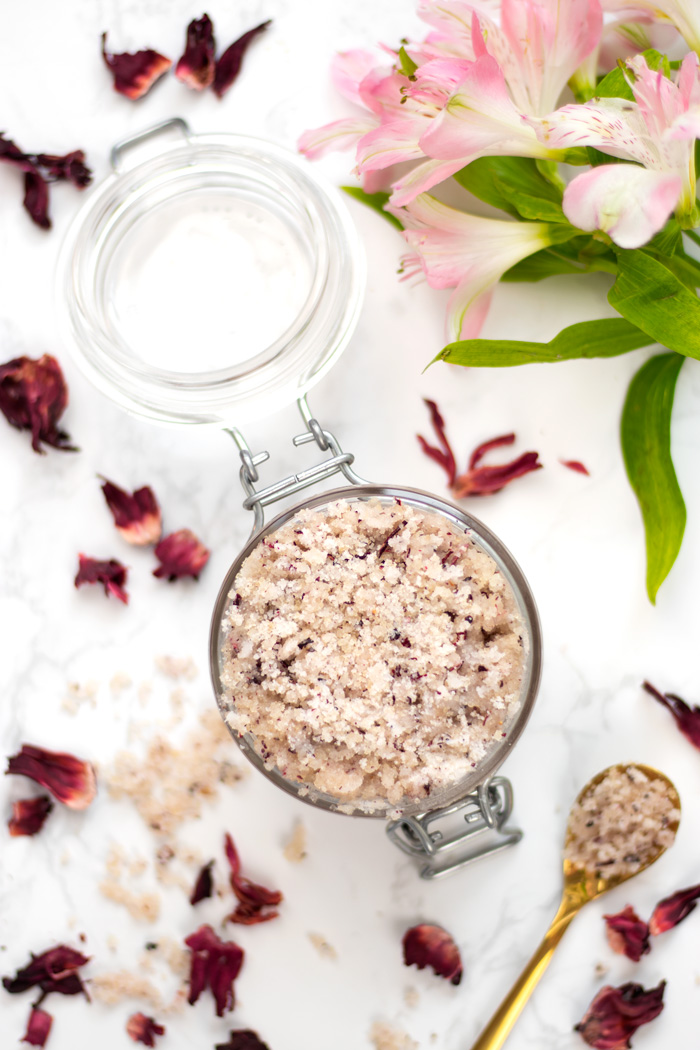 If you prefer the coarser texture of salt scrubs, you can easily swap the organic sugar in this recipe for salt.
Hibiscus flowers
Hibiscus is not only a beautiful flower to look at, but it is often used in beauty products due to its concentration of antioxidants.
Specifically, hibiscus flowers contain a class of flavonoids called anthocyanosides. These anthocyanosides can offer some protection against free radicals. Free radical damage can lead to inflammation, which in turn can trigger premature aging, so protecting the skin against free radicals is ideal.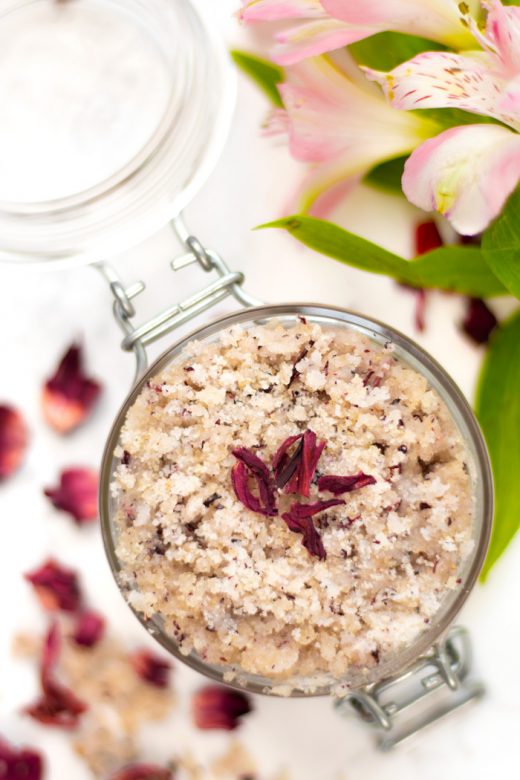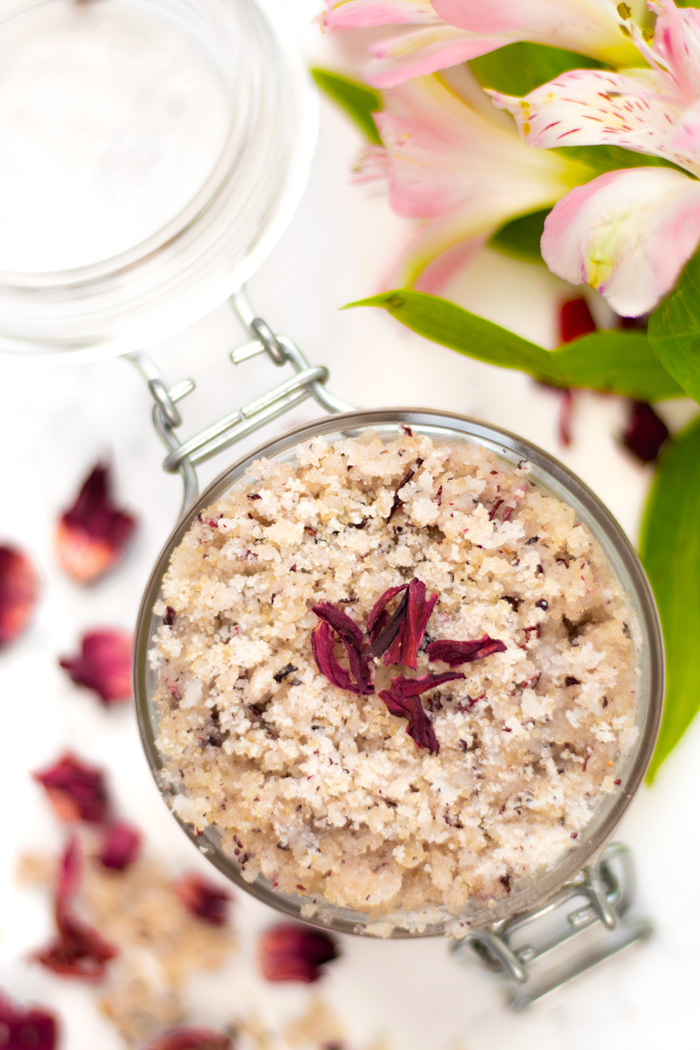 Hibiscus also contains natural AHAs. AHAs can help offer some additional skin benefits, including:
Providing gentle exfoliation, leading to smoother more radiant skin
Encouraging cell turnover
Helping to diminish clogged pores
Removing the dead skin cells on the surface of your skin
Calming, sensitive inflamed skin
Encouraging faster skin cell turnover
Toning the skin thanks to astringent properties
However, as stated before, natural ingredients like hibiscus are not a substitute for professional treatments or properly formulated skincare products containing AHAs such as glycolic and lactic acid. You are unlikely to experience any of the drastic skin improvements you would get with properly formulated skincare products. That said, exfoliation will still provide you with some skin benefits.
Organic hibiscus petals are also an ingredient in my DIY pink lemonade tub tea.
Ylang-ylang essential oil
Ylang-ylang essential oil is derived from the gorgeous bright yellow tropical flowers that grow on the ylang-ylang (cananga) tree. Ylang-ylang, which is pronounced ee-lang ee-lang, is a common ingredient in many store-brand perfumes.
For me, the smell of ylang-ylang is reminiscent of warm, sweet vanilla with soft floral undertones. There's just something about ylang-ylang that smells like a tropical vacation!
There are many different classes of ylang-ylang essential oil, but for this DIY sugar scrub, I specifically used steam distilled ylang-ylang extra. Ylang-ylang extra is ideal for perfumery use as it has a more refined, floral scent than other ylang-ylang oil varieties.
Ylang-ylang essential oil is also touted as having a variety of mood-boosting benefits, including promoting relaxation, while others may find ylang-ylang's intense aroma energizing. It is also reported to have aphrodisiac qualities. And like many essential oils, ylang-ylang has antiseptic and anti-inflammatory properties, which can make it ideal for skin with minor irritations or inflammation. However, since all essential oils are potentially irritating, exercise caution when using them on sensitive skin.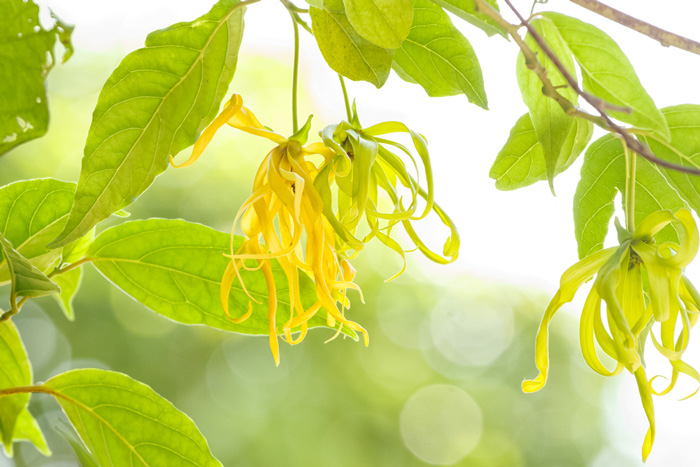 Fractionated coconut oil
As the name would suggest, fractionated coconut oil is coconut oil that has undergone the process of fractionation. Fractionation removes most of the long chain fatty acids, resulting in an oil that is liquid at room temperature, even in cooler weather.
If you live in a hot or humid area, or if you're using this scrub in the summer months, you can substitute the fractionated coconut oil with regular coconut oil. But if you melt regular coconut oil for use in this scrub during cooler temperatures, it will solidify during storage, leaving you with a scrub that will be too dry.
Like regular coconut oil, fractionated coconut oil is made of saturated fatty acids. Saturated fats are resistant to oxidation by light, heat, and oxygen, and far more shelf stable than other liquid carrier oils such as sweet almond oil.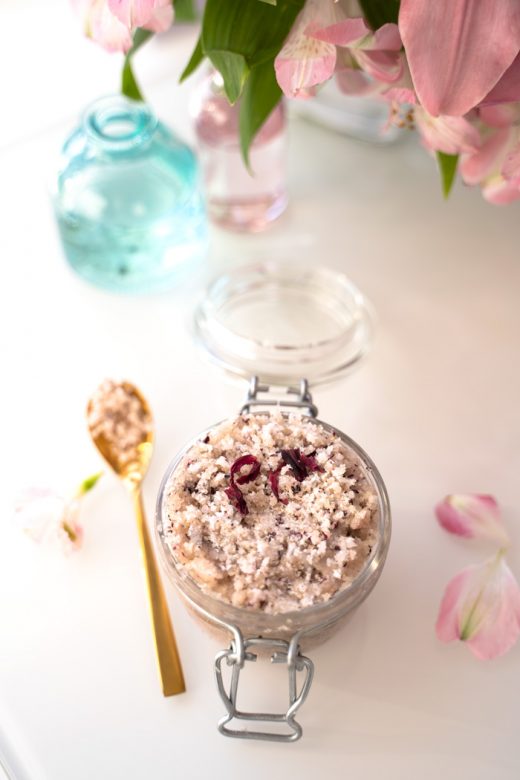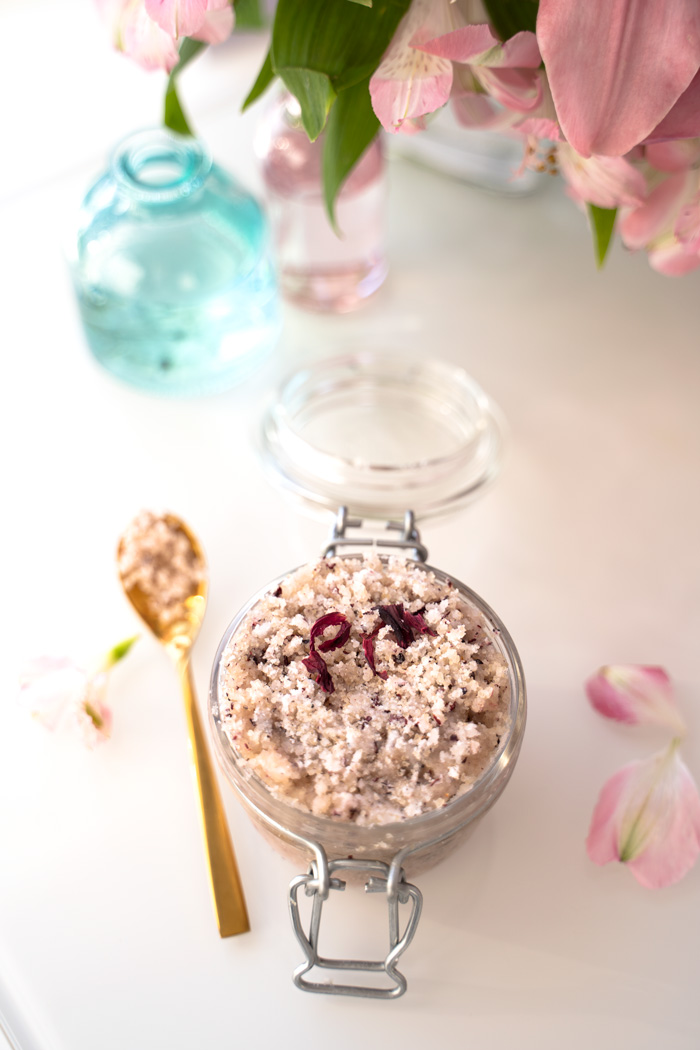 Some research suggests that using oxidized carrier oils on the skin can contribute to aging and skin damage. For this reason, we prefer using saturated and monounsaturated carrier oils over the less stable polyunsaturated oils. To learn more about this subject, see our article on polyunsaturated oils and skin aging.
If you don't have fractionated coconut oil on hand or don't want to purchase it for this recipe, you can always substitute it for a monounsaturated oil like cold-pressed olive oil, avocado oil or camellia oil. Though not as stable as saturated fats such as coconut oil, monounsaturated oils are still a great choice for skin care.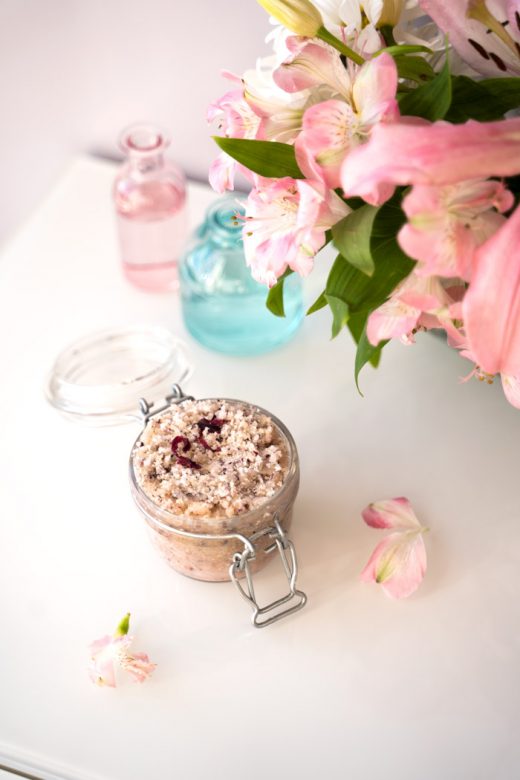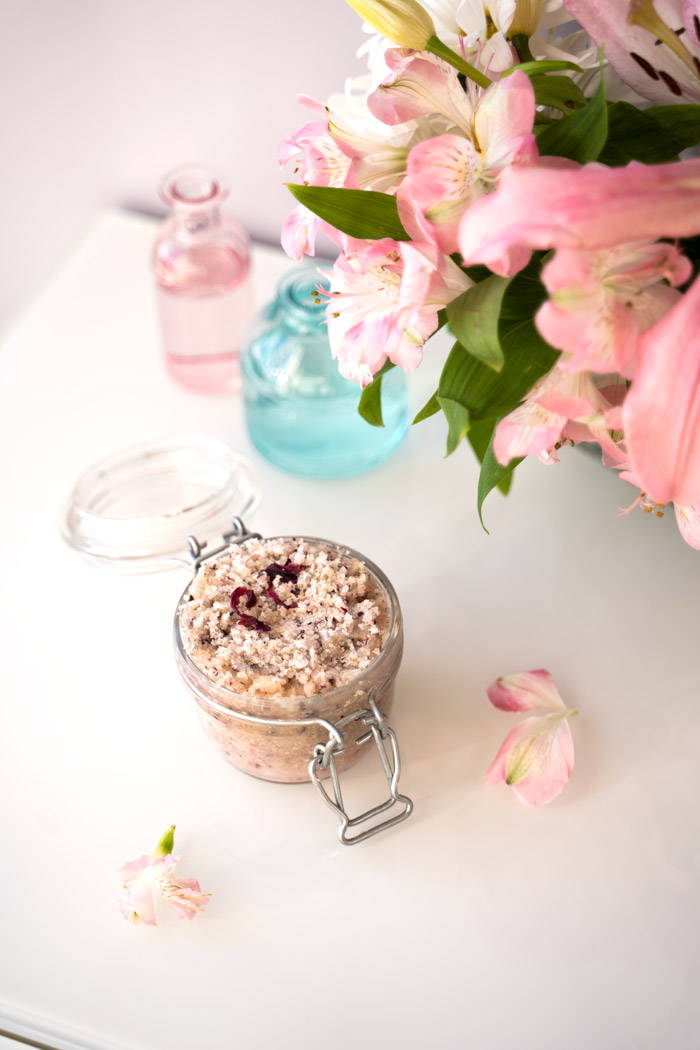 DIY Hibiscus Sugar Scrub with Ylang-Ylang
This DIY sugar scrub has a lovely tropical aroma due to the exotic scent of ylang-ylang essential oil. It also contains ground organic hibiscus petals which provide antioxidant benefits, aid in gentle exfoliation, and lend a lovely colour to this skin-nourishing scrub!
Instructions
Mix the granulated sugar and fractionated coconut oil in a large glass bowl until combined.

Add the ylang-ylang essential oil and mix thoroughly.

Grind your hibiscus petal using a mortar and pestle or with a coffee grinder. Hibiscus petals can be abrasive if not ground finely, especially if you choose to use this scrub on your face. Also, if the hibiscus petals are too large, they will be more prone to clogging your drain.

Add your ground hibiscus to the scrub and mix to combine.

Transfer the scrub to a glass container or mason jar with an airtight lid.
Notes
Under proper storage conditions, this ylang-ylang and hibiscus sugar scrub should last up to 2 years. Please note that this scrub does not contain a preservative, so you should not allow any water to get into your jar. Allowing water into the jar will invite mold and bacterial growth, decreasing the shelf life significantly.
If you find this scrub either too oily or too dry, you can vary the sugar to oil ratio accordingly.
As always, when using essential oils in your DIY products, please consult your doctor if you are pregnant or breastfeeding, if you have any health conditions, or if you have sensitive skin.
How to use this DIY sugar scrub
Again, you will want to avoid getting water into the jar and contaminating your scrub, which can contribute to the growth of mold and bacteria. Scoop only the amount you will need into another container before use.
Apply your scrub to clean skin in a circular motion, and rinse off with water only. The coconut oil is moisturizing so it should be left on your skin. Therefore, be sure to bathe before using your scrub. Use this sugar scrub 1-2 times per week for gentle exfoliation.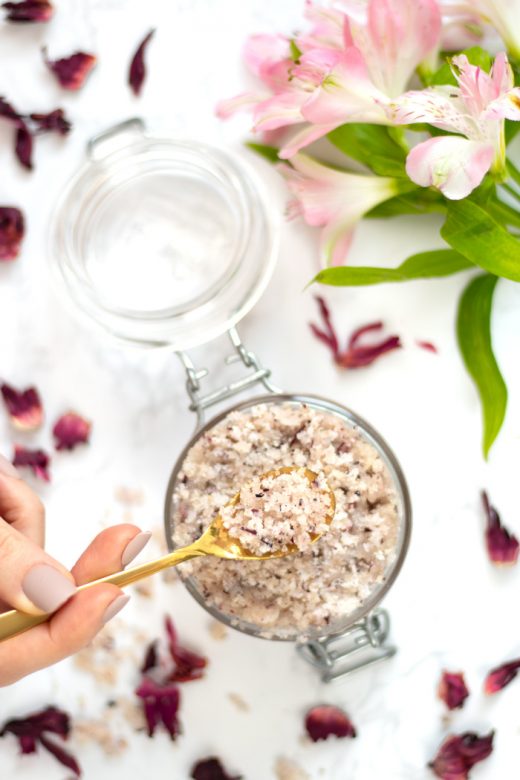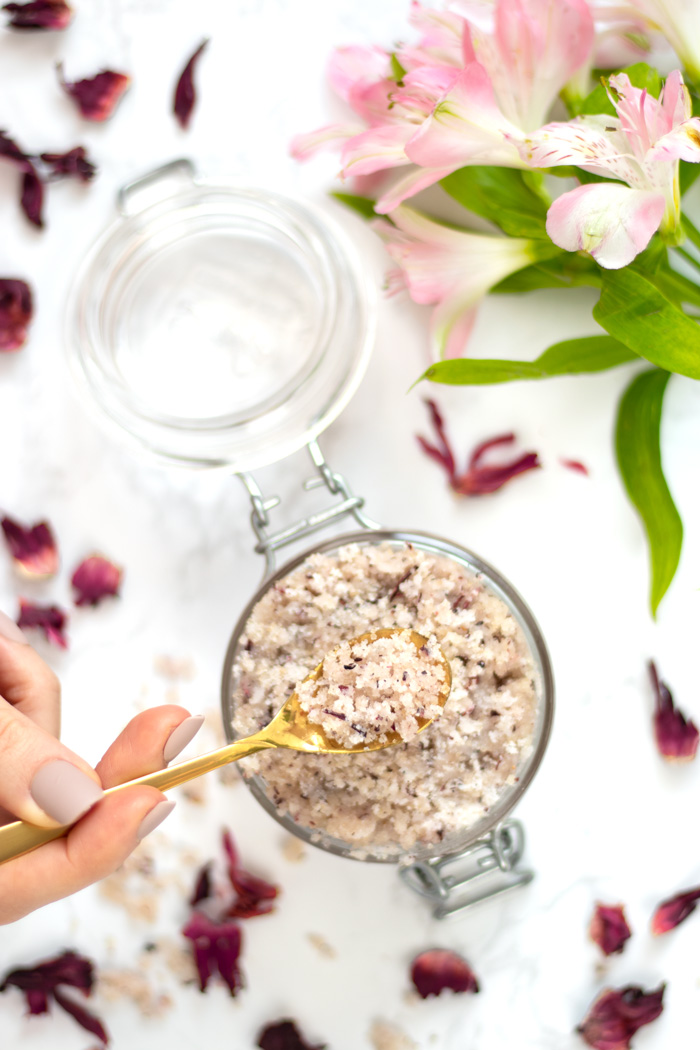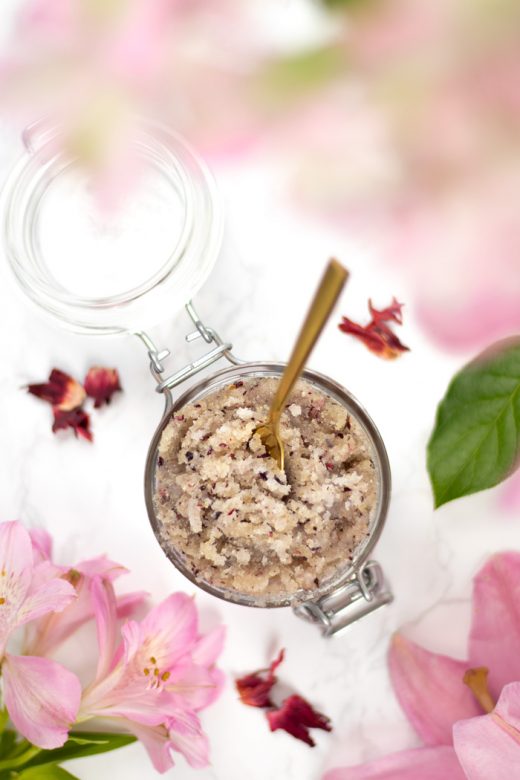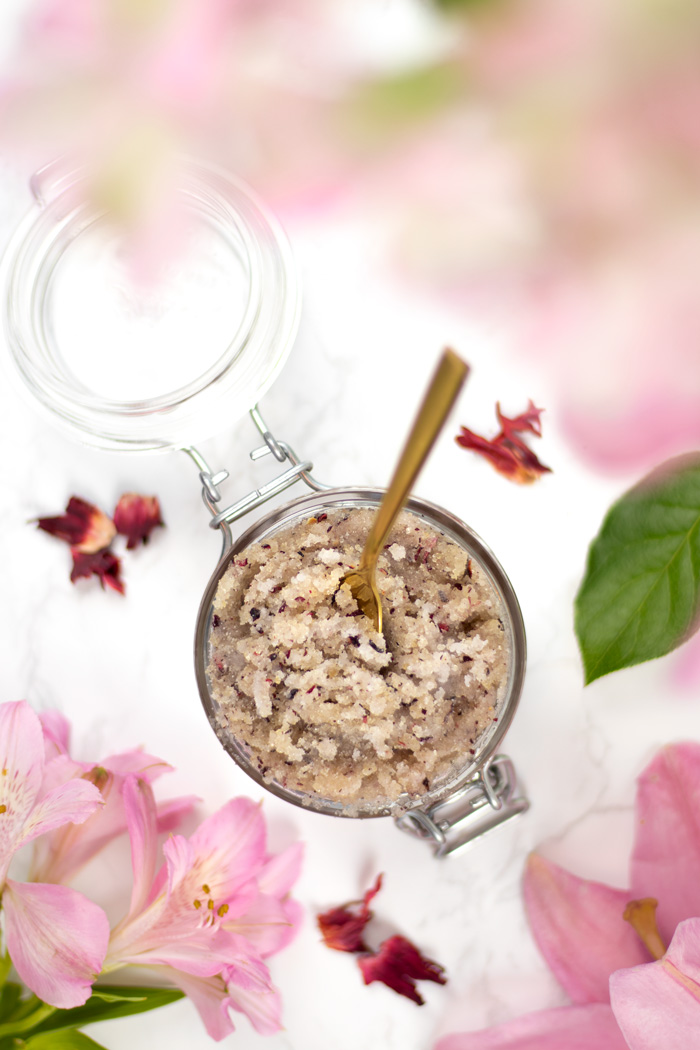 More DIY bath and body recipes
If you enjoyed this sugar scrub, you may also enjoy these other homemade beauty recipes:
For even more natural DIY bath and body ideas, follow us on Pinterest! You can also find us on Instagram, Facebook, and Twitter.
Pin it for later