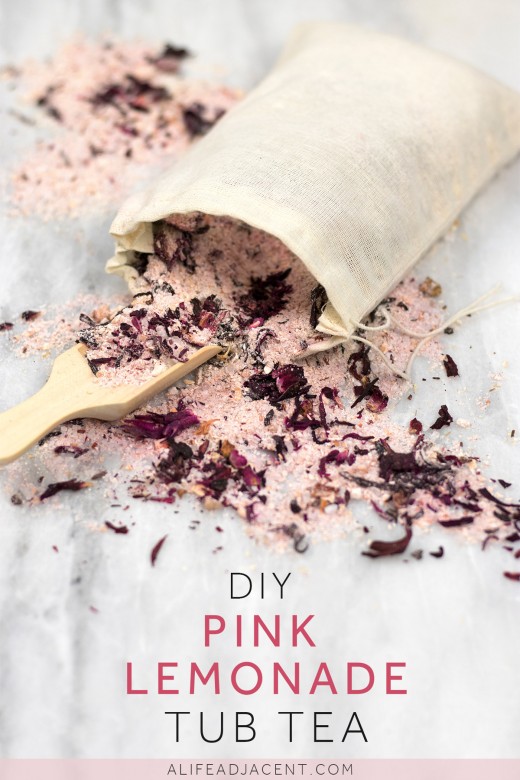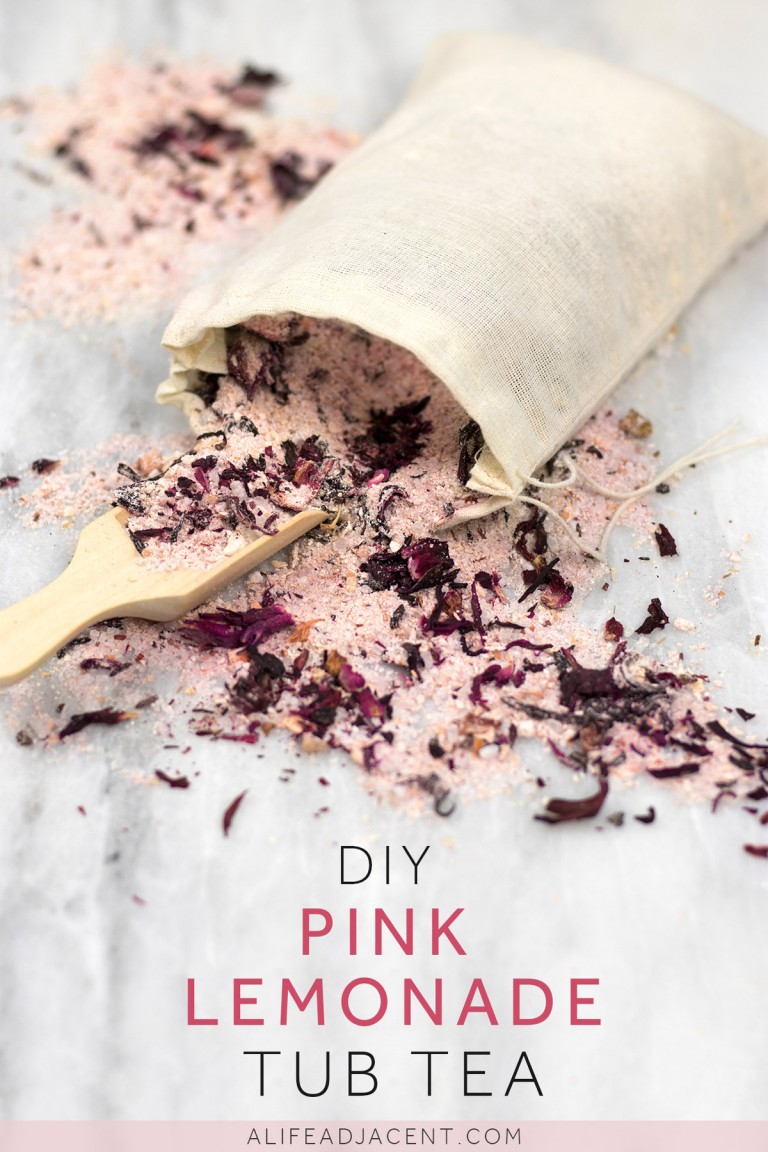 This pink lemonade-scented DIY tub tea contains all-natural ingredients that are beneficial to your skin, including hibiscus, epsom salt and Himalayan pink salt. It's the combination and aroma of dried lemon peel, hibiscus, and essential oils that gives this soothing tub tea its unique pink lemonade scent.
Bath bombs are great and all (after all, we have a recipe for our very own rose vanilla bath bombs), but tub tea is a lot simpler to make. In fact, you can make this recipe in a few minutes flat, and there are no messy petals to clean from the tub after your bath. This makes this DIY tub tea perfect for those times when you want a little bathing luxury, but don't have the time or inclination to whip up a batch of bath bombs.
(And also for when you don't have the patience to spend 20 minutes scooping up flower petals from your tub after your bath. Ask us how we know!)
If you're new to DIY bath products, this simple recipe is a good starting point as it's one of the easiest recipes we've created to date.
Benefits of hibiscus for skin
The benefits of hibiscus are three-fold. Hibiscus is rich in antioxidants which aid in protecting the skin from free radicals. Free radicals can lead to premature aging and inflammation, so shielding your skin from their harmful effects is ideal. Hibiscus also has anti-inflammatory benefits which makes it ideal for those with sensitive skin.
Lastly, hibiscus is a natural source of AHA's (alpha-hydroxy acids). This makes it gentler on skin than chemical AHA's, while still providing gentle exfoliation and encouraging skin cell turnover. AHA's can also help increase your skin's moisture levels, fade age spots, and control clogged pores. Consistent and regular use of AHA's can lead to firmer skin. That being said, hibiscus is not a substitute for a true chemical AHA exfoliating product.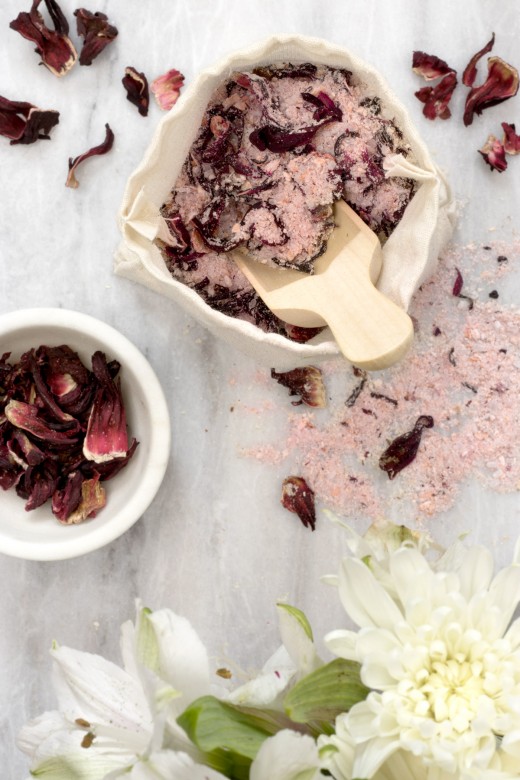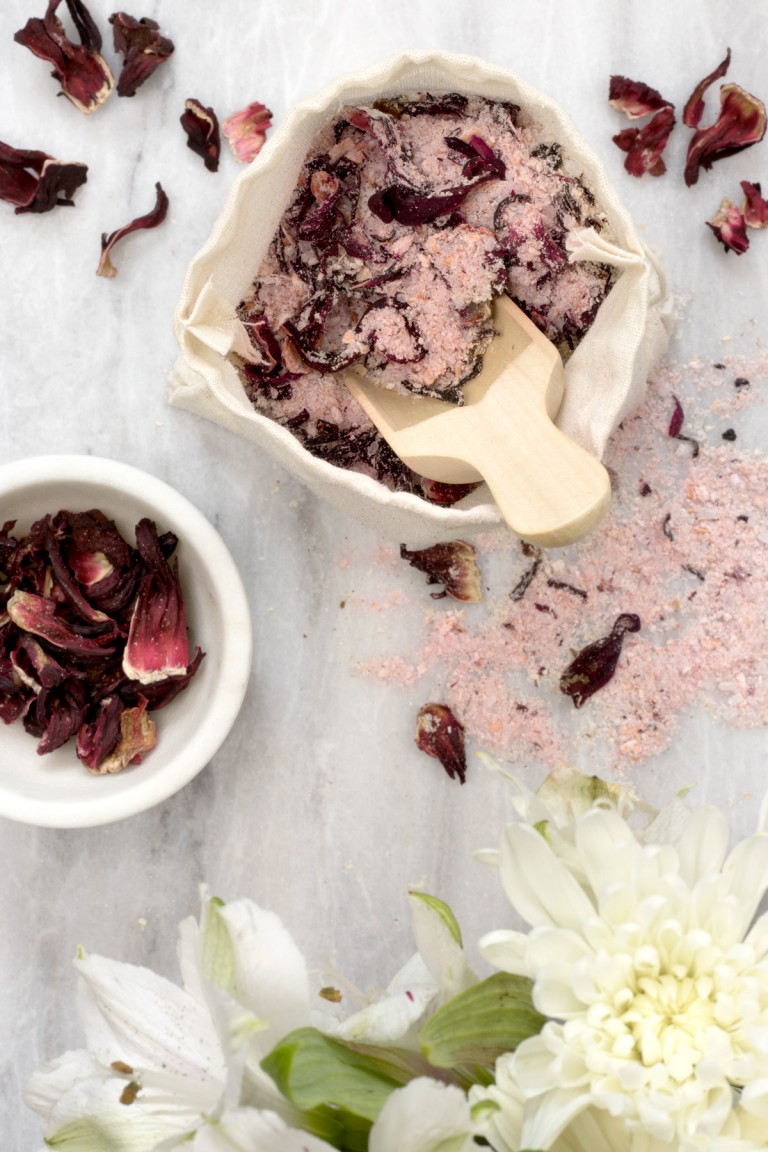 Benefits of oatmeal for skin
Oatmeal baths are a well-known home remedy for a variety of skin conditions and ailments. Oatmeal is often used to calm red, irritated skin and soothe dryness and itchiness. It can aid in relieving the unpleasant effects of various skin conditions such as eczema, psoriasis and dermatitis. The ground oatmeal in this tub tea recipe will bind to your skin and lock in moisture, so even if you don't have a skin condition or ailment, there are still benefits to adding oatmeal to your bath water.
Benefits of Epsom and Himalayan bath salts
Epsom salts are widely recommended to soothe tired, achy muscles and to ease the inflammation caused by sprains or arthritis. Epsom salts are a compound of magnesium and sulfate. Since magnesium is easily absorbed through the skin, bathing in Epsom salts can provide you with your vital daily dose of magenusim.
Magnesium is important for many bodily functions, including nerve and muscle function. Unfortunately, most of us have some degree of magnesium deficiency. Magnesium deficiency is associated with various unpleasant considitons such as constipation, migraines, hormonal imbalance, and many other health issues, so it's important to get enough. Chronic stress can also deplete magnesium in the body.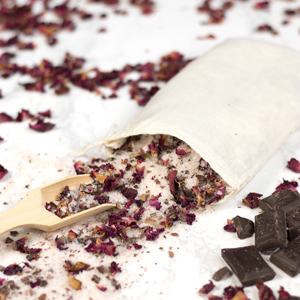 Related

Himalayan salts are antibacterial and antiseptic which makes them ideal for treating a variety of skin ailments as well. Sea salts have also been shown to boost circulation and ease bloating. They contain many trace minerals such as calcium, chloride, magnesium and potassium which can be absorbed through the skin.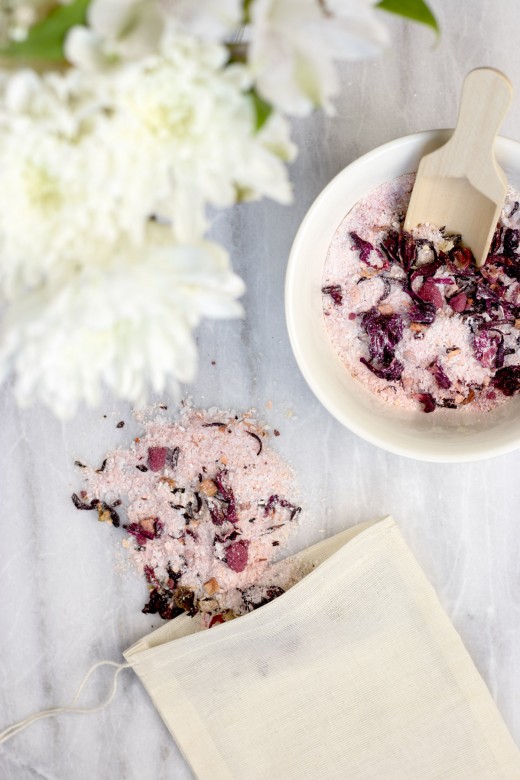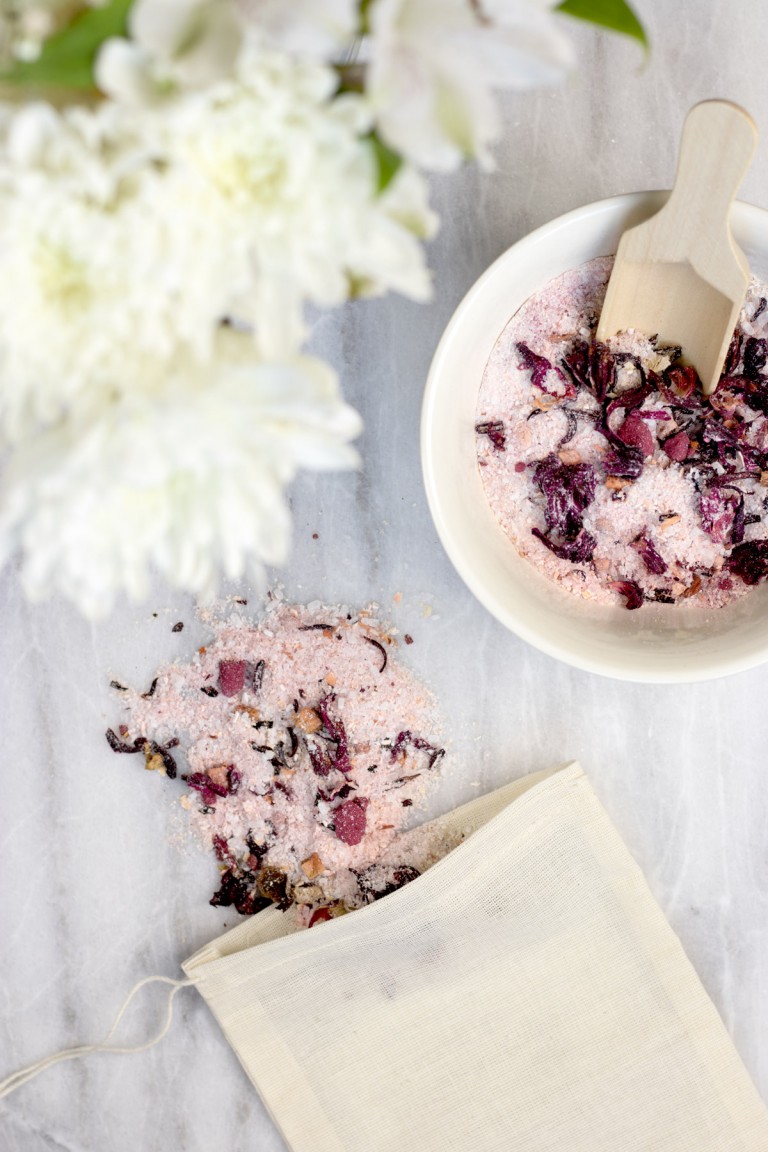 Note: it's important to use the appropriate amount of magnesium for your body weight if you want to use this tub tea to maximize your daily dose of magnesium. For children under 60 lbs, only 1/2 cup is needed. For children 60-100 lbs, use 3/4 – 1 cup of magnesium per bath. For persons 100-150 lbs, use 1 1/2 cups per bath. For those 150-200 lbs, use 2 cups per bath. For those 200 lbs plus, use an extra 1/2 cup for every 50 lbs additional pounds. You can adjust the amount of Epsom salt in this recipe accordingly.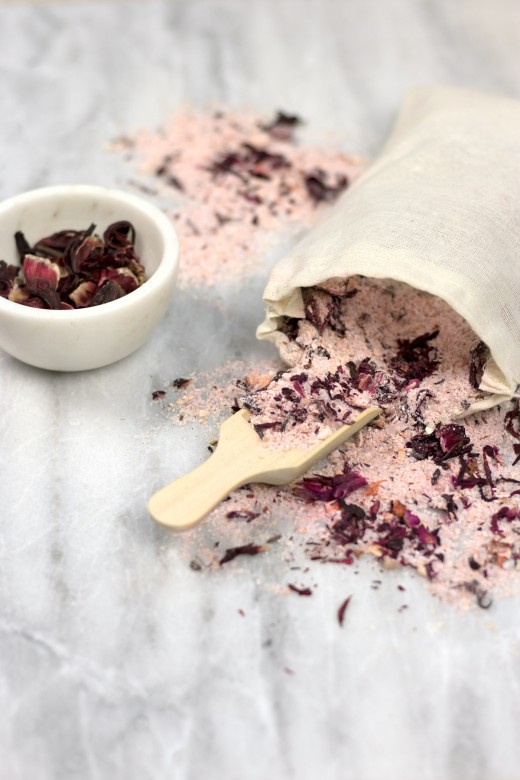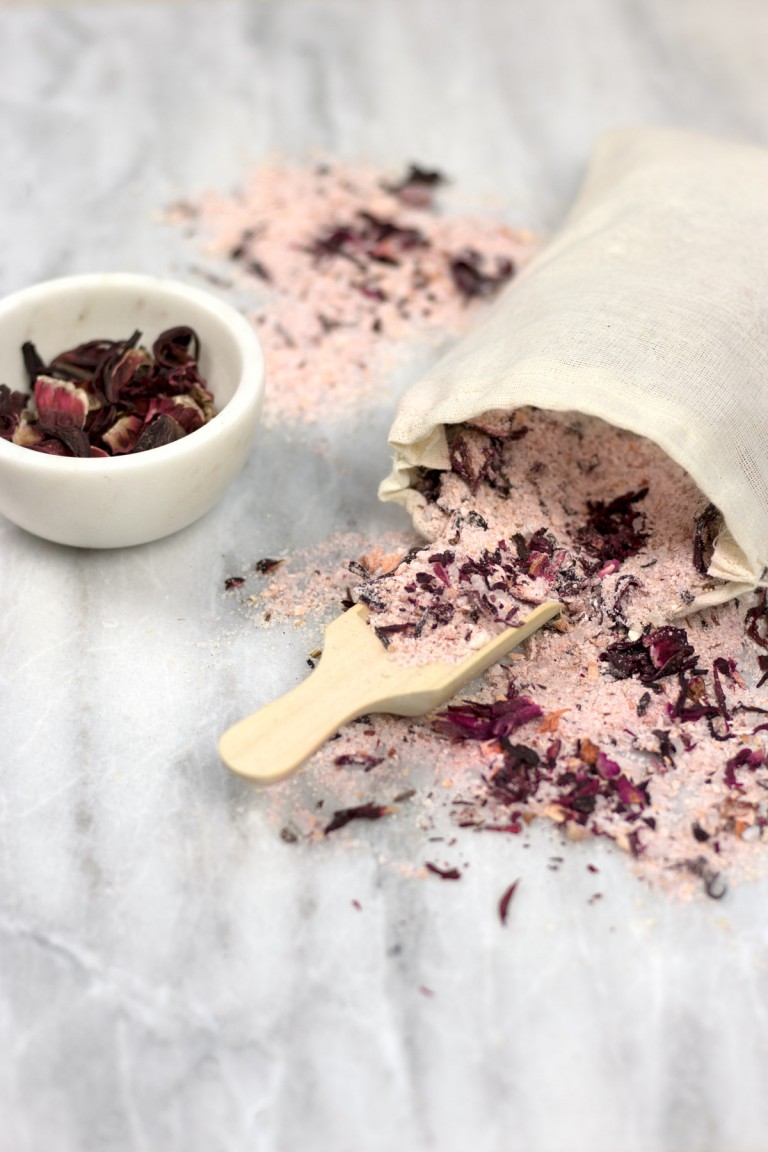 DIY Pink Lemonade Tub Tea
This all-natural tub tea contains a combination of hibiscus, lemon peel and essential oils for a unique pink lemonade scent. Ingredients like powdered oatmeal and epsom salt nourish and soothe dry skin and aching muscles. Turns bathwater pink!
Instructions
Grind the oatmeal into a fine powder using a blender, coffee grinder or Magic Bullet.

In a large glass bowl, mix 1/2 cup oatmeal with the hibiscus petals, dried lemon rind and salts. Mix thoroughly. If you'd like a deeper pink colour, add your beet powder during this step.

Add the essential oils and mix again.

Place the tub tea bags in a hot bath and allow to steep for a few minutes before using. You can also place the tea bag directly under the running bathwater. The water should be hot enough to steep the tea, but be sure to test the temperature again before climbing in the tub.


Clean up is simple. Place the contents of the tub tea into your compost or organics bin. Be sure to wash and reuse your muslin bags!
Notes
While this tub tea is safe for most people, some people may be allergic to one or more ingredients and develop a rash. Please use essential oils with caution and always consult your health care provider before using any DIY skin products, especially if you have sensitive skin. If you suffer from any health condition such as high or low blood pressure, diabetes, heart conditions, or are pregnant or breastfeeding, please consult with your doctor before using salt baths.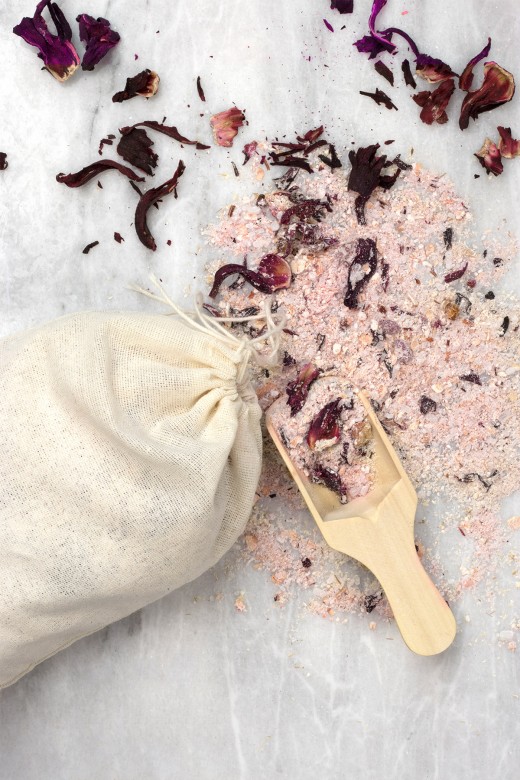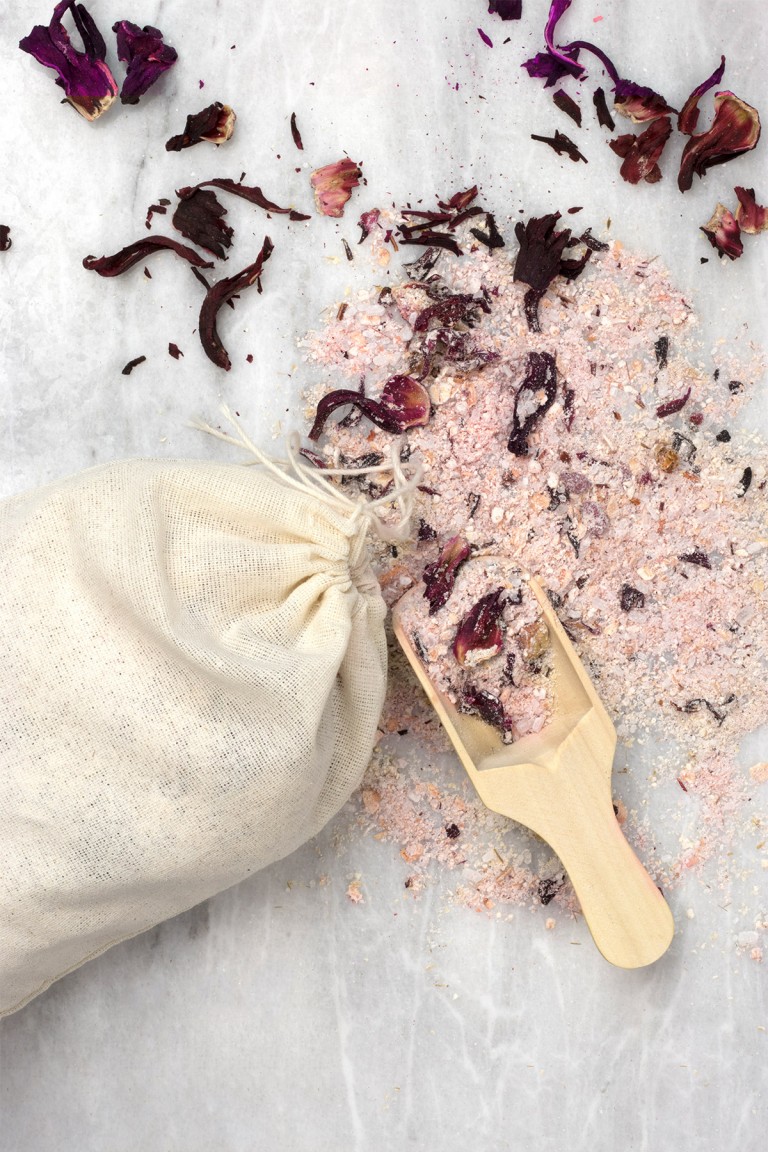 This pink lemonade tub tea is always nice to enjoy alone but it would also be lovely for gifting. Perfect for bridesmaid gifts, wedding or baby shower favours, or as a nice, eco-friendly hostess gift for the bath lover in your life. Just add a bow and a pretty, recyclable label to your filled muslin bags. It could also be a fun, yet easy project for your guests to make at a birthday party, or at a wedding or baby shower.
Do you use DIY tub tea or other DIY bath products? Let us know what you think of this recipe in the comments below!
Looking for more natural DIY bath and body recipes? Check these out:
For even more natural DIY bath and body ideas, follow us on Pinterest! You can also find us on Instagram.
Pin it for later