These fragrant, all-natural DIY rose bath bombs are made with vanilla essential oil, coconut oil and organic rose petals. Not only are these bath bombs beautiful to look at, but they're also free of chemicals, synthetic dyes and other toxic ingredients. Read on to learn how to make these lovely, skin-softening homemade bath bombs!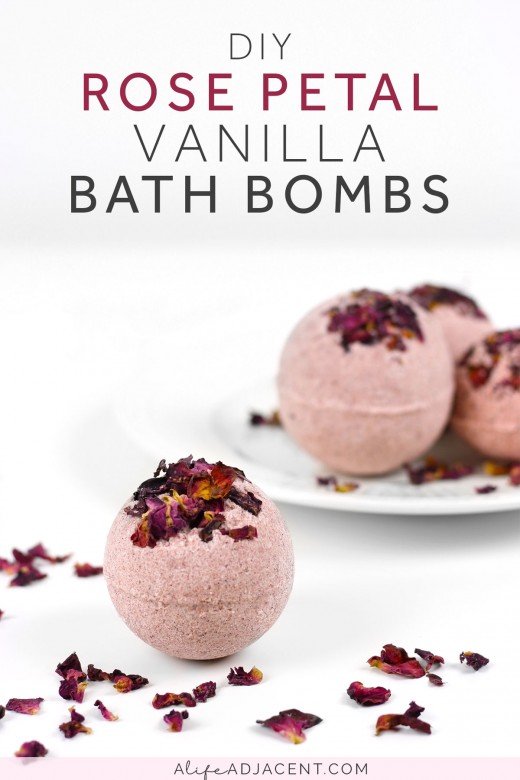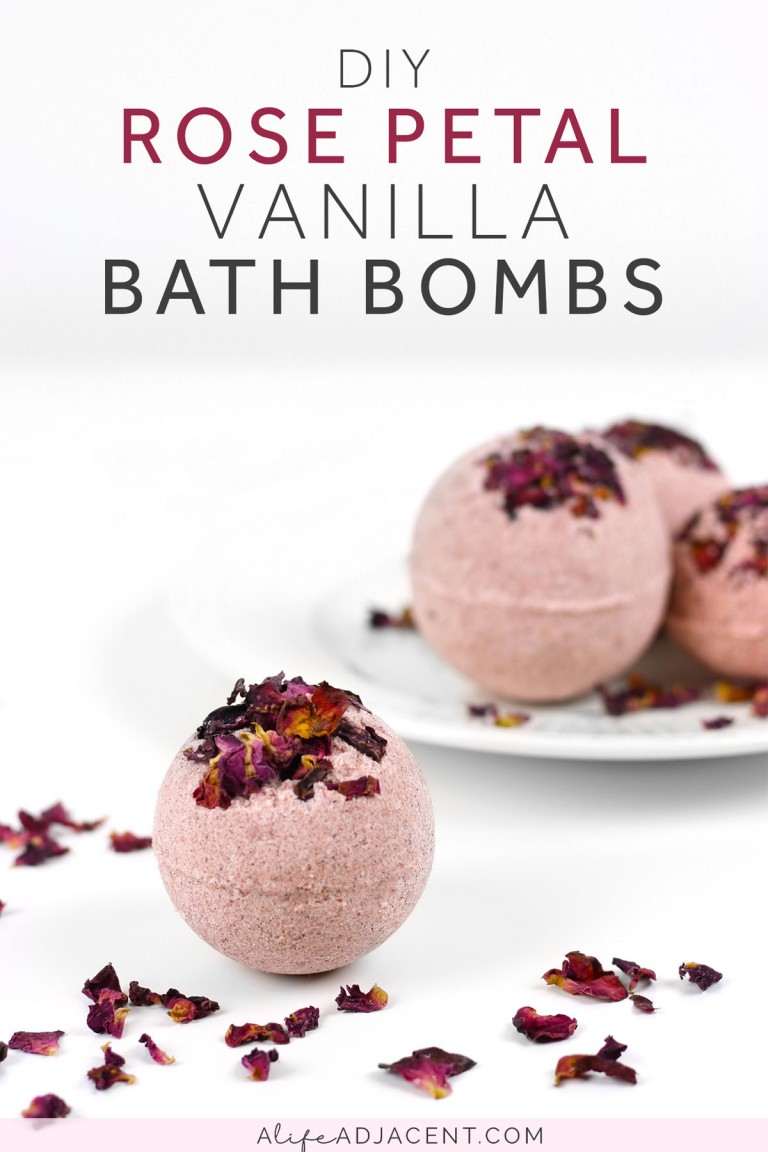 Who doesn't love a soaking in a warm bath with a good book and a glass of something delicious? Added bonus if you add a fragrant, fizzy bath bomb to your bath water.
Unfortunately, far too often store-bought bath bombs smell like you overdid it in the perfume aisle. Not ideal for the scent sensitive folks, or for those who want to avoid synthetic fragrances.
Store-bought bath bombs can also contain toxic dyes which have been linked to UTI's and yeast infections. And at $8 or more a pop, they're far from economical.
While there are natural non-toxic bath bombs on the market, they tend to be expensive and hard to source. So since bath bombs are definitely a product one might use more often if they were more affordable, these DIY rose bath bombs are a great money saver, while also having the benefit of being non-toxic and good for your skin.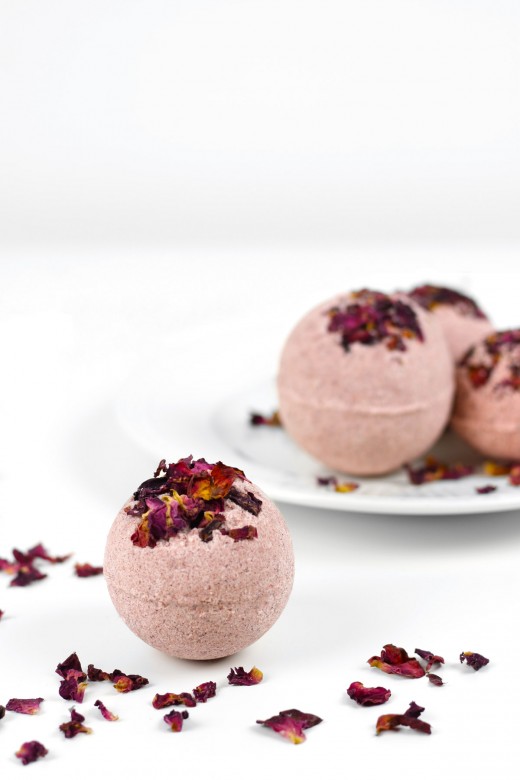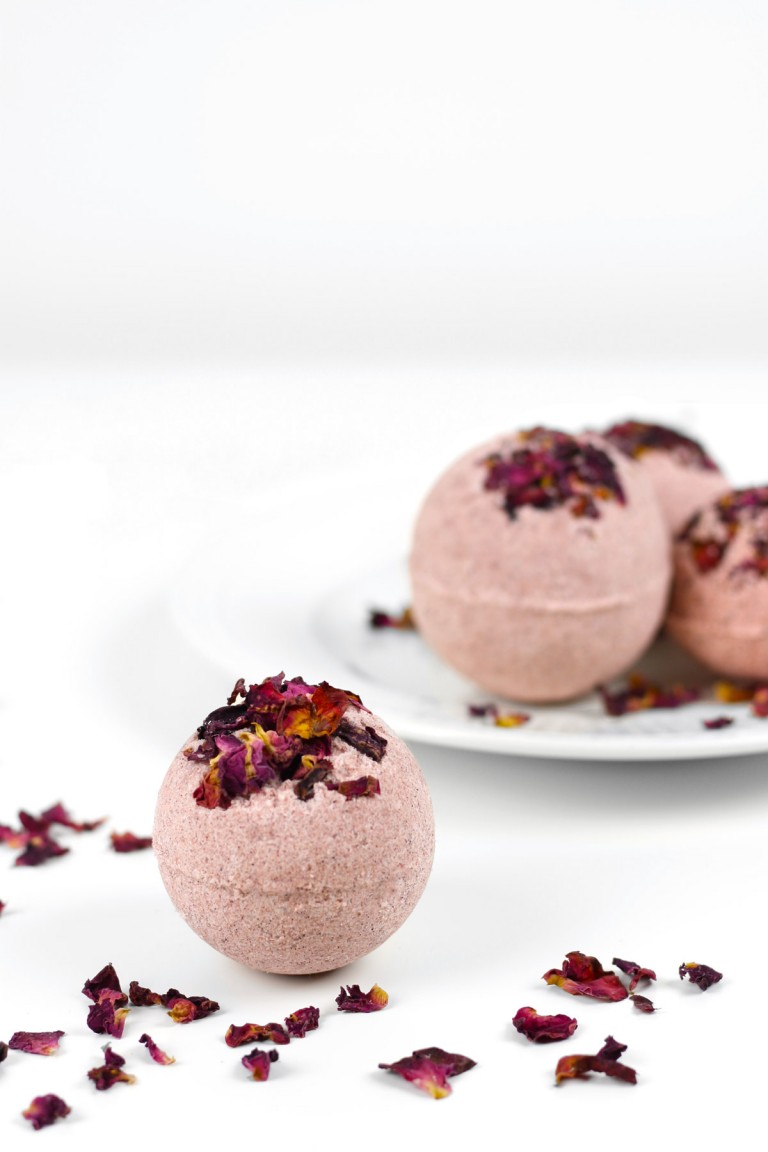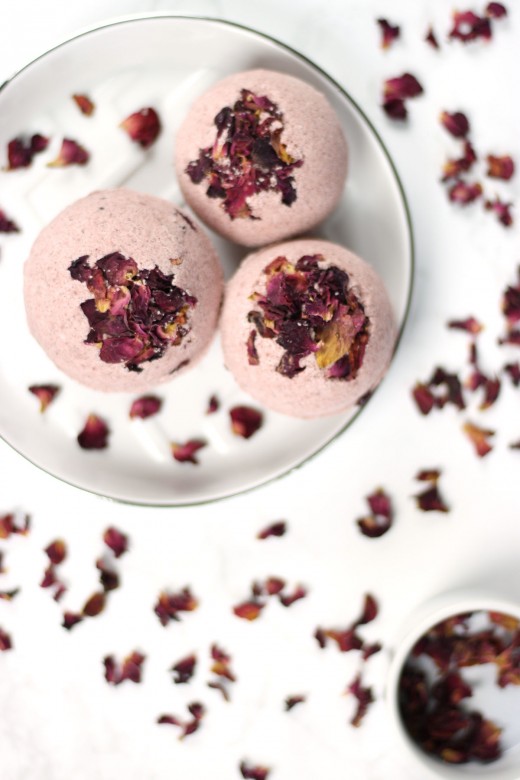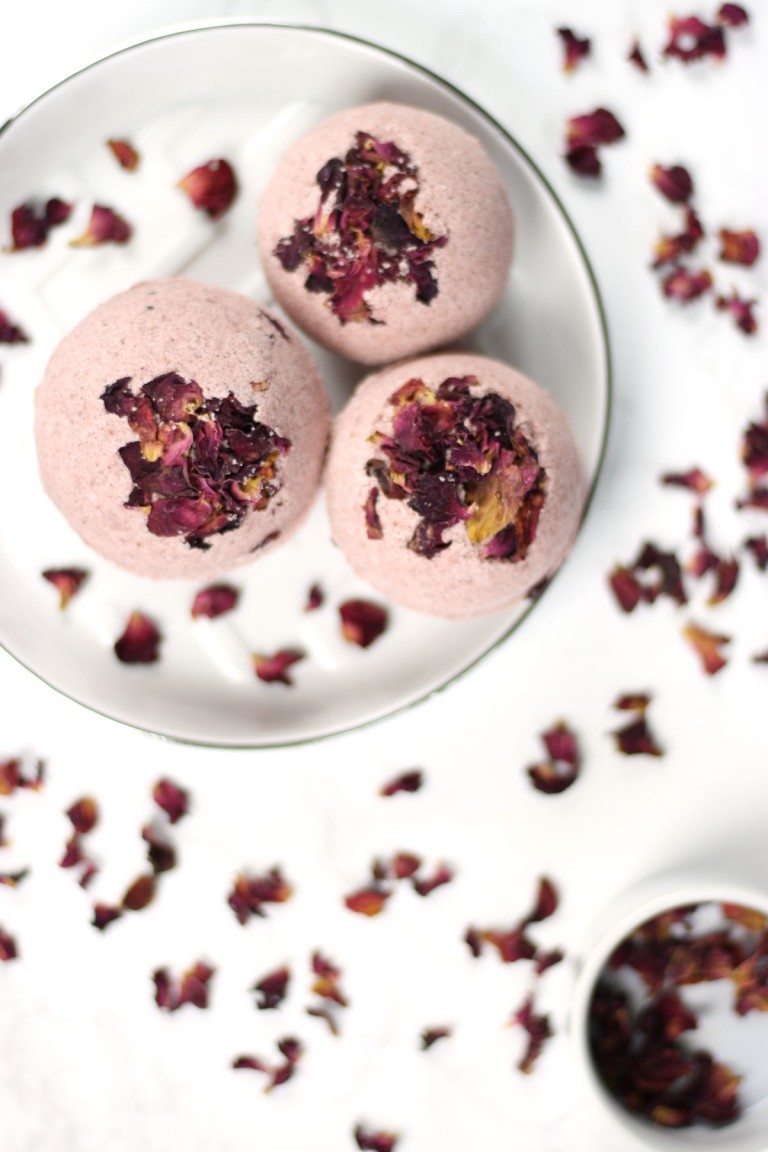 Bath bombs are also one of those homemade gifts that don't look homemade if executed correctly. Translation – they're not dry, cracked and falling apart. This means you have to measure the ingredients carefully!
For gifting, we suggest placing your finished rose bath bombs in a lovely cotton muslin bag such as this one, complete with a handmade tag – the perfect Valentine's Day, birthday or Christmas gift for the bath lover in your life.
And since these bath bombs are also fairly easy to make, they're a fun project to do with kids. Plus, what kid doesn't love watching a bath bomb fizz and shoot rose petals into their bath water!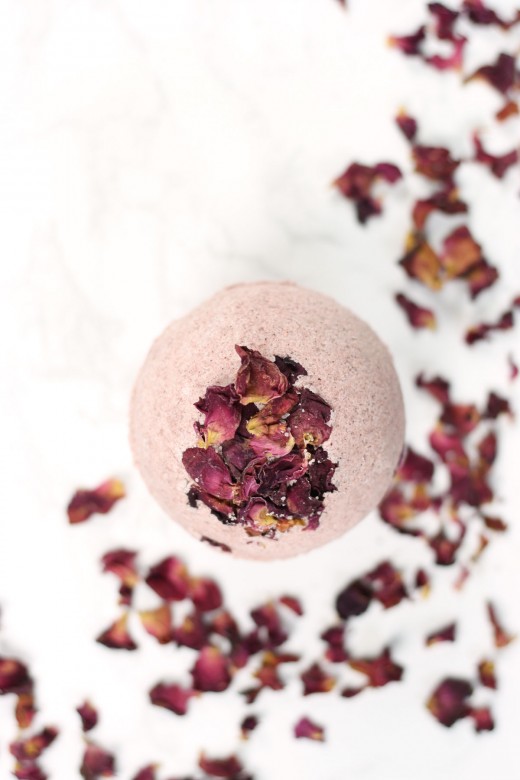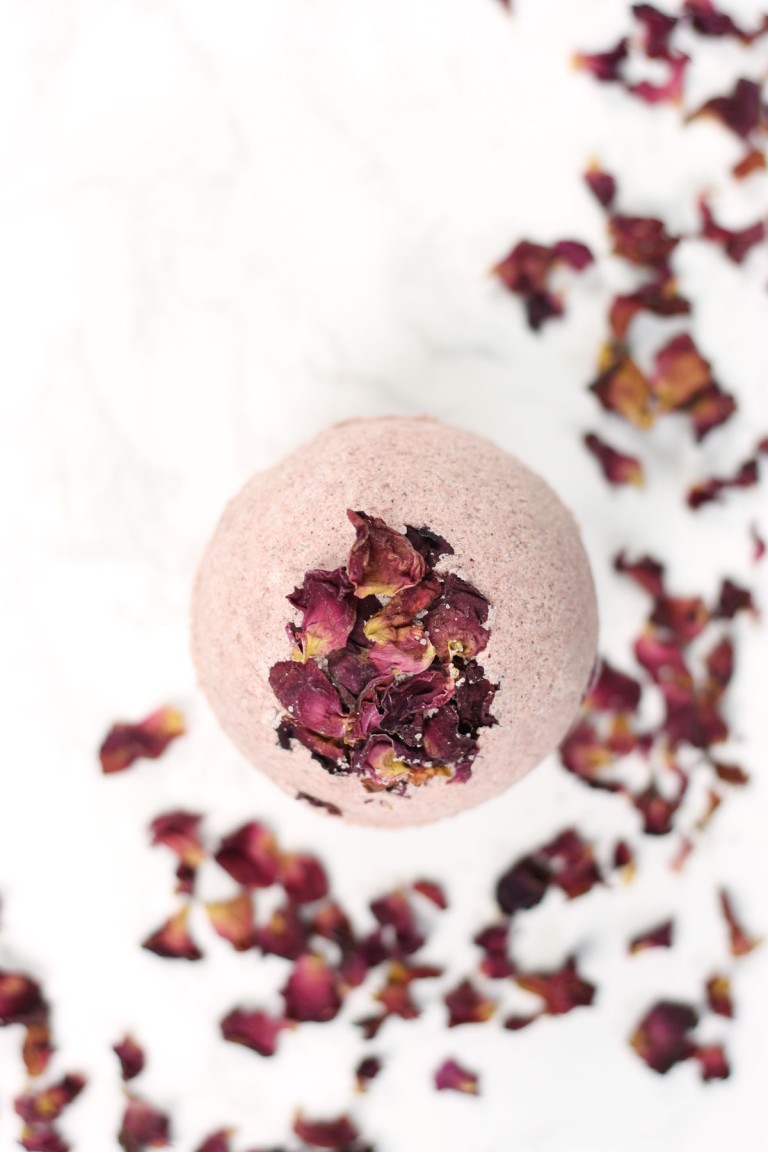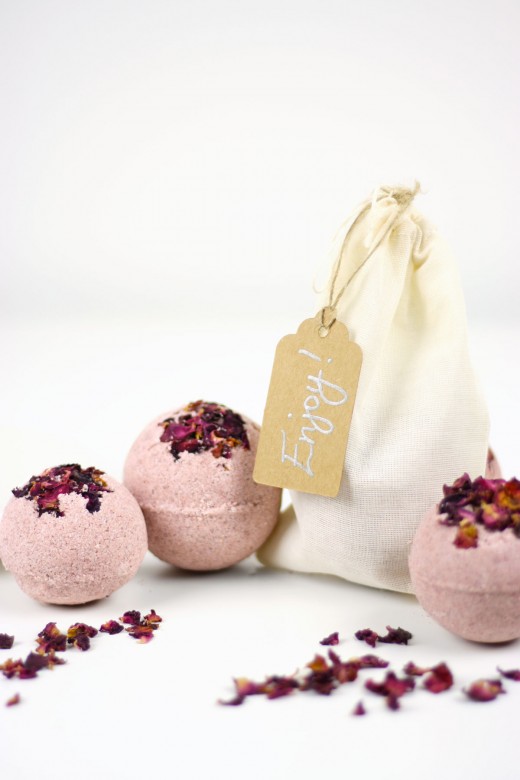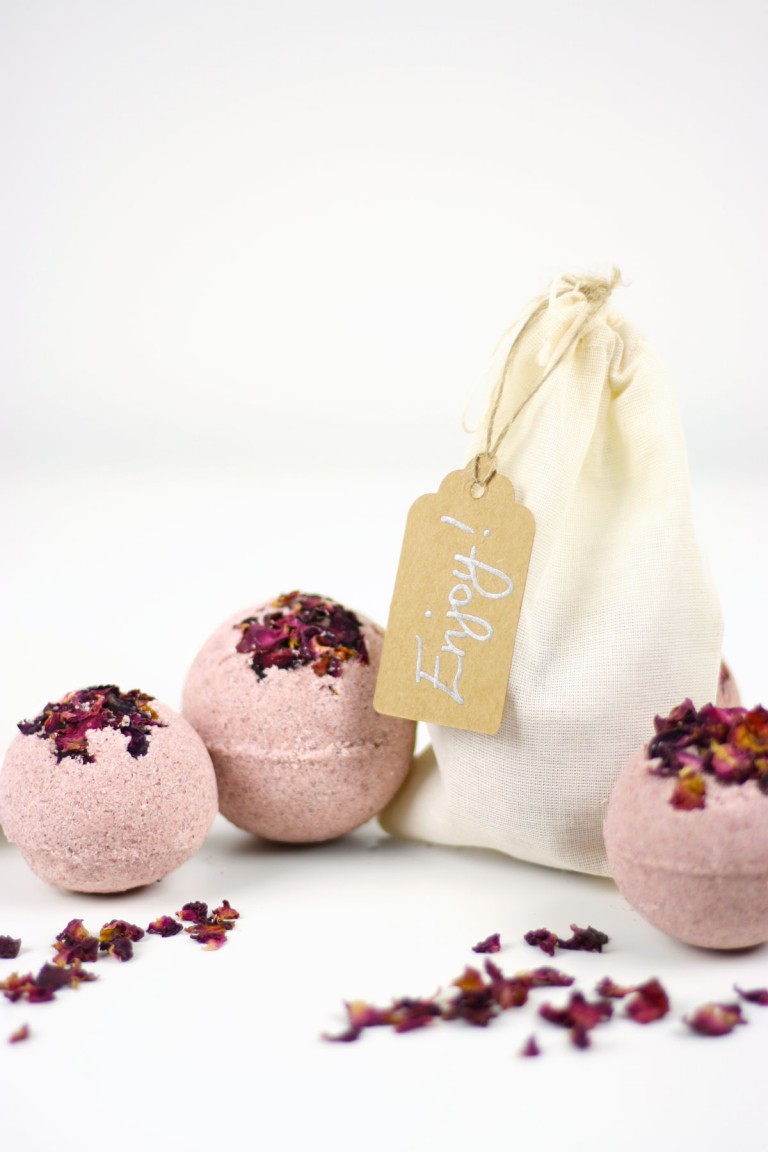 Ingredients for DIY rose bath bombs
Admittedly, there are a lot of bath bomb recipes floating around the internet (pun unintended!).
That said, we still wanted to create our own recipe using the common DIY bath bomb ingredients of citric acid, baking soda, corn starch and Epsom salts, all in an effort find the perfect combination.
We used organic coconut oil in this recipe, which is a saturated fat and therefore resilient to light and heat. Coconut oil is also incredibly moisturizing and has both antibacterial and antifungal properties which is wonderful for hydrating the skin.
On the other hand, the less stable, polyunsaturated oils in some bath bombs – like sunflower, safflower or soybean – will oxidize in hot bathwater and become rancid. Not only does bathing in rancid oil sound very unappealing, but it's not good for your skin, either.
Oh, and we accidently bought 2lbs of organic dried rose petals. Apparently, a 1lb bag of dried rose petals looks a lot smaller online than it does in person. So while we got more than we bargained for, the rose petals will definitely be put to good use in future DIY's.
Let's get started. Gather your supplies.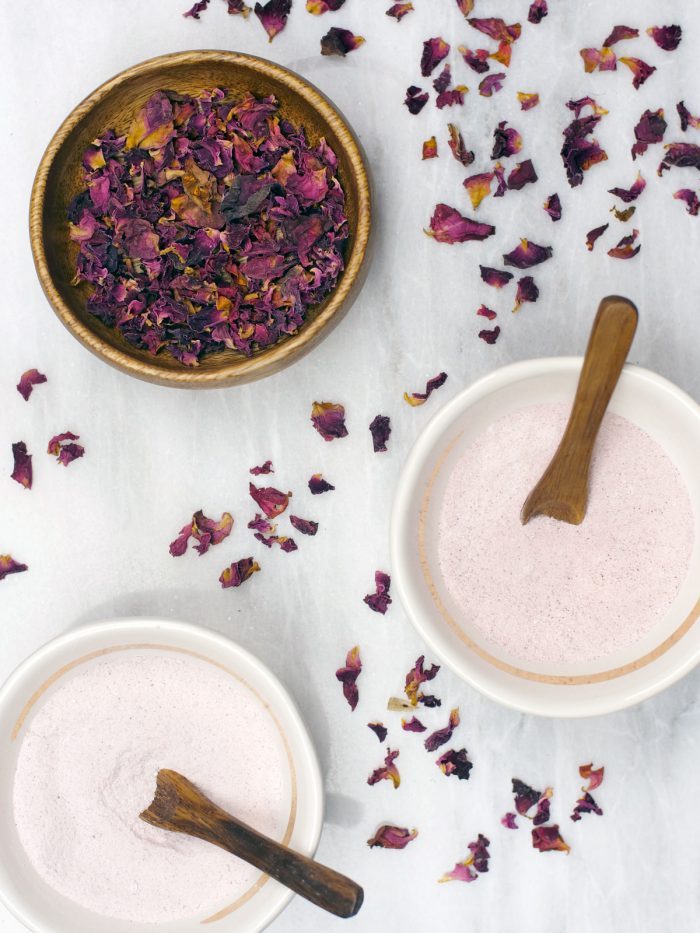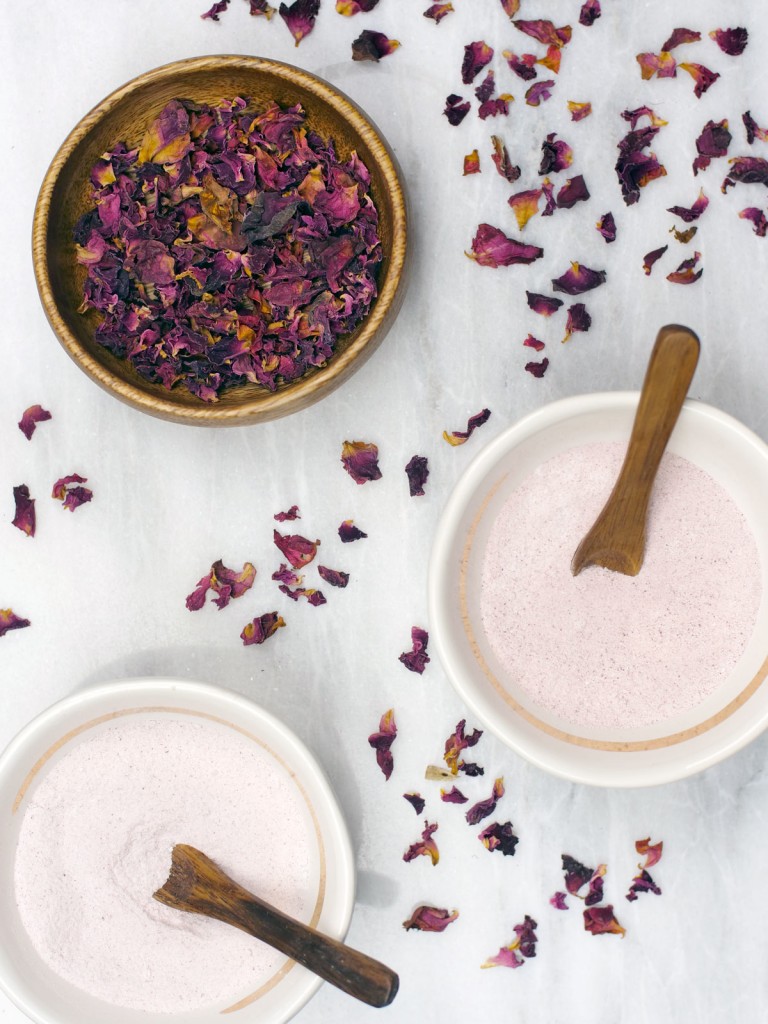 DIY Rose Bath Bombs
Learn to make fragrant, all-natural DIY rose bath bombs with this easy recipe. No synthetic fragrances or colours necessary! You can feel good knowing that your bathwater will be free of chemicals, dyes and other harmful ingredients. Sensitive skin-friendly.
Instructions
In a large bowl, place all the dry ingredients, including the beet powder. Mix well with a whisk or large spoon, making sure to remove any clumps.

Melt the coconut oil in a small saucepan on low heat. Slowly add the oil to the dry ingredients. If you notice a bit too much fizzing of the dry ingredients, add the oil even slower. Whisk gently as you go.

Add the water next, then the essential oils. Again, whisk as you go and always add the wet ingredients slowly.

Once the mixture is ready, scoop approximately 1 tablespoon of the dried rose petals into one half of your bath bomb mold.

Then, add the bath bomb mixture. Firmly pat the mixture to conform to your mold, slightly overfilling it. Do the same with the other half of the mold, omitting the petals on the bottom portion. Put the two sides together and press firmly over the mixing bowl, allowing the excess mixture to fall back back into the bowl.

Place on cookie sheet or cutting board to set. Don't leave the bombs in the mold too long or they will be harder to remove. We learned this the hard way. If you remove them too soon and they crumble, simply place them back in the mold and give them more time to set. We determined that 3 hours of curing time is about right.
Notes
Be sure to use food-grade organic dried rose petals to avoid pesticides. Also, please remember that you will have to remove the rose petals from your tub after bathing. You definitely don't want to deal with dried flowers clogging your drain.
We chose stainless steel bath bomb molds instead of the typical aluminum molds. Not only are they far more durable, but we prefer to avoid aluminum due to its link to Alzheimer's and other health issues. We also recommend not using plastic molds, which are easily cracked and not very eco-friendly.
These bath bombs will turn your bathwater a lovely shade of pink. We achieved this using beet powder, but for an even more potent rose aroma, you can also use rose petal powder.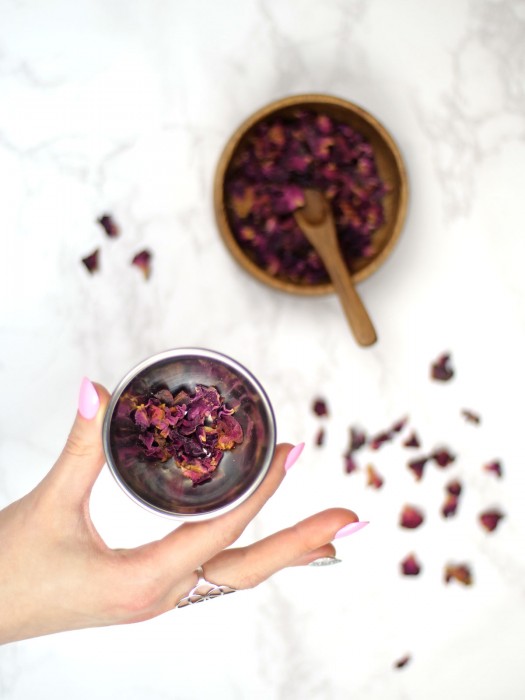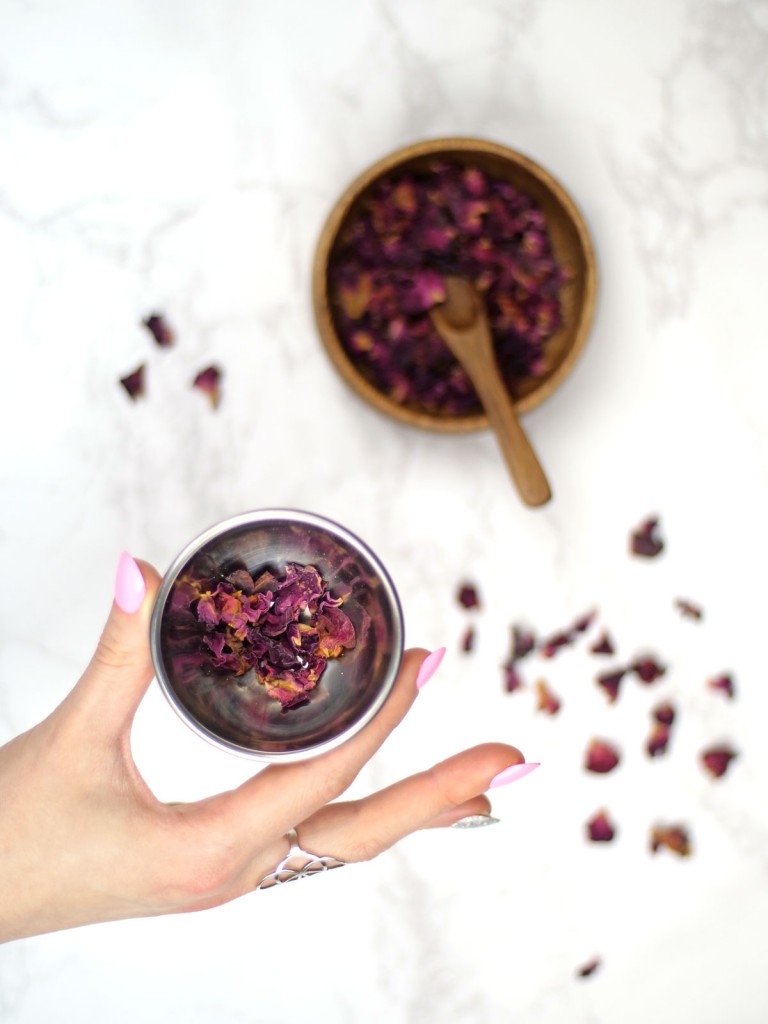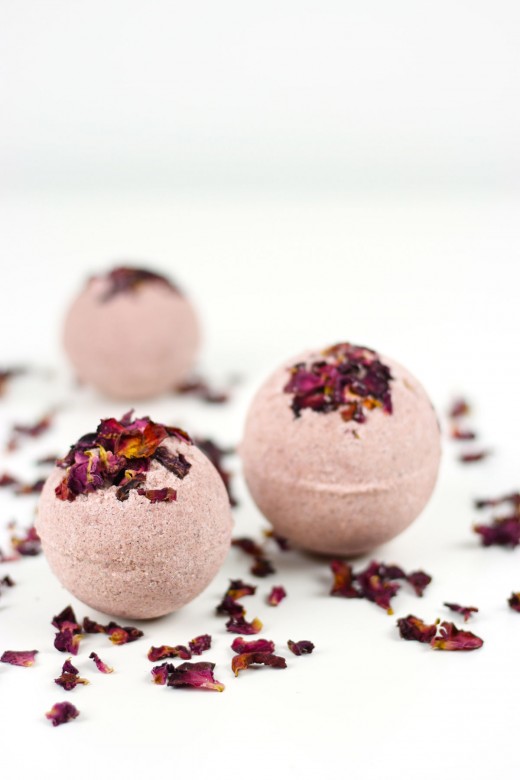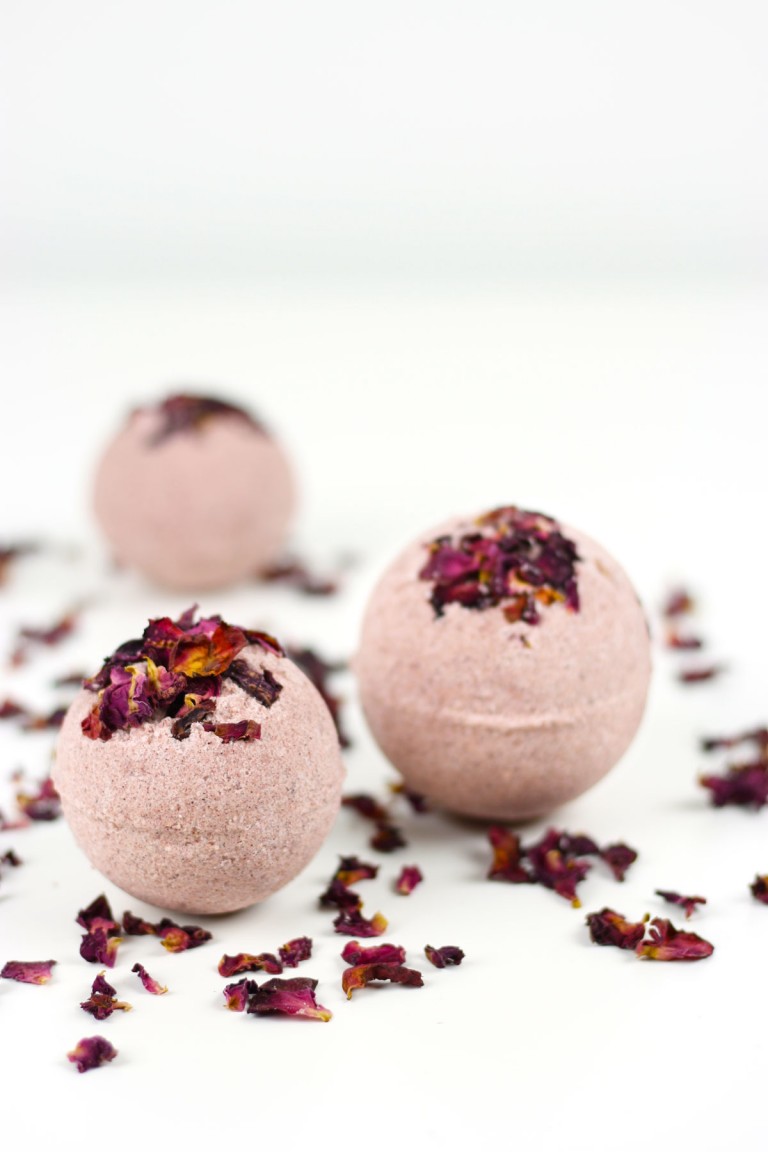 The process of making these rose petal bath bombs was incredibly simple and rather fun. Again, a really good project to do with kids or young teens. And the results of course, are equally as enjoyable.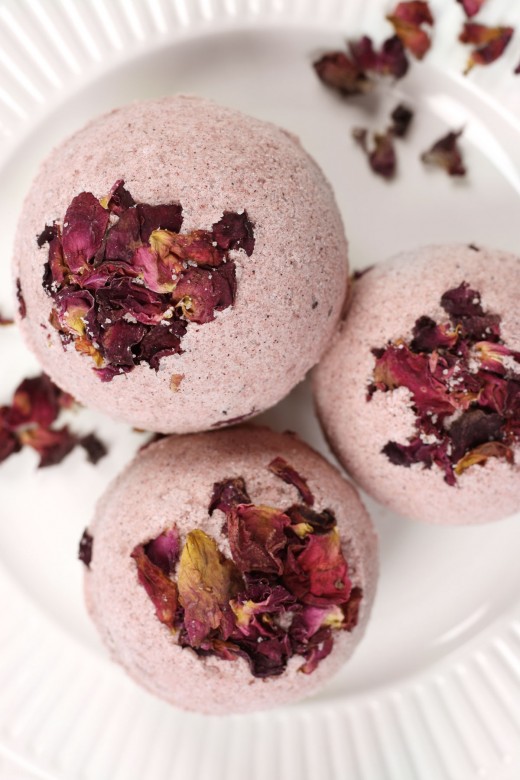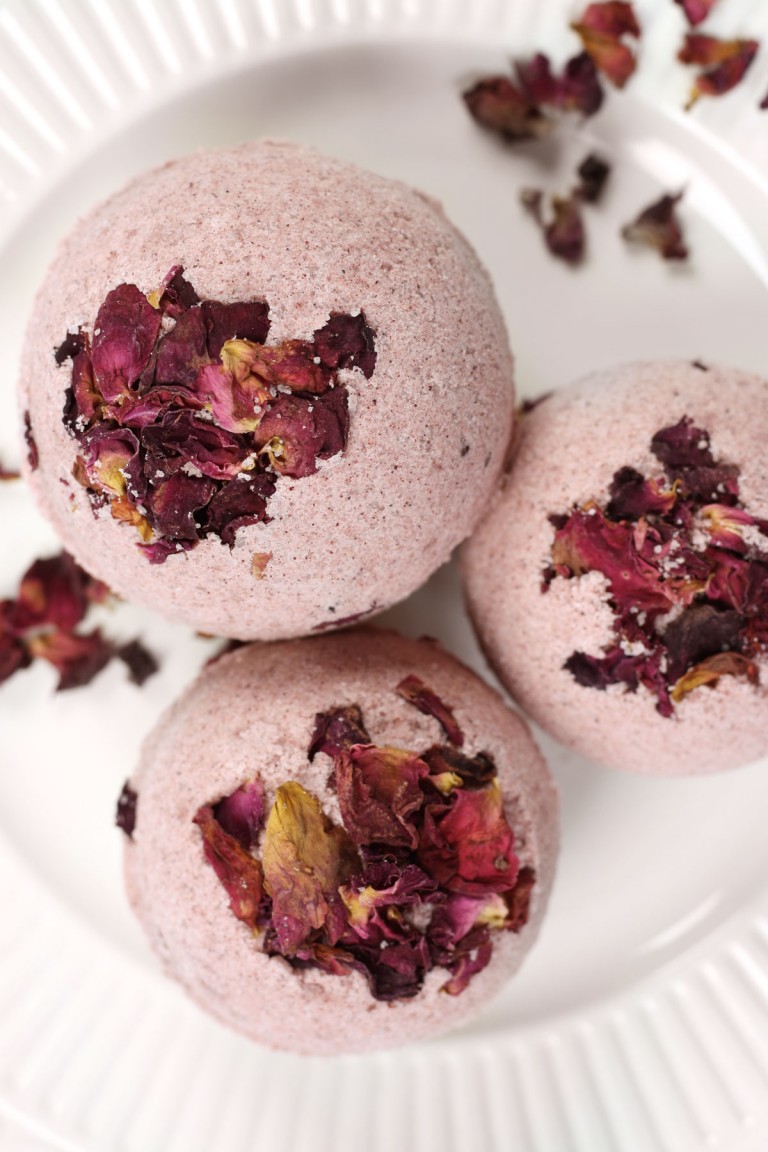 If you're not the DIY type or pressed for time, but love a good bath bomb, we recommend only using bath bombs with natural ingredients, like these. Etsy is also a great place for sourcing handmade, non-toxic bath bombs.
Have you ever made your own homemade bath bombs? We love the combination of rose and vanilla, but what are your favourite essential oil blends for bath bombs? Let us know in the comments below!
More DIY bath and body recipes
If you enjoyed these homemade rose bath bombs, you might also enjoy the following DIY bath and body recipes:
For even more natural DIY bath and body ideas, follow us on Pinterest! You can also find us on Instagram, Facebook, and Twitter.
Pin it for later