These lovely DIY rose lotion bars from guest blogger Irena of Country Hill Cottage are made with natural, non-toxic ingredients and are perfect for moisturising dry skin. They're also formulated without beeswax for a lotion bar recipe that's completely plant-based. Read on to learn more about the ingredients and get helpful tips for creating homemade lotion bars.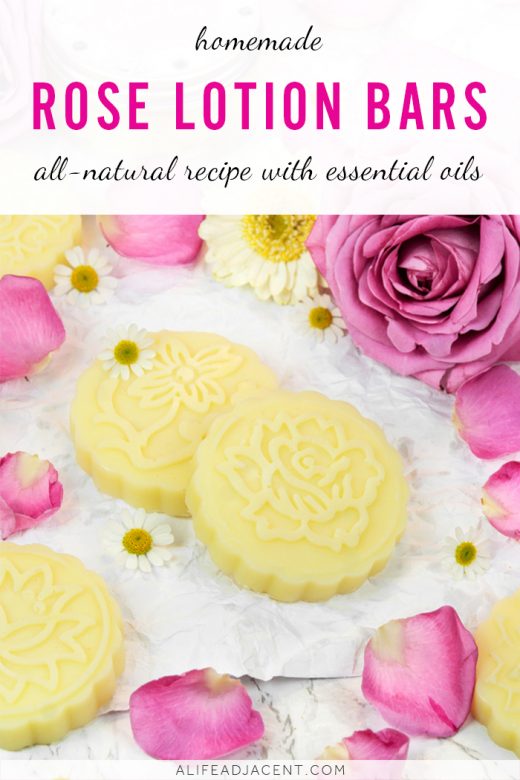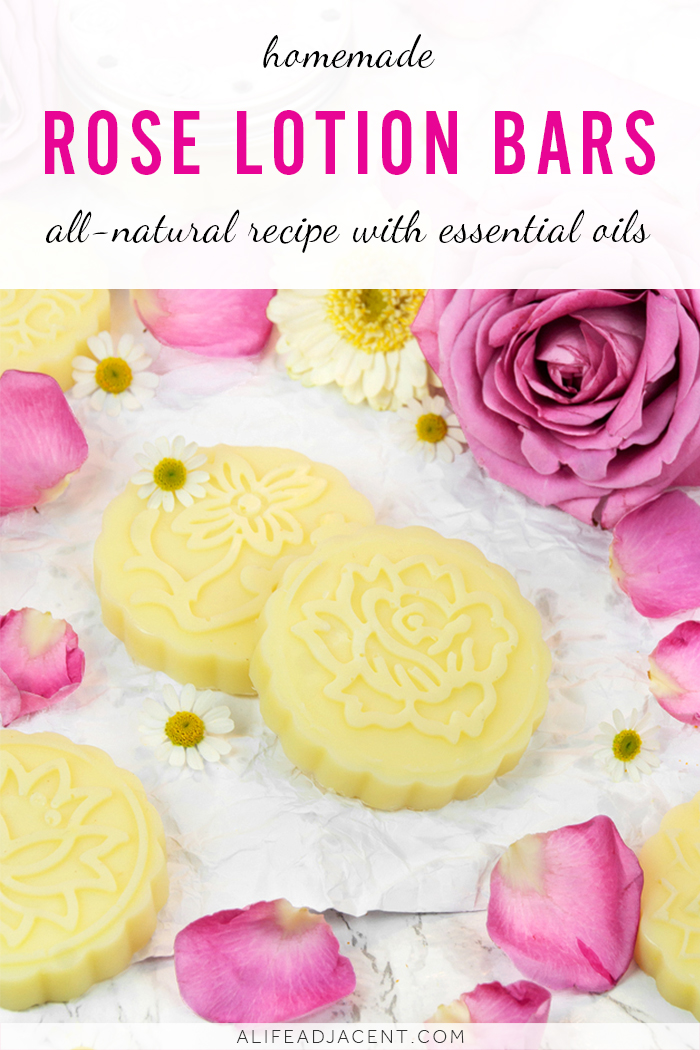 Moisturise your skin with softening and soothing DIY rose lotion bars! These all-natural vegan lotion bars are made with plant-based butters and oils that deeply nourish your skin with vitamins and antioxidants. This homemade beauty product is suitable for all skin types, even sensitive skin, and can be used on the entire body.
The lotion bars are a wonderful way to hydrate dry skin and soften rough elbows, knees, and cracked feet. Enriched with vitamin E oil and fragrant rose essential oil, the bars are a great homemade skin care option and can be used as a body lotion or as a massage oil. Enjoy!
Irena xx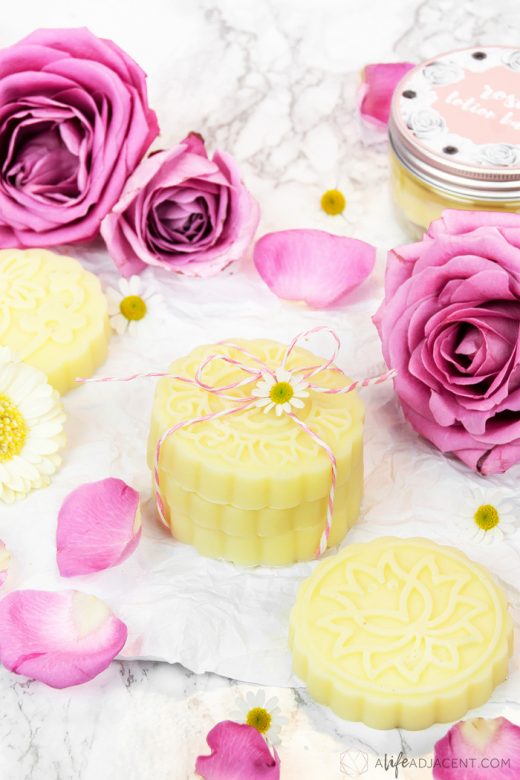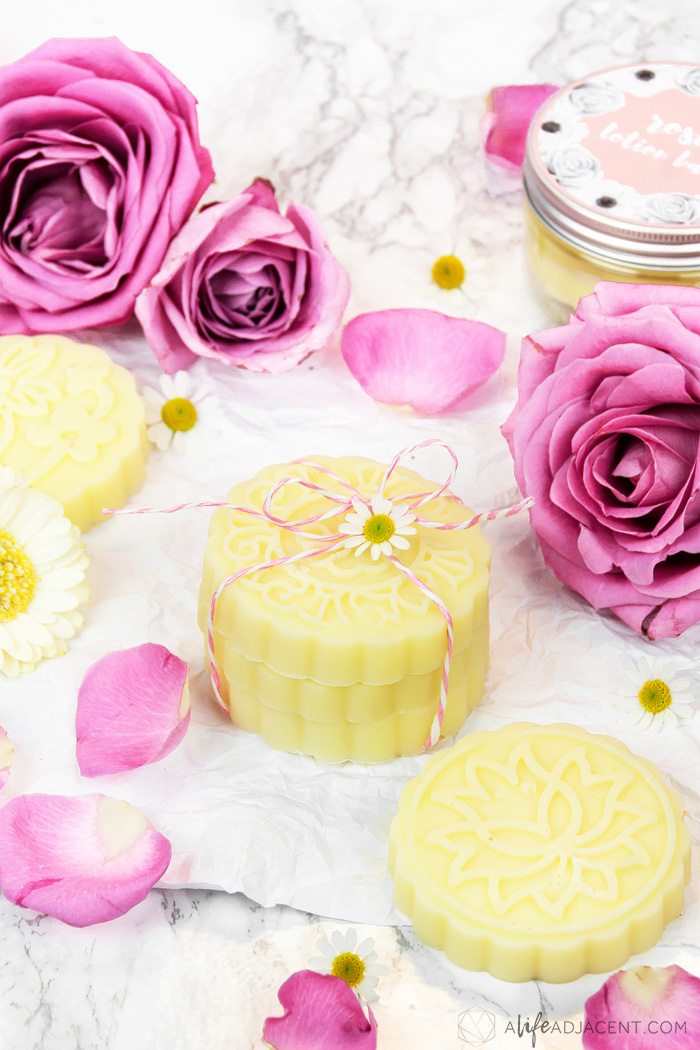 What ingredients do I need to make DIY rose lotion bars?
As the name suggests, a lotion bar is body lotion in solid form. Since this DIY beauty recipe doesn't contain any water, there is no need to add any preservatives. In fact, the bars are made with natural, plant-based materials. Before delving into the recipe, let's have a look at the ingredients and their skincare benefits:
Nourishing butters
The main ingredients of the lotion bars are cocoa butter, shea butter, and mango butter. All three are excellent moisturisers that soften and soothe the skin. Cocoa butter also adds firmness to the bars, while shea butter and mango butter are rich in vitamins A, C, and E and hydrate the skin on a deeper level. When purchasing butters, make sure that they are organic and cold-processed or unrefined since refined products contain fewer vitamins and nutrients.
Babassu oil
Babassu oil is another excellent moisturiser that absorbs quickly into the skin. This oil doesn't feel greasy and helps to balance sebum production and the natural oils of the skin. It's full of antioxidants and has anti-inflammatory properties that can help to combat skin inflammation.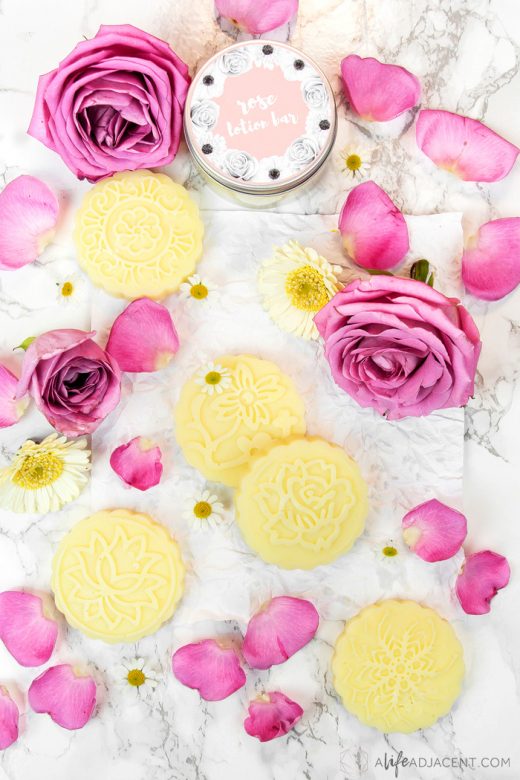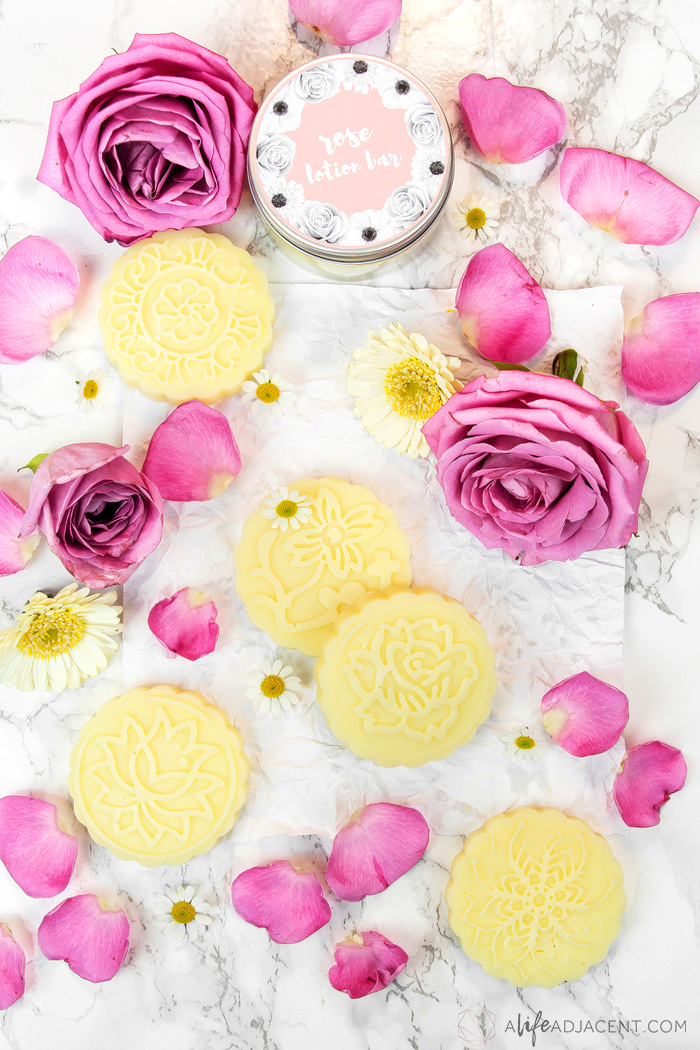 Candelilla wax
A small amount of candelilla wax helps to harden the bars. This vegan wax also binds and emulsifies the oils, improving the skin feel of the bars. Lanolin or beeswax are also great options if you don't mind using an animal product in your beauty recipe.
Vitamin E oil
Vitamin E oil (alpha-tocopherol) is a natural nutrient and an antioxidant that can help to protect your skin from free radical damage. I also find that it revitalises the skin, reduces blemishes and can improve the appearance of stretch marks and scars. When shopping for vitamin E oil, be sure to buy a plant-based oil instead of a synthetically created one as the former is said to be better absorbed by the skin.
Rose essential oil
I love the smell of roses and decided to fragrance the lotion bars with rose otto essential oil. Although rose essential oils can be quite pricey, I found one that smells lovely and is affordable. If you prefer another scent, try lavender, jasmine, geranium, or ylang-ylang essential oil. If you have very sensitive skin or plan to use the lotion bars on babies or small children, it's best to prepare the recipe without any essential oils.
Silicone mould
I used a round moon cake mould to form my lotion bars. This mould produces bars that fit nicely into the palm of your hand and also creates a lovely decorative pattern. However, you can also pour the lotion mixture into a small cupcake pan or ice cube tray. I recommend using a mould that's made of soft, bendable silicone so you can pop the lotion bars out easily.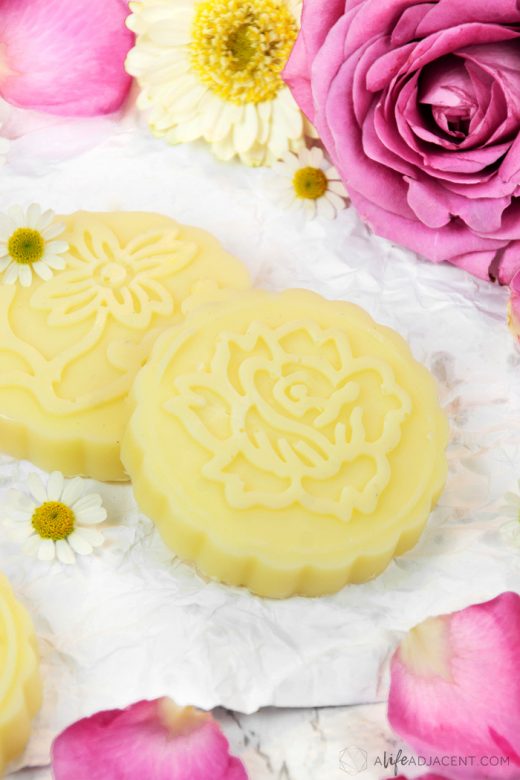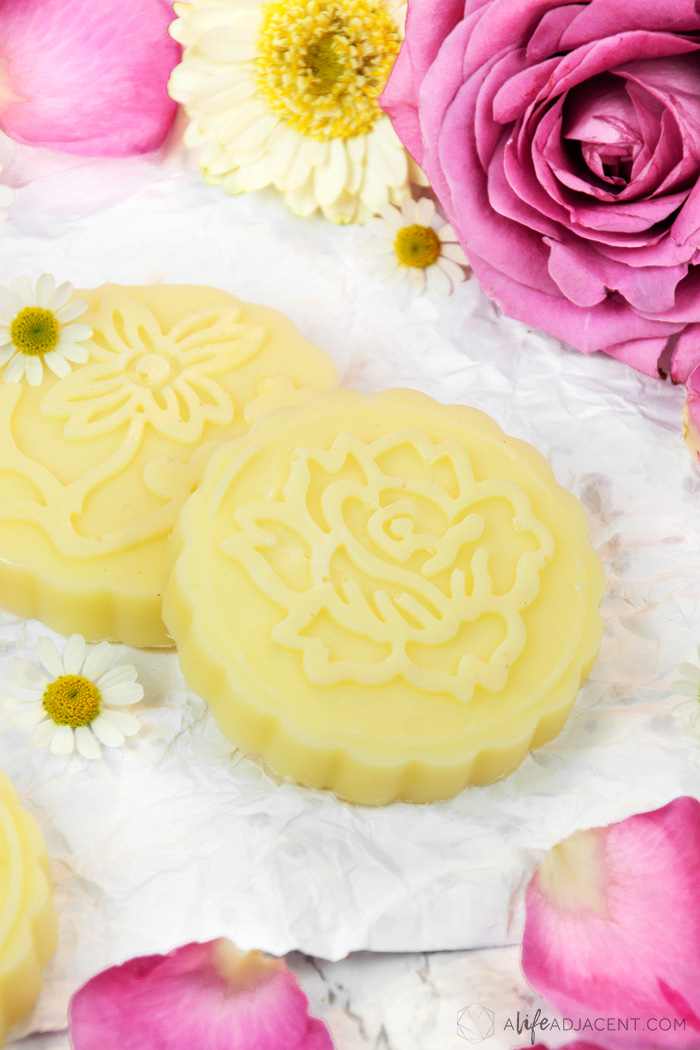 Low PUFA Ingredients
I love the moisturising qualities of the oils and butters mentioned above and use them in many beauty recipes, such as these floral bath creamers or my rose bath truffles. Another reason why I highly recommend them in is their low content of PUFAs. Let me explain:
Fats can be divided into two groups: stable, saturated fatty acids (SFAs) and unstable, unsaturated fatty acids, which can be further categorised into monounsaturated (MUFAs) and polyunsaturated fatty acids (PUFAs). But what does that mean for skin care?
Polyunsaturated fats are highly reactive because they have two or more incomplete hydrogen bonds and are easily oxidised by heat and light. This oxidation process creates free radicals. Put in very simple terms, free radicals are highly reactive, uncharged molecules that can bind electrons from atoms in the skin. This process damages the skin cells and speeds up skin ageing.
When selecting the ingredients for the lotion bars, I specifically chose cocoa, shea, and mango butter as well as babassu oil because they are made up mostly of saturated fats and are less prone to oxidation. I also briefly mentioned that the materials in these lotion bars full of vitamins and antioxidants that help to neutralise free radicals by providing an extra electron. Using low-PUFA fats and ingredients that are rich in antioxidants is the best way to ensure that your homemade skin care products are safe and actually beneficial for your skin.
Kyla has written an in-depth article about the dangers of polyunsaturated fats in skincare, where you can learn more about the differences between saturated, monounsaturated and polyunsaturated oils and how to choose skincare products accordingly.
Tips for making DIY lotion bars
Making my DIY rose lotion bars is very simple, and with the following tips, you will have much success in making your own lotion bars at home.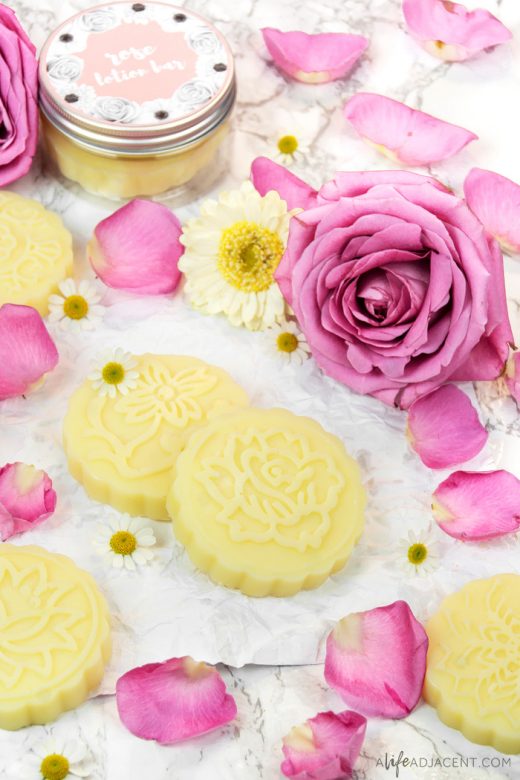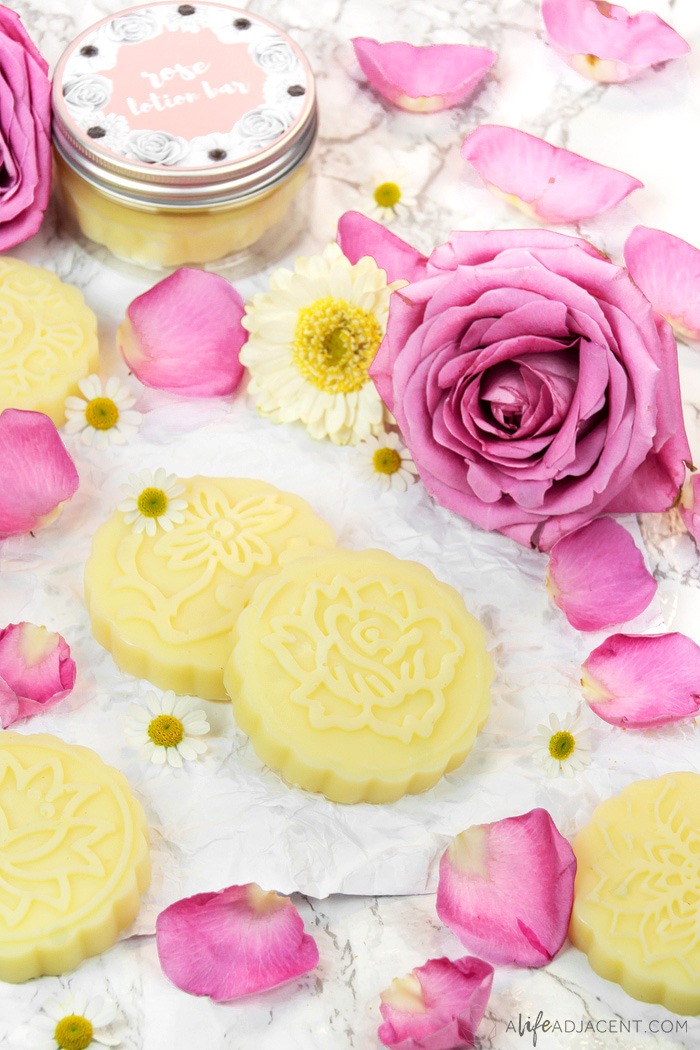 Looking at the recipe you will notice that candelilla wax is melted separately from the oils and butters. Here is why: Candelilla wax melts between 150°F and 165°F (65°C – 75°C), while the butters have a lower melting point at around 85°F to 105°F (30°C – 40°C). Overheating the butters (heating past 105°F / 40°C) is going to alter their texture and can result in bars that feel grainy and oily – not at all what we want!
An instant-read thermometer is useful to get exact temperatures. If you don't have one, be extra careful to set up the water bath over the lowest flame and stir constantly.
After the butters have melted, let the lotion mixture cool for 10 minutes before adding the vitamin E oil and essential oil. Both oils could evaporate if the mixture is still too hot.
Cocoa butter takes quite a long time to regain its original hardness. Therefore I recommend chilling the lotion bars in the refrigerator for at least 6 hours or overnight before releasing them from the mould.
DIY Rose Lotion Bars
Fragranced with the intoxicating scent of rose essential oil, these gorgeous DIY lotion bars will uplift your senses as they moisturize your skin. Vegan, plant-based recipe made without beeswax. Also comes with printable labels for easy gifting!
Instructions
Melt the candelilla wax.

Put the wax into a microwave-safe container and melt in the microwave set to medium in 30-second bursts until fully melted.

Place the cocoa butter, shea butter, mango butter and babassu oil into a heat-resistant mixing bowl and melt in a water bath over low flame. Then take off the heat and combine with the melted candelilla wax. Set aside to cool for 10 minutes.




Once the mixture has cooled, stir in the rose essential oil and vitamin E oil.

Pour the lotion mixture into the mould and put in the fridge to set overnight. Note that it takes several hours for cocoa butter to completely set.

Tip: Put the mould on a tray or cutting board so you can handle and lift mould more easily.

Gently bend the mould to pop the lotion bars out.



How to use the DIY rose lotion bars
Rub and massage the lotion bar on your skin. The warmth of your hand and body will soften the bar, releasing the moisturising butters and oils. For the best effect, apply the lotion bar immediately after taking a bath or shower. Wait a few moments before covering the treated area with clothes so your skin can absorb the oils. I also love using the bars on my hands before doing the dishes to protect my skin from drying out.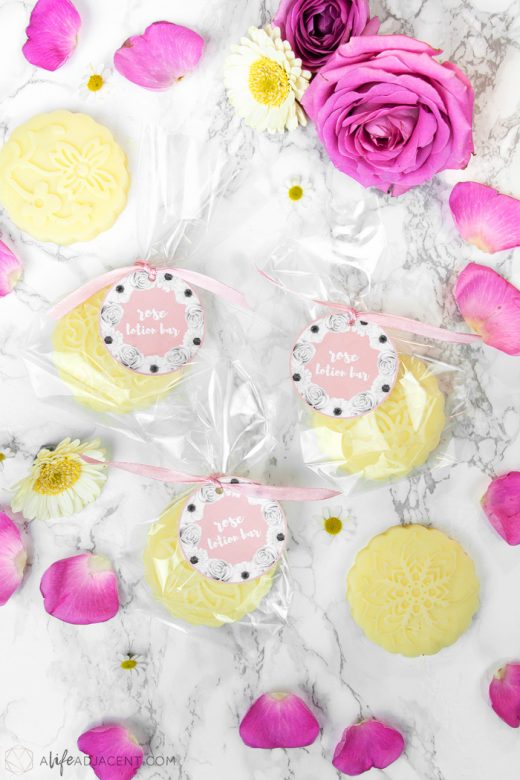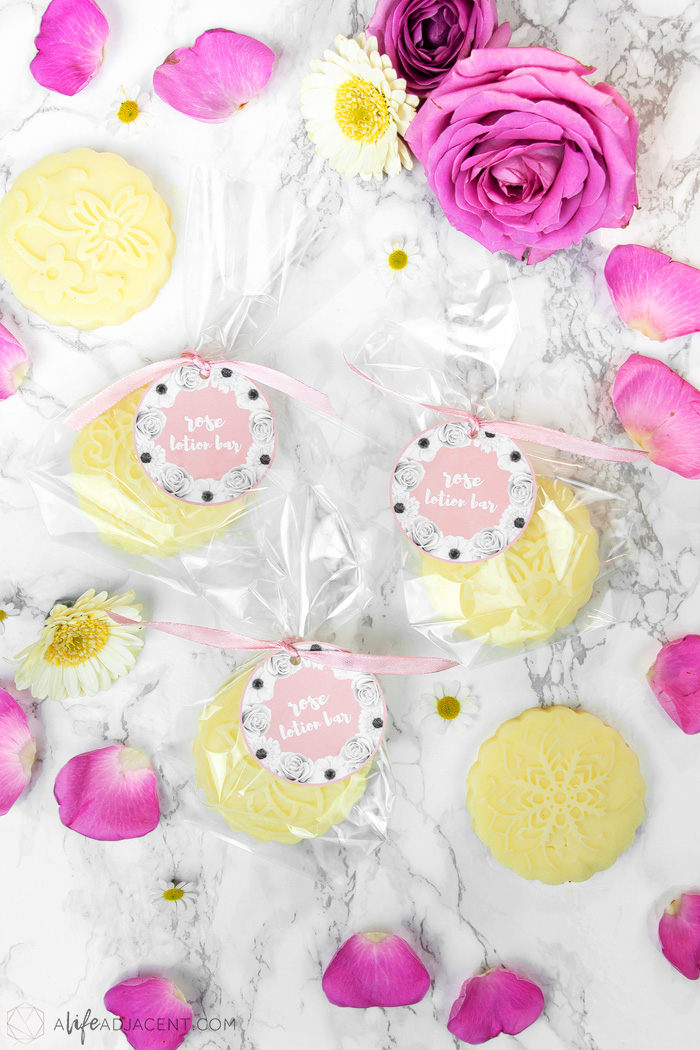 Shelf life and storage
Store the homemade rose lotion bars in an airtight container, away from moisture, heat, and sunlight. The bars melt at around 75°F (25°C), so make sure to keep them in a cool place, too. In the summer months, I usually put them in my fridge and enjoy the additional cooling effect. The lotion bars have a shelf life of up to one year.
More beauty recipes to try
If you enjoyed this recipe, I invite you to try my sugar and soap scrub bars, pink Himalayan salt exfoliating soap, and vanilla cleansing bars over on my blog Country Hill Cottage, where my sister Cyna and I also share DIY projects and yummy recipes. You can connect with us on Pinterest, Instagram, and Facebook, too.
Printable labels
The lovely ladies at Country Hill Cottage also created gorgeous printable labels for these lotion bars. You can place one on your storage jar, or add a tag and a bow for easy gifting! Download printable.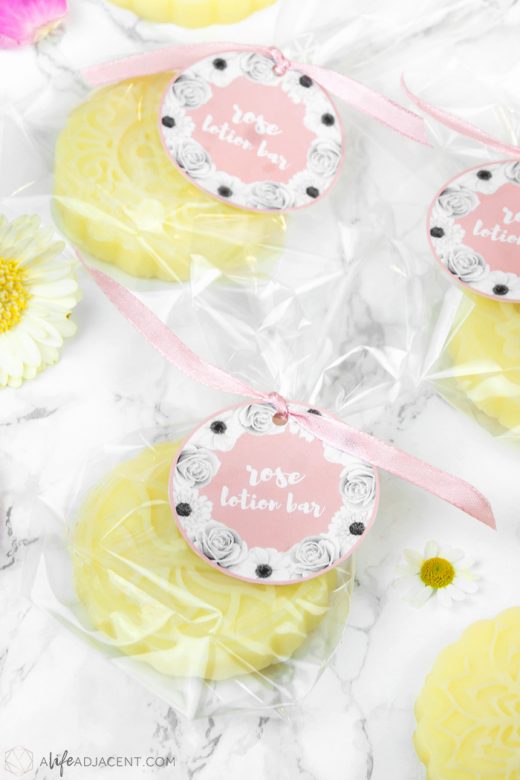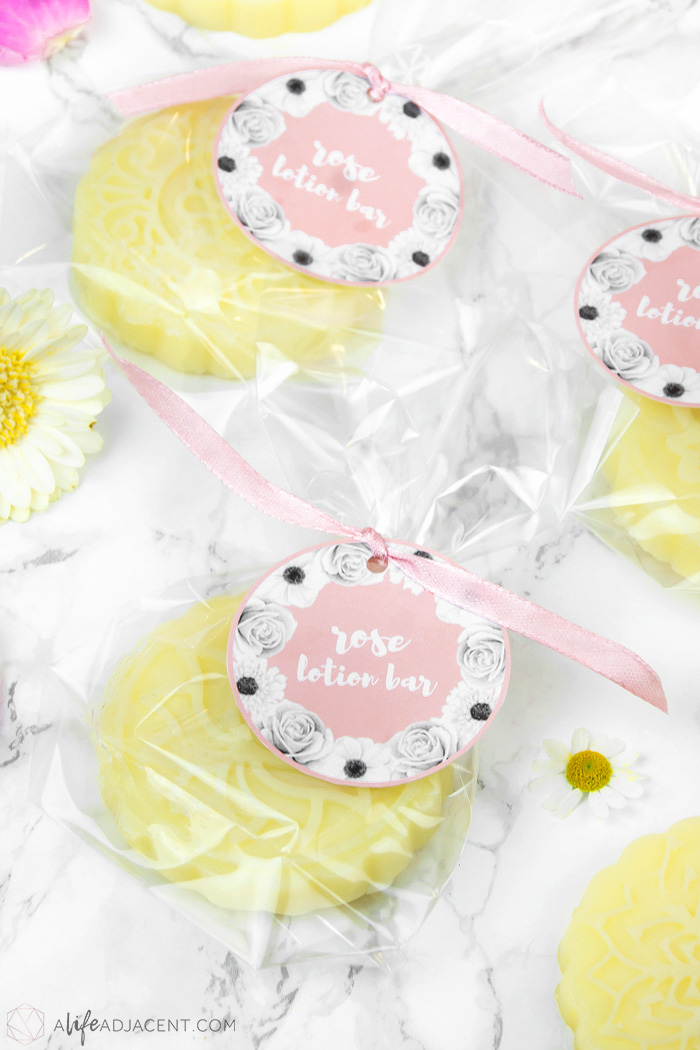 Pin it for later