Inspired by Korean sleeping masks, this DIY overnight face mask helps prevent dry skin while you sleep. It forms a protective barrier that locks in moisture all night long, reducing skin water loss and helping you wake up glowing.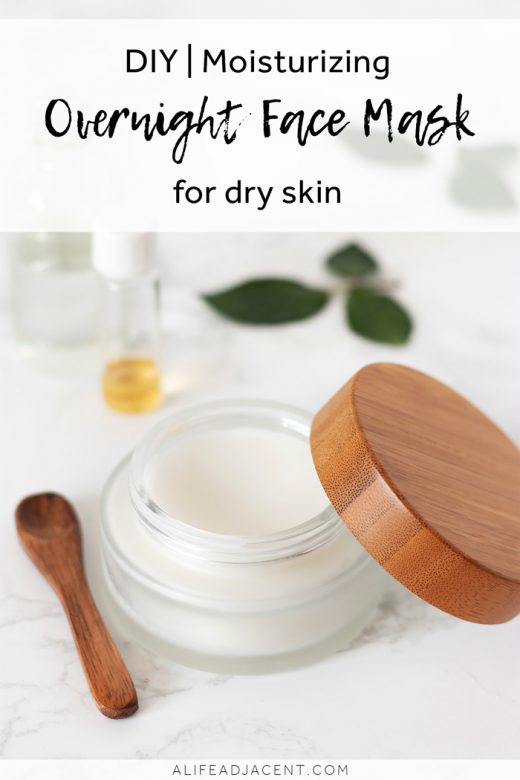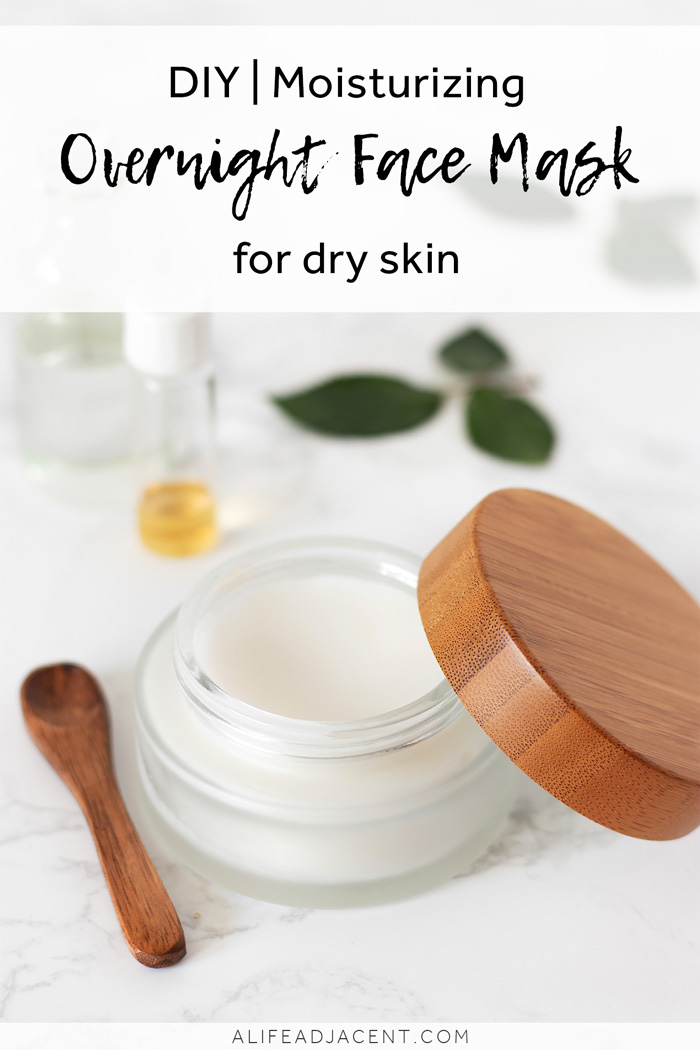 When it comes to nighttime skincare, typical face oils and night creams just don't seem to do it for me.
No matter how much I apply, by the time I wake up, they've vanished into my bedding. Unfortunately, this means I tend to wake up with dry skin and moisturized pillows. Not exactly skincare goals.
I have very dry, sensitive skin that doesn't seem to produce any oil at all, except for on my nose. Naturally, I need a little bit of help retaining moisture at night.
So when the latest nighttime skincare trend started popping up all over the shelves – overnight face masks – I thought it might be time to try something new.
This homemade overnight face mask (also called a sleeping mask) came out of my desire to stop waking up with dehydrated skin. It has a thick consistency that helps your skin retain moisture while you sleep. And for me, this mask actually stays in place throughout the night.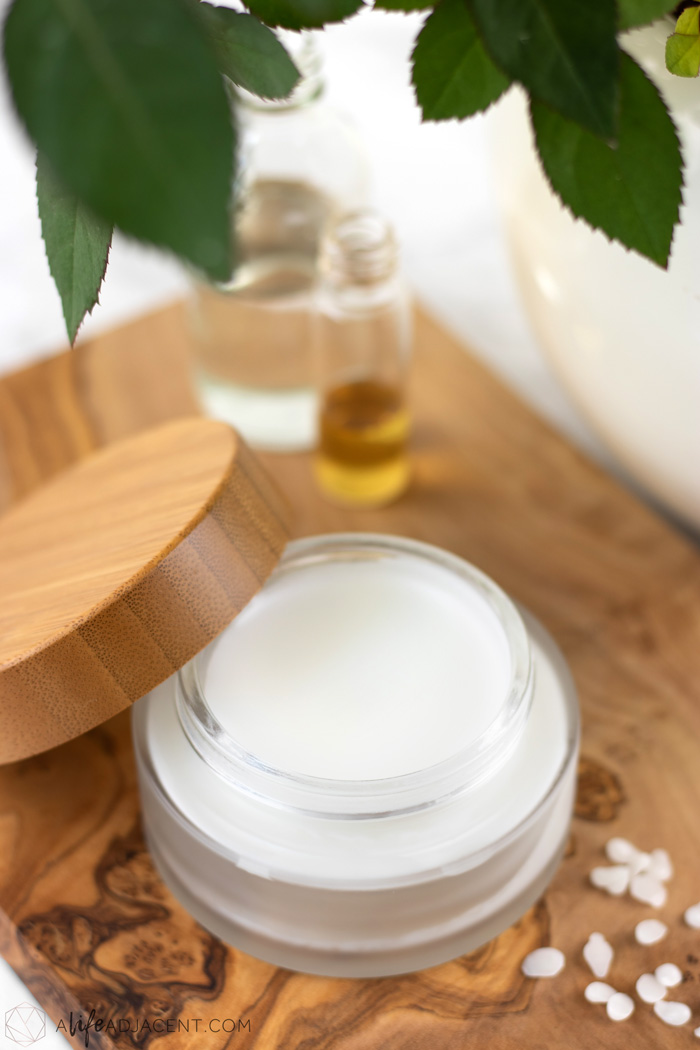 Additionally, this recipe is fragrance-free, with non-irritating ingredients that won't aggravate sensitive skin.
And since it contains no questionable food materials like turmeric, milk, lemon juice, or tomatoes, it won't stain your bedding. (Yes, these are actual ingredients I've seen in some overnight mask recipes!)
Certain foods left on your skin all night can promote bacterial growth, and caustic ingredients like lemon juice can cause chemical burns. For your own safety, please don't follow an overnight mask recipe that includes lemon juice or tomatoes.
What is an overnight face mask?
While they may be trendy, overnight face masks are by no means a new invention. They're clearly inspired by the sleeping masks in nighttime Korean skincare routines.
Also referred to as sleeping packs or sleeping creams, sleeping masks are not your typical night cream.
Sleeping mask textures range from light and gel-like to thick and occlusive, but their goal is always the same – to lock in hydration and help you wake up with dewy, glowing skin.
They also help seal in the rest of your skincare routine so that your products stay on your face, not your pillow.
It's important to note that overnight face masks are not the same thing as daytime face masks. A typical mask is usually made from things you can't wear to bed – think yogurt, clay, or coffee. And unlike daytime masks, sleeping packs aren't washed off.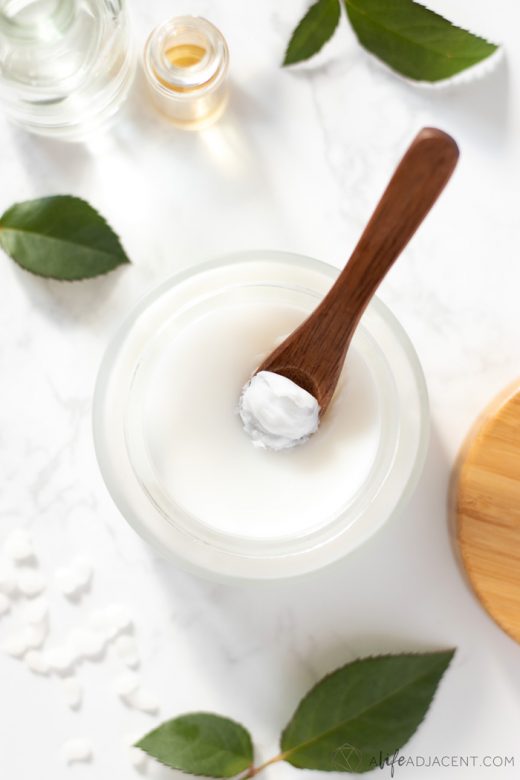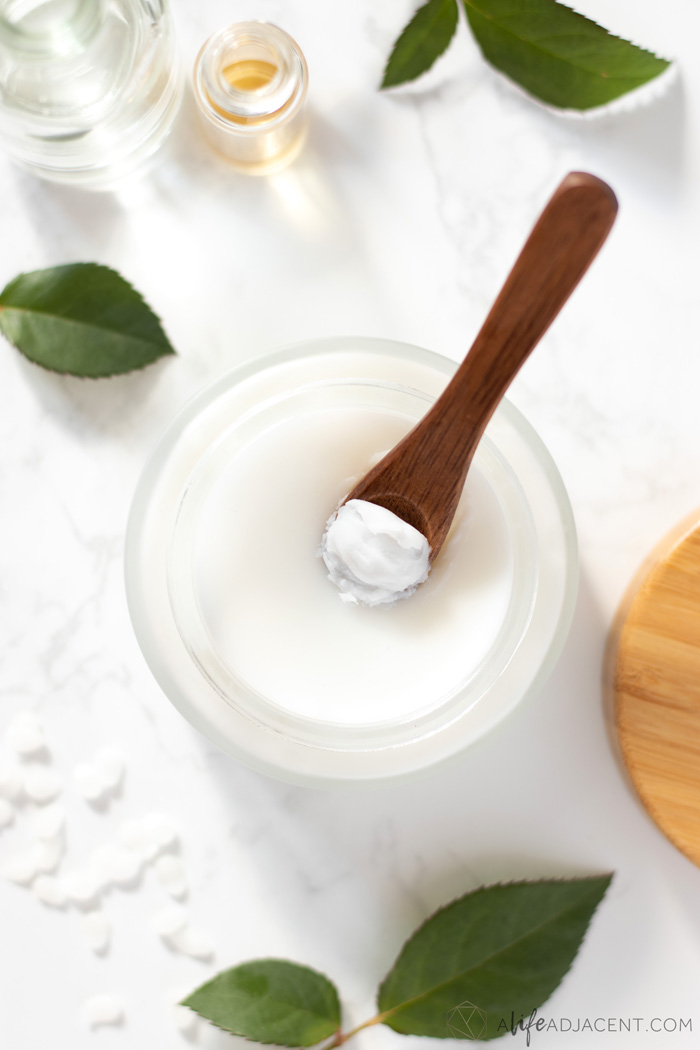 What's wrong with store bought sleeping masks?
Unfortunately, store-bought masks are not an option for those, like me, with very sensitive complexions. Most sleeping packs are packed with ingredients that aren't very kind to reactive skin, like silicones, fragrance, and even synthetic dyes.
I don't know about you, but if I used some of those ingredients on my face, I'd wake up inflamed, not glowing.
Silicones help lock in moisture, and some skin types have no issues with them. However, they can lead to irritation and clogged pores in some people, so tread carefully.
And for many individuals, synthetic fragrances can induce allergic reactions, cause migraines, and even aggravate respiratory issues. Not my idea of a beauty product.
While there are some natural choices on the market, many brands use sensitizing essential oils or unstable polyunsaturated fats in their products.
For example, this naturally-derived retinol sleeping mask looks like a good option, but the natural fragrance may be irritating for some.
If my skin wasn't so sensitive, that product looks like it would be lovely to use – and so does the matching eye mask.
The best store bought sleeping pack
Update April 2020: The new SoonJung 5-Panthensoside Cica Sleeping Pack by Etude House is the best overnight mask on the market for dry or sensitive skin. It's silicone-free, low-PUFA and free of many common skin irritants.
I've been testing it for months now and it's quickly become a staple in my nighttime skincare routine. It's truly one of the most moisturizing products I've ever used – and I say this as someone used to waking up with very dry skin.
I still love my homemade overnight mask as it's so inexpensive and effective. But if you're looking for a clean store bought option, this product is incredible.
For those who are interested, an in-depth review is coming soon. You can find the SoonJung Cica Sleeping Pack at Etude House or YesStyle.
A simple overnight face mask for dry skin
While it's true that most sleeping masks contain water, water-based creams are more difficult to DIY. They're also extremely prone to contamination, as water is a breeding ground for bacteria. That's why I opted for an oil-based recipe instead.
Oil-based creams are much easier to make since they don't require any preservatives, emulsifiers, or specific mixing techniques – all you have to do is melt the ingredients together.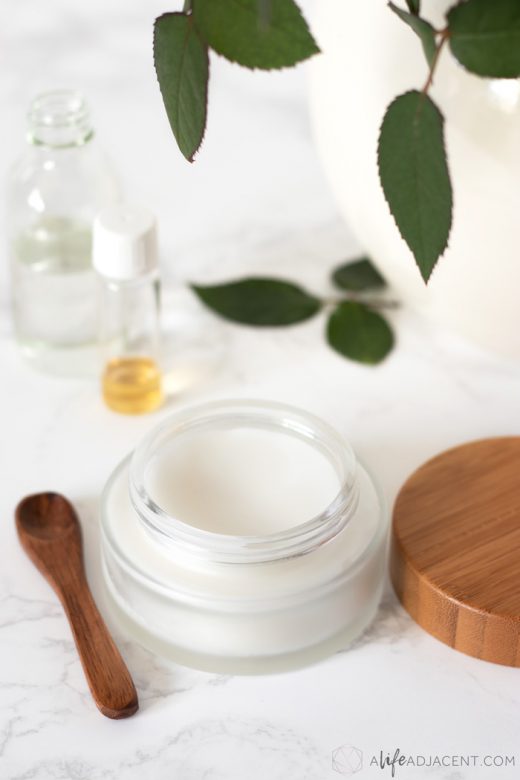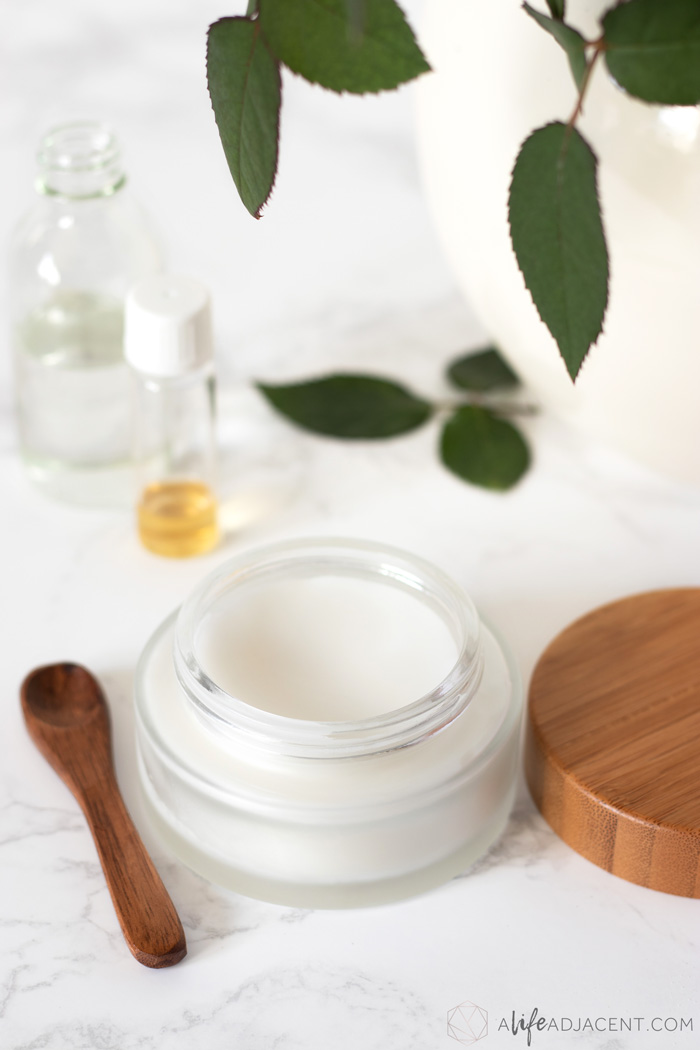 My simple overnight face mask contains squalane oil, white beeswax and vitamin E. Together, these ingredients create a breathable, protective barrier that helps your skin retain moisture while you sleep.
While this mask may look like a rich balm, don't let its appearance fool you. Since squalane is such a dry oil, this recipe feels light, not greasy.
And though beeswax is an occlusive ingredient, it's surprisingly breathable. It doesn't feel heavy on the skin like silicones and petroleum-based occlusives can.
This moisturizing mask is most suited for dry, sensitive skin types that tend to lose a lot of water throughout the night. And if like me your skin is alipidic, (which means it doesn't produce enough oil) then this recipe is perfect for you.
It's also ideal for mature complexions since the skin's rate of transepidermal water loss tends to speed up with aging, leading to dryness.
However, just because you have oily skin, that doesn't mean this mask couldn't work for you too. And as you'll see in a moment, squalane is a unique type of oil that works for many skin types.
The beauty of DIY skincare is that you can easily adjust the ingredients to work for you. If this mask is not thick enough for your liking, you can easily melt it down and add more beeswax.
But if you live in a cooler climate, you may wish to use less beeswax so that the product is not too solid.
Homemade sleeping mask ingredients
Squalane oil
With its light and dry consistency, squalane is a very unique facial oil. It's technically not an oil but a hydrocarbon, making it a great choice for even the most acne-prone, oil-phobic skin types.
If the term "hydrocarbon" gives you pause, don't worry – squalane oil is natural and non-toxic. It's made from olives (or sugarcane) and isn't to be confused with shark-derived squalene.
Unlike many oils typically used in skincare products, squalane is completely saturated. Saturated oils are extremely stable, and they resist oxidation even when exposed to three major oxidizers: light, heat, and oxygen.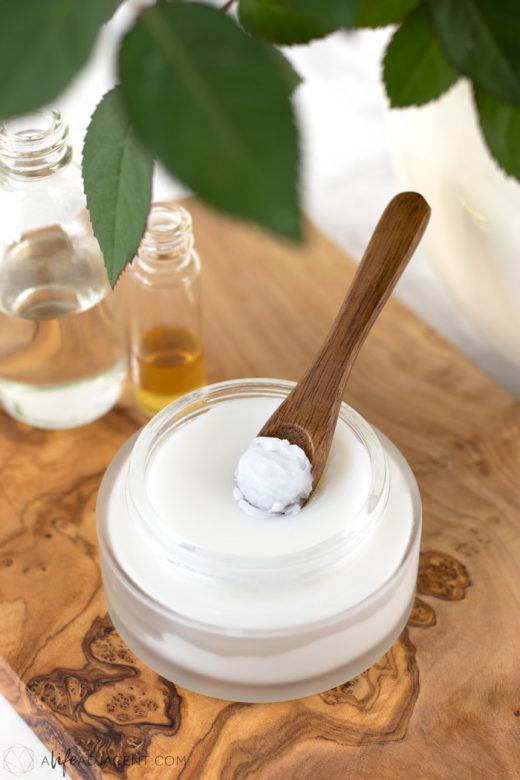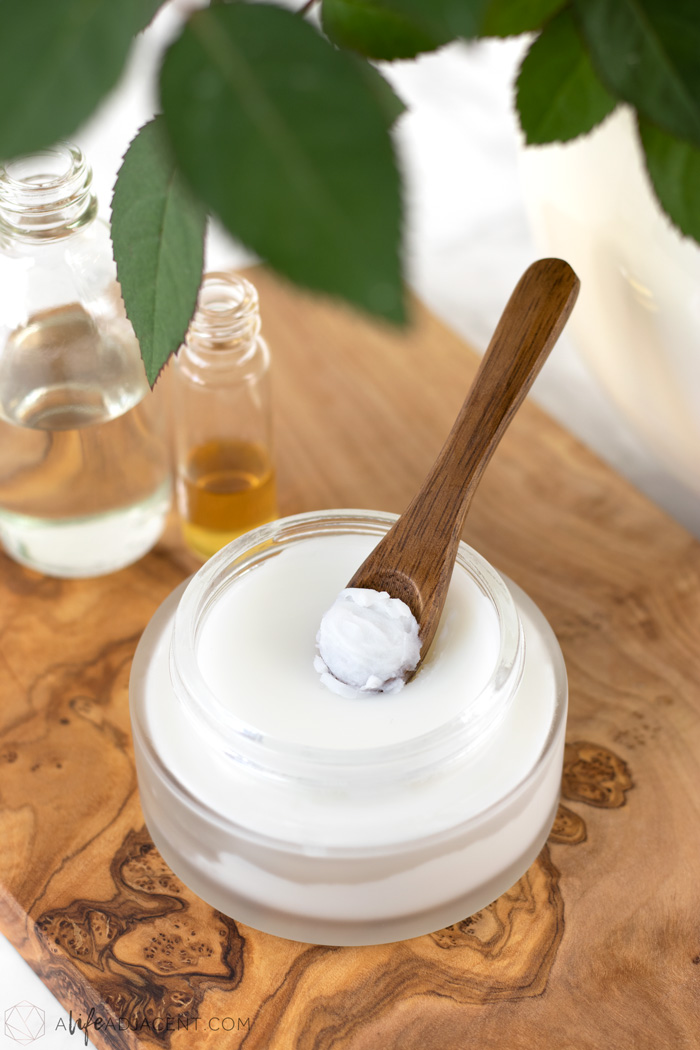 On the contrary, polyunsaturated oils like sunflower and sweet almond contain fatty acids that are very easily oxidized.
Oxidation is what causes an oil to become rancid. Not only can oxidized oils contribute to acne (think blackheads), but evidence also suggests that they can cause skin damage.
For more information on this topic, see my post on how polyunsaturated oils can cause skin aging.
Yet another benefit to note is that squalane oil doesn't feed a genus of yeast called Malassezia, which is involved in conditions like fungal acne and seborrheic dermatitis.
Since this sleeping mask uses only squalane oil, this makes it safe for those who suffer from conditions caused by yeast overgrowth.
If you don't have squalane oil on hand, MCT oil is a good alternative which works for some skin types. It's completely saturated and possesses a similar dry quality.
Beeswax
Beeswax adds a lovely creaminess and density to any product it's added to. But it's not just a texture enhancer – beeswax has a variety of skin benefits, including humectant, protective, and anti-inflammatory properties.
The same substance that bees use to protect and reinforce their home also creates a protective barrier over your skin. This makes beeswax a wonderful alternative to the synthetic polymers and silicones found in many store bought face masks.
It helps skin retain moisture during the night, reducing water loss and helping you wake up hydrated.
Beeswax also has the remarkable ability to be both occlusive and breathable. And unlike a face oil, it will actually stick to your skin throughout the night.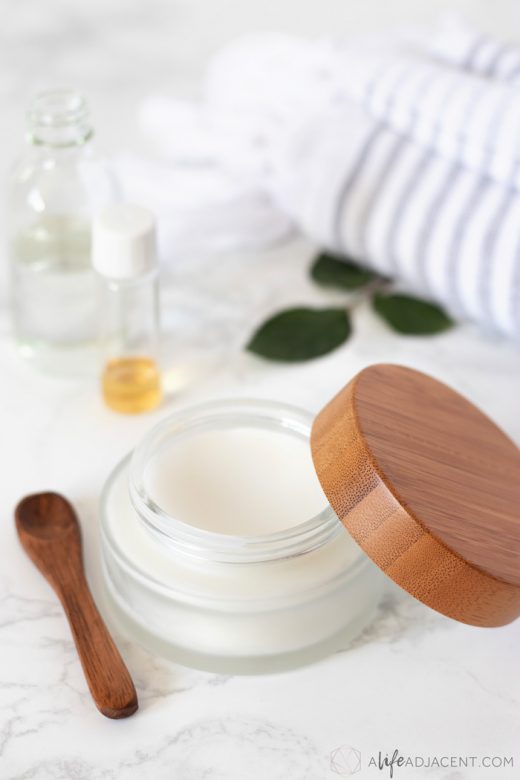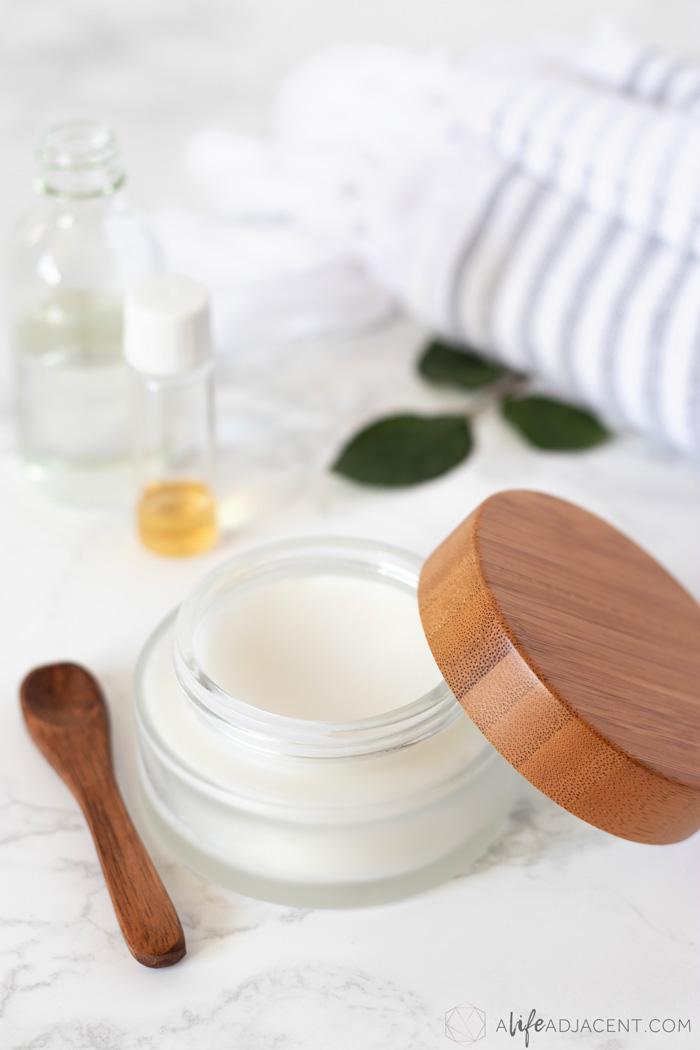 I chose to use filtered white beeswax for this recipe, which won't stain bedding. White beeswax also has the advantage of being less allergenic than regular beeswax.
If you have sensitive skin that reacts to regular beeswax, you might find that your skin can tolerate the refined kind. (But as always, please check with your doctor if you have allergies.)
The only downside I've found is that white beeswax lacks the delicious, honey-like scent of unrefined beeswax. But if you don't enjoy the smell, this may be a bonus for you.
If you're severely allergic to bee products or prefer to avoid them for ethical reasons, plant-based candellila wax is a possible alternative.
However, it doesn't have the same humectant properties as beeswax. It's also more dense, so if substituting candelilla wax, use half the amount of beeswax called for in the recipe.
Vitamin E
Vitamin E is an important fat-soluble antioxidant found in human skin. It helps scavenge reactive oxygen species and free radicals, both of which contribute to visible skin aging.
Vitamin E's effects are so powerful that it can even help protect skin from the harmful lipid peroxidation caused by UV rays and blue light.
In simple terms, this means that vitamin E helps protect our skin from damage. Therefore, we definitely want to have skin that's replete with vitamin E.
Since vitamin E is delivered to the skin through sebum, those with oily complexions naturally have higher levels of vitamin E. Lucky them.
For those (like me) who are severely lacking in sebum, applying topical vitamin E can help raise the skin's internal levels. So by using vitamin E, your "beauty sleep" really can result in more beauty!
Look for dark-coloured vitamin E oil that contains mixed tocopherols. Preferably, it should also be naturally-derived, as natural forms of vitamin E have been shown to be more effective than their synthetic equivalents.
This one would be a good option, but you can also break open a capsule of a high-quality vitamin E supplement.
For more information about the role of vitamin E in skin health, see this article by the Linus Pauling Institute.
How to use this homemade sleeping mask
This mask should be used as the very last step in your nighttime skincare routine, once you've applied your serums, toners, and any other products you use before bed.
For me, using the mask after a BHA product makes for smooth, dewy skin in the morning. (My favourite is Paula's Choice BHA, but I also really love the Blackhead Power Liquid from Korean beauty brand COSRX.)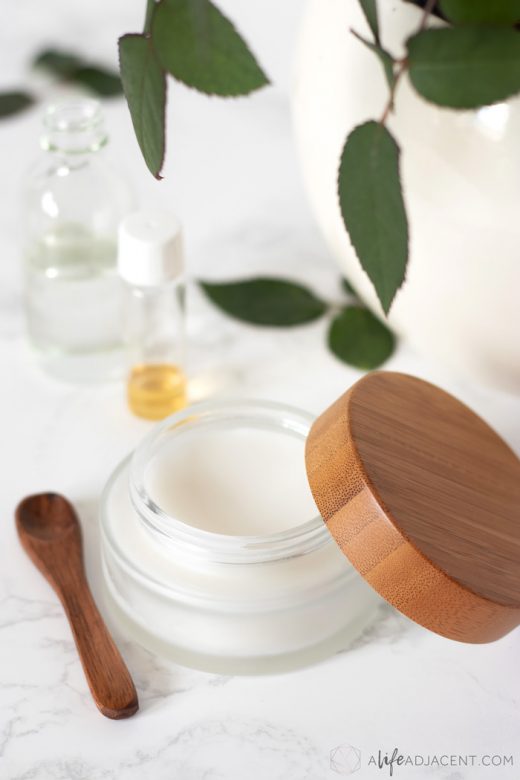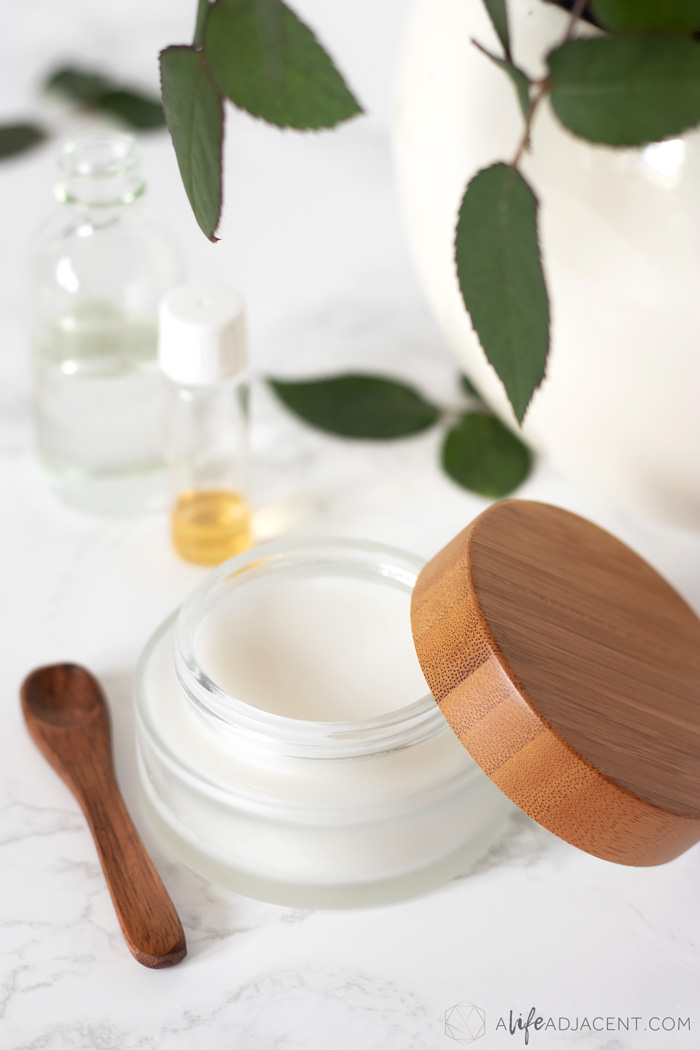 Before you apply your overnight face mask, make sure to spritz your face with a face mist of your choice. (My personal favourites are this store bought grape water and my own DIY rosewater spray.)
It's important to remember that this mask is an occlusive, not a true moisturizer. It protects your skin from water loss, but it doesn't actually contain any water of its own.
Therefore it's up to you to ensure there's enough hydration under the mask for it to hold onto. The best way to do this is by using a face mist right before you apply your mask, while your skin is still damp.
To use the sleeping mask, scoop out a generous amount of product with a clean fingertip or cosmetic scoop. Rub it between your fingers to soften, and apply it like you would apply a night cream.
Don't forget to pat it gently around the eyes for extra hydration in this delicate area.
Have you ever tried a sleeping pack or an overnight face mask? If you end up making this recipe, I'd love to hear how it worked for you!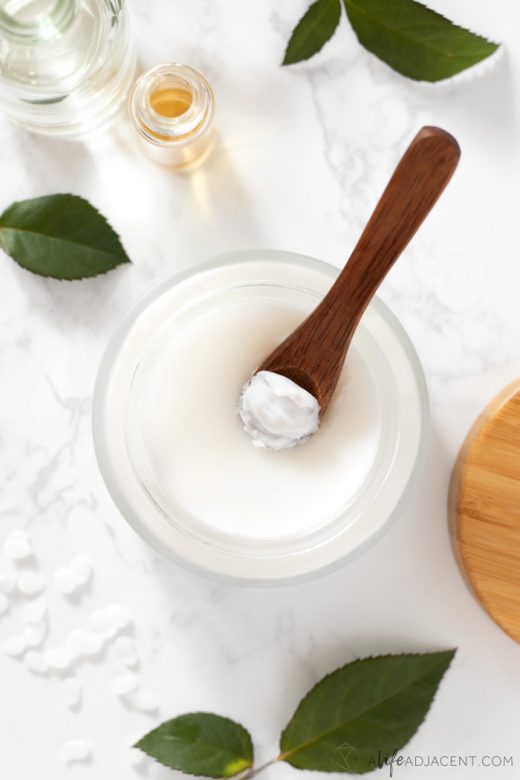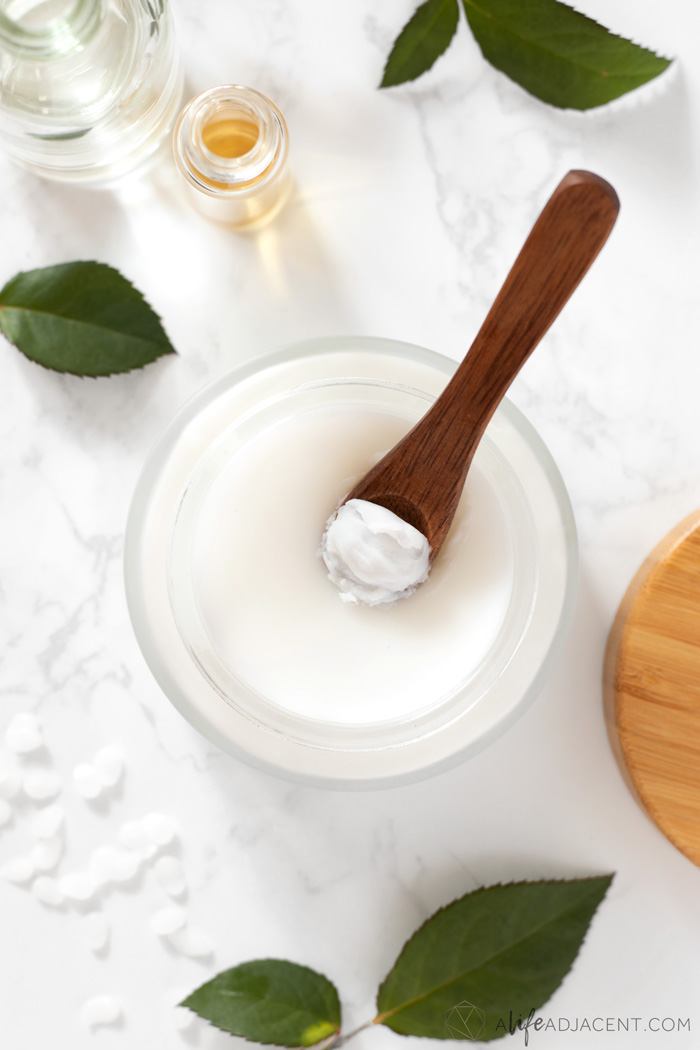 Yield: 1 mask
DIY Overnight Face Mask for Dry Skin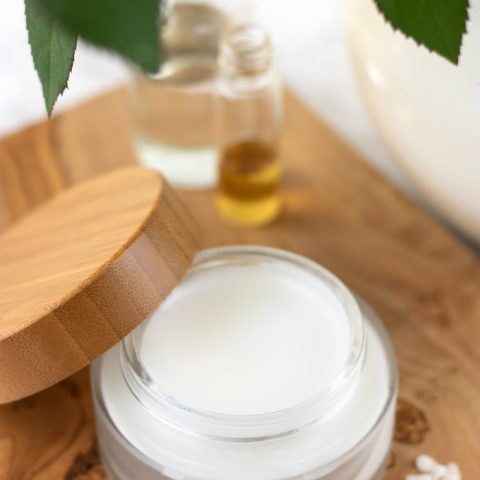 If you frequently wake up with dry skin, this DIY overnight face mask can help! It forms a protective barrier that locks in hydration throughout the night, reducing water loss and helping you wake up moisturized.
Total Time
1 hour
10 minutes
Instructions
In a Turkish coffee pot or small double boiler, melt the beeswax on medium heat, stirring frequently to break up any lumps.
Once the beeswax is melted, reduce the heat to low and add the squalane oil. Some of the beeswax may re-solidify at this point. Continue stirring to break up any lumps.
Once the mixture is completely melted, remove it from heat. Allow it to stand for a few minutes and then add the vitamin E. Stir to combine.
Transfer to a cosmetic jar, small mason jar, or other glass container. Leave at room temperature to solidify for 1-2 hours depending on your climate. No need to refrigerate.
Recommended Products
As an Amazon Associate and member of other affiliate programs, we earn from qualifying purchases.
More natural DIY skincare recipes
If you enjoyed this DIY, you may also enjoy these other homemade skincare recipes:
For even more natural DIY bath and body ideas, follow us on Pinterest! You can also find us on Instagram, Facebook, and Twitter.
Pin it for later