Not only does this DIY micellar water remove makeup, but it also cleanses, tones, and hydrates your skin — all in one step! This natural makeup remover contains real micelles that attract and remove dirt, makeup and sebum. Meanwhile, organic witch hazel extract calms and clarifies the complexion. Read on for my simple recipe and to find out how to make your own micellar cleansing water at home.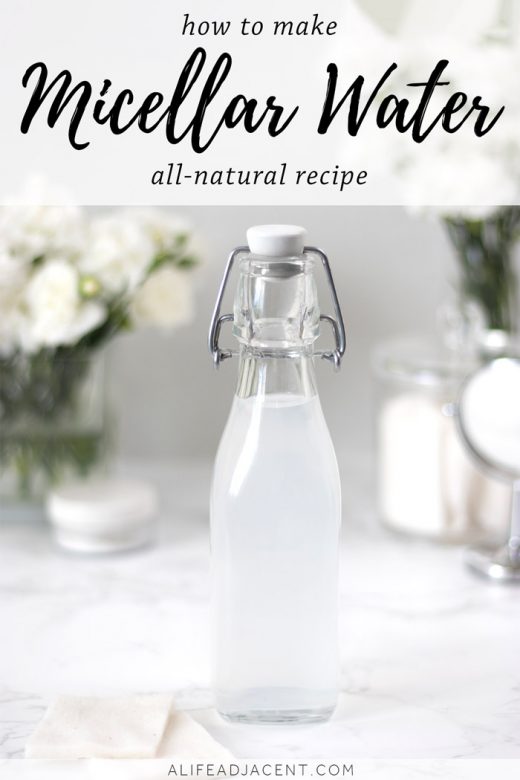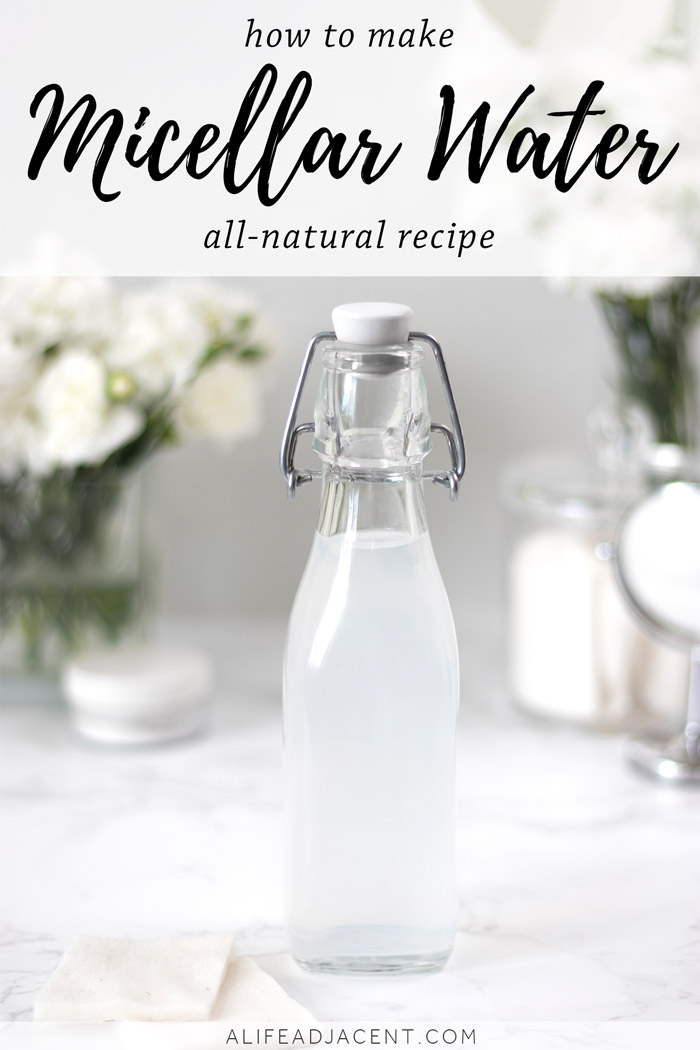 I'll admit that for a long time, I just didn't understand the hype behind micellar water.
As a firm believer in proper cleansing, I couldn't wrap my head around a product that claimed to cleanse skin and remove makeup in one step — without further rinsing.
That was until, on a whim, I picked up a bottle of natural micellar cleansing water. And I loved it.
My makeup effortlessly melted off onto a few cotton pads, leaving my skin clean and hydrated. And when I woke up the next morning, my complexion was clear.
So much for thinking that skipping my nightly cleanse was a one way ticket to clogged pores!
Even though I love using a good cleansing oil and cleansing balm, I found out that I love using micellar water just as much. And of course this meant that it was time to add a natural micellar water to my homemade makeup remover arsenal.
After some experimentation, I'm finally ready to share my recipe with you. I hope you'll enjoy it as much as I do, as it's saved me so much time and truly benefitted my skin.
DIY micellar water that really works
I wanted this DIY micellar water recipe to be simple, easy, and accessible. A few of the ingredients are optional, and there is only one specialty ingredient required: Poly Suga Mulse D9. This ingredient may be a little harder to source than the rest.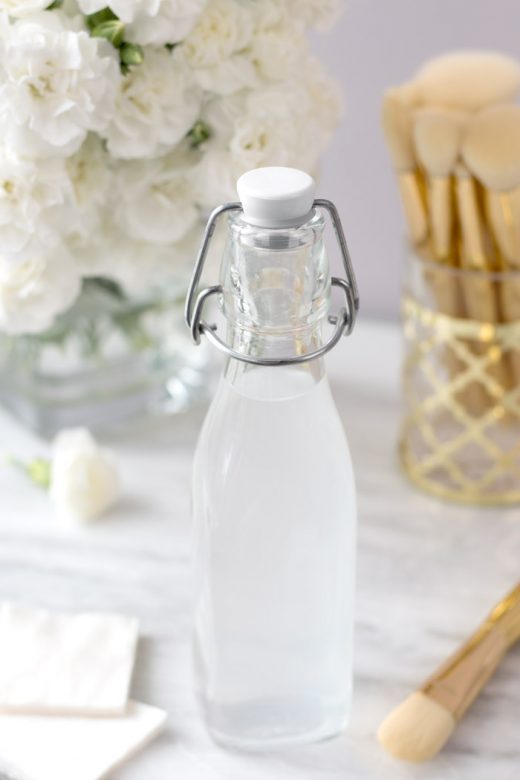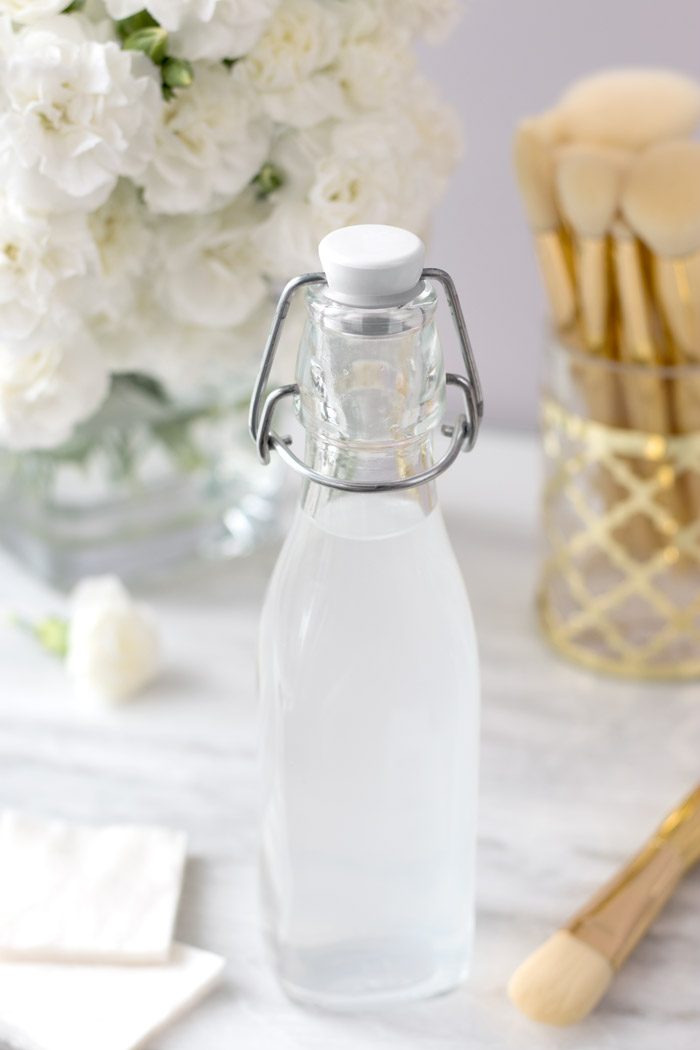 Most importantly, I wanted this recipe to really work. To truly be a micellar water, the solution needs to contain a solubilizer that forms micelles.
Any DIY recipe that does not contain some sort of micellar surfactant is not formulated properly, and is not truly micellar water.
Unfortunately, castile soap is not a micellar surfactant. Castile soap is fine for your body, but it's much too alkaline for the delicate skin of the face.
Benefits of my DIY micellar water
This micellar water recipe is both clarifying and hydrating, and has a mildly astringent quality thanks to organic witch hazel extract.
Witch hazel is a great multitasker – it tones the complexion while simultaneously helping to calm redness and inflammation.
It also makes this recipe particularly useful for oily skin, or for those who are prone to acne. However, witch hazel can benefit a wide range of skin types, from dry to sensitive and everything in between.
Personally, I have dry, hyper-sensitive skin that doesn't produce much oil, except for on my nose. I can't use most conventional skin care products due to my sensitivity, but my skin tolerates this micellar water just fine.
That being said, adding witch hazel to your micellar water is still optional. Even without witch hazel, this recipe will still remove makeup, sunscreen and oil, leaving your skin clean and hydrated.
Before we get into the recipe, here's a bit of information about micellar water.
What is micellar water?
Micellar water is a one-step makeup remover and skin cleanser that contains micelles suspended in a liquid solution.
In simple terms, micelles are groups of tiny molecules that are both water-loving (hydrophilic) and oil-loving (lipophilic).
Micelles' special molecular structure makes them magnets for makeup, oil, and grime. This is why micellar water does not need to be rinsed off in order to cleanse your skin.
I go into even more detail about how micelles work in my post on micellar dry shampoo spray.
Best natural micellar water
If you don't have time to DIY, I've included some of the best natural micellar water products below.
I've tested them all personally and can vouch for their efficacy. They're also very gentle and fragrance-free, so they would be great options for those with sensitive skin.
Reasons to use micellar water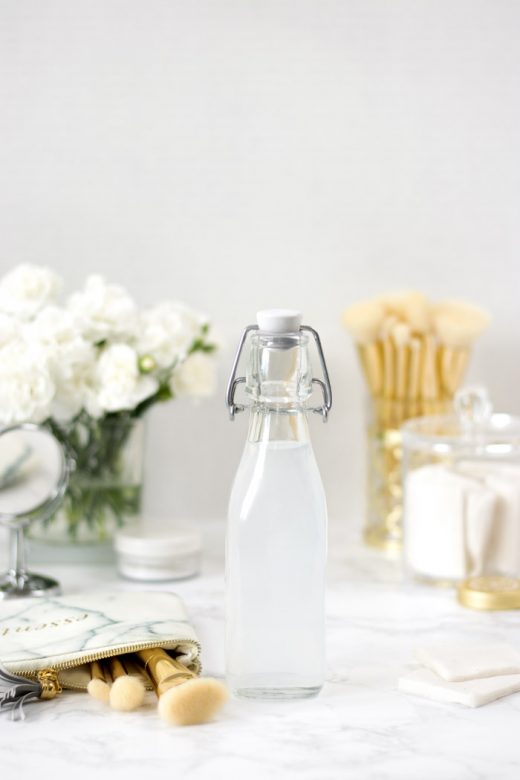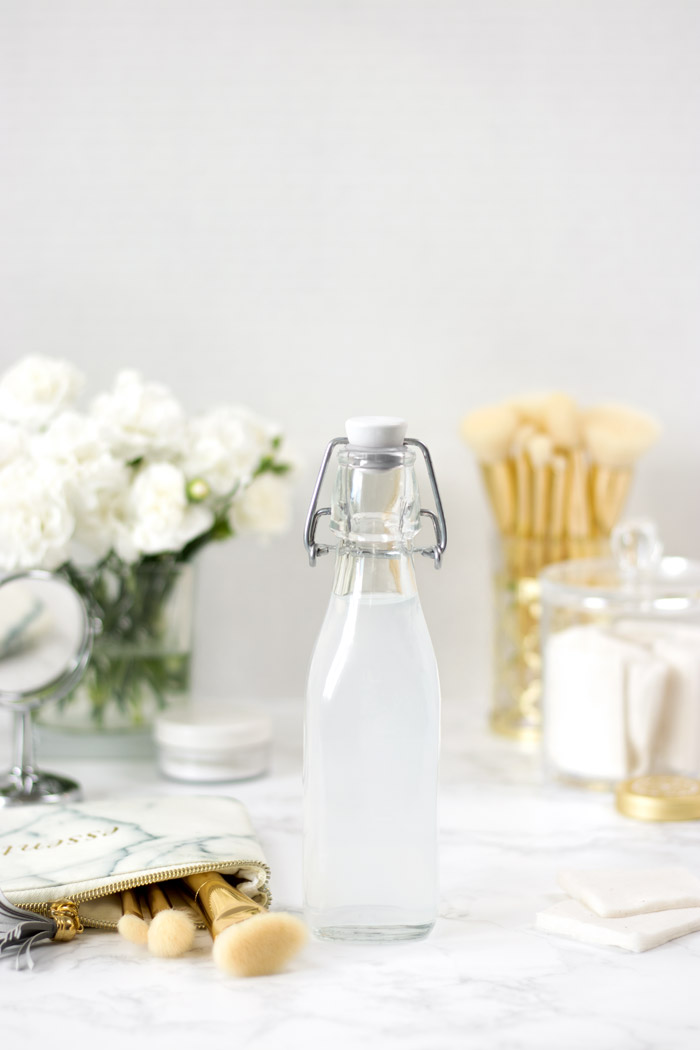 Micellar water is easy to use
For starters, using micellar water is fast and easy. You just soak a cotton pad and swipe it gently over your face.
Makeup, sunscreen and oil is magically attracted to the micelles on the cotton pad, leaving you with clean skin in about 30 seconds. Talk about a lazy beauty hack.
Micellar water is gentle
Micellar water is typically very gentle (as long as it doesn't contain sensitizing ingredients like fragrance, that is).
Many face cleansers contain harsh surfactants that disrupt the skin's acid mantle. On the other hand, micellar waters cleanse gently and without disturbing the skin's delicate balance.
Micellar water is a multitasker
While it's important to keep your skin clean, over-washing can cause just as many issues as under-washing.
Using a micellar water is a great way to gently cleanse skin that is not quite dirty enough to be washed, such as in the morning or after a light workout.
Did you know it can even be used to cleanse your hair? I have a recipe for that, too.
Micellar water is economical
Theoretically, a micellar water could replace all your fancy cleansing oils, cleansing balms, and face cleansers with one single product.
Is this actually good for your skin? That's up for debate. All I know is that I've saved a lot of money ever since I cut down on buying my favourite eucalyptus cleansing oil.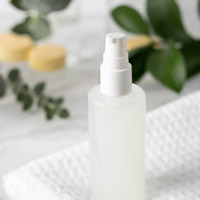 Ingredients for DIY micellar water
Rose water
I love the aroma of rose water, and I use it in many DIY skincare creations.
But since I know some don't like rose water, or don't have it on hand, you can of course use distilled water in your micellar water.
Witch hazel extract
Witch hazel has many benefits for skin, boasting astringent, antioxidant, and anti-inflammatory properties. It can reportedly help reduce redness, combat skin damage, and keep acne at bay.
Witch hazel extract is not required for this recipe, but adding it provides extra skin benefits and allows your micellar water to double as a toner.
I used a high-quality organic extract of witch hazel and pure grain alcohol for this recipe. This is different from the typical witch hazel found in the first aid aisle, which is usually mixed with denatured alcohol.
I go into more detail about the problems with denatured alcohol in my recipe for homemade makeup setting spray.
Poly Suga Mulse D9
Poly Suga Mulse D9 is a non-toxic, biodegradable crosspolymer of sorbitan oleate and decyl glucoside.
To put it simply: sorbitan oleate is an emulsifier derived from olive oil, while decyl glucoside is a gentle, biodegradable surfactant frequently used in baby shampoo.
Poly Suga Mulse is the star of this recipe. It's what forms micelles and allow this DIY micellar water to work. It's also the same ingredient used in one of my favourite store bought micellar waters, which is where I found it in the first place.
I purchased my Poly Suga Mulse from Formulator Sample Shop. This is the only place I've found it available for purchase, but I'll update this post if it becomes available elsewhere.
Vegetable glycerin
Vegetable glycerin is an inexpensive, non-toxic byproduct of plant oils.
When combined with water, its humectant properties make it a fantastic skin hydrator. It's part of what makes this micellar cleansing water so hydrating.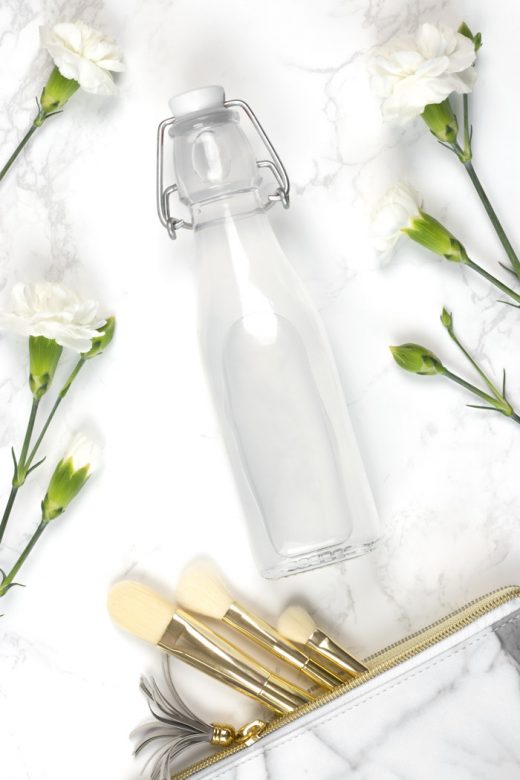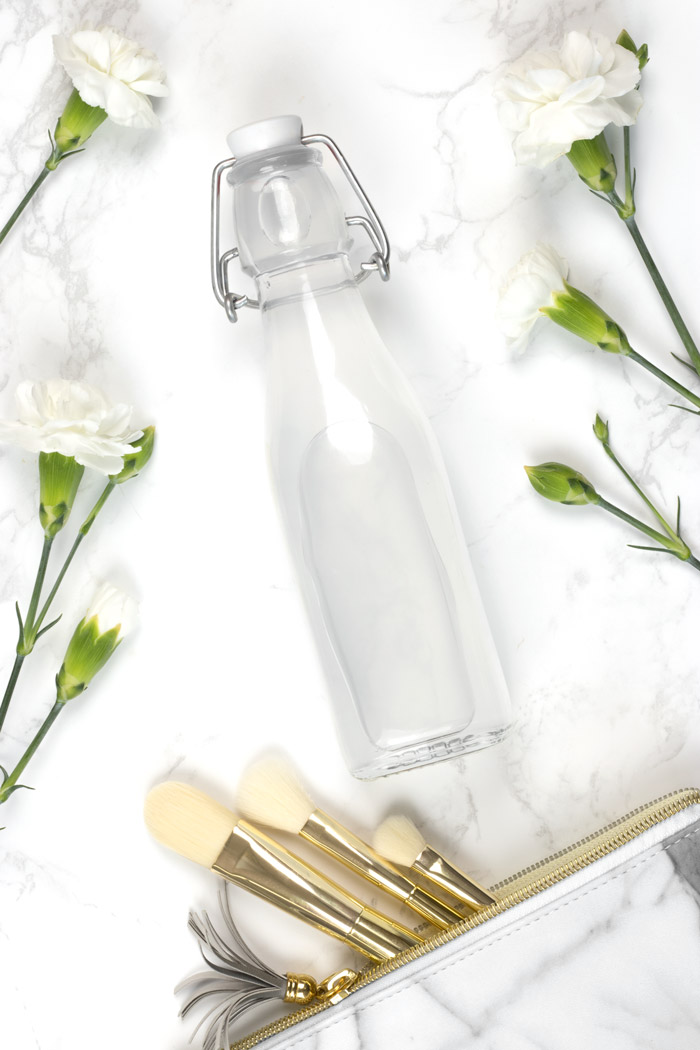 Leucidal Liquid SF
Leucial Liquid SF is a probiotic-based preservative created by the fermentation of Lactobacillus bacteria. It's effective while still being kind to sensitive skin.
In any water-containing product, preservatives are not optional, as water is a breeding ground for mold, fungus, and bacteria. Unpreserved homemade products are not only unsanitary, but they're dangerous, too.
Propanediol
Propanediol is a humectant and emollient made from renewable corn sugar. (It's not to be confused with petroleum-derived propylene glycol.) It provides hydration and a nice slip to this micellar water recipe.
If you don't have propanediol on hand, you can easily substitute more vegetable glycerin.
Apple cider vinegar
A very small amount of apple cider vinegar can be used in this micellar water to lower its pH to about a 4.5-5, making it closer to the optimal pH level of our skin.
You can even use rose petal vinegar for a pretty colour and extra skin benefits.
Adding apple cider vinegar is optional, however, and is likely not needed if your skin care routine contains an acid. I skip the ACV since I usually follow my micellar water with Paula's Choice BHA.
How to make simple micellar water
Making this micellar water is extremely simple! For detailed instructions and ingredient measurements, please consult the recipe card at the bottom of this post.
Thoroughly clean and sterilize your equipment.
In a glass swing-top bottle, combine rose water, vegetable glycerin, propanediol, witch hazel extract and the micellar surfactant.
Replace the lid and swirl gently to combine before adding the preservative.
Swirl gently to incorporate.
How to use this DIY micellar water
To use, soak a cotton pad in micellar water and glide it gently over the face, using both sides of the pad. Repeat until the skin is free of makeup and the cotton pads come back clean.
Rinsing off the micellar water is not required. However, you know your skin better than anyone. If you feel you need it, or if your skin is especially sensitive, follow your micellar water with a water-only rinse or a gentle facial cleanser.
Remember that micellar water isn't just for removing makeup! I alternate between using my homemade micellar water and raw honey to cleanse my face in the morning. I find that my skin needs a light cleanse when I wake up, but isn't quite dirty enough for a full wash.
In terms of cotton pads, I recommend Muji's unbleached organic cotton ecru if you have sensitive skin.
Unbleached cotton is hard to find, and the quality of these pads is unmatched. Not only are they eco-friendly and inexpensive, but I've also found that they rival the cult-favourite Shisheido facial cotton in softness and thickness.
Alternatively, if you would prefer a convenient wipe format, you may wish to check out my post on homemade micellar water wipes.
If you end up trying my micellar water recipe, I'd love to hear from you in the comments below.
Yield: 1 bottle
Natural DIY Micellar Water with Witch Hazel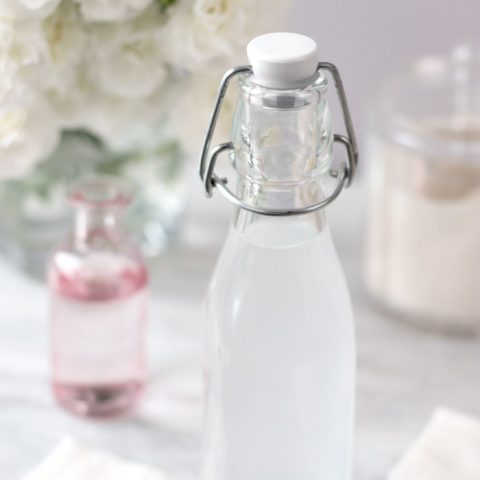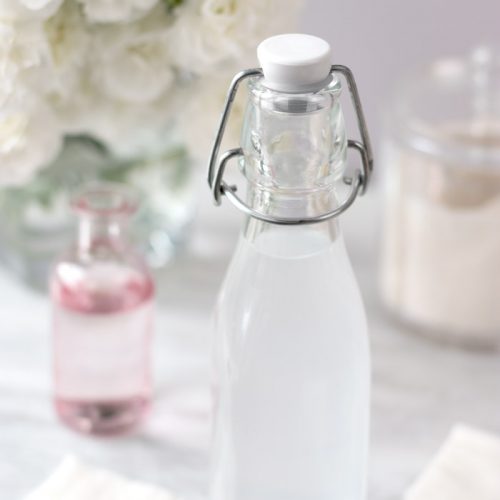 Remove your makeup, cleanse your face, and hydrate your skin in one step with this simple, natural DIY micellar water recipe. Thanks to skin-clarifying witch hazel, this makeup remover doubles as a toner that helps reduce redness and keep acne at bay.
Instructions
As always, thoroughly clean and sterilize your glass bottle and measuring tools with the method of your choice.
In your swing top bottle, combine your rose water or distilled water with your propanediol, Poly Suga Mulse D9 and vegetable glycerin. Swirl gently to combine.
Add your witch hazel extract and apple cider vinegar, if desired.
Add Leucidal Liquid SF. Swirl gently once more to combine.

Notes
If you'd rather not use propanediol, you can replace it with an extra 1/2 tsp of vegetable glycerin. This will not affect the efficacy of your DIY micellar water, but it may give the formula a stickier feel.

If you're worried about the alcohol in the witch hazel extract, you can skip it. However, I find that the vegetable glycerin and propanediol hydrate your skin and keep the witch hazel from being too drying. As a result, your skin is left clean without feeling tight or stripped.
Recommended Products
As an Amazon Associate and member of other affiliate programs, we earn from qualifying purchases.
More DIY beauty recipes
Looking for more natural ways to remove your makeup? Check these out:
And if you're looking for more recipes that incorporate micellar water, you may enjoy:
Follow us on Pinterest for even more natural DIY beauty ideas! You can also find us on Instagram, Facebook, and Twitter.
Pin it for later