This DIY makeup setting spray is intensely hydrating and perfect for dry skin. It leaves skin with a dewy, glowing finish thanks to natural ingredients like rosewater and glycerin. Make it 2 ways depending on your scent preference: rose or cucumber.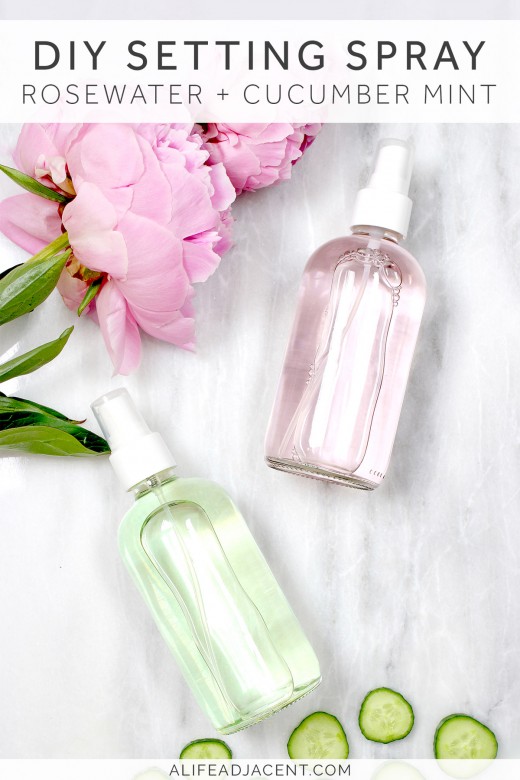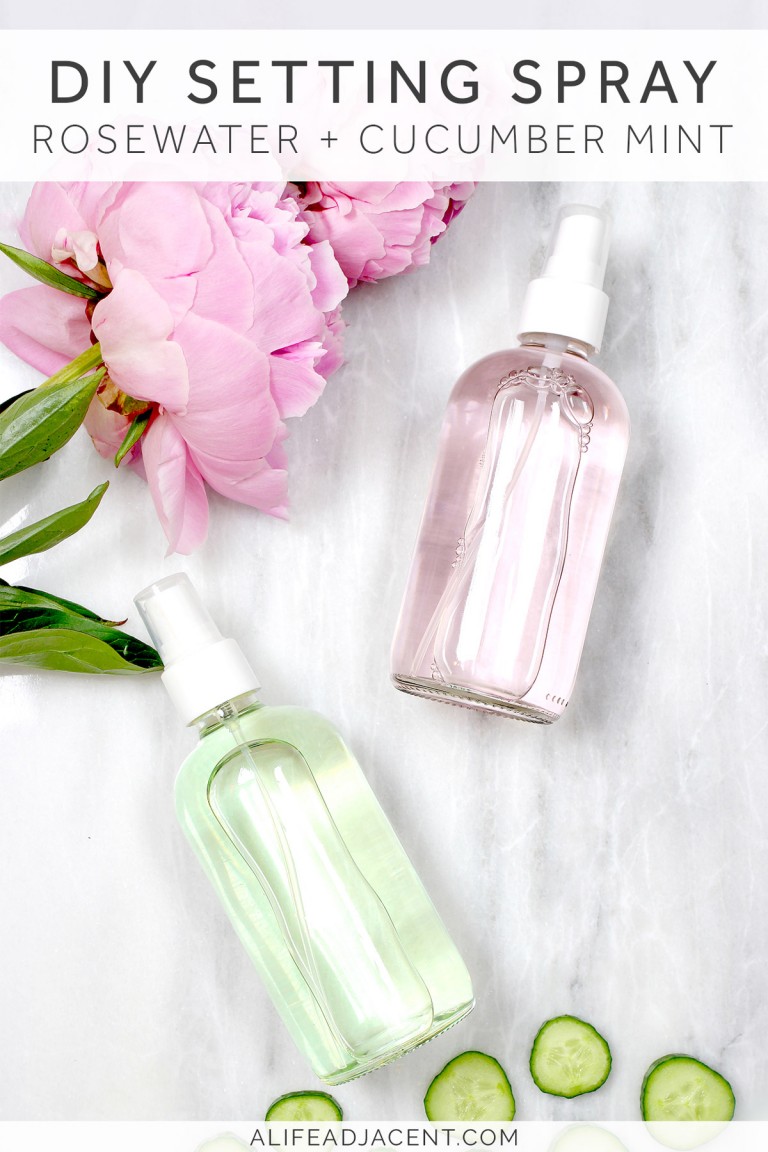 Originally published July 4th, 2017. Last updated June 4, 2021.
There's something very refreshing about using a makeup setting spray. Spritzed over a fully made-up face, setting sprays help add a finishing touch and an extra glow to any makeup look.
A well-formulated product should give your foundation a more blended, natural appearance. But at the same time, it should also offer extra staying power.
Unfortunately, finding a product does all of the above, while also being good for your skin, is easier said than done.
Cloying synthetic fragrances, drying alcohols, and irritation-causing preservatives lurk in many of the most popular setting sprays. And for those with very sensitive or dry skin, this means that many brand name products are off-limits.
Of course, there are some decent natural options on the market. But personally, I wanted the freedom to be able to make my own setting spray at home using natural ingredients.
Out of this desire, I created two simple setting spray recipes. You can choose between 2 variations depending on your preferred fragrance: rosewater or cucumber.
Natural ingredients like rosewater and glycerin aren't revolutionary by any means, but sometimes simple just works. And with only 2 main ingredients, this recipe can't get any easier to make. Chances are you might already have everything you need on hand!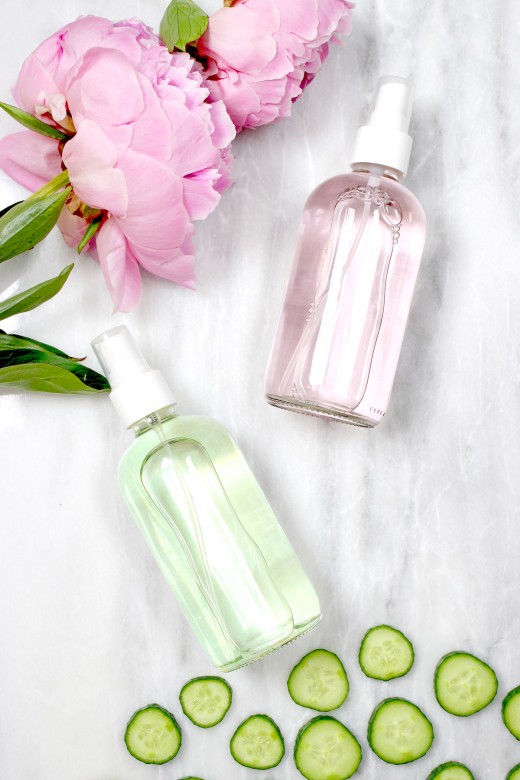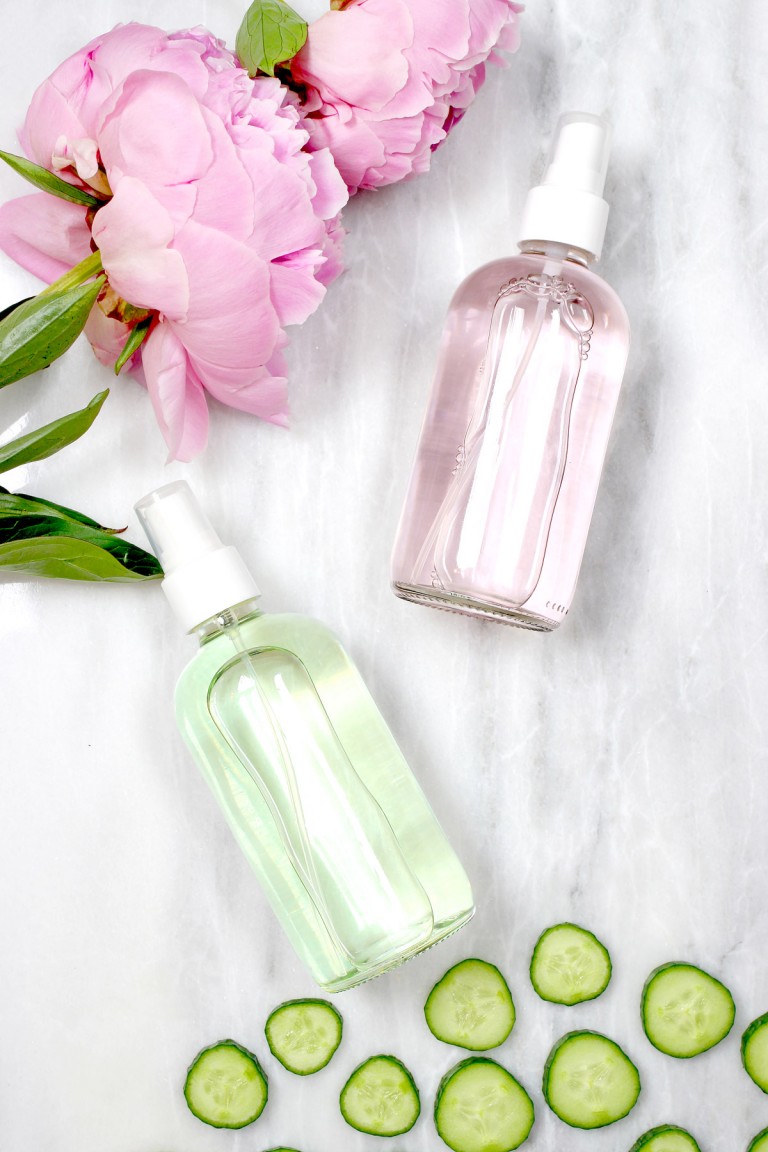 Ingredients for DIY rosewater setting spray
Rosewater or rose hydrosol
The star ingredient of this hydrating setting spray is rosewater, otherwise known as rose hydrosol.
If you don't have it on hand, distilled water will do just fine. But it's worth seeking out rosewater, as its lovely, natural fragrance instantly elevates any homemade beauty product.
There are a few different types of rosewater, from food-grade to fancy. You can use the rosewater that's most accessible to you. However, please ensure it's from a reputable source, and remember to check your ingredients.
Real rosewater should not contain any additional fragrances, flavourings, or other additives. It should not contain any added essential oils, either.
Look for 100% pure rosewater or rose hydrosol. If you're unsure, you may wish to learn how to spot a fake hydrosol.
Benefits of rosewater for skin
In aromatherapy, rose's fragrance is uplifting, anti-depressant, and anti-anxiety¹
Calming and anti-inflammatory, and can help to soothe irritated skin
Possesses antimicrobial properties that can help control the growth of pathogenic bacteria²
Can help quell oxidative damage thanks to its antioxidant properties
While science suggests that rosewater has some potential skin benefits, I use it mostly for its pleasant fragrance. Rosewater is lovely, but it's definitely not a skin cure-all.
For truly antioxidant, anti-aging, and anti-acne effects, it's better to opt for skincare products with scientifically-proven ingredients such as retinol.
Use rosewater to moisturize and set your makeup, but leave the rest to good skincare!
Cucumber hydrosol
For the cucumber version of this recipe, I used cooling cucumber hydrosol as a base.
There's a reason cucumbers are frequently touted as a remedy for puffy eyes and dry skin. Also known as cucumber distillate or cucumber water, cucumber hydrosol has a variety of skin benefits that go far beyond simple hydration.
Benefits of cucumber for skin
Refreshing and cooling, which can help soothe irritated skin
Diuretic, astringent, and de-puffing properties³
Rich in nourishing minerals such as potassium, sulfur, and silica
Provides a crisp, refreshing scent without synthetic fragrances
Optionally, you can also add a small amount of liquid cucumber fruit extract to your setting spray. This will help provide even more potent soothing and moisturizing benefits to this recipe.
Again, please make sure your cucumber hydrosol is from a reputable brand. Real cucumber hydrosol should not contain added essential oils, fragrances, or flavours on its ingredients list.
As well, while cucumber hydrosol should smell fresh, it should not smell strong or overly sweet. Strong, sweet, or honeydew melon-like smells are likely indicative of a fake hydrosol.
A note on peppermint hydrosol
When I first created this DIY, I recommended peppermint hydrosol in the cucumber mint version. However, I have since learned that peppermint is not the best choice for facial skincare.
Accordingly, the cucumber mint version of this recipe has been changed to plain cucumber.
Peppermint and its extracts are considered sensitizing ingredients. This includes peppermint essential oil, peppermint extract and peppermint essential oil.
Contrary to a lot of DIY skincare advice floating around on the internet, not all natural ingredients are safe for the face. Sensitizing ingredients like peppermint have the ability to cause inflammation and irritation, especially in sensitive skin.
I no longer recommend using peppermint in this recipe or in any DIY beauty product you intend to use on your face.
That said, barring any allergy or sensitivity, peppermint should still safe for your lips, body, and scalp. However, it's up to you to use your best judgment. You should discontinue using anything that causes irritation or discomfort.
Personally, I still enjoy using peppermint hydrosol in my mint hair growth rinse. The scalp is one area where a tingling sensation is enjoyable.
Vegetable glycerin
Vegetable glycerin is a natural by-product of plant oils with a thick, syrup-like texture. It's humectant and hygroscopic, meaning it draws water from the surrounding air and environment.
When glycerin is combined with a liquid like rosewater, the two work synergistically to help the skin retain moisture.
However, there is one caveat. Since glycerin is hygroscopic, it should be used with caution by those who live in dry climates.
In a humid climate, glycerin will absorb moisture from the air. But in a dry climate, glycerin can actually steal the moisture from your skin.
Therefore, in dry climates, consider using emollient, oil-based products that help prevent skin water loss in the first place. A good moisturizer will achieve this.
Leucidal Liquid SF
Leucidal Liquid SF is a paraben-free, probiotic-based preservative created by the fermentation of Lactobacillus bacteria. It's a more gentle alternative to other paraben-free preservatives such as Optiphen.
In a perfect world, maybe we wouldn't need preservatives. But the truth is, any water-containing product is liable to be contaminated with mold, fungus, and bacteria.
Not only is this unsanitary, but it's also unsafe. Unless they are kept in the fridge, all water-based products require a preservative.
If you don't have a preservative on hand, you absolutely must refrigerate your setting spray. Be wary of any DIY recipe that tells you to keep an unpreserved product at room temperature.
How to make DIY rosewater setting spray
To begin, pour rosewater or cucumber hydrosol into a sanitized glass spray bottle.
Add vegetable glycerin and Leucidal Liquid SF.
If desired, add cucumber fruit extract. You can also a few drops of natural liquid food dye for a pretty colour.
Replace the spray nozzle and shake to combine.
For detailed instructions and exact measurements of each ingredient, please see the recipe card at the bottom of this post.
How to use this rosewater setting spray
As the title of this post would suggest, my favourite way to use this spray is during the last step of my makeup routine.
I prefer my skin to be on the dewy side. But as someone with very dry skin, if I've been too heavy-handed with my favourite natural setting powder, my face can end up looking overly matte and dull.
Spritzed over makeup, this setting spray brings some life and sheen back into my skin. It quite literally helps "set" the look, giving my foundation just enough moisture so it won't crease or settle.
Once your makeup is done, give your face a light spritz to set and finish your makeup. Avoid any oily areas such as the nose.
If desired, you can also reapply your setting spray throughout the day to keep your skin looking fresh all day long.
How to make your makeup last longer
This setting spray helps keep makeup from creasing, flaking and drying out. But when it comes to helping makeup last longer, it can only offer a light hold.
Products containing vegetable glycerin work best in mild temperatures. In hot, humid conditions, glycerin can cause your makeup to melt off even faster than usual.
If you're looking for a recipe to "set" your makeup in the traditional sense of the word, you may opt to use my glycerin-free setting spray. This particular recipe is better suited for the summertime, and contains natural aloe polysaccharides that help lock your makeup in place.
As well, if you're looking for a little extra glow, you might prefer my shimmer setting spray.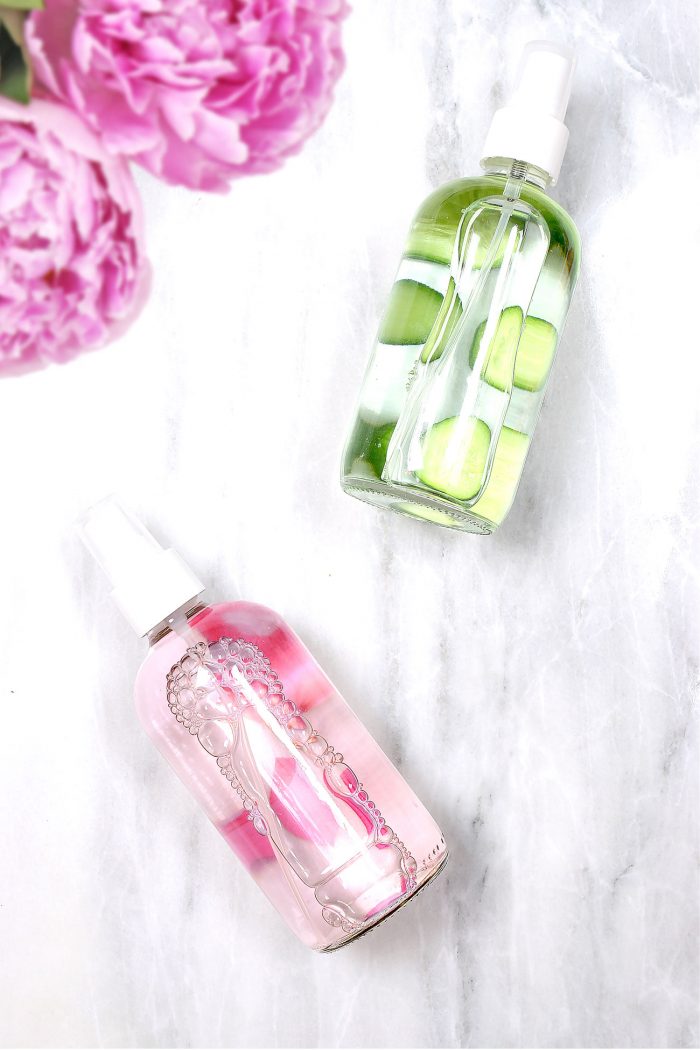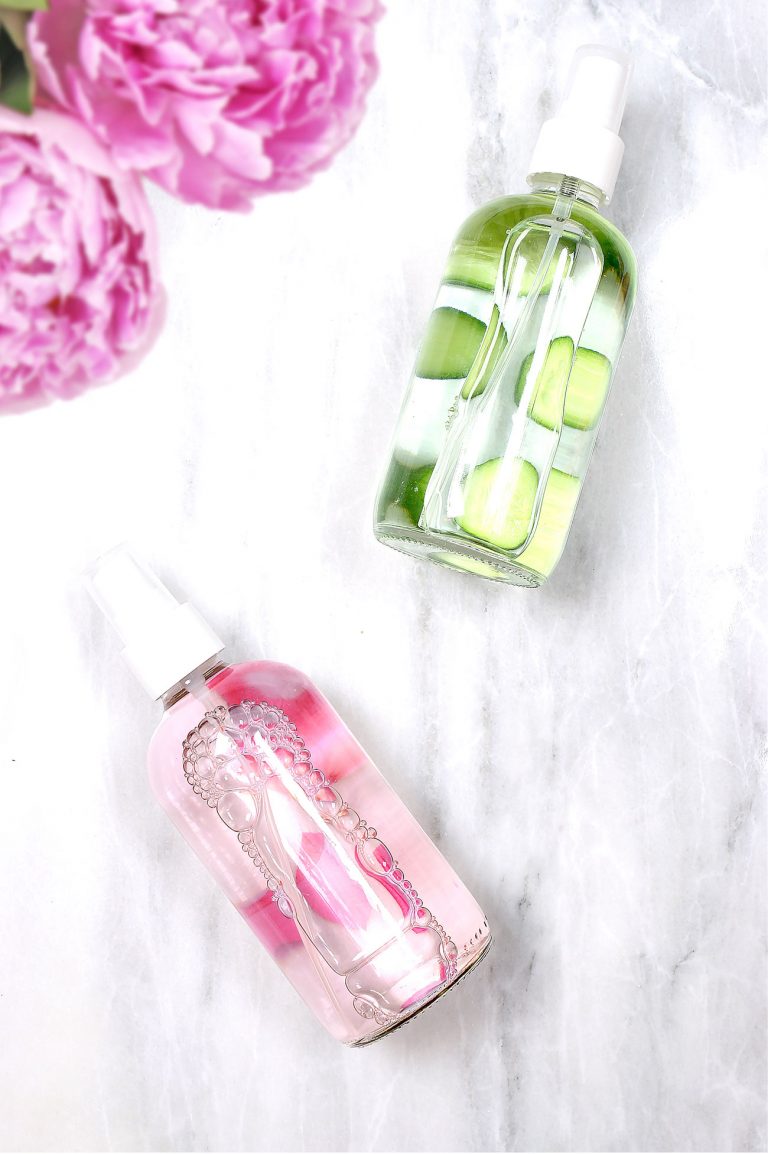 Can you use rosewater as a setting spray?
No, I don't recommend using plain rosewater as a setting spray.
I have seen rosewater recommended as a natural setting spray alternative more than once. However, contrary to popular belief, spritzing your face with straight liquids can actually dry out your skin.
Consider how quickly water evaporates from your face. Rosewater is no different – it disappears quickly, taking much of your skin's surface moisture along with it. As a result, your skin is left drier than it was before.
Luckily, you can easily rectify this issue by adding a humectant like glycerin to your rosewater. Humectants absorb water, slow evaporation, and trap moisture against your skin.
If you'd like to use rosewater as a setting spray, the best way is to simply make this recipe.
Other ways to use this setting spray
While this recipe was originally created as a setting spray for makeup, it has a variety of other uses, too. I've found it to be incredibly useful not just for the face, but also for the hair and body.
1. To add extra hydration between layers of product
Another way to use this recipe is as a hydrating face mist. I like spraying it on my face after cleansing and toning, as well as between each layer of serum, moisturizer or facial oil.
Those with dry skin will especially appreciate how well glycerin works to prevent dryness. When combined with a liquid like rosewater or cucumber hydrosol, glycerin (a humectant) helps attract and bind water where it counts — close to your skin.
Personally, I find glycerin to be much more effective than even hyaluronic acid for helping my skin retain moisture.
2. A cooling, soothing mist for face and body
Aside from its moisturizing properties, this spray is equally useful for helping cool your face and body on a hot day. Plus, you can opt to put it in a tiny glass spray bottle to refresh your skin at the gym or on the go.
It's also useful for soothing red, inflamed skin if you're experiencing irritation, a breakout, or if you just overdid it with actives like retinol or AHAs.
3. A detangling and hydrating hair mist
Not just for your face, this recipe can also be used on hair. Spritz it throughout your tresses before styling to help detangle, hydrate, and subtly fragrance your hair.
If your hair reacts favourably to humectants, this recipe is a great base to use before layering on other styling products or protective oils.
4. A lightly fragrant perfume mist
Rosewater is naturally very fragrant, and a high-quality rosewater will have a potent and lingering scent.
However, you can increase the fragrance's strength and tenacity by adding a few drops of rose essential oil. This will create a light, floral perfume mist for hair and body.
Unfortunately, while pure rose essential oil smells heavenly, it's very expensive. If you can't justify the price, you can also use a more affordable diluted rose oil.
Yield: 1 setting spray
DIY Makeup Setting Spray (Rosewater or Cucumber)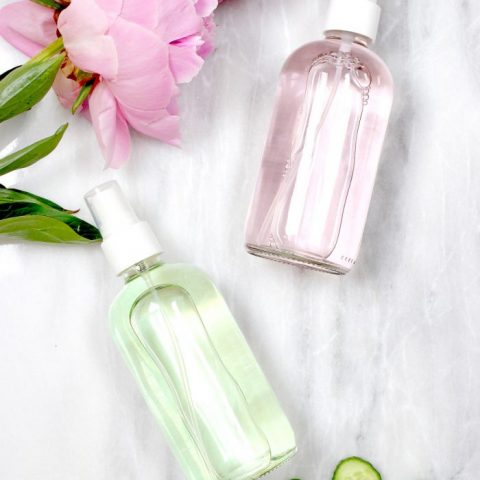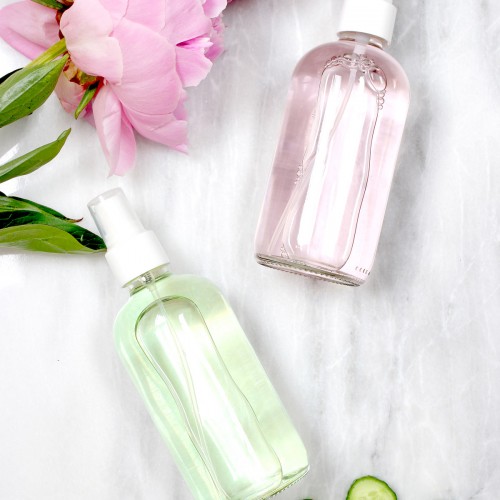 Learn how to make a DIY makeup setting spray with rosewater and glycerin. This recipe is intensely hydrating and perfect for dry skin. It sets makeup and leaves skin with a dewy, glowing finish.
Materials
Rosewater Makeup Setting Spray
Cucumber Makeup Setting Spray
Tools
Instructions
Thoroughly sanitize your equipment and glass spray bottle before you begin. Please consult the recipe notes below for more information on how to do this.
Using a funnel, pour your rosewater or cucumber hydrosol into your spray bottle.
Add vegetable glycerin and Leucidal Liquid SF. If desired, you can also add cucumber fruit extract during this step.
Finally, if you'd like to add a hint of colour to your setting spray, you can opt to add a few drops of natural liquid food dye. I like to add a pastel pink colour to the rosewater spray, and a nice, light green to the cucumber spray.
Replace the nozzle of your spray bottle and shake gently to combine. Your rosewater setting spray is ready to use.
Notes
It's imperative that you use sanitized equipment for this DIY. Before beginning, be sure to wash your spray bottle and your measuring tools with soap and water. You can then use boiling water or isopropyl alcohol (rubbing alcohol) to thoroughly sanitize.

However, it's your responsibility to ensure your equipment is made of HEAT-SAFE materials like glass or stainless steel before attempting to place it into boiling water.

If you are not sure, or would just prefer an easier method, please opt to use isopropyl alcohol instead.

Be aware that rubbing alcohol is TOXIC. I don't recommend using it as an ingredient in any DIY beauty products. However, as long as you do not touch it or breathe in the fumes, it works well for sanitizing supplies.

To sanitize with boiling water:

Submerge your supplies in boiling water for at least 10 minutes. Remove with heat-safe tongs. Wipe them with a clean, dry towel, and then allow them to dry completely before use.

To sanitize with isopropyl alcohol:

Spray your supplies liberally with isopropyl alcohol in a well-ventilated area. Wear gloves to protect your skin and do not breathe in the fumes. Allow to dry completely before use.
Recommended Products
As an Amazon Associate and member of other affiliate programs, we earn from qualifying purchases.
More DIY beauty recipes
Looking for more natural DIY beauty and skincare recipes? You might enjoy the following:
For even more natural DIY bath and body ideas, follow us on Pinterest! You can also find us on Instagram, Facebook, and Twitter.