Learn how to make 3 kinds of floral DIY bath salts for gifting or personal use. These salts can also be made in large batches and packaged in small containers, making them ideal for use as gifts or party favors. Choose between 3 easy varieties — relaxing eucalyptus rose, uplifting calendula citrus with safflowers, or soothing lavender. Each variety boasts the addition of dried flower petals, which takes these simple bath salts to the next level of luxury.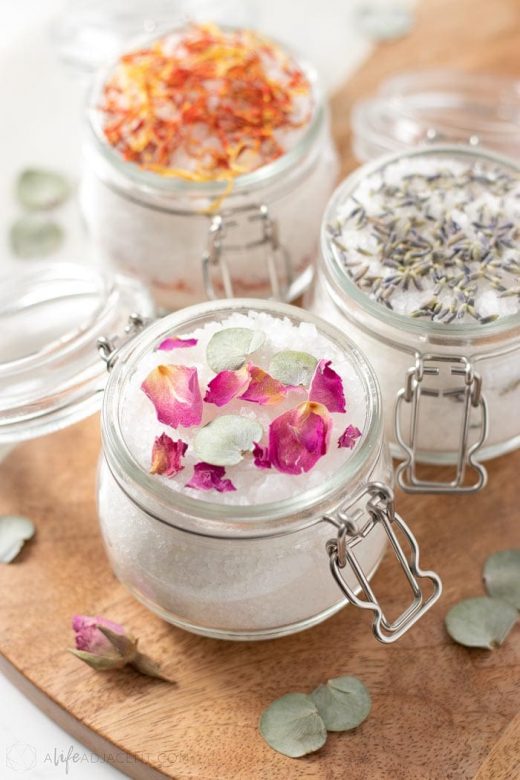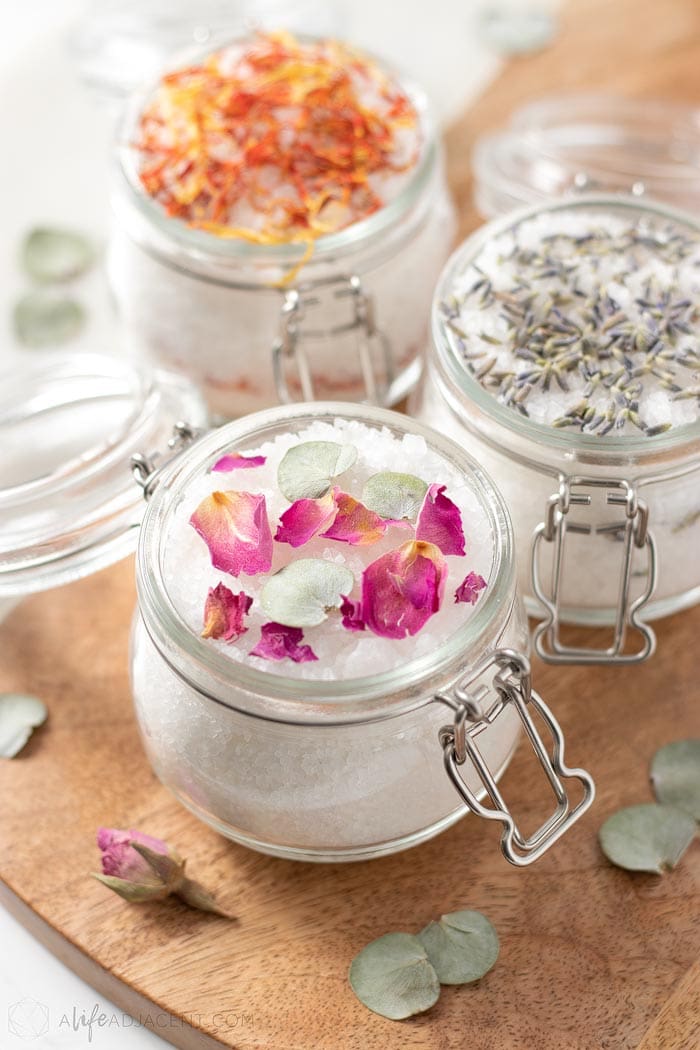 There's nothing more relaxing at the end of a long or stressful day than a warm, soothing soak complete with magnesium-boosting bath salts and the aromatherapeutic benefits of essential oils.
Bath salts with essential oils are a simple project for the novice DIY natural beauty maker and a luxurious addition to your self-care routine.
Plus, they're very easy to make. Often those pretty bottles of floral bath salts you find in stores, which retail for $10-15 a pop, can be made at a fraction of the price and in your own kitchen!
And as mentioned, they're also wonderful for simple, yet economical gift giving, especially if you add an aromatic sprinkle of beautiful dried flowers to your homemade bath salts.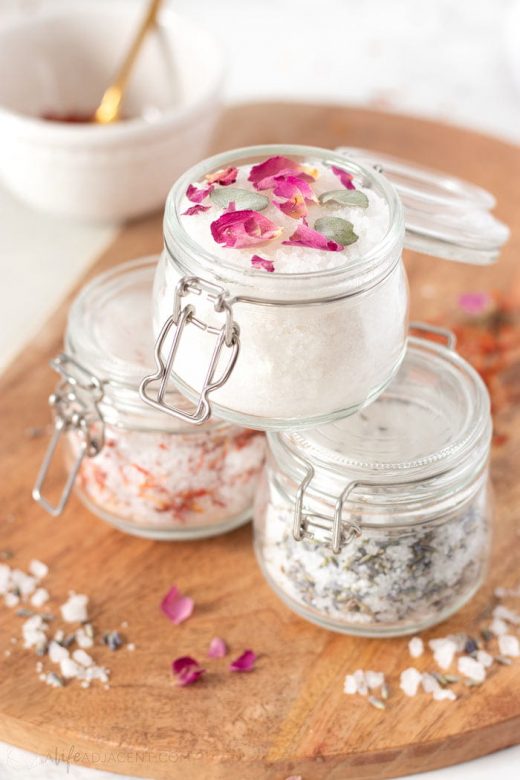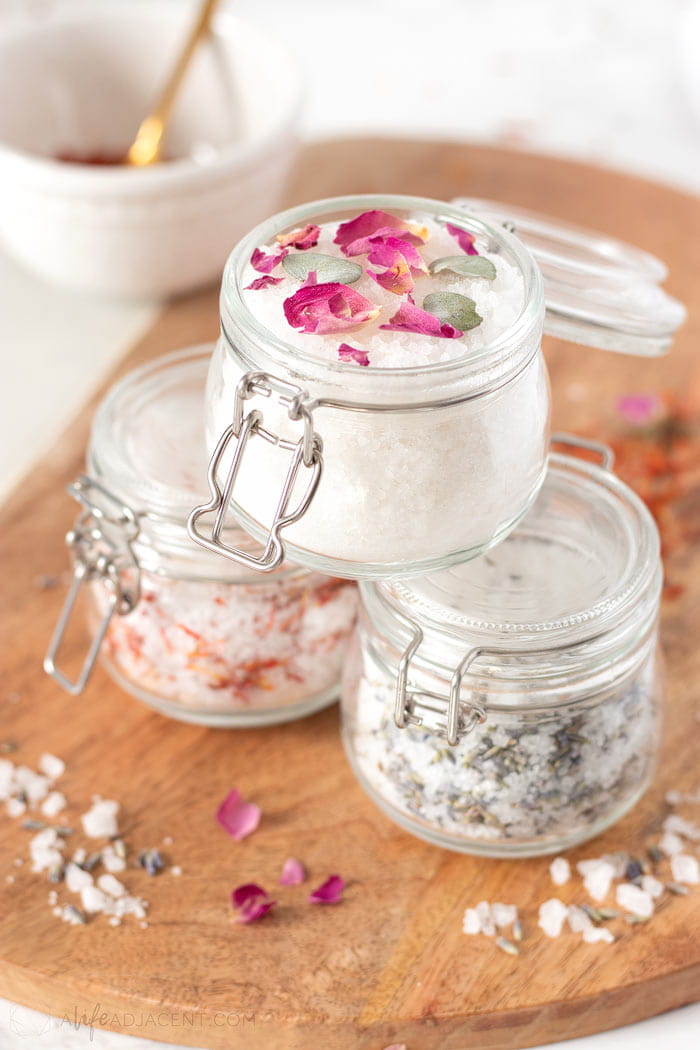 The benefits of bath salts
Besides aiding in relaxation, bath salts have a plethora of benefits due in part to the addition of magnesium-rich Epsom salts.
Epsom salts, otherwise known as magnesium sulfate, are absorbed transdermally through the skin during bathing.
Since magnesium is important in many bodily functions, its deficiency can lead to issues such as fatigue, hormonal imbalances, high cholesterol, anxiety, and muscle cramps.
Additionally, if you already suffer from migraine headaches, magnesium deficiency can make migraines worse and more frequent.
Other benefits of Epsom salt include:
Promoting more restful sleep
Relieving stress and tension
Improving circulation
Helping to ease headaches or migraines
Improving mood and reducing feelings of anxiety or overwhelm
Easing tired, achy muscles
Lowering the inflammation caused by minor injuries or arthritis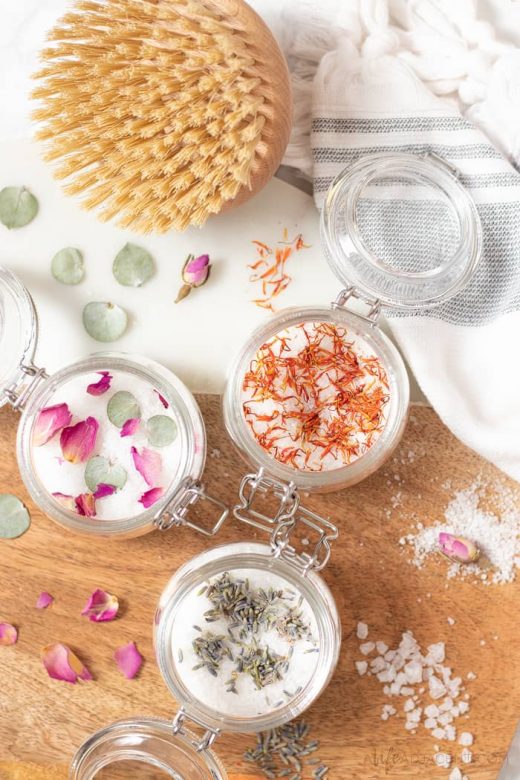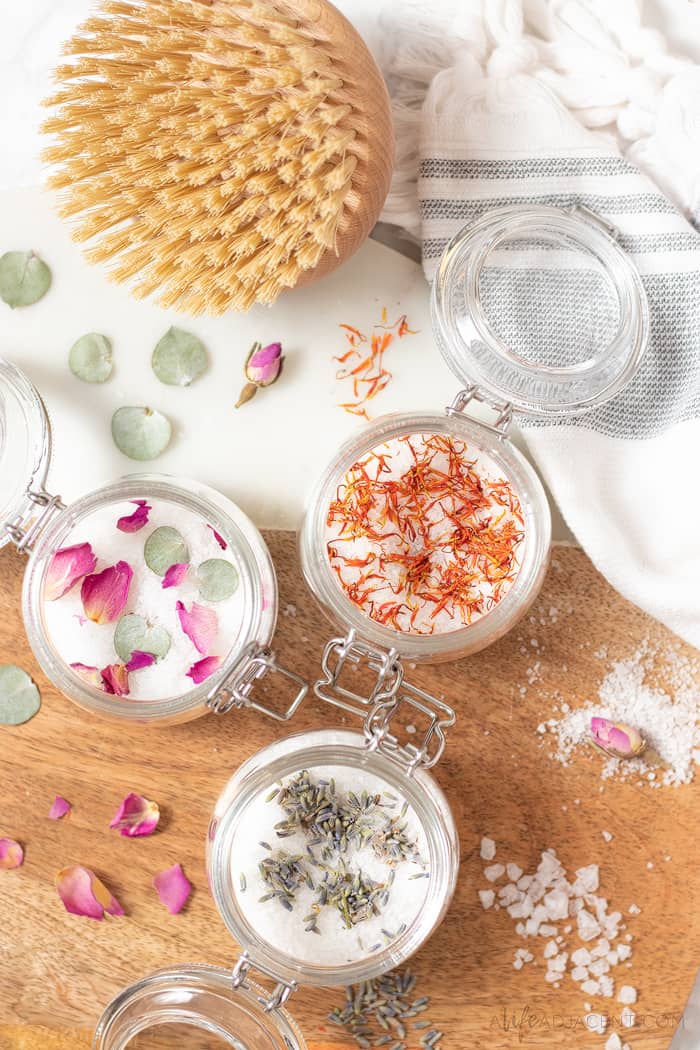 It's important to use the correct amount of magnesium for your body weight, especially if you want to use these bath salts to supplement your daily dose.
I included a handy magnesium dosing chart in this post for chocolate rose tub tea, which also contains Epsom salt.
As an added bonus, you can purchase Epsom salts in large resealable bags, which is more cost efficient in the long run.
Ingredients for bath salts
Epsom salts – for your daily dose of magnesium
Baking soda or sodium bicarbonate – softens the water and soothes dry or irritated skin
Essential oils – for their aromatherapeutic benefits
Natrasorb Bath – helps emulsify and distribute the essential oils in bathwater safely
Dried flowers or herbs – for their aesthetic and aromatherapeutic benefits
Milk powder – contains lactic acid, a natural humectant that helps to hydrate and soften the skin
How to customize your bath salts
Due to their simplicity, bath salts can be easily customized. You can experiment with a variety of mix-ins including: natural colourants, essential oils and various dried flowers and herbs.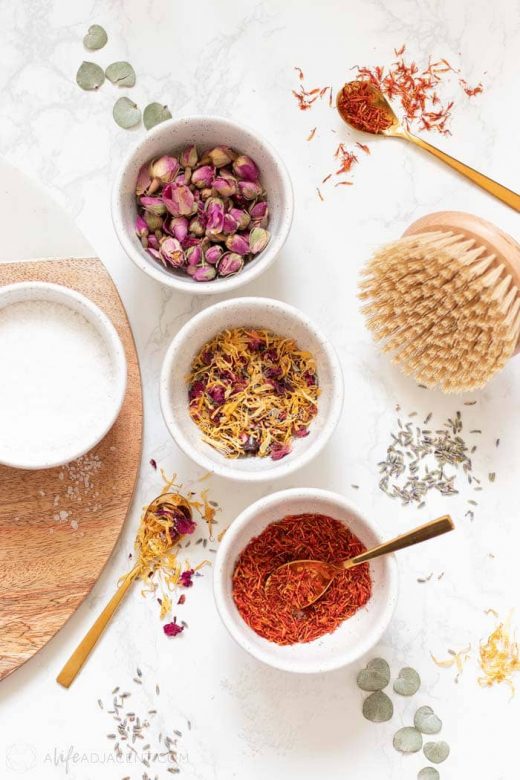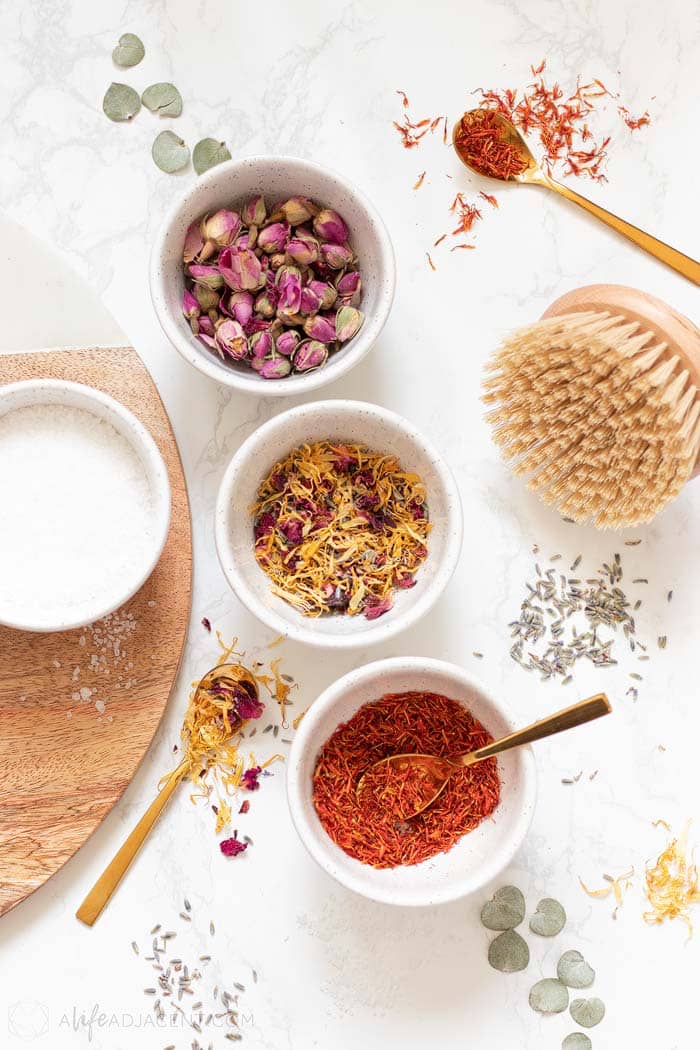 Other flower possibilities include dried hibiscus or blue cornflowers. You can also add powdered milk for added moisture or powdered coconut milk for a vegan alternative. Or you can opt to use another humectant such as powdered honey.
You can also customize your essential oil blends, but be sure to use essential oils that are safe for your skin, and don't overdo the quantity. You want to stick to a 1 percent dilution for safety.
As well, you can always add a dollop of melted coconut oil or another carrier oil to your bath salts if you find salt baths too drying.
A spoonful of dried milk powder, coconut milk powder or honey powder will also help reduce the drying effect of the Epsom salts.
Essential oil blends for homemade bath salts
For this project, I created 3 varieties of simple bath salts. But again, you can customize the salts to suit your personal preferences.
Lavender Bath Salts
This variety of salts is good for inducing sleep and calming feelings of anxiety and overwhelm.
Lavender essential oil is known to promote relaxation, which is why lavender is often touted as a natural sleep and insomnia remedy.
Essential oils needed: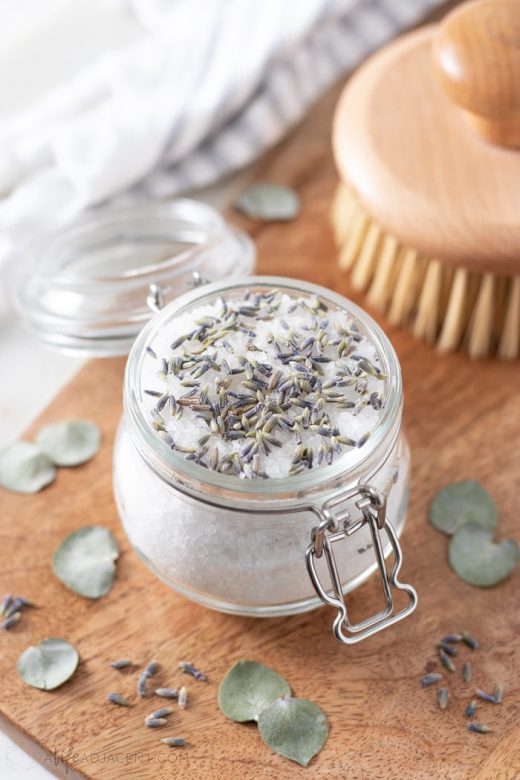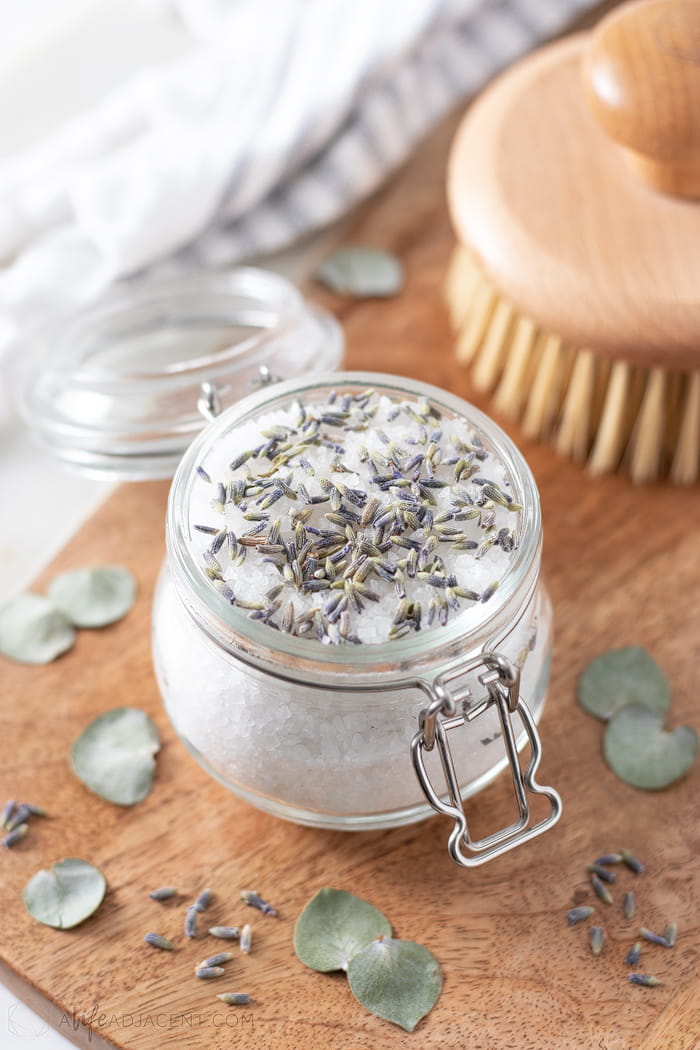 Eucalyptus Rose Bath Salts
This variation not only looks lovely, but if you have a cold, the eucalyptus essential oil can help you feel better.
Eucalyptus oil possesses anti-inflammatory and antiseptic properties and acts as a natural decongestant, which can lessen cold symptoms by helping you breathe easier.
Rose oil's fragrance is uplifting, yet soothing, and its floral scent helps balance eucalyptus oil's camphorous quality.
Essential oils needed: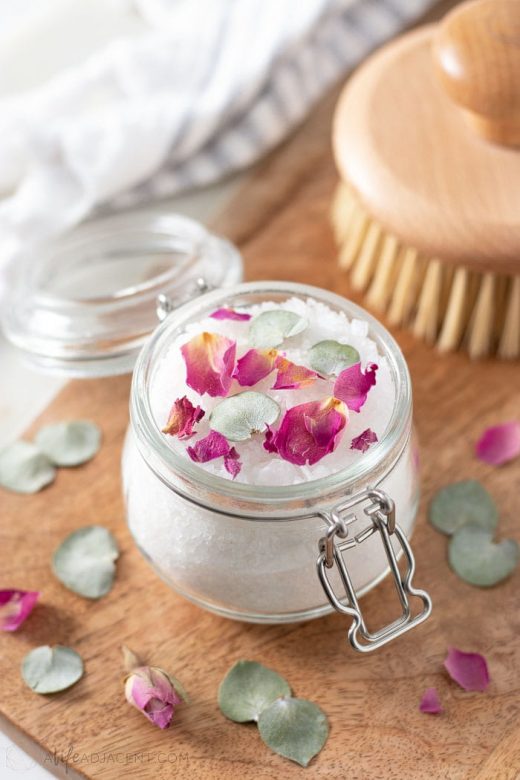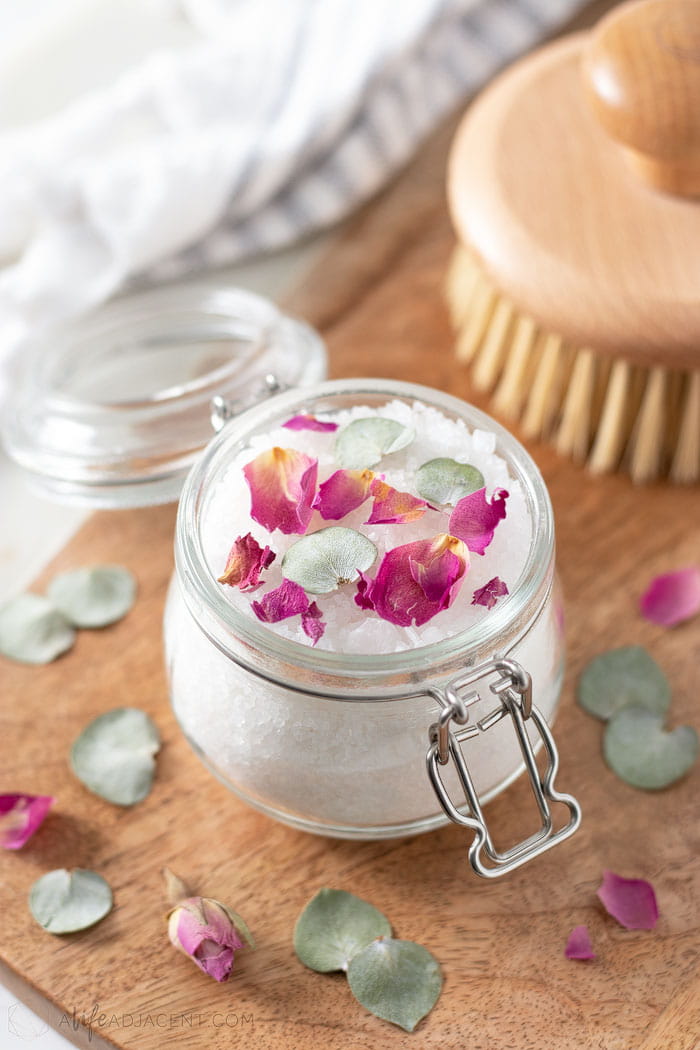 Citrus, Safflower and Calendula Bath Salts
This bright variety boosts a tangy citrus scent and bold colours which help to energize the senses and uplift the mood.
Sweet orange and tangerine essential oils both have a sweet, energizing scent.
Calendula is a healing herb, often found in pain-relief salves, has both soothing and antioxidant properties. Calendula's rich, bright yellow colour is due to the high carotenoid and flavonoid content of its petals.
Bold, bright orange safflower petals also add drama to this variation.
It should be noted that the small amounts of safflower and calendula petals used in these bath salts are unlikely to offer significant benefits, aside from adding texture, beauty and a lovely, subtle fragrance.
Essential oils needed: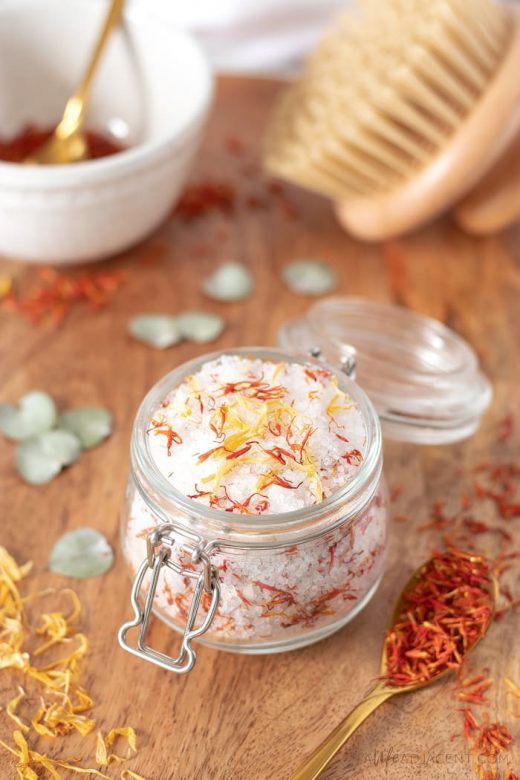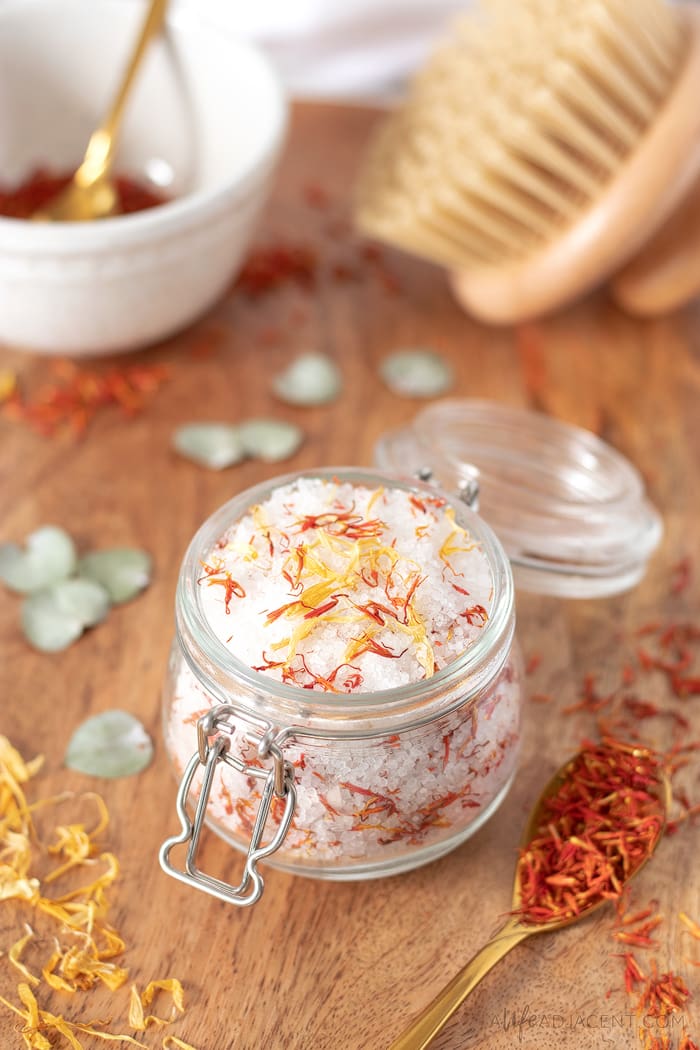 How to make floral bath salts
To make bath salts, combine Epsom salts and baking soda in a large glass mixing bowl. In a separate bowl, combine Natrasorb Bath with your preferred essential oils.
Then, combine the contents of both bowls. Mix the entire mixture together well.
Finally, you can add sprinkle of dried flowers or herbs before stirring the mixture once again. The finished bath salts should then be stored in glass jars with an airtight lid.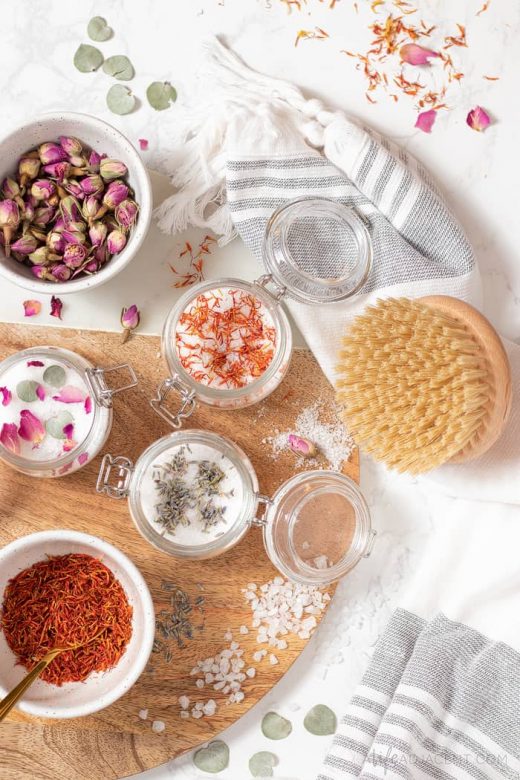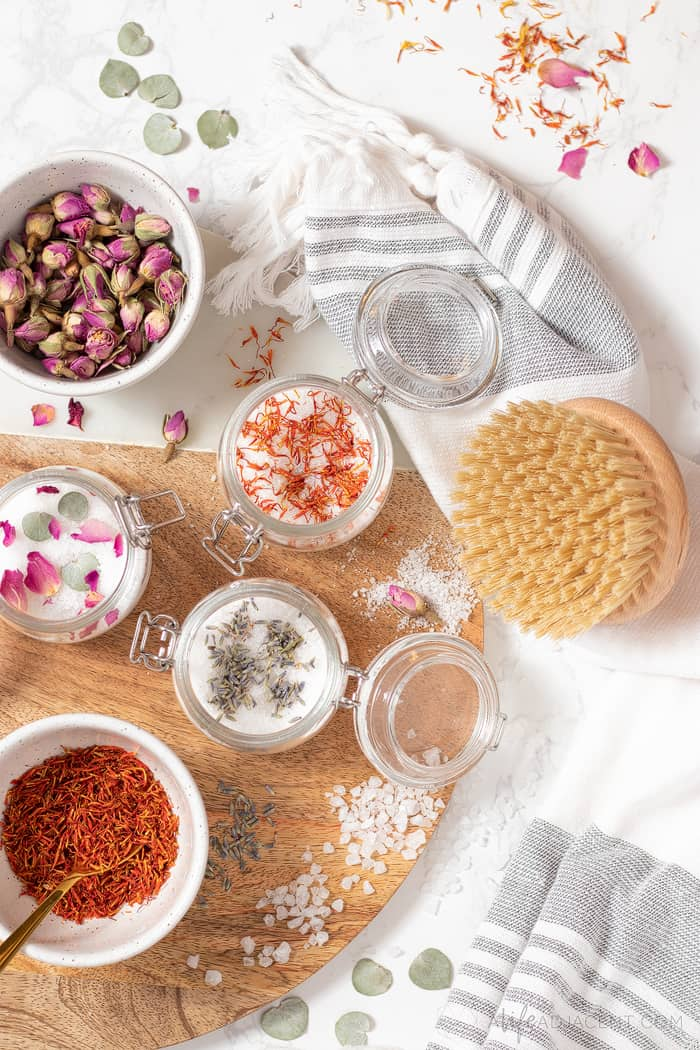 How to store and package your bath salts for gifting
If making these bath salts for gifting, or to use as party or wedding favors, there are a variety of creative and eco-friendly packaging choices to choose from.
Whichever packaging you use, just be sure it has an air tight lid to protect your salts.
If you like the trio of tiny 4 oz jars shown in the photos, you can purchase them at IKEA. Since they're so small, these would be ideal if you're using the bath salts as shower or wedding favors.
(The photos can be deceiving as the jars are smaller than they appear which is why they're ideal for use as favours).
But any small jar or even a repurposed jam jar will work as well. You can also use bath salt tubes like the ones pictured in our pumpkin spice latte bath soak. Or, go for a more rustic look by using mason jars to store your salts.
If you're gifting your bath salts or using them as favors, you can also style them with jute twine or raffia ribbon, complete with a pretty gift tag.
Yield: 3 jars of bath salt
DIY Bath Salts for Gifts, Party Favours & More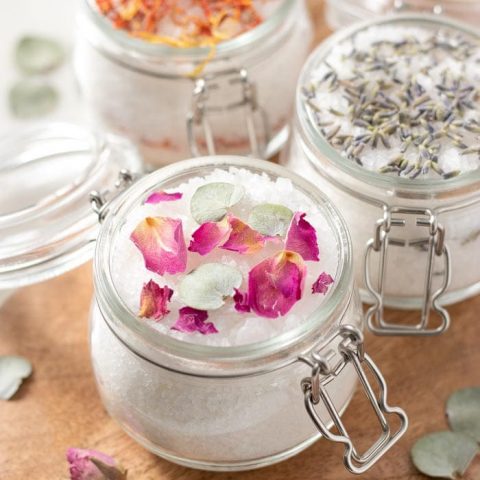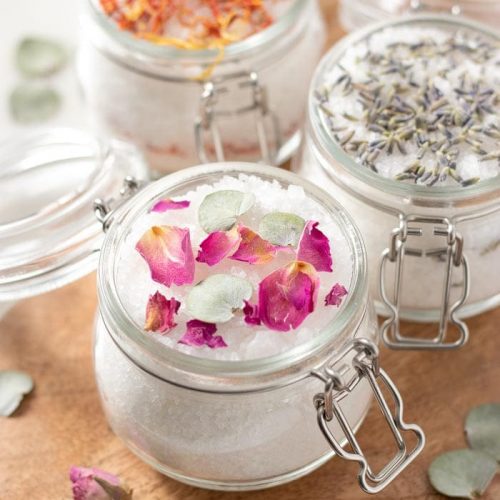 Learn how to make 3 kinds of floral DIY bath salts. These easy bath salts are perfect for using as party favours, or as a thoughtful gift of relaxation and pampering for the bath lover in your life.
Materials
Simple Bath Salts
Rose Eucalyptus Bath Salts
Lavender Bath Salts
Calendula Citrus Bath Salts with Safflowers
Tools
Small jars, such as this tiny jar set or the 4oz IKEA KORKEN jars
Instructions
In a large bowl, combine Epsom salt and baking soda. Use a large wooden spoon to mix well. The optional milk powder or coconut milk powder can also be added during this step.
In a separate bowl, combine Natrasorb Bath with your preferred essential oils and mix thoroughly until absorbed.
Then, combine both mixtures together and again mix thoroughly. You can also don a pair of latex gloves and combine the mixture by hand.
Next, add the dried flowers, or herbs such as eucalyptus leaves, and stir once again.
Alternatively, if you don't want to take the time to scoop flower petals out of your tub, you can also opt to place a smaller amount of dried flowers on top of your salts. This will help keep your tub cleaner and avoid drain issues.
Finally, scoop the entire mixture into airtight glass jars. You can also use a funnel to transfer your salts to your preferred containers. Make sure that your containers have air tight lids and store the jars or tubes in a cool, dark cupboard until you're ready to use the salts.
Notes
Yield: The recipe should yield approximately 3 small jars with about 3/4 cup of bath salts in each jar. For larger quantities, you will want to multiply the recipe by 3 times the amount of jars you want in total. For example for 30 jars of bath salts, multiple the recipe by 10.

Shelf Life: If stored correctly, your bath salts should last approximately 3-6 months.

Tip: If you want to make each variety, divide your mixture into 3 equal portions before adding the flowers and essential oils.

Warning: Exercise caution when getting in or out of the tub as bath salts can make surfaces slippery. If you have any health conditions, please consult with your healthcare provider before using this recipe.
Recommended Products
As an Amazon Associate and member of other affiliate programs, we earn from qualifying purchases.
More DIY bath and body recipes
Looking for more natural bath and body recipes? Check these out:
For even more natural DIY bath and body ideas, follow us on Pinterest! You can also find us on Instagram, Facebook, and Twitter.
Pin it for later