Learn how to make a simple homemade cuticle oil with essential oils to hydrate and strengthen your nails and cuticles. This nourishing nail oil recipe is made with two types of carrier oils to moisturize and soothe dry, cracked cuticles and brittle nails. An optional selection of essential oils adds a natural fragrance and/or potential nail strengthening benefits.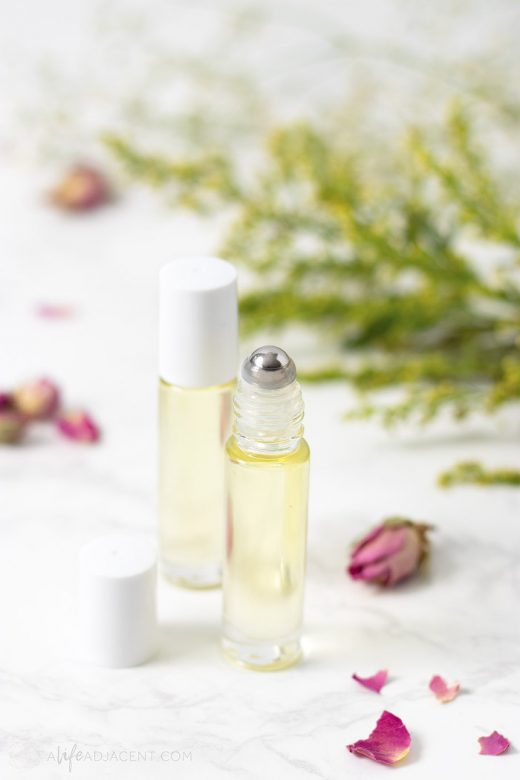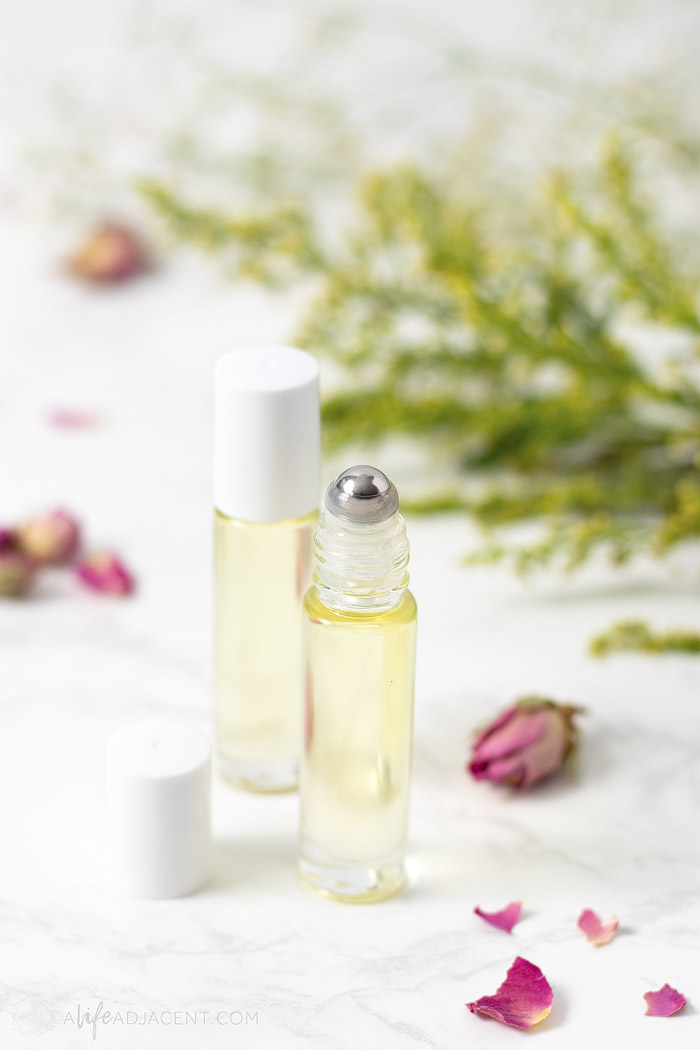 Have you ever read the ingredients on a bottle of cuticle oil? Most contain a combination of plant oils and vitamin E. They're usually scented with either essential oils or a synthetic fragrance, and they often contain ingredients meant to preserve the oils for long-term storage in warehouses or stores.
However, it's unnecessary to pay $8-10 a bottle for store-bought brands containing these inexpensive ingredients, because you can easily make your own nourishing cuticle oil at home.
There are 2 ways to make this recipe – you can add a blend of nail-strengthening essential oils, or you can simply add a few drops of your favourite essential oil for a pleasant fragrance.
Another advantage to homemade cuticle oil it that you can be assured your oil doesn't contain the problematic ingredients found in brand name cuticle oils, such as drying alcohols, parabens, or synthetic fragrances.
By investing in the ingredients needed to make this recipe, you can make future batches, reuse your packaging, and save money over the long-term.
Additionally, the ingredients are versatile and can be used in a variety of homemade skincare and beauty recipes.
Why use cuticle oil?
Cuticle oil helps keep your cuticles soft and healthy. Cuticle health is important for your overall nail health because your cuticles protect your nails from bacteria and infection.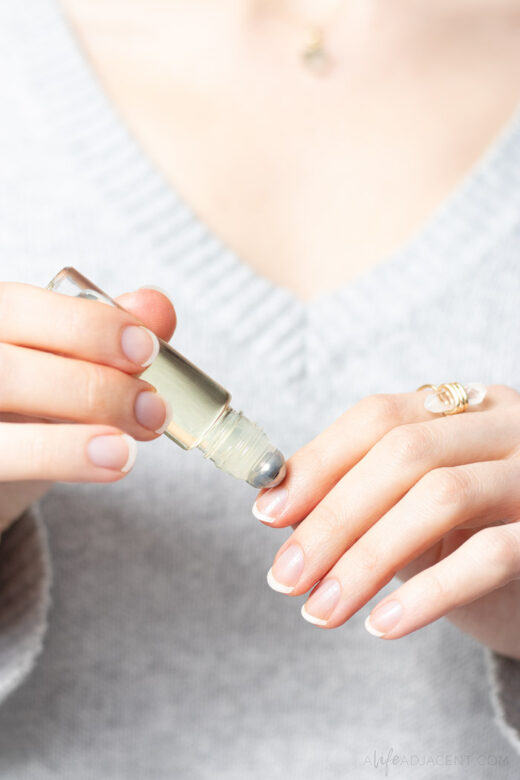 As well, cuticle oil can improve the appearance of your nails and hands by helping to repair the cracks and dryness caused by such environmental factors such as cold weather, excessive hand washing, or frequent use of nail polish removers.
The oil also helps create a protective barrier over your cuticles and nails which helps prevent dry, cracked skin and hangnails from forming.
What you need to make DIY cuticle oil
Cuticle oil is very simple to make. You can whip it up in minutes, but its benefits last a lot longer.
For this recipe, you will need a roller bottle, a nail pen bottle, or an old, clean essential oil bottle with a dropper for dispensing.
These roller bottles are similar to the ones shown in the photos but any roller bottle will work. Another option is to use a clean nail polish bottle with a handy brush, such as this one.
You will also need to add a combination of carrier oils and essential oils. It's ideal to chose a variety of essential oils that have been shown to promote skin, cuticle and nail health. (More on that below.)
Vitamin E should also be added to your mixture to prolong the shelf-life of your carrier oils.
As well, a small funnel will help you easily combine your oils and essential oils in your bottle. All ingredents are then mixed together and stored in a glass container.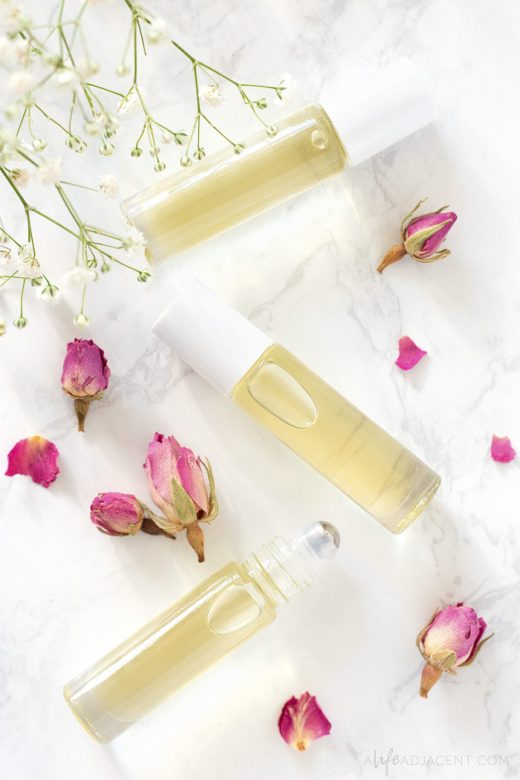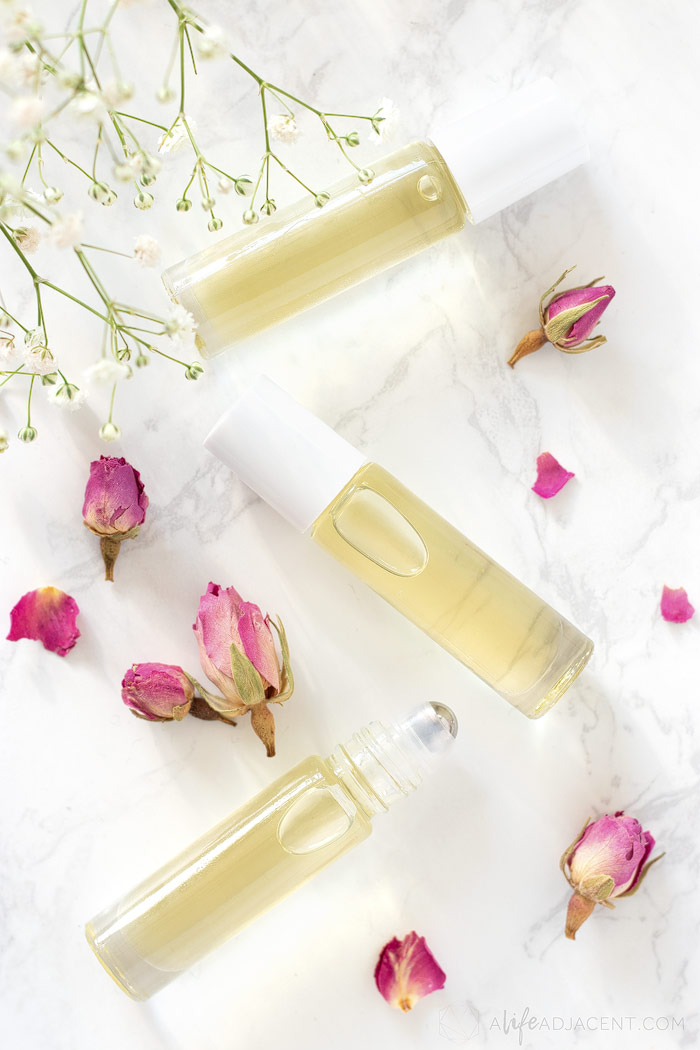 What are the best oils for dry cuticles?
You can select a combination of a variety of oils to use on your cuticles. For this recipe, I chose castor oil and camellia oil, which are both rich in nourishing fatty acids and are easily absorbed.
However, some other oil options which can also help to nourish dry cuticles and maintain their overall health include:
Jojoba oil
Almond oil
Olive oil
Carrot seed oil
Avocado oil
Grapeseed oil
What essential oils are good for dry cuticles and nails?
You can opt to include a single essential oil of your choice in this cuticle oil recipe or a blend.
Many essential oils possess anti-fungal properties. Since nail fungus can be the cause of brittle or peeling nails and slower nail growth, they're ideal to use in a cuticle oil.
I included rosemary, lavender and rose essential oils in my blend. Rosemary essential oil possesses antibacterial properties and can help keep nail fungus at bay. It is also believed to promote hair growth and could potentially have some effect on nail growth.
The rose and lavender essential oils both add a lovely, soothing fragrance and offset the stronger smell of the rosemary essential oil.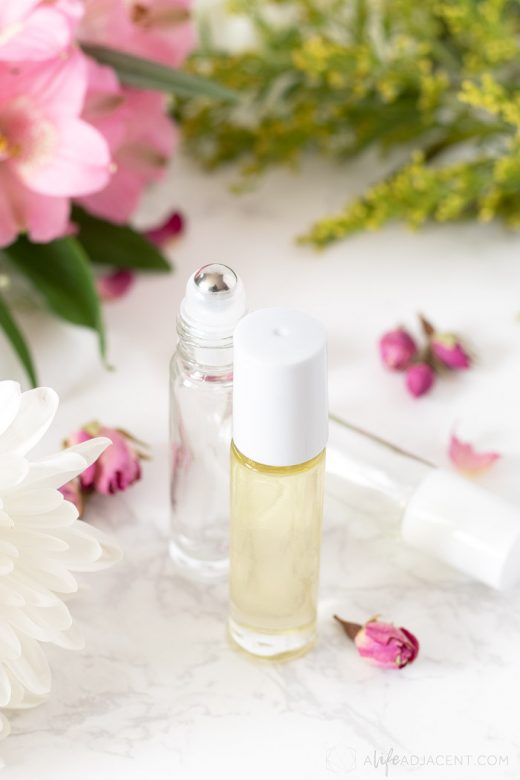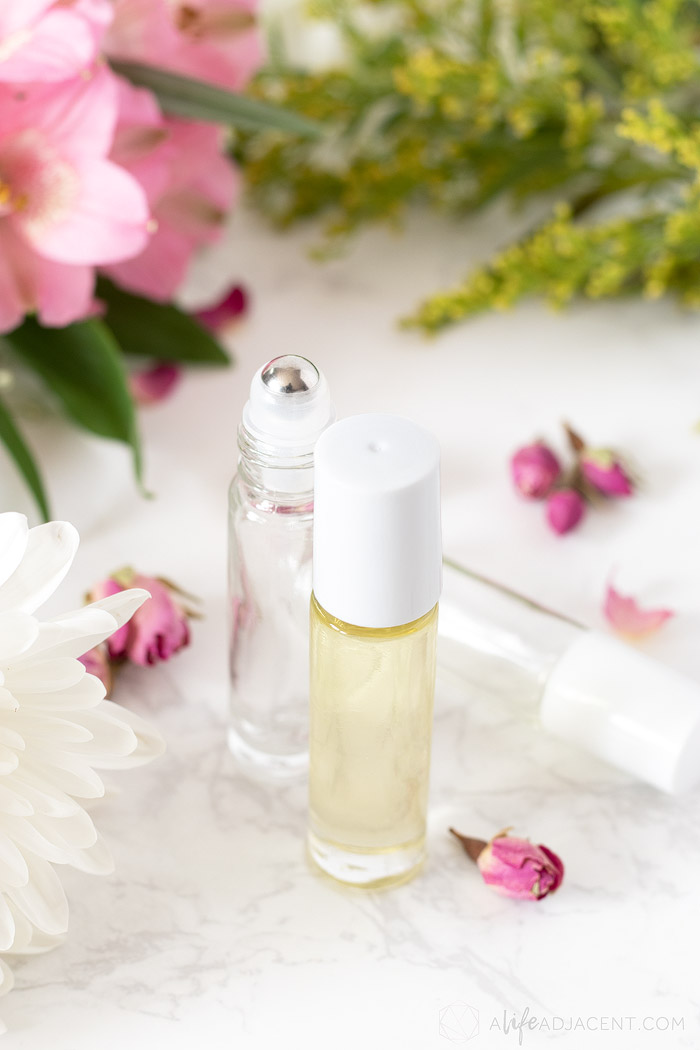 Alternatively, you can create your own unique blend by using one EO or a combination of the essential oils below:
Frankincense essential oil – an ancient oil that possesses anti-fungal, anti-inflammatory, and antiseptic properties which can encourage nail growth.
Myrrh essential oil – has anti-fungal, antibacterial, and anti-inflammatory properties, and is said to be one of the best essential oils for healthy nails. However, it should be used sparingly as it can cause your nails to turn yellow.
Rosemary essential oil – known for promoting hair growth and therefore may have some effect on nail growth.
Eucalyptus essential oil – another oil that has antibacterial and anti-fungal properties and can contribute to overall nail health.
Tea tree oil – possesses antibacterial and antiseptic properties. As well, it can help heal cracked cuticles and relieve inflammation.
Lavender essential oil – also has both anti-fungal and antibacterial activity. Its scent is both soothing and relaxing which makes it an ideal essential oil to use in the evening.
Homemade cuticle oil ingredients
Castor oil
The main ingredient in this DIY cuticle oil is castor oil. Castor oil is made from the castor bean or ricinus communis plant. It is rich in the potent omega-9 fatty acid ricinoleic acid which has anti-inflammatory benefits.
Castor oil has also been linked to increased hair growth. It also has anti-fungal and antibacterial properties which makes it useful for both nail and cuticle health.
It also helps that castor oil is very thick, which creates a wonderfully moisturizing and protective cuticle oil. As an added benefit, castor oil is not easily washed off.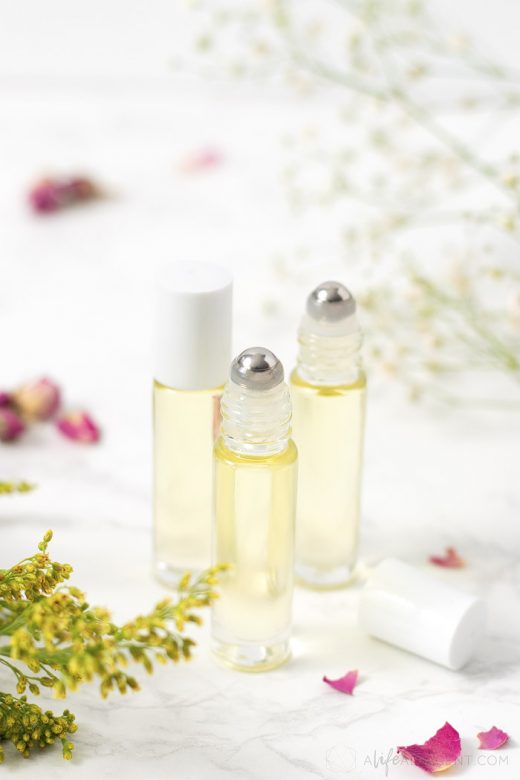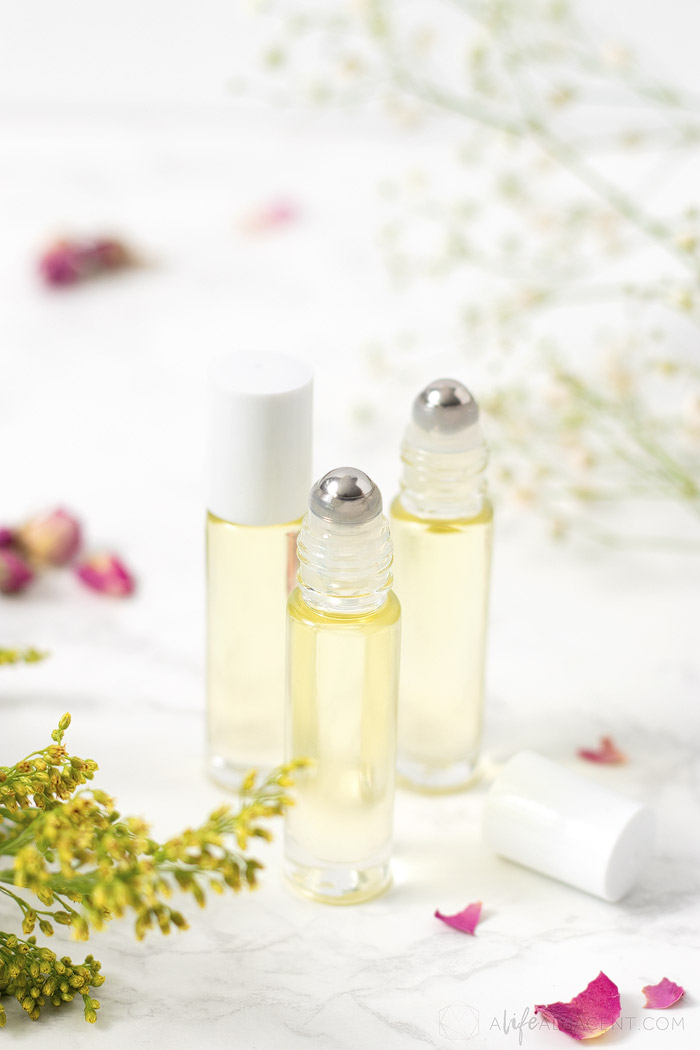 Camellia oil
Camellia oil is a non-comedogenic and fast-absorbing oil. It's ideal for use on sensitive or mature skin due to its rich texture and high oleic acid content.
Camellia oil is high in monounsaturated fatty acids like oleic acid, and low in polyunsaturated acids like linoleic acid. Since polyunsaturated fatty acids (PUFAs) are very unstable and prone to oxidation, it's ideal to use them sparingly in your body and skincare products.
To understand how oils high in PUFAs can contribute to skin aging, refer to this article outlining the risks of using PUFAs on your skin.
It should be noted that camellia oil is also called tsubaki oil or tea seed oil and is often confused with tea tree oil. However, camellia oil and tea tree oil are two very different oils with different uses.
Ideally, you want to choose a camellia oil that is organic, cold-pressed, and packaged in a glass bottle.
Vitamin E
Adding a small amount of vitamin E oil to this recipe can help extend the life of your carrier oils, preventing them from oxidizing or going rancid.
Vitamin E is a potent antioxidant and will help soften, moisturize and nourish the skin, as well.
However, Vitamin E is not a preservative despite some claims. But since this cuticle oil recipe doesn't contain water, you will not need to add a preservative.
How to make cuticle oil
Making your own cuticle oil at home is easy. For detailed instructions and measurements, please see the recipe card at the bottom of this post.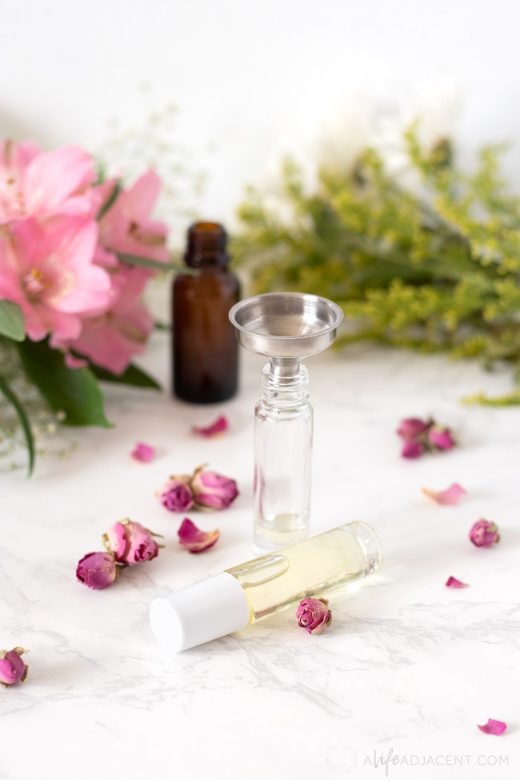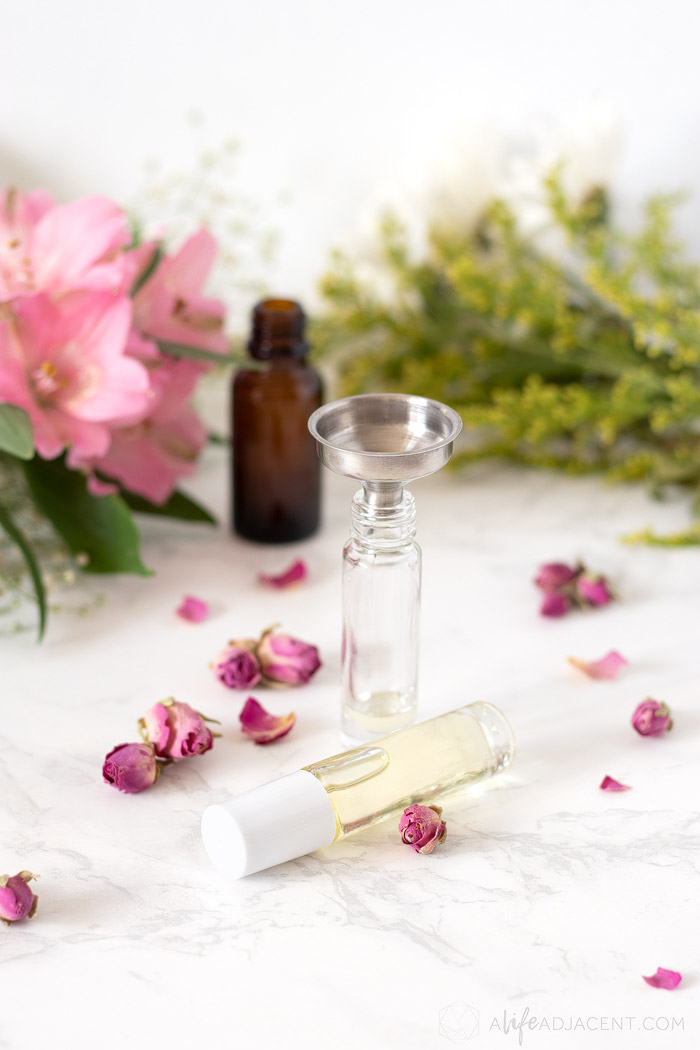 Before making your cuticle oil, clean a glass rollerball bottle or nail polish bottle and allow it to dry.
Using a small funnel, carefully pour your plant oils and vitamin E into your desired container.
Add a few drops of essential oils.
Replace the rollerball and lid of your container and shake to combine.
How to use your cuticle oil
Start with clean, dry nails. Roll the oil onto your nails and cuticles and then massage the oil onto the surrounding skin thoroughly.
It's ideal to put this cuticle oil on after a shower to lock in moisture. As well, you can apply the cuticle oil before bed so that the oils have an opportunity to remain on your skin and nails while you sleep and therefore will be more readily absorbed.
You can also pair your cuticle oil with a rich hand cream and a pair of moisturizing gloves to give your hands and nails a deep overnight treatment.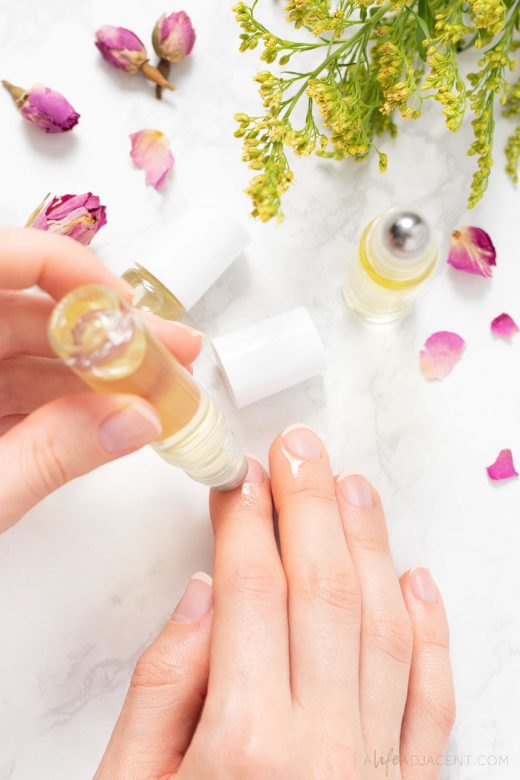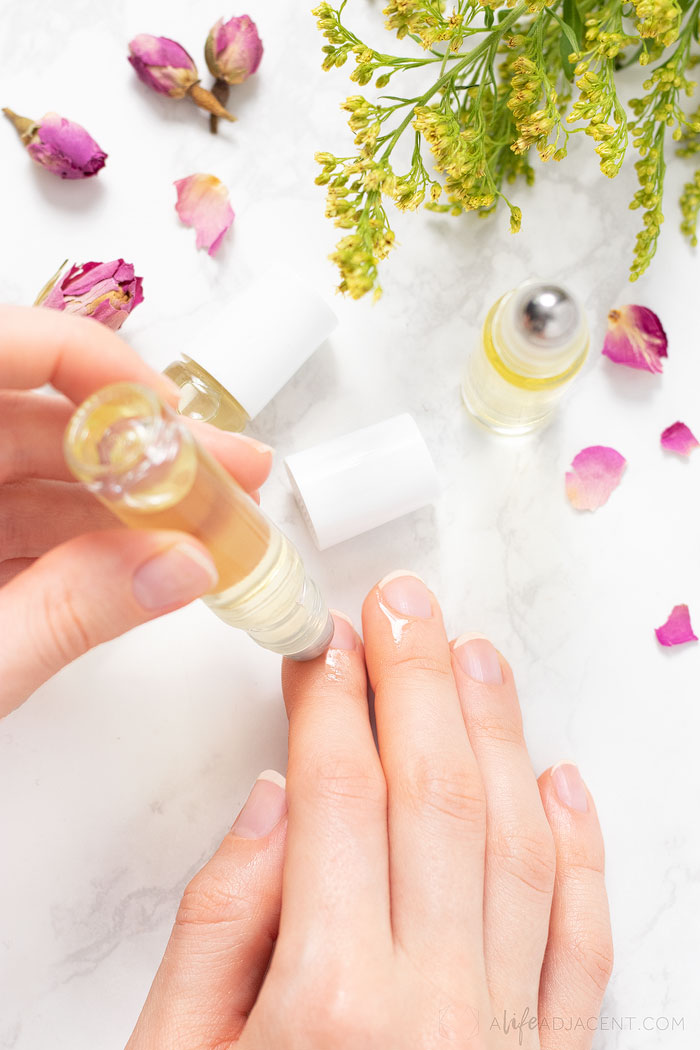 How often should you use cuticle oil?
You should use this cuticle oil daily or at least a few times a week, if possible.
You can also use this cuticle oil every time you wash your hands if your cuticles are very dry. This will help nourish them throughout the day, as the cuticle oil creates a protective layer that helps protect your cuticles from being stripped of moisture.
Water and excessive hand washing are common contributors to brittle nails and dry cuticles. Water softens nails, which makes them more prone to splitting, peeling, and breaking. As well, it can dry out the cuticles and the surrounding skin which can contribute to hangnails.
This recipe creates a water-repelling barrier over your nails and cuticles that helps prevent that damage.
You should start to see positive results over time and with consistent use of your cuticle oil.
Yield: 2 rollerballs
DIY Cuticle Oil to Nourish Dry Nails and Cuticles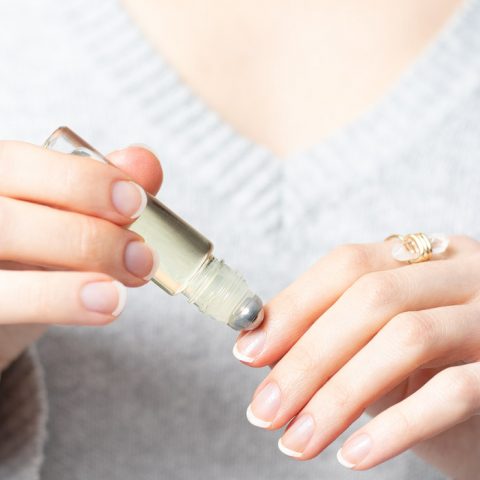 Learn how to make a simple DIY cuticle oil with essential oils. This nourishing nail oil recipe helps moisturize dry cuticles and strengthen brittle nails.
Materials
Cuticle Oil for Nail Growth
Rose Cuticle Oil
Instructions
Thoroughly clean your rollerball bottles with soap and warm water and allow to dry.
Using a small funnel, carefully pour your oils and vitamin E into your roller bottle.


Then, add your essential oils in the recommended amount.
Place the roller ball into the bottle and shake well. It's really that simple.
Notes
This recipe yields 2 10ml (0.35 oz) roller bottles of cuticle oil. You can also double the recipe if your prefer to make your cuticle oil in larger batches.
Recommended Products
As an Amazon Associate and member of other affiliate programs, we earn from qualifying purchases.
More DIY beauty recipes
If you're looking for more ways to make your own beauty products at home, you might also enjoy some of our other recipes:
For even more natural DIY bath and body ideas, follow us on Pinterest! You can also find us on Instagram, Facebook, and Twitter.
Pin it for later