These natural DIY makeup remover wipes cleanse and remove makeup in one step. Rose water and glycerin soothe and moisturize your skin, while a micellar surfactant effortlessly melts away makeup. This eco-friendly recipe can be made with disposable, compostable wipes or reusable cloths. Keep your wipes in a jar for easy makeup removal, or bring them on the go in a resealable bag!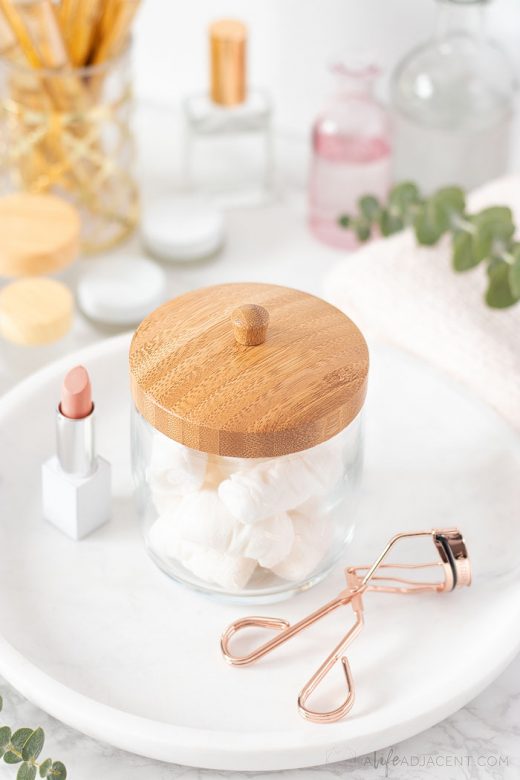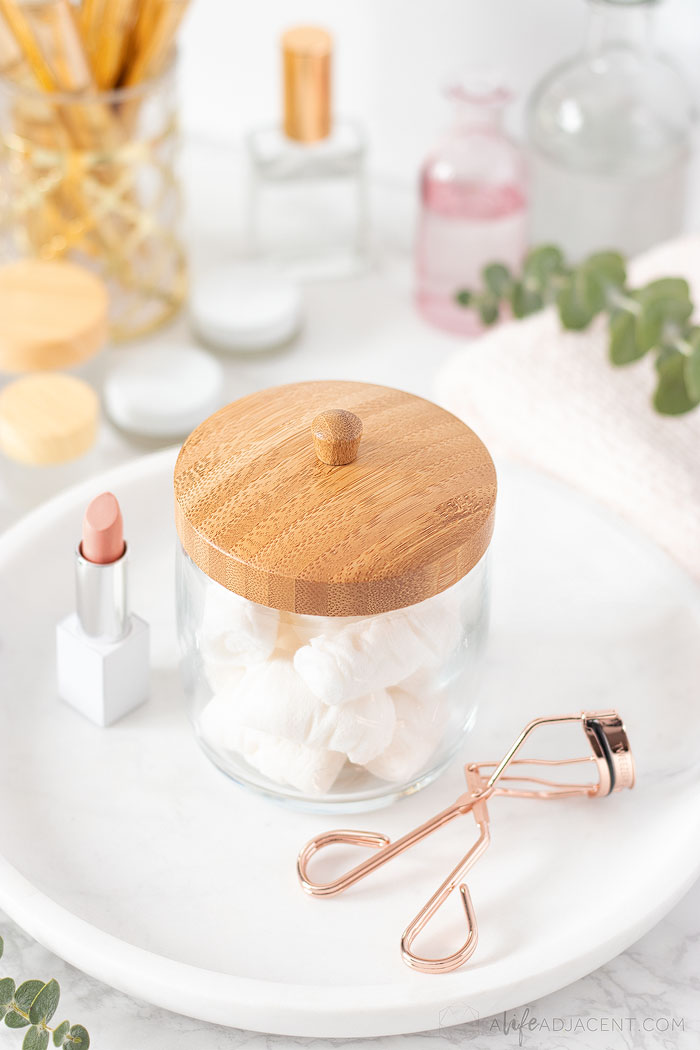 Makeup wipes get a bad rap, and rightly so. But while it's true that many store bought brands contain irritating ingredients like fragrance, this doesn't mean that all cleansing wipes are bad for your skin.
I created these natural makeup remover wipes with sensitive skin in mind. I keep them on hand for when I'm in a pinch – for instance, when it's late, I'm exhausted, and the last thing I want to do is spend time carefully removing all traces of makeup.
You can keep these wipes in a mason jar for easy access, but they're great for taking on the go, too. Since they're pre-soaked with product, they're a lot more convenient and portable than a whole bottle of cleanser. You can easily throw a few in a resealable bag for travel or the gym.
Plus, if you tend to fall asleep wearing a face full of makeup, you can opt to keep these wipes by your bedside. Who am I to judge?
Homemade makeup wipes with micellar water
As you may have guessed from the title of this post, these wipes are made with a special micellar formula.
Micellar water remains one of my favourite makeup removers for sensitive skin. It's gentle, leaves minimal residue, and doesn't need to be rinsed off. These qualities make micellar water the perfect ingredient to incorporate into makeup-removing wipes.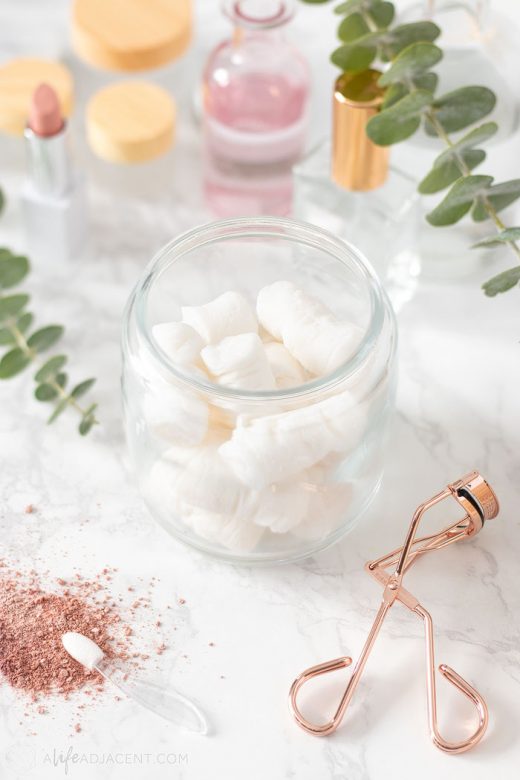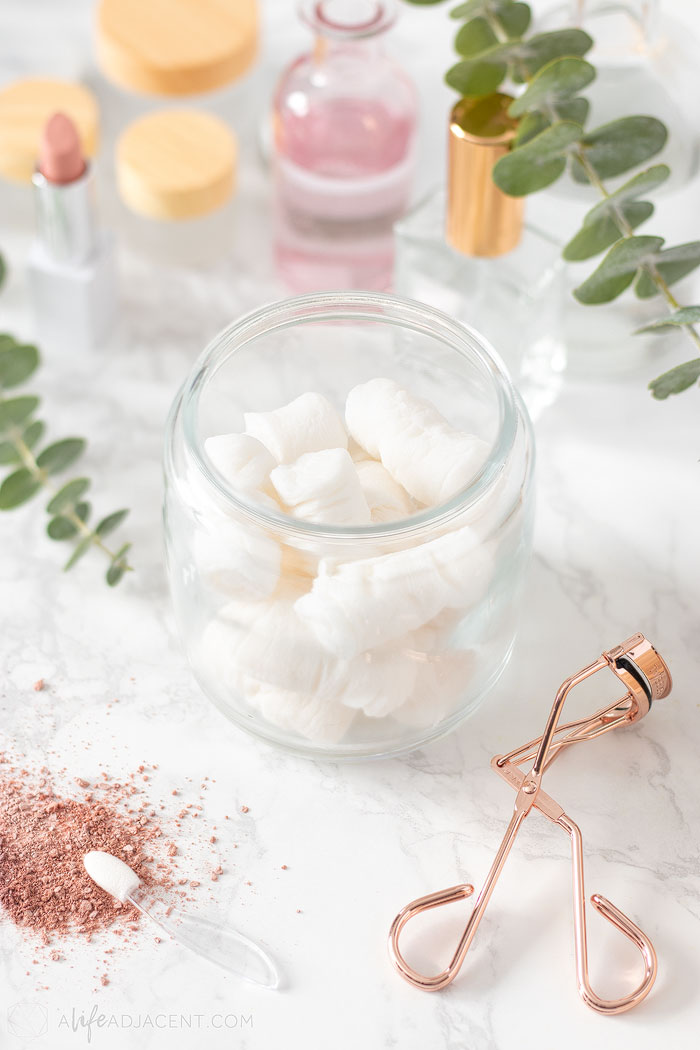 You can check out my witch hazel micellar water for more information about micellar water, its benefits, and why it's perfect for sensitive skin. I still love that recipe, but I created an even simpler formula for these no-rinse wipes.
But before we get into the recipe, I'd like to discuss some of the issues with cleansing wipes and what makes these ones unique. I also wanted to highlight other natural ways to remove your makeup for those who are interested.
These makeup wipes are made without oil, but if you prefer oily cleansers, you might enjoy the following recipes:
The problem with makeup wipes
I've had makeup remover wipes on my to-do list for a long time, but I didn't want to create a DIY that promoted wastefulness. I felt it was important to create a product that was not only gentle on the skin, but gentle on the environment, too.
Unfortunately, facial wipes are notoriously bad for the planet. They're frequently made with synthetic materials such as polyester, whose negative environmental impact is well-documented.
But many of the alternatives aren't much better. I've come across DIYs that recommend using paper towels to make cleansing wipes. While they might be easy and inexpensive, paper towels aren't the most eco-friendly choice, either.
Not only that, but there's a reason paper towels aren't recommended for your face! Most of them are abrasive and contain residual chemicals. There are better, more environmentally-friendly options to make your own makeup wipes at home.
Eco-friendly makeup remover wipes
Enter compressed cellulose towels. These 100% biodegradable wipes remain in a compact puck format until liquid turns them into instant cloths. Once they come in contact with water, these tiny pucks expand before your eyes into handy rolled-up towelettes.
Unlike many pre-packaged face wipes, cellulose wipes can go right into the compost bin when you're finished. It feels good to know that my choice of makeup remover will biodegrade instead of sitting in a landfill.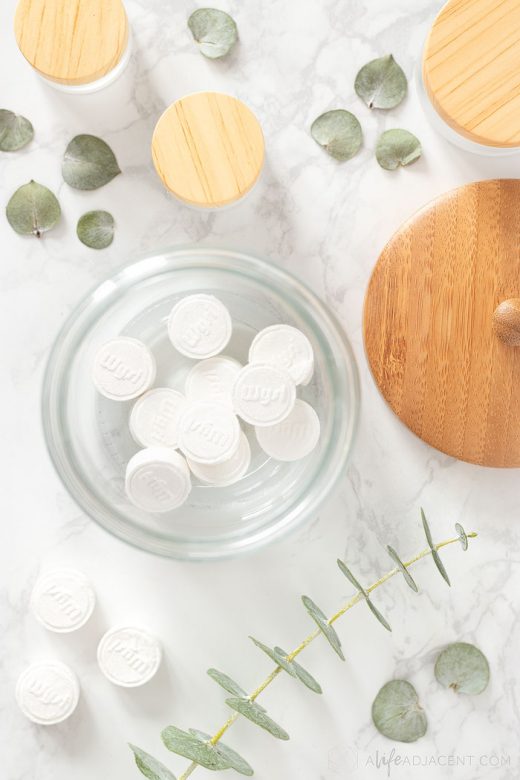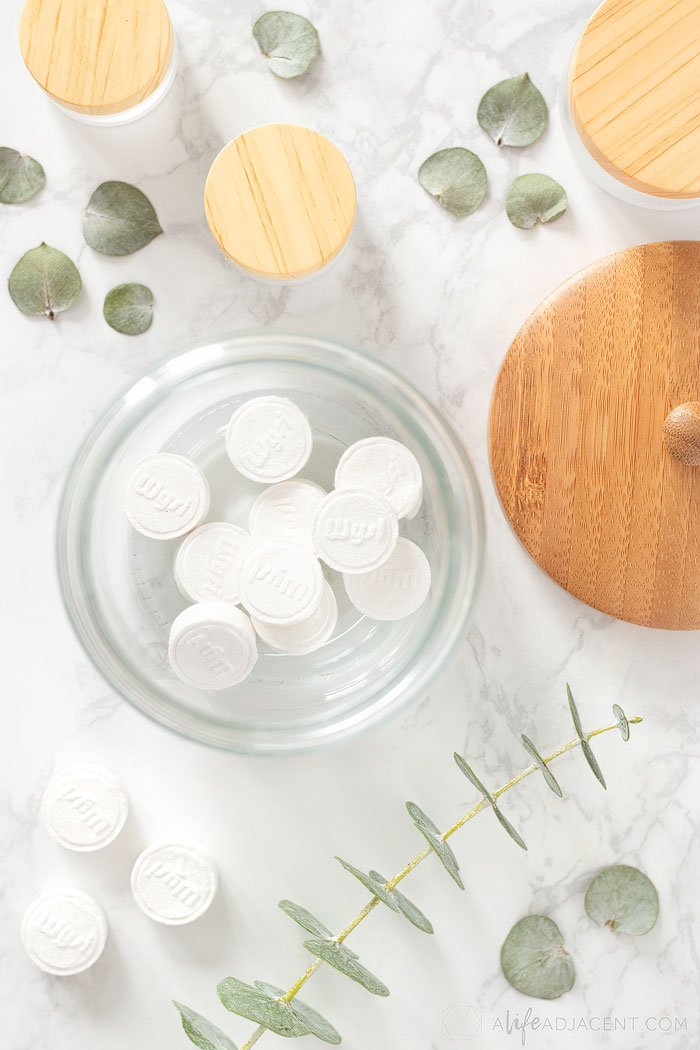 There are many different brands of cellulose wipes. I used Wysi Wipes since, being a local Canadian company, they were easily available to me. They're durable despite being so thin, with a subtle texture that helps provide gentle exfoliation. I was also pleasantly surprised at how much micellar water each wipe can hold.
However, I wish the cloths were just a little bit thicker. For me, one wipe is definitely enough to remove a face full of light everyday makeup and SPF. But heavier eye makeup might require more than one wipe.
But since I bought them in bulk, I'll need to use them up before trying other options. For instance, I also found these thicker compressed wipes made of unbleached, sustainable bamboo.
Options for making reusable makeup wipes
Compostable wipes are a step up from disposable wipes. But, for a truly zero waste makeup remover, an even better option is to make this recipe with reusable cloths. After cleansing, they can go straight into the laundry to be reused for future batches.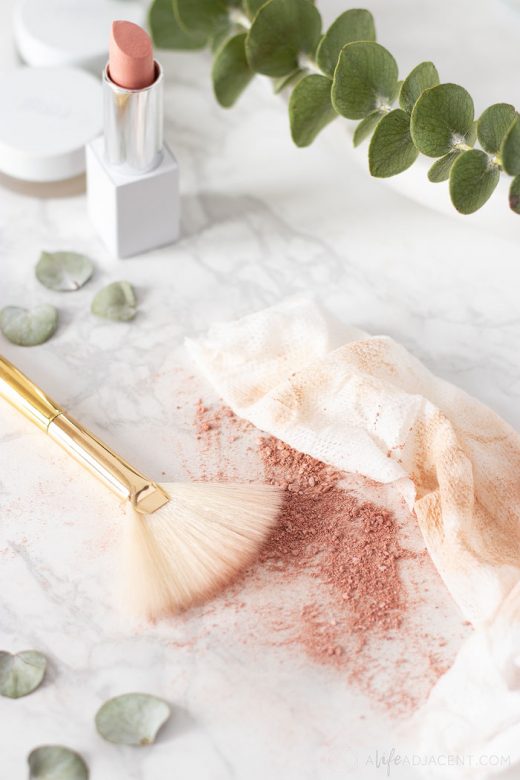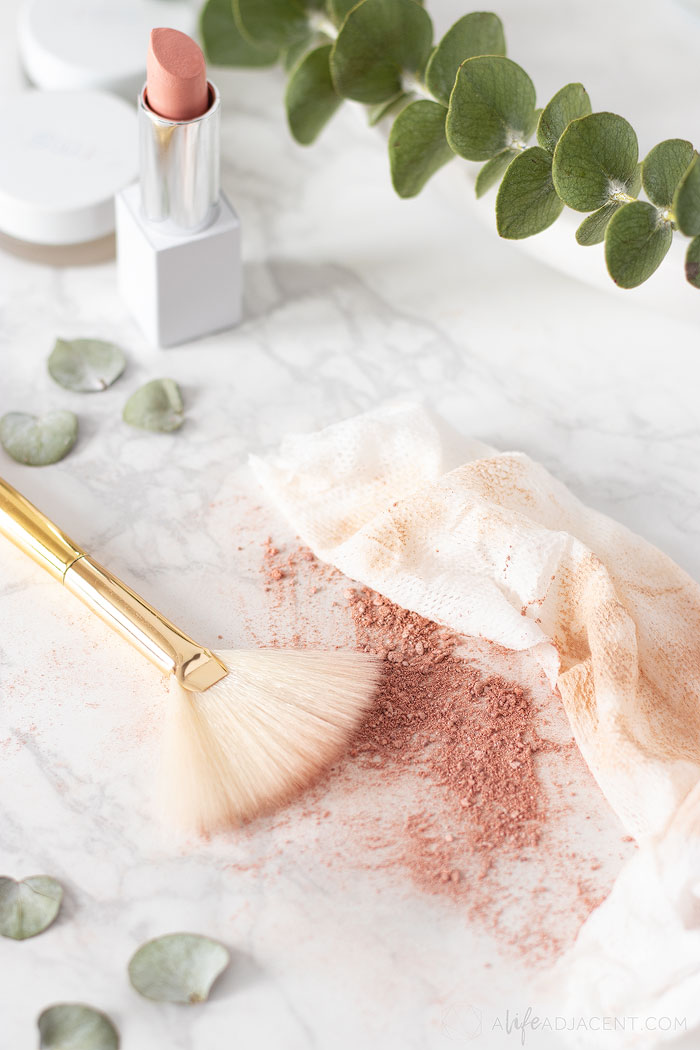 I use these organic cotton baby wipes. They're thinner and softer than typical washcloths, which makes them great for using as makeup wipes.
However, you can feel free to use any kind of washable wipe you prefer. Muslin cloths are another option. You can also opt for reusable makeup rounds, which are an environmentally-friendly alternative to cotton pads.
If you plan to make your micellar water wipes with reusable cloths, make sure to launder them in hot water with a gentle, skin-friendly detergent. You don't want any fragrances or other skin irritants lingering on the fabric.
Ingredients for DIY makeup remover wipes
Rose water
Rose water makes a naturally fragrant base for this recipe. There's some evidence that it can offer some antioxidant and anti-inflammatory properties to the skin, but mostly, it's just for a lovely scent.
My facial skin cannot tolerate essential oils, so I love the light, natural fragrance that rose water lends to products. I also find it very soothing and cooling on my skin.
That said, all fragrances have the capacity to irritate, and even rose water can cause issues for some people. If your skin is particularly sensitive, you should substitute plain distilled water instead.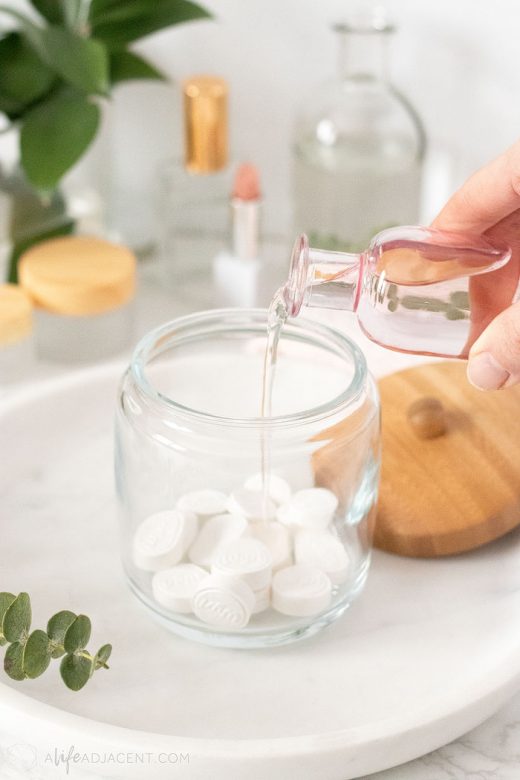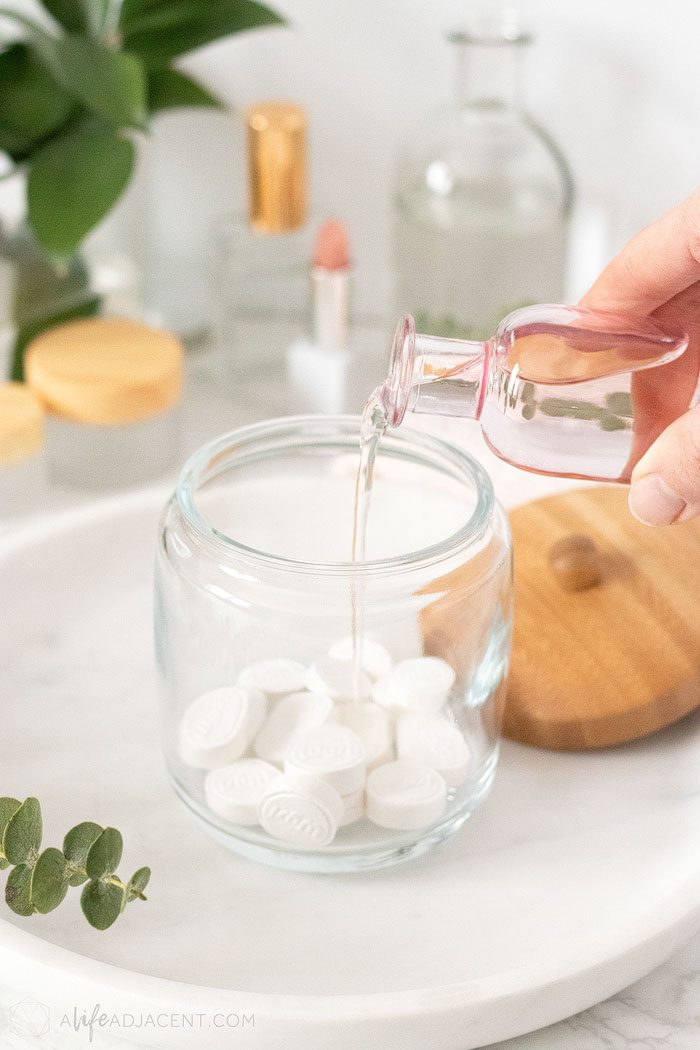 Poly Suga Mulse D9
Poly Suga Mulse D9 is a gentle, biodegradable surfactant and solubilizer. Though technically a synthetic ingredient, it's derived from natural sources, namely olive oil and coconut oil.
Synthetic ingredients have an undeserved bad reputation in the natural skincare community. I love natural skincare, but I also know that safe, effective synthetic ingredients aren't harmful.
I like that Poly Suga Mulse D9 is non-ethoxylated and PEG-free. And as someone who reacts to a long list of skincare ingredients, I appreciate how gentle it is.
Unfortunately, this recipe won't work without Poly Suga Mulse, as it's the ingredient that forms the makeup-removing micelles. Without micelles, these DIY micellar water wipes would just be water wipes, and wouldn't have the same cleansing properties.
Poly Suga Mulse D9 can be purchased at Formulator Sample Shop. I'll update this post if it becomes available for purchase elsewhere.
Vegetable glycerin
A natural humectant, vegetable glycerin helps bind and attract moisture against your skin. Like all of the ingredients in these homemade makeup wipes, it's non-toxic, biodegradable, and derived from natural sources.
Personally, I love the moisturizing feel of vegetable glycerin, but some find it too sticky. If you're not a fan of glycerin, you can also substitute propanediol, which is another humectant derived from renewable corn sugar.
Leucidal Liquid SF MAX and AMTicide Coconut
I cannot overstate the importance of a preservative for this recipe, as it provides insurance against the pathogens that will inevitably end up on your wipes. Every time you open your jar, you expose your wipes to the bacteria and fungi present in the air and on your hands.
For this recipe, I chose a combination of two synergistic natural preservatives, Leucidal Liquid SF MAX and AMTicide Coconut. Using them together helps ensure broad-spectrum protection against a variety of microorganisms.
Both products are naturally-derived and created by fermenting Lactobacillus bacteria. I find that they're effective, yet gentle enough for sensitive skin.
You can substitute whichever preservative you wish, however, be sure to choose one that is broad-spectrum. Other good options include Optiphen Plus and Geoguard ECT. But if you have extremely sensitive or reactive skin (like me) you may have issues tolerating those.
Whichever preservative you choose, please consult the manufacturer's instructions, and be sure to use it in its required concentration for efficacy.
How to store these makeup remover wipes
It's important to note that the bamboo and glass jar pictured in this article was used for photos only. Since it lacks an airtight lid, it's not a suitable container for these wipes.
To avoid contamination, you will need a clean, airtight container to store your wipes between uses. I recommend a glass jar such as a mason jar or a wire-lid jar with at least a 16oz capacity. The compressed wipes will expand more than you think!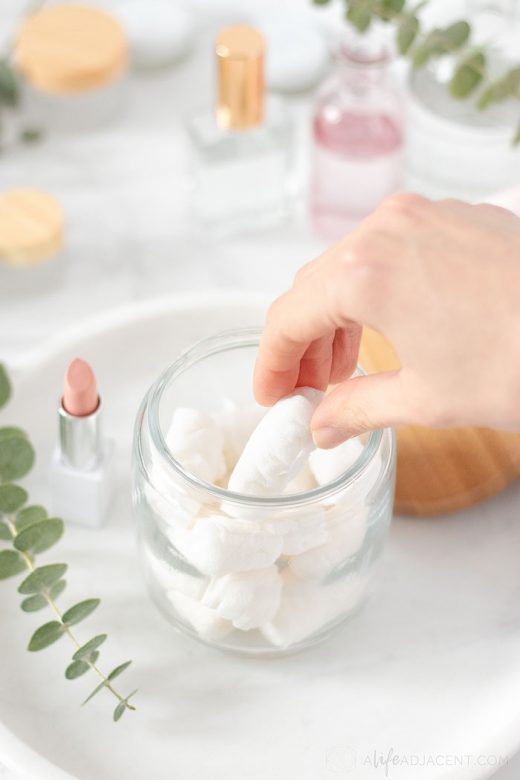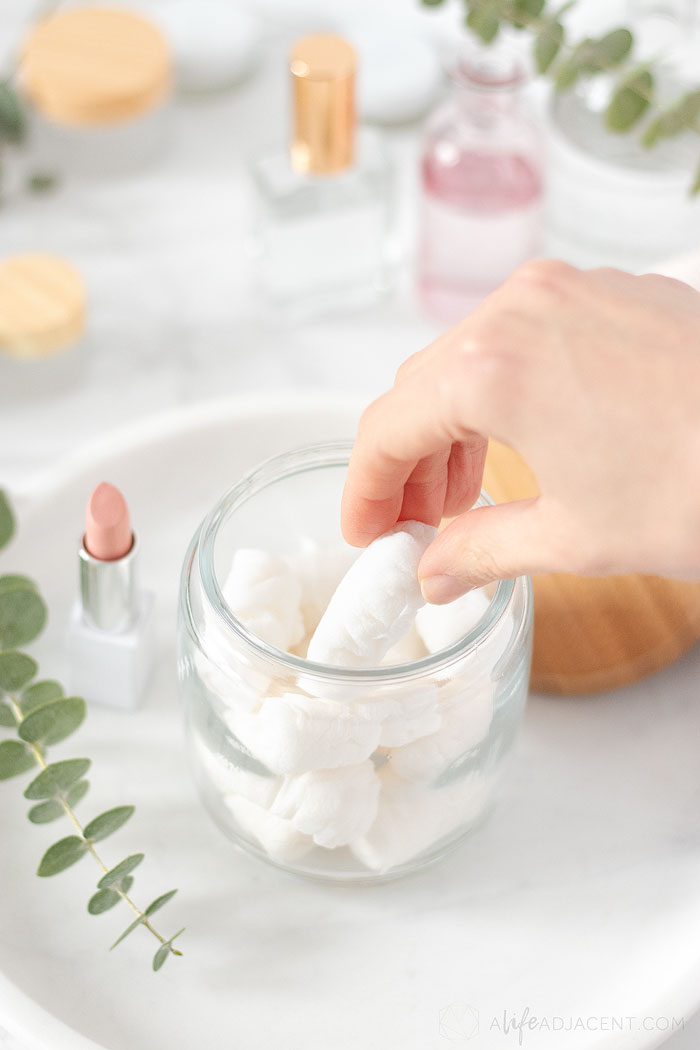 A glass jar has the advantage of being easily sterilized with boiling water, which is a necessary step before making a batch of wipes. Preservatives are not foolproof, so it's important to start with equipment free of bacteria.
For travel, I recommend keeping your makeup wipes in a small silicone food storage bag. Like glass, silicone can be sterilized in boiling water. Silicone bags are also reusable, making them much more eco-friendly than plastic baggies.
How to make makeup remover wipes
Making these wipes is extremely simple as long as you follow the instructions. For detailed steps, ingredient measurements, and more information about equipment, please consult the recipe card at the bottom of this post.
Thoroughly clean and sterilize your supplies.
Place your compressed makeup wipes into your desired storage jar.
Combine rose water, glycerin, Poly Suga Mulse D9 and your preservatives in a glass measuring cup.
Slowly pour the liquid into your jar of wipes and watch as they expand.
Replace the lid of your jar and give it a shake to disperse.
Troubleshooting and tips for making makeup remover wipes
Depending on which brand of compressed wipes you use, you may need to experiment with the ratio of liquid to wipes. Too much liquid, and the wipes will be soggy. Too little, and the wipes will be too dry to properly cleanse your skin.
The same goes for making this recipe with reusable wipes or washcloths, as they will all have different sizes and varying levels of absorbency. It's a good practice to launder your reusable cloths in hot water with a natural disinfectant like sodium percarbonate before use.
How to use your makeup wipes
To use your wipes, start with clean, dry hands. Though these wipes are preserved, you still need to take precautions to avoid contaminating your container.
Try to avoid touching any other wipes in the jar. Only touch the one you intend to use. The same rules apply if you're keeping your wipes in a silicone bag. Once you've grabbed your wipe, immediately replace the lid of your jar (or zip up your bag).
Unfold your wipe. Gently glide it over your skin, taking care not to tug around the delicate eye area.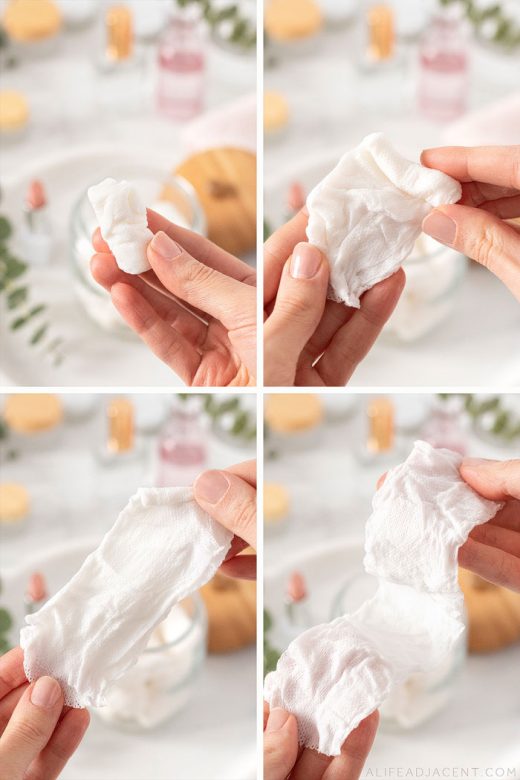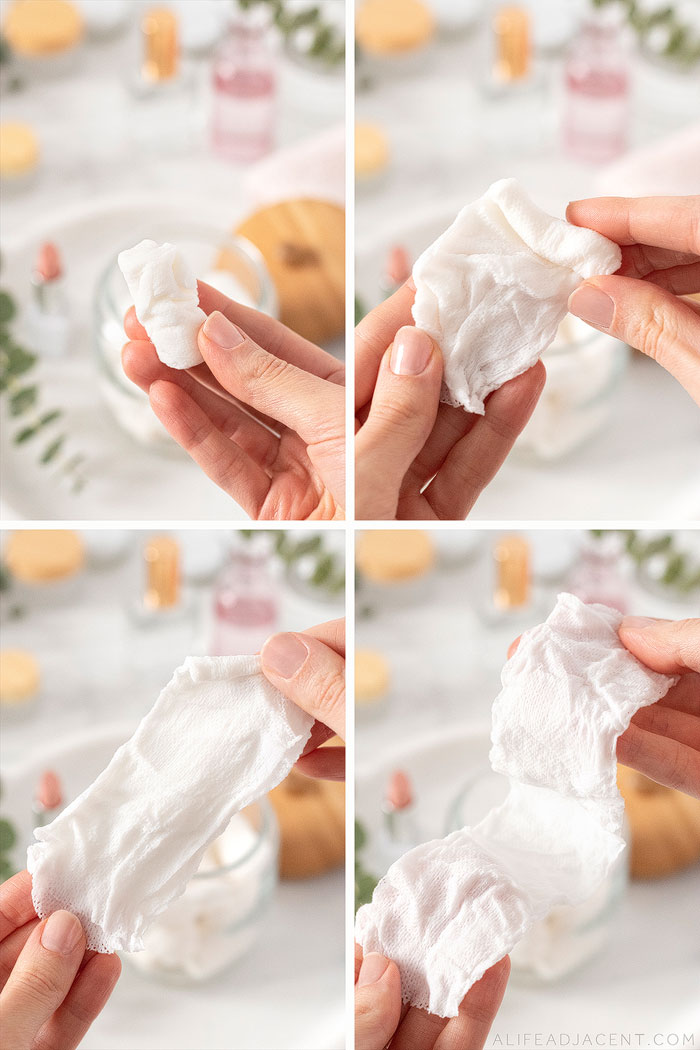 Once you're finished removing your makeup, you can rinse your face with water to remove any residue, if desired. But a second cleanser is not necessary, as these wipes cleanse while they remove makeup. Proceed with the rest of your skincare routine as usual.
Remember that these wipes aren't just for makeup. They're just as useful for a gentle morning cleanse or to refresh your skin after a workout. And if you need to touch up any makeup mistakes, they work well for this, too.
Yield: 30 wipes
Natural DIY Makeup Remover Wipes (Micellar Formula)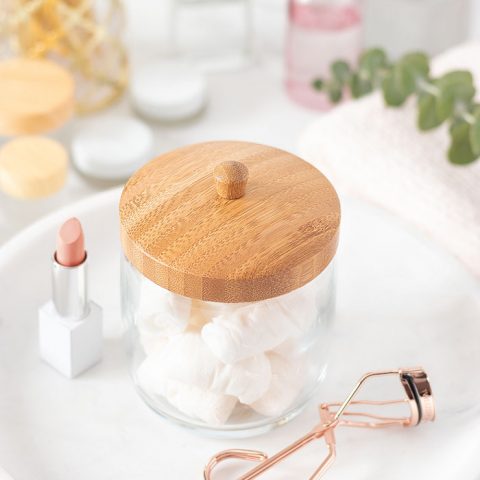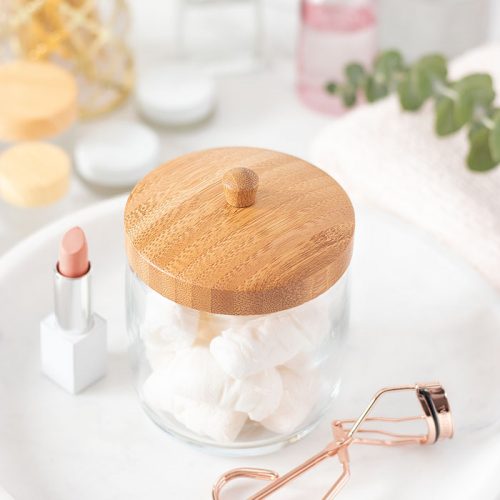 Learn how to make easy DIY makeup remover wipes with natural ingredients! Store them in a jar for easy makeup removal, or bring them on the go in a resealable bag. Make this recipe with 3 kinds of wipes: disposable, compostable or reusable.
Tools
Glass measuring cup with spout
Small metal whisk or spoon for mixing
Glass jar for storage (or a reusable silicone food bag for travel)
Approximately 30 compressed cellulose wipes (or your choice of reusable wipes)
Instructions
Thoroughly sterilize your equipment and desired storage container beforehand. Please consult the notes below for more information on how to do this.
Count out your compressed wipes. Place half of them in your storage jar and set the rest aside.
In your glass measuring cup, combine the rose water and vegetable glycerin. Stir or whisk to combine.
Next, add the Poly Suga Mulse D9 and whisk gently.
Add the Leucidal Liquid SF and the AMTicide Coconut before stirring gently once again.
Slowly begin to pour your micellar water solution into your jar of wipes, doing your best to wet each puck evenly. (At this point, the compressed pucks will begin to expand into small rolls.)
Once you have poured half of the liquid into the jar, it's a good idea to replace the lid and shake it before adding the rest of the wipes. This will help ensure each wipe is soaked evenly.
Place the remaining 15 wipes into the jar. Then, pour the rest of the micellar water over them. Screw on the lid, and shake the jar gently to disperse.
At this point, you can also place some of the wipes in a reusable silicone food bag for travel. However, please don't use your hands. A pair of sterilized tongs is preferable. As well, please make sure your silicone bag is sterilized and dry.


Notes
It's extremely important to use sterilized equipment for this DIY. Before beginning, be sure to wash your equipment with soap and water. You can then use boiling water or isopropyl alcohol (rubbing alcohol) to completely sterilize your supplies.

However, it's your responsibility to ensure your equipment is made of HEAT-SAFE glass or stainless steel before attempting to place it into boiling water.

If you are not sure, or would just prefer an easier method, please opt to use isopropyl alcohol instead.

Be aware that rubbing alcohol is TOXIC. I don't recommend using it as an ingredient in any DIY beauty products. However, as long as you do not touch it or breathe in the fumes, it works well for sanitizing supplies.

To sterilize with boiling water:

Submerge your supplies in boiling water for at least 10 minutes. Remove with heat-safe tongs. Wipe them with a clean, dry towel, and then allow them to dry completely before use.

To sterilize with isopropyl alcohol:

Spray your supplies liberally with isopropyl alcohol in a well-ventilated area. Wear gloves to protect your skin and do not breathe in the fumes. Allow to dry completely before use.
Recommended Products
As an Amazon Associate and member of other affiliate programs, we earn from qualifying purchases.
Other ways to make makeup wipes
If you don't have the time, or simply aren't inclined to make your own skincare products, you can also make this DIY with store bought micellar water and a package of cellulose wipes.
I highly recommend my favourite micellar waters by inVitamin and CROP, which are perfect for sensitive skin. However, this DIY works with any kind of liquid makeup remover.
Also, if you're looking for a pre-packaged makeup wipe for sensitive skin, you might have a hard time finding one without essential oils or added fragrances. I recommend the following, which contain minimal irritants:
For even more natural ways to remove your makeup, follow us on Pinterest! You can also find us on Instagram, Facebook, and Twitter.
Pin it for later