Learn how to make rose petal vinegar with this easy recipe & tutorial. Rose vinegar is beautifully fragrant and will add a pop of colour to all of your DIY beauty creations. Read on to find out how to use rose vinegar for skin, hair, and body care.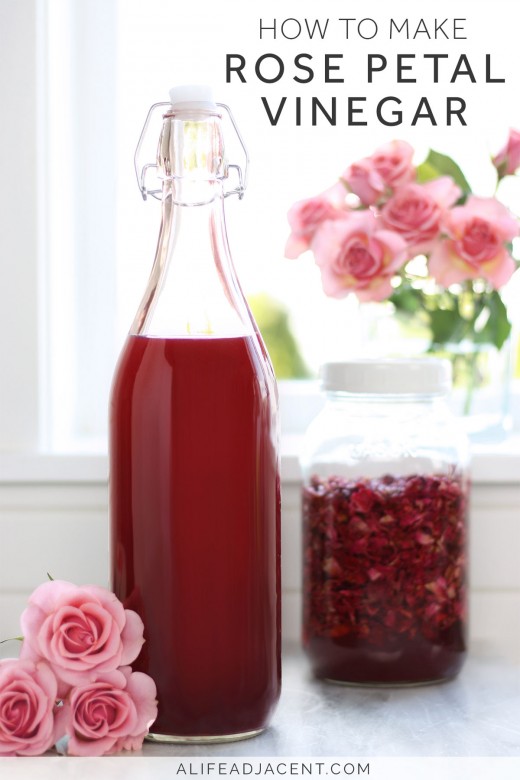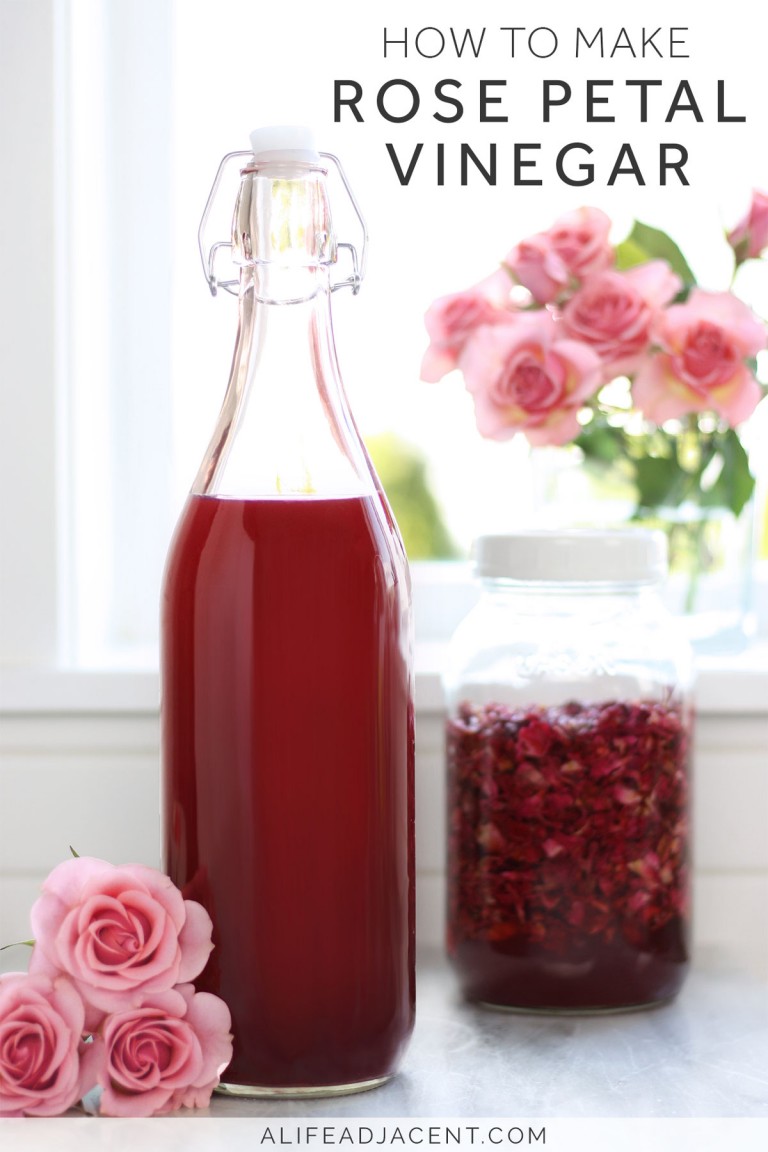 When we mistakenly ordered 2 pounds of dried rose petals, I was eager to discover all the different ways I could incorporate them into my DIY skincare and beauty routine.
Roses have been a skincare standby for centuries, and for good reason. No matter your age or skin type, you can benefit from the inclusion of rose-infused products in your skincare regimen.
You can infuse anything with rose petals. Not only do they smell intoxicating, but they also possess a plethora of therapeutic properties. This makes them a wonderful addition to your DIY skincare arsenal.
Rose petal vinegar for skincare
If you're looking to incorporate roses into your skincare routine, there are many other options besides rosewater or expensive rose essential oil.
One of the easiest ways to reap the benefits is by using rose petal infused vinegar. In this recipe, apple cider vinegar (which has a host of its own healing properties) is the vehicle for all of the roses' benefits.
Rose petal vinegar has quickly become one of my favourite ways to give my sensitive skin and scalp a little extra TLC. It's extremely easy to make, and yields a potent, fragrant vinegar with a variety of different uses for skin, hair, and body care.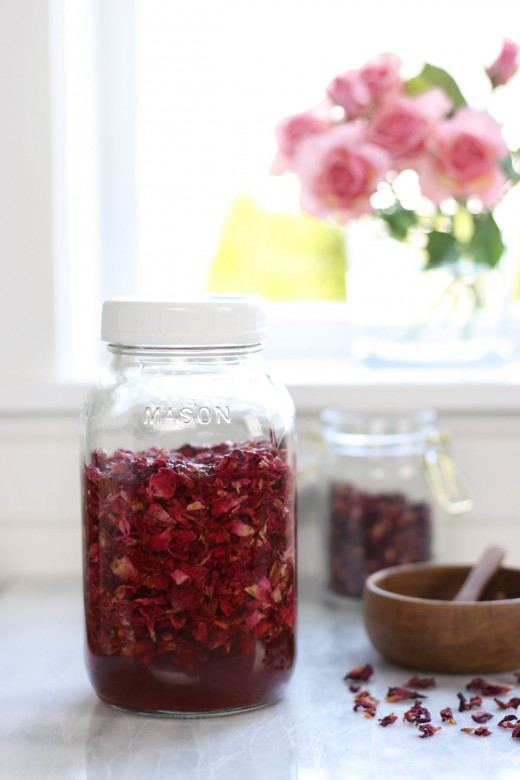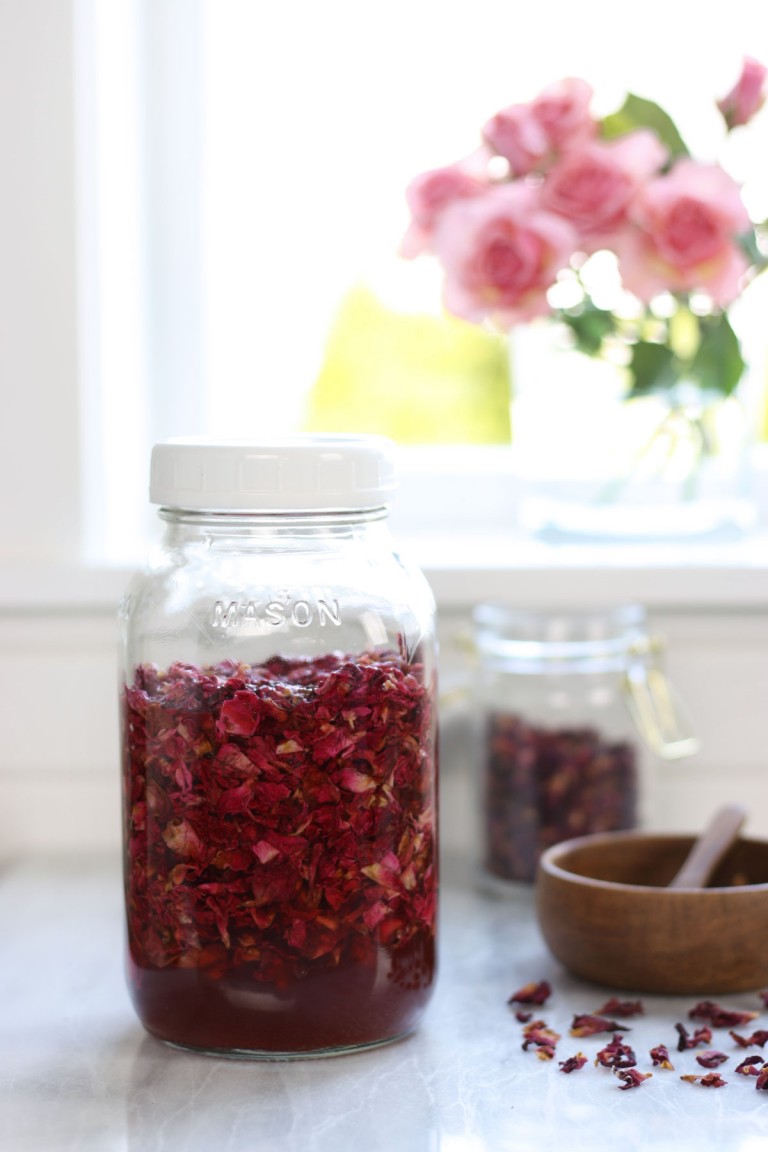 Plain apple cider vinegar is very therapeutic, but it's not particularly exciting to use. But there's something about rose petal infused vinegar that makes your homemade skincare products feel that much more luxurious.And if you like pink, you'll be pleased to hear that any products you make with the vinegar will be turned a beautiful shade of pink.
Also, knowing that your creations were infused with flowers makes them feel that much more special. (At least to me.)
Not only do the roses make a deeply coloured vinegar, but they also add a floral fragrance to a substance that – to some – is downright offensive. The rose petals help tranform the natural scent of the apple cider vinegar into something much more pleasant.
The smell of ACV is definitely not for everyone. But as long as you're not bathing in it, you won't have to worry that you'll walk around smelling like salad dressing.
Benefits of rose petal vinegar for skin
Astringent
Roses are said to have a toning effect on the skin and blood vessels, making them especially useful for relieving puffiness, broken capillaries, and redness. Rose-infused products can also help to control excess oil production.
Anti-inflammatory
The anti-inflammatory properties of roses are well documented1 2. Since most, if not all skin conditions have an inflammatory component, this makes roses extremely versatile. Rose-infused products can help provide relief for chronic afflictions such as acne and rosacea, as well as eczema and dermatitis.
Analgesic
In Ayurveda, roses are renowned for their cooling and soothing properties. Not only can roses benefit chronic inflammation, but they can also be helpful for acute conditions such as itching, irritation, sunburn, bug bites, hives and allergic reactions. There is evidence that rosa damascena modulates the histamine response, which could help explain roses' efficacy against irritation3.
Antimicrobial
Roses' antibacterial activity can help control the growth of pathogenic bacteria on the skin. This is helpful for acne and other skin conditions which have a bacterial component. The aqueous extracts of rose petals have been shown to have antiviral properties, while the constituents of rose essential oils and rose absolutes have demonstrated efficacy against fungi4.
Antioxidant
Many extractives of rose petals have been confirmed to have antioxidant activity5 6. These antioxidants scavenge free radicals on the skin, helping to protect it from oxidation and skin aging.
Tips for making rose petal vinegar
You should infuse your vinegar for at least 2 weeks, but preferably longer to develop a strong fragrance and colour. The photographed batch had been infused for 6 weeks and was particularly fragrant and vibrant in colour. The infusion process will happen more quickly during warmer weather.
I strongly recommend using only organic rose petals. Please do not use conventional rose petals! Not only are the pesticides and other chemicals used to grow them harmful to the environment, but they're harmful to your skin, too. Using non-organic rose petals is a recipe for irritation and other issues.
You can use any brand of apple cider vinegar you'd like, but I prefer raw and unfiltered vinegar that has retained all of its beneficial probiotics. The slimy layer at the bottom (called the "mother") might be unpleasant, but the mother is where a lot of the goodness is. Don't worry, it'll be strained out at the end so you don't end up with bits of goo on your face.
Please don't use regular canning lids, as vinegar will corrode the metal. Using a plastic lid will protect your product in case any vinegar splashes onto the lid. Alternatively, you can use cheesecloth or food wrap underneath a regular canning lid. Consider a sustainable option like this reusable, biodegradable food wrap instead of plastic!
Full disclosure — in order to showcase the natural colour of the vinegar, I chose a clear pink bottle. However, clear bottles are ill-suited to the long term storage of the finished product. Ideally, your rose petal vinegar should be kept in a dark glass bottle to preserve its healing properties. Light (especially UV light) will quickly break down some of the beneficial constituents.
Rose Petal Vinegar for Skin, Hair, and Scalp Health
Learn how to make your own fragrant rose petal infused vinegar. This natural remedy has a variety of therapeutic uses for skin, hair, and scalp health, and adds a gorgeous colour to your homemade DIY creations. Use it to make toner, face mist, hair products, soothing spray, tonics & more.
Instructions
To begin, thoroughly clean and sterilize all your tools with your preferred method. Even though the low pH of vinegar discourages pathogenic bacterial growth, this is still a good precaution.


Once your tools are dry and clean, fill your jar with rose petals. There is no correct amount to use. The more rose petals you use, the stronger your infusion will be.

Once you have filled your jar to your heart's content, pour in enough vinegar to cover the petals.

Pack your petals down with your wooden spoon until the vinegar covers them. Crushing the petals will help hasten the infusion process.

If after this step there is more room in your jar, add more rose petals and repeat.

After you've filled your jar to the top, close it with your lid (and barrier, if you're using a metal lid).

Place your jar in a dark area and let your vinegar infuse as long as desired, preferably for at least 2 weeks (see my notes on this above). Shake gently every couple of days to disperse the liquid and ensure a potent infusion.

Store your vinegar (and any products you create with it) in a cool, dark place.
Notes
This recipe will yield one small bottle of rose petal vinegar. You will need to fill two large Mason jars to fill a large bottle like this one.
This easy process will yield a beautiful, brightly coloured, fragrant rose vinegar, with a plethora of benefits for your skin, hair, and scalp.
In the future, I plan to share a variety of DIY beauty recipes that incorporate rose petal vinegar. In the meantime, here are some ideas on how to utilize your rose petal vinegar.
How to use rose petal vinegar
Rose Petal Vinegar Toner
Combine a splash of rose petal vinegar with rosewater, vegetable glycerin and a non-toxic preservative in its proper concentration (like Leucidal Liquid SF) to make a fragrant rose petal vinegar toner. This toner will moisturize, control oil, reduce redness, and help bring your skin's pH back to its normal acidity. As well, the probiotics in the apple cider vinegar help support your skin's microflora, which is damaged by preservatives and constant washing.
Rose Petal Vinegar Hair Rinse
Combine a few teaspoons of rose petal vinegar with rosewater to make a hair rinse. Our hair and scalp prefer to be a little bit acidic, but the water from our showers disrupts their pH, leaving our hair and scalp too alkaline. This can contribute to dandruff, itching, psoriasis, and conditions such as seborrheic dermatitis. A vinegar rinse as the final step in your hair washing routine will help bring the pH of the hair and scalp back into balance. It will also help the scales of the hair lie flat, reducing frizz, friction, and breakage.

To use: after you've washed out your conditioner, use the rinse as the last step before you get out of the shower. Squeeze out any excess water from your hair first, then pour the vinegar rinse over your scalp. Let it sit in your hair for about a minute before towel drying and styling as usual. To learn more about the benefits of a vinegar rinse, see this article.
Rose Petal Vinegar Scalp Tonic
Combine rosewater or mint water with a splash of rose petal vinegar and your choice of essential oils. Rosemary and peppermint, for example, are great for overall scalp health and for stimulating hair growth. Spritz your scalp between washes to reduce itching, control oil, and to regulate your scalp's pH. Shake well before use. A splash of high proof vodka in the mixture will help emulsify the essential oils and discourage bacterial growth. Unless you intend to keep this spray in the fridge, don't forget the safe preservative.
Rose Petal Vinegar Soothing Spray
This soothing spray can be used for sunburns, bug bites, and other sources of inflammation and irritation. Combine a splash of rose petal vinegar with rosewater and a couple drops of peppermint essential oil. Alternatively, you can use mint water instead of rosewater. Shake well before use. For an especially soothing sensation, I recommend storing this spray in the refrigerator. As always, please preserve your mixture if you intend to keep it at room temperature.
More DIY beauty recipes with roses
If you enjoyed this DIY rose vinegar recipe, you may also enjoy our other rose recipes:
For even more natural DIY beauty and home ideas, follow us on Pinterest! You can also find us on Instagram, Facebook, and Twitter.
Pin it for later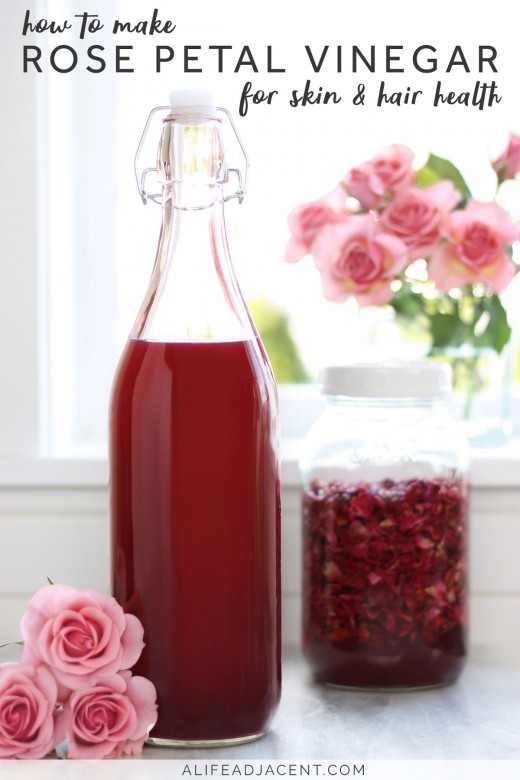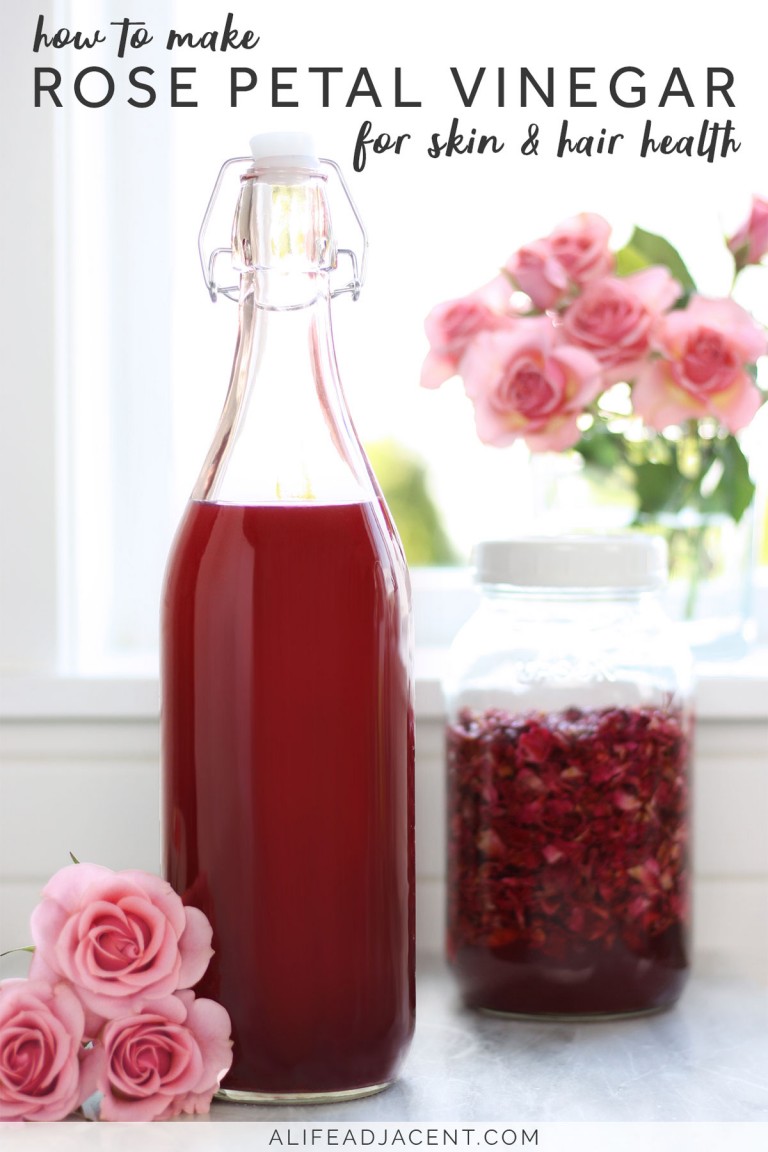 References
1 https://www.ncbi.nlm.nih.gov/pubmed/21771653
2 https://www.ncbi.nlm.nih.gov/pmc/articles/PMC3586833/
3 https://www.ncbi.nlm.nih.gov/pmc/articles/PMC4737971/
4 https://www.ncbi.nlm.nih.gov/pmc/articles/PMC4737971/
5 https://www.ncbi.nlm.nih.gov/pmc/articles/PMC3586833/
6 https://journal-inflammation.biomedcentral.com/articles/10.1186/1476-9255-8-27