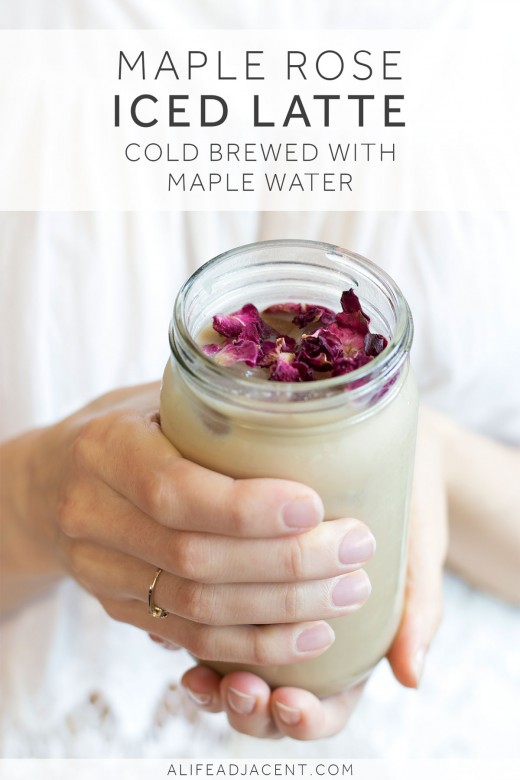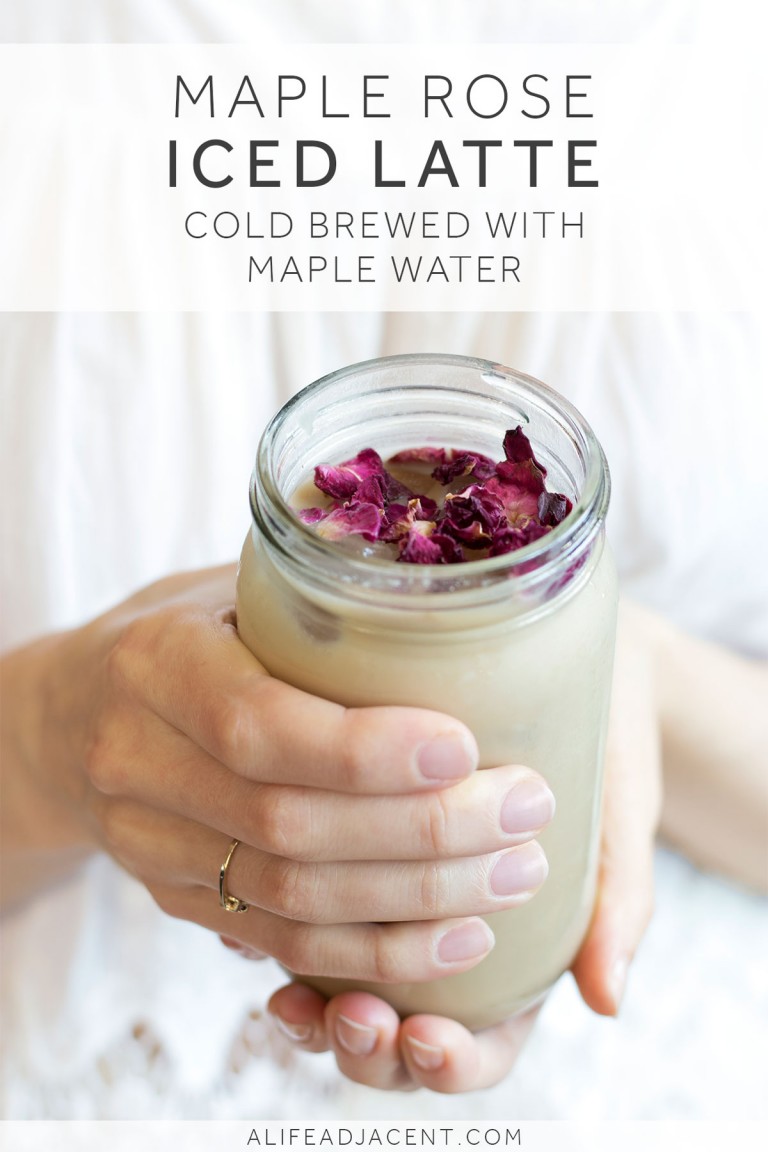 Iced coffee and roses are synonymous with summer. This delicious latte is cold-brewed with refreshing maple water and garnished with edible organic rose petals. Pretty fancy for a latte.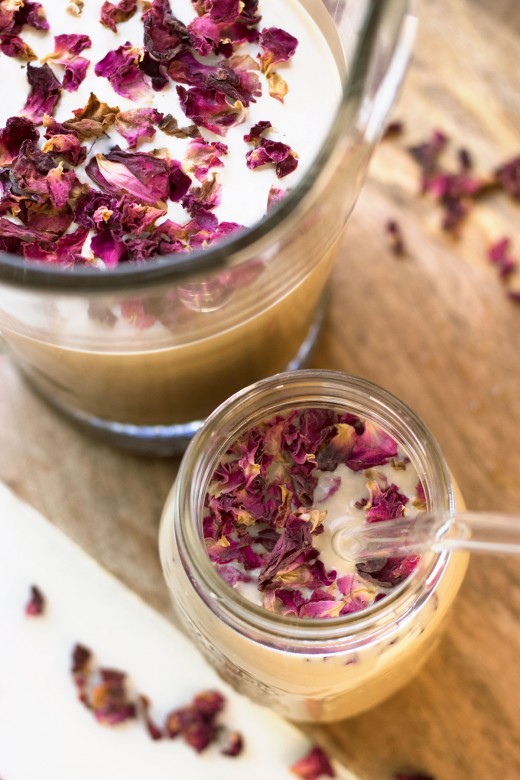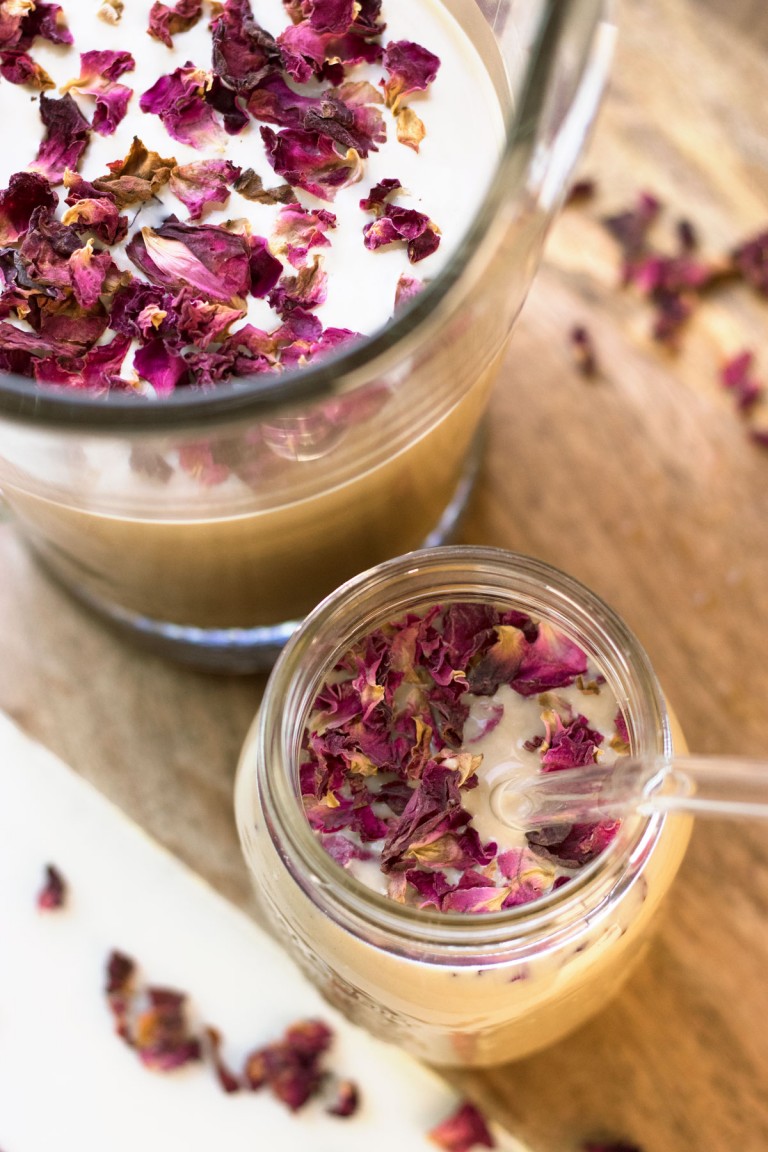 What is Maple Water?
Maple water is made from the unprocessed sap of the maple tree. Maple trees pull groundwater from the soil up through their roots and into their trunk and branches. During the Spring, the trees are then tapped for this water which has been infused with the goodness of the tree.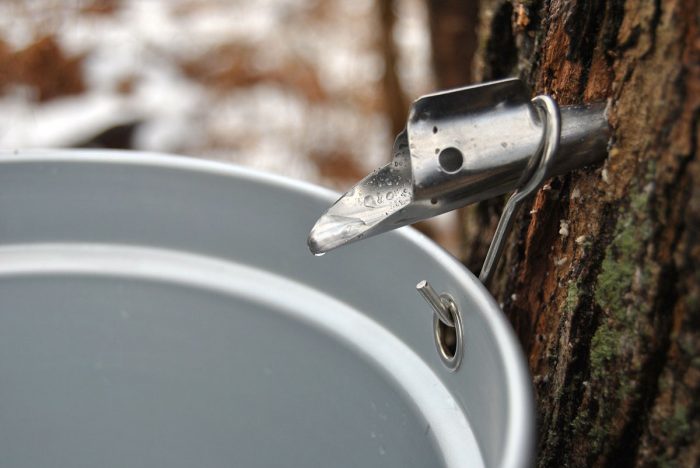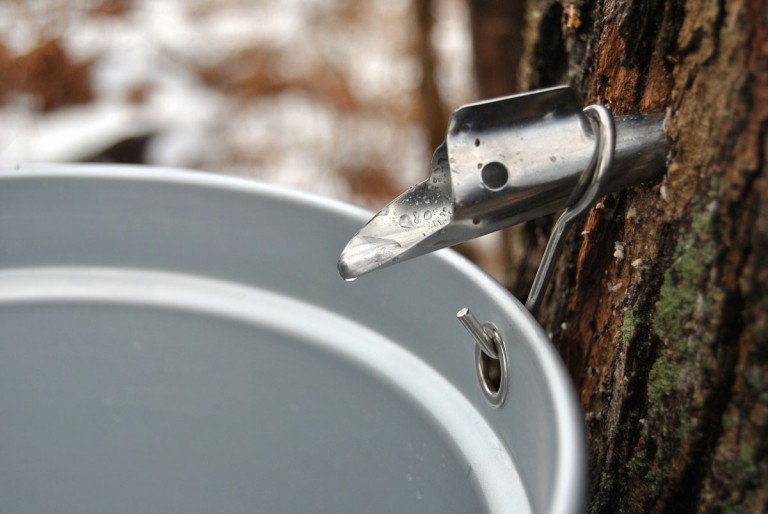 Benefits of Maple Water
Maple water contains polyphenols which have been shown to fight inflammation and aid in preventing atherosclerosis1,2. As well, the water (or sap) is rich in minerals such as calcium, potassium, manganese, and magnesium.
Maple water is also the same ingredient that is used to make maple syrup, but maple water is not as sweet as it sounds. It has a light crisp taste with only a subtle hint of delicate sweetness. It also boasts only half the calories and sugar of coconut water.
In fact, depending on the brand, an 8 ounce serving of maple water has approximately 20 calories and only 3 grams of sugar. Comparatively, 8 ounces of coconut water has 45 calories and 11 grams of sugar. However, both coconut water and maple water contain potassium and other electrolytes which makes them equally refreshing for when temperatures rise.
Maple water is also quite versatile and adds a subtle flavour to various beverages. You can drink it as is or use it in smoothies, iced teas and cocktails.
If purchased in the area in which it's produced, maple water will have a more minimal environmental footprint than other natural waters.
Benefits of Roses
Rose petals are believed to have many benefits both internally and topically. Rose water (made from rose petals) is an excellent natural astringent and can soothe sensitive and irritated skin. Both rose petals and rose water contain antioxidants that help combat oxidative stress.
In Ayurveda, rose petals are thought to have cooling properties. When consumed, they can combat excess heat, aid digestion and help soothe an upset stomach.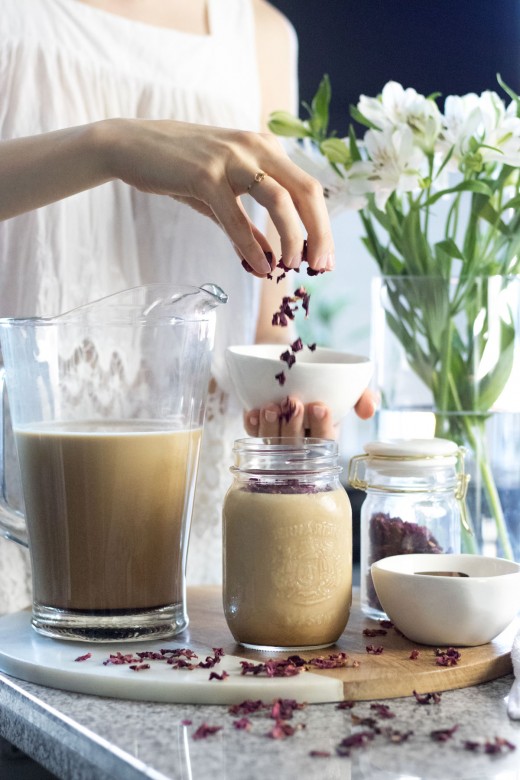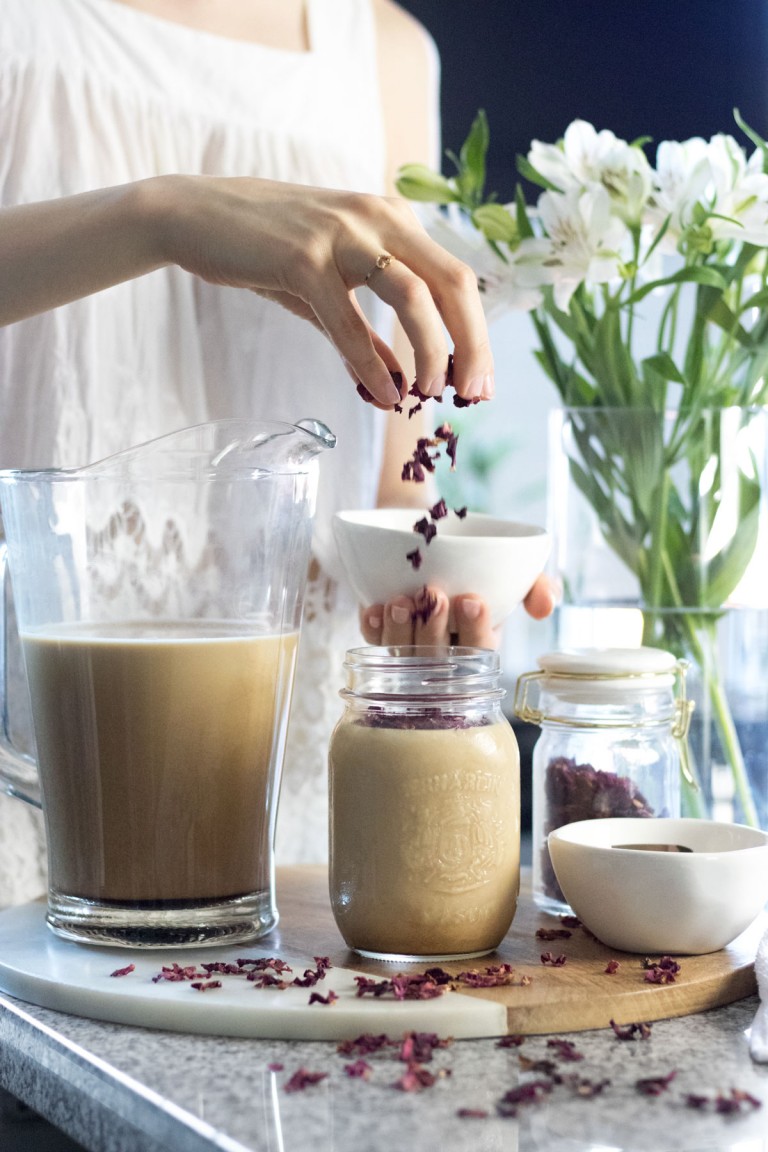 Of course, roses also smell incredibly aromatic.
Studies have shown that smelling roses has both mood-enhancing and stress-relieving properties. This certainly gives new meaning to the phrase "stop and smell the roses." Although, be sure the petals you purchase for this recipe are culinary grade, organic, and pesticide free.
The sprinkling of rose petal garnish on the lattes add a fragrant touch which is sure to impress guests.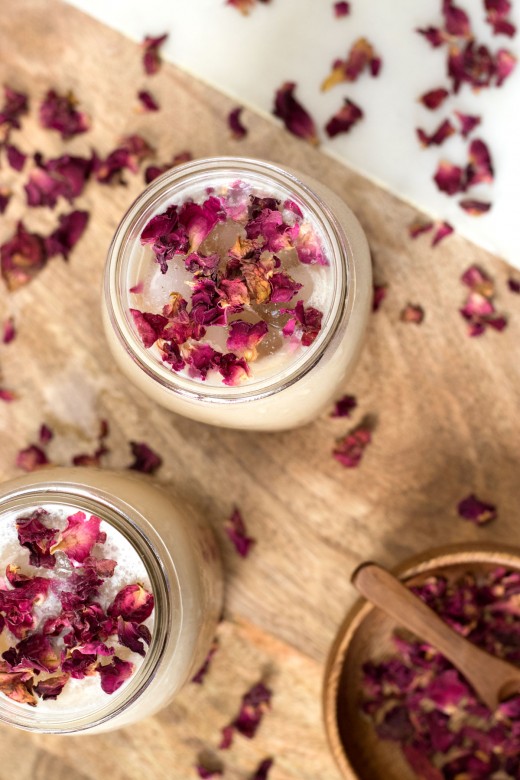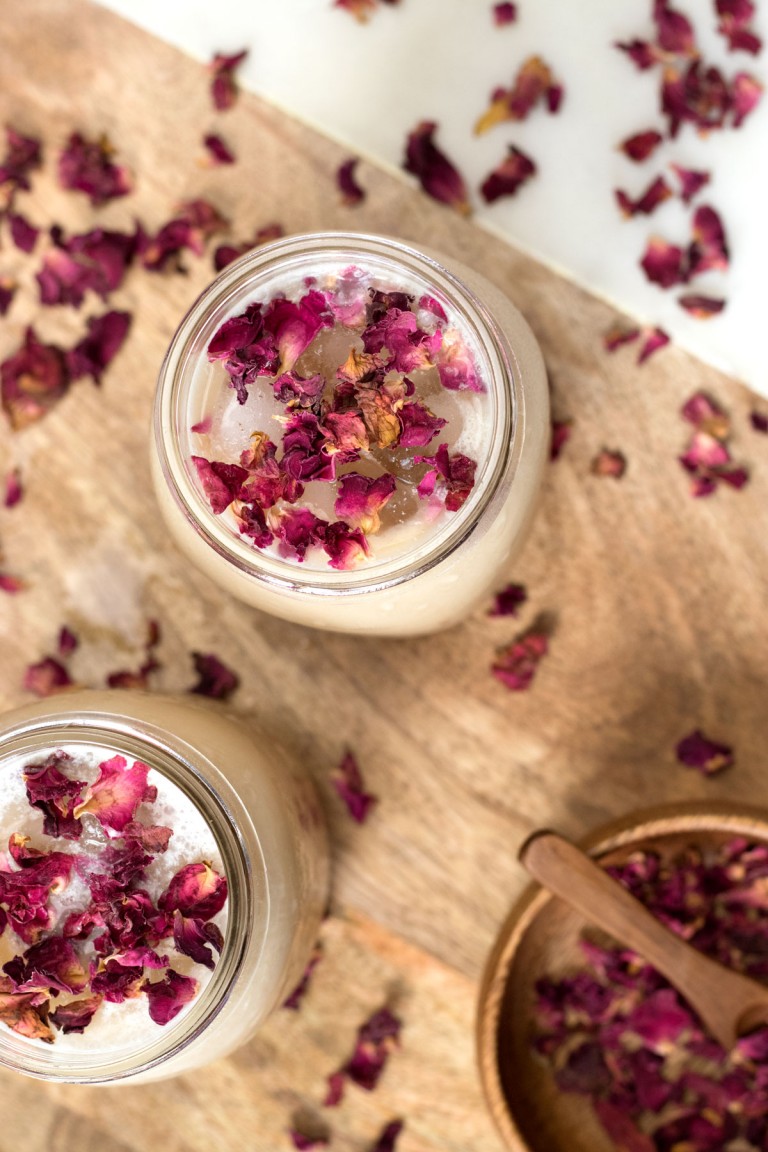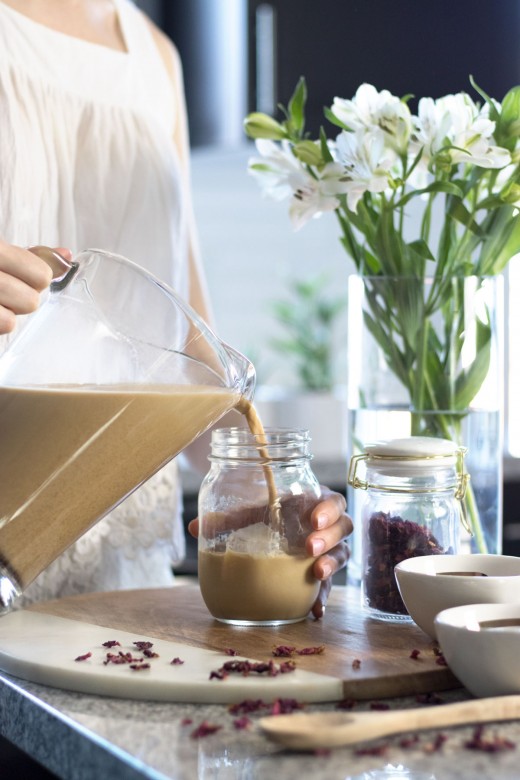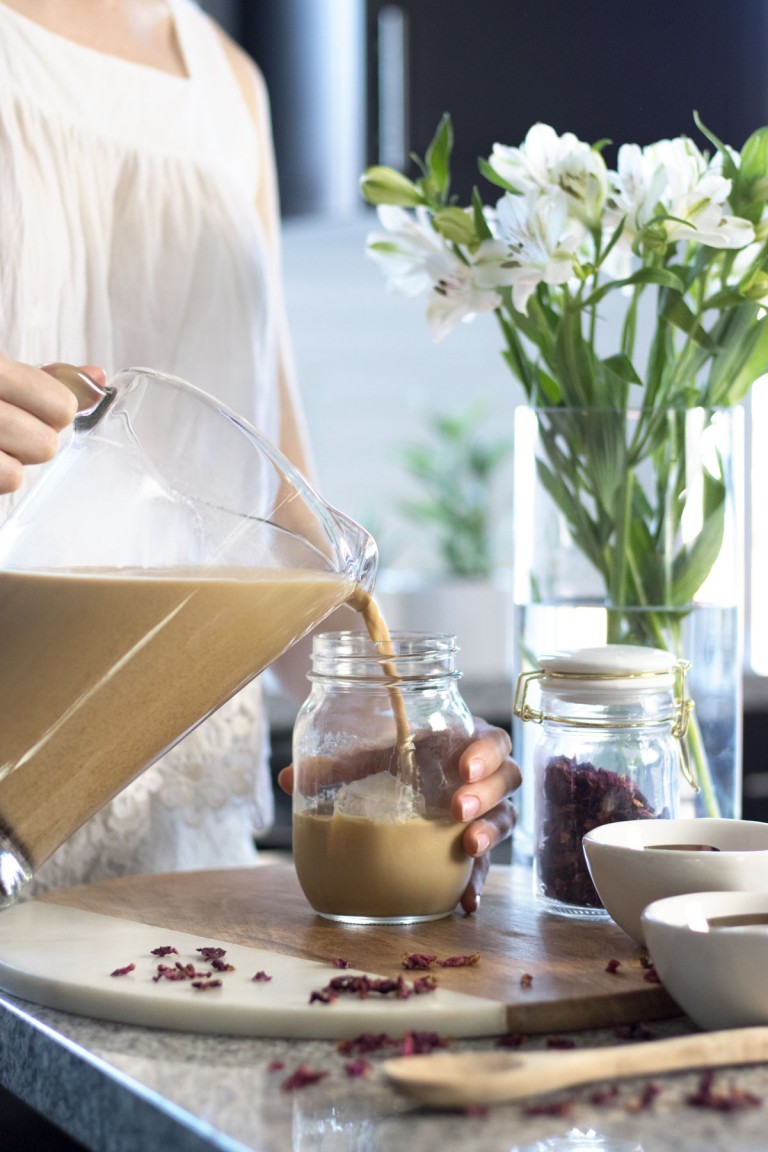 Maple Rose Iced Latte
This delicious latte is cold-brewed with refreshing maple water for natural sweetness. Edible organic rose petals add a beautiful touch that is sure to impress guests. Pretty fancy for a latte!
Servings: 8 coffees
Instructions
Grind your coffee on the coarse setting, or use pre-made coarsely ground coffee, like this one.

Place coffee in French press or glass container or your choice.

If using a French press, push down the plunger to strain the grounds. If not using a French press or brewer, use cheesecloth or a coffee filter to strain your grounds. If using cheesecloth, strain 2-3 times to remove any murky residue.

Transfer cold-brewed coffee to large glass pitcher. Add ice directly to pitcher or in glasses (or both).

Add the condensed milk to taste and stir gently. 1-2 of condensed milk to every 8 ounce cup of coffee should suffice. Add slowly and taste test along the way.

Garnish each glass with a sprinkling of

rose petals

and serve.
Notes
If you're limiting your sugar intake, you can also substitute organic non-homogenized whipping cream for the condensed milk as the maple water will add a light sweetness. And if you're vegan, you can substitute condensed coconut milk.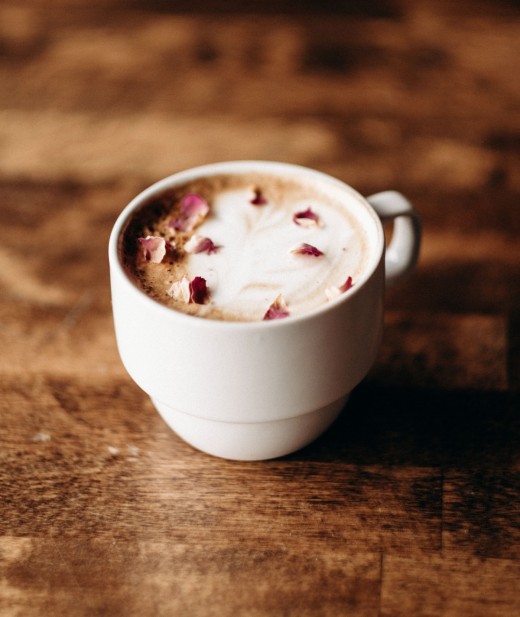 During the cold weather, this recipe can also be prepared hot. Just pour boiled maple water over medium-fine coffee grounds. Mix in condensed milk or frothed cream, add vanilla extract and garnish with rose petals.
Have you ever tried using edible flowers in your iced coffee or other desserts? Let us know in the comments below.
And if you're looking for more ways to use rose petals, try our rose petal vinegar or DIY rose petal vanilla bath bombs!
Pin it for later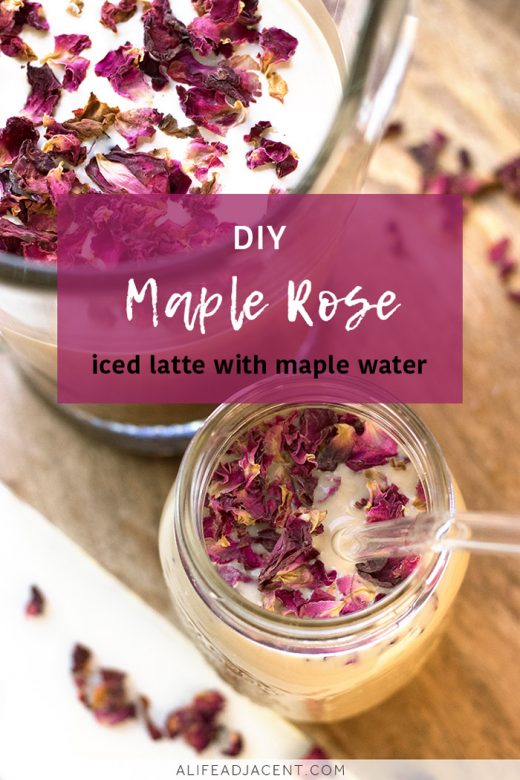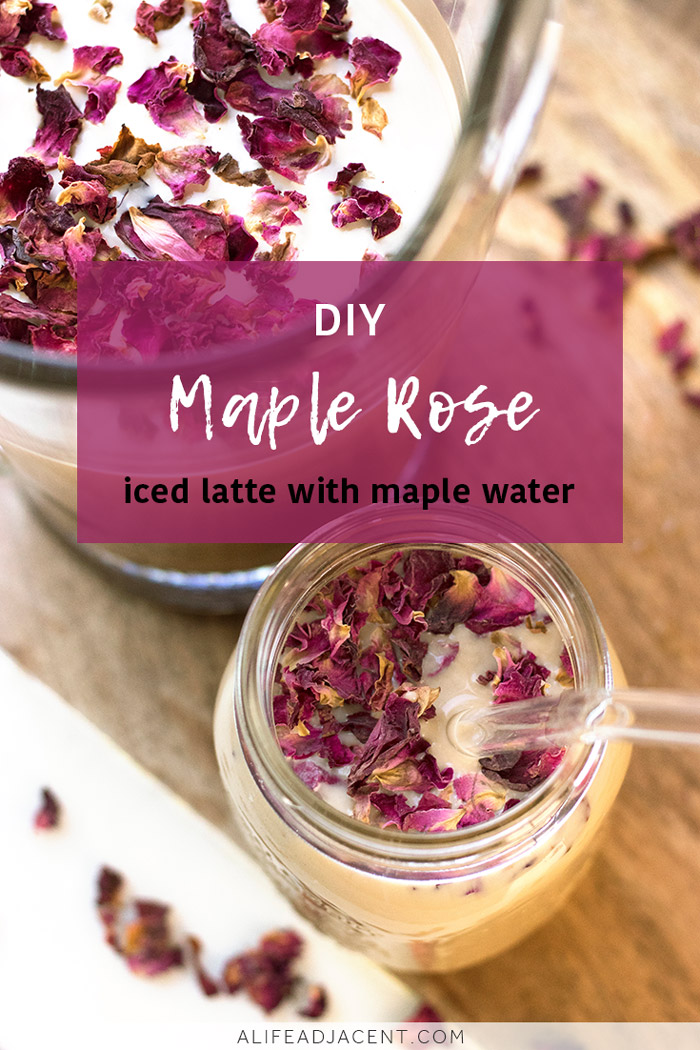 References
1 https://pdfs.semanticscholar.org/be8a/d788f9812320a0d8852c2ffa2095a53fb9ea.pdf
2 https://www.sciencedirect.com/science/article/pii/S1756464613001485