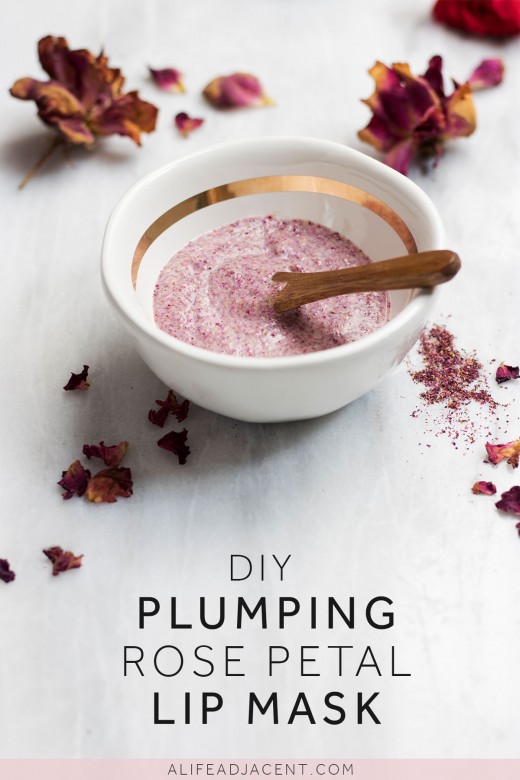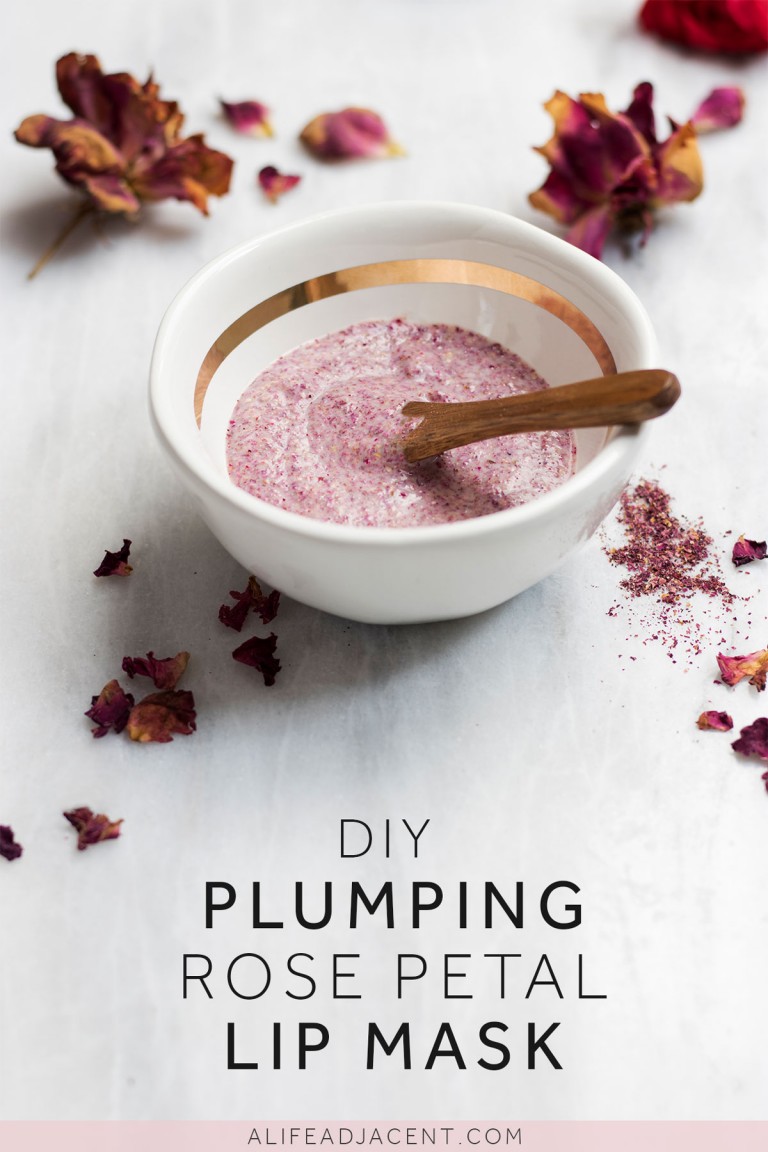 If lip balm no longer seems to be working for your dry, parched lips, then this plumping DIY lip mask can help.
There's a number of factors that can contribute to dry and discoloured lips, including sun damage, cold or dry weather, hormonal imbalances, dehydration, stress, and even habitually licking your lips.
This 2-step DIY lip mask will exfoliate, soften, plump and smooth dry or dehydrated lips. And if you leave it on your lips long enough, this mask can also give a lovely pink tone to previously discoloured lips.
Why you need a lip mask
Have you ever experienced the kind of dryness that can't be solved by continually reapplying lip balm? If so, your lips likely don't need more lip balm – they need moisture.
Lip balms typically don't have adequate hydrating properties. They are occlusive, which means they merely seal in the moisture already present in your lips.
By applying lip balm to already dehydrated lips, you ensure that no moisture can get out, but also that no moisture can get in, either. This only exacerbates the problem.
Instead of more lip balm, you need something that will truly rehydrate your lips by delivering what they need – water. This DIY lip mask will do just that, by attracting and binding water against your lips. More moisture means plumper, softer lips.
The ingredients in this DIY lip mask, including rose petals, honey and yogurt, have benefits that extend far beyond just hydration.
Benefits of roses in beauty products
Roses and their use in beauty and skincare have been well-documented for centuries. Rose petals have been called upon to treat everything from dry, irritated or mature skin, to acne-prone and sensitive skin.
Legend has it that Cleopatra herself was rumoured to have indulged in baths of milk and rose petals in an effort to keep her skin supple.
In their book, How To Transform Yourself From The Inside Out, authors Deepak Chopra, MD, and Kimberly Snyder, CN, write:
The sugars and natural oils found in rose petals trap moisture in your skin, making your skin look smoother and softer— just like the beautiful rose petals themselves.
Roses are also abundant in carotenoids and anthocyanins, which give rose petals their colour, and antioxidants like vitamin C. Since vitamin C plays an important role in collagen formation, the addition of rose petals to your DIY lip mask can help give your collagen production an extra boost.
As well, the same carotenoids and anthocyanins behind the beautiful pigment of roses will leave a subtle tint on your lips, too.
Another benefit of using roses in your beauty products is that the natural, soothing fragrance of roses has been shown to have both mood-boosting and stress-relieving effects.
Just the simple act of smelling roses or rose petals can help calm your nervous system. Therefore, this DIY lip mask will not only soften and moisturize your delicate lip skin, but the lovely fragrance of the rose petals can help you feel more relaxed after a long or stressful day.
Benefits of honey for lips
Honey is incredibly rich in antioxidants. As a natural humectant, it can attract and bind moisture, making it both a soothing and hydrating treat for your lips. The antioxidants in honey also aid in keeping cell-damaging free radicals at bay.
Honey also contains enzymes which means it can act as a gentle exfoliator, further helping to heal and smooth dry lip skin.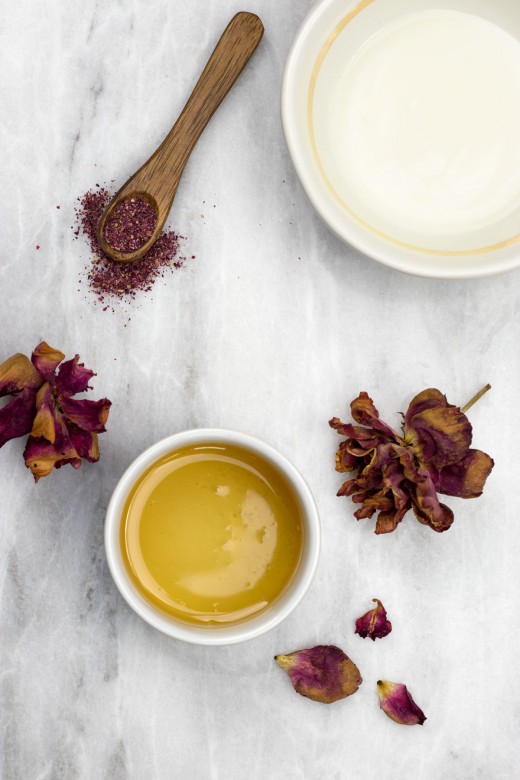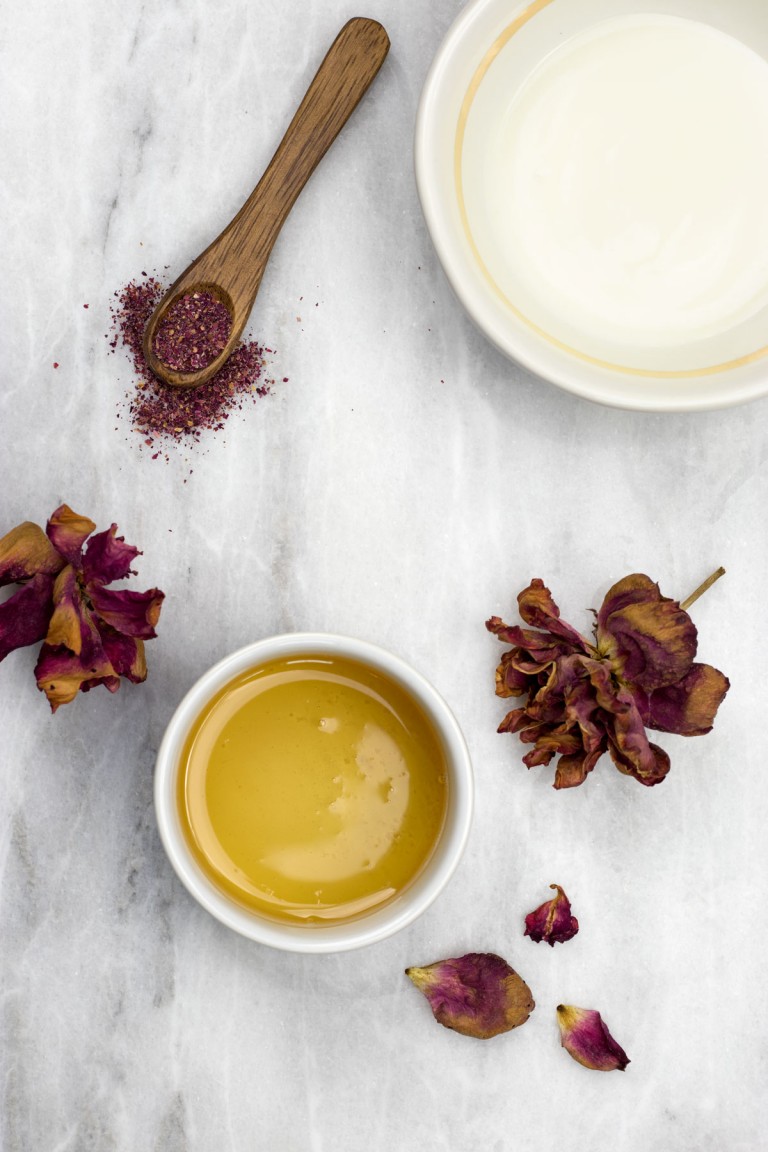 Additionally, honey has both antimicrobial properties and a low pH, making it inhospitable to bacteria. In fact, the shelf-life of honey is said to be endless.
However, in the interest of food safety, it's always best to refer to the best before date on your product's label.
It's also important to use raw or unprocessed honey in this recipe. If honey is pasteurized, the heat used during the pasteurization process will cause the honey to lose many of its benefits.
Benefits of yogurt for lips
The same live cultures in yogurt that are good for your digestion have external benefits, too. Yogurt can aid in replenishing the beneficial probiotics both in your gut and on your skin.
When applied topically in a DIY lip mask, the lactic acid contained in yogurt gently ensures the removal of dead skin cells from your lips. This makes it far easier for moisture to penetrate your lips. Lactic acid also helps to stimulate cellular turnover, encouraging the production of new, healthy lip skin.
Yogurt is also a great ingredient to incorporate into homemade face masks.
How to use this rose lip mask
Before applying this lip mask, you will want to gently exfoliate your lips.
To prepare a quick sugar scrub, combine one teaspoon fine organic sugar, 10-12 drops of olive or avocado oil and then rub the mixture gently onto your lips, concentrating on any dry patches.
Next, you will prepare your plumping lip mask.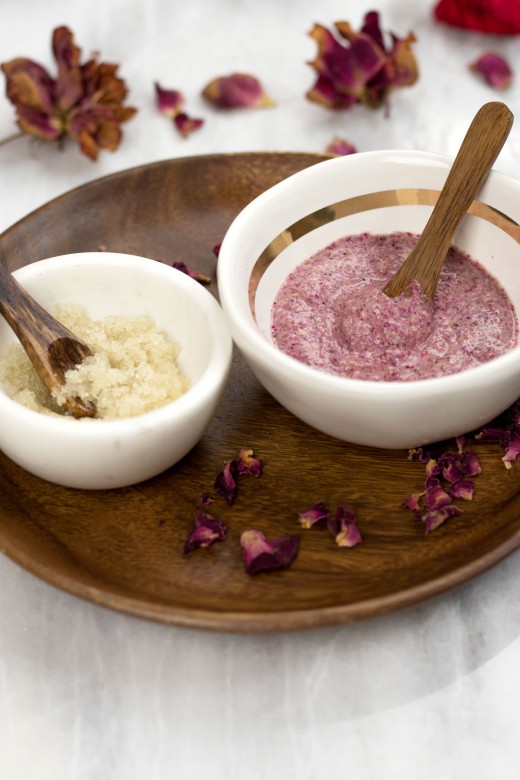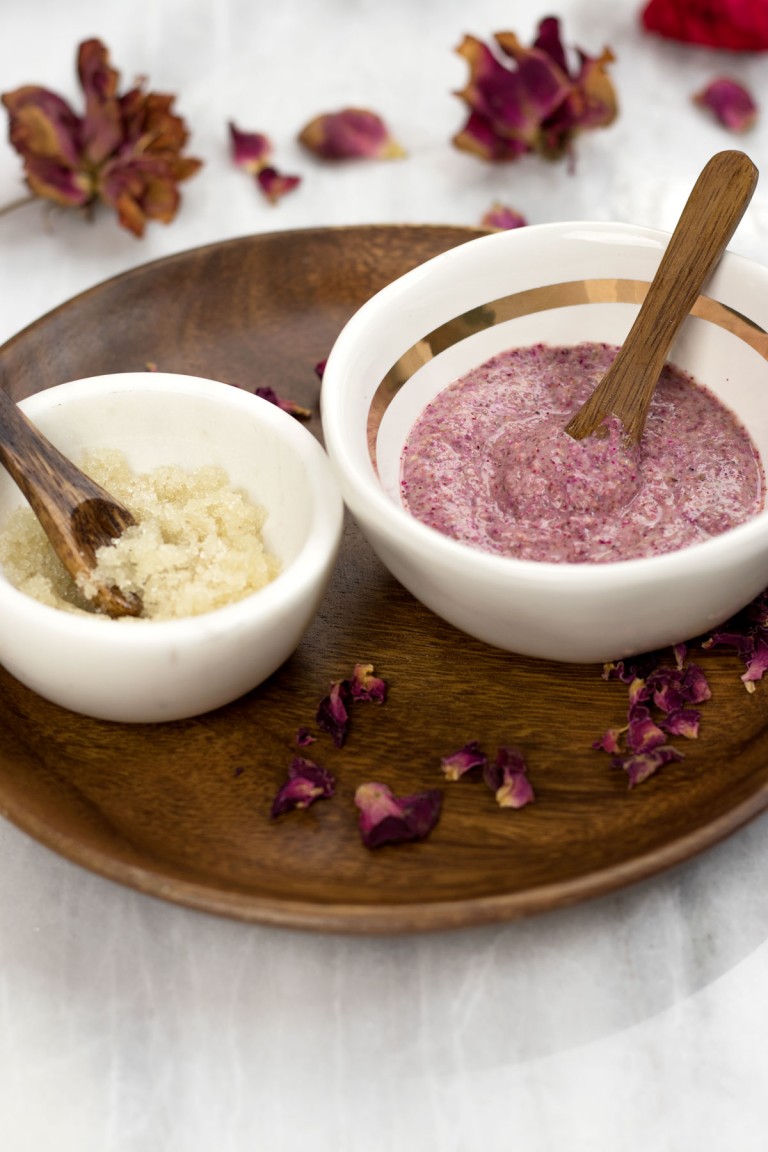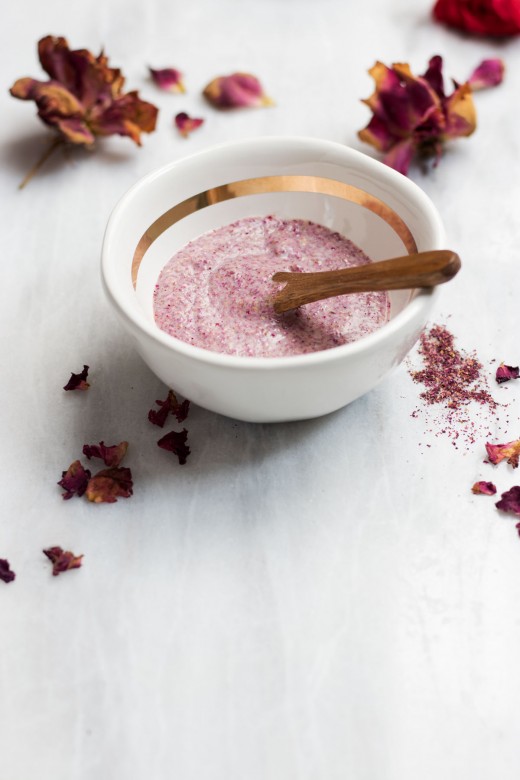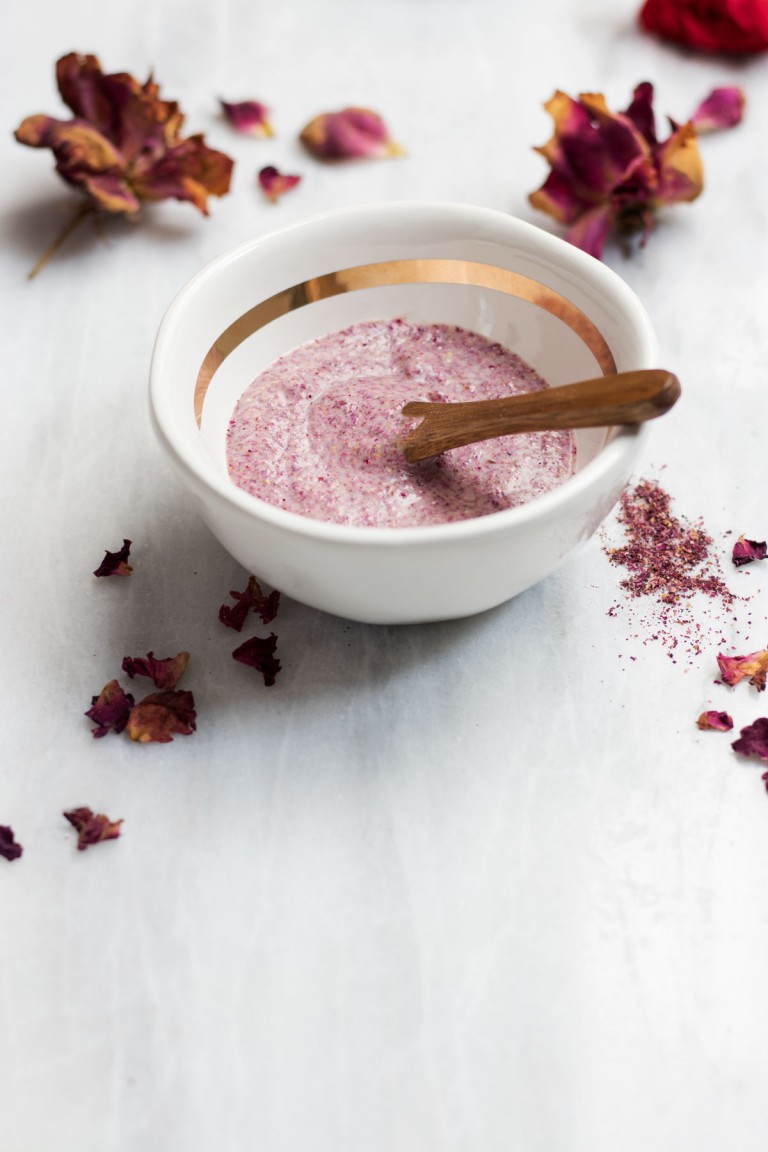 Yield: 1 lip mask
2-Step DIY Plumping Rose Petal Lip Mask for Soft, Plump Lips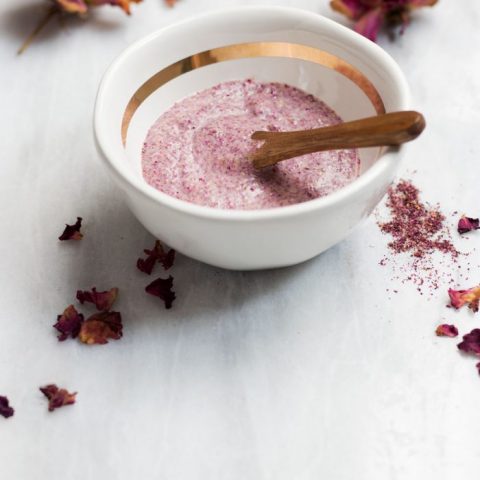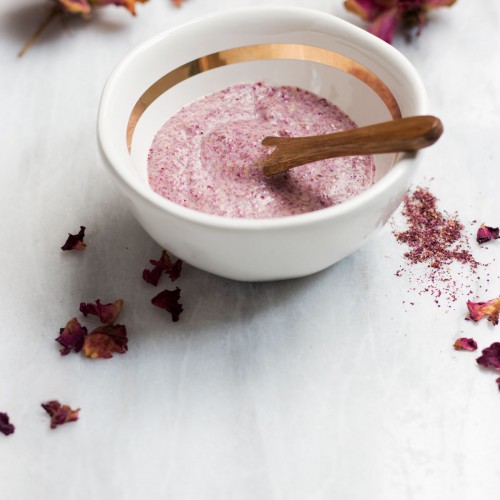 This plumping DIY lip mask is easy to make and leaves lips smooth, softened, and plump. Honey and yogurt deeply moisturize, while rose petal powder lends a subtle pink tint to lips.
Materials
Lip Pre-scrub
1 teaspoon organic sugar
10-12 drops olive oil or liquid coconut oil
Plumping Lip Mask
Instructions
Grind your rose petals very finely in a small blender, coffee grinder or spice grinder. Strain out larger petal pieces with a fine mesh strainer. Alternatively, you can use pre-ground rose petal powder.
Place the yogurt in a small bowl, then add the honey and ground rose petals. Mix thoroughly. Add a very small dash of cayenne if desired. See precautions below.
Apply the rose petal lip mask to your lips for 15-20 minutes while relaxing in a bathtub, or while lying down. Lying down with keep the mixture from migrating off your lip area.
Follow up with a natural lip balm to seal the moisture into your newly plump and hydrated lips.
Use this lip mask within 3 days, or before the best before date on your yogurt. Store the mask in a small glass container in the fridge.
Notes
Precautions when using cayenne pepper as a lip plumper:
Always experiment with small quantities.
Do a patch test before using cayenne (or any spice) on your lips.
Do not use cayenne on chapped lips.
Do not rub in a product containing cayenne.
Recommended Products
As an Amazon Associate and member of other affiliate programs, we earn from qualifying purchases.
Do you use roses in your DIY products? Have you ever tried a store bought
lip mask
? If so, did it work? Let us know in the comments below!
More DIY beauty recipes
If you enjoyed this DIY, you might also enjoy these other homemade beauty recipes:
Follow us on Pinterest for even more natural DIY beauty ideas! You can also find us on Instagram, Facebook and Twitter.
Pin it for later