This DIY caffeine face mask packs a serious punch against stubborn water retention. Thanks to natural ingredients like matcha and organic instant coffee, this mask has enough caffeine to de-puff a puffy face in an instant. Read on to learn how to make this fast-acting and bloat-reducing DIY coffee face mask!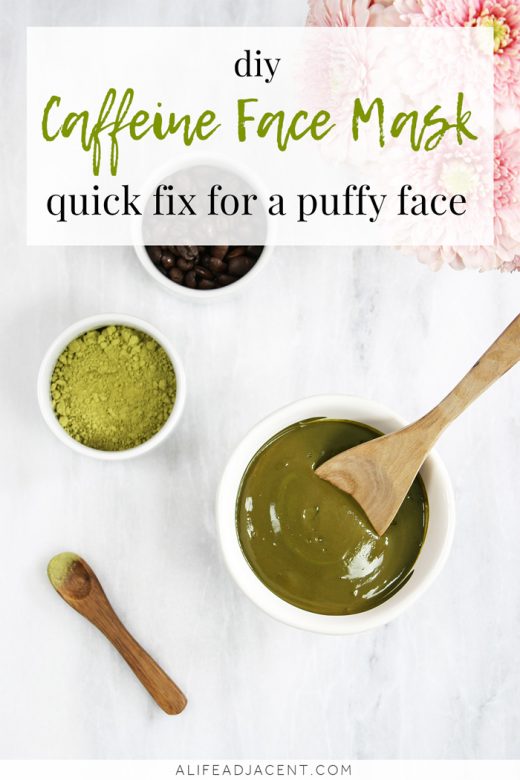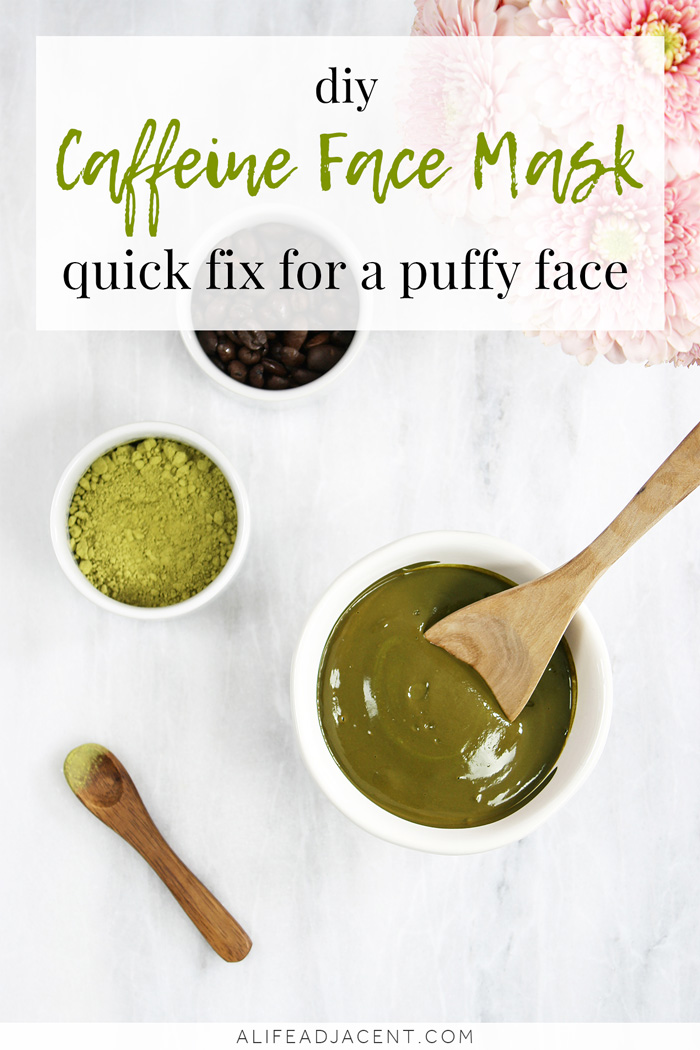 Maybe it was a night of drinking. Maybe it was too much refined sugar, salt, or carbs — only to follow it up with a 2am bedtime.
Cue puffiness, bloat, and angry, inflamed skin the next morning. The kind of irritation that even the best face mist can't quell. And the kind of carbohydrate-induced water retention that takes a day or two to resolve, sending your cheekbones on an extended vacation.
I know the struggle.
For those mornings, this is the recipe I wish I'd had years ago.
Of course the solution is to take care of ourselves. But we can't be perfect all the time! Sometimes we can't help tossing and turning all night or overindulging on special occasions.
And for those who are sensitive to a long list of foods, sometimes the culprit isn't easy to pin down.
I searched high and low for a solution to those mornings when I woke up feeling exhausted and a little puffy.
I tried caffeine serums, caffeine masks, and coffee-infused moisturizers. I rubbed fresh coffee grounds on my face (which, by the way, is not a good idea — they're way too abrasive). I exercised and jumped on a rebounder to "push" the fluid out. I tried it all.
While all of these things helped slightly, nothing gave me more relief than the combination I whipped up on a whim one day. It's so simple, and works so well, that I can't believe I didn't figure it out earlier.
20 minutes of this DIY coffee face mask will take you from puffiness level 10 to dare I say, normal. It's that good. And as an added bonus, it'll wake you up while it whittles you down. Trust me — you'll feel it.
DIY caffeine face mask ingredients
Instant organic coffee
This is what makes this caffeine mask work. Unlike fresh coffee grounds, instant coffee dissolves quickly and completely, releasing all of its goodness into the mask.
Caffeine is a strong diuretic when taken internally, and it's also effective topically. It's very good at flushing water beneath the skin. As an added bonus, coffee packs a ton of antioxidants.
I'm sure any instant coffee would do the trick, but I think it's important minimize exposure to pesticides whenever possible. I use Mount Hagen's organic instant coffee.
Organic grass-fed yogurt
Admittedly, grass-fed yogurt might be overkill for your face (I'm sure plain yogurt will do) but it's one of my kitchen staples.
Yogurt is very soothing and cooling to the skin, and as it turns out, the live cultures in yogurt have external benefits too. Our skin's microflora is inevitably disrupted with each cleanser, toner, and moisturizer we apply, but yogurt can help reinoculate the skin with good bacteria.
Matcha powder
Aside from being a great thickener, matcha powder is packed with antioxidants which help protect the skin against oxidative stress. It doesn't contain quite as much caffeine as coffee, but for this mask, every little bit of caffeine helps.
Honey
Organic honey has well-documented antibacterial and antioxidant properties. It's also a humectant, so it will draw water from the air, prolonging the time the mask stays moist on your face.
Optional ingredients
I'm not going to lie to you — thanks to matcha's unique scent, the mask is going to smell like a swamp.
This is where essential oils can come in handy to a) mask the smell of swamp, and b) add even more therapeutic properties. I recommend the following:
Coffee essential oil: Because this mask is all about the coffee, and its strong scent helps mask the smell of matcha. It would also add even more antioxidant power to this recipe.
Vanilla essential oil (oleoresin): Smells delicious, uplifts your mood, and turns this swamp mask into a vanilla latte. There is also evidence that vanilla can be soothing to the skin.
Blue tansy (Moroccan chamomile) essential oil: This soothing, anti-inflammatory oil is a miracle worker for skin issues of all kinds. It's anti-histamine effects means it can help soothe irritation. It also imparts a floral scent that is clean and bright without being cloying.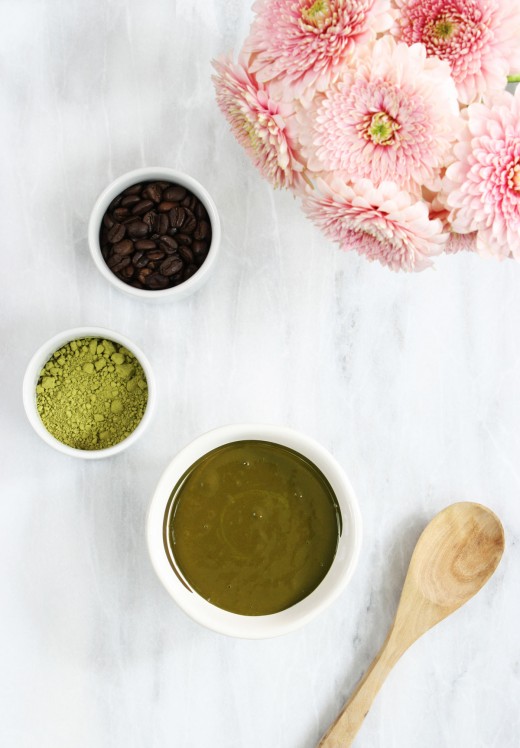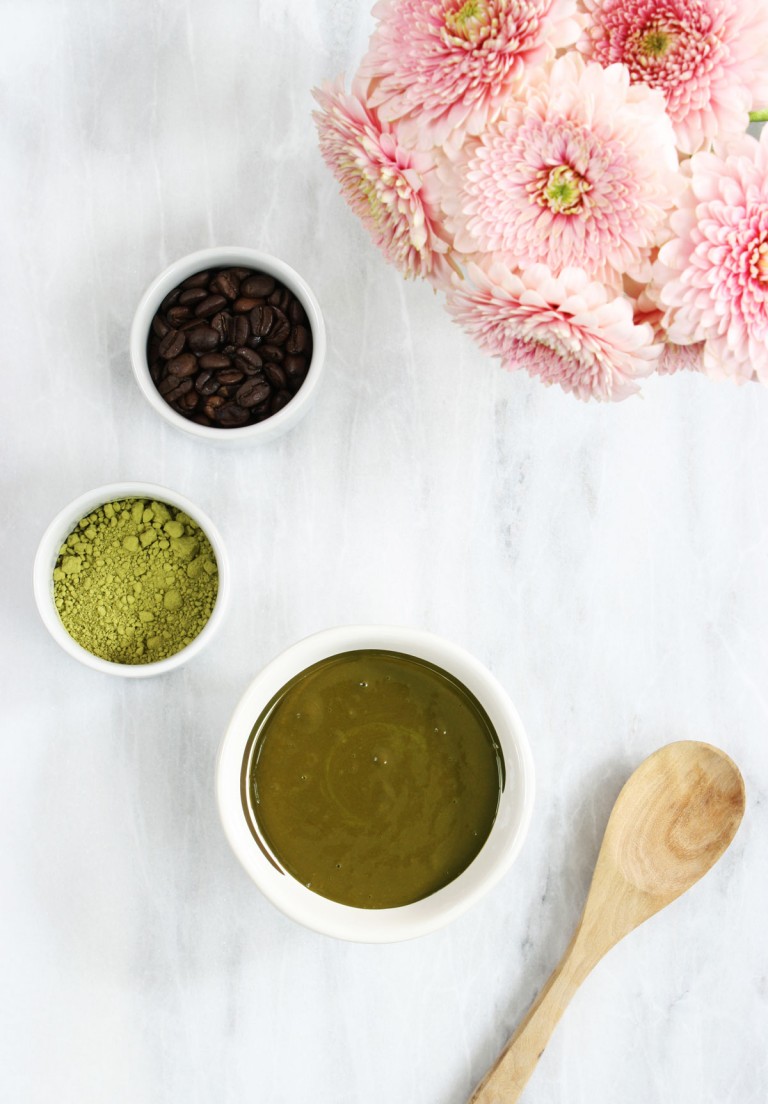 Health and safety warning
Please note that this face mask is potent. It contains a lot of caffeine, which will cross the skin barrier. I'm not a doctor and cannot comment on the safety of this mask for everyone, so please use your judgment.
Don't use this mask if you're pregnant or have an intolerance to caffeine. Also, please don't use it on an empty stomach. Caffeine is a potent metabolic stimulator. Without enough blood glucose, this metabolic stimulation can cause hypoglycaemia and elevated stress hormones.
As a final warning, do not drink coffee while wearing this mask unless you want to go into orbit.
How to use your DIY coffee face mask
Apply your mask to freshly cleansed skin. It's a good idea to use a clean mask brush instead of your fingers to keep the mixture as sterile as possible. It also wouldn't hurt to steam your face beforehand to ensure maximum caffeine absorption.
Cover your entire face in the mixture, but avoid applying it too close to your eyes. Don't forget to take it underneath your jawline to de-bloat this area too.
Leave the mask on for 15-20 minutes or until dry. The mask will crack as it dries, so you can spritz yourself periodically with a face mist if you wish to keep it on longer.
Once it gets too dry, you should wash it off before it starts to flake and make a mess. (Side note: you should also wash it off if the caffeine begins to make you feel jittery or unwell.)
Washing the mask off in the shower will make things a lot easier. It's messy, especially if you've applied it underneath your chin.
Once you're finished, expect a glowing complexion and the contours of your face to be restored to their former glory, pre-whatever happened last night!
If your face appears green even after washing, a wet cotton pad and a few drops of facial oil or micellar water will gently remove the inevitable matcha-green stain from your skin.
Store this mask in the fridge in a non-plastic container (I use a tiny mason jar). It works just fine when made fresh, but it's especially soothing when it's cold!
When it comes to its shelf life, use your judgment, your nose, and the best before date of your yogurt as a starting point. I only keep batches of this mask in the fridge for about a week to be on the safe side.
This is by far one of the most helpful recipes in my DIY beauty arsenal. It's not necessary for every day, but it comes in handy before an event or if you'd like a little extra boost.
And if a puffy face is not an issue for you, you can still reap the antioxidant benefits of this mask by making it with decaf instant coffee.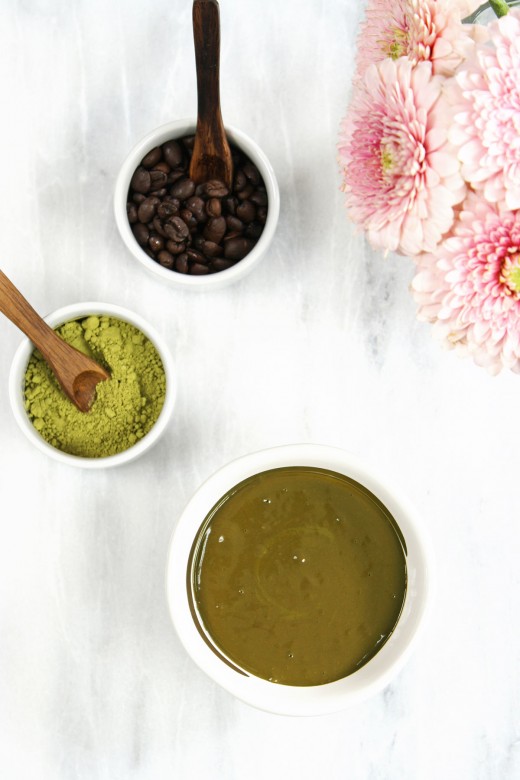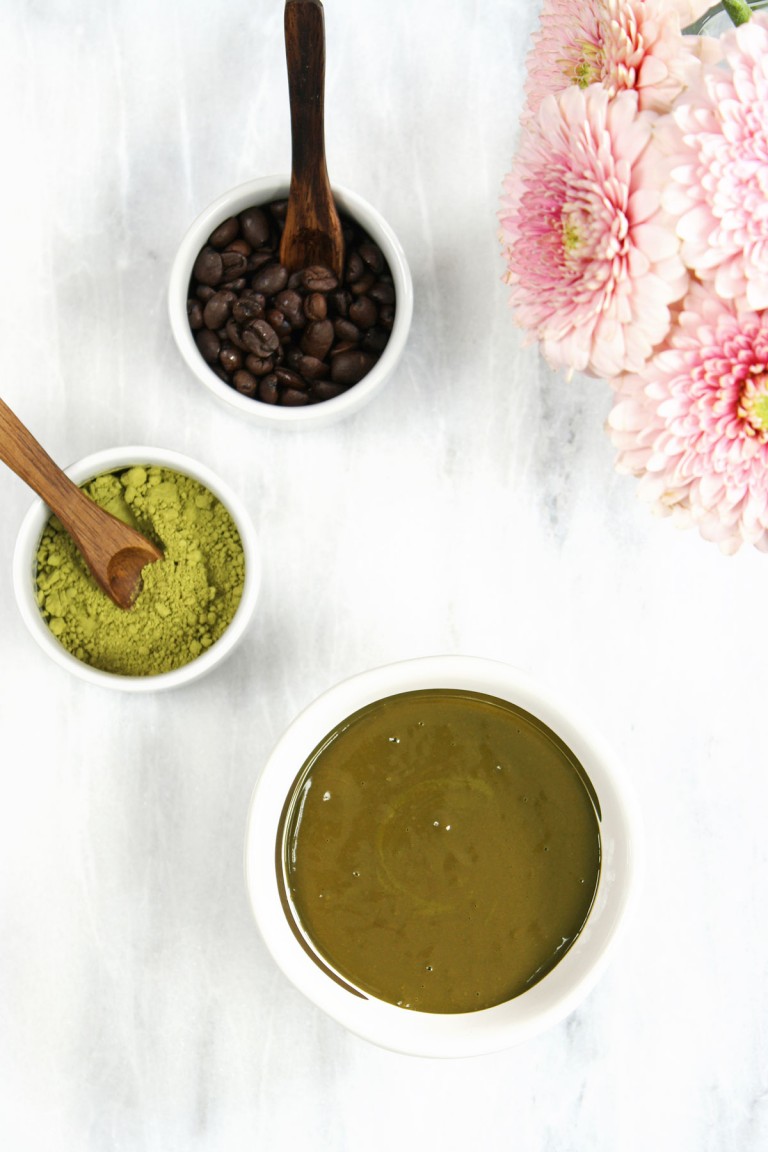 More DIY beauty recipes for the face
Looking for more natural DIY skincare recipes? Check these out:
Follow us on Pinterest for even more natural DIY beauty ideas! You can also find us on Instagram, Facebook and Twitter.
Pin it for later