Get glowing skin with this easy DIY aloe vera face mask recipe with MSM. It's the perfect addition to your summer beauty routine. Not only does it deeply moisturize, but it also helps soothe sunburn, irritation, and redness. Thanks to the combination of aloe gel, MSM powder and allantoin, this face mask can also help calm the inflammation caused by acne breakouts.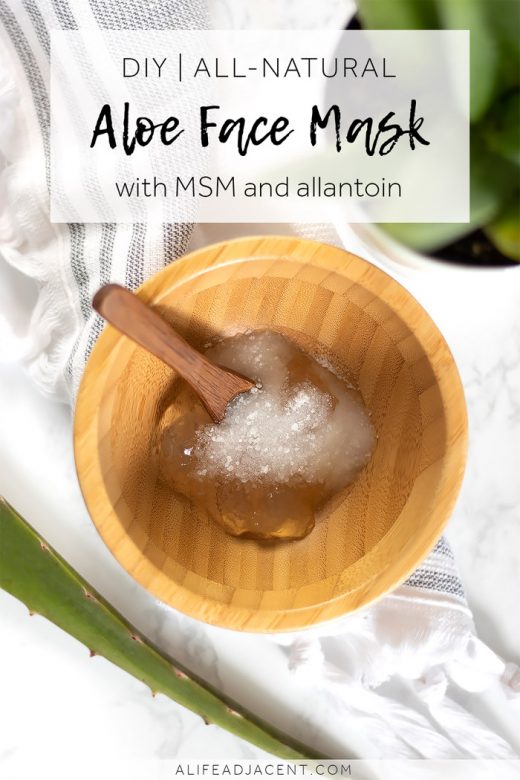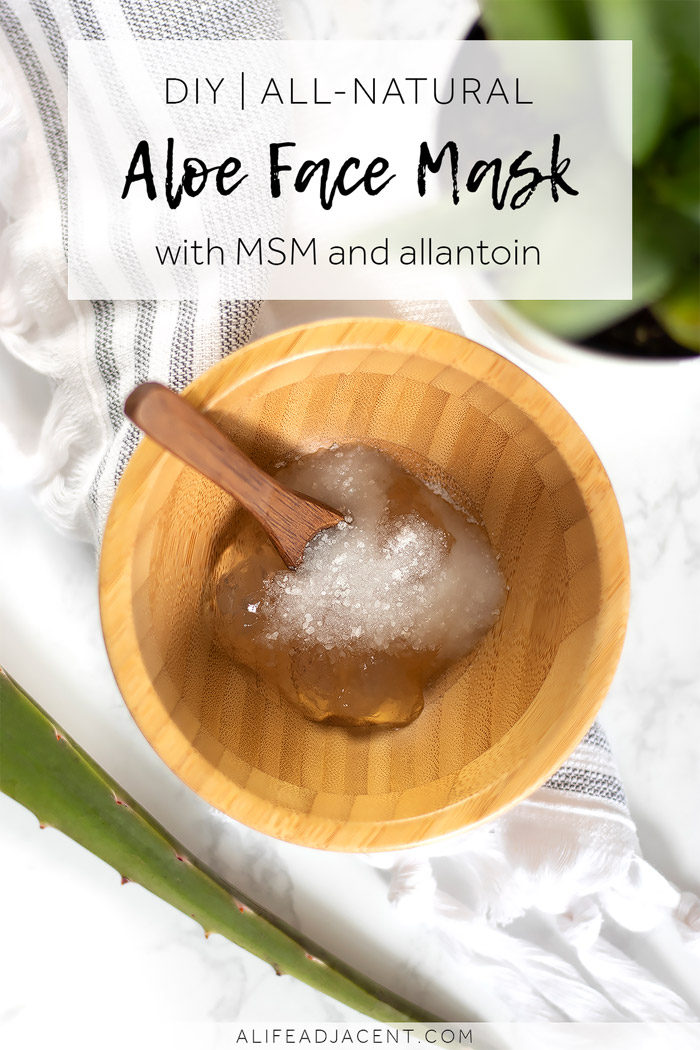 With summer comes a long list of health benefits. But while getting some vitamin D is great for our health, the summer heat can do a number on our skin.
Sunburn, irritation, and dryness are just some of the side effects that can come along with too much time outdoors. And if that wasn't enough, sweat and thick layers of sunscreen can lead to unsightly summer breakouts.
This DIY aloe vera face mask is the perfect tool to add to your summer skincare arsenal. It combines the calming properties of fresh aloe gel, MSM and allantoin to rescue dry, inflamed skin.
Whether you use it as an after sun face mask, a spot treatment, or a leave-on overnight mask, this recipe has a wide variety of benefits for many skin types.
Before we get into the recipe, we'll take a closer look at the benefits of an aloe vera face mask, as well as the benefits of MSM and allantoin for skin care. We'll also give tips for choosing an aloe vera gel, as many store-bought options are full of fillers and synthetic ingredients.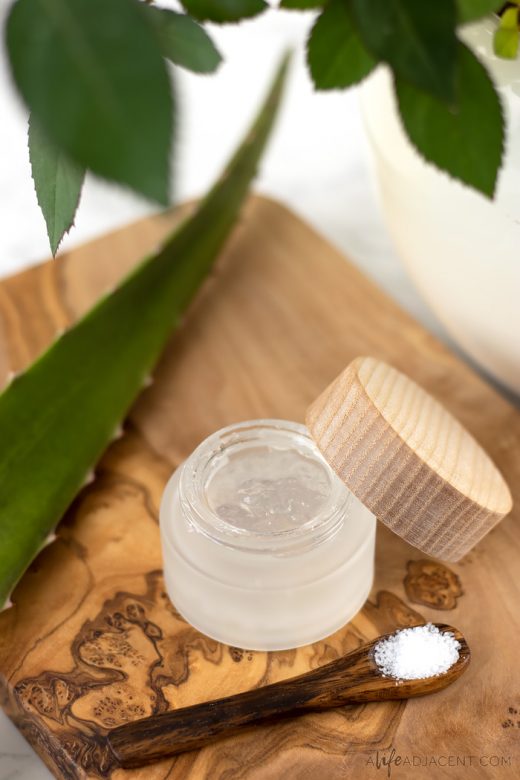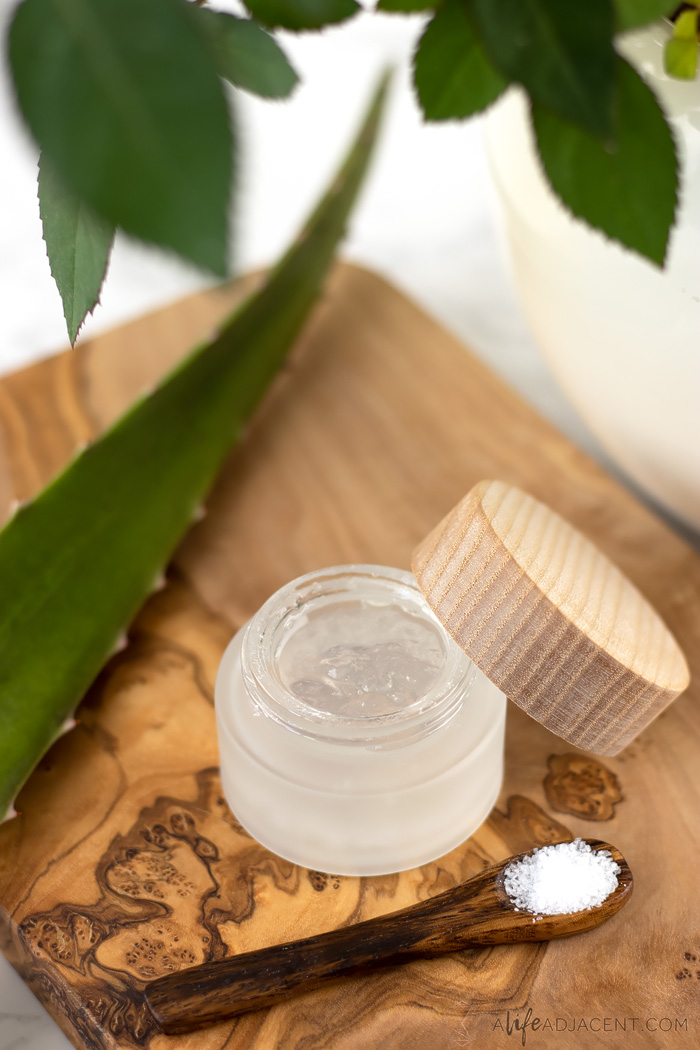 At the end of this post, we will also share 8 other summer-inspired DIY beauty ideas from our blogging friends to keep you glowing all summer long.
DIY aloe vera face mask ingredients
Aloe vera gel
There's a reason aloe vera is frequently used in skincare products, especially products meant for calming sensitive, irritated, or sunburned skin. Fresh aloe vera gel contains 99% water, but the remaining 1% is chock full of active constituents that promote skin health and healing.
Not only is aloe soothing, but it's also been shown to help protect skin against UV damage. The exact mechanism by which this occurs is unknown, but aloe appears to stimulate an antioxidant protein in the skin that helps scavenge free radicals¹. So applying aloe vera to a sunburn truly does have a scientific basis.
This isn't to say that an aloe vera mask is a replacement for a good sunscreen. But, if you happen to overdo it in the sun, using this homemade aloe mask may help provide some relief. It could also aid in healing the resulting skin damage.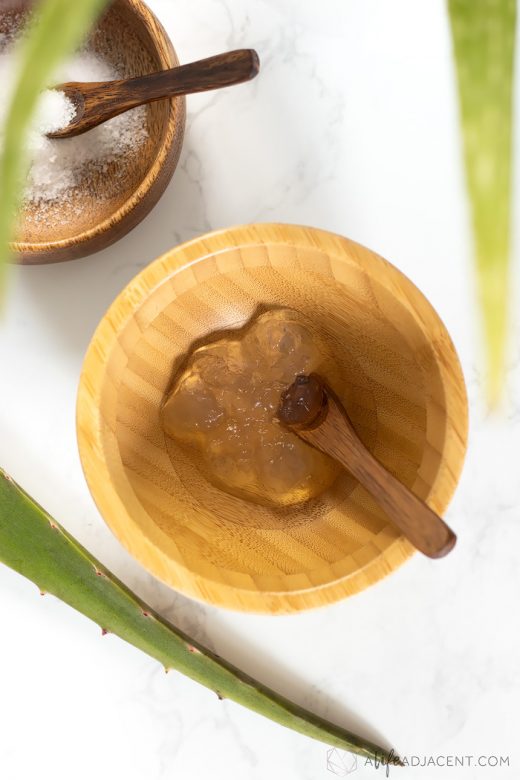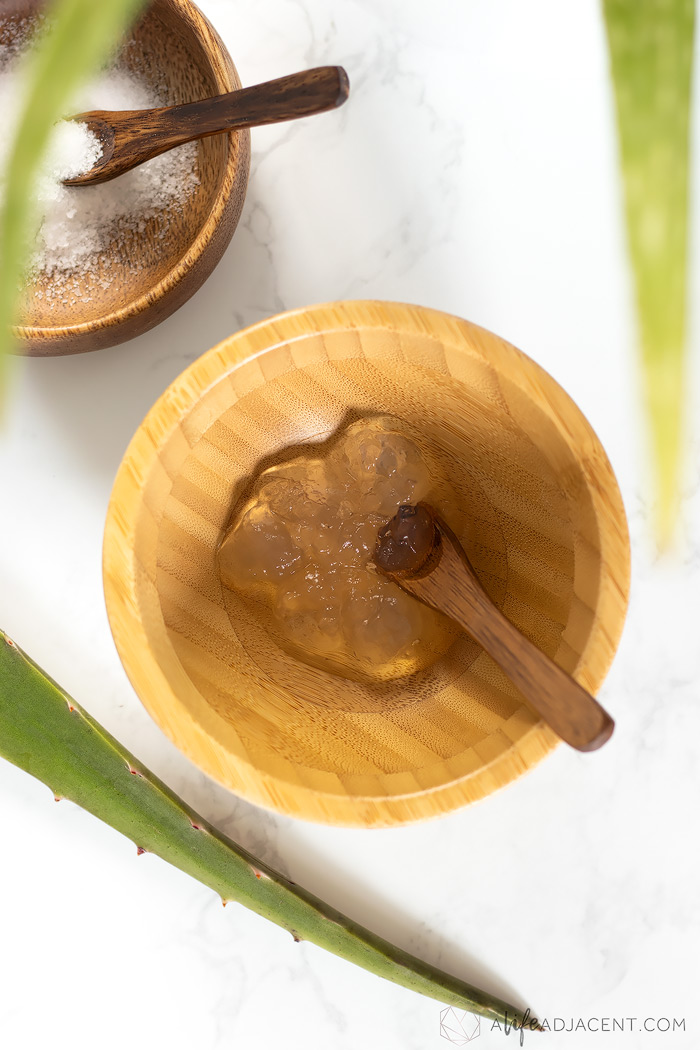 The benefits of an aloe vera face mask include:
Helping to protect skin against UV damage after sun exposure
Aiding in fighting acne due to aloe's antibacterial and antifungal activity
Moisturizing deeply, as aloe contains humectant sugars that bind and attract water
Neutralizing free radicals through vitamins such as A, C and E
Breaking down inflammation due to enzymes such as bradykinase
Nourishing skin with minerals such as calcium, magnesium and copper
Stimulating collagen synthesis in the skin, aiding in wound healing and anti-aging¹
MSM powder
MSM or (methyl-sulfonyl-methane) is a naturally occurring sulfur compound found in a variety of foods and beverages. These include, but are not limited to raw fruits and green vegetables, meat, eggs, seafood, raw milk, coffee, and tea.
Although it occurs naturally, MSM is often depleted in our food sources due to over-farmed soil and the over-processing of many foods.
Sulfur is a necessary component for cellular function. It's present in your skin, hair, nails, joints and connective tissues. It's also one of the building blocks of collagen and keratin, both of which are important in the maintenance of healthy, clear and youthful skin.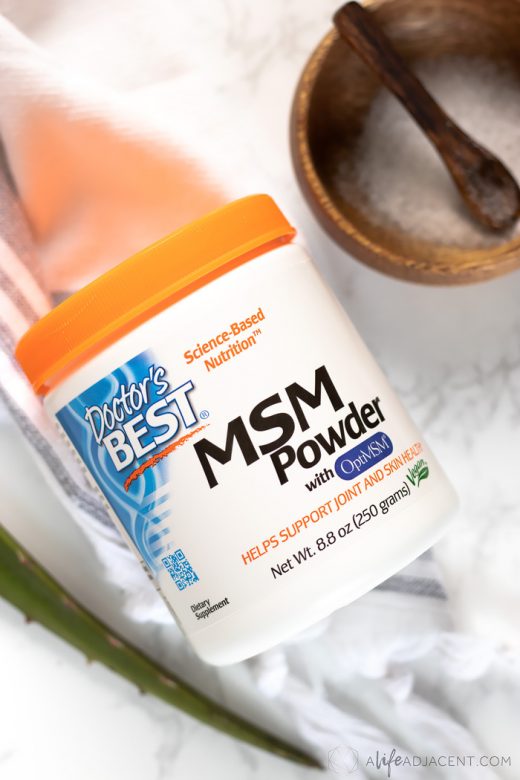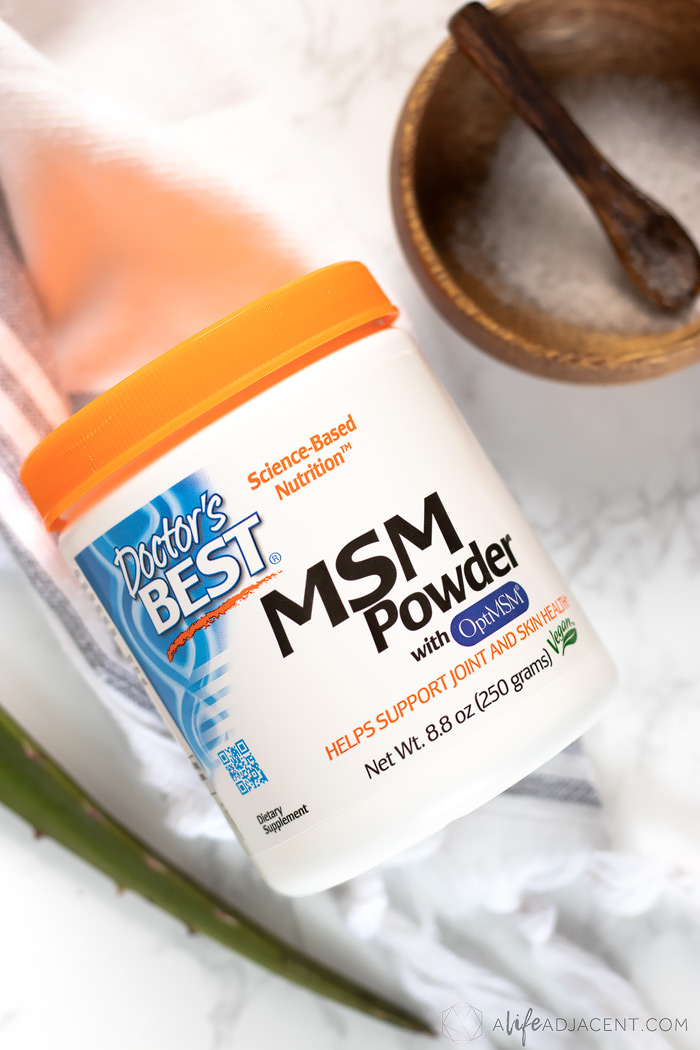 Traditionally, MSM supplements or powders have been used internally to treat inflammatory conditions such as arthritis, back pain, and other degenerative joint disorders². However, studies have also shown that when applied topically, MSM can help a variety of problematic skin conditions.
For example, MSM has been shown to calm the redness and irritation caused by rosacea and sunburn². Additionally, due to its anti-inflammatory properties, MSM is also useful for helping heal acne breakouts and soothing the side effects of skin conditions such as eczema.
MSM in its pure form is a white, odorless, and water-soluble crystalline powder that can be incorporated into face masks, lotions or balms.
It's important to choose the right brand of MSM powder for this DIY face mask. You want to purchase an MSM powder that contains no fillers. Ideally, OptiMSM® should appear on the label, as OptiMSM® is certified free of contaminants and heavy metals.
Allantoin powder
Allantoin is a natural compound found in comfrey root and chamomile. Its intensely soothing, moisturizing and healing properties make it one of the best ingredients for inflamed or reactive skin.
Not only does allantoin powder aid in relieving dryness, but it can also help provide relief for serious inflammatory skin conditions such as burns, rosacea, eczema, dermatitis, and psoriasis³. That's an impressive list for such a humble ingredient.
The benefits of allantoin for skin include:
Healing the skin barrier and stimulating tissue repair⁴
Soothing rosacea and facial redness caused by inflammatory skin conditions
Exfoliating away dead skin cells thanks to its keratolytic action
Moisturizing by helping the skin cells to retain water⁵
The problem with store bought aloe vera gels
Unfortunately, purchasing real aloe vera is not as easy as picking one from the shelf. Many so-called "aloe gels" on the market contain barely any true aloe. Instead, they consist of a mixture of synthetic thickeners, preservatives and fragrances with a small amount of aloe extract or juice.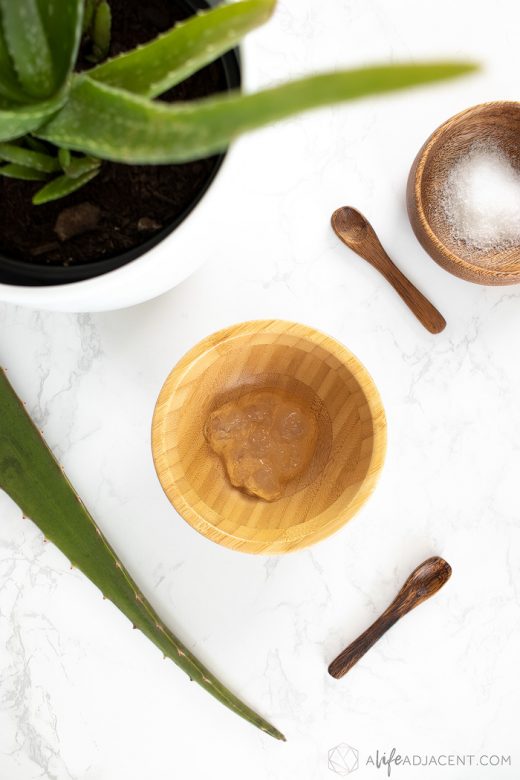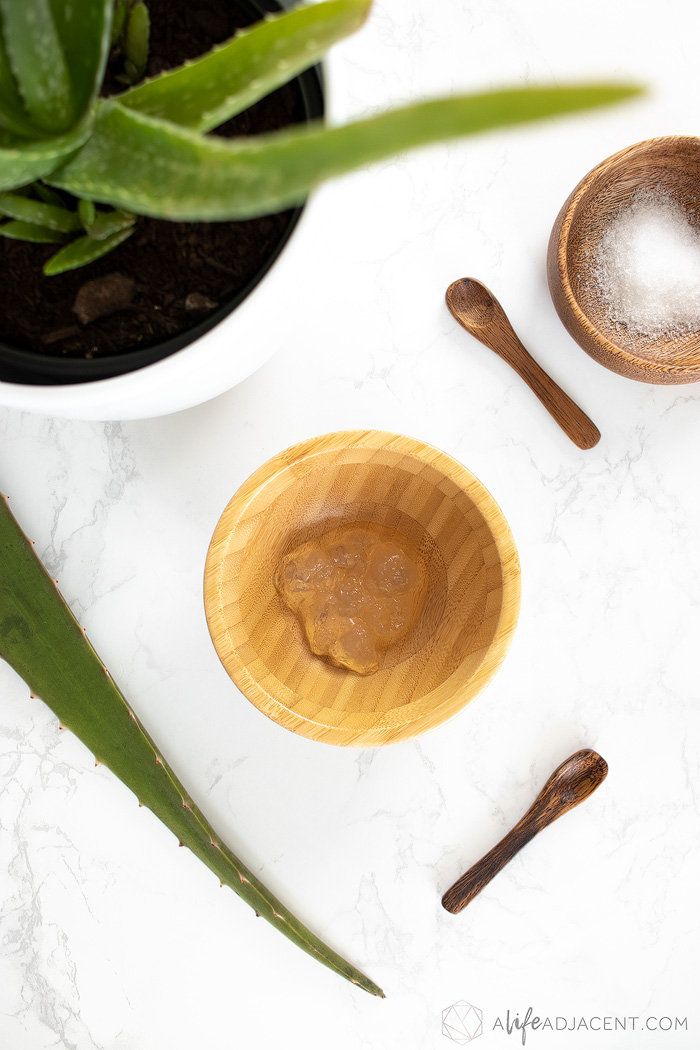 It's important to avoid using sub-par aloe in your DIY aloe face mask. These synthetic aloe-like products do not provide the therapeutic benefits of real aloe vera. In fact, they can even harm your skin.
What complicates this issue further is that even "natural" aloe products can contain undisclosed ingredients – more on that below.
Common additives in store bought aloe gel products
Fomaldehyde-releasing preservatives such as DMDM Hydantoin, Diazolidinyl Urea and Sodium Hydroxymethylglycinate
Formaldehyde-releasers are highly irritating. Even those without particularly sensitive skin can still develop allergies to formaldehyde through frequent exposure. And since formaldehyde is a proven carcinogen, the risks far outweigh the antimicrobial benefits.
Synthetic fragrances
Synthetic fragrances simply don't belong in a product meant for soothing inflamed skin. Their capacity for irritation – coupled with the fact that they frequently contain endocrine-disrupting phthalates – means that they're best avoided.
Synthetic thickeners such as Acrylates/C10-30 Alkyl Acrylate Cross-Polymer and Carbomer
Petroleum-derived synthetic thickeners are frequently used to thicken aloe products. While there does not seem to be conclusive evidence that these thickeners are particularly harmful, they can be irritating for some people. They also do not biodegrade.
A naturally derived, biodegradable thickener like xanthan gum or carrageenan can easily serve the same purpose as a synthetic thickener.
Peppermint essential oil
Peppermint essential oil and its constituents (such as menthol) are sometimes added to aloe gels for a cooling effect. While peppermint oil possesses many therapeutic properties, essential oils from the mint family should not be used on the delicate skin of the face.
Mint oils are highly irritating, and even more so when the skin is already compromised by irritation or sunburn.
Sodium benzoate
Aloe vera juice is frequently stabilized with sodium benzoate, a food-grade preservative, during processing⁶. In certain areas, this does not have to be disclosed on the product's label.
Sodium benzoate is generally recognized as safe at the low levels in which it occurs in cosmetics. However, it can form carcinogenic benzene when mixed with acids such as ascorbic acid and citric acid. Whether these levels of benzene are a cause for concern has not yet been reliably assessed⁷.
Another issue with sodium benzoate is its capacity for irritation. It can cause contact urticaria or dermatitis in susceptible individuals⁸. This doesn't appear to be a problem for most people, but a study suggests sodium benzoate sensitivity is on the rise⁹.
Personally, we have both experienced negative reactions to sodium benzoate. It caused burning, itching, redness, and swelling for both of us. We now avoid it in all products, and we recommend that those with sensitive skin avoid using any aloe vera gel containing this potentially problematic ingredient.
The best aloe vera gel for a DIY face mask
Ideally, it's best to use fresh aloe gel in your homemade aloe face mask, as whole, unprocessed aloe will have the most therapeutic properties. Fresh aloe leaves can be purchased in many grocery stores and can also be found online.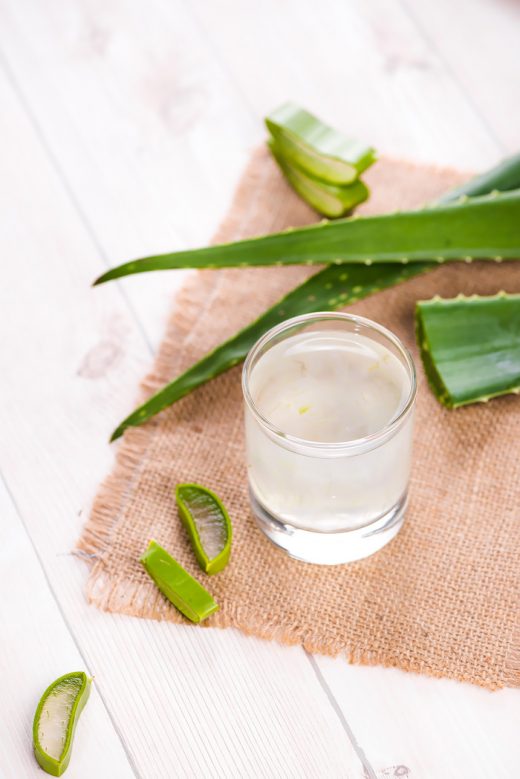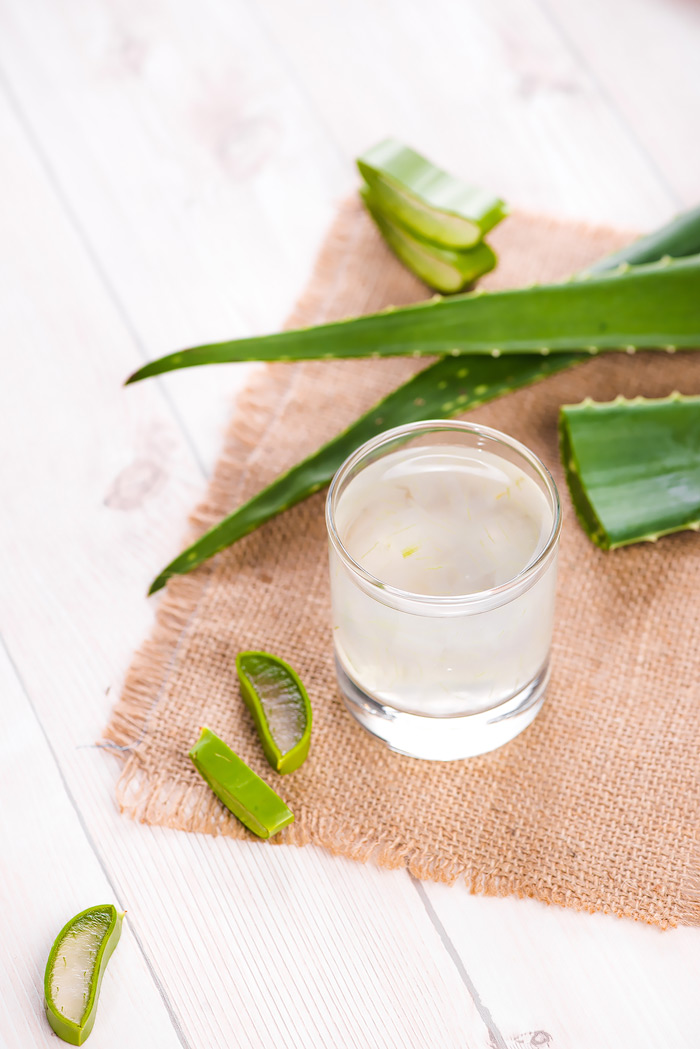 How to make fresh aloe vera gel
Before you begin, it's important to remove all traces of skin from your fresh aloe leaf. You only want to use the aloe gel, not the aloe latex.
Aloe latex contains aloin, a chemical linked to harmful side effects. You'll be able to recognize aloe latex by its yellow colour and liquid texture.
To make your own fresh aloe gel:
Wash your fresh aloe leaf thoroughly.
Fillet it and carefully cut off the outer layer of skin with a sharp knife.
Gently remove the inner aloe gel.
Rinse the gel to remove any residual aloin.
Pulverize the gel briefly with an immersion blender.
You're left with fresh aloe gel that's ready to use in your face mask.
Best brands of aloe vera gel
If fresh aloe is not available to you, or if you'd prefer the convenience and longer shelf life of a store bought aloe gel, we recommend the following brands:
Mountain Rose Herbs Aloe Vera Gel
Ingredients: Organic aloe vera fillet, potassium sorbate, ascorbic acid, citric acid, xanthan gum.
Mountain Rose Herbs uses 100% organic, charcoal-filtered aloe vera in their food-grade aloe vera gel. A representative verified that there is no sodium benzoate used in its processing.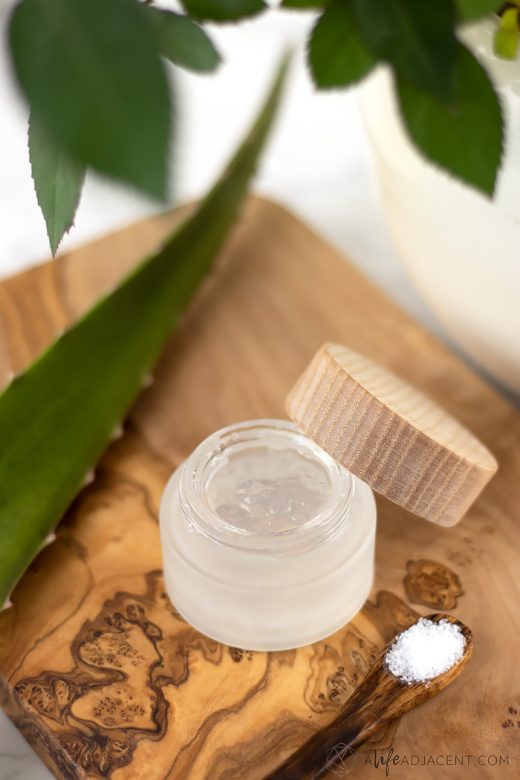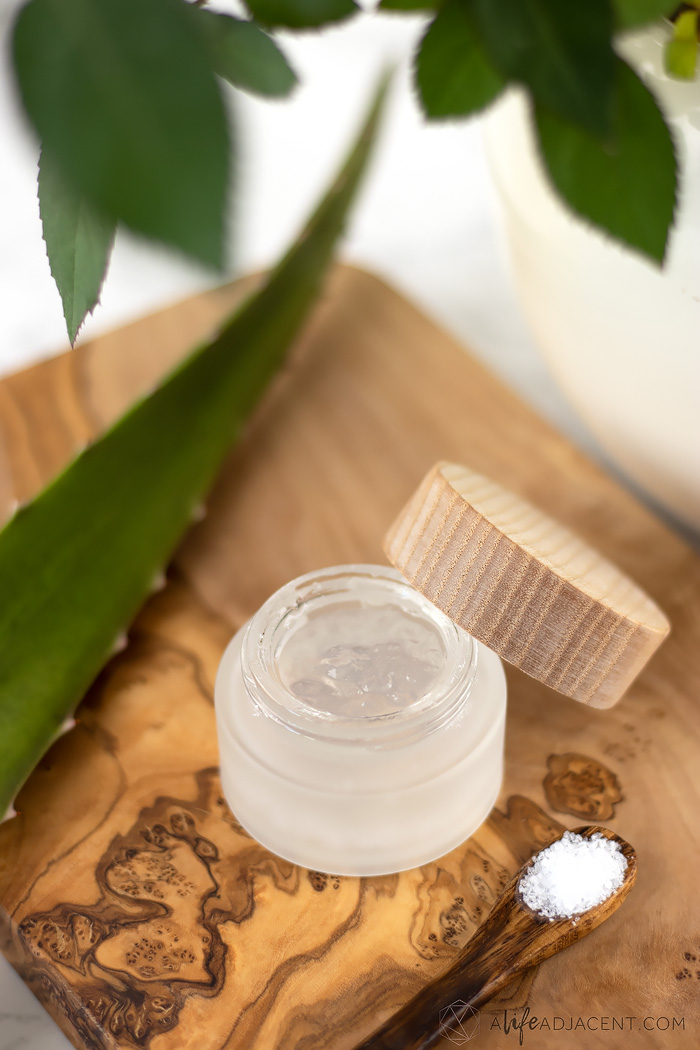 Lakewood Organic Pure Aloe Vera Gel
Ingredients: Organic aloe vera juice, organic lemon juice, xanthan gum, guar fibre.
Lakewood Organic aloe vera gel is preservative-free, and a representative confirmed that their products do not contain any sodium benzoate.
How to choose an aloe vera gel
If the above brands of aloe vera gel are not available to you, look for an aloe gel with as few ingredients as possible. Ideally, it should contain a safe preservative such as potassium sorbate.
If the product is unpreserved, make sure that it specifies refrigeration. If possible, contact the company directly and verify that the product is not processed with sodium benzoate.
If you see an aloe product that contains no preservative, and also does not require refrigeration, be very wary. Either the product is unpreserved, making it a breeding ground for bacteria, or it contains undisclosed preservatives that could be harmful to your skin.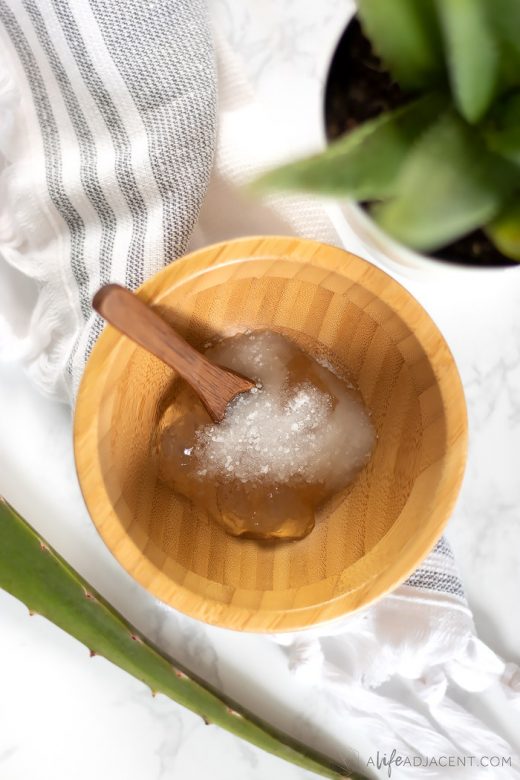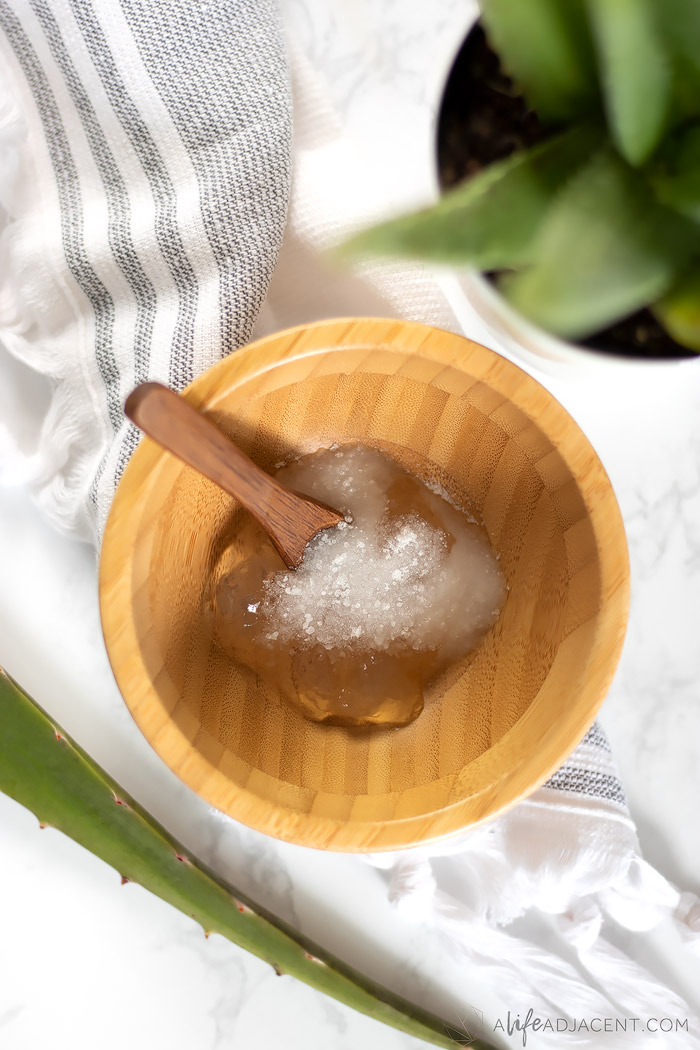 How to use this homemade aloe vera face mask
Before using your DIY aloe vera mask, please ensure your hands are clean and dry. This face mask can be used in many different ways depending on your particular skin concern.
As an all-over face mask
You can use this aloe mask as an all-over face mask after sun exposure, a day at the beach, or whenever your skin is feeling dry, inflamed or broken out. It's particularly cooling with refrigerated aloe vera gel.
Apply the mask to clean, dry skin and wash it off after it dries. You can also periodically spray your face with a face mist to rehydrate the mask. This will prolong the amount of time you can keep it on.
As a spot treatment
This mask is also useful for trouble spots. Use it on areas of your face that are particularly inflamed or blemished. Cleanse and dry the area before applying a generous layer.
As an overnight mask
For glowing skin by morning, apply a thin layer of the mask before going to bed. You can also follow it with a moisturizer or facial oil for extra hydration. It's normal for the mask to crystallize and dry overnight, so be aware that you may wake up with flakes on your face.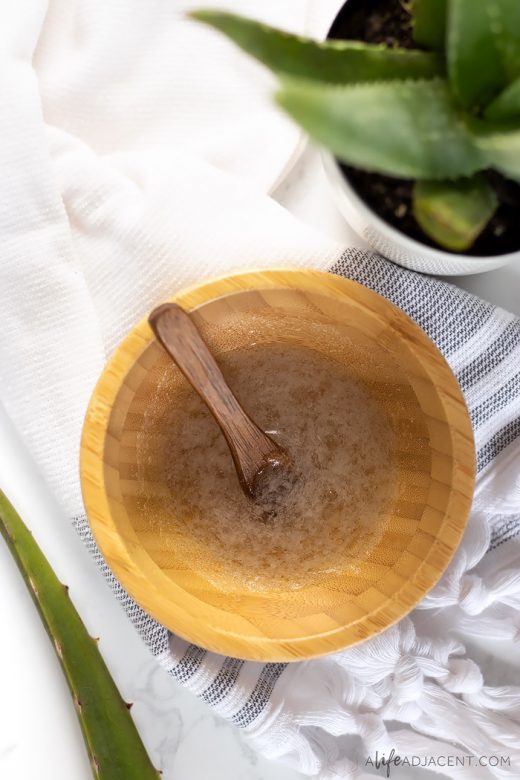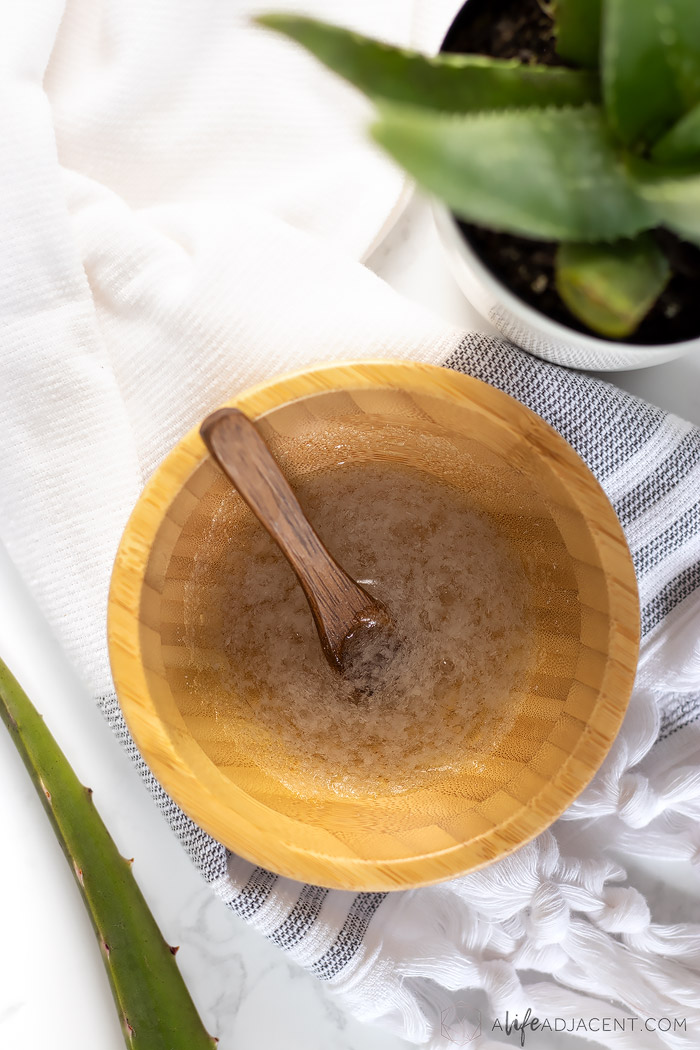 More DIY beauty ideas that are perfect for summer
If you enjoyed this homemade aloe vera mask, you may also enjoy incorporating these other DIY beauty recipes in your summer skin care routine:
For even more natural DIY beauty ideas, follow us on Pinterest! You can also find us on Instagram, Facebook, and Twitter.
Pin it for later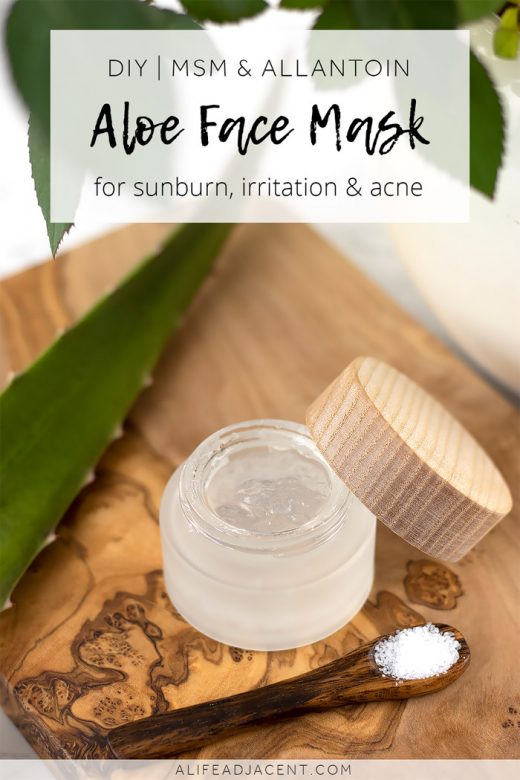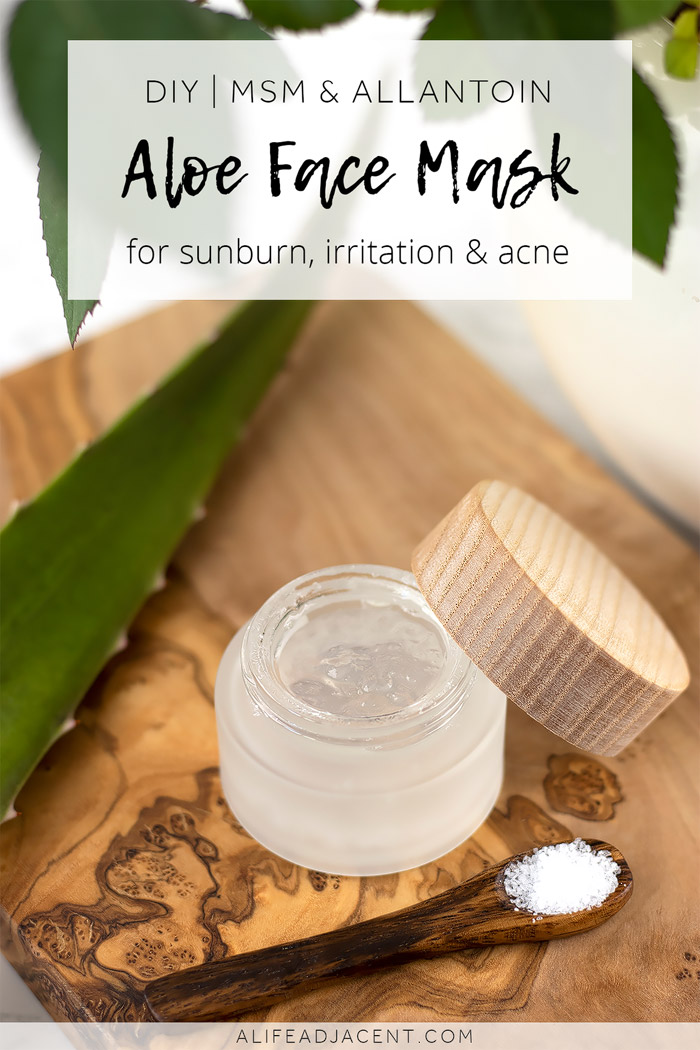 Even more summer beauty recipes to try
We also want to share some of our favourite summer-inspired DIY beauty ideas from our blogging friends! These recipes are a great addition to your summer beauty regimen. And, if you need gift ideas, these DIYs would also make for thoughtful, homemade gifts to surprise your friends.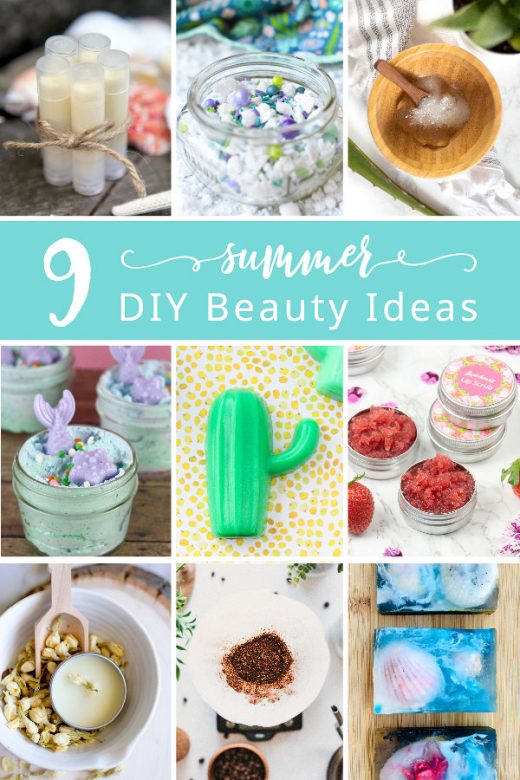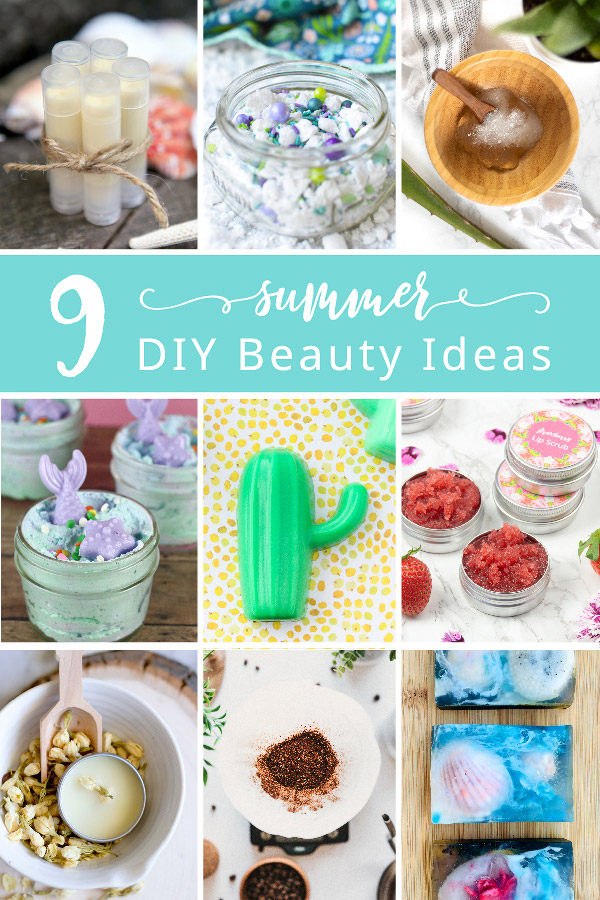 DIY Strawberry Lip Scrub
This strawberry DIY lip scrub with coconut oil from Country Hill Cottage is perfect for exfoliating. It makes dry, chapped lips feel and look smooth, soft, and supple. The scrub also removes dead skin and moisturizes your lips at the same time.
Seashell Soap Tutorial
Nothing says summer like a trip to the beach. This beach themed seashell soap tutorial from Soap Deli News is an easy way for even beginner soapmakers to create artistic handcrafted soaps.
Mermaid Whipped Soap
This mermaid whipped soap from Everything Pretty is light and fluffy. Learn how to use melt and pour soap to make a creamy whipped soap that's perfect for the shower or as a shaving soap before you head to the beach.
Natural Solid Perfume
Make this solid perfume recipe from Life-n-Reflection. It's a luxurious, multi-layered scent of the heady, rich florals jasmine and geranium with a top note of sweet, citrusy grapefruit. Blended with natural beeswax and oil and poured over delicate dried jasmine flowers into zero waste tins.
All-Natural Sunscreen Lip Balm
Protect your lips with a homemade sunscreen lip balm from Garden Therapy. It will keep your lips safe from sunburn and make them kissably soft. Plus, it's made of all-natural ingredients!
DIY Melt-and-Pour Cactus Soap
Make these adorable shea butter melt and pour cactus soaps from Lydi Out Loud in just minutes. With a refreshing natural lime scent, they make for the perfect invigorating summer shower or a wonderful gift idea!
Mermaid Fizzing Bath Salts
These fizzing mermaid-inspired bath salts from Creative Green Living are easier to make than a bath bomb but just as fun to use! Your kids will love using this fun bath fizz as they splash and play in the tub.
Beach Body Coffee Scrub
This beach body coffee scrub by Botaneri smells amazing, is great for exfoliation and gives a teeny hint of color to the skin.