This invigorating DIY grapefruit sugar scrub with rose petals is perfect for summer. It can help slough off dry skin cells, diminish the appearance of cellulite, and moisturize rough, dehydrated skin. The unique combination of grapefruit and roses gives this scrub an energizing floral and citrus aroma and imparts a lovely pink colour to this easy to make body scrub.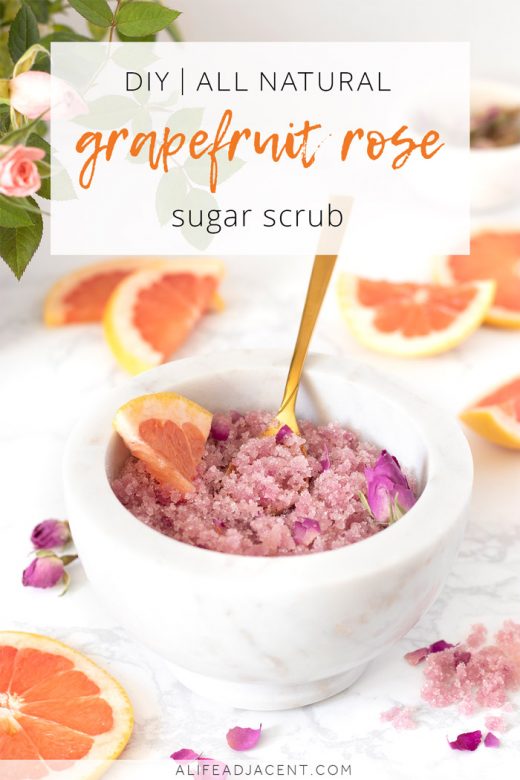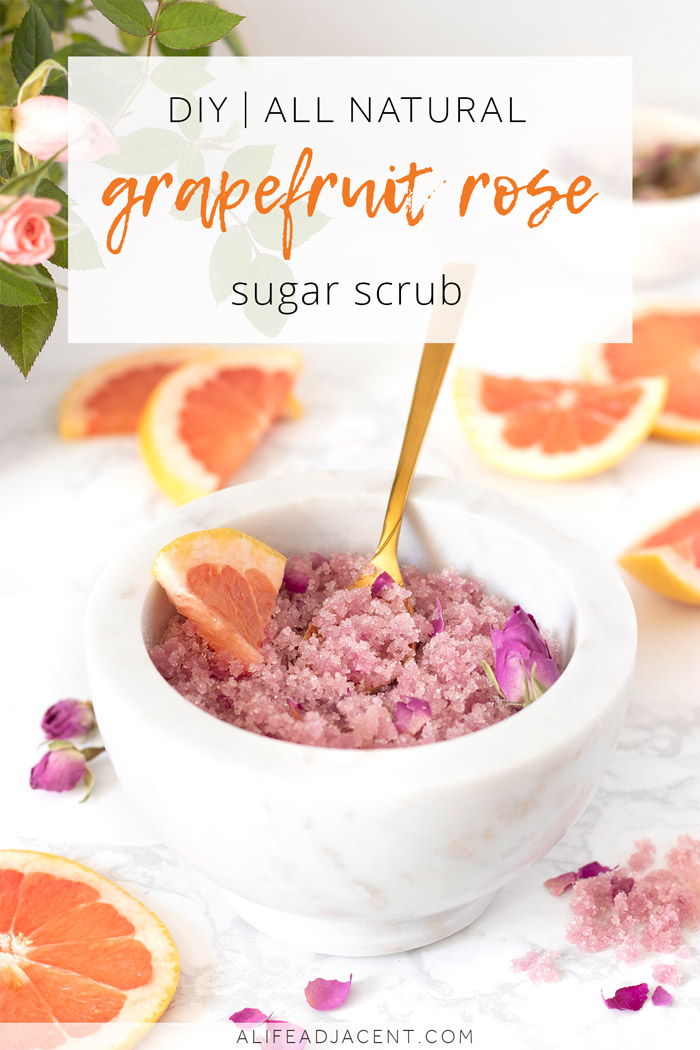 Grapefruit sugar scrub benefits
There is something about citrus scents that are reminiscent of summer, which is why I wanted to create a citrus-based sugar scrub for use during the season. I chose grapefruit essential oil for this recipe as its sweet, citrus scent is both energizing and uplifting.
Using grapefruit essential oil in a body scrub can provide wonderful aromatherapeutic benefits. Grapefruit essential oil has a crisp and refreshing aroma that can help relieve stress and reduce anxiety.
But the benefits don't stop there – some studies suggest grapefruit essential oil can help reduce the appearance of cellulite. Grapefruit oil is mildly astringent, which means it stimulates tissue tightening. This can help the skin appear firmer and more toned.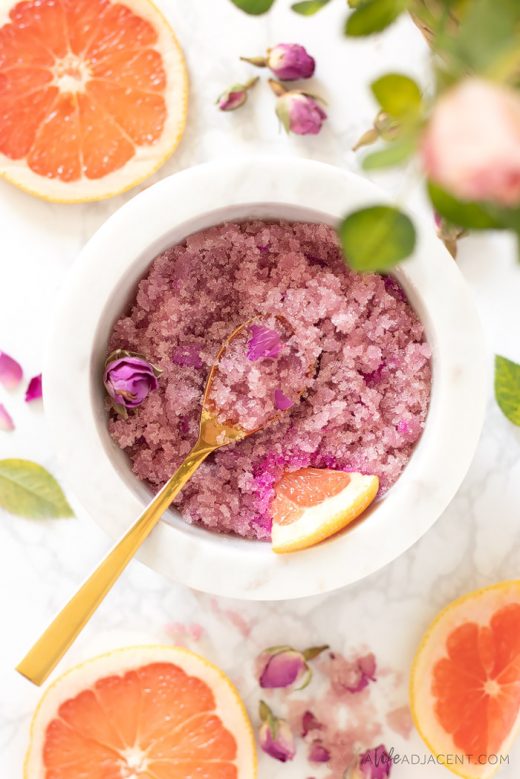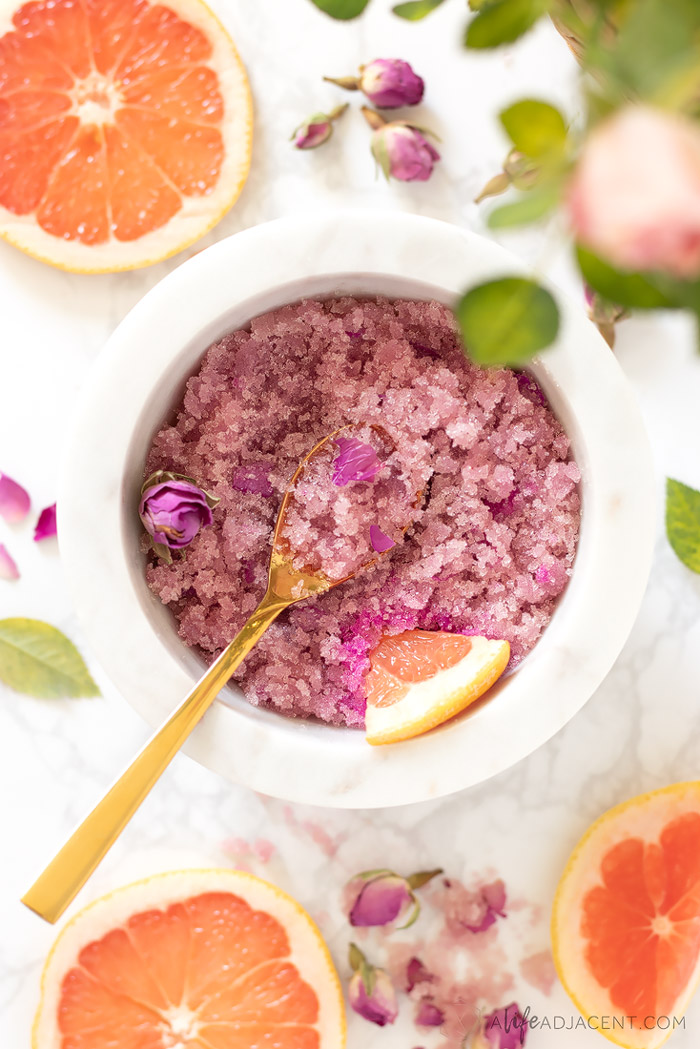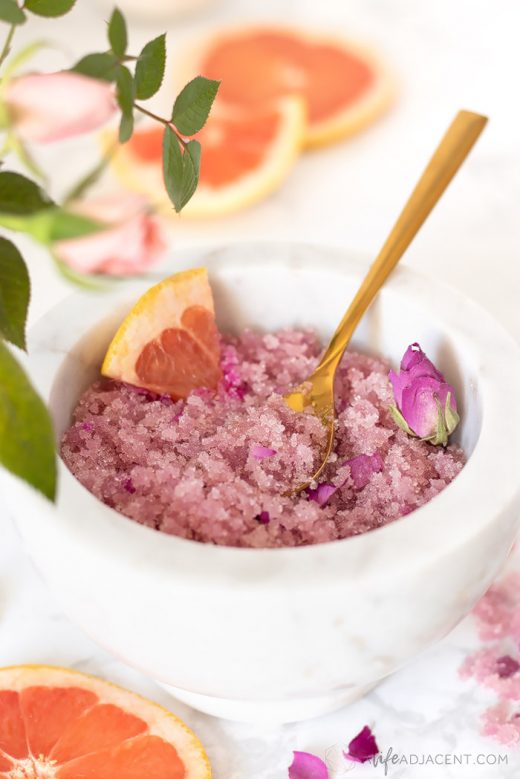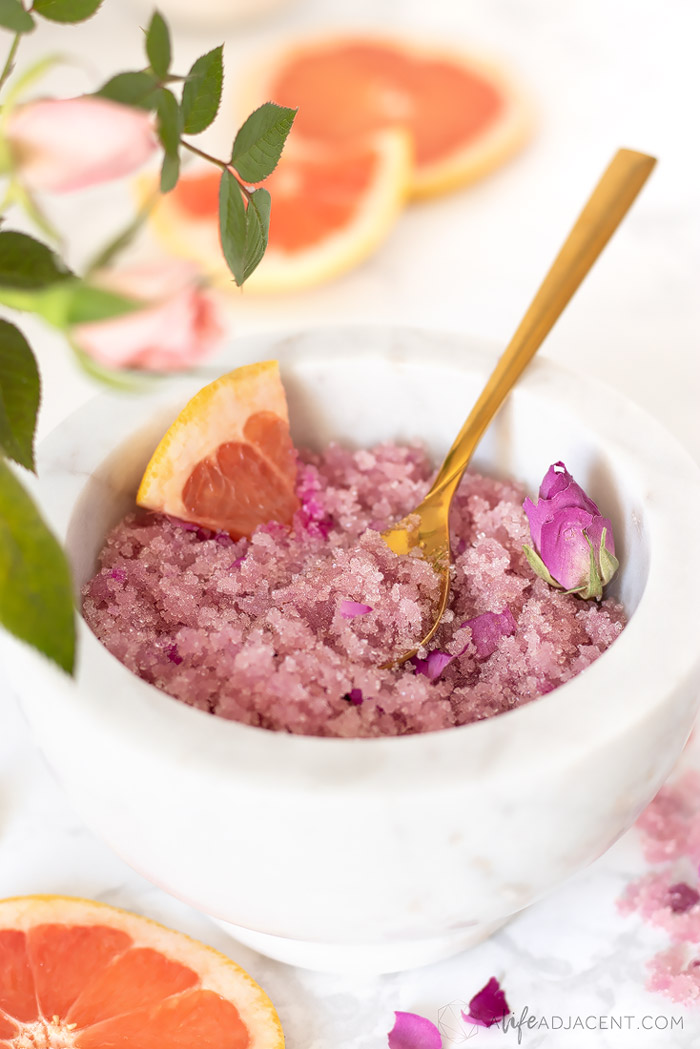 It appears that grapefruit essential oil may work in the same way that coffee grounds do – offering a temporary benefit by diminishing the appearance of cellulite on the surface of the skin. It also has a diuretic effect that can help flush excess water from fat cells, temporarily reducing their size.
Additionally, there is some evidence that massaging the skin with grapefruit essential oil combined with a carrier oil can stimulate lymphatic drainage.
However, grapefruit oil's benefits may be more than just a temporary fix. This study indicated a reduction in abdominal subcutaneous fat and waist circumference after subjects were massaged daily for 6 weeks using a combination of grapefruit essential oil, other essential oils and a carrier oil.
While not a substitute for a healthy lifestyle, it appears there may be some evidence to back up the claims that with regular use, grapefruit essential oil (when combined with massage) may potentially offer some skin benefits.
Fractionated coconut oil for DIY sugar scrub
I used fractionated coconut oil in this DIY grapefruit sugar scrub as it will remain a liquid in all weather conditions. It's also economical and easily accessible.
Fractionated coconut oil is coconut oil that has undergone a fractionation process which removes most of the long chain fatty acids. Therefore, the resulting oil will remain a liquid at room temperature, even in colder temperatures.
Like regular coconut oil, fractionated coconut oil is made of saturated fatty acids which makes it more resistant to oxidation by light, heat, and oxygen. This also means it's more shelf stable than polyunsaturated liquid carrier oils like sweet almond oil.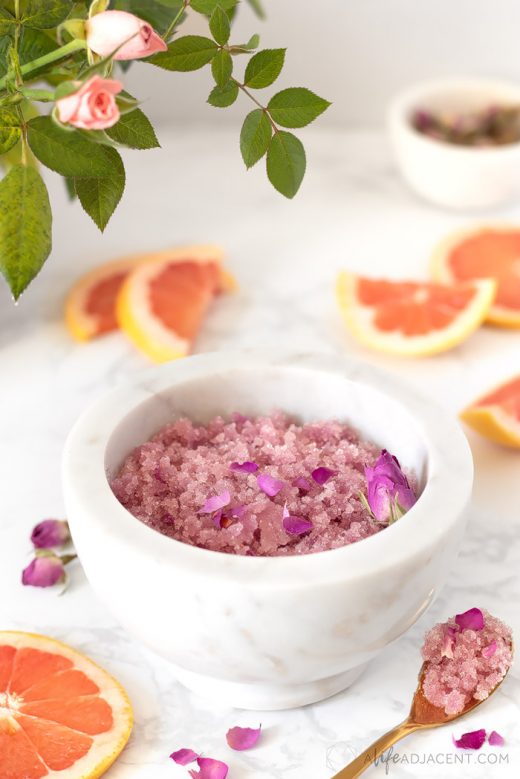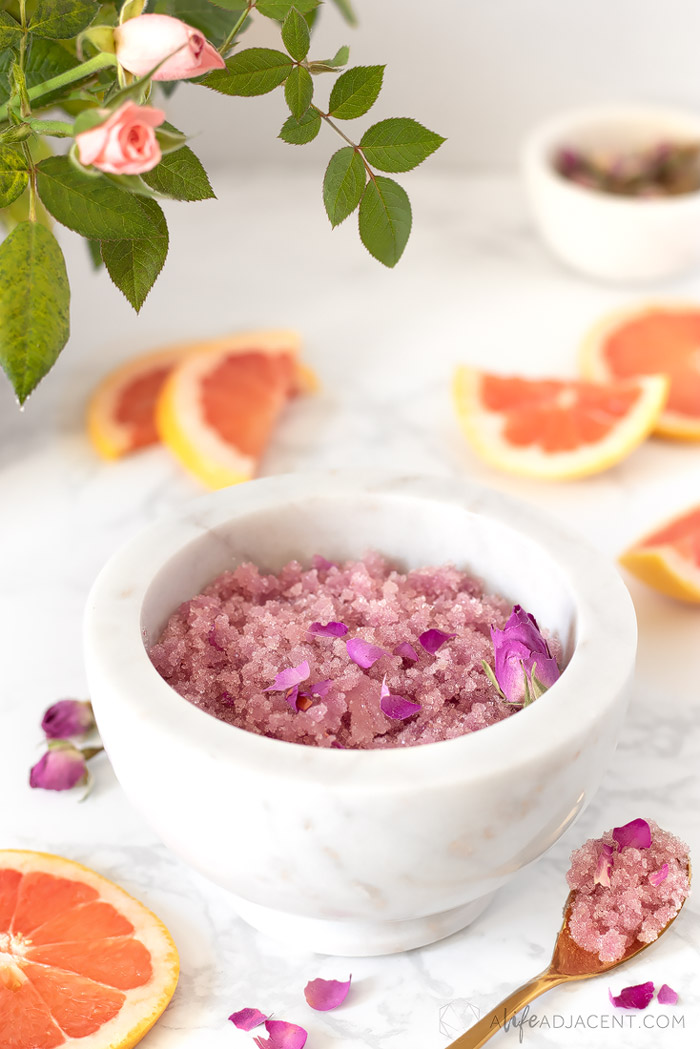 Fractionated coconut oil has many of the same benefits as regular coconut oil, including antibacterial and antifungal properties. It's also less comedogenic than regular coconut oil. This may be preferable for oilier skin types, as those with acne prone skin may find that regular coconut oil clogs their pores and leads to breakouts.
If you live in a hot climate or have dry skin, you can substitute the fractionated coconut oil with regular coconut oil. But note that once the temperature drops, your scrub will solidify during storage.
You can also substitute the coconut oil in this recipe for another liquid carrier oil such as jojoba oil. Food-grade MCT oil is another good choice, as it's very similar to fractionated coconut oil.
Organic rose petals for beauty and skincare
Roses and their extracts are commonly used in beauty products such as toners and body lotions due to their astringent, moisturizing and anti-inflammatory properties. The soothing fragrance of roses has also been shown to provide both mood-boosting and stress-relieving benefits.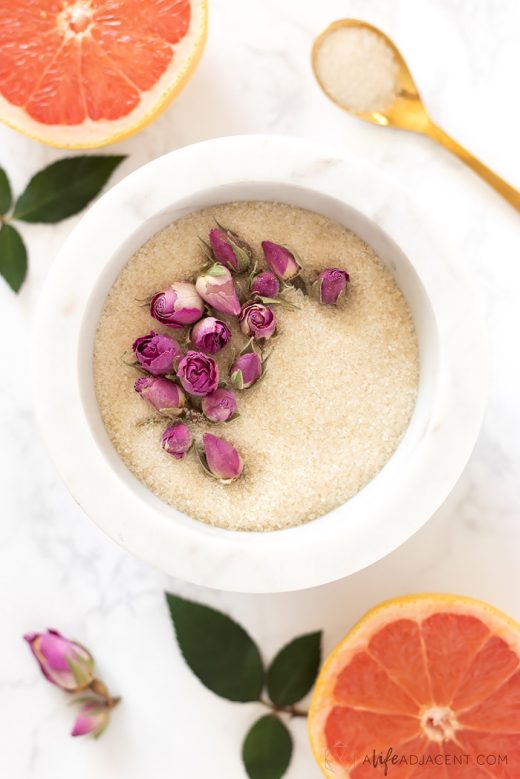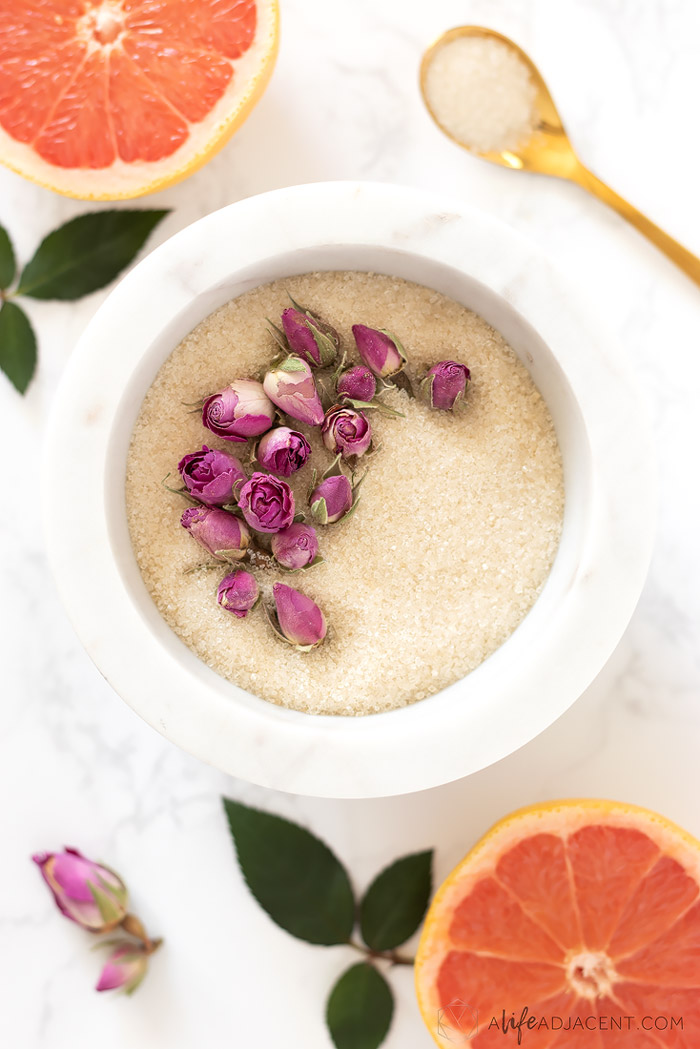 Roses are abundant in antioxidants such as vitamin C, which is important for collagen formation. Therefore, the addition of rose-derived products to your skincare routine may offer some benefits for your skin. Antioxidants like vitamin C can also minimize the damaging effects of free radicals, further boosting your skin's overall health.
Pink rose petals add a luxurious and visually appealing touch to this grapefruit sugar scrub. However, the small quantity of petals in this recipe likely offers only minimal topical benefits. I added rose petals mainly for their calming floral aroma and to give a lovely pink tone to this moisturizing sugar scrub.
DIY grapefruit sugar scrub recipe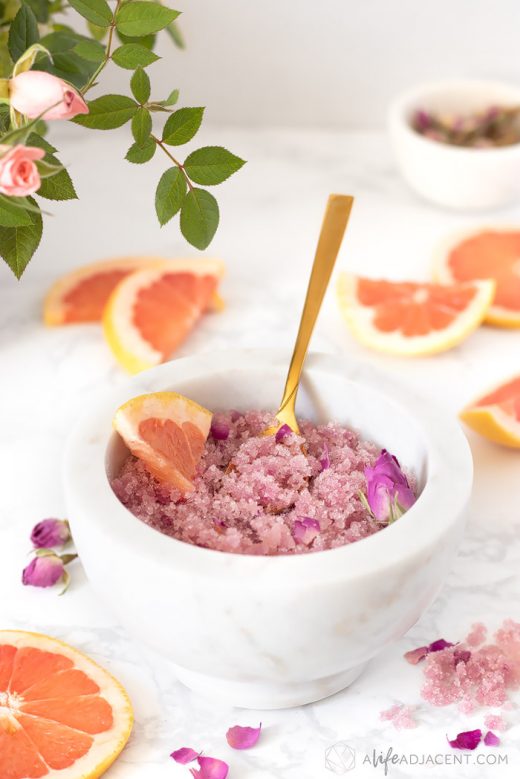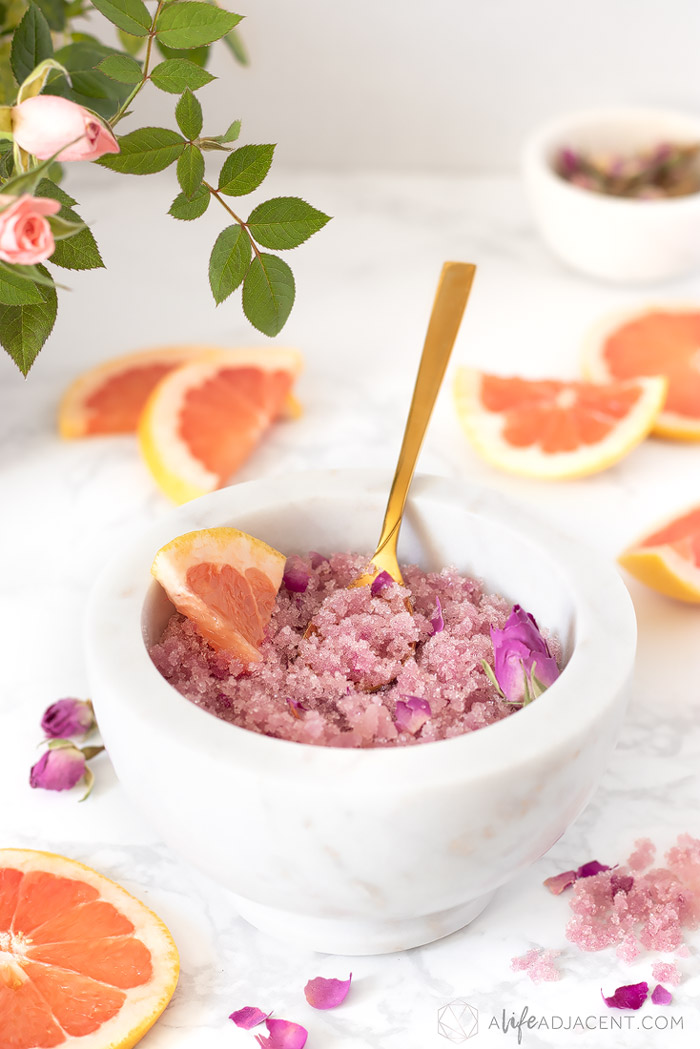 Ingredients
How to make it
Using a mortar and pestle (or a small, clean coffee or spice grinder), crush the rose petals until coarsely ground. Leave a few petals a bit larger if you prefer the look of petal pieces in your scrub. You can also opt to grind the petals finely if you prefer a smoother texture.
In a large glass mixing bowl, combine the sugar and fractionated coconut oil and mix thoroughly.
Add the ground rose petals, beet powder (if desired) and grapefruit essential oil. Again, mix thoroughly.
Transfer your scrub to an air-tight glass container with a lid. Store your sugar scrub in the refrigerator or in a dark cupboard.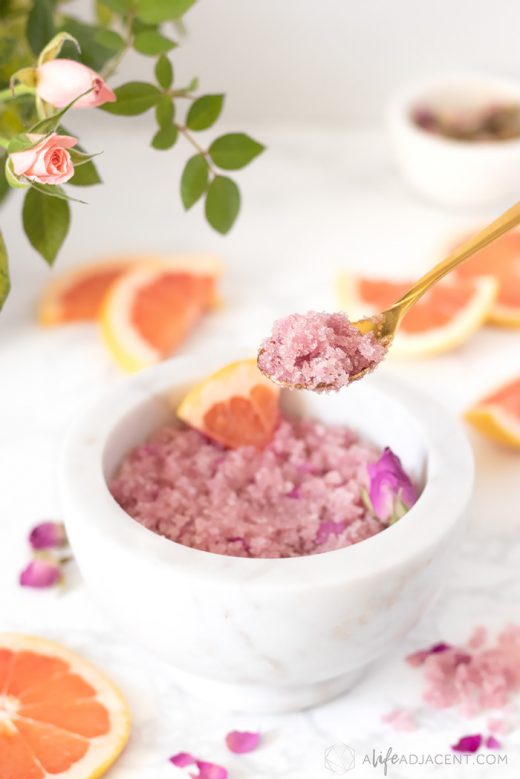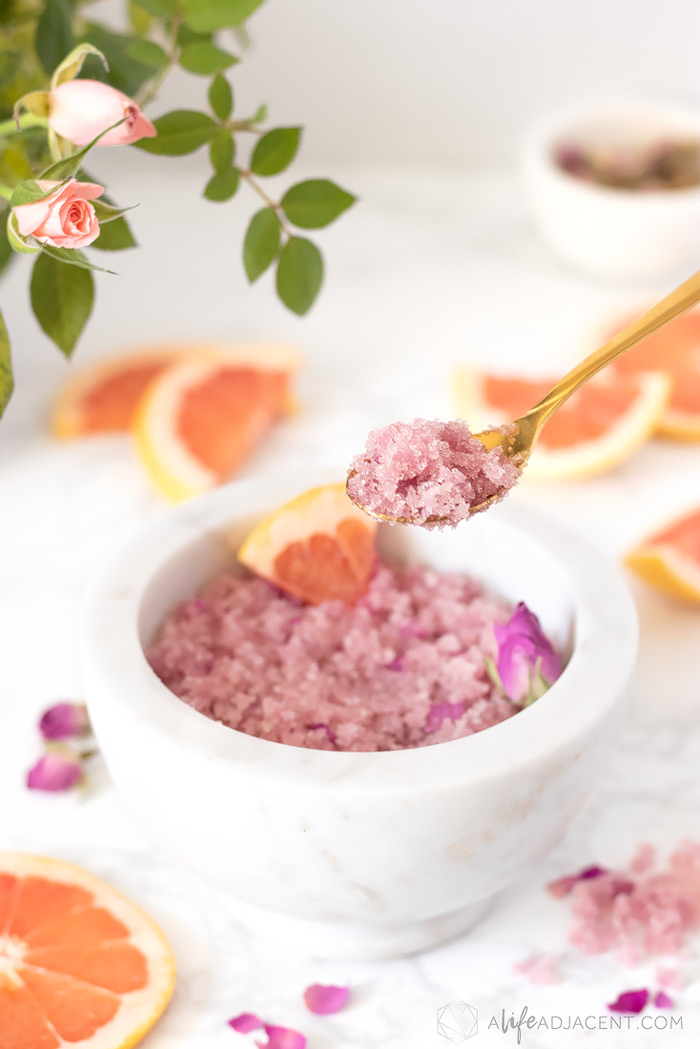 Safety precautions
Remember to always do a skin patch test when adding new essential oils to your skincare or bath products.
Citrus oils like grapefruit essential oil can cause photosensitivity. When using citrus oils topically, you should not be exposed to direct sunlight. If going outdoors, wear sunscreen and cover all areas of skin where citrus oils were applied. You can also opt to use this scrub in the evening to avoid exposure to UV light.
Recipe notes
Instead of fractionated coconut oil, you can substitute any carrier oil you prefer or have on hand. Carrier oils in glass bottles (like this one) are always preferable.
A high-quality pink grapefruit essential oil will add a subtle pop of colour to this recipe. If you wish, you can add pink beet powder for a more brightly-coloured pink sugar scrub.
Since this recipe is anhydrous (doesn't contain water), it doesn't require a preservative.
Fractionated coconut oil has a long shelf life of several years, but grapefruit essential oil spoils in about a year. With a freshly-opened bottle of grapefruit essential oil, this sugar scrub could last up to a year. Use the best-before date of your essential oil as a barometer.
How to use this DIY grapefruit sugar scrub
To use, scoop a small amount of your sugar scrub into another container. You will want to avoid bringing your storage container into the shower, as water can cause mold and bacteria growth in products without preservatives.
To reap the benefits of the coconut oil and grapefruit essential oil, bathe before using your scrub. Apply your scrub to clean, wet skin in a circular motion, massaging gently to stimulate circulation and encourage lymphatic drainage. Rinse off the scrub with water only.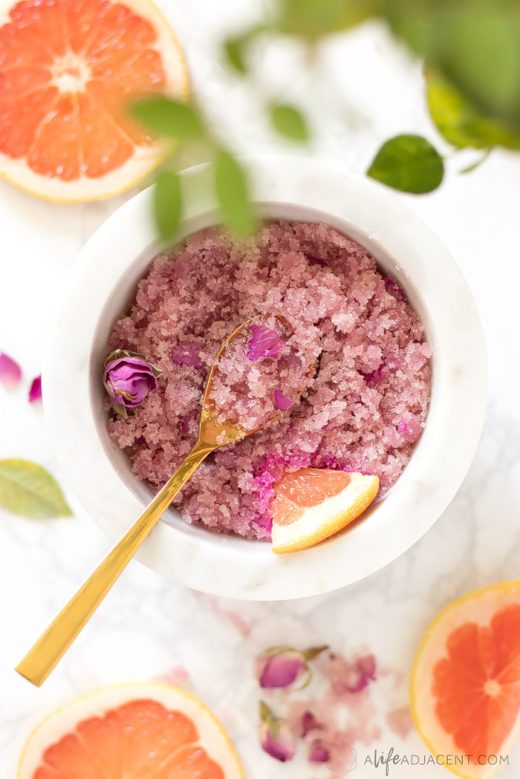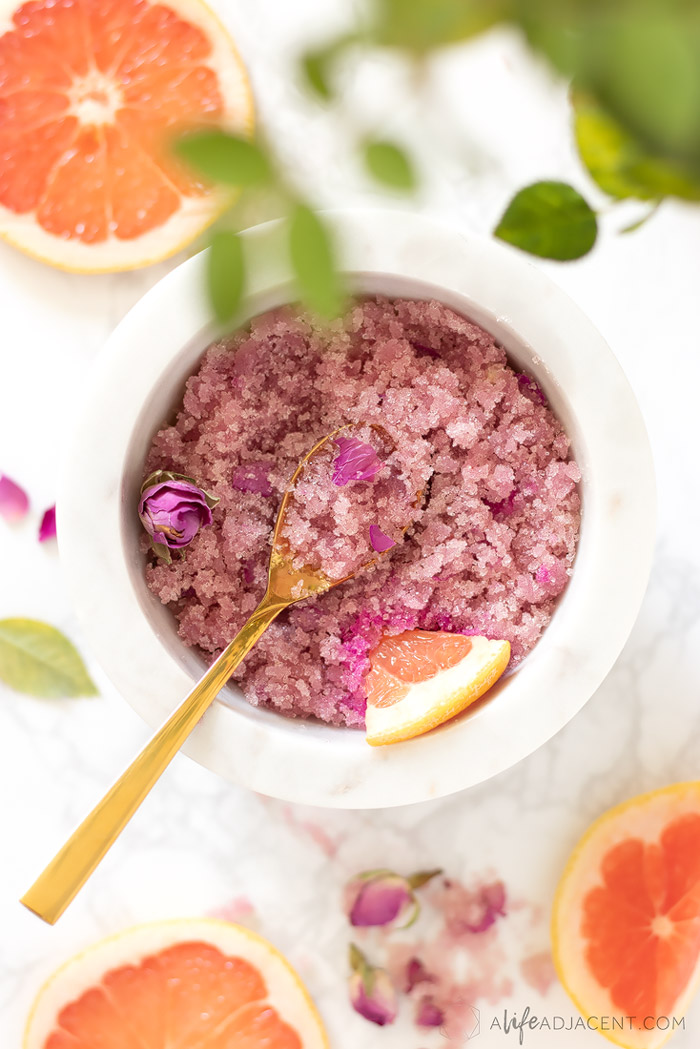 Always take precautions while using oil-based products while bathing or showering, as oil can make surfaces slippery. It's best to apply this scrub while sitting on the edge of the tub or while on a stool in your shower.
For maximum benefit, use this scrub 1-2 times per week.
More DIY bath and body recipes
If you enjoyed this homemade grapefruit essential oil body scrub, you may also enjoy some of our other homemade beauty recipes:
For even more natural DIY bath and body ideas, follow us on Pinterest! You can also find us on Instagram, Facebook, and Twitter.
Pin it for later