This natural DIY cola lip balm will make your lips smell and taste like your favourite soda, without the sugar! No fragrance oils — this recipe uses only natural essential oils for a true cola scent. Read on to find out how to make your own DIY cola soda lip balm!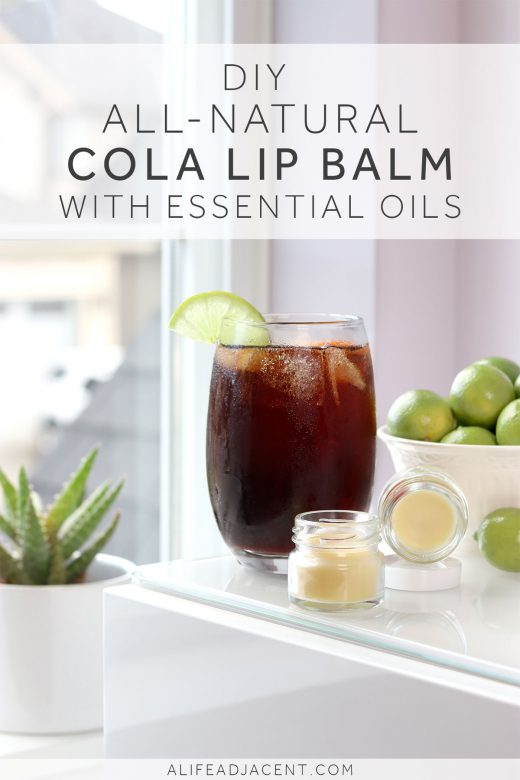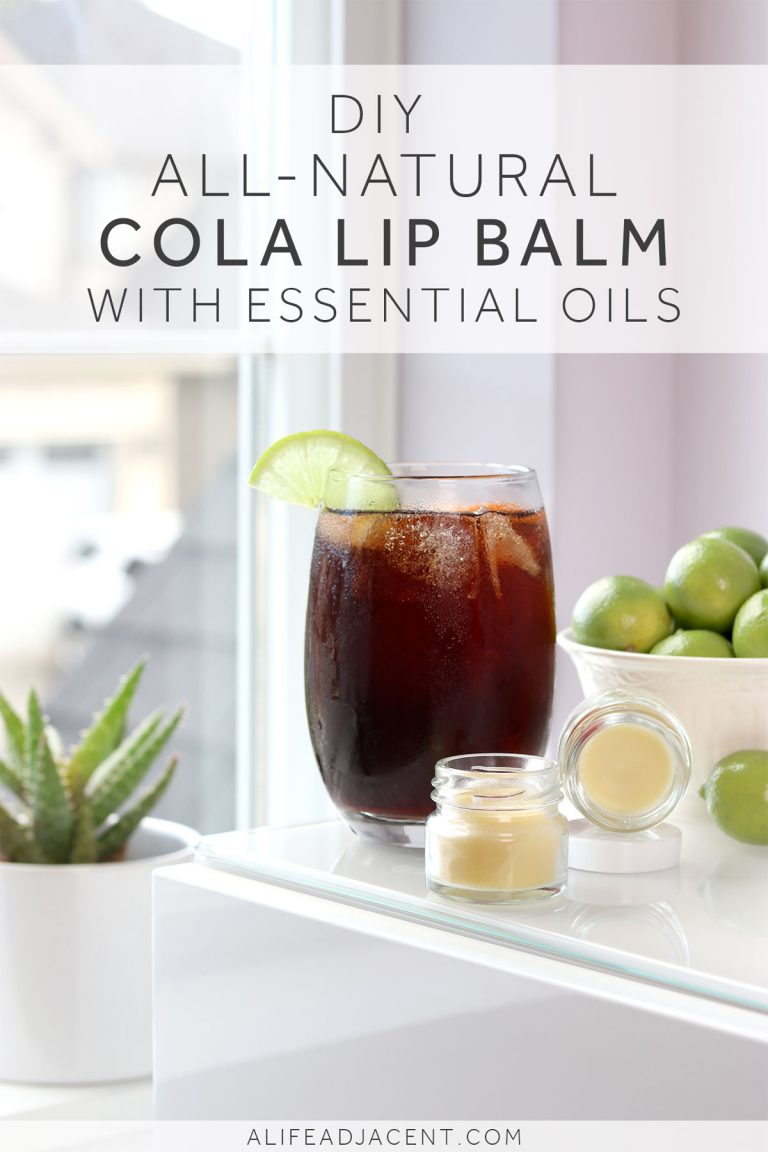 If you like the smell and flavour of cola without the extra calories (or sugar), our DIY cola lip balm is for you! Even if you're a first time beauty-DIYer, this recipe is very simple to make. As an added bonus, it doesn't contain the synthetic fragrances, polyunsaturated oils, or petroleum byproducts found in many store bought lip balms.
You might be asking — how do you make a cola-scented lip balm without the use of artificial fragrances? Well, we discovered that a simple blend of two essential oils smells exactly like cola when combined. Yes, only two! You can also try this combination in your diffuser if you want your house to smell delicious! See more about that here.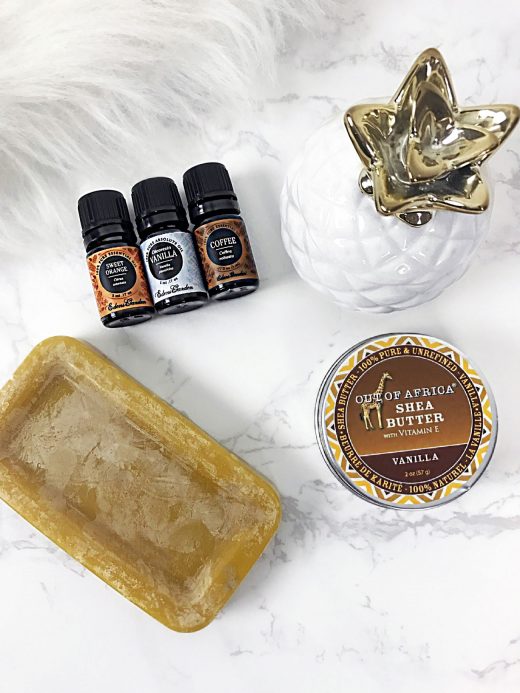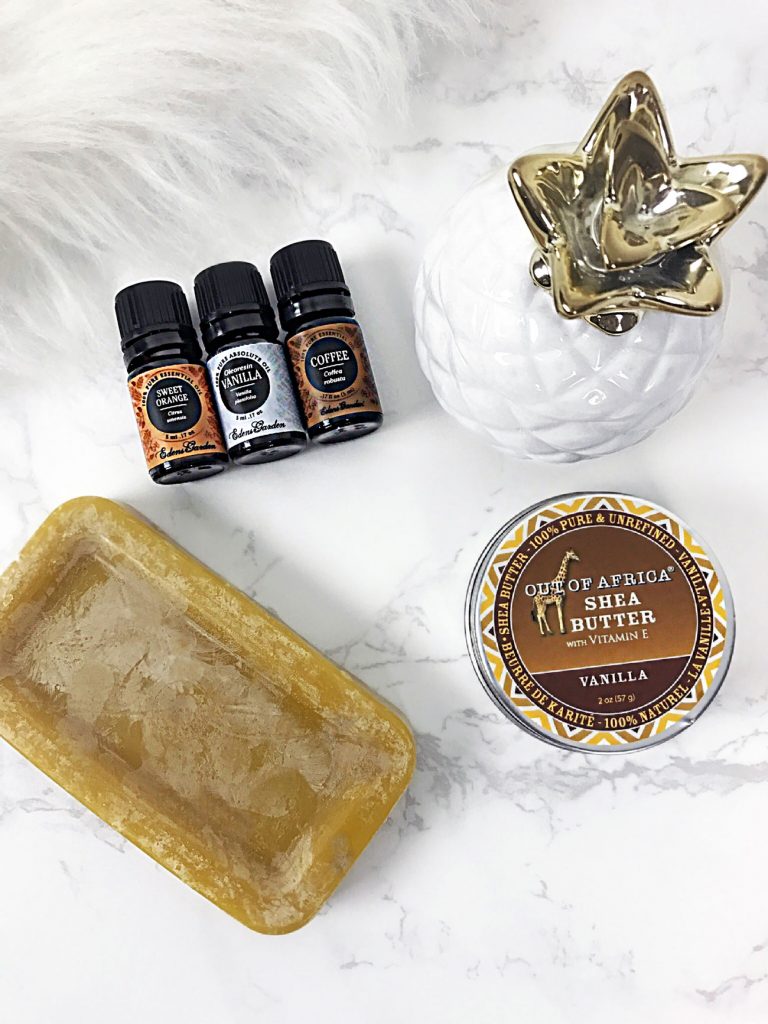 When making lip balm or any cosmetic product, please sure to buy organic ingredients and therapeutic grade essential oils that follow all USDA food and product safety guidelines, such as Edens Garden or Plant Therapy. Essential oils used in fragrances or labelled fragrance grade are not suitable for this recipe. Also, be advised that you need to use cosmetic grade beeswax.
For our balm, we used Plant Therapy's steam-distilled lime essential oil and Eden's Garden sweet orange essential oil. It's important to note that the sweet orange essential oil cannot be substituted for any other citrus oil, such as orange or mandarin. You must use sweet orange in order for your balm to truly smell like cola.
Warning: Only steam-distilled lime essential oil is safe for use in this recipe. Regular cold-pressed lime essential oil has photosensitizing properties. When you use phototoxic essential oils topically, your skin will be more sensitive to UV rays for approximately 12 hours after each use. This can lead to sun damage, phototoxic burns, and long-lasting skin discolouration.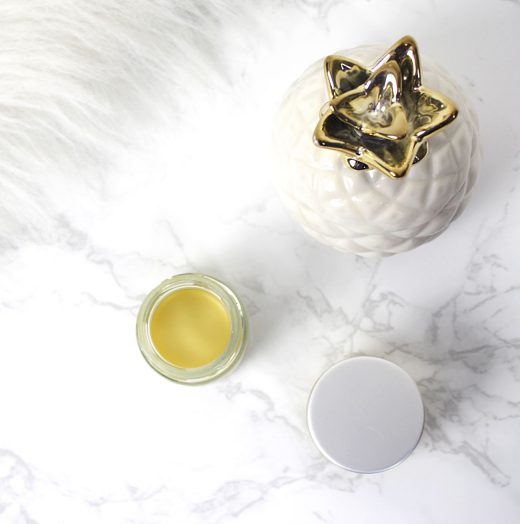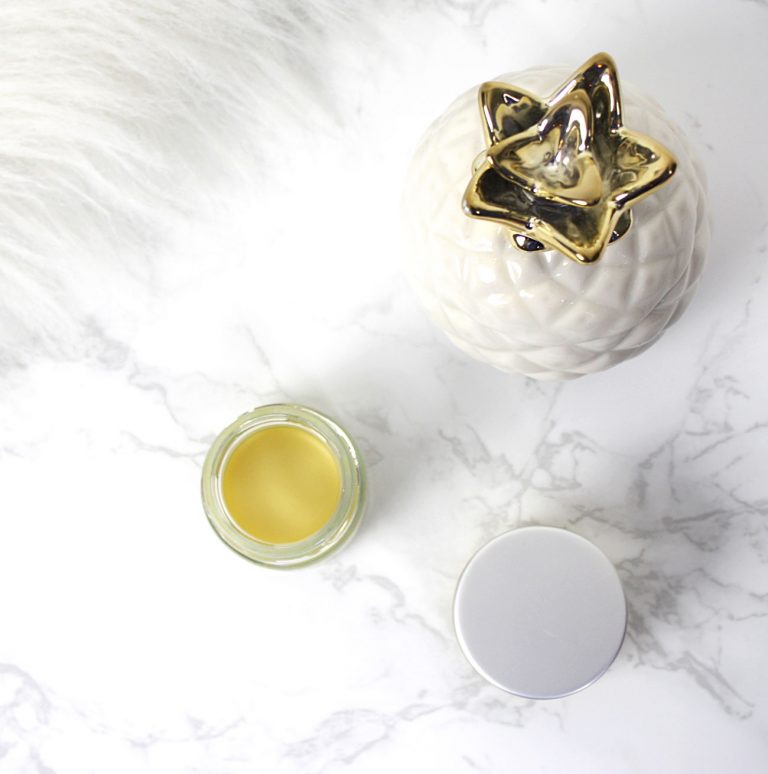 You will also need some small tins or tiny jars for storing your balm. We like to recycle small glass jars from lotions or eye cream. A mini funnel would also be useful, but this isn't necessary if you have a very steady hand, and if you use a small saucepan for melting your ingredients.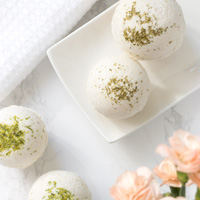 Related
All-Natural DIY Cola Lip Balm Using Essential Oils
This all-natural DIY lip balm uses a special combination of citrus essential oils to create an authentic cola scent. Make your lips smell like your favourite soft drink, without the sugar! No synthetic fragrances or ingredients necessary.
Instructions
Place all ingredients, except for the essential oils, in a small saucepan on low heat. If you prefer the double boiler method, you can put the coconut oil, shea butter and beeswax in a small glass jar and place this jar in your saucepan. The saucepan for the double boiler method should contain about an inch and a half of water. Use low to medium heat for this method.

Slowly melt the coconut oil, shea butter and beeswax. Do not burn or bring to a boil.

When all ingredients have melted, turn off the heat and remove from the burner.

Add the drops of sweet orange and lime essential oils and stir thoroughly. You should smell a delicious cola aroma as soon as the essential oils have been added!

Use a small funnel to quickly fill your containers before your ingredients begin to harden.

Let your jars cool in the refrigerator for about an hour until completely hardened.

Store in a cool, dry place. Since coconut and shea are stable, saturated fats, your balm should last for about a year or more if stored correctly. Enjoy your delicious cola scented balm!
Notes
For a thicker, richer lip balm, you can replace the coconut oil in the recipe with shea butter. If you prefer a thinner texture, you can keep the recipe as is.
Remember that only steam-distilled lime essential oil is safe for topical use. Regular cold-pressed lime essential oil has photosensitizing properties.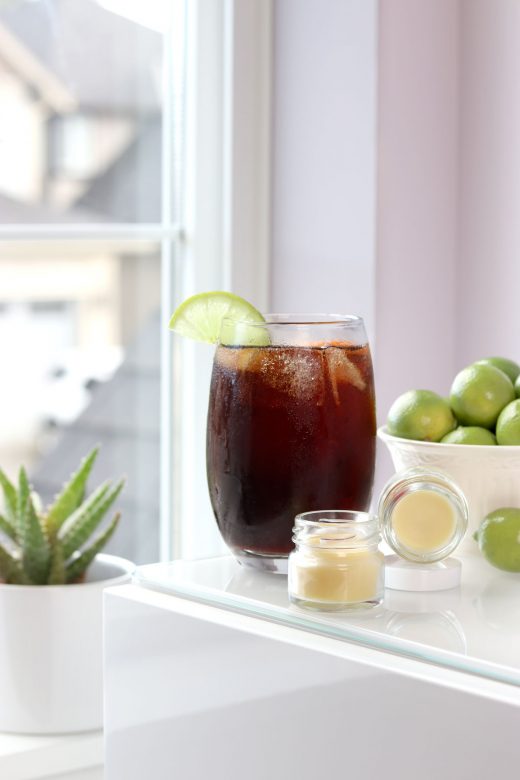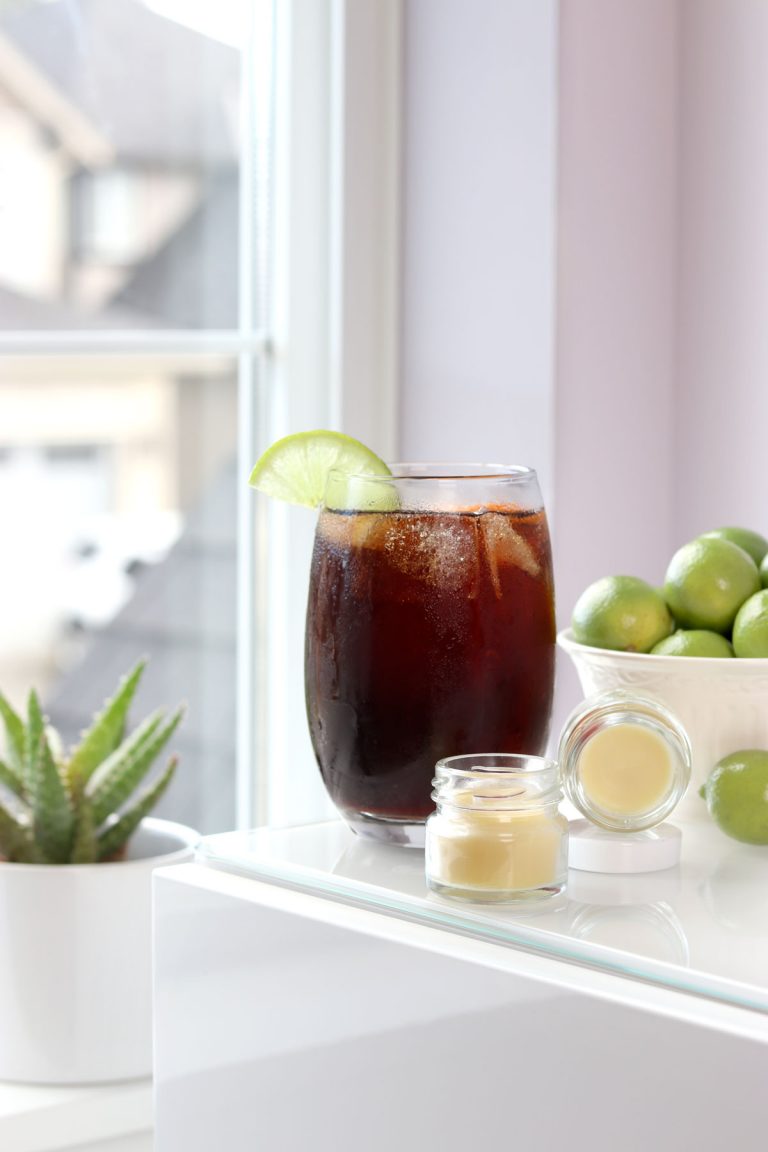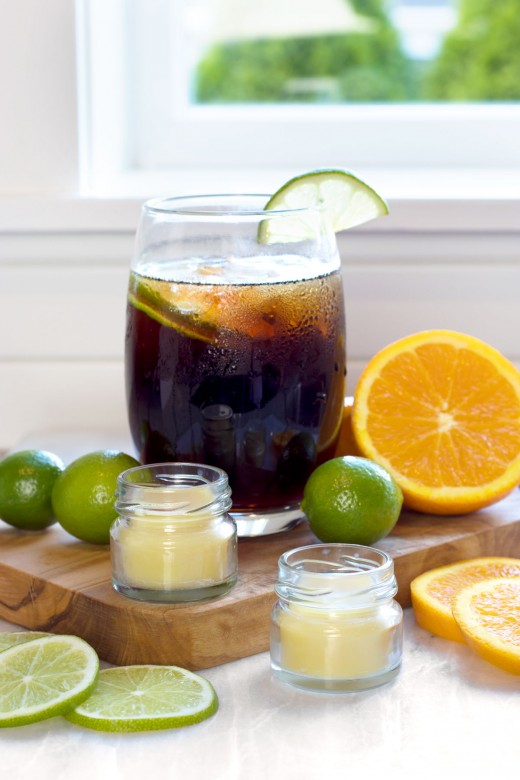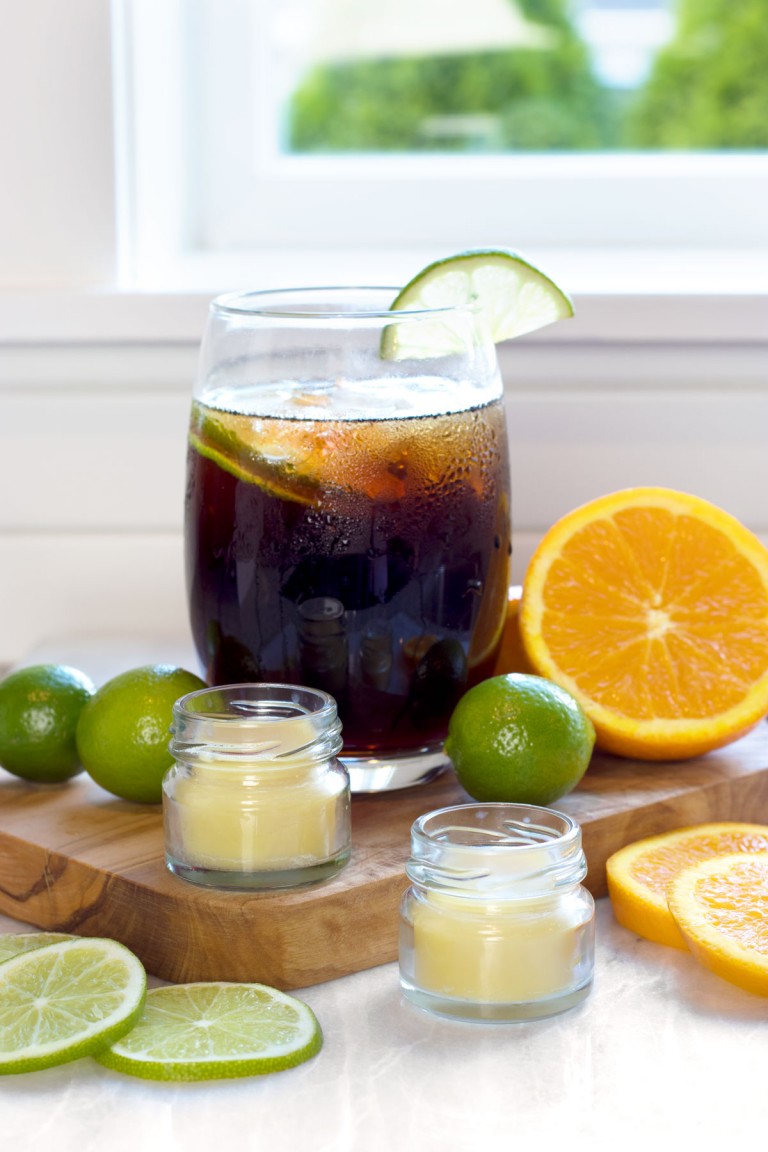 If you've tired our incredibly simple lip balm recipe, let us know in the comments below! Also, let us know if you made any modifications — by adding a few drops of vanilla essential oil to create vanilla cola, perhaps?
Our cola lip balms would a nice addition to a gift basket or perfect as party favours for a child's birthday party. What kid (or adult) wouldn't like soda flavoured balm?
More DIY beauty recipes
If you enjoyed this DIY cola lip balm, you may like our other cola recipes:
Looking for more natural DIY beauty recipes? Check these out:
For even more natural DIY beauty ideas, follow us on Pinterest. You can also find us on Instagram, Facebook and Twitter.
Pin it for later