Learn how to make your own DIY green tea lip balm! This tea infused lip balm recipe is a soothing treat for your lips. It's made with green tea infused oil and green tea wax to help protect and repair dry lips. This easy tutorial also includes free printable labels that make this lip balm perfect for gift giving.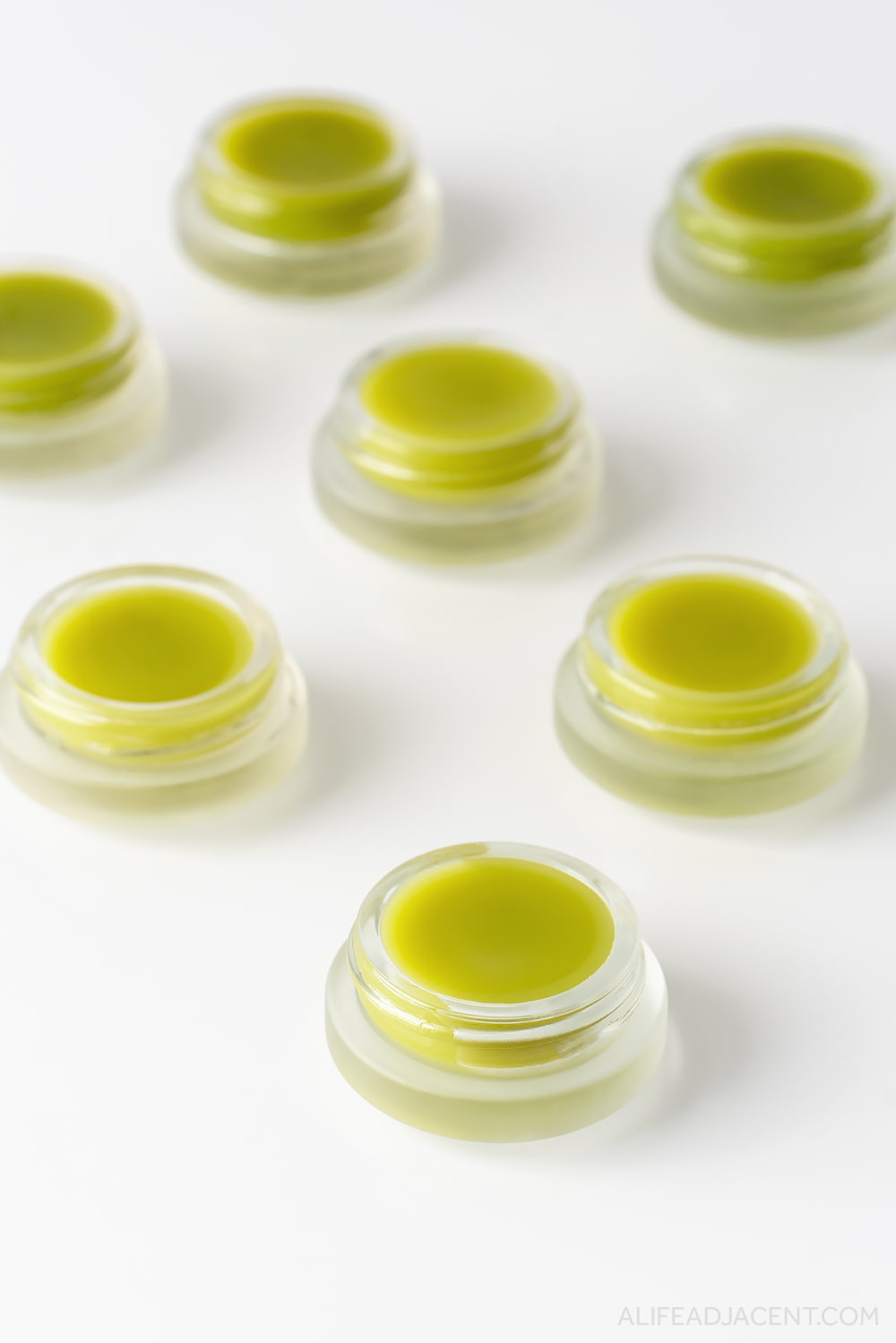 I've been on a bit of a green tea kick lately. Its skin-soothing and antioxidant properties make it an ideal ingredient to use in DIY beauty recipes.
Recently, I incorporated green tea into an overnight mask and a cleansing oil recipe. And since it's been so useful in my facial skincare, I started integrating it into my lip care as well.
This DIY green tea lip balm helps moisturize and soothe very dry or chapped lips. It combines two green tea ingredients for extra benefits: green tea infused oil and green tea wax.
Besides their antioxidant content, both ingredients provide a subtle fragrance that will delight green tea lovers.
If you wish, you can also opt to fragrance your lip balm with your choice of essential oils or lip balm flavour oils. Or, simply let the light green tea scent shine through.
Either way, this recipe is extremely easy to make and also includes an alternative vegan recipe.
For the finishing touch, I also provided free printable labels for your lip balm. Simply print and place on pretty containers for an easy homemade gift idea!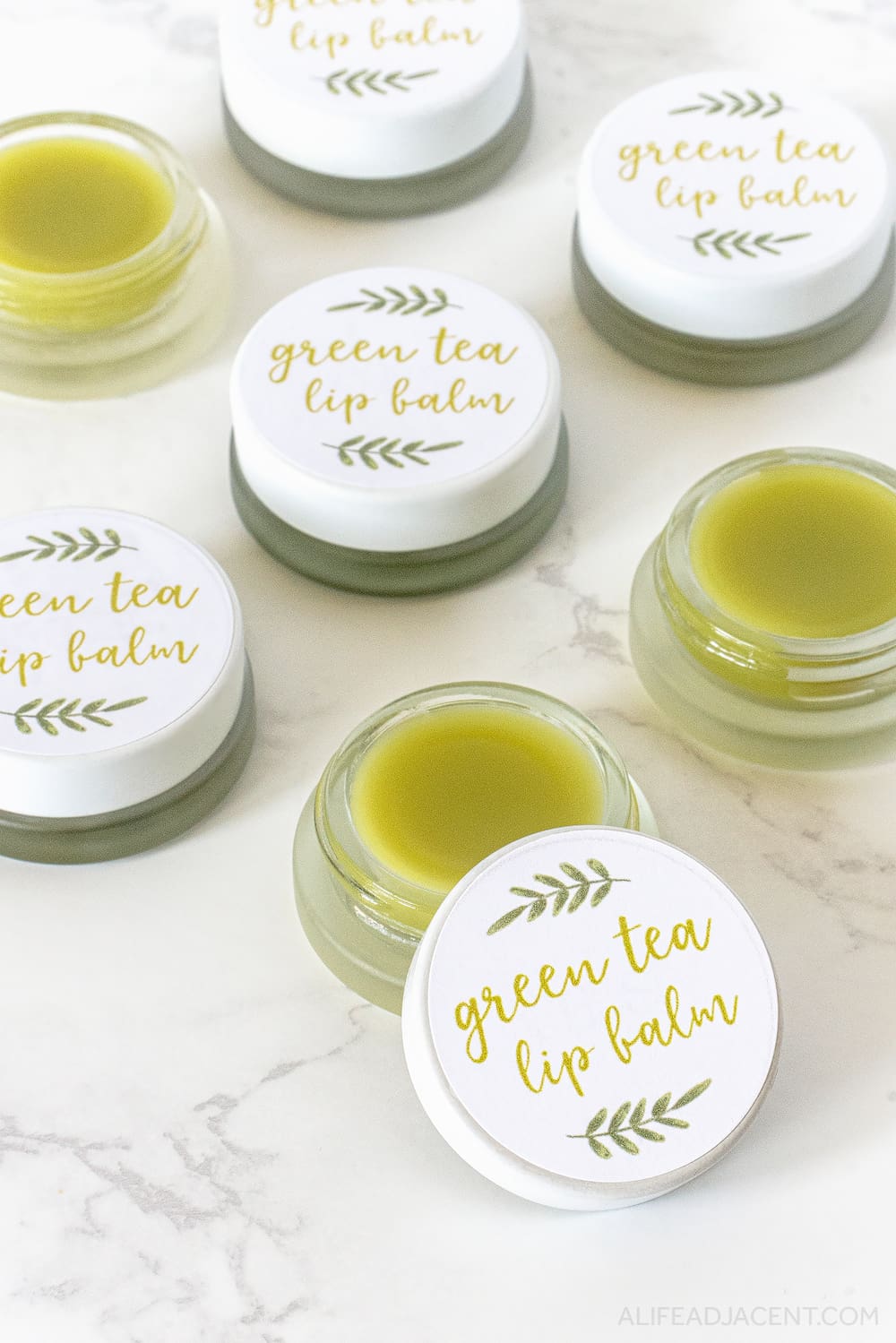 DIY lip balm without coconut oil or shea butter
You may have noticed that this lip balm has a translucent, jelly-like appearance. This is achieved by a special combination of ingredients which I will reveal more about later on – but they're not what you might expect.
Both coconut oil and shea butter are frequently used in natural lip balm recipes. However, this balm's base is made with something very different.
So for those looking for a homemade lip balm without coconut oil or shea butter, this recipe is for you.
Of course, there's nothing wrong with lip balms that use either one. I simply wanted to create a unique recipe without these commonly used ingredients.
As well, the particular materials I used create a thicker, more long-wearing consistency over shea and coconut-based lip balms.
Both our DIY tinted lip balm and our cola lip balm are made using coconut oil and shea butter, so if you prefer the feel of these ingredients in your lip balms, check those posts out.
Before we get into the recipe, let's touch on why green tea is beneficial for your lips.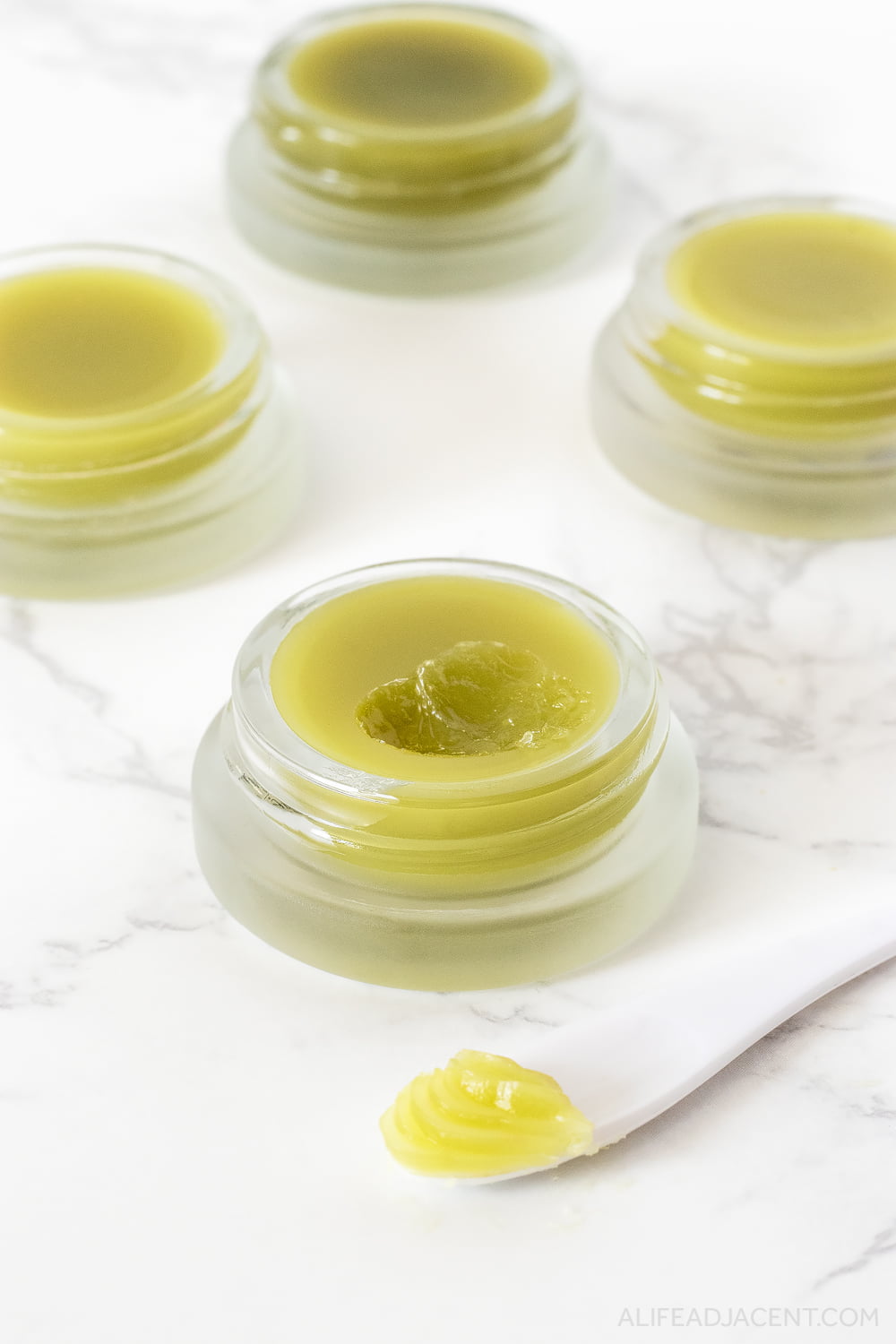 Green tea benefits for lips
From this green tea lip oil to this lip sleeping mask, green tea has been making its way into a variety of lip care products. And for good reason!
Not just for drinking, green tea is a wonderful addition to skin and lip care products. Besides its fresh herbal fragrance, it has a variety of benefits when used topically.
For one, green tea has been shown to enhance wound healing. So it can be added to a lip balm to help heal cracked or chapped lips.
As well, green tea possesses potent antioxidant and anti-inflammatory properties. These antioxidants can help protect the lip skin from oxidative stress, including sun damage.
Of course, this isn't to say green tea protects your skin from the sun – you need a good lip balm with SPF for that, like this one from Coola.
But green tea can be a good adjunct to a proper sun protection routine, and can even help repair existing UV-induced DNA damage.
In simple terms, green tea can help to keep the lip skin healthy.
Last but certainly not least, green tea has also been shown to have significant moisturizing effects. So, using green tea in your lip balm just might be able to help you kiss dry lips goodbye (literally).
Let's get into what you'll need to make your own simple green tea lip balm.
DIY green tea lip balm ingredients
Purified medical grade lanolin
This green tea lip balm is made with lanolin, the waxy, naturally occurring substance found on sheep's wool.
But not just any lanolin – it should be purified and medical-grade, the reasons for which I will discuss in a moment.
Lanolin's deeply moisturizing properties make it my all-time favourite ingredient for homemade lip balms. The same substance that helps protect sheeps' skin from the elements also does the same for our lips.
Why lanolin is great for lips
Interestingly, lanolin has a similar chemical composition and fatty acid makeup to our own skin barrier.
As well, it contains naturally occurring ceramides that are vitally important for our lips' barrier function.
Lanolin's thick, occlusive consistency makes for a long-lasting lip balm. It creates a water-resistant barrier that lasts even through eating or drinking, much like petroleum-based lip balms.
In fact, lanolin's texture is similar to petroleum-based lip balms, only without the environmental implications. In this study, lanolin outperformed petroleum jelly when it came to decreasing epidermal water loss.
So, evidence suggests lanolin might actually work better than petroleum-based lip balms for keeping lips moisturized.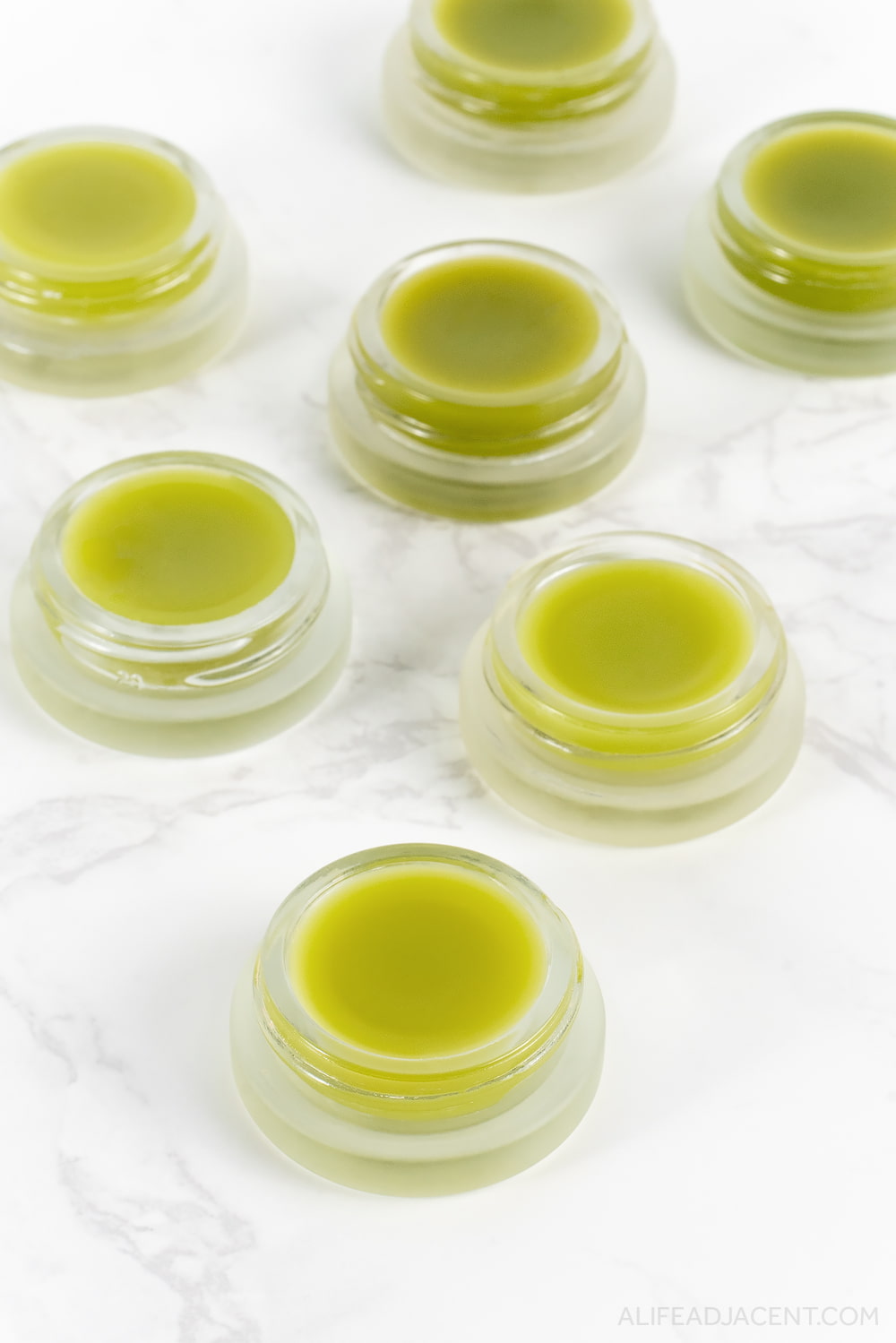 Concerns with lanolin
Though it's beginning to make a comeback, lanolin has received a bad rap over the years. It's been criticized for being highly sensitizing and linked to animal cruelty.
But the good news is that this is not true of all lanolin!
For one, sourcing cruelty-free lanolin is possible. My favourite cruelty-free lanolin is from Australian brand Lano. Their lanolin is harvested during the wool shearing process, which does not harm sheep.
And while it's true that lanolin has a high potential for skin reactions, it seems this can be attributed to quality control, not necessarily to lanolin itself.
Low-quality lanolin can contain pesticide and chemical residue, as well as dander, pollen, and other impurities that can cause skin reactions.
There's certainly something to this. For me, cheap USP lanolin consistently causes stinging and burning, whereas purified lanolin doesn't.
This is why it's vitally important to source high-quality purified lanolin. Look for medical-grade lanolin or highly-purified anhydrous (HPA) lanolin on the label.
Best brand of lanolin
Lano is the most highly purified form of lanolin that I know of.
According to Lano, their ultra-medical grade lanolin is three times purer than typical medical grade lanolin, and their proprietary refining process produces lanolin that is hypoallergenic.
It's also the only lanolin I've found that's completely colourless. Most lanolin products, even the medical-grade kind, are a pale yellow tinge. So you know it's highly purified if they've even managed to remove lanolin's natural colour.
Lanolips The Original 101 Ointment Multipurpose Superbalm can be purchased from Ulta, Amazon, and Sephora Canada.
However, there are other varieties of medical-grade lanolin available as well, for instance SuperLan and Lansinoh.
Alternatives to lanolin
Of course, if you have a true allergy to lanolin or wool, you might not be able to use any kind of lanolin, even the highly purified kind.
And if you're vegan or prefer to avoid animal products, lanolin will not be suitable for you either.
In either case, you can substitute castor jelly. It's easy to find and the closest plant-based alternative to lanolin that I know of.
Castor jelly is also marketed as a petroleum-free substitute for petroleum jelly.
If you choose to use castor jelly, it's important to note that using it will yield a thinner consistency for your lip balm.
You can find castor jelly as a cosmetic raw material (also called BioLatum) or a pre-made product such as Alba Botanica Un-Petroleum.
Green tea
This green tea lip balm wouldn't be complete without its main ingredient.
I used two different ingredients to impart this lip balm with green tea's benefits: green tea infused oil and green tea wax.
You can use one or the other, but I highly recommend using both together for extra fragrance, colour, and healing properties.
Green tea infused oil
Infusing oil with green tea leaves yields a richly green, fragrant oil that's chock full of antioxidants.
Green tea infused oil's anti-inflammatory properties make it beneficial for all areas of skincare, not just the lips. I frequently use it as a calming facial oil and body oil.
As well, you can find it in my green tea oil cleanser as well as my green tea overnight mask.
In my opinion, MCT oil and fractionated coconut oil are the best oils to use for infusing green tea oil, as their saturated fatty acids do not break down easily under high heat.
Using a heat-stable oil is important since we'll be infusing the oil on the stovetop. You can find full instructions for making your own green tea infused oil in this post.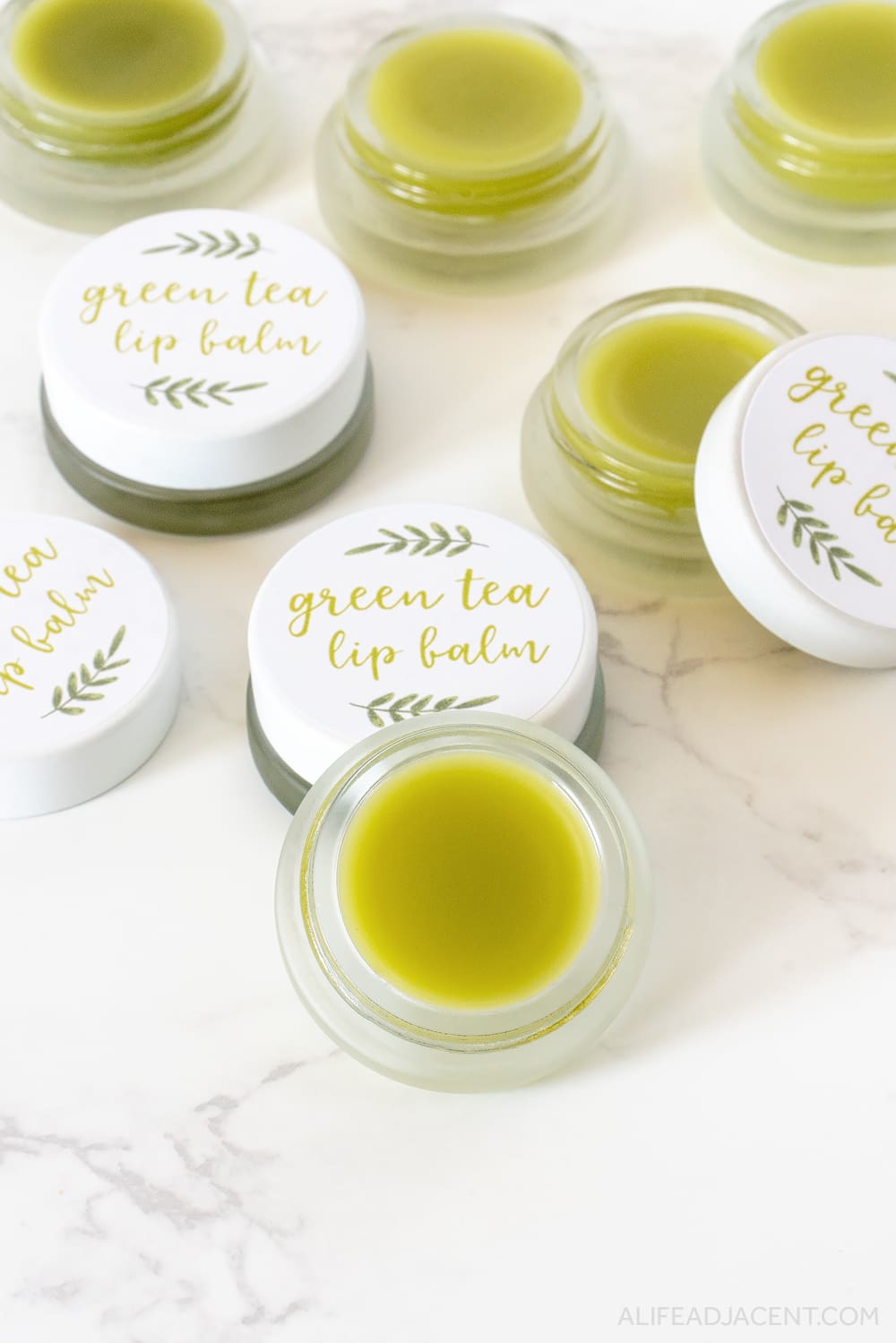 Green tea wax
Green tea wax has quickly earned a spot as one of my favourite cosmetic ingredients. It's harvested from the wax-like substance that covers green tea leaves, which most people aren't aware exists!
Yes, green tea leaves are covered in wax. It helps protect the leaves from the elements, and it's also is full of polyphenols, phospholipids, and various fatty acids that aid skin barrier repair.
Green tea wax is also great way to fragrance your lip balm without essential oils. It has a herbaceous green tea scent even in small amounts.
Small amounts are key though, as green tea wax is also highly pigmented. Too much will create a dark lip balm that could make your lips appear green.
Large amounts of green tea wax don't create the most photogenic shade of green, so I added less than I usually would for this post's photos.
Depending on how much wax you add, you can make your green tea lip balm as green as you like. You may notice that some lip balms in the photos appear darker – those ones contain more wax.
Also, remember that the more green tea wax, the stronger the scent.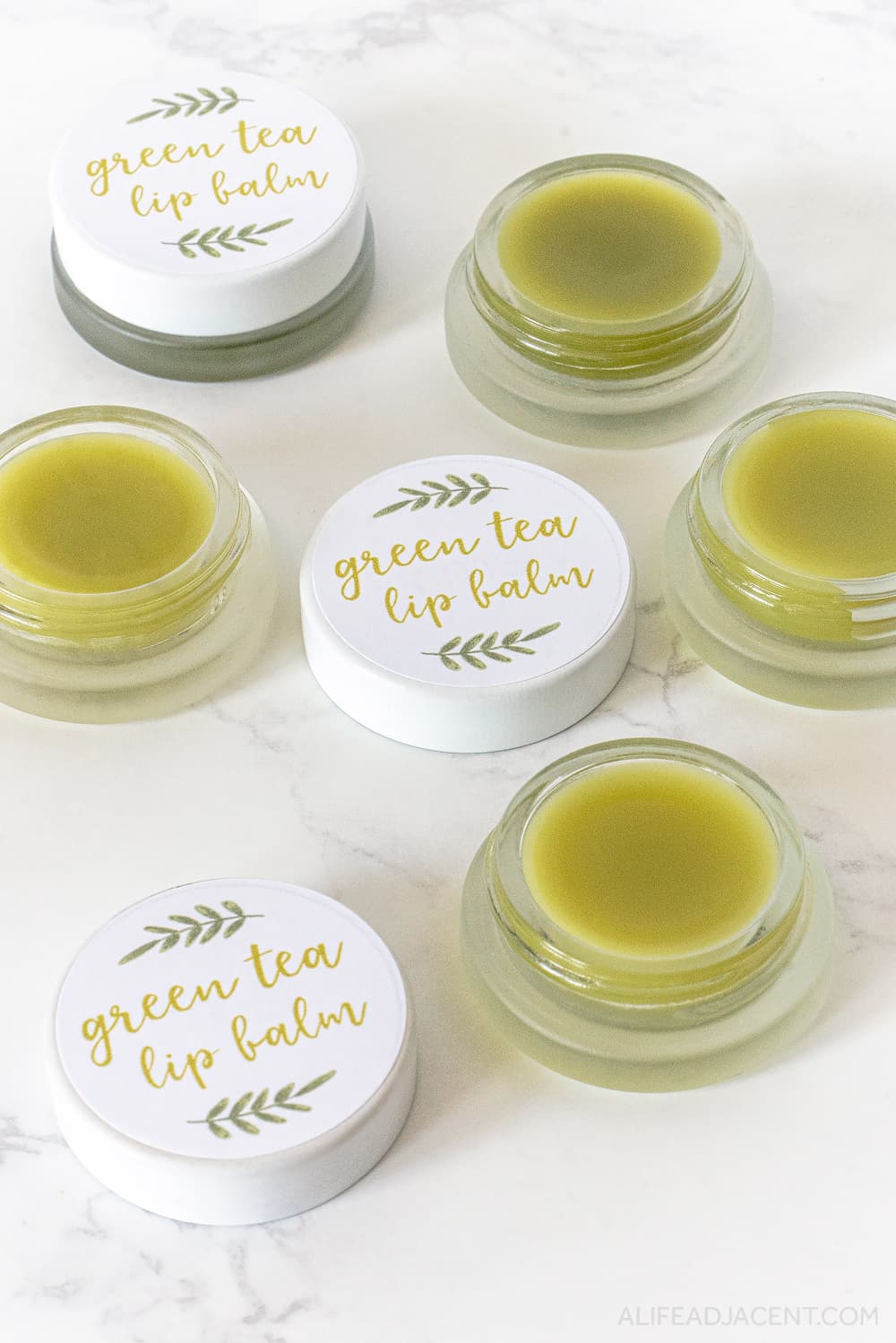 Cera Bellina wax
Cera Bellina wax may be a beeswax derivative, but it has incredible texture-enhancing and thickening properties that make it very unlike typical beeswax.
For one, it has the unique ability to "gel" oils. A small amount thickens without whitening, and hardens just enough without solidifying.
Thanks to the combination of lanolin and Cera Bellina wax, this green tea lip balm has rich, ointment-like feel, and a translucent appearance.
Its texture is reminiscent of an intensive lip mask, which is why this recipe is my favourite lip balm to wear overnight.
If you don't have Cera Bellina, you can easily substitute filtered white beeswax. Your lip balm won't have the same ointment-like quality that Cera Bellina imparts, but it will still have a lovely, thick texture.
For vegans, castor wax is an acceptable substitute, but it won't create the same texture.
Essential oils or lip balm flavour
I like to leave my lip balm's subtle green tea scent as is. But if you prefer a stronger scented balm, you can opt to add your choice of essential oils or lip balm flavour oils. The fragrances listed below are some of my favourites.
As well, if making the vegan version of this lip balm, you should know that castor jelly has a characteristic scent that you may wish to mask.
However, if your lips are at all irritated or cracked, please note that you likely shouldn't add any essential oils or flavours oils to your lip balm, as doing so could further irritate your lips.
Vanilla green tea latte lip balm
This unique lip balm flavour can be achieved by adding a small amount of vanilla lip balm flavour to your balm!
You can also use vanilla essential oil, but it's not completely oil soluble and may settle on the bottom of your lip balm.
Lavender latte lip balm
A couple drops of lavender essential oil turns this lip balm into a calming lavender green tea latte.
If you use this balm as a lip sleeping mask, this is the perfect fragrance to help you relax before bed.
I also highly recommend a combination of lavender and vanilla.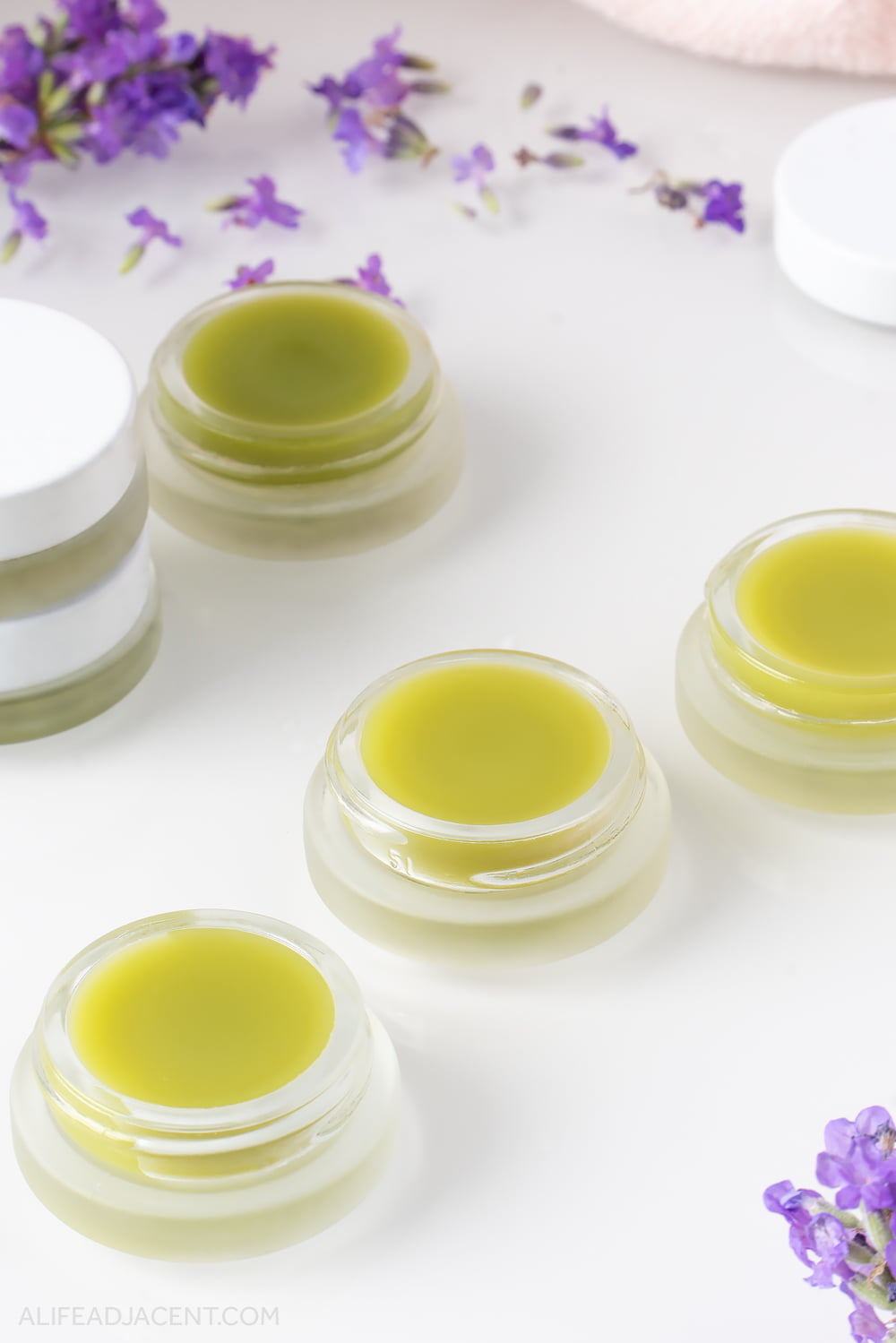 Blue tansy lip balm
Bright, sweet, and herbaceous, blue tansy oil is one of my favourite essential oils.
Blue tansy is purported to have skin-soothing properties. However, tread carefully, as calming essential oils are a double-edged sword. They can also come bundled with potentially irritating constituents like camphor.
So, it's up to you to discern which oils work for your skin.
A few drops of blue tansy oil also enhances the colour of this lip balm by creating a brighter, more cool-toned green.
Peppermint lip balm
For a plumping effect, you can add a small amount of peppermint essential oil.
However, please be careful! Essentially, peppermint plumps lips by irritating them. Only add a drop, and don't use peppermint on already irritated lips.
If you're not inclined to DIY, Innisfree also makes a peppermint green tea lip balm.
Packaging and free printable labels for DIY lip balm
When giving homemade products as gifts, presentation is everything. A beautiful container and a personalized label helps take any creation to the next level.
With this in mind, I created free printable labels to add the finishing touch to your DIY lip balm.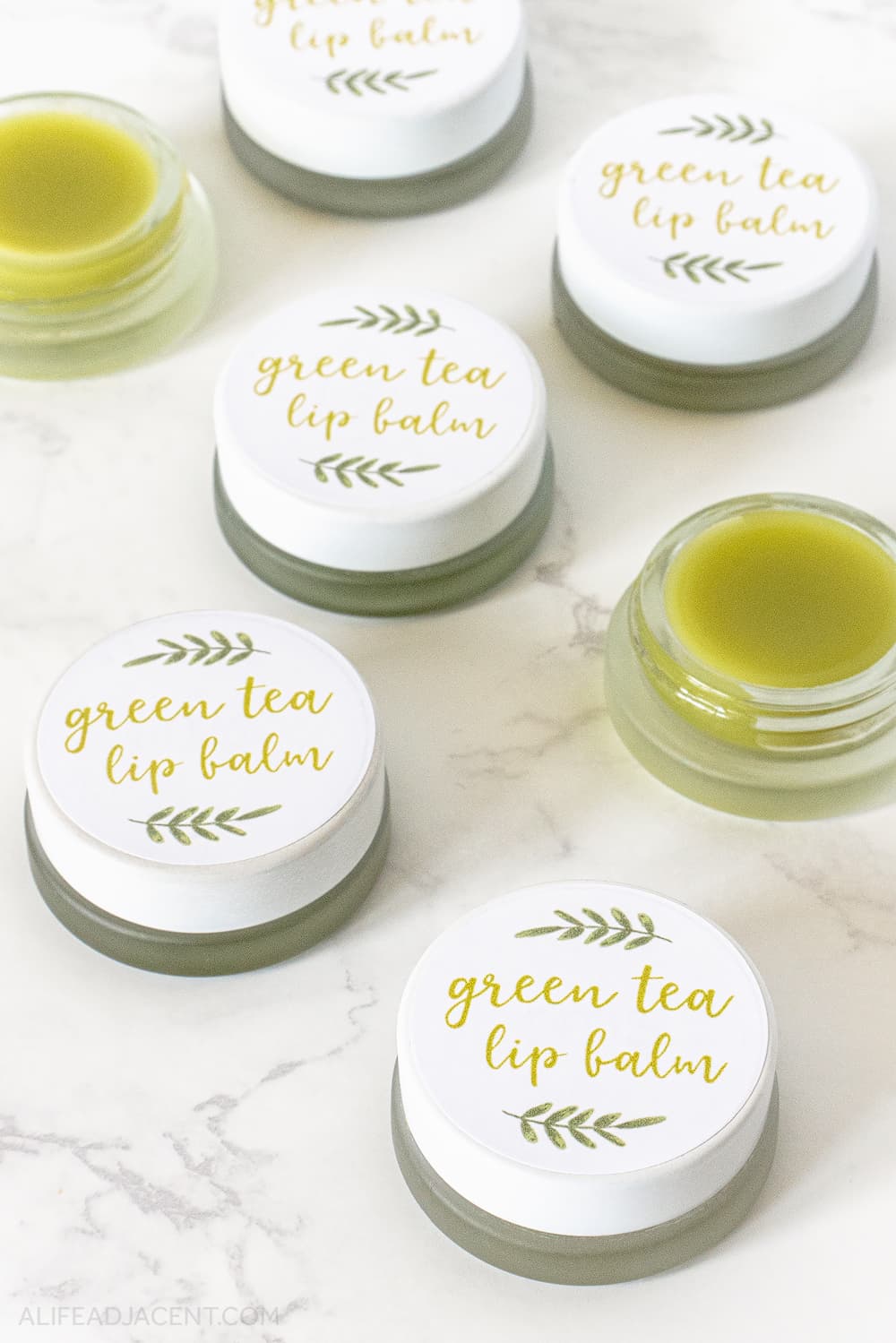 Simply use the form below to sign up for our email list. Once you confirm your email, you'll receive access to our high-quality, printable label template.
I chose shallow 5ml frosted glass jars to store my lip balm. They're actually repurposed RMS Beauty containers – can you tell how much I love their products? Their Lip Shine is one of my favourites.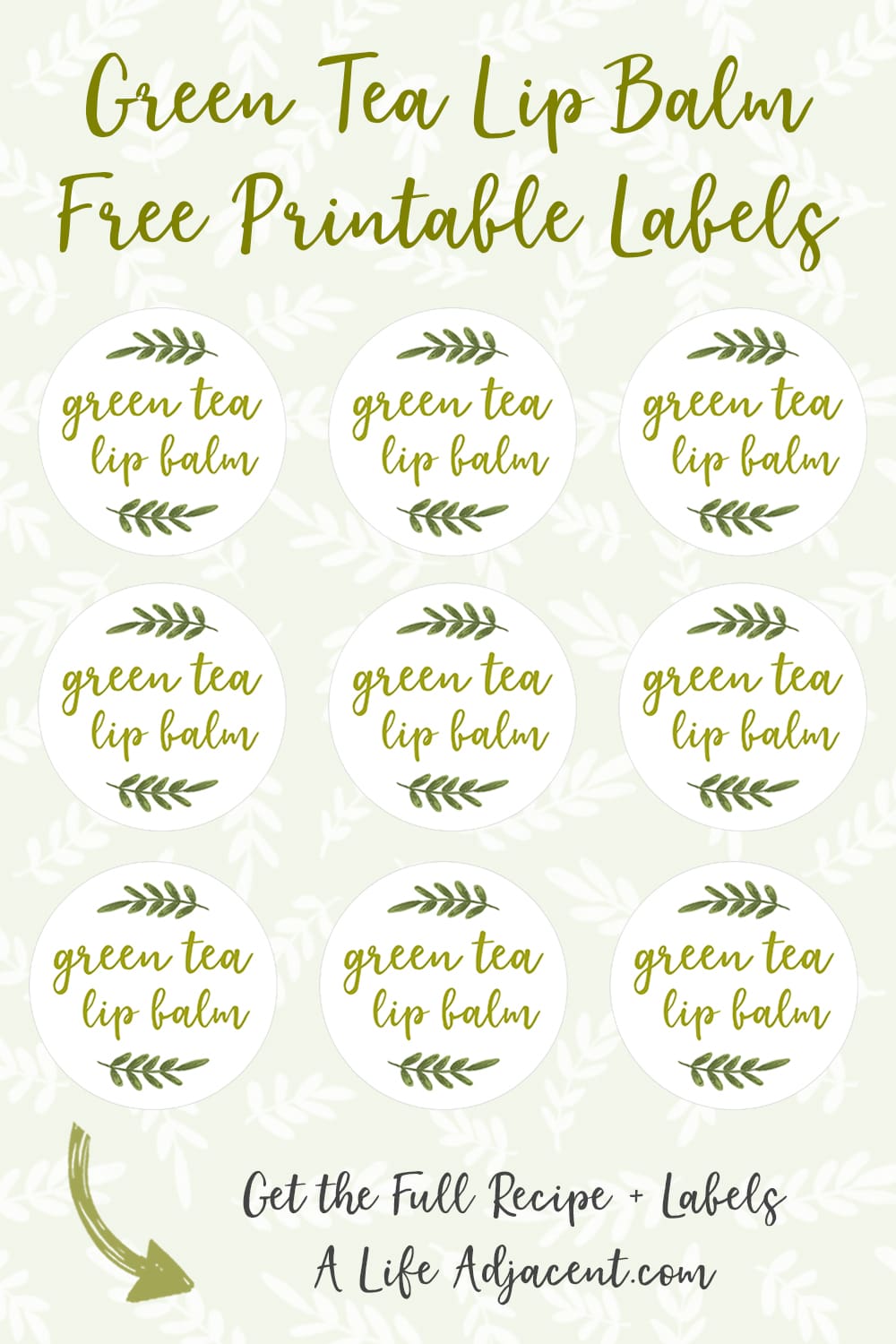 How to use your green tea lip balm
Using your lip balm is pretty self-explanatory. However, what many don't realize is that you should also make sure your lips are slightly moist before application.
Putting lip balm onto dehydrated lips will exacerbate dryness, as lip balms don't truly moisturize, they simply lock in existing moisture.
So you should rehydrate your lips first, either by using a moisturizing lip mask (recipe here), some water, or a drop of a hydrating serum. I frequently use a tiny drop of Consonant HydrExtreme to rehydrate my lips.
I also recommend using a homemade lip scrub first to ensure a smooth application.
Aside from being a long-lasting daytime balm, this lip balm also makes a wonderful lipstick base as well as a rich overnight lip treatment.
It resists transferring onto pillows and bedding, so it's my favourite homemade lip balm to wear while I sleep.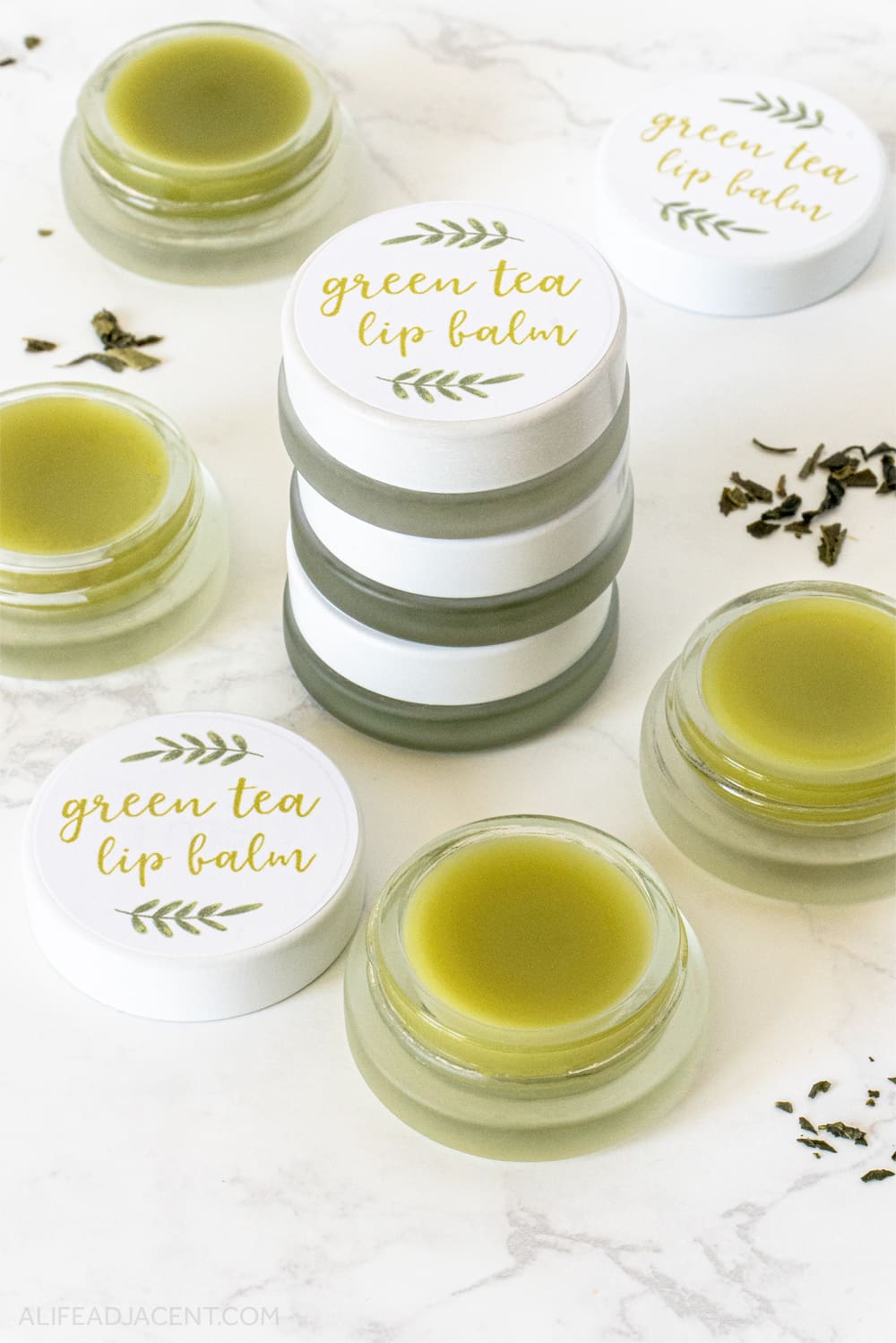 Yield: 4-5 lip balms
DIY Green Tea Lip Balm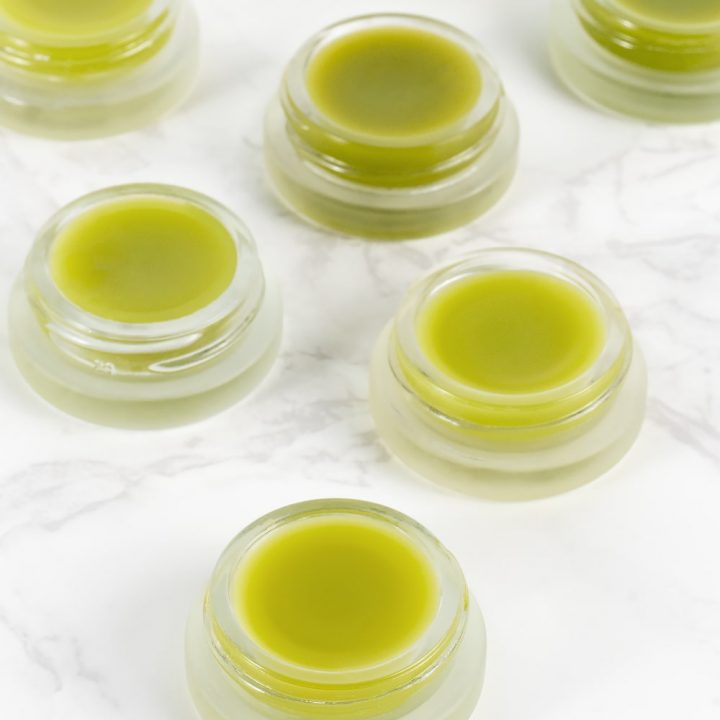 Learn how to make your own DIY green tea lip balm! This tea infused lip balm recipe is a moisturizing treat for your lips. It's made with green tea infused oil and green tea wax to help protect and repair dry lips. This easy tutorial also includes free printable labels that make this lip balm perfect for gift giving.
Additional Time
20 minutes
Materials
Green Tea Lip Balm with Lanolin
Vegan Green Tea Lip Balm
Lip Balm Flavour Ideas
Instructions
Before beginning, create a water bath. I like to use a Turkish coffee pot or butter warmer over a shallow pan of water. You can also use a heat-safe glass bowl over a tiny saucepan filled with water.
Begin by melting your wax over medium heat. Once melted, add lanolin (or castor jelly) and stir until liquified.
Wait a couple minutes to ensure the mixture is thoroughly melted, then remove from heat.
Allow to cool for about a minute before adding the green tea infused oil and green tea wax. Stir until the wax is completely melted.
If using essential oils or lip balm flavour oils, wait a few minutes for your lip balm to cool down before adding them. However, don't wait too long, as your balm will begin to solidify.
Transfer your lip balm into the containers of your choice, then immediately place into the refrigerator to solidify.
Allow to come back to room temperature before use.
Notes
Green tea infused oil
You can find the instructions for making your own green tea infused oil in my post for green tea cleansing oil.
Instead of making green tea infused oil, you can also speed up the process by melting your lip balm ingredients with a spoonful of green tea leaves. Allow to infuse, then strain out as the last step before transferring to containers.
Shelf life and storage
This recipe contains no water, so no preservative is required.
Depending on the freshness of your ingredients, your lip balm can last up to 2 years at room temperature.
Tips and tricks
I recommend using a Turkish coffee pot of butter warmer for making DIY lip balm. Its diminutive size makes small batches very easy to make.
For best results and to ensure a smooth, even consistency, allow your lip balm to harden in the fridge for at least 20 minutes. Once hardened, wait for it to come to room temperature before use.
Making the vegan version this lip balm will alter its consistency. The lanolin version is best, but I still wanted to provide a plant-based option for those who are vegan or cannot use lanolin.
Recommended Products
As an Amazon Associate and member of other affiliate programs, we earn from qualifying purchases.
More DIY lip care recipes
If you liked this DIY, you might also enjoy these other recipes for natural lip care:
For even more beauty and skincare, follow us on Pinterest! You can also find us on Instagram Facebook, and Twitter.
Pin it for later