Learn how to protect your skin from blue light with these 5 easy tips. Plus, learn how the light from your mobile phone or computer screen could be damaging your skin.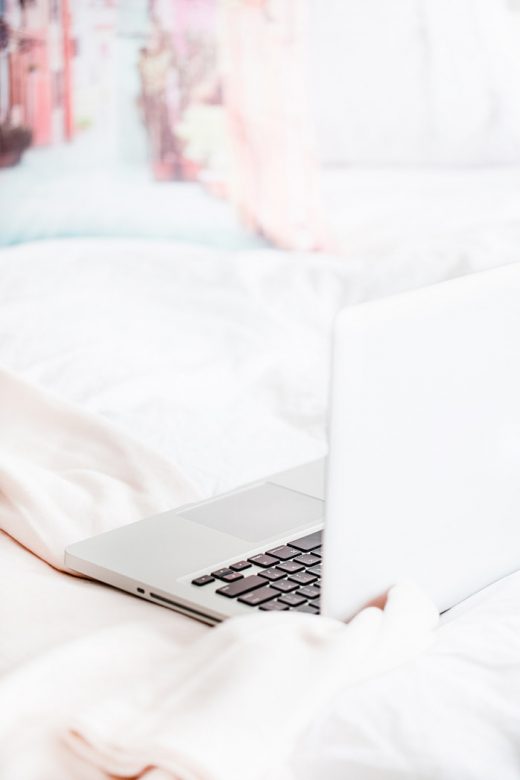 We all know that we need to protect our skin from the sun, and it's likely that a hat, sunglasses, or a good SPF are already part of your outdoor attire.
But this doesn't mean that your skin is safe the moment you're indoors. Staying out of the sun is only one part of the equation, as certain factors can make you susceptible to skin damage, even inside your home.
There's another major factor in skin aging that you're being exposed to at this moment: blue light.
As if sun damage wasn't already enough to worry about, the blue light from your phone, tablet, or computer screen could also be damaging your skin.
Why you should protect your skin from blue light
Collectively, we're spending more time in front of screens than ever. And since the current global situation has many of us working from home, I thought this would be a good time to highlight a lesser-known form of skin damage.
So, I wanted to share 5 easy ways to protect your skin from blue light while working from home.
It's not just about protecting your skin so that it looks good, but so that it stays healthy and free of disease. Healthy skin is better able to withstand environmental stressors and irritants, as well as DNA damage that can lead to skin cancer.
Before we get into the ways to protect your skin, I wanted to talk a little more about what exactly blue light is and why it can cause problems.
Blue light has become a buzzword of sorts, so it's likely that you've heard a lot about it. But you may not know exactly what it is or why it can be so damaging.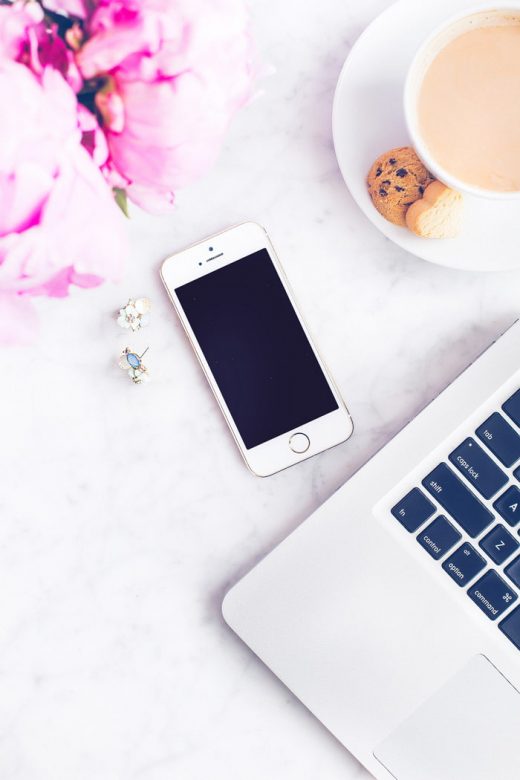 What is blue light?
Blue light, otherwise known as high-energy visible light or HEV light, is found in the blue/violet band of the visible light spectrum.
Unlike invisible UV light, blue light is visible to the eye. True to its name, we can see blue light it in the bright blue glow of our phone and computer screens.
The sun emits some HEV, but significant amounts are also emitted by computers, mobile phones, tablets, TVs, and other devices.
Fluorescent bulbs and certain LED lights radiate blue light as well. While they may save energy, most of them don't offer any significant skin benefits.
Does blue light cause skin damage?
Yes, research suggests that blue light causes skin damage by inducing oxidative stress.
Blue light penetrates deeply into our skin's dermis, where it's been shown to generate reactive oxygen species (ROS), an unstable, highly reactive class of molecules that can damage other molecules in a cell.
Of course, some ROS is unavoidable, as these species are a normal byproduct of metabolism and various bodily processes. But the problem occurs when levels of ROS overwhelm our bodies' ability to deal with them.
When ROS increases above normal levels, such as in the presence of an environmental stressor, they can overpower our antioxidant system. This leads to oxidative stress.
Examples of environmental stressors include sunlight, pollution, and of course – blue light.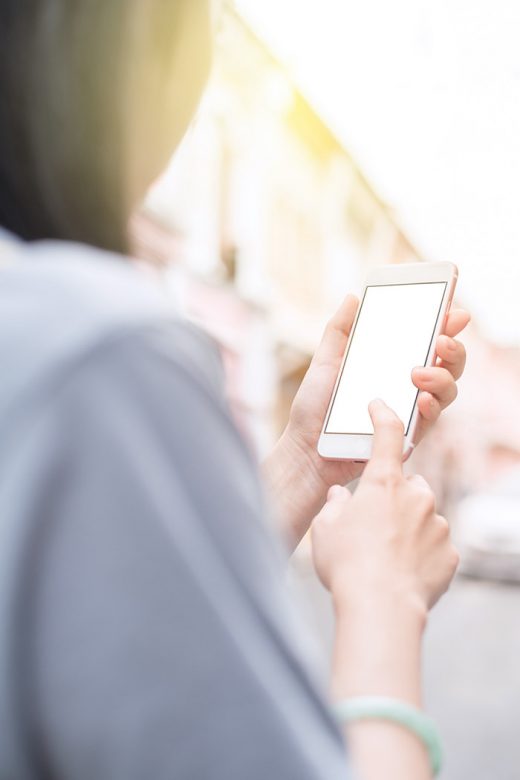 For example, this study found that blue light induces carotenoid degradation in human skin. Carotenoids act as antioxidants, so when they begin to decline, that's a sign they're being used up by ROS.
So what does this all mean? In simple terms, this means that excess blue light exposure stresses our cells, steals our antioxidants, and damages our skin. In the long run, this kind of stress can lead to photoaging, DNA damage, and skin cancer.
To be fair, the HEV light emitted by electronic screens is only a fraction of what the sun emits. But with cumulative exposure, as well as the length of time we typically spend in front of our devices, it's easy to see how the damage can accumulate over time.
Other issues associated with blue light
We've discussed blue light's ability to cause skin damage, but unfortunately there are other issues associated with excess blue or HEV light exposure as well.
For one, blue light is very stimulating. This can be useful during the workday, or whenever we can benefit from increased alertness and heightened cognition. But it can cause problems when exposure continues into the night.
In nature, HEV light comes from the sun, so any kind of blue light exposure after sundown in unphysiological.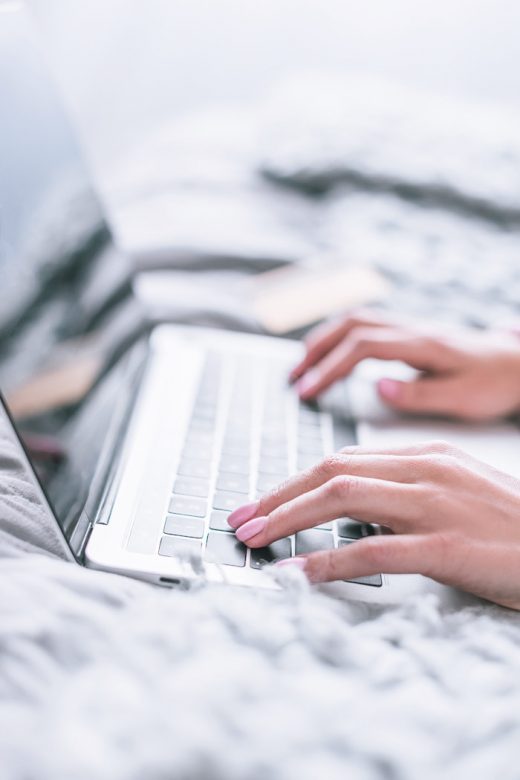 Since our bodies associate blue light with wakefulness, nighttime blue light hijacks our internal clock, which tricks our bodies into believing it's perpetually daytime.
Unfortunately, this can have seriously detrimental effects on our sleep and circadian rhythm. Excess blue light exposure can lead to a variety of downstream health issues that go far beyond the skin, including insomnia and elevated stress hormones.
How to protect your skin from blue light
With all of the issues excess blue light can cause, it makes sense why it's a good idea to take steps to protect ourselves.
While we can't avoid blue light completely, there are precautions we can take to mitigate the damage and preserve our skin's health while also enjoying the benefits that blue light emitting devices offer us.
So with that in mind, here are 5 easy ways I protect my skin from the negative effects of blue light.
1. Take supplements that help protect from blue light
We'll get to skincare products in a moment, but first we have to start from the inside out. So much of skincare is focused externally when it really does start from within.
The food you eat and the supplements you take play an important role in your skin's health. Topical products act as an external barrier against skin damage, but your internal barrier is important, too.
Aside from good nutrition, there's evidence that certain extracts, antioxidants and vitamins can act as adjuncts to good habits like sunscreen and minimizing blue light exposure. Supplements can bolster your skin's inherent defences, helping to protect from light damage and oxidative stress from the inside out.
Since my whole workday is spent in front of a screen, I had been looking into ways to increase my skin's resilience. To me, a skincare supplement seemed like an attractive option.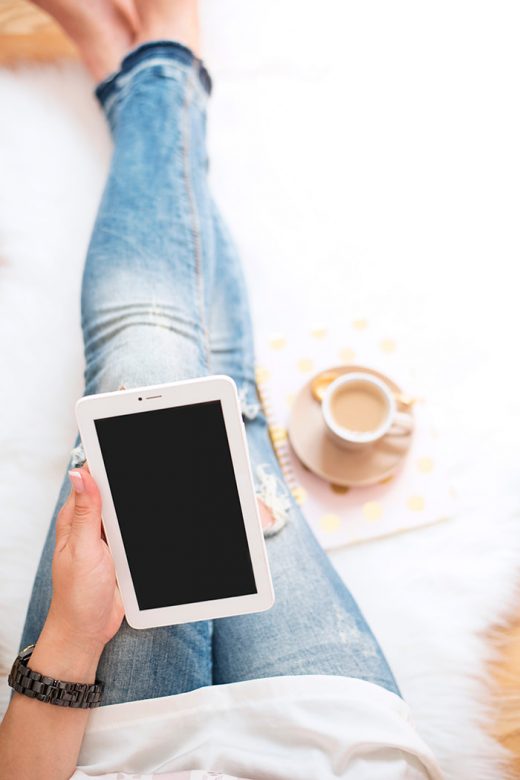 One of the supplements I came across during my research was Polypodium Leucotomos, an antioxidant-rich extract derived from a South American tropical fern. Another was astaxanthin, a red carotenoid responsible for giving sea creatures like shrimp, crab and lobster their colour.
Remember that study from earlier? Blue light degrades carotenoids in our skin, so it can be beneficial to supplement extra.
Both Polypodium Leucotomos extract and astaxanthin have been shown to reduce free radical damage from UV light exposure. This is promising, as the oxidative stress from blue light exposure is less severe than the reaction induced by UV light.
My interest in both of these supplements led me to find Sundaily skincare gummies. Yes, that's right – skincare in a gummy. But don't just write off these supplements as candy. Sundaily was co-founded by a doctor, and their supplements are clinically proven and backed up by research.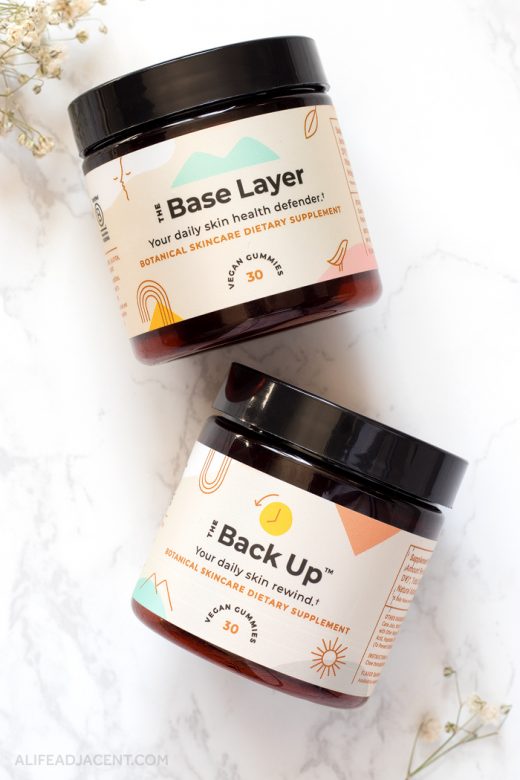 Rather than using another expensive serum, Sundaily's gummies are designed to help you get glowing skin from within. They offer products containing both astaxanthin and Polypodium Leucotomos extract to protect against oxidative stress from the inside out.
And although their supplements are targeted towards sun damage, their skin-protective properties can be applied to damage from visible light, too.
Sundaily's gummies had been on my wish list for a long time. So you can imagine how surprised (and excited) I was when Sundaily actually reached out to us and sent us their gummies to try.
My Sundaily gummies review
Sundaily offers two kinds of skincare gummies, The Base Layer and The Back Up. Both work synergistically to protect your skin from oxidative damage, as well as to repair any existing damage that may already have occurred.
As well, both products are vegan. They're also delicious, and who doesn't love the idea of skincare in a candy?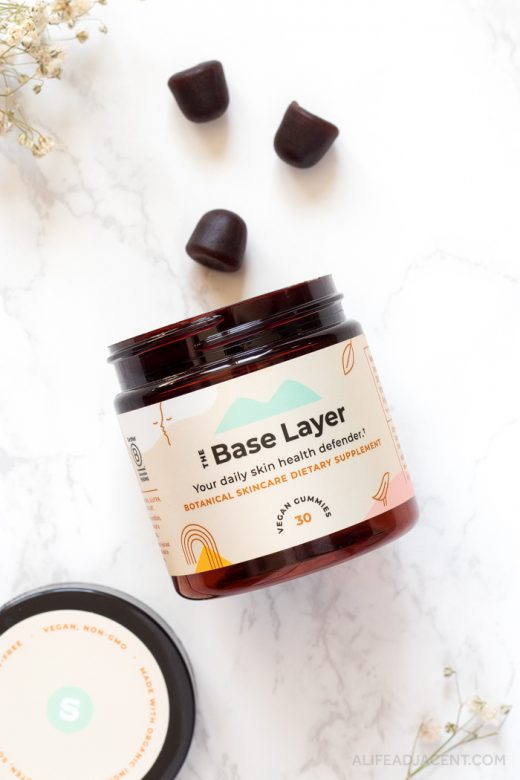 The Base Layer is formulated with antioxidant-rich Polypodium Leucotomos extract as well as supplemental vitamin D.
According to Sundaily, the ingredients in The Base Layer prevent free radical damage, help smooth skin texture, and reduce redness and irritation with 4-6 of consistent use. They've also been proven to protect skin from the aging effects of UV light, smog and stress.
Sundaily's other offerring, The Back Up, contains power carotenoid astaxanthin from freshwater algae.
The Back Up is clinically proven to repair your skin and reverse the signs of aging, and can help reduce the appearance of age and sun spots with 4-6 weeks of use. It's also said to minimize fine lines and wrinkles while helping to plump and hydrate skin.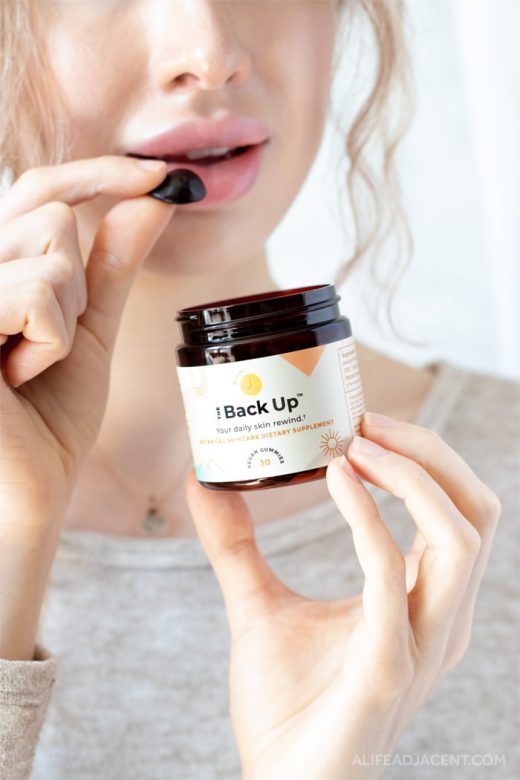 It's still too soon to tell whether the new glow in my skin is from Sundaily's gummies or all the vitamin D I've been soaking up outside. But I really like these and I love that they're backed up by research and real results.
I'll be making the gummies a part of my skincare routine to protect against all forms of oxidative damage, including blue light.
As well, along with regular sunscreen and avoiding excess PUFAs in your skincare products, both supplements make a great addition to any sun protection routine.
2. Wear sunscreen every day
I couldn't write an article about protecting your skin without bringing up sunscreen.
Since windows don't actually protect you against all ultraviolet light, dermatologists recommend you wear sunscreen indoors, too.
Unfortunately, windows let in aging UVA rays, while completely blocking UVB rays, the kind that stimulate our skin to make vitamin D. So even if you're inside all day, it's a good idea to protect your skin against inevitable UV exposure.
But before you go thinking that avoiding windows is the answer, remember that the UV spectrum is not the only spectrum of light that can cause skin damage. Case in point: blue light. And sunscreen helps protect you from it.
Does sunscreen protect against blue light?
Yes, but not just any sunscreen – only natural mineral sunscreens, also called physical sunscreens, help protect you from blue light. These kinds of sunscreens contain oxide mineral filters, not chemical filters such as oxybenzone or avobenzone.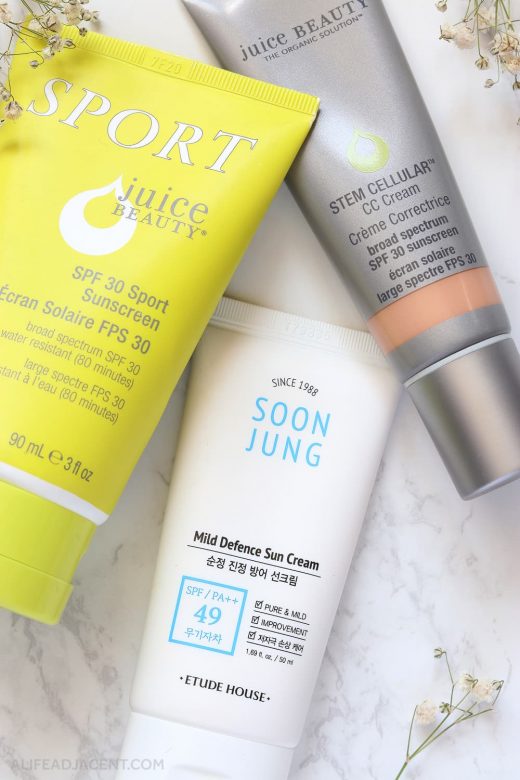 In terms of sun protection, zinc oxide is typically regarded as superior. However, a combination of both is preferable, as zinc oxide is more effective against UVA, while titanium dioxide is more effective against UVB. Together, they provide broad-spectrum protection.
When it comes to blue light, zinc oxide and titanium dioxide have both been shown to offer some protection. But in this study, microfine titanium dioxide proved superior to zinc for protecting against blue light.
Another study found that opaque sunscreens like zinc oxide were actually not very effective against visible light at all. But adding iron oxide, a visible light-absorbing pigment, significantly increased the sunscreens' effectiveness.
The best sunscreens to protect against blue light
Though the research is inconclusive, it seems like a safe bet to choose products containing both zinc oxide and titanium dioxide, ensuring broad-spectrum protection from UV light as well as blue light. Even better if the sunscreen contains iron oxides.
I wear a broad-spectrum mineral sunscreen every day, no matter if I'm going out or staying in all day. That said, wearing a sunscreen day in and day out isn't always easy – many formulas are greasy, heavy, and overall unpleasant to use.
Therefore, the best way to ensure you'll wear your sunscreen is to invest in one you actually enjoy using. So I've compiled a list of sunscreens that are not only effective, but that feel good on your skin, too.
For more sunscreen recommendations, stay tuned for my post on the best low-PUFA sunscreens of 2020, coming soon. I'll be going into more detail about each product, as well as suggestions for other sunscreens that protect your skin from blue light and beyond.
Juice Beauty Sport Sunscreen SPF 30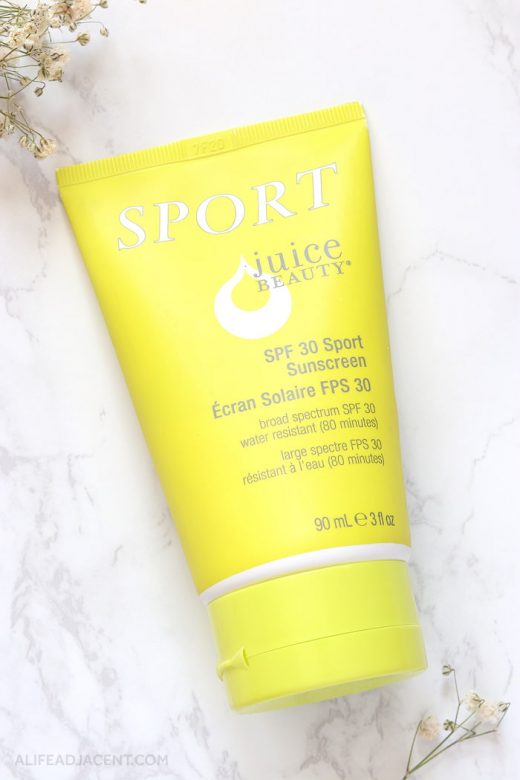 Medicinal Ingredients: 20% Zinc Oxide
Non-Medicinal Ingredients: Organic Aloe Juice, Organic Apple Juice, Organic White Grape Juice, Organic Coconut Oil, Caprylic/Capric Triglycerides, Sorbitan Stearate, Castor Seed Oil, Hydrogenated Methyl Abietate, Polyglyceryl-10 Laurate, Magnesium Sulfate, Organic Sunflower Seed Oil, Organic Jojoba Seed Oil, Tocopherol (Vitamin E), Magnesium Ascorbyl Phosphate (Vitamin C), Lemon Extract, Iron Oxides, Phenethyl Alcohol, Ethylhexylglycerin, Mandarin Oil, Petitgrain Oil.
Right now, I rotate through 3 mineral sunscreens, and this one is a long-time favourite. Juice Beauty's Sport Sunscreen contains 20% zinc oxide as well as iron oxides for combined protection against UV and blue light.
It's clean, low-PUFA, and silicone free. It also contains Vitamin C and Vitamin E as antioxidants, which are particularly effective photoprotectants when used together.
Usually, I cannot tolerate essential oils, but this sunscreen's light, natural fragrance is gentle, even on sensitive skin.
Buy: Juice Beauty, Dermstore, SkinStore, Credo Beauty
Etude House SoonJung Mild Defence Sun Cream SPF 49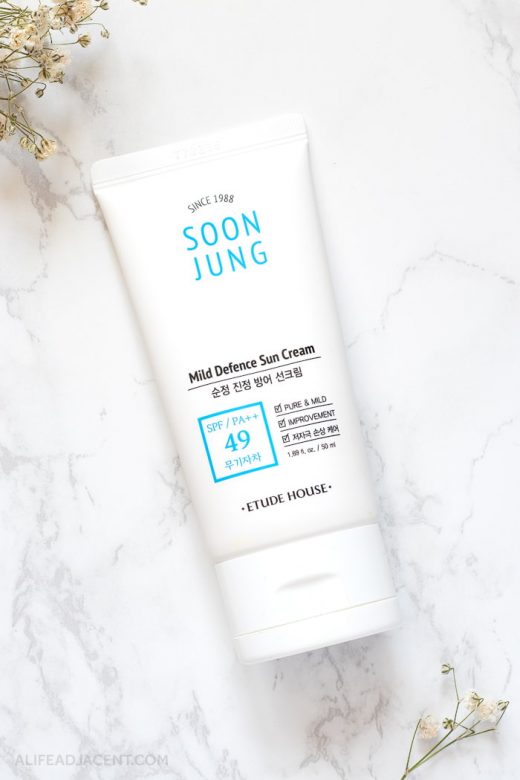 Ingredients: Water, Dimethicone, C12-15 Alkyl Benzoate, Zinc Oxide (Nano), Titanium Dioxide (Nano), Butylene Glycol, Diphenylsiloxy Phenyl Trimethicone, Lauryl Polyglyceryl-3 Polydimethylsiloxethyl Dimethicone, Caprylic/Capric Triglyceride, Polyglyceryl-2 Dipolyhydroxystearate, Disteardimonium Hectorite, Silica, Trisiloxane, Panthenol, Aminopropyl Dimethicone, Sodium Chloride, 1,2-Hexanediol, Polyglyceryl-3 Disostearate, Vinyl Dimethicone/Silsequioxane Crosspolymer, Aluminum Stearate, Polyhydroxystearic Acid, Aluminum Hydroxide, Stearic Acid, Alumina, C12-15 Alcohol, Ethylhexylglycerin, Disodium EDTA, Madecassoside, Scutellaria Baicalensis Root Extract, Tocopherol (Vitamin E), Camellia Sinensis Leaf Extract.

This Korean sun cream is the cleanest and most gentle K-Beauty sunscreen I've ever come across, with no fragrances or chemical sunscreen filters of any kind. So gentle, in fact, that it's the only sunscreen I've ever been able to use around my eyes.
If you're not a fan of greasy sunscreens, you'll love SoonJung Sun Cream's lightweight formula. Thanks to ingredients like panthenol and protective madecassoside, it's also very soothing and comforting to the skin.
The cream contains a variety of antioxidants as well, including green tea extract, vitamin E and scutellaria baicalensis root extract, an antioxidant that has also been shown to act as a natural UV protectant for skin.
While not silicone-free, this sunscreen is clean and low-PUFA. For protection, it contains a mixture of micronized zinc oxide and titanium dioxide bolstered by antioxidants.
Buy: Etude House, iHerb, YesStyle, Amazon
Ava Isa SPF 35 Sun-è-Serum Drops SPF 35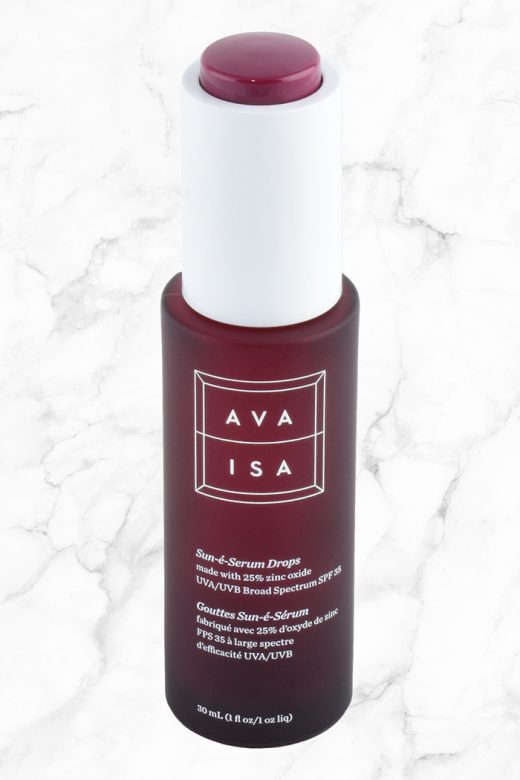 Medicinal Ingredients: 25% Zinc Oxide
Non-Medicinal Ingredients: Caprylic/Capric Triglyceride, Glyceryl Isostearate, Polyhydroxystearic Acid, Polylactic Acid, Coconut Alkanes, Coco-Caprylate/Caprate, Carthamus Tinctorius Oleosomes, Aqua, Cellulose, Sorbitan Oleate, Bis(Cyano Butylacetate) Anthracenediylidene (Micah)
Another sunscreen on my radar is The Sunscreen Company's brand new offering, Ava Isa SPF 35 Sun-è-Serum Drops. It's a lightweight, silky sunscreen in serum form, with an impressive 25% zinc oxide for UV protection.
Not only does the product claim to be transparent on all skin tones, but it also contains a potent antioxidant called Micah®, which has been clinically proven to reduce the negative effects of blue light.
Though my bottle of Ava Isa hasn't yet arrived, I love The Sunscreen Company's other products. I'm excited to try this innovative product and will update once I've tested it.
Ava Isa is clean and low-PUFA, with a very short ingredients list. Those of us with sensitive or eczema-prone skin love short ingredients lists – the fewer the ingredients, the less likely the product is to cause irritation.
Buy: The Sunscreen Company, Well.ca
Juice Beauty's Stem Cellular CC Cream SPF 30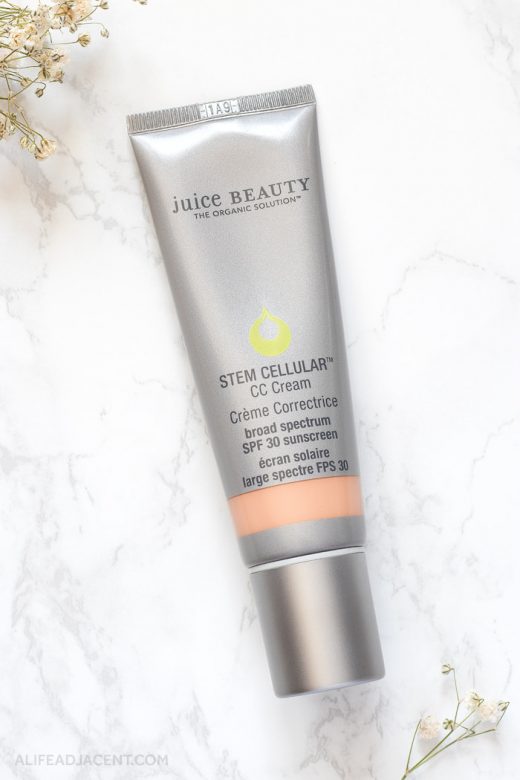 Medicinal Ingredients: 20% Zinc Oxide
Non-Medicinal Ingredients: Organic Aloe Juice, Organic Coconut Oil, Organic White Grape Juice, Caprylic/Capric Triglyceride, Sorbitan Stearate, Castor Seed Oil, Polyglyceryl-10 Laurate, Magnesium Sulfate, Organic Sunflower Seed Oil, Organic Jojoba Seed Oil, Tocopherol (Vitamin E), Magnesium Ascorbyl Phosphate (Vitamin C), Sodium Hyaluronate, Apple Fruit Cell Culture Extract, Grape Fruit Cell Extract, Lemon Leaf Cell Extract, Iron Oxides, Phenethyl Alcohol, Ethylhexylglycerin, Mandarin oil, Petitgrain oil.
While mineral sunscreens are effective, they frequently leave an ashen cast. This is especially noticeable on darker skin tones.
If sunscreens leave your face noticeably too pale, you may prefer to use a tinted mineral SPF that matches your complexion.
My favourite tinted sunscreen is Juice Beauty's Stem Cellular CC Cream. It offers light, minimal coverage with a luminous finish. If you dislike the heavy feeling of foundation, you'll probably enjoy this cream.
Juice Beauty's shade range suits a variety of skin tones from light to dark. The cream contains a high 20% zinc oxide without being whitening. Plus, the iron oxides used to tint the cream might even offer extra protection against blue light.
Buy: Juice Beauty, Credo Beauty, Dermstore, SkinStore
3. Choose skincare products that protect against blue light
Wearing sunscreen is a great first line of defence. Used consistently, it's the gold standard for protecting your skin from DNA damage and photoaging.
But sunscreen isn't foolproof, and even with careful application, some UV rays or blue light will still reach in your skin.
That's why it may be a good idea to invest in some backup protection in the form of good skincare products. Specifically, products that contain antioxidants to effectively quell oxidative stress.
There are a variety of skincare actives that have been shown to protect skin from light damage, as well as to repair any damage that may have already occurred.
Topical niacinamide has been found to reduce UV-induced inflammation and enhance the repair of UV-induced skin damage, among other beneficial skin effects.
One way to reap the benefits of niacinamide is with a serum such as Paula's Choice 10% Niacinamide Booster. Alternatively, sometimes I mix a pinch of niacinamide powder with a lightweight moisturizer before following it with sunscreen.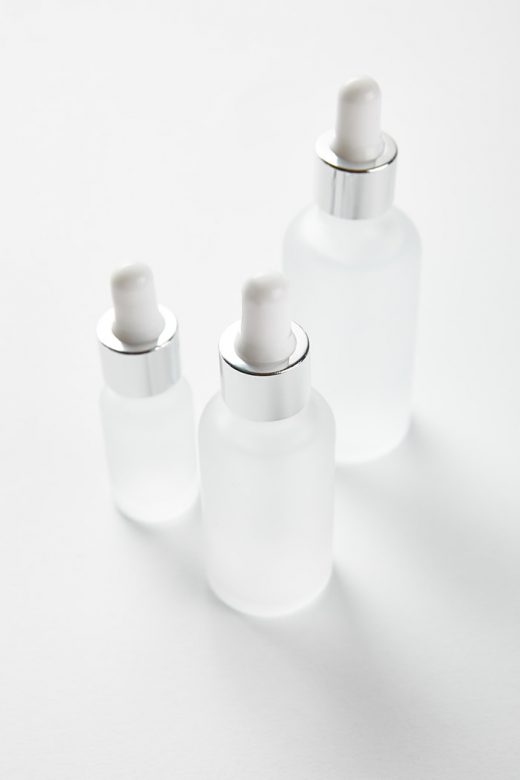 Vitamins E and C are other examples of potent antioxidants, with a combination of the two showing particularly good protection against UV rays. Try a serum like SkinCeuticals C E Ferulic, or a potent standalone vitamin C serum like The Ordinary Ascorbyl Glucoside 12% Solution.
Previously, I also briefly mentioned Micah®, a potent antioxidant otherwise known as Bis Cyano Butylacetate Anthracenediylidene.
According to the formulator, Micah® has been clinically proven to halt the photo-aging process. It achieves this by preventing UV and other light-induced oxidative stress before it happens, including oxidative stress caused by blue light.
Right now you can find Micah® in The Sunscreen Company's new sunscreen serum, Ava Isa Sun-è-Serum Drops.
This is merely scratching the surface of blue light-protective skincare. There are plenty of other ingredients that can offer antioxidant protection for your skin, including caffeine, astaxanthin, and green tea extract.
Your best bet is to use antioxidant-rich skincare before applying your sunscreen. Or, choose a sunscreen with built-in antioxidants, such as the ones mentioned above.
4. Wear blue blocking glasses
Blue blockers have become trendy in recent years, which is great news. Not only because I look less silly wearing them now, but also because they help provide an easy fix for a widespread problem: excess blue light exposure.
Blue blockers are specialty glasses that help shield your eyes from blue light. I wear them every evening to help my body recognize that it's nighttime.
Because let's face it – unless you set a hard and fast rule of no screens after dinner, you're inevitably going to be exposed to a lot of nighttime blue light.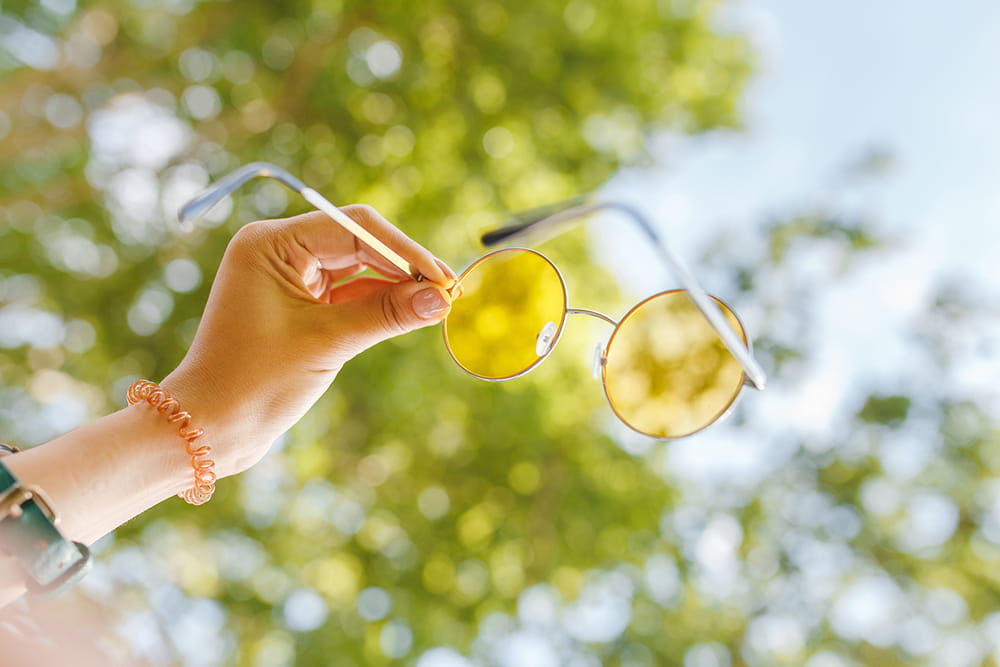 How does this relate to skin? Well, for one, getting a good night's rest is integral to overall health, which will of course be reflected in our skin.
As well, blue blockers help block HEV light from reaching the skin around your eyes. This adds another layer of protection on top of your sunscreen, supplements, and skincare.
But it's not just all about skin here – HEV light is also damaging to the eyes, and wearing blue blocking glasses can help protect against eyestrain and light-induced damage.
There are two kinds of blue blockers: nighttime and daytime. While blue blockers are more commonly associated with nighttime use, they can also be very beneficial during the day to help filter out as much blue light as possible without affecting your workday.
But this doesn't mean you need to wear orange or yellow tinted glasses all day. There are a variety of blue light blockers that offer HEV protection with very minimal changes to your colour vision. Plus, many also offer bonus UV protection.
You can find a variety of clear lenses with a blue light reflective coating. Or, you may prefer subtly tinted yellow glasses for more protection. Both are good options, but it's up to your preference and individual needs. You can also find glasses that can be customized with your prescription.
I wear clear, lightweight Spektrum Prospek glasses during the day. Personally, I notice far less eyestrain and discomfort when I'm wearing them.
And if you're looking to completely block out all blue light, blue blockers with red lenses are by far the best option for nighttime.
Amber blue blockers like Swannies are another popular option. However, they don't work for everyone. Some may find that they need more potent blue blockers, which is where red glasses come in.
While useful for many people, amber lenses still don't block the entire spectrum of light that can disturb sleep. On the other hand, red lenses block all sleep-disturbing light, including green light.
For truly red blue blockers that are both stylish and effective, check out BluBlox Sleep+ glasses.
As for a budget option, these Dewalt laser glasses are the best inexpensive blue blockers I've used so far. They may not be the most stylish glasses, but they reliably cause drowsiness within twenty minutes of putting them on.
5. Use blue blocking screen filters
It's one thing to protect your skin from blue light, but it's even better to simply prevent the light from reaching your skin in the first place.
One way to do this is by using blue light screen filters, which cut down on blue light at the source.
Screen filters are incredibly useful for those who want the freedom of using their device any time, without affecting their sleep quality or skin health. They can be used alone or paired with blue blocking glasses for even more protection.
As well, if wearing glasses is not convenient for you, blue light filters may be a more attractive option than blue blockers.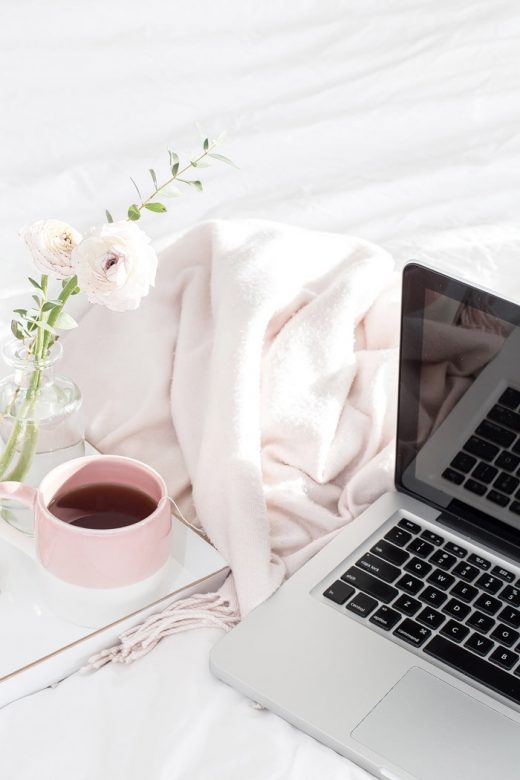 You can purchase individual filters for your desired device – mobile phone, tablet, or laptop computer. There are even blue light filters for your TV, so your nightly Netflix sessions don't have to compromise your skin (or your sleep).
Just like blue blocking glasses, blue light filters are available in clear or tinted varieties for daytime or nighttime use. They're also removable and washable, so if you are performing a task that requires your full range of colour vision, you can simply take off the filter.
More ways to protect your skin
To recap, here are the 5 ways to protect your skin from blue light:
I hope you found this article informative. If you'd like more skincare content, you might be interested in my article on how polyunsaturated oils in skincare products could be aging your skin.
As well, stay tuned for my article on the best low-PUFA sunscreens of 2020, coming soon.
For even more beauty and skincare, follow us on Pinterest! You can also find us on Instagram, Facebook, and Twitter.
Pin it for later