Learn how to make homemade liquid hand soap from bar soap with this easy, money-saving DIY liquid hand soap recipe. This all-natural hand soap is made with glycerin and inexpensive bar soap. A blend of natural essential oils gives this recipe a sweet and spicy mulled cider scent that's perfect for fall. Read on to find out how to make your own DIY liquid hand soap at home.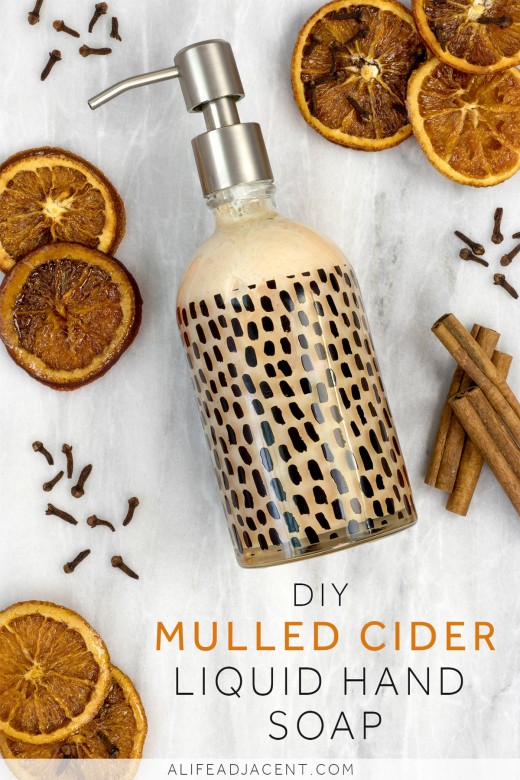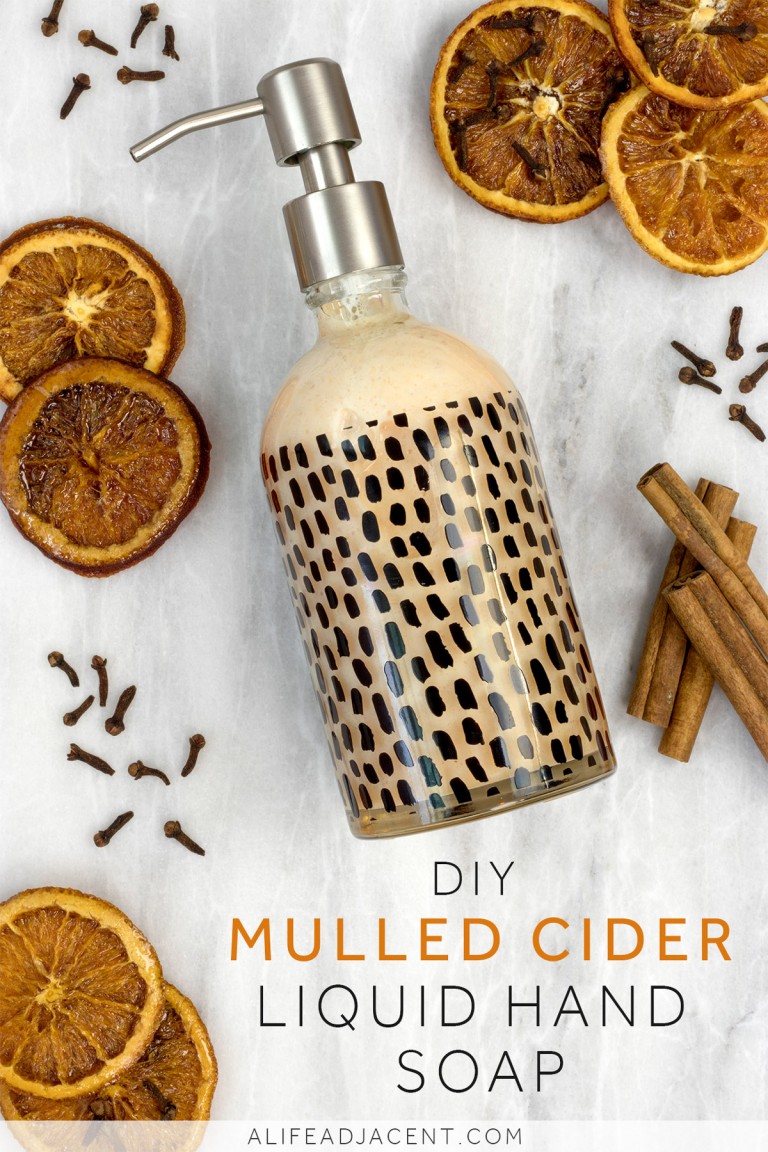 Fall is my favourite time of year. I love the crisp, cool air. I love pumpkin spice flavoured hot drinks, and cozy sweaters and tall boots are my thing.
This fall I wanted to share a fall-themed DIY recipe, and I thought this mulled cider liquid hand soap with its spicy notes, and connotations of warmth and comfort, would fit the bill.
Hand soap is something we tend to go through a lot. Before I began making this liquid hand soap recipe, I only used natural soap brands in our home as they're much gentler on our skin. And obviously, given the nature of this blog, I strive to avoid toxins and problematic ingredients in as many household products as possible.
But since natural brands of liquid hand soap can be quite expensive, I wanted to create a DIY hand soap recipe that could not only save money, but would also smell amazing.
Save money by making liquid hand soap from bar soap
This mulled cider DIY liquid hand soap recipe is a huge money saver. A single bar of soap, once melted down, will absorb a lot of water. In fact, even though I knew this DIY would be economical, I was shocked by how much money it really could save us in a year.
A small container of natural hand soap can cost upwards of $7-$9. Compare that to natural bar soap, which ranges in price but can be purchased on sale or in bulk. Now consider that this recipe filled FOUR 32oz mason jars. That's about 128oz (16 cups) of liquid hand soap made from one single bar of soap. That's a lot of hand soap!
I estimate this DIY liquid hand soap is going to save us well over $150 annually. That's a pretty good savings for something that didn't take that long to make.
Buying your supplies will be an investment initially, but since I use the essential oils and vegetable glycerin in this recipe in other DIY's, the upfront costs are well worth it for me in the long term.
Even if you're not that concerned about saving money, this recipe can still help you avoid the synthetic fragrances found in many of the store-bought hand soaps on the market.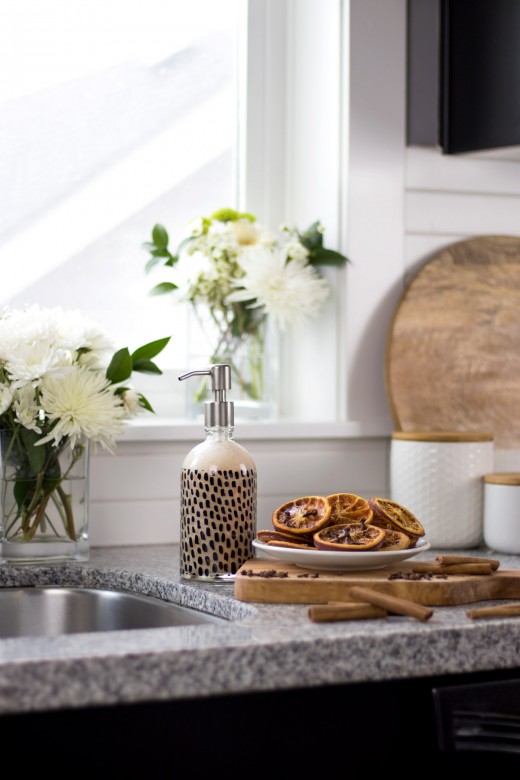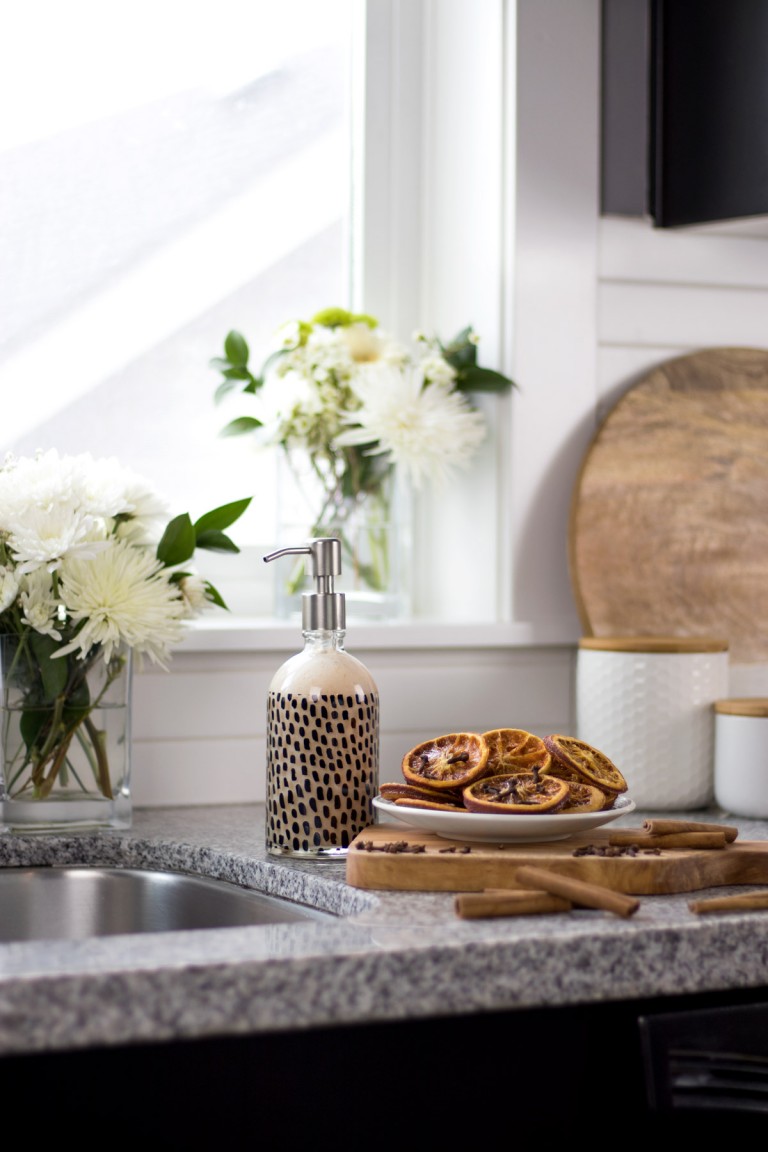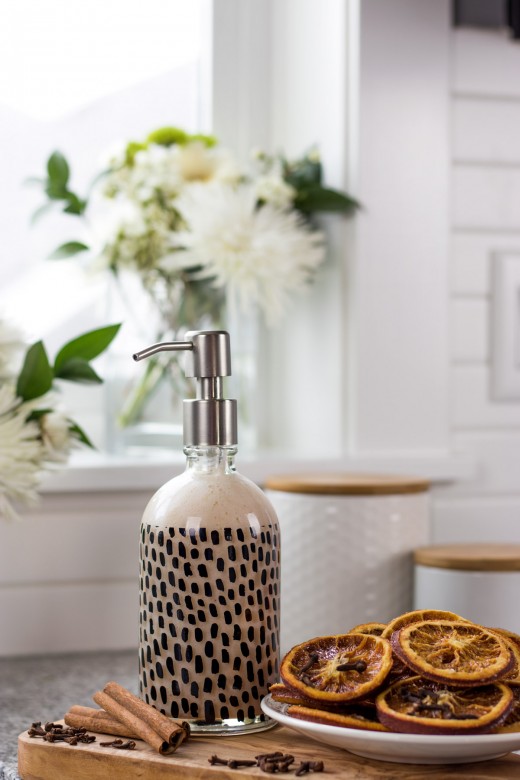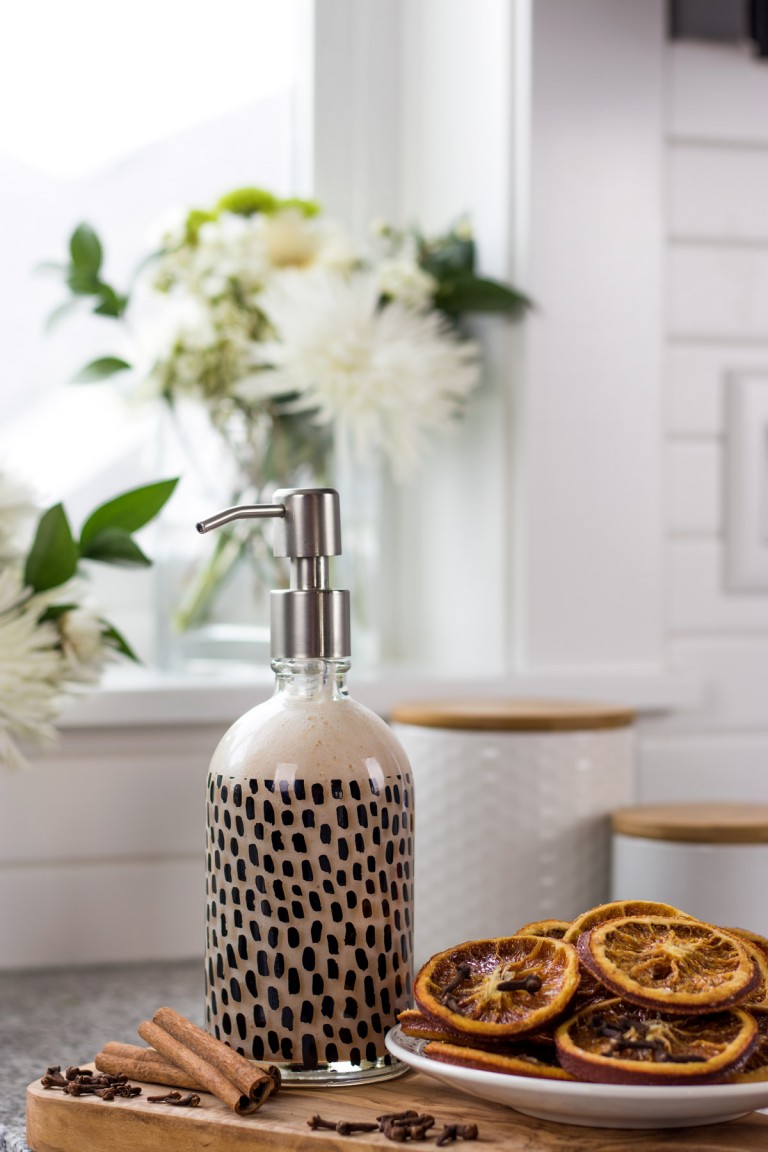 Why homemade liquid hand soap needs a preservative
In a perfect natural world, maybe we wouldn't need preservatives, but the truth is that any water-containing product is prone to contamination with mold, fungus, and bacteria. Not only is an unpreserved product unsanitary, but it's also unsafe. Mold and bacteria will grow in any product that contains water, and it can happen quickly –– often within days.
For this reason, even though we are a natural blog, we use a preservative in all our DIY recipes containing water. The preservative used in this hand soap is called Optiphen. Optiphen is paraben-free and formaldehyde-free, and contains a blend of phenoxyethanol and caprylyl glycol which inhibits the growth of pathogenic bacteria.
Choosing the right bar soap for your homemade liquid hand soap
I used Alaffia's Good Soap (which is a Whole Foods exclusive) in this recipe. I paid $8 for three 8oz bars of soap, and a single bar made 4 large 32oz mason jars of liquid hand soap. I recommend using the unscented, the orange or the coconut variety of Good Soap for this recipe. I used the coconut scented bar and it didn't affect the scent of the final product at all.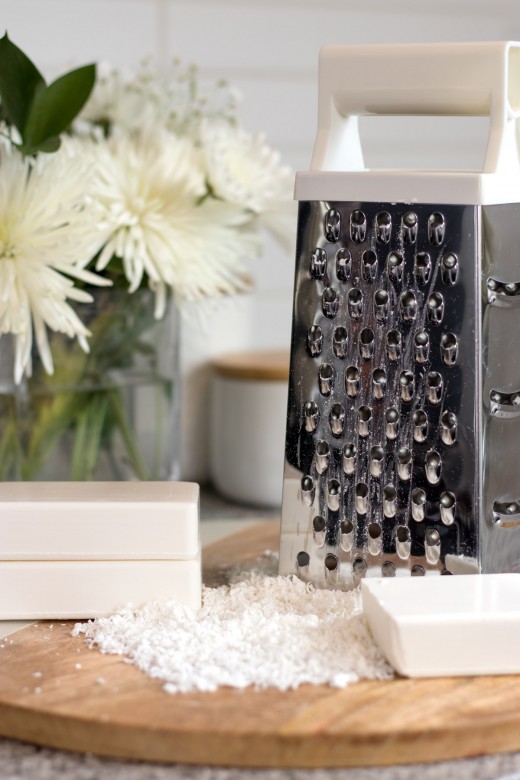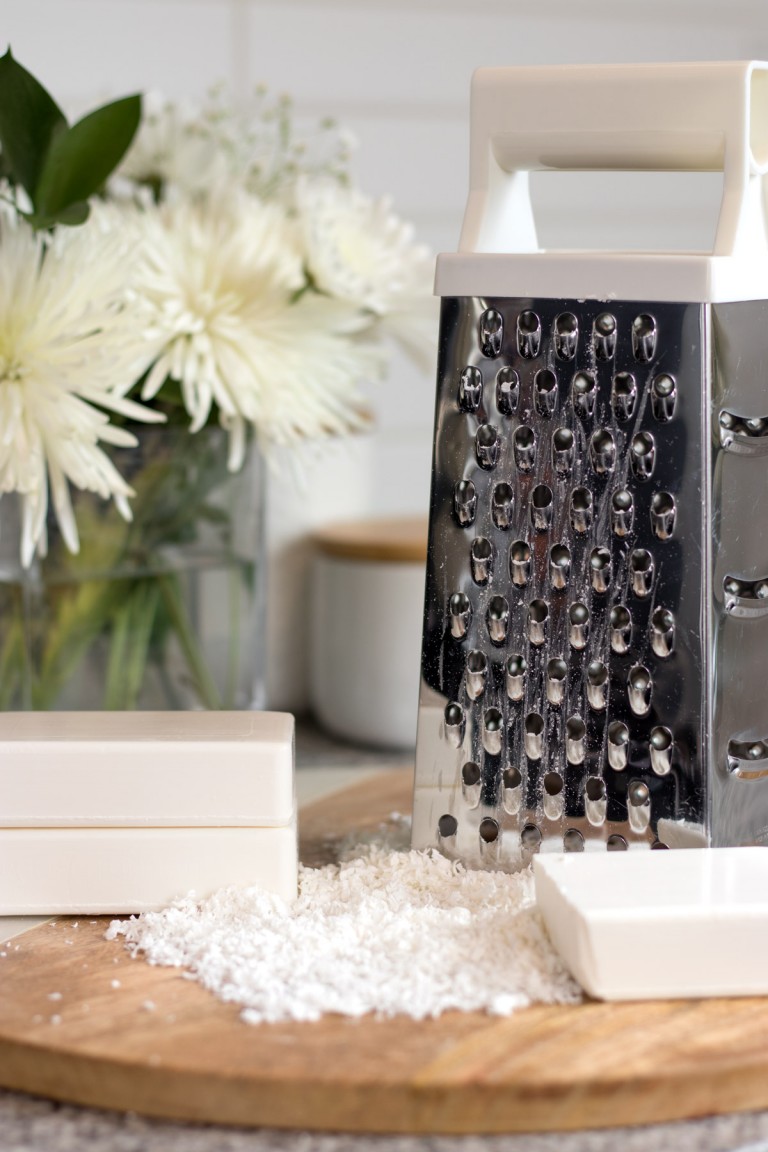 That said, you can use any brand of bar soap in this recipe. Ideally, it's best to use a natural brand that is free of synthetic fragrances and other problematic ingredients. Other than Good Soap, Dr. Bronner's and Kirk's Castile are just a couple of the non-toxic soap brands available on the natural market. Alaffia also makes many other varieties of natural bar soap.
It's important to note that we made this recipe with an 8oz bar of soap. If the bar soap you intend to use is smaller, you will need to use less water or simply use more than one bar of soap.
DIY Mulled Cider Liquid Hand Soap
Learn to make DIY mulled cider liquid hand soap from a bar of soap! This natural recipe uses a blend of essential oils for a warm and comforting mulled cider scent that's perfect for fall. One bar of soap makes a whopping 16 cups of natural DIY hand soap, saving you tons of money.
Instructions
Clean and sanitize the containers you intend to use to store your hand soap, as well as all the tools you will use to make it.

Grate your bar(s) of soap on a large cutting board.

Heat 15 cups of water in a large stock pot on high heat until hot.

Add grated soap to the hot water and stir. Make sure all of the soap shavings are melted before adding the vegetable glycerin.

Remove from heat and allow to cool for approximately 30 minutes before adding the essential oils.

Add the preservative and stir thoroughly. The hand soap will be very thin and runny at this point. Don't panic though as it will thicken overnight. Cover and let sit.

In the morning, use sterilized hand beaters or your mixmaster to mix your hand soap throughly, especially if it's become too gelatinous overnight.

Using a funnel, add to the finished liquid soap to your soap dispensers and pour the remaining soap into mason jars. Secure the lids tightly. Store your hand soap in a cool, dry place. We store ours in the garage in the winter or under the sink in the summer.
Notes
Always test your skin for sensitivity to essential oils. As well, please consult your doctor if you have any health conditions, or if you are pregnant or breastfeeding, before you use any products containing essential oils. This website is not a substitute for medical advice.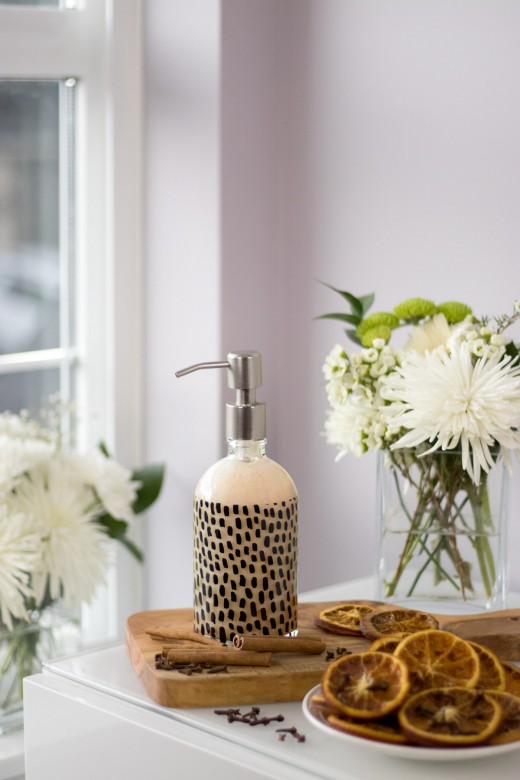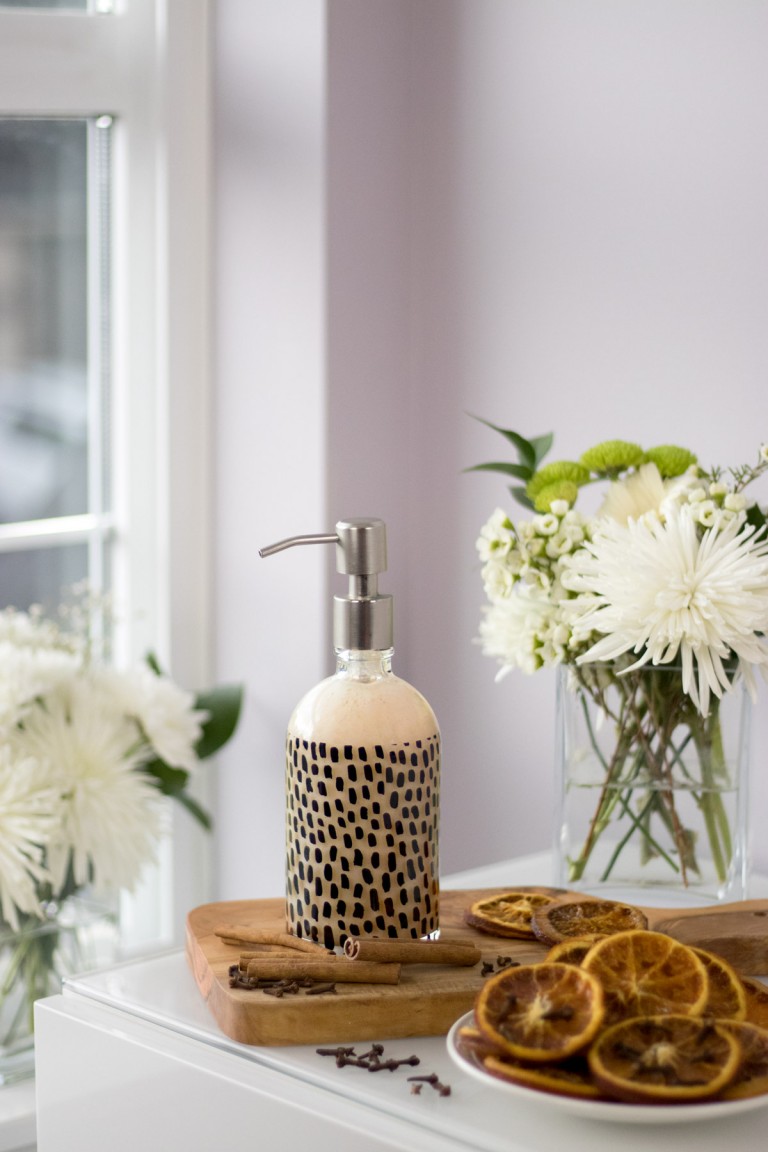 Have you ever tried making your own homemade liquid hand soap? We'd also love to hear your comments and thoughts on the use of preservatives in your natural DIY products.
More natural DIY recipes for your home
Looking for more non-toxic ideas for your home? Check these out:
For even more natural DIY bath and body ideas, follow us on Pinterest! You can also find us on Instagram, Facebook, and Twitter.
Pin it for later