Make an ultra-moisturizing whipped DIY body butter with the delicious scent of peppermint and hot cocoa. This all-natural recipe contains no artificial fragrances or dyes and is safely scented with essential oils. It's beautiful, rich colour comes from the addition of cocoa butter and exotic bacuri butter, both of which are very emollient and therefore ideal for dry or mature skin.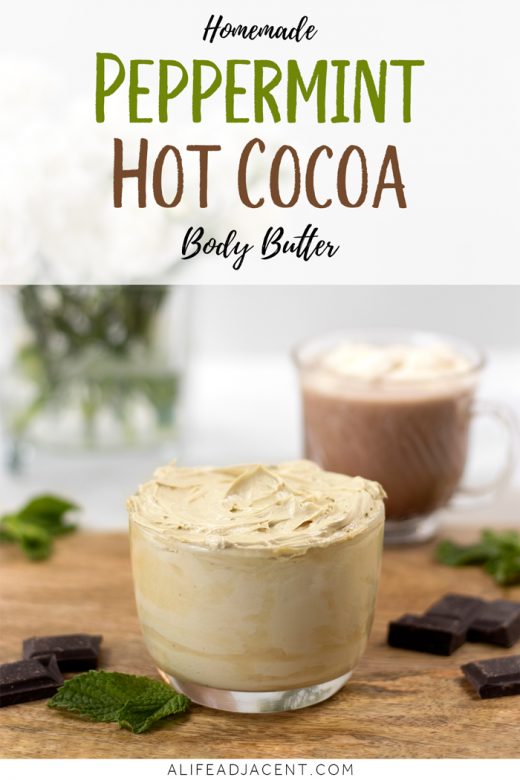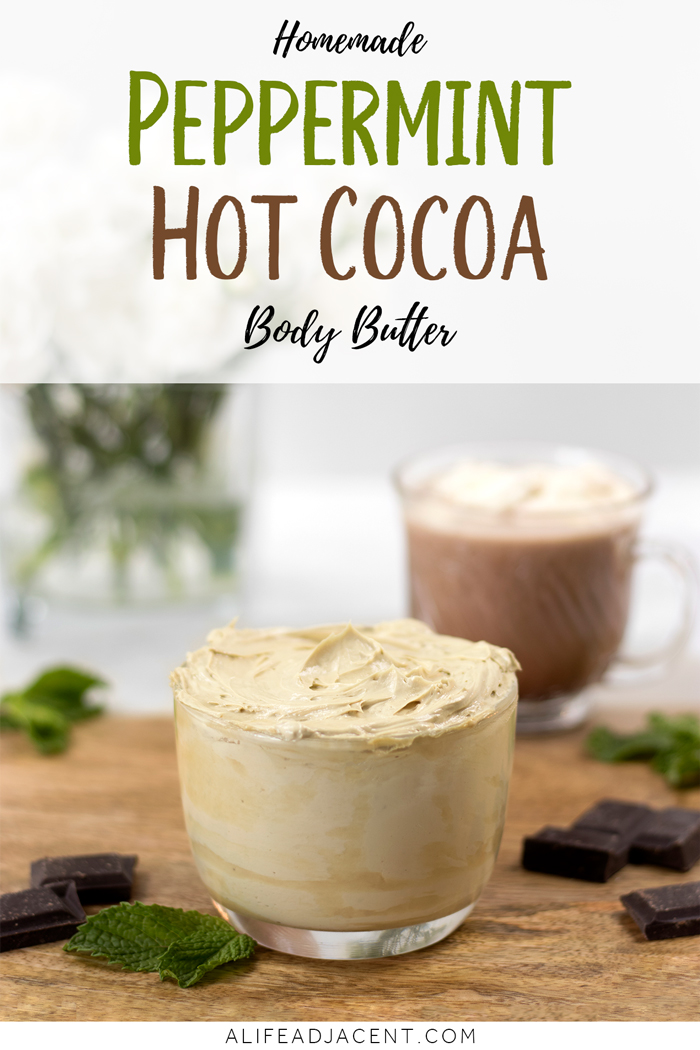 This DIY peppermint hot cocoa body butter smells just like a warm cup of peppermint hot cocoa. Although there's something about hot cocoa with a dash of mint that reminds me of the holiday season, this body butter is one I intend to use all year round. It's that good!
I thought luxurious bacuri butter with its deep, rich tone and cocoa butter, with its delicious chocolate aroma, would be the perfect base for this nourishing DIY body butter.
What is bacuri butter?
Bacuri butter is made from the extracted seeds of the fruit from the bacari tree, which hails from the northern Brazilian Rainforest. Exotic bacuri butter is a highly moisturizing butter that has both anti-fungal and antibacterial properties. Due to these properties, bacuri butter has the ability to aid in reducing inflammation, and therefore can benefit those with rosacea or eczema. In the rainforest, bacuri was often utilized as a natural remedy against snake or spider bites.
Additionally, if you're prone to dryness or have aging or mature skin, bacuri butter is ideal for your skin type as it's rich in oleic, palmitoleic, and palmitic fatty acids. However, despite its high fatty acid content, it absorbs quickly, leaving your skin velvety smooth. It can also lend a lovely warm golden tone to your skin due to its deep colour which resembles dark chocolate or fudge. Bacuri butter is also known for its anti-aging benefits due to its ability to help stabilize collagen production.
Some may find the strong, earthy scent and dark colour of bacuri butter off-putting, but this is easily remedied by the addition of other butters as well as essential oils. I believe bacuri butter's benefits far outweigh any of the perceived downsides of this rich, nourishing butter.
It was Rebecca from Soap Deli News Blog that first introduced us to bacuri butter and its incredible skin-soothing and moisturizing benefits. You can read her article on the benefits of using this amazing exotic butter in your DIY beauty recipes here.
Bacuri butter has many wonderful properties that make it an especially useful ingredient in skin and hair care applications. Part of this is due to it's high methionine content. Methionine is an essential amino acid that plays a critical role in the metabolism and health of many species. It's also a natural source of sulphur – an element crucial for healthy skin, hair and nails.
– Rebecca. D. Dillon of Soap Deli News Blog
We also used bacuri butter in our decadent DIY chocolate cleansing balm. You can find the recipe in our guest post over at Soap Deli News Blog!
Ingredients for peppermint hot chocolate body butter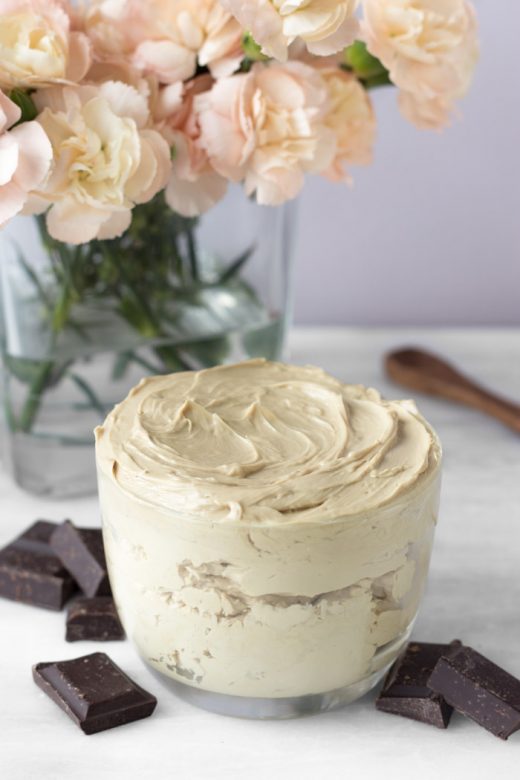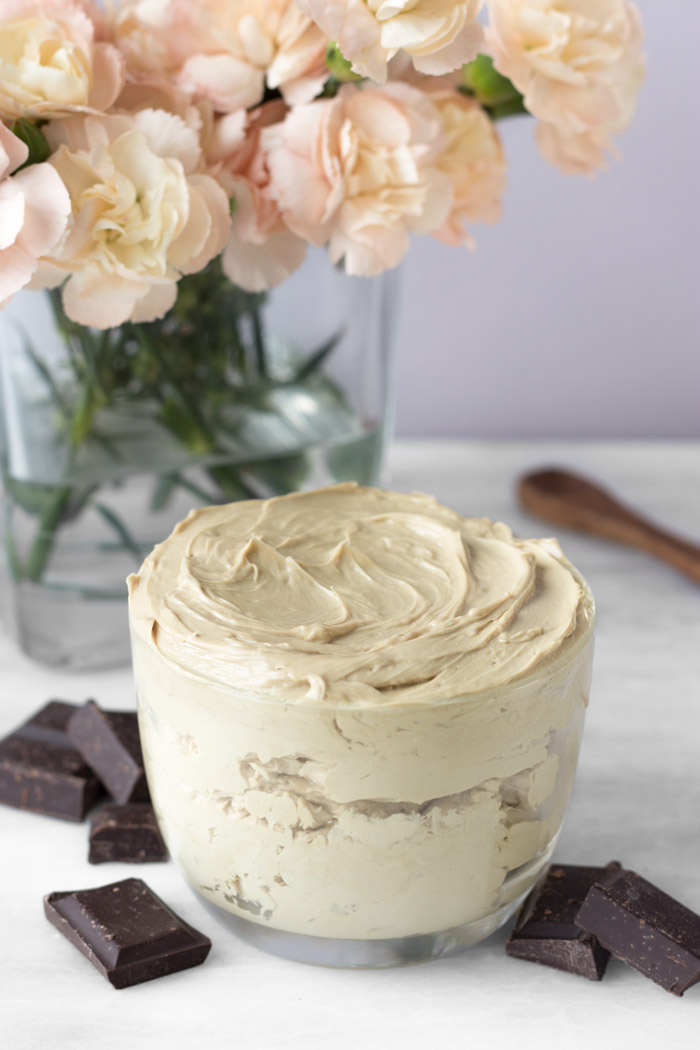 Cocoa butter
Cocoa butter is the go-to butter for many seasoned beauty artisans. It's comprised of stable saturated fats, which means it is less prone to becoming rancid when heated. Using rancid oils in DIY products is not ideal, as spoiled oils can increase inflammation.
Cocoa butter is derived from the cocoa bean and contains plant compounds known as phytochemicals. Phytochemicals have been shown to offer some protection against sun damage. Studies have also indicated that the antioxidants found in cocoa can aid in preventing oxidative stress.
Since oxidative stress is linked to premature aging, cocoa butter can also protect your skin from the inside out. So eating chocolate is not only good for your heart, but good for your skin, too!
Coconut oil
Another DIY beauty favourite, coconut oil is a highly versatile, low-PUFA oil. Be sure the kind you choose is organic, cold pressed and virgin.
Peppermint essential oil and cacao absolute
Peppermint essential oil is an uplifting essential oil that not only smells lovely, but has also been shown to stimulate circulation, improve memory, and aid in the relief of sore muscles and body aches. If you find peppermint irritating due to skin sensitivities, it can easily be omitted as the smell of the cocoa butter will still fragrance this body butter wonderfully.
Cacoa absolute has an incredibly potent dark chocolate scent. It gives the most delicious dark chocolate aroma to this body butter. If you find earthy scents unpleasant, it also aids in covering the mossy aroma of the bacuri butter.
However, like peppermint essential oil, cacao absolute can also be irritating to those with sensitive skin, so proceed with caution if you tend towards sensitivity. Although, I should note that I have sensitive skin and have been using this mint hot cocoa body butter for over a month now with no issues whatsoever.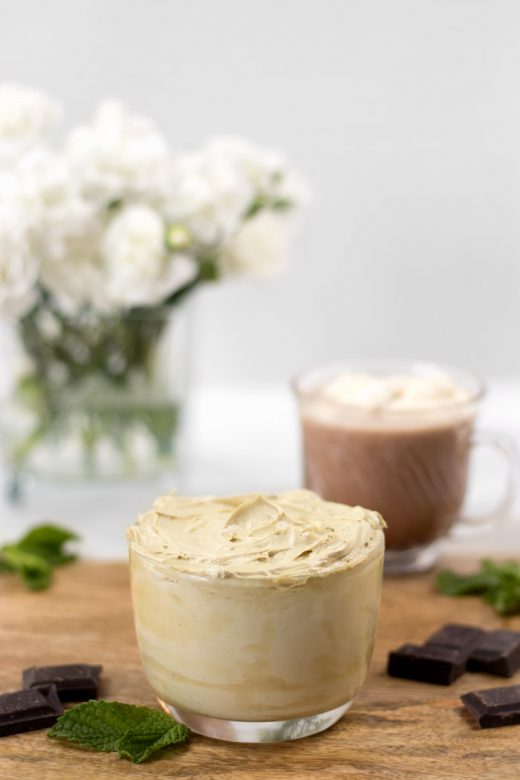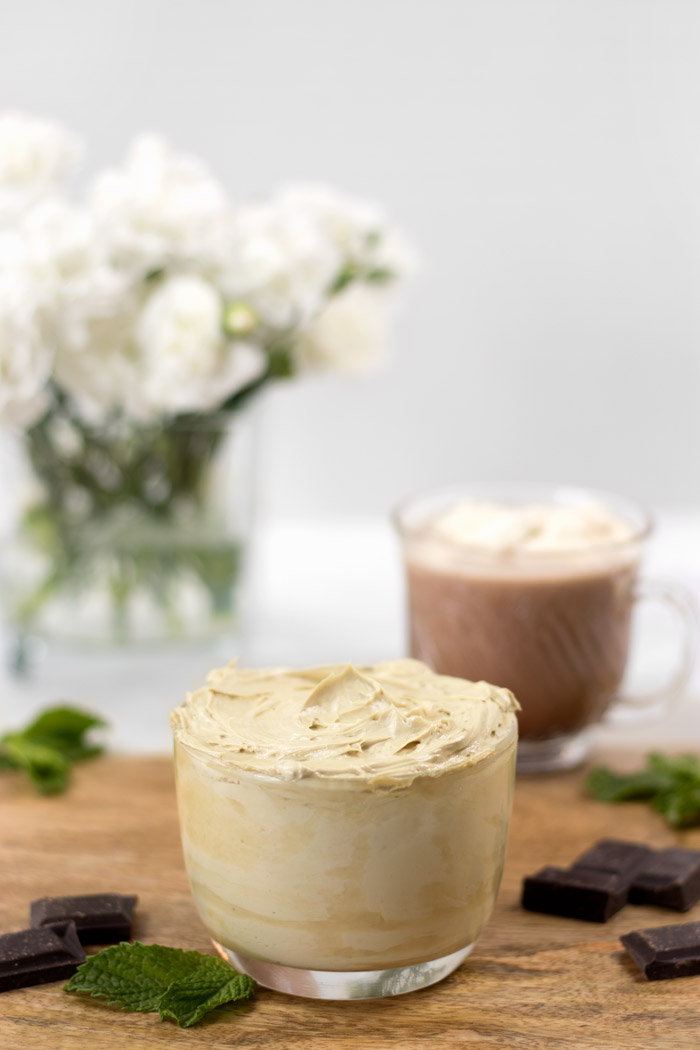 DIY Peppermint Hot Cocoa Body Butter with Bacuri Butter
This natural DIY body butter is perfect for the holiday season. Non-greasy and moisturizing with an ultra-light whipped texture. It smells so good, you'll want to eat it! Scented with natural essential oils.
Instructions
Place your butters in a double boiler on medium-low heat to melt. Alternatively, you can use a glass bowl a top of a saucepan filled with water. Stir gently, taking care not to splash the oils. Always take extra precautions with working with heated oils.

Remove the pan or bowl from the heat carefully.

Allow to cool slightly. Add the peppermint oil and cacao absolute and stir to combine. Then, place the bowl in the fridge for approximately 30 minutes to an hour, until firm.

Using a hand mixer or stand mixer, whip the mixture for approximately 10 minutes until light and fluffy. Whipping adds air and fluffiness to your body butter which makes it easier to apply, and lends a lovely texture to your finished product.
Notes
Due to its dark colour, bacuri butter will leave a warm golden tone on your skin. However, it can also stain light clothing. We recommend rubbing your mint cocoa body butter in very well to prevent this issue.



Caution: if you're pregnant or breastfeeding, please consult your health care provider before making any DIY products with essential oils. As always, please use essential oils with care around small children and pets.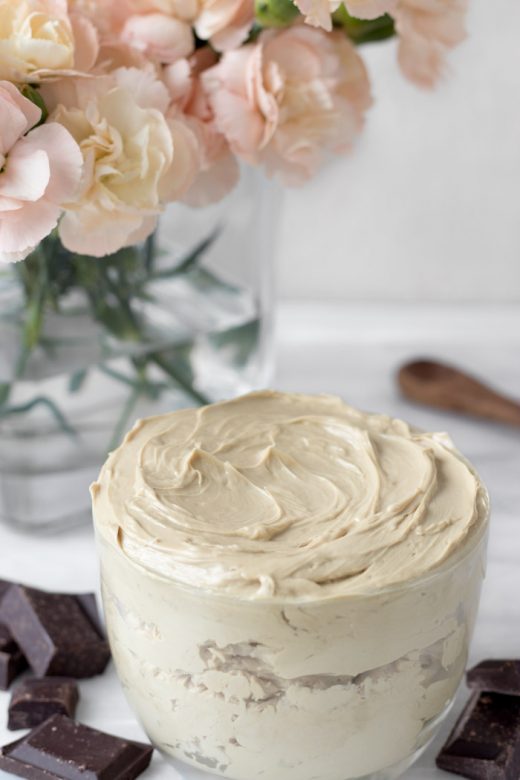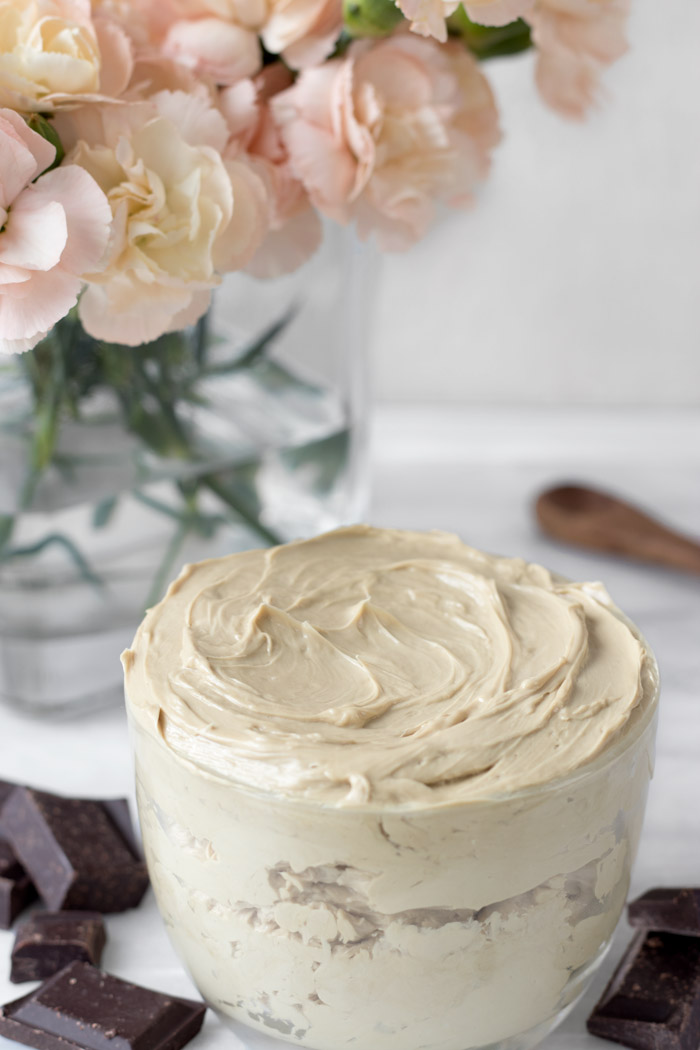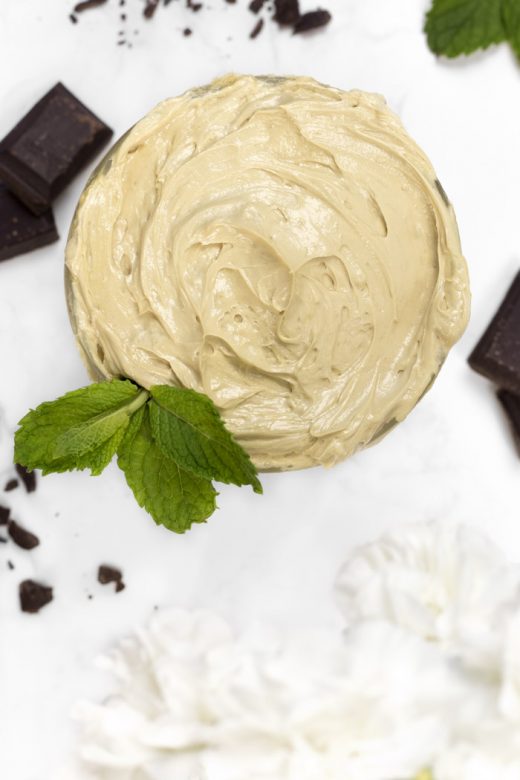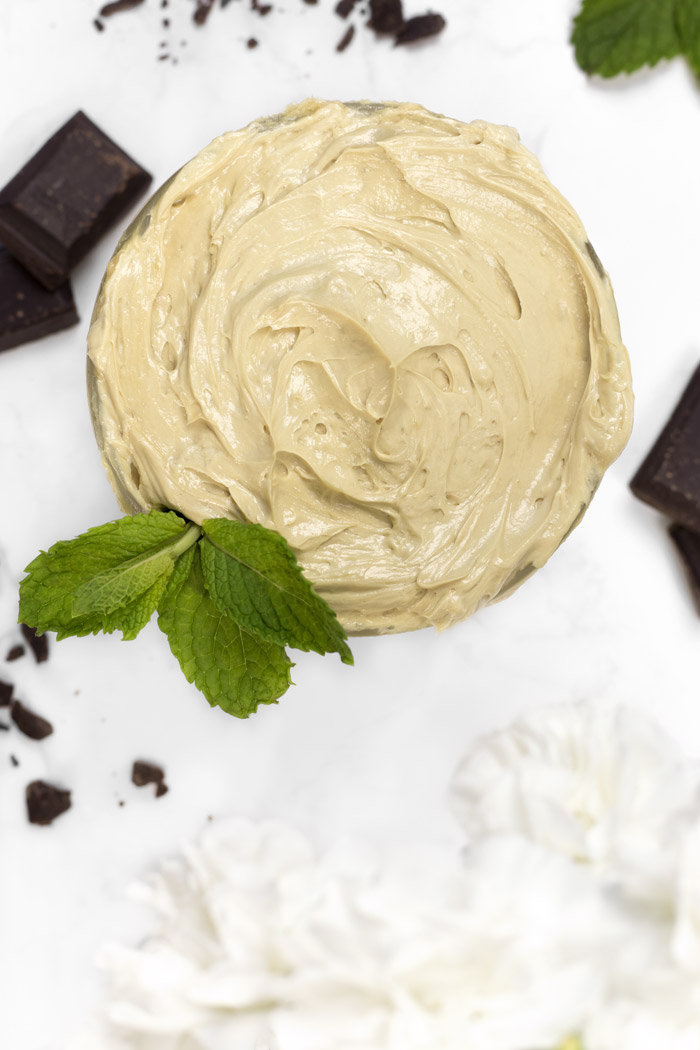 More DIY beauty recipes
Looking for more natural DIY bath and body recipes? Check these out:
For even more natural DIY bath and body ideas, follow us on Pinterest! You can also find us on Instagram, Facebook, and Twitter.
Pin it for later