Looking for the best containers for storing your DIY beauty products? We've compiled a list of our favourite containers and where to find them.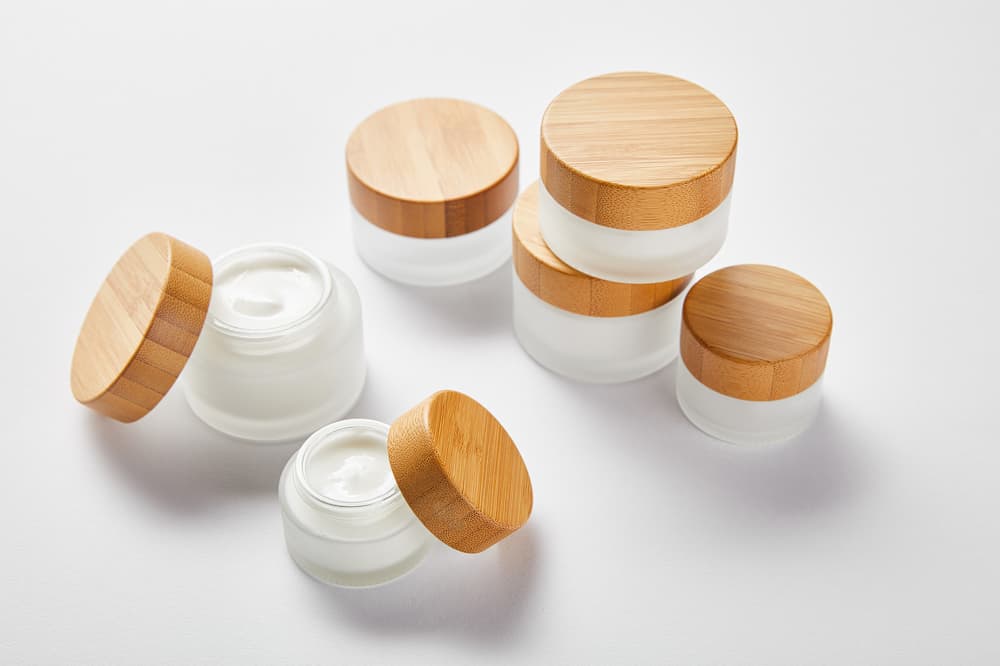 If you're new to DIY beauty and skincare, one of the first things you might be wondering is where to buy the containers for storing your homemade creations.
Or more specifically, which are the best containers for homemade lip balm, or what are the best containers for storing homemade body scrub? You might even be wondering, can I use empty containers for my DIY products?
Well, we are going to break down what we have found is the best packaging for skincare products, homemade cosmetics and other DIY beauty recipes.
If you're new to homemade beauty or even a seasoned DIY beauty maker, finding the perfect container to keep your creations fresh is a must, especially when you went to the trouble of purchasing the best ingredients for making your own beauty products.
And since we get a lot of inquiries asking where we bought our packaging, we wanted to provide a handy and comprehensive list of where we purchase our most used containers.
How to choose containers for DIY skincare products
When it comes to the choosing the best packaging for your homemade beauty and skincare products, some of the factors that you should consider include:
The ingredients used in the product. For instance, products containing essential oils should not be kept in plastic containers.
The product's shelf life. A body butter will last longer than a homemade lotion, so choose smaller containers for skincare products with shorter shelf lives.
The ingredients' stability. Choose dark, tightly sealed containers such as ultraviolet pump bottles for more delicate ingredients or formulations. This includes products like vitamin C serums, or products containing citrus essential oils or polyunsaturated carrier oils, since they oxidize quickly.
Ease of dispensing the products. For instance, a water-containing homemade face cream is better off in a pump bottle than an easily-contaminated jar.
So with these factors in mind, let's get into the list of our favourite DIY beauty containers.
Best containers for face masks, cleansing balms, and face scrubs
These gorgeous frosted glass jars with real wood lids are hands down one our most used and favourite containers for storing a variety of homemade beauty products, especially facial skincare products.
We love that they're made of glass, which makes them better for the environment over plastic containers. But they also have a lovely natural look to them as well.
When we were starting our DIY beauty journey, we wanted to use containers that would help us stand out, which is why we chose something a little different than the usual containers we saw being used to package homemade beauty creations.
Although, let's preface this to say that any container that keeps your products fresh is perfectly fine to use.
We use these lovely containers to store our DIY cleansing balms but they really do make all of our homemade products look a little bit more luxurious. We also use them for storing homemade face masks and face scrubs.
The jars are made of durable frosted glass, and the wide mouth makes filling them very easy.
These cosmetic containers come in a variety of sizes:
They're also available wholesale if you intend to make beauty products to sell.
While they're perfect for facial skincare, these glass jars can also be used for salves or balms, and the smaller sizes can be used to package lip scrubs or lip balms.
Best containers for homemade lip balms and lip scrubs
We often use recycled glass containers from store bought makeup and skincare products to store our DIY lip balms.
For instance, the frosted glass lip balm containers pictured here are empties from RMS Beauty. We created easy to make printable labels to cover the branding on the lid.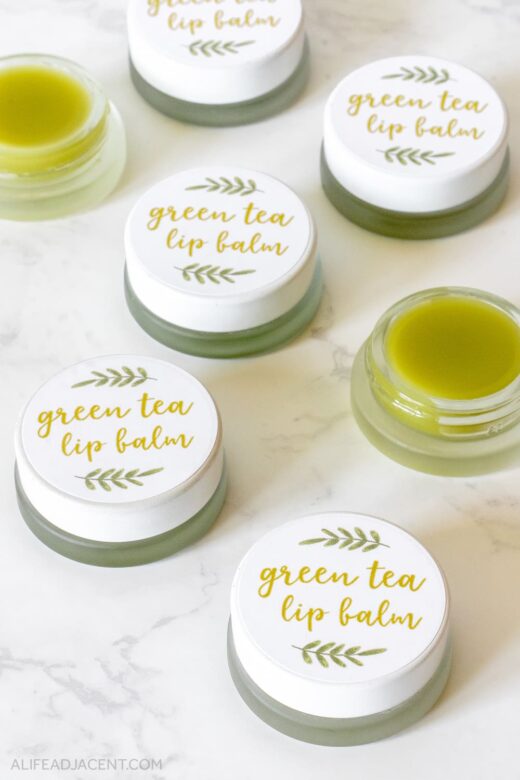 However, it can take a long time to save up enough empty containers for homemade products like lip balm! So after searching for an affordable supplier, we were excited to find similar containers in bulk.
If you need a large quantity of lip balm containers, these low-profile 7ml glass jars are very similar to the containers used by RMS Beauty, and they're perfect for storing homemade lip balms.
They also make great mini travel containers for face creams and other skin care products!
We've also used tiny versions of our favourite glass containers with bamboo lids for homemade lip balms. Again, these are very popular with our readers so if you're looking to sell your own products, we highly recommend these.
If you prefer not to use jars with real wood lids, we've also used these glass containers with faux wood grain lids.
We used these jars to package our DIY tinted lip balm, rose lip balm, and our holiday lip scrub recipes.
Best containers for facial toners, setting sprays, body sprays and face mists
We use these eco-friendly, apothecary-style fine mist glass bottles from Rail19 for our homemade makeup setting sprays. They're also perfect for storing face mists or facial toners.
With their luxe gold or silver nozzles, these beautiful spray bottles will take your skincare recipes to the next level of luxury.
They stand 6.5″ tall and store approximately 8 fluid ounces, but they come in small 4 ounce versions as well.
Fine mist glass spray bottles are also ideal for any recipe that uses essential oils, such as body sprays. Essential oils can erode plastic, so glass is key for all aromatherapy products.
Aside from their beauty and skincare uses, we've also used these frosted glass spray bottles for dispersing and storing our pillow sprays and essential oil room sprays. They also make a pretty dispenser for a toner or a homemade spray deodorant.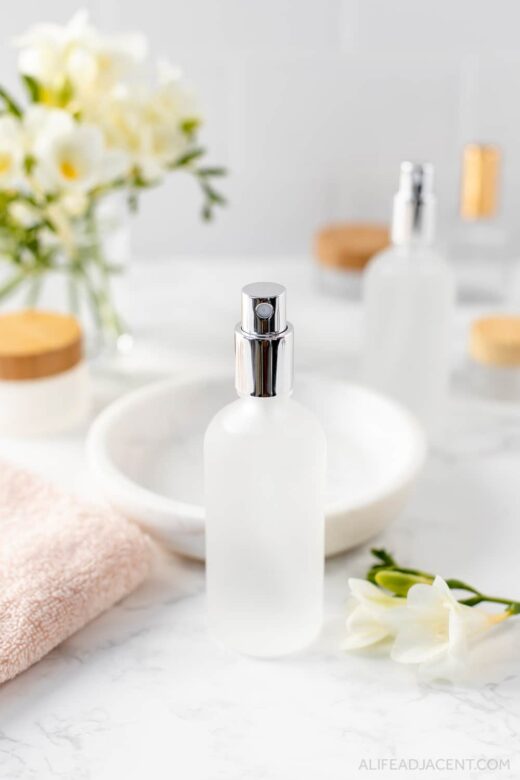 Of course you can also upcycle spray bottles from other products as well, but be sure to clean out the pump with hot soapy water, and sanitize the bottles thoroughly.
For instance, the bottle from Cortas rose water is perfectly reusable if you add a large spray nozzle.
And of course the rose water is useful on its own, too – use it in rosewater face mist, micellar water, and more. Browse all our rose water skincare recipes.
Best containers for bath salts and bath soaks
Moving onto bath and body containers, these small IKEA glass jars are great for storing and gifting bath salts.
They have attached wire clamp lids, and their tiny size makes them wonderful for using as favours for bridal showers or other occasions.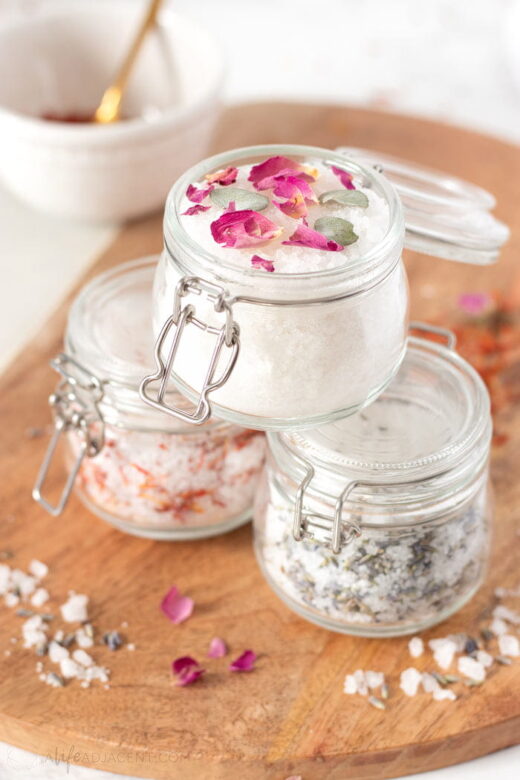 But they're not just for bath soaks. We have also stored sugar scrubs in these glass jars as well.
They can also be used for packaging small amounts of body butters, body creams, lotions or body yogurts, but be careful about using jars for water-containing products as they are more easily contaminated.
If you don't live near an IKEA, the bath salt jars are also sometimes available on Amazon.
Another idea for storing bath salts is to upcycle clean containers from other products. For instance, we upcycled glass milk bottles for this milk and honey bath soak. Just add a pretty label and lid, and these bottles are perfect for gifting.
Test tube containers or glass vials are also good for both gifting and storing homemade bath salts, also known as bath shots. We used test tube-style containers to package our pumpkin spice bath salts.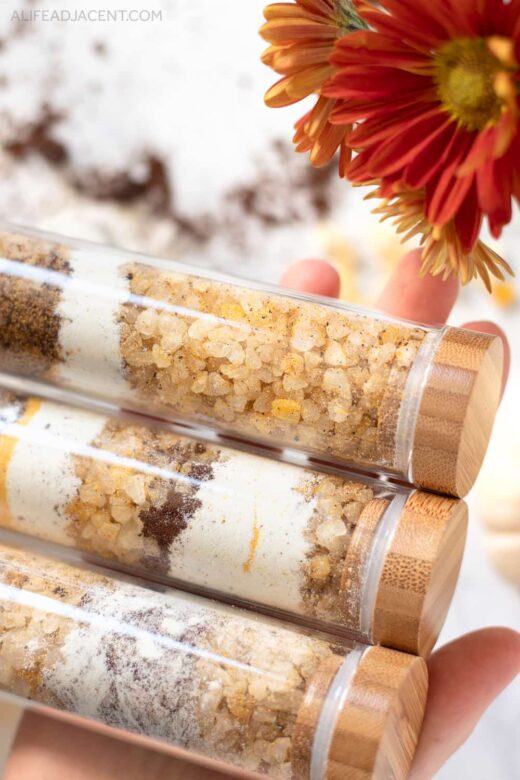 The containers pictured are from IKEA and unfortunately they're no longer available, but similar versions are available such as these glass tubes with cork lids, or these glass vials with metal lids.
Clear glass vials are a lovely way to display bath salts or bath soaks for easy gift-giving because you can see each layer very easily.
Plus, tube containers make dispensing bath salts very easy. Just pour half the tube into the bath, and replace the cap to save the rest for later.
Best containers for homemade body scrub and body butter
When it comes to DIY body scrubs and body butters, we like to keep it simple with glass jars.
With scrubs and body butters, you don't have to worry as much about mold and bacteria. Water is required for pathogens to grow, and these products usually don't contain any water.
The small wire clamp jars from the previous section work well for small batches. We also love large glass clamp jars for larger quantities of body butter or scrub, such as the rose gold clamp jar used in our pumpkin spice body butter.
But you don't have to buy fancy containers! Mason jars are always an economical option, and we often use simple mason jars for packaging as well. Both our holiday sugar scrubs and our coffee body scrubs feature simple mason jar containers.
Plus, when we're testing many different skincare recipes at once, small 4oz mason jars are perfect for storing any test batches or extra product.
Best containers for homemade perfumes
There's nothing like a beautiful bottle to take homemade essential oil perfumes to the next level. The right container can make your natural DIY perfume look like a fancy designer fragrance, but without the headache.
For perfume sprays, we love these glass perfume bottles with gold fine mist sprayers. They're made of thick, durable glass and look similar to fancy store-bought perfumes bottles.
We also use these tiny, portable 10mL spray bottles for smaller quantities of perfume. Despite their size, they're also made of thick glass. They're perfect for both storing and gifting our favourite perfume blends, and are available from Simply Earth.
For roll-on perfume, we love these sparkly roll-on glass prism bottles, also available individually from Simply Earth. They hold 8ml of perfume oil and are easy to refill.
Of course, you don't have to buy containers for your perfume! After finishing a natural Pacifica perfume, we reused its beautiful round spray bottle for our own DIY perfume blend.
You can see all of these perfume bottle choices featured in our article on spring essential oil perfume recipes.
One caveat: clear glass might be attractive, but it's not the best choice for longevity or long term storage. So be sure to keep your essential oil perfumes in a dark cupboard when not in use.
As discussed in the next section, ultraviolet glass bottles are technically the best bottles for storing essential oils.
Best containers for essential oils
You may already be aware that essential oils shouldn't be stored in plastic containers, because they are powerful plant compounds that need to be protected from both heat and UV light.
And as mentioned earlier, essential oils' potency makes them capable of leaching plastic.
For these reasons, dark glass such as amber or cobalt are preferable for packaging essential oils as it protects the oils from light and preserves their composition.
For instance, these 10ml amber roll-on bottles are good for dispensing products such as aromatherapy perfume oil and homemade cuticle oil.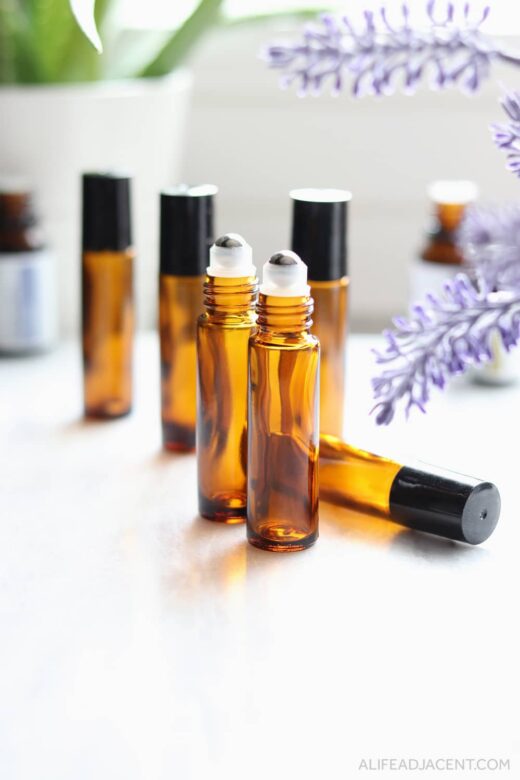 But for maximum protection, ultraviolet glass containers are best, as they block out most visible light. So you may want to consider these ultraviolet glass roller bottles for some of your more expensive essential oil recipes.
However, dark colours don't allow you to see what's inside your bottles. So if you like the aesthetics of clear glass, you might still choose to store your essential oil creations in transparent bottles.
But if you use clear glass, be sure to keep your bottles off the bathroom counter and instead store them in a cool, dark cupboard.
More DIY beauty product packaging ideas
We hope you found this DIY beauty containers list helpful. Like most beauty makers, sourcing the best ingredients is likely important to you. So you of course want to be sure to protect your creations and preserve them for as long as possible. Not to mention, to display them beautifully!
And as we add to our DIY beauty recipe library, we will be sure to update this list if we find any new and interesting packaging options.
You can also find more packaging ideas, as well as a current list of our most loved and purchased beauty, skincare and cosmetic containers on our Amazon storefront.
For more homemade beauty and skincare ideas, follow us on Pinterest, Instagram, YouTube, Facebook, TikTok, and Twitter.
Pin it for later