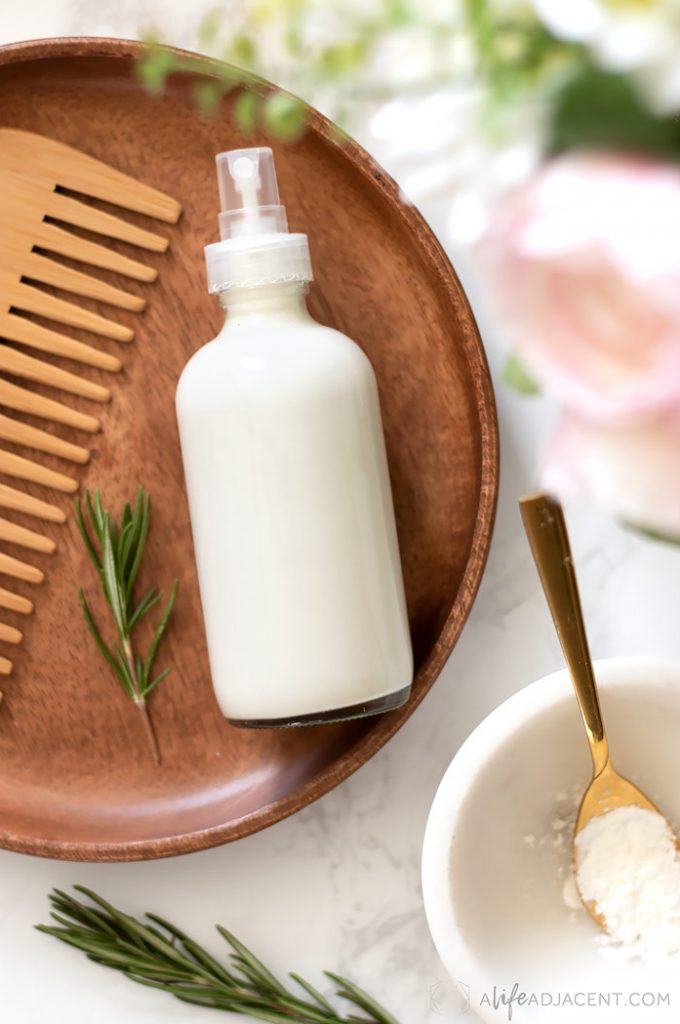 Refresh your hair between washes with this natural DIY dry shampoo spray. This unique micellar recipe contains micelles to absorb excess oil on your hair and scalp. It's effective for oily hair, and its quick-drying formula means it won't ruin your hairstyle. Whether you have brunette, red, or dark hair, this homemade dry shampoo recipe includes options for all hair colours. You can also add essential oils to fragrance, boost circulation and promote hair growth. READ MORE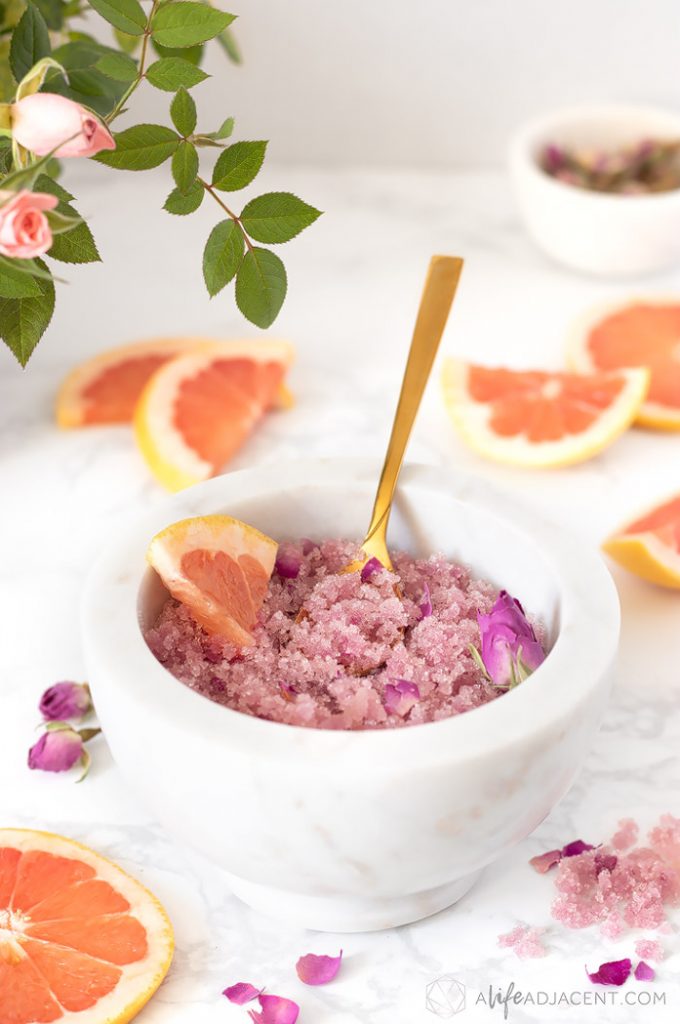 This invigorating DIY grapefruit sugar scrub with rose petals is perfect for summer. It can help slough off dry skin cells, diminish the appearance of cellulite, and moisturize rough, dehydrated skin. The unique combination of grapefruit and roses gives this scrub an energizing floral and citrus aroma and imparts a lovely pink colour to this easy to make body scrub. READ MORE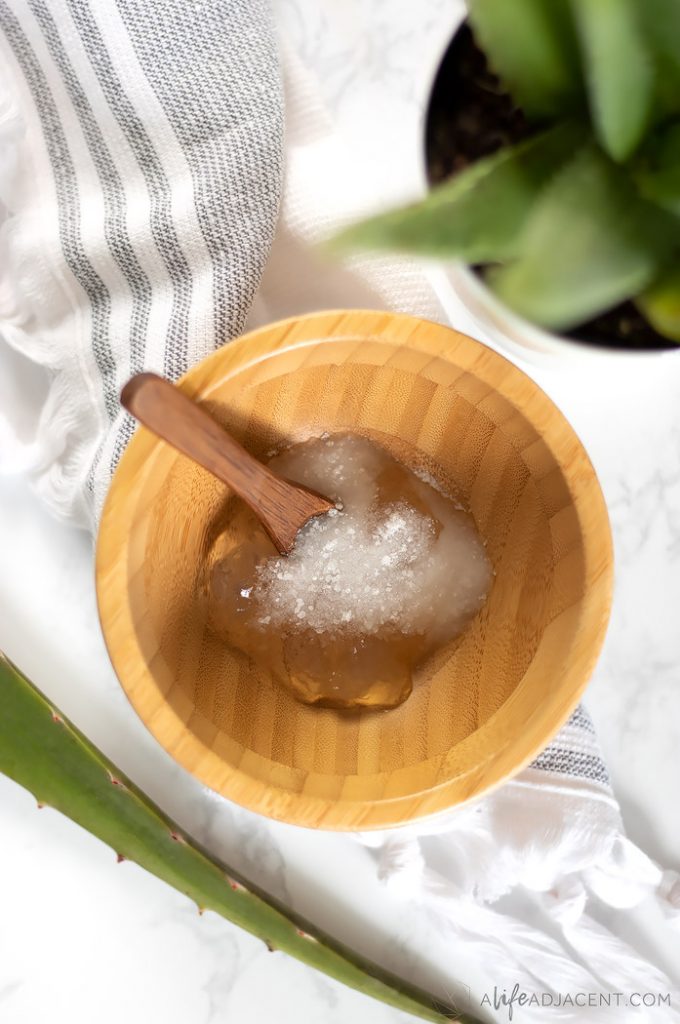 Get glowing skin with this easy DIY aloe vera face mask recipe with MSM. It's the perfect addition to your summer beauty routine. Not only does it deeply moisturize, but it also helps soothe sunburn, irritation, and redness. Thanks to the combination of aloe gel, MSM powder and allantoin, this face mask can also help calm the inflammation caused by acne breakouts. READ MORE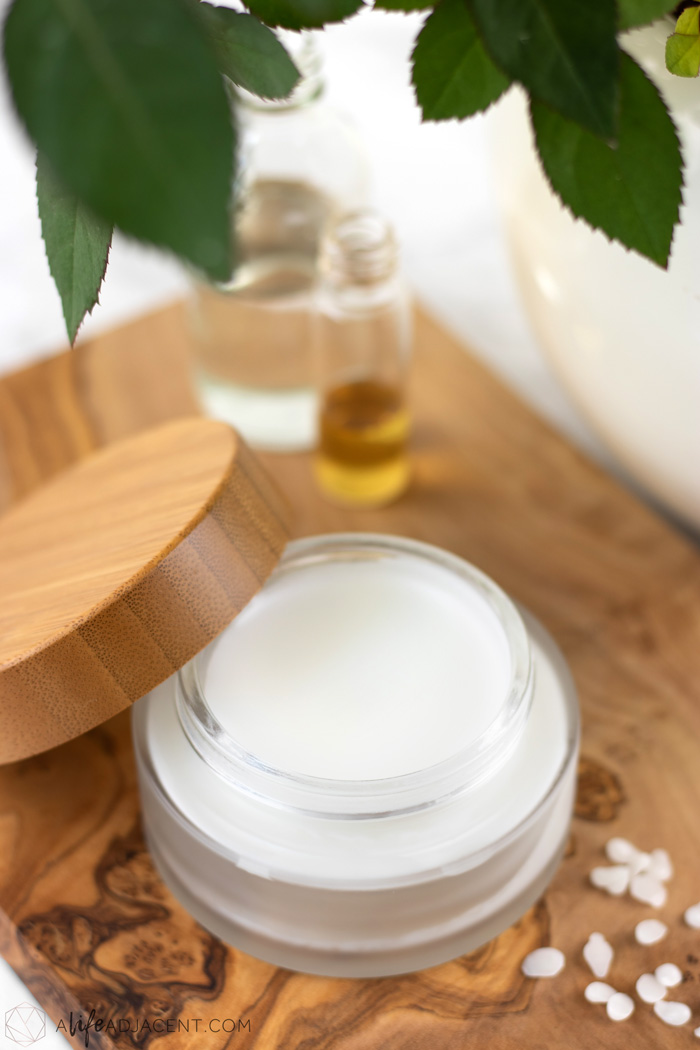 Inspired by Korean sleeping masks, this DIY overnight face mask helps prevent dry skin while you sleep. It forms a protective barrier that locks in moisture all night long, reducing skin water loss and helping you wake up glowing.
When it comes to nighttime skincare, typical face oils and night creams just don't seem to do it for me. No matter how much I apply, by the time I wake up, they've vanished into my bedding. Instead, I tend to wake up with dry skin and moisturized pillows. Not exactly skincare goals. READ MORE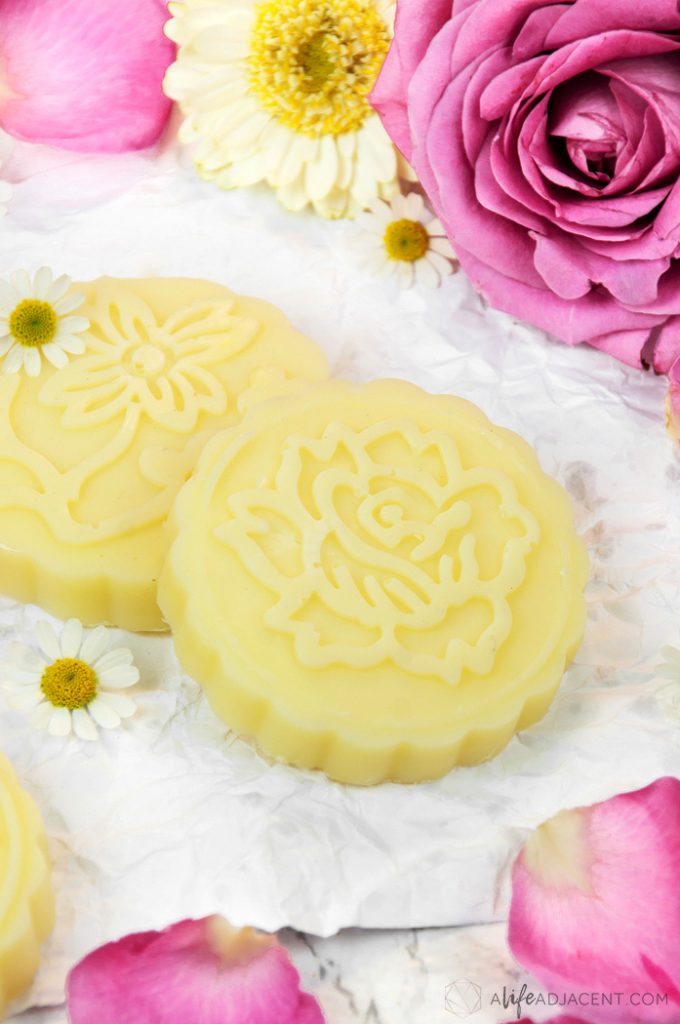 These lovely DIY rose lotion bars from guest blogger Irena of Country Hill Cottage are made with natural, non-toxic ingredients and are perfect for moisturising dry skin. They're also formulated without beeswax for a lotion bar recipe that's completely plant-based. Read on to learn more about the ingredients and get helpful tips for creating homemade lotion bars. READ MORE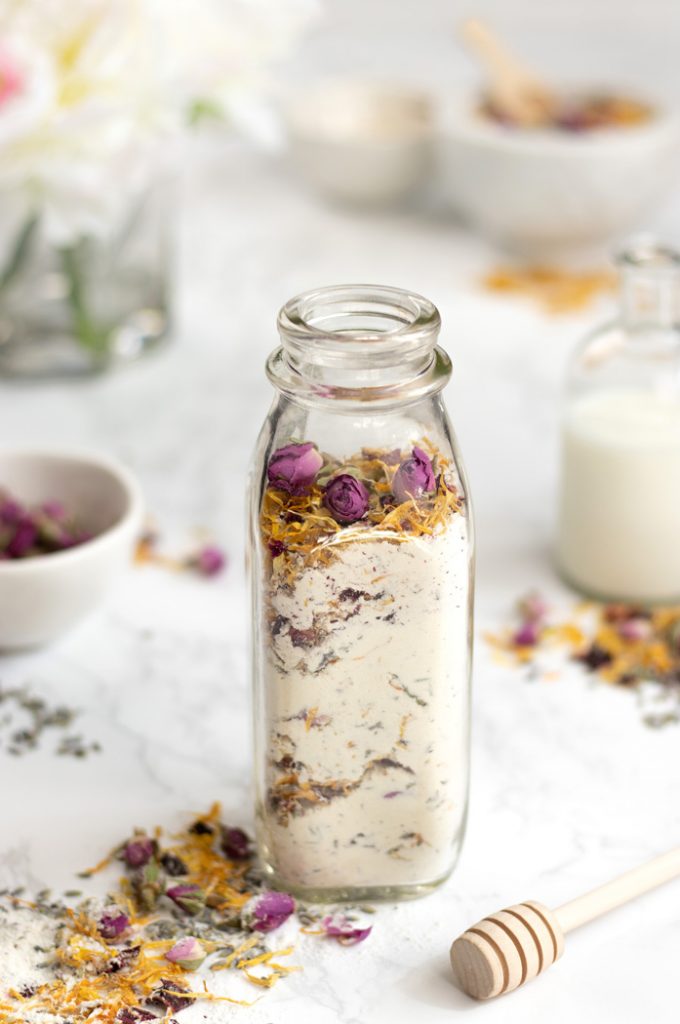 This DIY milk and honey floral bath soak is moisturizing, soothing and incredibly appealing to the senses. Powdered milk and honey deeply hydrate dry skin, while organic flower petals provide aromatherapy and luxury to your bath experience. Your daily bath will feel like a rejuvenating day at the spa. READ MORE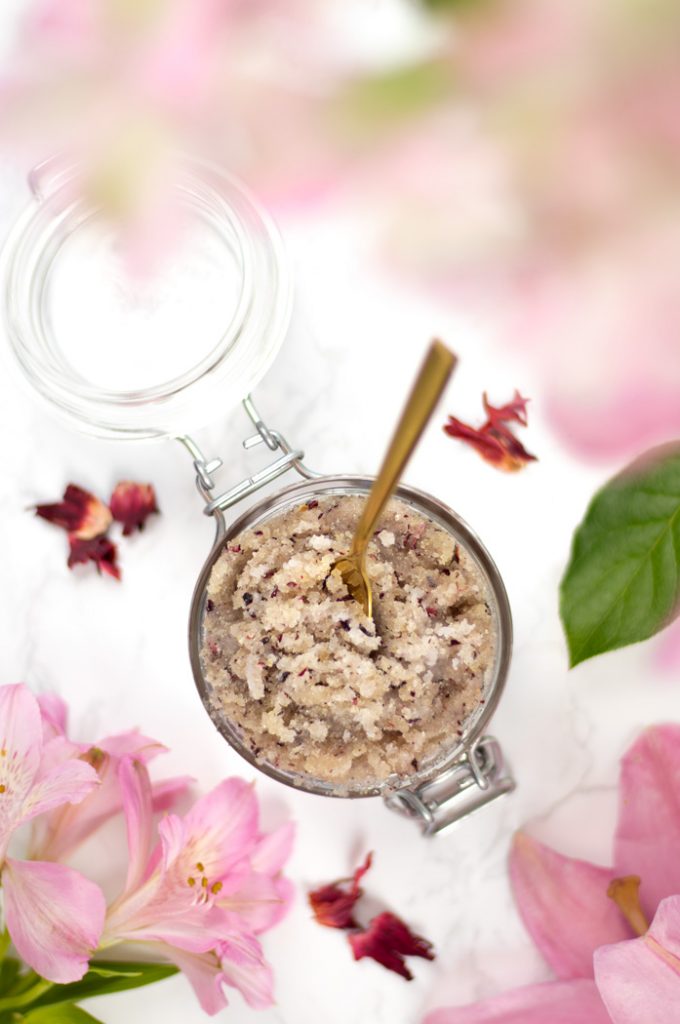 This DIY sugar scrub has a lovely tropical aroma due to the exotic scent of ylang-ylang essential oil. It also contains ground organic hibiscus petals which provide antioxidant benefits, aid in gentle exfoliation, and lend a lovely colour to this skin-nourishing scrub!
Sugar scrubs are one of those bath and body products that I prefer to DIY rather than buy. The simple ingredients they contain are easy to access, and most of the time I usually have all the ingredients needed already on hand. READ MORE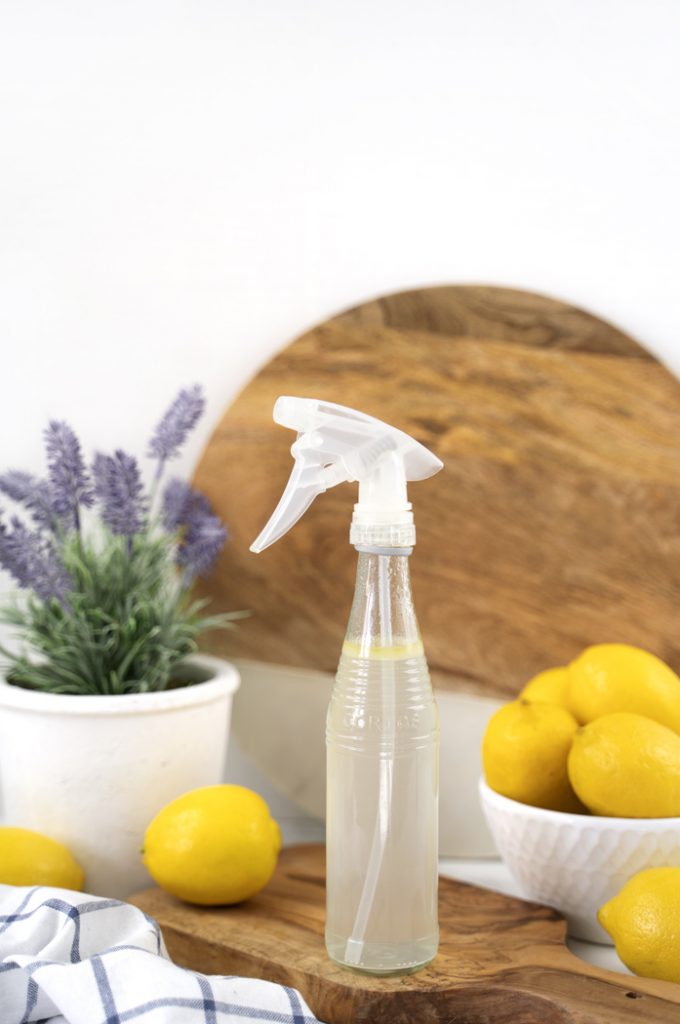 This natural DIY glass cleaner is made without toxic rubbing alcohol. Instead, this recipe includes vinegar, essential oils, and gin (or vodka) for sparkling clean windows and mirrors without the chemicals.
As far back as I can remember, I've always used vinegar and water to clean my windows and mirrors. This choice was primarily due to my aversion to the overpowering smell of commercial glass cleaners. In fact, store-bought glass cleaners usually triggered a migraine, which to me indicated that whatever was in them was likely toxic and therefore not good for my overall health. READ MORE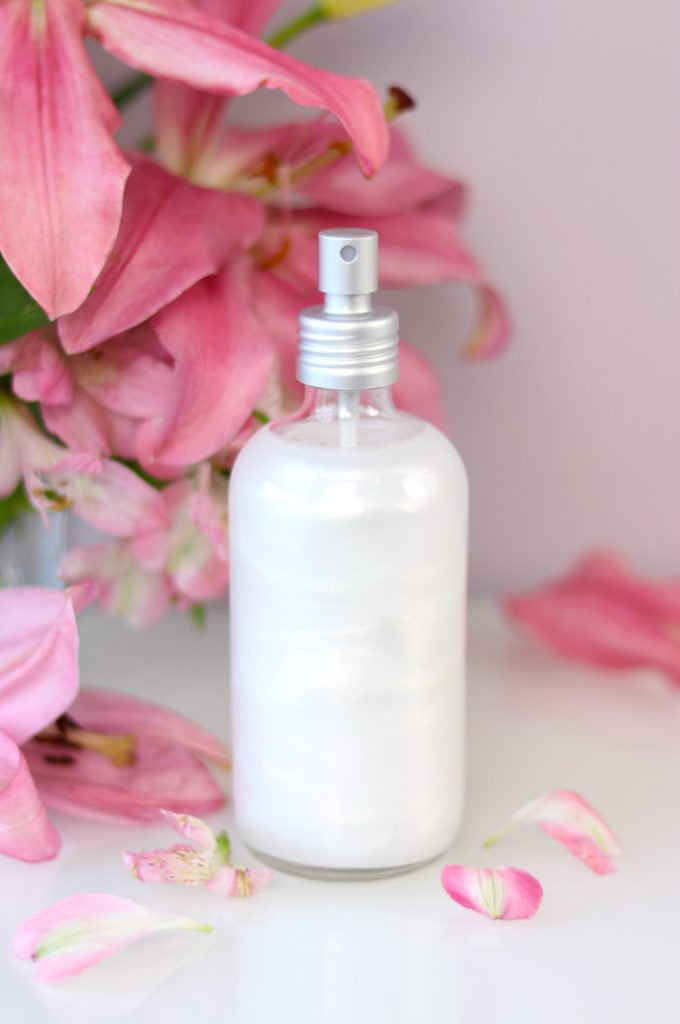 This natural shimmer setting spray sets your makeup while illuminating your skin with a pearlescent glow. Cosmetic mica powder gives this DIY setting spray its shimmer, while vodka and aloe vera powder create a barrier that holds your makeup in place all day long.
I can't get enough of that glowing, luminescent skin look that's so in vogue right now. I'm always chasing that lit-from-within radiance, but there's only so much a good highlighter can do. My desire for an all-over glow is what lead to this DIY. READ MORE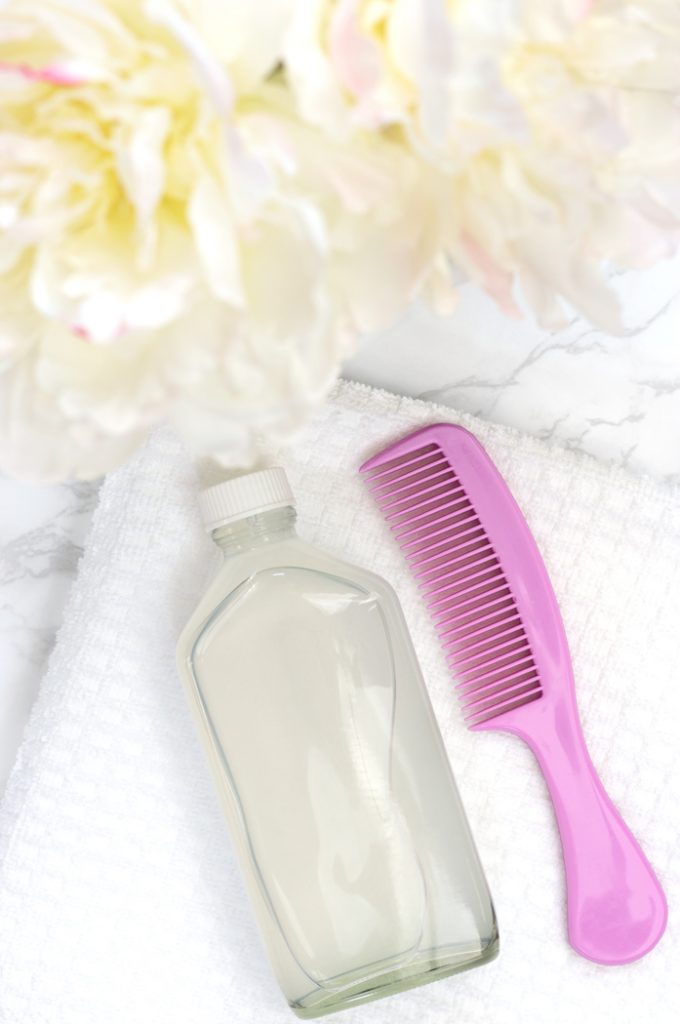 If shampoo is leaving your hair and scalp feeling dry or stripped, this gentle and all-natural DIY micellar water for hair can help. It replaces shampoo, leaving your tresses clean and soft without any harsh surfactants or suds. It can also be used as a clarifying treatment to gently remove buildup. Just pour, comb and rinse! READ MORE