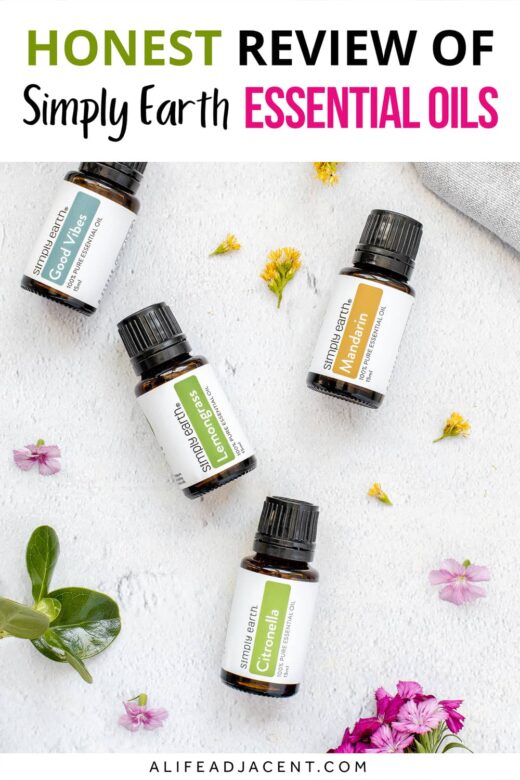 Have you heard of Simply Earth essential oils? Maybe you're interested in learning more about their essential oils, but aren't quite sure if they are right for you.
Or maybe you've heard of their monthly Recipe Box, but aren't sure if it's worth it?
We have been using Simply Earth essential oils for over a year now, which is why we wanted to provide a more in-depth review of our experience with this essential oil company.
In this honest review, we will list the reasons why we recommend Simply Earth, as well as answer some of the most common questions you might have about their essential oils.
We also share photos of what's inside the Simply Earth subscription box, the Big Bonus box, as well as links to the articles with lots of photos of the essential oil recipes we have made using these high-quality essential oils.
We hope this Simply Earth review helps you make a more informed decision before making a purchase.
As we mentioned, we have been using the subscription boxes for over a year. So you can find past box reviews on our page of individual Simply Earth essential oils reviews as well as more photos of the recipes we've created with each box.
Who is Simply Earth?
Simply Earth is family-owned essential oil company located in Hingham, Wisconsin that sells high quality, pure, and affordable essential oils.
As with any essential oil company, one of the first things you may be asking is – is Simply Earth legitimate? And the answer is yes, they are.
In our opinion, there are a few things that set Simply Earth apart from other essential oil companies.
First, they prides themselves on honesty and transparency – they promise to provide the purest essential oils on Earth because they want to help their customers live a more toxin-free life.
To that end, each batch of Simply Earth essential oils is GC/MS tested (more on this later). And with so many adulterated essential oils on the market, this testing is extremely important.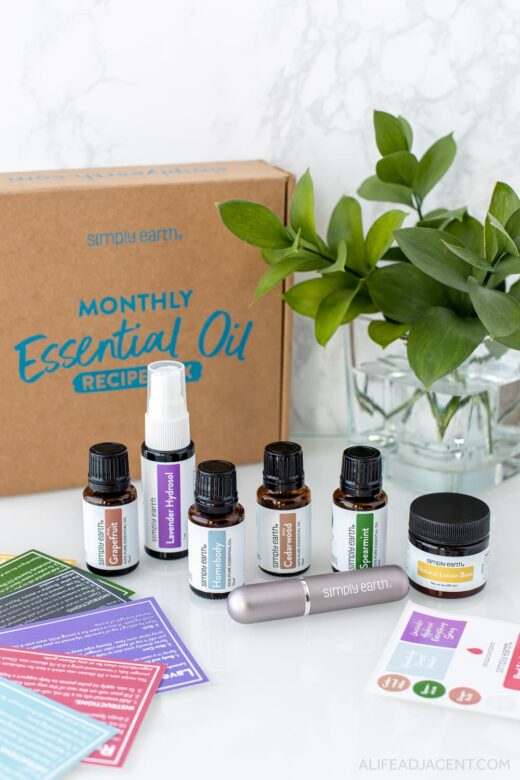 Another thing that sets them apart is their dedication to a good cause.
Simply Earth is a company that gives back, donating 13% of its profits to fight against Human Trafficking. You can learn more about this here.
But perhaps what makes Simply Earth stand out the most is their monthly Essential Oil Recipe Box, which offers 4 full-size essential oils and fun extras, shipped to your door every month at an extremely affordable price.
We've now received and used a year's worth of monthly boxes and essential oils, so our review comes from our own experience.
Simply Earth Essential Oils Review
First, the most important question of any essential oils review. How pure are Simply Earth essential oils?
As we mentioned, Simply Earth promises the purest essential oils on Earth, and they've worked hard to source 100% pure essential oils from ethical farms from around the world.
In fact, their goal is to meet the farmers, learn more about their process and witness the commitment to quality for themselves.
So if you're wondering if Simply Earth essential oils are pure? Yes, Simply Earth essential oils are pure.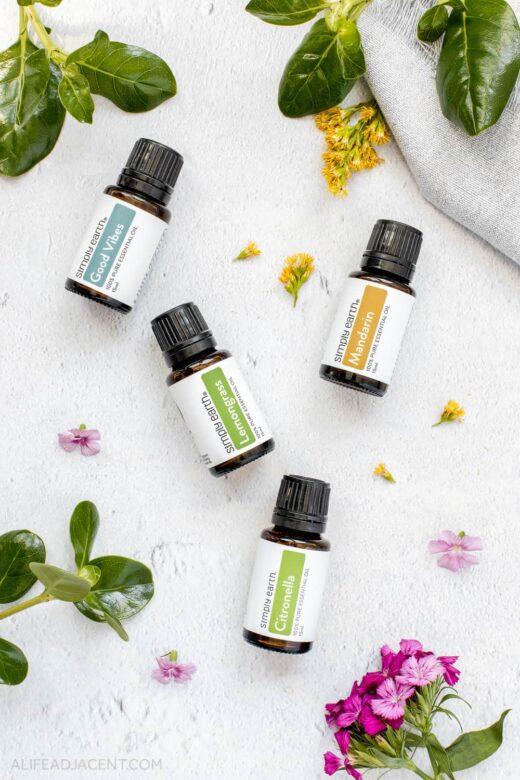 But while purity is important, we find there's a tangible difference, too. What we've also discovered is that the fragrance distinguishes Simply Earth oils from other brands.
When compared to similar oils from another company, many of Simply Earth's oils just smell better. Even their patchouli oil, which can be a divisive fragrance, is the most pleasant we've ever smelled.
They also offer some truly unique essential oil blends, such as Lava, which smells like a high-end citrus perfume. You will find more information about our favourite Simply Earth blends later in this article.
But while scent is important, you can't always trust your nose. So, how will you know that the oils you're receiving are pure? Because Simply Earth oils are GC/MS tested – more on this below.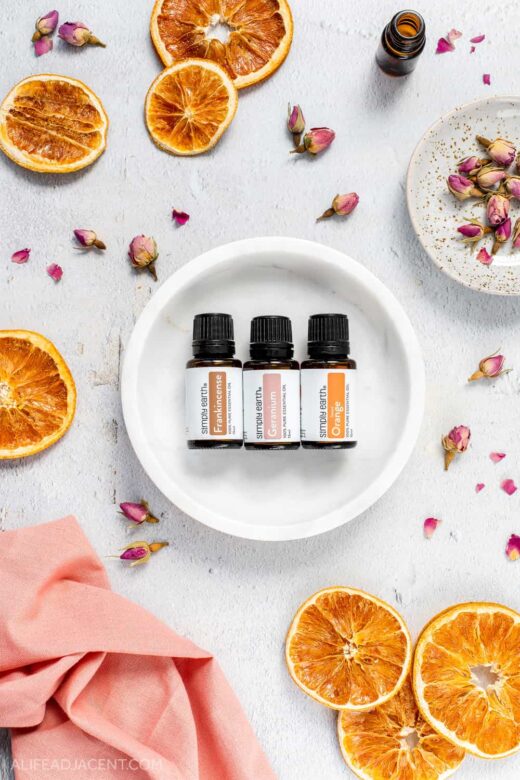 A quick overview of why we recommend Simply Earth essential oils:
Simply Earth essential oils are 100% pure – they're GC/MS tested which ensures that they're unadulterated.
They source their oils from ethical, family-owned farms from around the world.
They offer a monthly subscription box with 4 full-size oils plus extras which saves money!
Shipping is free for the Recipe Boxes and all orders over $29 in the U.S.A. No free shipping code needed!
Shipping to Canada is free over $100.
You don't have to subscribe, as Simply Earth also sells individual essential oils, diffusers, and other accessories.
They stand behind their products, so if you're not happy with your purchase, the return policy is 365 days (a full year).
Simply Earth is not an MLM. So there are no hidden fees or membership charges.
You can frequently score a free diffuser, free box, or other great deals – use our coupon code ALIFEADJACENTFREE for a free $40 gift card.
What does it mean for essential oils to be GC/MS Tested?
GC/MS or Gas Chromatography/Mass Spectrometry is a standard test that can be used in ascertaining the quality of essential oils.
It's the gold standard for ensuring a substance's purity. So it can be used to determine an essential oil's identity, quality, and purity.
In the very simplest of terms, a gas chromatograph is used to identify and separate each molecule in the essential oil, then a mass spectrometer will analyze and provide information about each individual compound.
GC/MS testing will reveal if any substance has been added or removed from the pure essential oil.
All Simply Earth essential oils go through this extensive third-party GC/MS testing. Due to this rigorous testing, Simply Earth can guarantee that the oils they sell are free of fillers, synthetic fragrances, or other adulterants.
For each batch of an oil, Simply Earth also makes the GC/MS report available on the product page of that oil.
For instance, on this page for spearmint essential oil, you will find the oil's GC/MS report. You can also view the report for a specific essential oil batch by searching its serial number.
For a more in-depth explanation of GC/MS testing, see this article.
Simply Earth Essential Oil Subscription Box Review
As we mentioned, aside from selling individual oils and accessories, Simply Earth also offers a monthly essential oil subscription box.
So, what do you get with the Simply Earth Essential Oil Recipe Box?
If you sign up for the monthly box, every month Simply Earth delivers an essential oil recipe box complete with 4 full-sized essential oils, 6 essential oil recipes, and the supplies to make them, right to your doorstep.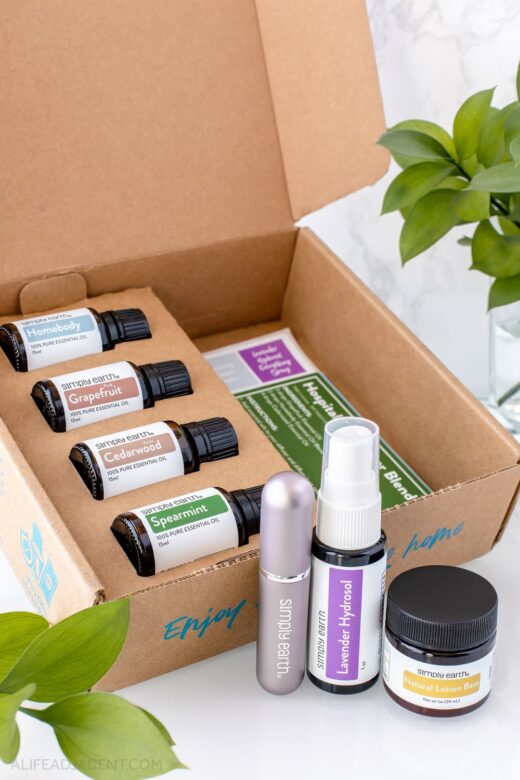 The monthly cost of each subscription box is only $39. Considering the actual value of each box is often over $100, this is an amazing deal.
Each month you get 4 different oils, which is a wonderful way to start (or expand) your essential oil collection. After over a year of boxes, we've amassed quite a variety of oils!
Each month along with the 4 unique essential oils, you will also receive with your recipe box:
6 non-toxic and natural recipes on recipe cards
The ingredients for the recipes
Containers needed to store the recipes
Pre-cut sticker labels for your essential oils creations
Plus, Simply Earth boxes often include one of their special essential oil blends. We always look forward to these blends, as they are expertly blended and often contain expensive oils such as sandalwood and helichrysum.
One of our boxes also included a pricey full-size cardamom oil. So the price of each monthly box is much less than buying each individual essential oil and all the supplies.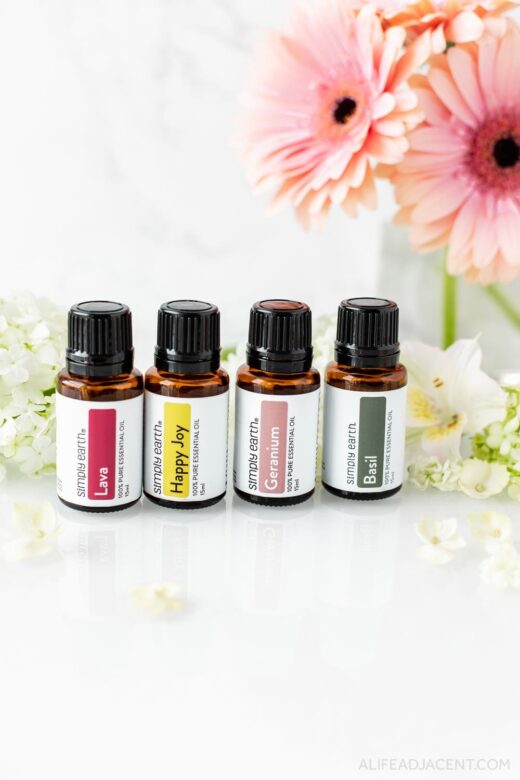 Each month is also centred around a different theme – for instance, past box themes included: Natural Beauty, Hair Care, Rest and Relaxation, Natural Cleaning, and Summer and Garden.
You can check out some of the recipes we've made using past Simply Earth boxes:
Simply Earth Monthly Box Preview
Want a preview of what you can expect in a box? We've included everything you can find in the July 2021 Box below.
July's theme is Family-Friendly, so it includes a selection of recipes using essential oils that are safe for the whole family.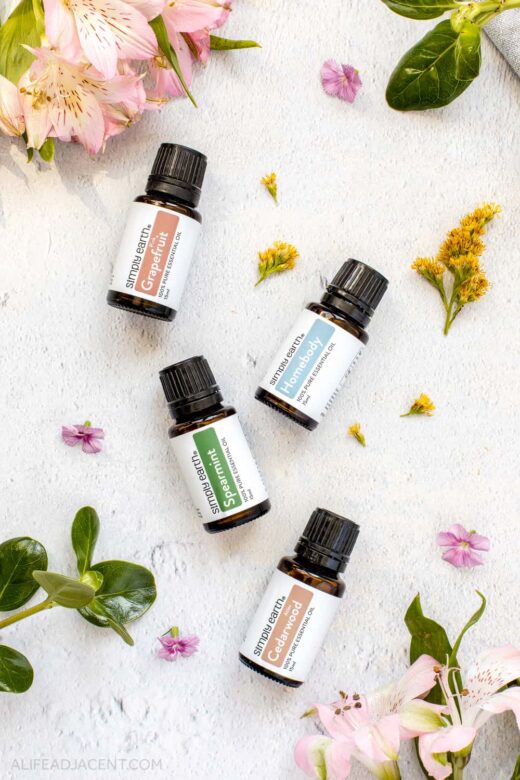 Essential oils included in the July 2021 box:
Homebody Essential Oil Blend. This blend was formulated by the aromatherapists at Simply Earth to be safe for the whole family, including kids and pets. Homebody is a calming blend of amyris (woody, vanilla-like aroma), copaiba (honey-like scent), ho wood (floral, woody and camphorous aroma) and vetiver (herbaceous, smokey, and earthy fragrance).
Pink Grapefruit Essential Oil. An uplifting and energizing citrus oil with a sweet, crisp aroma. Grapefruit oil is known to help boost mood, promote focus, and reduce cravings.
Spearmint Essential Oil. An uplifting and stimulating oil that can help reduce fatigue, improve digestion and quell nausea – perfect for family road trips.
Cedarwood Atlas Essential Oil⁠. This oil has a pleasant, gentle woodsy aroma with sedative and relaxing qualities.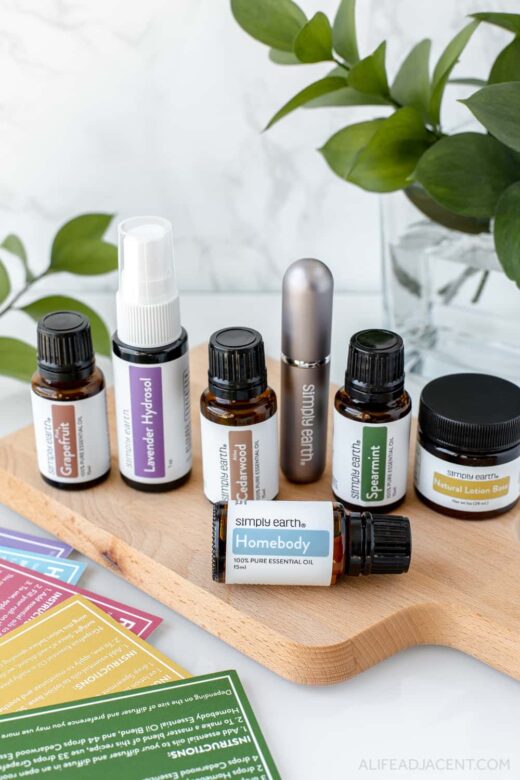 Simply Earth's July 2021 box also includes the following recipes:
Lavender Hydrosol Spray
Self-Care Lotion
Road Trip Roll-On
Homebody Carpet Powder
Hospitality Diffuser Blend
Mama Inhaler
Every monthly Simply Earth box also includes extras, and these were included in the July box:
Pre-cut recipe stickers to label your essential oil recipes
Lotion base – this is also part of Simply Earth's natural homemade lotion kit
Aluminum inhaler to take your blends on-the-go
Lavender hydrosol spray – offers the same benefits as lavender essential oil, but it's water based which makes it more gentle. Use it to make a relaxing lavender spray for skincare, home, and body. You can also use it to make a lavender pillow spray.
As you can see, each box is already a great value. But when you subscribe, you also get the free Big Bonus Box (worth $44.89).
What is the Big Bonus Box?
The Bonus Box is free with your Simply Earth Recipe Box subscription, and it's jam packed with ingredients and useful supplies to make a variety of natural essential oil recipes.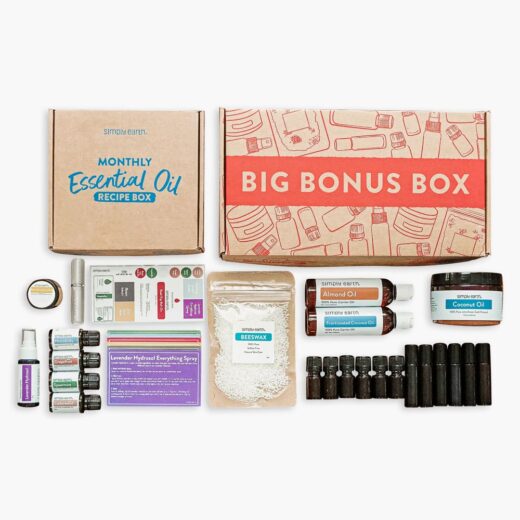 So, what's in the Simply Earth Big Bonus Box? Each box includes:
Almond Oil
Solid Coconut Oil
6 5ml Amber Glass Bottles
Additionally, every 6 months, you will be sent another Big Bonus Box for free! So Simply Earth will keep you stocked with enough supplies to make endless essential oil recipes.
Simply Earth Coupon Code
As an added bonus, if you subscribe for the first time using our link and our coupon code, ALIFEADJACENTFREE, you will receive a $40 gift card with your initial subscription box.
You can use this $40 gift card towards a future purchase or on your next Simply Earth Essential Oil Recipe Box. Essentially, this means you'll get your second box for free!
They also sell extras such as beeswax, coconut oil and natural essential oil solubilizer, to name a few. So if you need more ingredients, Simply Earth has got you covered!
Remember, when you sign up, you also receive the FREE Big Bonus Box with your subscription.
Past Simply Earth Boxes
We also wanted to include some of the best recipes and essential oil blends from past Simply Earth boxes to give you a preview of what you can expect.
With recipes and blends for beauty, skincare, bath, body, household and more, and essential oil blends for a variety of uses, there's something for everyone.
Recipes from past boxes
Here are some recipes from past Simply Earth recipe boxes.
DIY Beauty & Skincare:
Beautiful Skin Roll-On
DIY Shiny Pink Lip Balm
DIY Micellar Water
Hair Growth Support Serum
Grow & Flow Hair Mask
Mermaid Mud Mask
DIY Bath & Body:
Rose Quartz Soap
BO Be Gone Natural Deodorant
Rose Sugar Scrub Soap
Happy Day Body Spray
Calming Zinc Body Butter
Natural Home & Cleaning:
Herbal Surface Cleaner
DIY Weed Spray
Homebody Carpet Powder
Love Candle
Citronella Floating Candle
Aromatherapy:
Sleepy Pillow Spray
Digest Help Roll On
Soothing Sleepy Balm
Relief Massage Oil
Love & Spice Diffuser Blend
But you're not limited to making the recipes in the box, as you can experiment with your own unique creations.
For instance, we made 3 variations of rose soap using the essential oils in the June 2021 box, 4 DIY hair masks with essential oils with the March 2021 box, and a variety of DIY perfumes using the oils from multiple boxes.
Everything Pretty created an after sun aloe vera face mist recipe using the lavender hydrosol from the July 2021 box. And Soap Deli News used her Simply Earth oils to create an essential oil beauty balm.
Essential oil blends from past boxes
As well, here are some of our favourite Simply Earth essential oil blends included in past boxes:
BO Be Gone – this gender-neutral blend is perfect for natural deodorant and for removing smells from laundry
Bumps and Boo-boos – a soothing blend for minor irritation, scrapes and other skin issues
Timber – woodsy, masculine blend that works amazingly in essential oil gel air fresheners
Love – promotes feelings of affection and makes a wonderful essential oil perfume
Beauty Within – a blend of oils that promote scalp and hair health (perfect for hair masks)
Lava – an uplifting citrus blend that also makes a lovely aromatherapy perfume
Tranquility – this essential oil blend smells like gumdrops, and it also promotes relaxation
Sleepy – the perfect lavender blend to diffuse for sleep or to include in a pillow spray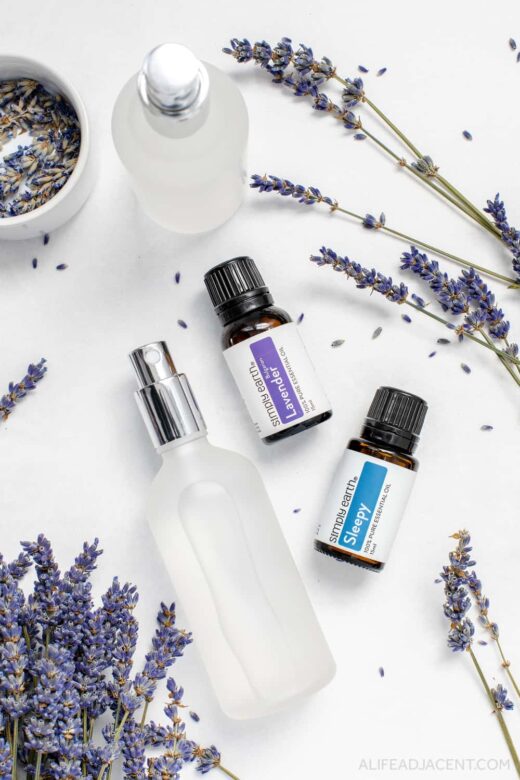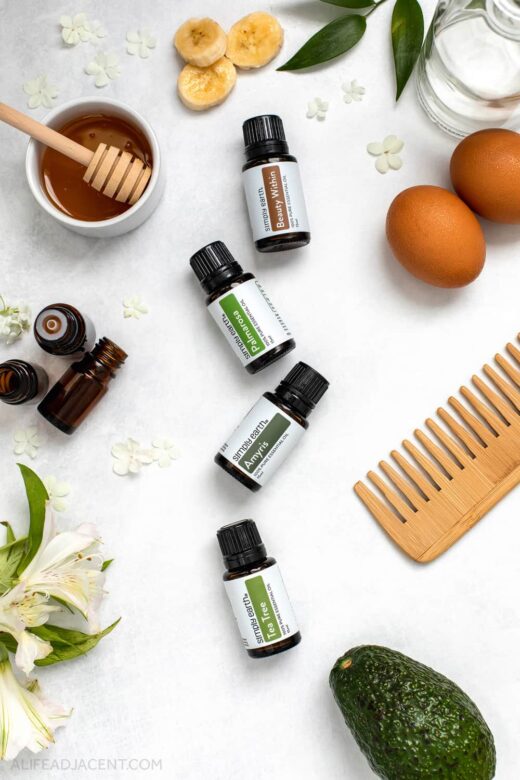 More Simply Earth essential oils questions
Is Simply Earth an MLM?
No, rest assured, Simply Earth is not an MLM. There's no requirement to sell, and no pressure to recruit your friends or family.
Simply Earth sources pure oils directly from small farms in small batches. They bottle the oils at their own facility and then sell those oils directly to their customers with no middle man.
This is how Simply Earth is able to charge far less than many other big essential oil companies, while still providing high-quality and pure essential oils to their customers.
How do Simply Earth prices compare to other essential oil brands?
The prices of Simply Earth oils compare very favourably to other brands. For instance, here is how 15ml of lavender, peppermint and cedarwood essential oils from Simply Earth compare to similar oils from other popular essential oil companies.
Lavender Essential Oil Price Comparison
Young Living $40.13
doTERRA $30.67
Simply Earth $13.99
Peppermint Essential Oil Price Comparison
Young Living $36.51
doTERRA $29.33
Simply Earth $12.99
Cedarwood Essential Oil Price Comparison
Young Living $19.08
doTERRA $17.33
Simply Earth $9.99
Simply Earth vs doTERRA
Other essential oil brands might be more well-known and popular but that doesn't make them better than Simply Earth. Simply Earth provides high-quality and pure essential oils without a middleman which will save you money.
Plus, there is no pressure to buy or sell Simply Earth oils which is an important consideration for some people.
Should you ingest Simply Earth oils?
No, Simply Earth doesn't recommend you ingest their oils.
Essential oils are extremely potent and irritating to the body's tissues. Therefore, they don't recommend that you risk damage to internal organs, especially your stomach, throat, or tongue by ingesting essential oils.
Does this mean the oils are not pure? No, the truth is you should not ingest any brand of essential oils. They're highly concentrated, so you don't need to ingest them to reap their benefits.
Instead, you can utilize Simply Earth oils and enjoy their benefits safely through aromatherapy and topical applications.
Are all essential oils the same?
No we, don't think so. Far too many essential oils companies (not naming names) sell adulterated esssential oils to save on manufacturing costs.
But Simply Earth is an ethical company that stands behind their products, because their goal is to help you create a more natural home.
As we have mentioned many times, Simply Earth oils are pure and this was key for us. For this reason and all of the reasons above, we feel very good about recommending Simply Earth essential oils to our readers.
Does Simply Earth have a blog?
Yes, Simply Earth has a blog where they share a variety of essential oil recipes, tips and ideas.
So even though you receive 6 recipe cards with each subscription box, if you misplace your cards, you can head over to the Simply Earth blog to find a recipe there.
On their blog, you can also explore and discover further information about the ingredients they sell, such as their lotion base, which is found in July's box.
You can also find more in-depth information about the essential oils, including their special blends. For instance, you can read more about the new Homebody EO Blend which is only available in the July 2021 box as of right now.
Simply Earth also has a free e-book for beginners which helps you get started with using essential oils. You can find their free e-book here.
Is Simply Earth commitment-free?
Yes! You can skip a box or cancel anytime so you are not locked in.
If you're worried that you'll change you mind and the option of cancelling is important to you, this will be a key consideration before purchasing the box.
Luckily, the process of cancelling your Simply Earth subscription is very easy.
If for whatever reason, you want to stop receiving your monthly essential oil box subscription, you can cancel your subscription with Simply Earth in a few quick steps directly from your online account.
How do I contact Simply Earth?
If you have any questions for Simply Earth, you can contact their Customer Service directly at: [email protected].
As well, if you have any further questions about our experience with Simply Earth oils or the monthly box, please feel free to contact us.