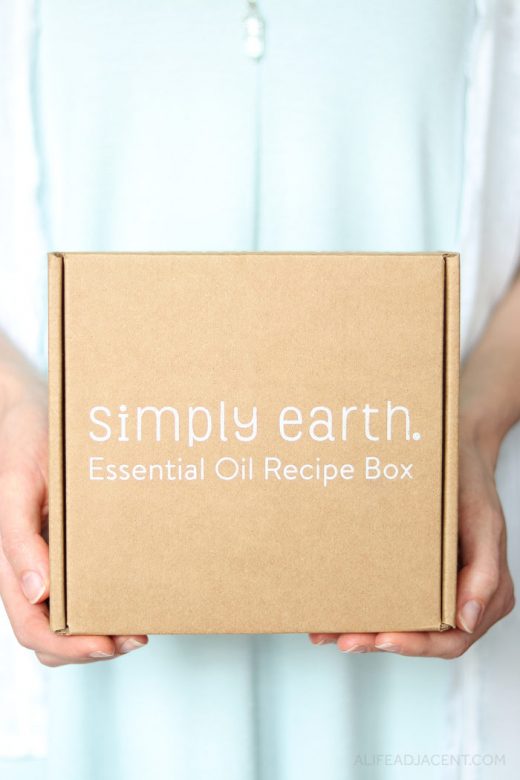 We were thrilled when Simply Earth sent us their Essential Oil Recipe Box. We decided to make all the essential oil recipes from the box, which we share below.
But first, why were we so thrilled about the Simply Earth Box?
Well, if you're new to DIY beauty, want to make more natural products for your yourself or your home, or if you're simply overwhelmed by all the supplies you will need to get started, the folks at Simply Earth have a solution.
NOTE: You can skip right to the essential oil recipes if you're not interested in learning more about the EO recipe box. You will find the 6 essential oil recipes near the bottom of this article.
2021 Update: If you want to read a current and in-depth review of our experience with Simply Earth essential oils, check out our recent full Simply Earth review.
You can also find more box reviews on our page of individual Simply Earth essential oils reviews, as well as even more photos of recipes we've created with each box.
What is the Simply Earth Recipe Box?
First, to provide a quick overview, the Simply Earth Box is a monthly essential oil subscription box that provides 4 full size, 100% pure, therapeutic grade essential oils for only $39, plus free shipping in the US.
The monthly box also comes with all the ingredients and containers you need to create 5-6 natural, toxin-free recipes, with a new theme every month.
Each Simply Earth Box is valued at $100+, We thought this was impressive, considering we know how much DIY supplies can set you back, especially when you're first starting your DIY journey.
As we mentioned, we made 6 natural essential oil recipes from the box which was impressive, considering the low price of the box. Simply Earth clearly strives to make both their essential oils and their recipes economical.
Directly from the Simply Earth site:
"Each box is $100+ value compared to the big essential oil companies. Plus, you get a FREE Big Bonus Box your first month when you subscribe today."
Additionally, when you sign up, you will also receive Simply Earth's FREE Big Bonus Box (a $44.89 value) with your subscription. More details on the Bonus Box below.
Plus, if you subscribe for the first time using our link and our coupon code, ALIFEADJACENTFREE, you will receive a $40 gift card with your initial subscription box and bonus box.
You can use the $40 gift card on a future purchase or on your next Simply Earth Essential Oil Recipe Box.
Below we list everything we found inside the June 2020 box in order to give you an idea of what to expect with a subscription.
Note: the June 2020 box is now sold out, but you can still purchase the current month's box with our link.
Plus, this article will still give you a quick review of the variety of essential oil recipes and supplies you will find in each Simply Earth recipe box.
Simply Earth June 2020 Recipe Box
The theme of the June 2020 box was Healing and Relief. The box included 6 toxin-free and natural recipes that could help treat sunburn, insect bites, minor burns and other skin irritations.
This is what we received in the June 2020 subscription box:
4 full-size, pure therapeutic grade essential oils (specific oils listed below)
6 toxin-free recipes, on handy recipe cards
Pretty adhesive labels for your creations
Plus, all the extras you need to make the natural recipes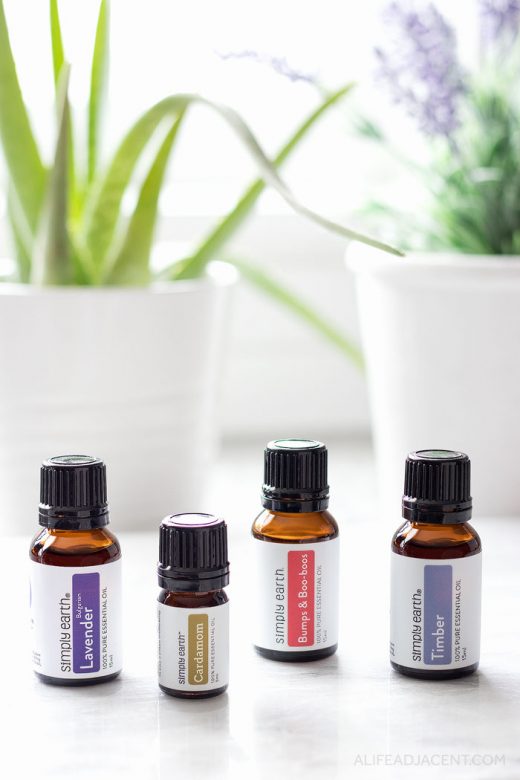 Why Choose Simply Earth Essential Oils?
Simply Earth promises the purest essential oils on Earth, and they've worked hard to source 100% pure essential oils from ethical farms from around the world.
They guarantee that their oils are ethically sourced, GC/MS tested, and contain no additives, artificial fragrances or fillers.
Besides, the benefit of pure essential oils, Simply Earth gives 13% of its profits to fight against Human Trafficking.
So, you can feel good knowing that some of your money is going towards a worthwhile cause.
The Essential Oils Inside the Simply Earth June 2020 box
As we mentioned, inside the June box, we received 4 full-sized therapeutic essential oils. We also received a handy infographic on the back of one of the recipe cards which outlined the uses of the essential oils included in the box.
According to the information provided by Simply Earth, these are the benefits of the following essential oils:
Additional Natural Ingredients Included in the Simply Earth Box
Also, included in the June box:
Dried Calendula Flowers — also known as marigold flowers. Calendula is known for its skin-healing and antimicrobial properties.
It's ideal for use in skin soothing salves and its infused oil can be used for treating minor burns or skin irritations. Calendula is also a wonderful herb for use in the treatment of dry skin or acne.
Aloe Vera Gel — this gel is soothing, healing, cooling, and antibacterial. It's the main ingredient in the Skin Healing Gel recipe, which you will also find in the June box.
The aloe vera gel included in the box can also be used to make DIY hand sanitizer, if you have any left over.
The Simply Earth Big Bonus Box
As mentioned, when you sign up for a monthly subscription, you will also receive the Big Bonus Box for FREE. Valued at $44.89.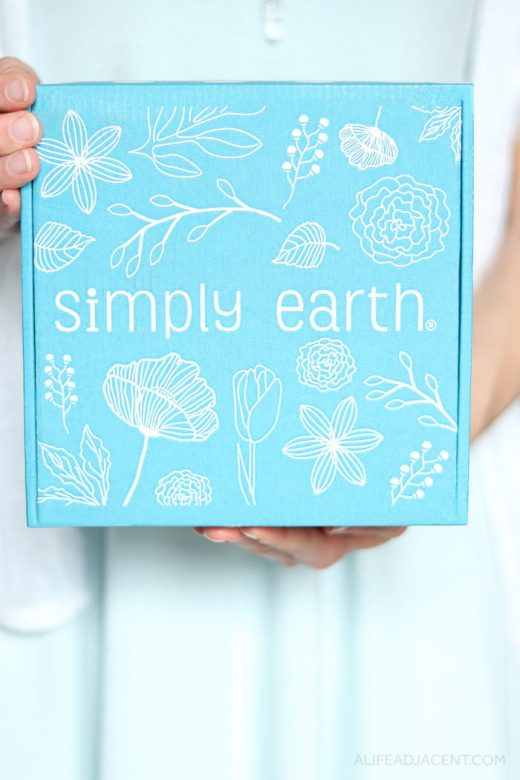 Included in the Bonus Box: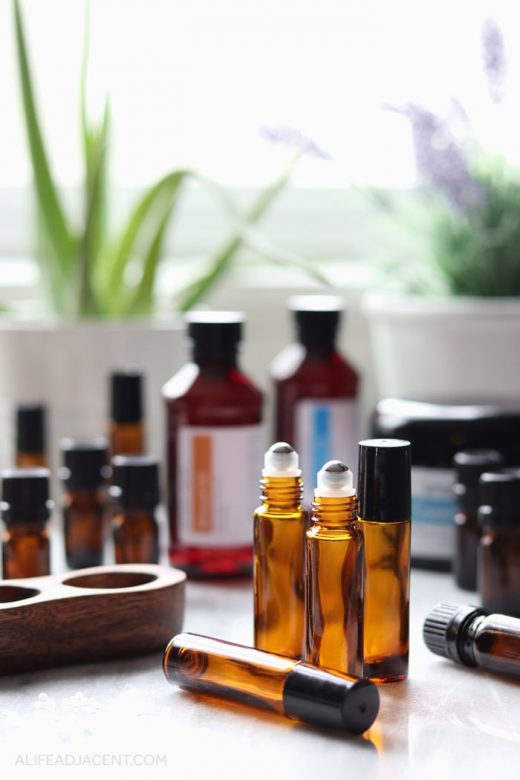 Essential Oil Recipes from the Simply Earth June 2020 Box
The June 2020 box contained 6 essential oil recipes. The recipes were provided on handy recipe cards.
On the back of the recipe cards, we found more information about the ingredients and the oils in the recipe box.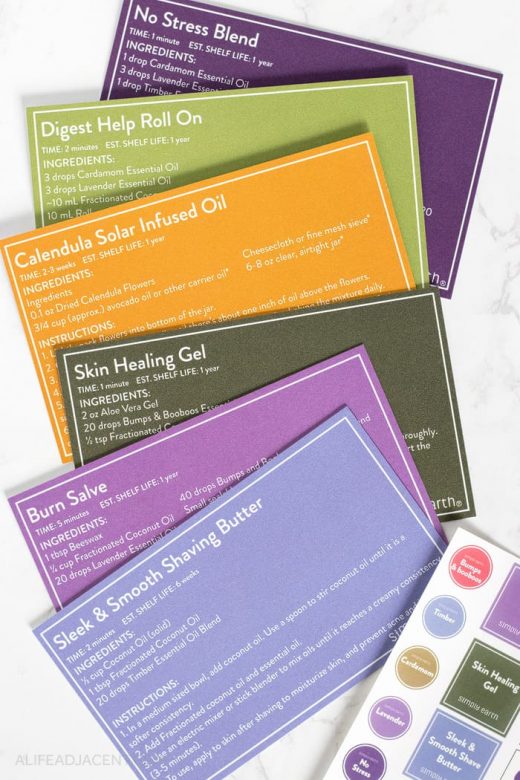 It's important to note that every essential oil recipe you get is crafted, tested, and approved by the Simply Earth's team of AHA-certified aromatherapists. Their team is committed to perfecting and trying each EO recipe thoroughly!
Simply Earth Promo Code
Before we get into the recipes, don't forget to use our promo code ALIFEADJACENTFREE if you decide to subscribe to Simply Earth's Essential Oil Recipe Box.
Because when you subscribe using our code and link, you will receive a $40 gift card with your boxes! Use this gift card on a future purchase, or on your next Essential Oil Recipe Box.
Remember that if you subscribe, you'll also receive the blue Big Bonus Box for FREE.
If you're not interested in the subscription box, but still want to try Simply Earth essential oils, you can purchase their essential oils and their carrier oils separately.
Simply Earth also sells diffusers, extra bottles, extra ingredients, and gorgeous diffuser bracelets on their site.
Now, onto the recipes.
DIY Burn Salve
This salve is useful for soothing minor burns, or the pain from sunburn. You simply apply to minor irritations, and enjoy its cooling, soothing, and healing relief.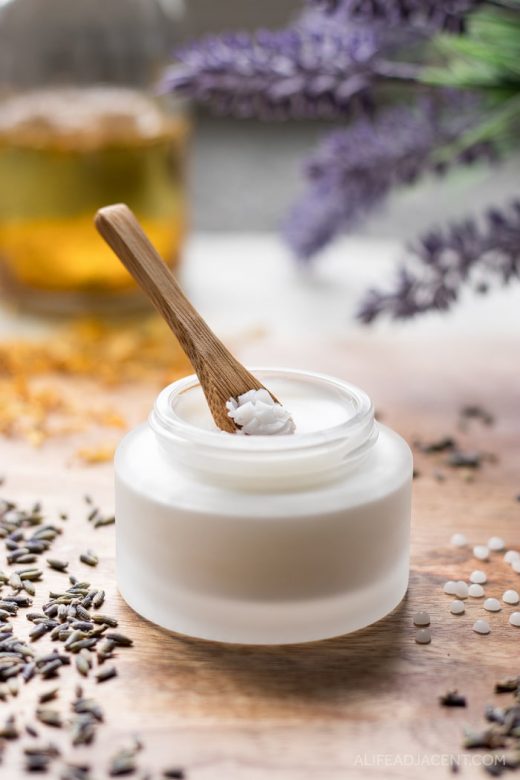 Ingredients
Supplies
Small container with a lid, such as this one
Directions
Melt the fractionated coconut oil and beeswax, using the double boiler method. Stir the mixture to combine.
Remove the mixture from the heat. Allow to cool slightly before adding the essential oils.
Pour the burn salve into a small container with a lid to keep it fresh.
DIY Calendula Infused Oil
You can use this calendula infused oil for slow healing wounds and insect bites. Alternatively, you can use it as a carrier oil in the burn salve recipe as well.
Calendula infused oil is also wonderful on it's own as a nourishing body oil or massage oil.
It's also the base for our soothing homemade calendula salve and our bug off balm recipe with calendula oil.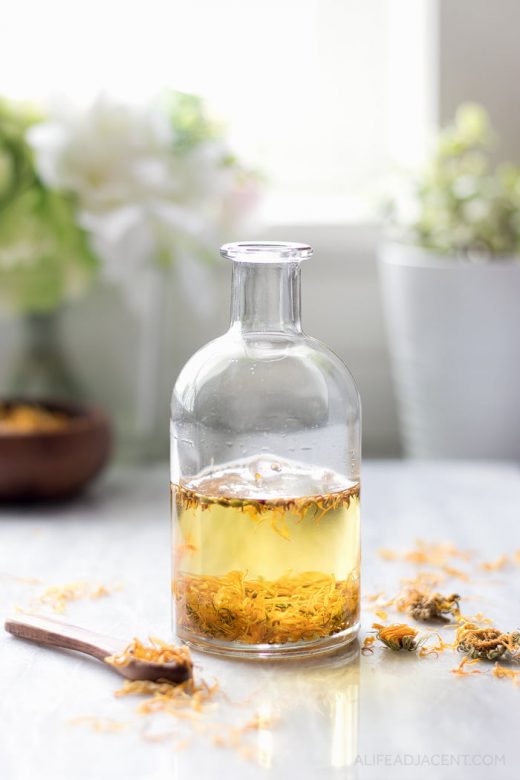 Ingredients
0.1 oz Dried Calendula Flowers
3/4 cup Avocado Oil (included in the blue bonus box) or another carrier oil
A few drops Vitamin E Oil to help prevent oxidation (optional)
Supplies
Cheesecloth or fine mesh sieve
6-8 oz sealable, clear, airtight jar
Directions
Place the dried calendula flowers into your jar. Pour your carrier oil over the flowers.
Seal the jar and place it in a sunny spot. A window sill is ideal.
Let the mixture infuse for 2-3 weeks. Shake daily.
Once the mixture is finished infusing, use cheesecloth or a fine sieve to remove the dried calendula petals.
Sleek and Smooth DIY Shaving Butter
This recipe is ideal if you want a smoother shave. It will also leave your skin feeling softer and more hydrated.
Plus, this shaving butter recipe contains NO artificial colours or fragrances, such as those contained in many store-bought shaving creams. It's also made without shea butter.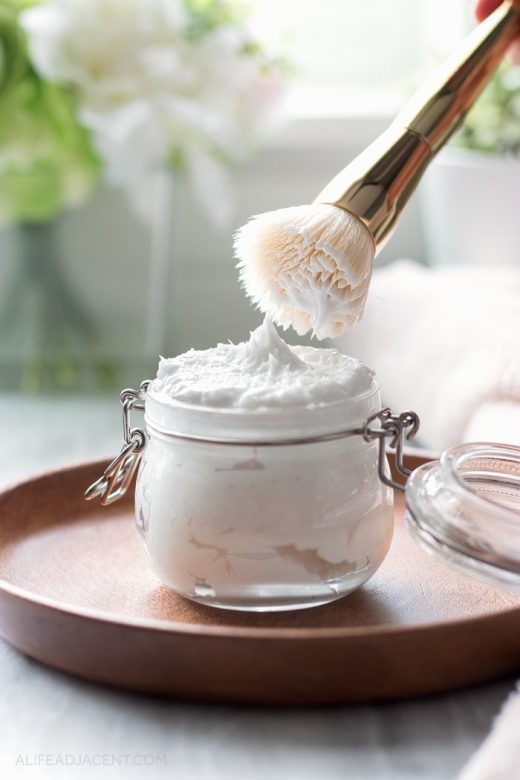 Ingredients
Instructions
Whip solid coconut oil in a bowl with a spoon until soft.
Add fractionated coconut oil and essential oil blend.
Use an electric mixer or small hand blender for 3-5 minutes, or until the consistency of the shaving butter is light and fluffy.
DIY Skin Healing Gel
This homemade skin healing gel is for use on bumps and boo-boos to gently soothe skin. It can also help support the natural healing process.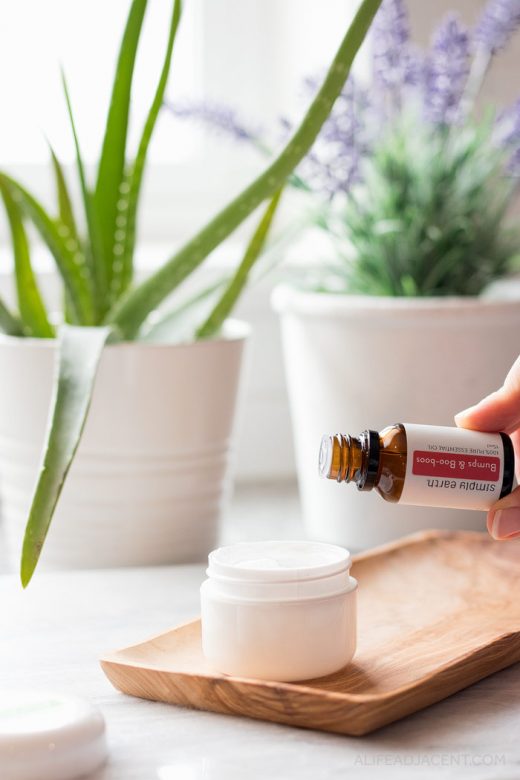 Ingredients
2 oz Aloe Vera Gel
1/2 tsp. Fractionated Coconut Oil
20 drops Bumps & Booboos Essential Oil Blend
Directions
Combine all ingredients in a sealable container. Mix well.
Digest Help Essential Oil Roller Bottle Recipe
Apply this homemade roller bottle recipe to pulse points and to the abdomen to help soothe nausea and calm digestive upset.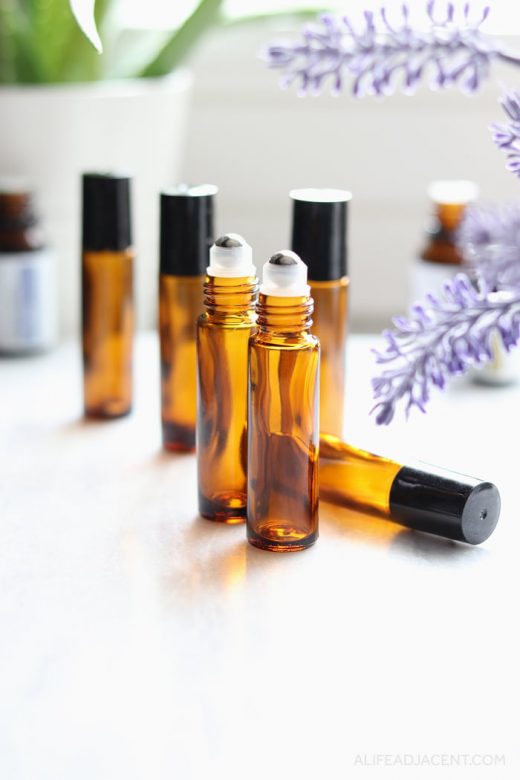 Ingredients
3 drops Cardamon Essential Oil
3 drops Lavender Essential Oil
10 ml Fractionated Coconut Oil or other carrier oil
Supplies
Instructions
Add the essential oils to a roller bottle. Swirl gently.
Next, add the carrier oil.
Put on the cap and shake to combine ingredients.
No Stress Essential Oil Roller Bottle Recipe
This calming essential oil recipe eases feelings of stress and overwhelm.
Ingredients
Supplies
Diffuser or Roller Bottle (optional alternative)
Instructions
Add to diffuser to diffuse in your home.
For a roller bottle recipe, add oils along with 10 ml of carrier oil of choice and place in a roller bottle.
Pin it for later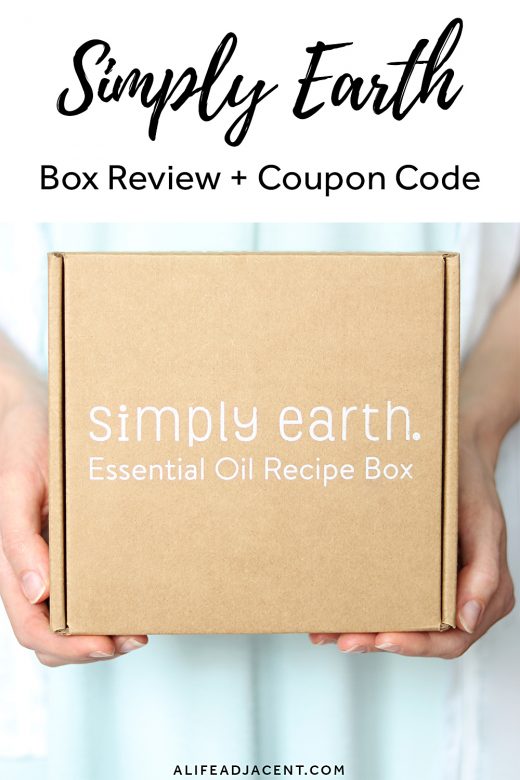 More DIY Recipes with Essential Oils
For even more beauty and skincare, follow us on Pinterest! You can also find us on Instagram, Facebook, and Twitter.